How Long Does it Take to Learn SEO for a Beginner?
When you search for "how to learn SEO" or "how long does it take to learn SEO" on Google, you'll find tons of contradictory information.
Some articles, usually by online course platforms, will claim to teach you SEO in 30 days, while others will tell you that it takes years to master search engine optimization.
Which is it?
The short answer is that it depends on certain factors, which we'll discuss in this post and then give the final estimate.
For a detailed answer, read this post and learn:
Factors that determine how long it'll take to learn SEO
What it takes to learn SEO (search engine optimization) from scratch
Estimated time for each step of the SEO learning process
A brief overview of the basic SEO tactics and fundamentals
There's a lot to learn, so let's get started.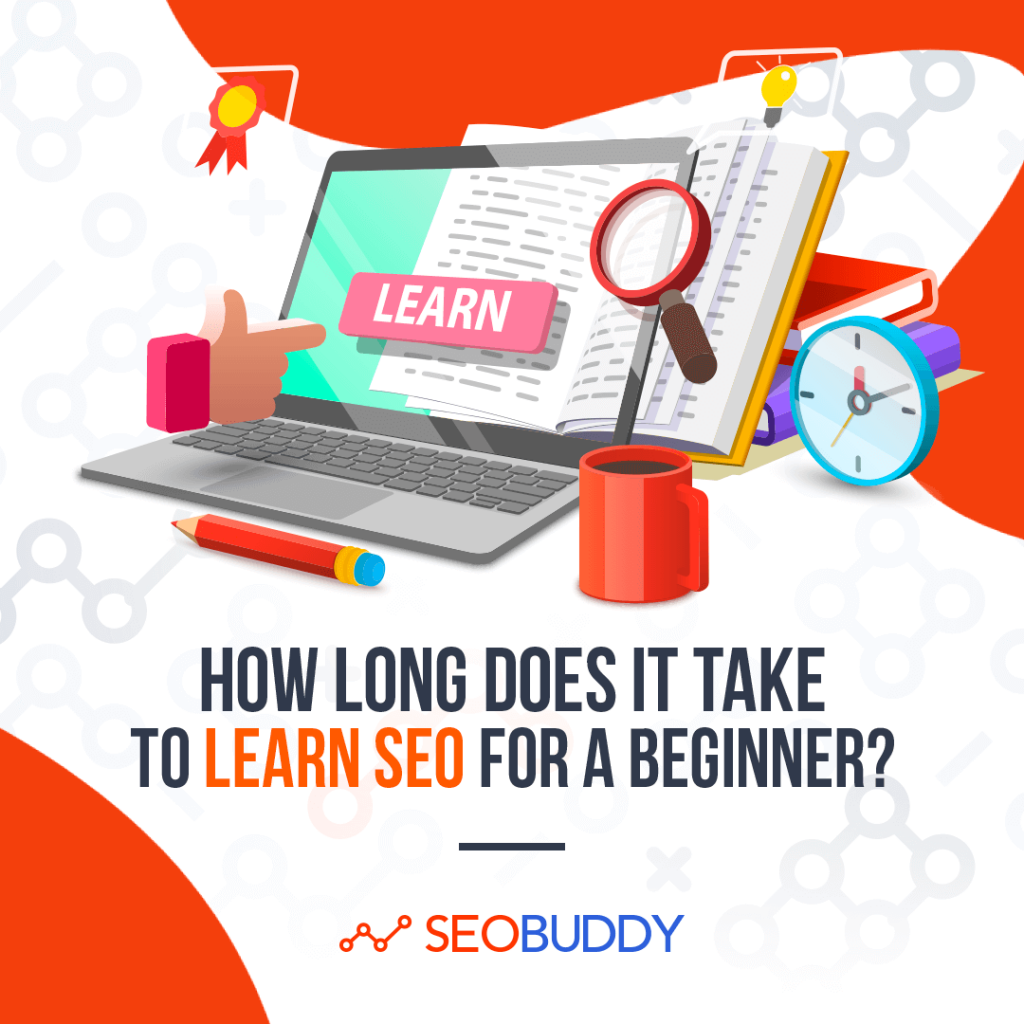 Factors That Determine How Long it'll Take to Learn SEO
There is no correct answer to this question: how long does it take to learn SEO?
It could be weeks or it could be years. How long it takes to learn SEO depends on:
What your ultimate goal is behind learning SEO
The time you dedicate to learning SEO every day
How tech-savvy you are and how easily you can grasp SEO concepts
Your current knowledge of and experience with SEO
The kind of tools and resources you have at your disposal
Whether you have a good mentor or not
How much money you're willing to spend on SEO
Depending on these factors it could take a few months to a couple of years to master SEO. It doesn't take long to learn SEO if you've set your mind to it and are willing to make the effort.
SEO is, for most people, a lifelong journey as search engines are constantly evolving and you will have to keep up with the latest trends and best practices.
To have a 360 view of SEO, a good starting point is the SEO Checklist that can help you get started with SEO the right way.
Now that we've cleared that, let's understand the detailed process of how to learn SEO, along with an estimate of how long it'll take to complete each step. Keep reading.
How to Learn SEO From Scratch: The Game Plan
Before we get to the process of how to learn SEO, you must understand where you can get the required information to teach yourself.
As a beginner, you can learn SEO by:
Doing an online course on SEO from a platform like Udemy or Coursera
Reading articles on SEO from authoritative sources and SEO websites
Listening to podcasts hosted by search engine optimization experts
Watching how-to videos on specific aspects of search engine optimization
Talking to SEO experts and taking their help to learn SEO
Using all this information to experiment with SEO and have fun
With that out of the way, let's get to the process of how to learn SEO from scratch. And yes, there is a method to this madness.
1. Understand the Fundamentals of SEO
The first step toward learning SEO is to understand what it is, how it works, and what are its different types. Basically, you need to understand the fundamentals of SEO before you get to the more advanced stuff.
Don't worry, we've got you covered.
We've summarized all the fundamentals of SEO into easy-to-learn bites for you, in this section. So, get to work and start learning the basics of SEO, starting with how search engines work and where SEO comes into the picture.
How Search Engines Work
The first lesson you need to learn is how search engines work.
Search engines are software that crawl billions of web pages to find the ones that provide the best information on a topic. Users type in their search query and search engine crawlers get to work to find what the users are looking for.
To do this, they use bots or spiders or crawlers that go through billions of pages on the internet. They understand and index these pages according to topic and level of quality and rank the results in the order of most to least relevant.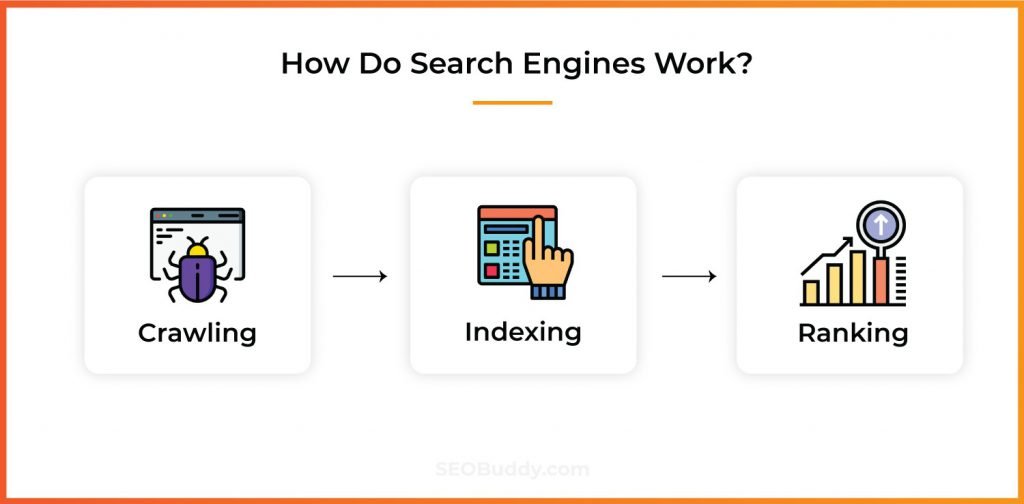 Crawlers rank pages based on ranking factors like:
Keywords
Type of content
User engagement
Freshness
Backlinks
And more!
There are over 200 Google ranking factors, but few of these are more important than the others. While learning SEO, you'll gain an understanding of which factors matter the most for higher rankings.
But for your site to be even considered for the ranking, it must be indexable.
How can you check if your site is being indexed?
Search for your site on Google using the format "site:your site URL" and see what results show up. If your site is indexed you'll see something like this:

Here, for example, it shows that the SEO Buddy site is indexed and has over 247 indexed pages.
If you don't see such a result, you need to go to Google Search Console and find the URL inspection tool, enter your URL, and request indexing.
You can also check the URLs of specific pages and get them indexed, but we can leave that for a later stage. To begin with, it's good enough to make your site indexable.
Here are two ways to improve your site's indexability:
Create and submit a sitemap of your website to Google to help it understand your page hierarchies and type of content.
Earn backlinks from authoritative sites, as Google crawlers can follow that link to find relevant pages on your site.
Use URL submissions option to submit individual URLs through Google Search Console for Google to crawl.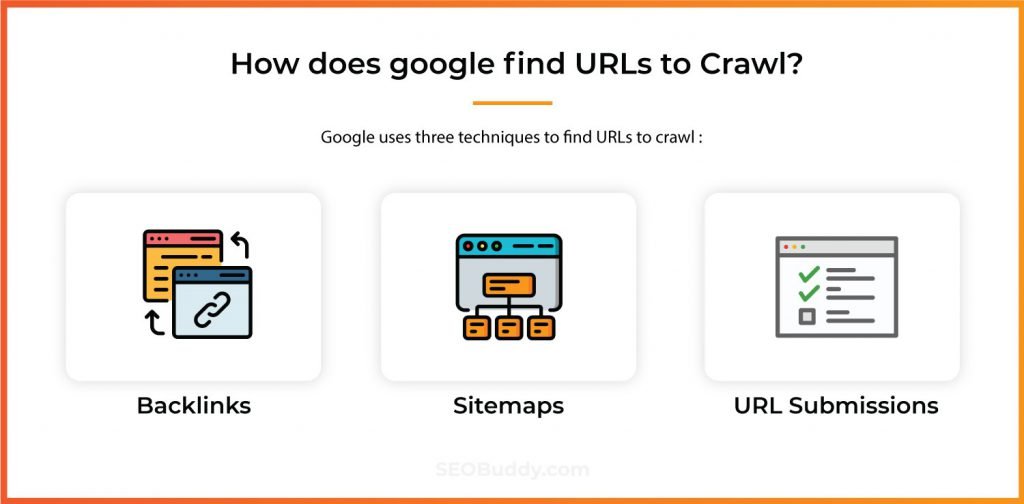 Now, where does SEO come into the picture?
Using SEO tactics you can improve your chances of ranking higher on the search engine results pages (SERP). The whole SEO game revolves around that singular goal—increasing SERP rankings.
And it all starts with finding and using the right keywords in all your website content and pages.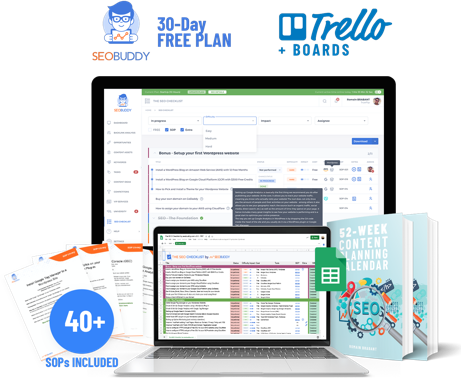 There's more…
Now it's time to discover the other 102 steps that will get more organic traffic flowing to your website. Get the SEO Checklist here.
Want to get a sneak peek of what it looks like?
Enter your email and get a free demo version of the SEO Checklist.
How to Conduct Keyword Research for SEO
Keywords are the backbone of SEO and are needed for all aspects of SEO.
Why do keywords matter for SEO?
As mentioned earlier, search engine crawlers look for specific keywords to understand a page's content and determine whether it's relevant for a search query.
Keywords, therefore, help search engines decide whether to show your page for a particular search term or not. Needless to say, it's extremely important to choose the right keywords for each page on your website.
For that, you need to master the art of keyword research.
There are many ways of finding keywords, but we'll cut to the chase and recommend using a specialized keyword research tool like Ahrefs or Semrush.
In Ahrefs Keyword Explorer, for example, you can simply enter a search term or a broad keyword phrase and you'll find tons of keyword ideas, as shown below.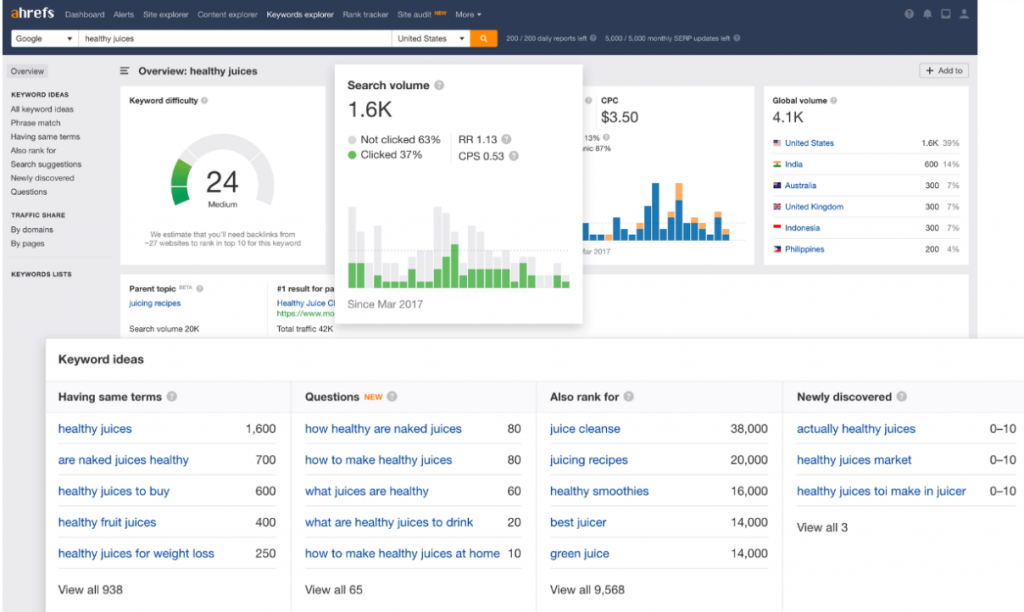 You can go through these and find the ones that are most relevant to your website, have a high search volume, and are not very difficult to rank for.
Luckily for you, the tool provides advanced sorting and filterign options, so you can sort keywords according to their difficulty score, search volume, and other parameters.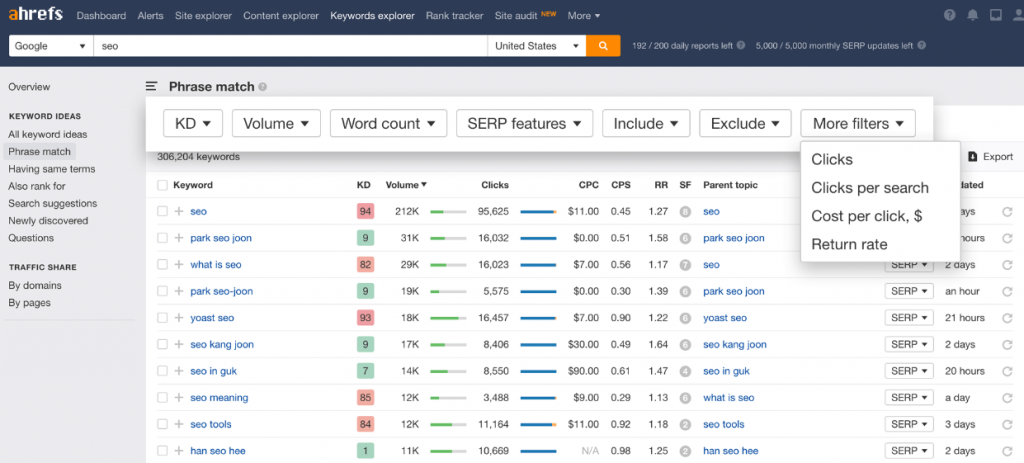 There are many good SEO tools that offer keyword research and many offer free or freemium plans as well. So, you can start with a trial or freemium plan and upgrade to a paid plan later when your website grows.
Once you have a list of keywords you want your website to rank for, you need to create a specific page or content for each keyword.
Select a few keywords for your landing pages and service pages that are most relevant to your business. For each page, use the main keyword throughout the content to maintain a 2% or more keyword density.
For creating content for your blog, you can take a primary keyword and a few LSI keywords to create SEO-friendly content. LSI keywords are related keywords that provide more context to search engines about your content.
Read our detailed guide on the different types of keywords to learn more about this part of SEO.
That brings us to the most important step of how to learn SEO—the different types of SEO tactics and their relevance.
What are the Different Types of SEO?
There are two broad categories of SEO—on-page SEO and off-page SEO. However, some people prefer to break down on-page SEO further and keep technical SEO separate.
Let's understand what these terms mean and what's included in each.
On-Page SEO
This includes making changes to your website to improve its SERP rankings. It involves two main things:
Keyword Optimization: Adding relevant keywords to your content, titles, meta descriptions, headings & subheadings, and more.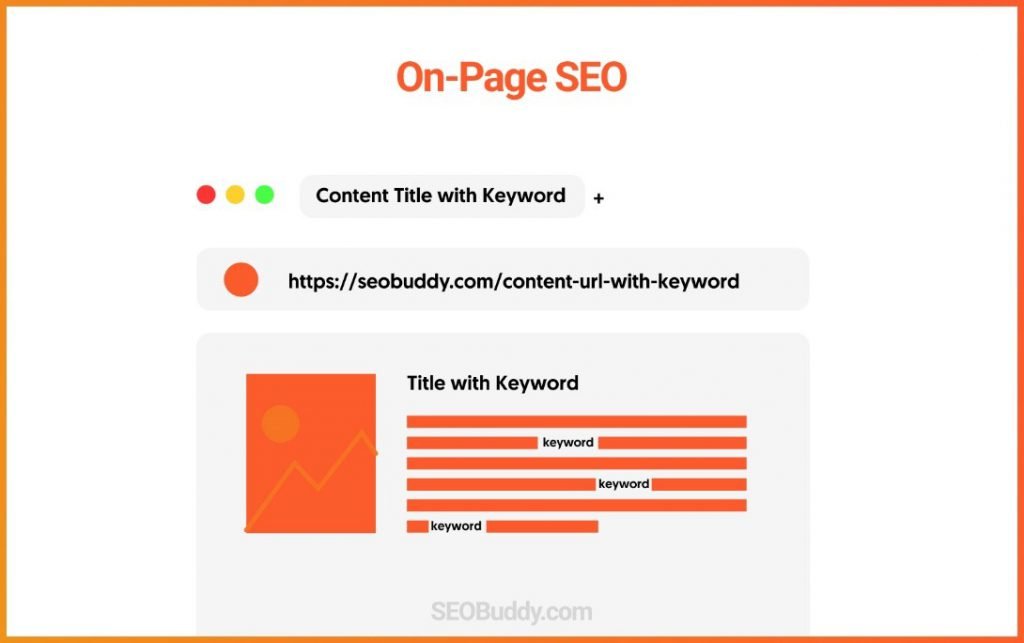 Image Optimization: Reducing the file sizes of images to increase the loading speed and creating keyword-optimized image titles, descriptions, alt text, etc.
Download our complete on-page SEO checklist to learn and implement the basics of on-page SEO and reduce the time it takes to learn SEO.
Off-Page SEO
Off-page SEO requires taking actions outside your website that help improve your site's rankings. It includes: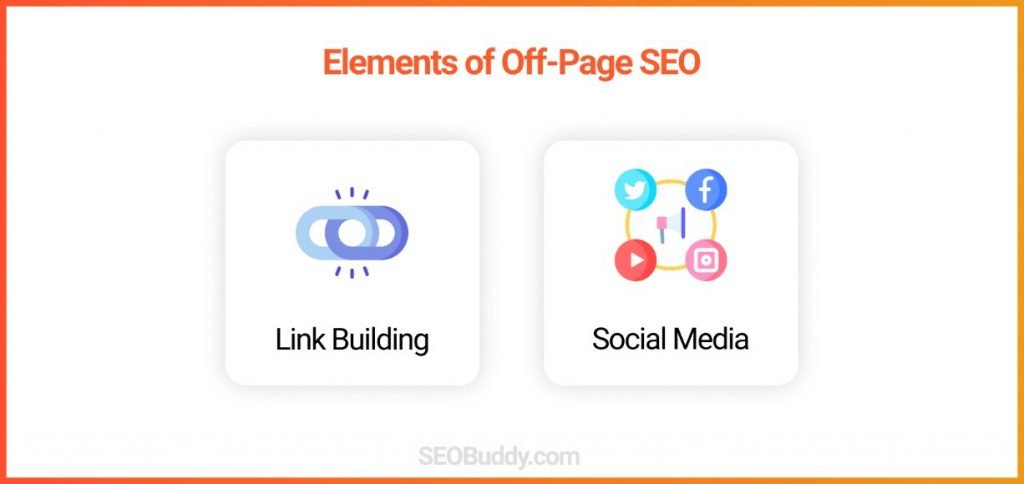 Link Building: Building backlinks from authoritative sites to relevant content on yours sends a vote of confidence that your site has great content. This helps improve your domain authority and rankings. You can use tactics like guest posting, link reclamation, etc. for building backlinks.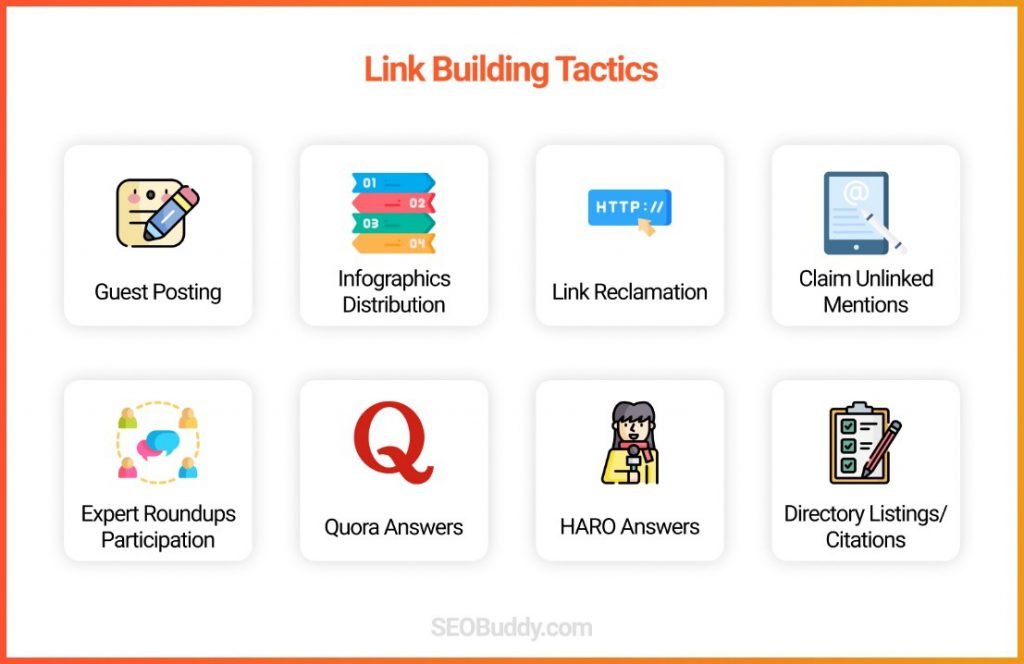 Social Media: Your reputation matters towards building your site's authority and social media can help with that. You can use social media to direct traffic to your website, build a strong brand reputation, and engage your audience.

Technical SEO
This is a part of on-site SEO that deals with optimizing the code and structure of your website to improve user experience. A great user experience contributes to higher SERP rankings as it's one of the most important Google rankings factors.
There are six key elements of technical SEO—site code, site structure, structured data, loading speed, site navigation, and mobile-friendliness.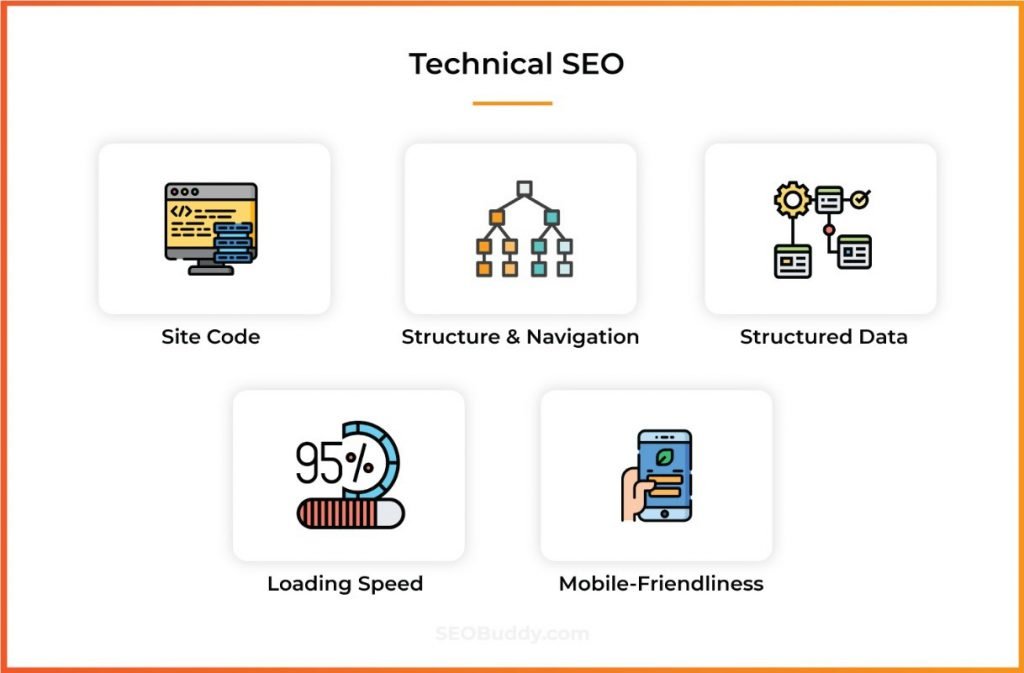 Site Code: Minifying your CSS or JavaScript codes to improve the site speed and performance.
Structure & Navigation: Using a flat structure to make your site more crawlable, keeping a consistent URL structure, submitting sitemaps, etc.
Structured Data: Using schema markup to get your pages to appear as rich snippets on the Google SERP.
Loading Speed: Improving the loading speed of pages by using image optimization, caching, and other tactics.
Mobile-Friendliness: Using a mobile-first approach to ensure all your web pages open quickly and render properly on mobile devices.
Estimated Time: Learning the basics of SEO should take 3-4 weeks if you dedicate enough time and find the right learning resources.
Pro Tip: If you want to learn SEO and gain in-depth knowledge of SEO tactics, download our SOP collection that details the step-by-step process to rank on the first page of SERP.
2. Start Applying the Tactics You Learn
The next step in this guide on how to learn SEO is to start applying the theoretical knowledge you gain to practice.
Start with starting a blog and putting keyword research and content optimization into practice on a daily basis. This will help you improve your SEO skills as well as build a content hub on your website that attracts traffic organically.
Next, do a complete site audit and use technical SEO and on-page SEO to optimize your site's performance. You can use tools like Ahrefs, Semrush, and Screaming Frog for this. Here's a screenshot of the crawl log report via Ahrefs' site audit tool.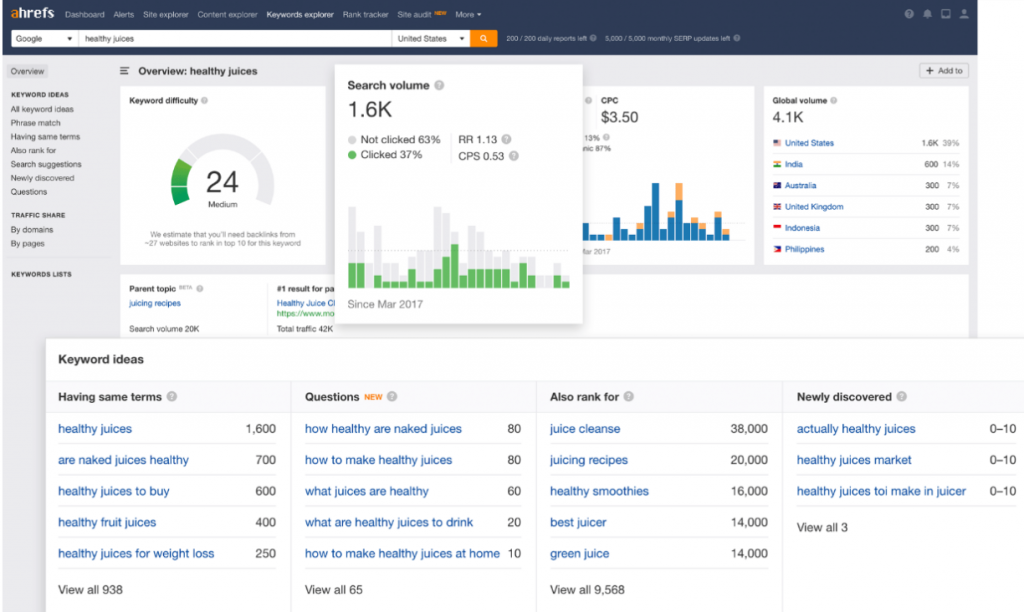 Also, start building backlinks from authoritative sites in your niche. Use this detailed link building checklist to learn how to build backlinks the right way.
Estimated Time: Completing your first SEO audit and implementing the basic SEO tactics can take 2-6 weeks depending on how much time you spend and the size of your website.
Pro Tip: Use our comprehensive link chest to find 2000+ easy backlink opportunities to strengthen your backlink profile.
3. Learn Advanced SEO Tactics
Once you've learned the basics of SEO, completed your first site audit, and implemented the basic SEO tactic, it's time to learn the more advanced tactics.
Here are some things to get you started:
Find and fix broken links, duplicate content issues, duplicate URLs, and more.
Learn the importance of and start using canonical tags, noindex tags, etc.
Add content features like quote boxes and calculators to your pages.
How to use Google search operators for SEO
Research different types of keywords and start using long-tail keywords and question-type keywords.
How to build .gov backlinks for your site.
Learn the skyscraper technique to create high-ranking content and build backlinks.
Use topic clusters and create a content hub on your website.
Create free resources and tools to get more organic traffic.
Learn how to use keyword mapping to find keyword gaps and get ahead of your competitors.
Use dynamic parameters to make it easier for Google to crawl your paginated pages.
Learn how to analyze your log files to gain valuable insights to improve your SEO strategy.
Learn about all these advanced SEO strategies in detail and start implementing them one by one to improve your site's rankings and SEO performance.
Estimated Time: It should take 3-6 weeks to complete the tasks on this list, but learning advanced SEO tactics is a long, ongoing process.
4. Analyze Your Performance and Improve Your Strategy
As you would know, SEO is an ongoing process and there's no end to how much you can learn.
Even after you've mastered the basic and advanced SEO tactics, your site may not perform as well as you'd hoped. That's why you need to regularly analyze your SEO performance and find areas of improvement using Google Analytics or other tools.
What do we recommend?
Conduct quick monthly site audits and detailed quarterly audits to keep tabs on your site's performance. Find and fix SEO issues to keep your site performing optimally.

Use an easy-to-analyze SEO report template to make your job easier.
If you feel that your current SEO strategy is not paying off, improve it to get better results.
Estimated Time: Ongoing process.
5. Keep Up with the Latest SEO Trends
The process of learning SEO is never-ending. It's such a dynamic environment that the rules keep changing over time.
That's why you need to stay updated with the latest SEO trends and algorithm changes to keep your SEO strategy current and on-point.
Estimated Time: Ongoing process.
FAQs
1. Is SEO difficult to learn?
Yes and no. It depends on your technical learning capabilities and how you're trying to learn SEO. But with the right resources, anyone can learn SEO, at least enough to run a high-performing website.
2. Can you learn SEO by yourself?
Yes, you can learn SEO by yourself if you have access to the right resources and tools. Check out the SEO Buddy blog to find everything you need to learn SEO and become a pro.
3. Can you learn SEO in a month?
Though it's hard, it's possible if you already have a fair idea about SEO fundamentals and access to great learning resources. While you can learn SEO theoretically in a month, you need a lot more time to master SEO and apply it to your website.
4. How can I learn SEO for free?
Here are some ways to learn SEO for free:
Read online articles about various SEO concepts and search engine marketing
Listen to free podcasts hosted by an SEO expert or a digital marketing expert
Enroll in a good SEO course online that is available for free
Watch free how-to videos on specific SEO tactics
Talk to SEO experts and get a mentor to teach you
Just experiment with SEO yourself using the right tools
We have some amazing resources on our blog that can help you learn SEO and become an expert.
Also, download our comprehensive SOP Collection that will take you through the process of mastering SEO and getting higher rankings for your website. If you use this, it won't take long for you to learn SEO.
5. How long does it take to learn SEO?
The simple answer is 2-4 months. However, it's more complicated than that.
How long it takes to learn SEO depends on a lot of factors like the time you spend on it every day and the kind of learning resources and SEO tools you use.
Even if you learn the SEO in 2 months, mastering SEO can take years. Also, it's an ongoing process, so the learning never really stops.
Ready to Learn SEO and Boost Your Website's Performance?
It takes at least a few months to learn SEO and years to truly master it. But if you've set yourself on the path to learning SEO, it doesn't matter how long it takes to learn SEO.
Why?
Because SEO is crucial to the success of your website and there is no way around it. If you want your site to rank, you need to learn SEO.
If you need further help in learning SEO or applying it to your website, contact our team of SEO experts. We'll create and implement a winning SEO strategy to help your website rank higher on SERP. And if you want to do it yourself, download our complete SEO Checklist that will help you do SEO right and ensure that you don't miss anything important. Trust us, it'll make you an SEO expert in your own right. All the best!