Keyword Research: A Complete Guide for Your SEO Strategy
Keywords are the phrases people type into search engines when they're searching for information, products, or services. But what's keyword research and why should you do it?
Keyword research is what brands need to do to identify the keywords their audience uses so that they can reach them and boost awareness, lead generation, and sales.
And that's not all.
Keyword research will help brands:
Avoid keywords that few searchers use (estimated search volume)
Steer clear of keywords that are too competitive (keyword difficulty)
Better understand their target audience
Focus on keywords that are relevant
Account for search intent
Simply put, keyword research will help you identify what topics your audience cares about, and their popularity. It will thus aid and give direction to your online marketing strategy by telling you exactly what to create content about.
The bottom line of keyword research is to lay the foundation of your content strategy.
As per BrightEdge, 53% of all trackable website traffic in 2019 came from organic searches.
These numbers only go to reiterate the importance of researching keywords.
So, in this guide, we're going to talk about:
What is keyword research and how it can help your business grow.
The different ways to find keyword ideas.
The process of choosing the right keywords for your needs.
Some commonly made mistakes you must steer clear of.
Ready to get started?
What is Keyword Research?
As the name suggests, keyword research is the practice of finding and analyzing words that your target customers enter into search engines.
Keyword research can help you discover queries to target, the popularity of these queries, queries your competitors are tracking, their ranking difficulty, and more.
This is a process we follow for all our web pages.
Here's an example of optimizing one of our blog articles for the keyword "internal linking:"
We've included the keyword in the title, as well as in the first line of the article.
This will tell search engines what our article is talking about, and eventually, drive qualified leads from the SERP to our website.
But Google processes over 3.5 billion searches per day.
That would equate to millions of keywords!
In that case, how do you know which keywords to target?
You'll find out in this guide.
Why is Keyword Research Important for SEO?
The short answer to this question is:
Keyword research helps your prospective customers find you.
Consider what brought you to this guide.
You probably entered a keyword into the Google search engine:
Next, Google auto-populated a number of common queries to help you ask the right question.
You then had the option of either sticking to your original query or choosing another one from the list.
Based on the keyword you entered, Google generated a list of web pages.
In order for our guide to rank as high as possible, we'll have to optimize it for the phrase "keyword research" or a similar phrase with similar search intent.
We'll learn more about search intent later in this guide…
All in all, if we did not leverage keyword research, or worse, if we targeted the wrong keyword, you would have never found us.
There's a common joke amongst digital marketers that goes like this:
The best place to hide a dead body is the second page of Google.
That being said, keyword research isn't just about the SEO advantages.
Other benefits aren't limited to, but include:
Understanding customer behavior.
Identifying key market trends.
Optimizing marketing spend.
Studying your competition.
What are the Different Types of Keywords?
The secret sauce for successfully nailing keyword research is understanding the various types of keywords.
Why is that?
Because different types of keywords target different audiences and different goals.
And that's not all.
Chances are that the keywords you must optimize for, will depend on the stage your business is in.
Now, there are myriad ways to categorize keywords.
For the sake of simplicity, let's take a look at the three categories of keywords defined by length and/or specificity:
#1 Head Keywords
Also known as seed keywords, head keywords are terms with a high volume of search traffic and competition.
Because head keywords generally consist of just one or two words, they are less specific.
Think about it:
Someone searching for the head keyword "new york" could be looking for places to stay in New York, things to do in New York, or simply information on the city.
And since search intent is all over the place, head keywords don't convert so easily.
#2 Body Keywords
Body keywords are a bit more specific and generally contain more words.
This makes it easier to gauge the searcher's intent.
An example of body keywords is "new york cafes."
In this case, you can easily guess that the user is probably looking for suggestions on cafes to visit in the city.
While body keywords get a decent amount of volume, they're much less competitive than head keywords.
#3 Long-Tail Keywords
Long-tail keywords consist of four or more phrases and are quite specific.
Visitors are more likely to use these queries when they're closer to making a purchase.
An example of a long-tail keyword would be "new york pizza cafe."
As you can see, the keyword difficulty for this phrase is 27%, which means it is 'Easy' to rank for this keyword.
Because of their specificity, these keywords don't have high search volumes.
However, long-tail keywords make up the majority of online searches.
With the correct implementation of long tails, you may attract less traffic, but your ROI will be much higher.
Why?
Because you'll be pulling in exactly the kind of audience you're targeting.
How to Come Up with Keyword Ideas
The first leg of keyword research involves coming up with keyword ideas.
Oftentimes, this is the most difficult part.
Why, you may ask?
Because it may seem hard to figure out where to start from.
So, we're going to walk you through the various steps you can take to come up with keyword ideas.
Understand Your Audience
Before you narrow down on keywords to target, you need to understand who your target audience is, and what they're looking for.
Marketers often make the mistake of skipping this step of keyword research altogether.
After all, if you already know what keywords you want to target, what's the point? Right?
Wrong.
What you want to rank for and what your audience wants are two completely different things.
Here's an example. Let's assume that a vegan cafe based in New York wants to improve its SEO rankings. In order to do that, they might have to ask questions such as:
Who is eating vegan food?

How old are they?
Where are they from?

How are people searching for vegan food?

What terms are they using?
What questions are they asking?
What device are they using?

Why are people eating vegan food?

Are they health conscious?
Are they environmentally conscious?

What kind of vegan food are people seeking?
When are people searching for vegan food?

Are there seasonality trends?
The answers to such questions will help you build buyer personas for your business.
These personas will then help you come up with relevant keywords.
Want in on a tip?
Map out your ideal customer's research process, and make sure you have keywords catering to every stage of their buying process.
What else?
Pay attention to "act-now" keywords.
An example would be "vegan food near me." If the searcher is looking for vegan food options close to them, they are probably close to the buying stage.
Makes sense, right?
So, keeping your audience personas in mind, brainstorm a list of keywords that buyers would most likely use to find you.
Curate A List of Relevant Topics
Before you start analyzing individual keywords, you must come up with a list of themes relevant to your business.
Let's say you own a hair salon.
Here are some topics related to your business people are probably searching for:
Haircare
Hairstyling
Hair products
Hair trends
Self-care
Note that these aren't keywords. These are mere topics that will set the framework for your keyword research process.
Think about which topics are relevant for each of your customer personas.
Then, expand on them by conducting research on what your ideal customer is talking about.
Use Research Goldmines to your Advantage
There are many platforms you can scour to take your keyword research to the next level.
Doing this will help you generate even more keyword ideas for your business.
Let's take a look at some of these platforms:
Google
Want to rank on Google?
Well then, you mustn't ignore the Related Searches section.
If you have ever scrolled to the bottom of Google's search results, you've probably seen this section.
Let's go back to the list of topics we came up with.
One of the topics was 'haircare.'
So, you'll want to search for it on Google.
At the bottom of the page, you'll find up to eight search results.
The Google algorithm generates these automatically to determine terms related to your search.
Oftentimes, these results predict what a user is most likely to search next.
This is a great way to take a deep dive into user interests and pain points.
What's more?
Google's Autocomplete feature can also feed you with great keyword suggestions.
Every time you enter a keyword into Google's search box, it generates a list of predictions.
This feature makes the search process easier for users and reduces typing time by about 25%.
However, Google Autocomplete also doubles up as a keyword research tool for marketers.
After all, Google determines these predictions by looking at common and trending searches, along with the user's location and previous searches.
This is an effective way to conduct free keyword research.
Make the most of it.
Reddit
Reddit has a niche for everyone.
And the fact that it has an expanse of information by real people with real experiences, makes it a goldmine for SEO keyword research.
So, how exactly do you pull out keyword ideas from Reddit?
The process is fairly straightforward.
Let's say you run a digital marketing agency.
When you search for the keyword 'digital marketing' on Reddit, a number of relevant subreddits will show up:
Now, choose a subreddit that seems most relevant to your target audience.
Once you do that, you'll see various threads on that particular topic a.k.a subreddit.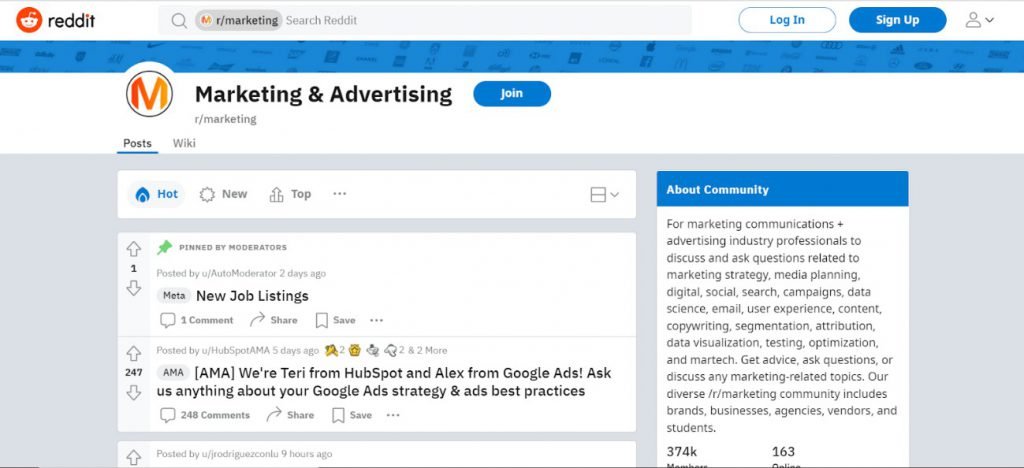 Spend some time going through various threads.
A good practice is to go through threads with lots of comments, like this one:
In this case, you can add 'lead generation' to your keyword list.
Pro Tip: Check out r/IAmA which translates to "Ask Me Anything." This is a subreddit that sees experts answer user-generated questions.
Naturally, the comments in this section are value-loaded.
What better place to gauge what users want to know?
Wikipedia
Wikipedia is one of the world's biggest online encyclopedias.
In most probabilities, the platform probably has a set of entries that deal with topics related to your business.
However, note that Wikipedia is not a keyword generation tool. It will simply inform your research process.
To get started, type out your topic followed by "Wikipedia" in the search box.
The SERPs are a great place to find new keywords.
Alternatively, you can go to the Wikipedia entry for your topic.
Then, head to the Contents section of that page.
Here, you will find a list of topics and subtopics that could make for great keywords.
Want to increase the specificity of these keywords?
Supplement them with other words for long-tail expansion.
Forums
Forums are platforms where people interact and really speak their minds.
So, it only makes sense why they're great for keyword research.
First things first, you need to find popular forums in your niche.
Start by typing out the following phrase on Google:
"keyword" + "forums"
Once you land on a forum, follow the same drill as with Reddit.
Scan it for various keywords, and keep adding to your list.
Keyword Research Tools You Must Know Of
Can you conduct keyword research without a tool?
Of course.
However, with the right keyword tools, you can speed up the process exponentially.
So, let's take a look at some of the best ones.
Google Keyword Planner
Google Keyword Planner is hands down one of the best free keyword research tools.
Why is that?
Because its data comes straight from Google.
To get started, you can type in any keyword(s) and the tool will generate data on a number of metrics.
One of the tool's most unique features is the "Top of page bid."
So, what does this exactly mean?
For instance, if the top of page bid for a keyword is $10, it means that searchers are spending an average of $10 per click.
The higher the number, the more commercial the searcher's intent is.
You can also use Google Keyword Planner to generate keyword ideas.
All you need to do?
Simply enter products or services closely related to your business.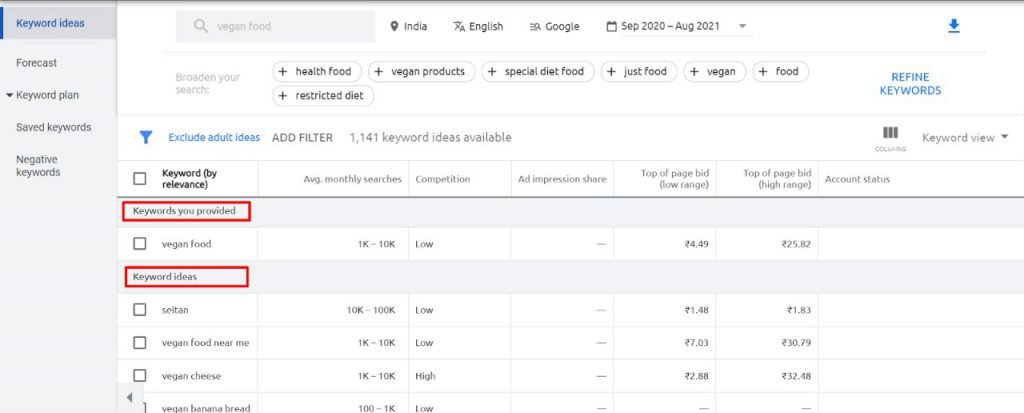 KWFinder
Next on our list is KWFinder, a keyword research and analysis tool by Mangools.
The tool is clean and to-the-point, and can largely improve your SEO and paid search campaigns.
KWFinder will feed you with data on various keyword metrics.
All you need to do?
Enter the following information:
You can even check other sites' keyword positioning using its domain look-up feature.
Semrush
Semrush is a paid all-in-one SEO tool widely touted for its keyword research abilities.
Just like most other keyword research tools, Semrush fetches information on metrics such as search volume, cost per click (CPC), global volume, and search trends.
The best thing about this tool?
It has a massive database of over 20 billion keywords.
What's more, you may ask?
The tool lets you compare your keyword profile with your competitors' to identify SEO gaps.
Ahrefs Keyword Research Tool
Like Semrush, Ahrefs is an all-in-one SEO platform with a robust tool for keyword research.
For starters, you can use the tool to generate keyword ideas.
All you need to do?
Enter your target keyword, a search engine, and a country.
For instance, below are some keyword ideas Ahrefs generates for the term 'digital marketing.'
It also displays data on key metrics such as search volume, keyword difficulty, cost per click (CPC), etc.
But the best thing about Ahrefs?
It doesn't just aid keyword research for Google. It works for nine other search engines including Bing, YouTube, and Amazon.
Rank Tracker by SEO PowerSuite
Rank Tracker is the only keyword research software that can be used both by SEO pros and amateurs. It's convenient and affordable (there is a free edition). Plus, there are around a dozen keyword research methods to try. Eg., Keyword Gap is a cool one:
The tool provides data on keyword difficulty, search volume, CPC, etc.
Keyword Surfer
Keyword Surfer is another free tool for keyword research.
It's a bit different from other tools in that it shows keyword ideas on the Google SERP itself.
Simply install the Chrome extension and the next time you search for anything, it will do all the work for you.
For instance, on searching "vegan food," the following box appears on the right side of the screen:
How to Choose the Right Keywords
Keyword research is incomplete without knowing how to choose the right keywords from the long list of keywords that keyword research tools display.
In fact, this step is so important that it can make or break your ad campaign or SEO.
The reason?
If you end up with the wrong set of keywords for your campaign, you'll target the wrong audience. This, in turn, would mean that you'll not get the desired results out of your campaign.
So, how can you go about choosing the right keywords for your campaign?
Let's find out.
Understand the Main Keyword Choice Factors
When you set out to choose target keywords for your campaign, you need to consider a wide range of keyword choice factors. These include:
1. Keyword Relevance
Keyword relevance is an essential factor that needs to be taken into consideration when you're choosing keywords for your content or ads.
For ads, the keyword relevance directly impacts the ad quality score. And for optimum ad performance, you'd need this score to be as high as possible.
And what about SEO?
A relevant keyword plays an important role in driving targeted traffic to your website. This serves as a win-win for both you and the customers.
The customers get access to the information they want and you get better rankings in the SERPs and your target customers on your website.
When you're conducting keyword research, you should manually check each keyword for its relevance and determine whether you should pick it or not.
Pro Tip: Make sure your content and ad copy are both relevant to the keyword for the best results possible.
2. User Intent
Relevance isn't enough to select a target keyword. You also need to consider the search intent behind the keyword before choosing it.
User intent is the main goal that a searcher has when they perform a search using a particular keyword. It's this "why" that your content and keyword both need to address.
And why is that?
A mismatch between the intent behind the keyword and content would spell disaster for you. The reason being that searchers will not find what they're looking for in your content. As a result, your bounce rate will increase and your rank will decrease.
Similarly, your ad quality score will get derailed too.
So, what can you do?
First, identify the keyword intent by analyzing the goal behind it.
Second, identify if the keyword intent and the goal of your content are similar. If they're the same, you can choose the keyword. Else, move on to the next one and follow the same process.
Pro Tip: Use commercial intent and transactional intent keywords if you're looking to drive conversions. Informational and navigational keywords work best for the top of the funnel.
3. Head Terms and Long-Tail Keywords
As mentioned before in this post, long-tail keywords are ones that have four or more phrases and are specific keywords.
Due to their specific nature, the competition on these types of keywords is typically lesser than that of head terms and body keywords. However, in most cases, this also means lower volumes.
But guess what?
Long-tail keywords also tend to drive better conversion rates than head terms as they're only used by people looking for very specific information (bottom of the funnel).
So, how can you go about choosing the right set of keywords for your ad and content?
The best way to go about it is to select a mix of both head terms and long-tail keywords. Head keywords would help you reach a wider audience. On the other hand, long-tail keywords would help drive conversions.
However, you can vary this selection based on the audience you're targeting. Use more long-tail keywords at the bottom of the funnel. Similarly, use more head terms for the top of the funnel.
Pro Tip: Make sure that all the keywords you choose (head terms or long-tail) suit the current state of the audience in the buyer's journey and satisfy their intent. Also, if you're just starting out, try long-tail keywords first as ranking for those would be relatively easier.
4. Keyword Difficulty Score
You want to know what it takes to rank for a keyword, right?
Keyword difficulty score is a metric that will demonstrate how difficult it is to rank for a specific term.
Difficulty is measured on a scale of 0 to 100—the higher the score, the harder it is to rank for that keyword.
Looking at keyword difficulty will help you:
Get an idea of what the popular keywords in your niche are.
Discover alternative keywords that you can actually rank for.
Save time by helping you focus on the right keywords.
Don't get deterred from trying to rank for a medium to high difficulty keyword. This metric is more about getting a reality check on what you're up against.
Pro Tip: When you're just starting off, spend some time identifying keywords with a low difficulty score and a high search volume.
5. Keyword Gap Analysis
After you've filtered out keywords based on the four factors discussed above, you'll be left with a handful of keywords.
Now's the perfect time to carry out a keyword gap analysis.
This is the process of conducting a competitive analysis and checking if your competitors are ranking for those keywords.
But why?
Your competitors would likely have the same target audience as you. So, if they're ranking for certain keywords, then you should very well target those as well if you deem them relevant to your brand.
What's more?
Looking at your competitors can help you get keyword ideas too. All you have to do is leverage a competitor research tool like Semrush to find out the keywords your competitors are ranking for.
You can then analyze them and pick keywords you'd like to target based on the factors mentioned above.
6. Cost Per Click (CPC)
Yet another thing that needs to be considered is the cost per click (CPC) or the bid rate for each keyword. This is the price that you'd have to pay for each click that your ad gets if you run a paid ad campaign.
A higher CPC means that the keyword is very much in demand from marketers due to the commercial gains that it drives (read sales).
But why should you consider the CPC?
For the simple reason, that ranking for keywords with higher CPC would help you drive more sales. This is because those are the keywords that searchers typically use to make buying decisions.
As a result, the traffic that those keywords drive would be more valuable for your business and would directly impact its bottom line.
But…
You may sometimes observe that certain keywords have negligible or no CPC mentioned next to them.
Targeting these keywords won't be of much use as the organic traffic may not convert that well. Similarly, it means that no one is running ads for those keywords as they aren't commercially lucrative.
That said, you can still target keywords with lower CPC if they have:
Substantial volumes
Low competition
Correct intent
Good relevance
Pro Tip: Run ads for high CPC keywords that are driving conversions and keeping your cost per acquisition (CPA) low.
Check Latest Keyword Trends
Yet another way through which you can find the right set of keywords for your brand is through keyword trends.
The idea here is to capitalize on trending topics and capture them to drive traffic to your website.
And how can you spot the latest keyword trends?
For this, you can leverage tools like Google Trends, Agorapulse, etc. These tools highlight trending topics and keywords.
All you have to do is pick up primary search terms related to these trending topics and use them in a keyword research tool to get related keyword suggestions. You can then analyze the keywords and decide the best ones.
Common Keyword Research Mistakes You Must Avoid
By no means is keyword research easy.
So that you achieve the intended results, you must avoid the following common mistakes.
Ignoring Search Intent
We've already spoken about search intent earlier in this article.
Here's a quick recap:
Search intent represents the reason why users search for a particular keyword.
Not understanding intent could badly impact your SEO rankings.
For instance, a searcher looking for 'ice cream' could be looking for the history of ice cream, recipes for ice cream, or stores around them to buy ice cream.
If your content doesn't align with searchers' intent, it won't rank.
Most of the time, the intent for any keyword will fall under one of four categories.
Informational
In this case, people simply want to know more about a certain topic.
This could be information about a city, the weather, a scientific term, or anything else.
Note that Google knows, for instance, that users searching for 'chocolate cake' are probably looking for recipes and not its culinary history. Or that for a search term such as 'DIY bags,' it would help to include visuals.
Searchers with this intent most likely want to visit a particular website.
For instance, people who search for 'twitter' usually want to proceed to the Twitter website.
Ranking for a navigational term will only help if your site is what searchers are really looking for.
For instance, if you offer Instagram marketing services and rank for the term 'Instagram,' you probably won't get much traffic anyway.
Why?
Because people searching 'Instagram' most likely want to use the social media platform.
Transactional
In the case of transactional intent, the user usually wants to buy something.
Generally, they know exactly what they want to buy and are simply looking to get to the right page.
A keyword example in this regard is 'buy iPhone 13 pro.'
Commercial
The last type of search intent is commercial.
Users searching for such keywords generally know what they want to buy, but are still looking for more information.
They need more time and convincing to make a purchase.
Not Differentiating Between Singular and Plural
This is one of the most common keyword research mistakes.
Google recognizes that the singular and plural versions of a word essentially refer to the same thing.
However, search results for both are often significantly different.
For instance, let's compare the search volumes for 'smartphone' and smartphones.'
See? The singular version has almost ten times more searches.
This is because what people are looking for may differ slightly for both terms.
Again, it becomes important to consider your target customer's search intent.
A person using the singular version may simply be looking for information, whereas, somebody searching for 'smartphones' may want to buy one, or compare two phones.
Either way, make sure that you don't use both interchangeably.
Targeting Just One Keyword
If you can optimize a web page for a number of similar keywords, why restrict yourself to just one?
When you're monitoring keywords, try to find synonyms for each one of them.
You can also look for LSI keywords—search terms related to the main target keyword.
Let's assume that you're writing a blog article on the positives and negatives of a vegan diet.
You want to focus on advantages and disadvantages? Great idea.

However, there's a high chance that users search for pros and cons too.

Turns out they do.
This way, you can come up with several different renditions of your main keyword.
In addition to increasing visibility, this will help you avoid the monotony that results from using the same keyword too often.
Only Going After High-Hanging Fruits
It is important to target realistic keywords.
The competition in certain niches such as travel and digital marketing is very high.
So, if you're just starting off, aim for long-tail keywords instead of head keywords.
This may seem counterintuitive at first.
However, you'd rather rank for a keyword with a low search volume, than target one with a high volume and not rank at all.
Once you have been around in your niche for a while, you can start targeting head keywords too.
Resorting to Keyword Cannibalization
There's a whole lot of confusion around keyword cannibalization in SEO.
In fact, some experts believe that it's not even a problem.
But they're wrong.
Oftentimes, keyword cannibalization is defined as several pages on a site ranking for the same search query.
While this definition isn't wrong, it's missing an important element.
Search intent.
Keyword cannibalization is only a problem when multiple pages with the same search intent are optimized for the same keyword.
For instance, the keyword 'macbook air' has two different pages by Apple ranking:
However, the first link is Apple's main MacBook Air page, and offers a brief overview of the laptop along with its features.
The intent of a user browsing this page would be primarily informational.
On the other hand, the second link opens up to a comparison between three MacBook models, so that visitors can make the best choice for themselves.
Clearly, this page serves a commercial intent.
And so, these two pages can rank for the same keyword without coming in each other's way.
But if the intent for the two pages was the same, Apple would be undoing its own success.
Don't make that mistake.
Not Conducting Keyword Reviews
Keyword research is not a one-time activity.
As there are changes in the market, expect customer behavior to change too.
This is why your keywords need to be reviewed and audited time and again.
Let's say that you run a blog on cars.
What would happen if you used the same keyword research you conducted three years back, in 2021?
You'd be missing out on a whole lot of potential traffic.
For instance, the keyword 'electric vehicles' barely had any search volume in 2018.
Take a look at how many people are searching for the phrase in 2021: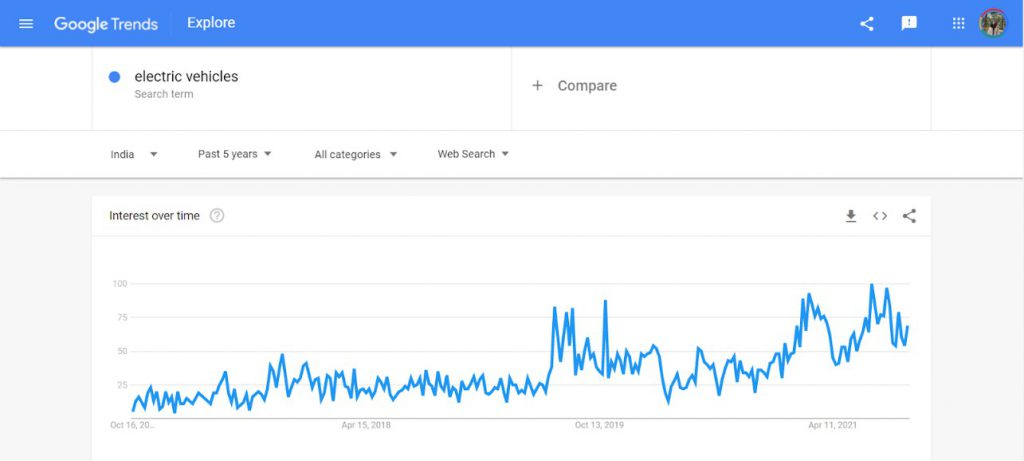 Now, the question is: how often should you update old content for SEO?
The answer will depend heavily on the niche you are in.
If you work in a fast-paced industry like artificial intelligence, you'll need frequent updating.
On the other hand, if you are working in an industry like gardening, you can probably space out your updates.
However, a good rule of thumb is to return to your research every six months.
FAQs
1. What is keyword research?
Keyword research is the process of researching, analyzing, and monitoring search terms that people enter into search engines. It can help you discover queries to target, the popularity of these queries, queries your competitors are tracking, their ranking difficulty, and more.
The end goal is generally to use that data to rank higher on the Google SERP.
2. How do you do keyword research?
You can follow these steps to do keyword research for your SEO strategy:
Nail down your audience persona.
Curate a list of topics relevant to your business.
Refine topic buckets into keywords.
Generate keyword ideas on platforms such as Wikipedia and Reddit.
Go through keyword metrics.
See how competitors are ranking for those keywords.
3. What is keyword research used for?
Keyword research can be used to improve your SEO rankings. However, it also has non-SEO advantages. It can help you:
Understand customer behavior.
Identify key market trends.
Optimize marketing spend.
Study your competition.
4. How do I do free keyword research?
There are several online tools you can use to do free keyword research. Some of them are as follows:
Google Keyword Planner
Keyword Surfer
Ahrefs Keyword Generator
Semrush Keyword Magic Tool
Keyword Generator
5. What is the easiest way to find keywords?
Researching on Google itself is one of the easiest ways to find keywords. However, you can also research goldmines such as Reddit, Wikipedia, and forums for more ideas.
What's more?
If you want to skip the effort entirely, you can use a free or paid keyword research tool to find keywords.
Conclusion
When done right, keyword research can take your SEO rankings to the next level.
And while the process may be time-consuming, it pays off in the long-run.
Remember—keyword research is all about putting your audience in the driver's seat. Once you understand them and their needs well, things won't seem so difficult.
What's more?
Always be realistic about what you can achieve.
Over time, you'll be able to rank for high competition keywords too.
Any time you feel stuck, feel free to refer back to this article. And if you're looking for more advanced tips, our SEO Checklist is just what you need. We have in our SOP Collection a step-by-step guide with screenshots on how to conduct keyword research with a google sheet template to sort the result of your keyword research by Keyword Difficulty and Estimated Search Volume.