What is SEO? Introduction to the 3 pillars of SEO
Have you heard the term "SEO" and wondered what it means?
It can be a strange idea to those who aren't familiar with how search engines work. However, it's an important skill to master if you want to be successful online. In this post, you will learn more about one of the most critical pieces of any digital marketing strategy: SEO.
What is SEO?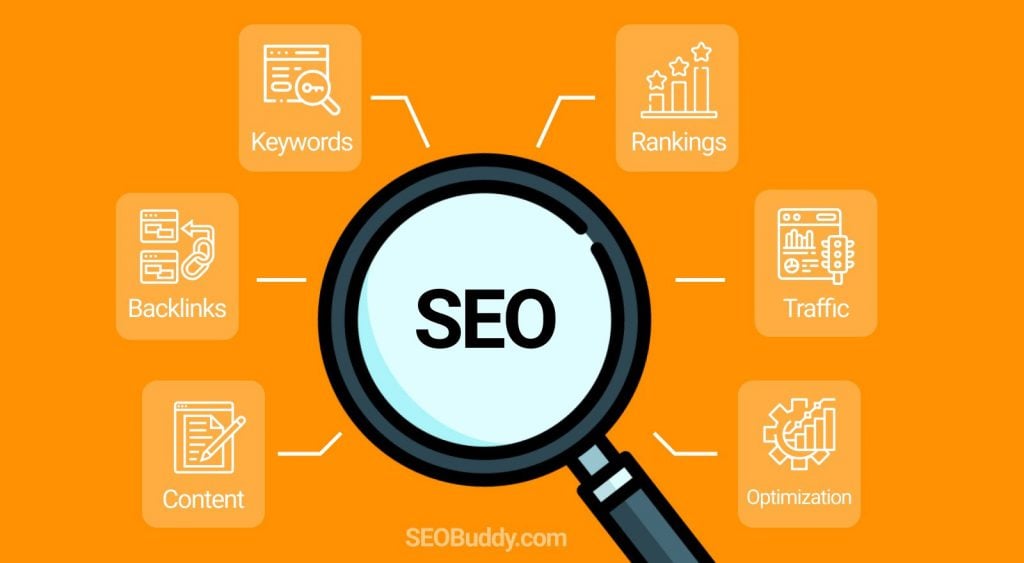 SEO is an acronym that stands for "Search Engine Optimization."
It's essentially a process by which you acquire free organic traffic from search engines (like Google, Yahoo, and Bing). The goal behind improving your SEO technique is to not only drive more people to your website but to drive quality leads to your site, increasing your brand exposure and sometimes leading to sales.
People use search engines to learn about certain topics, resolve issues, find tutorials, or purchase products or services. When they search, they use certain keywords and phrases relevant to the topic of their search.
For example, if someone is looking for lawn mowing services or products in their area, they may search the following:
Lawn mowing service near me
Lawn mowing service in Chicago, Illinois
Cheap lawnmowers
Where to get a lawnmower online
Once a user types in these keywords, the search engine will sift through its database and display relevant search results. So, in a nutshell, SEO is all about understanding what people are searching for and the specific keywords they are using.
With the insane amount of searches going on each day, it can be easy to get lost in the shuffle. But that's where a solid SEO strategy swoops in to save the day!
But before we get into that, let's take a look at what SEO isn't.
What SEO is Not?
Now that you understand what search engine optimization is, you need to know what it's not.
There are many misconceptions when it comes to the world of SEO. It's important to be aware of these misinterpretations so you have a clear picture of SEO and how it can benefit you.
Here are several things that SEO is not:
SEO is not buying traffic.

SEO and paid advertising are two separate things. Don't confuse it with pay-per-click (PPC) ads.
SEO is 100% organic, meaning that it's totally free.
No one can purchase a higher ranking on a search engine, there is no shortcut, and you can't skip the line.

SEO, in general, is not illegal and does not violate any terms of service. However, there are always the good guys and the bad guys, and there is a disapproved SEO practice called Black Hat SEO. We'll talk more about this later.
SEO is not limited to Google.

Every search engine involves SEO because it's a place where users are searching for things. Although Google is the most popular, that doesn't mean your SEO technique should be limited. Many people also use search engines like Yahoo and Bing.

The "I want it now" culture we live in has trained us to want things right away. However, SEO is not something that is magically successful overnight. It takes time to develop and implement a good strategy and more time to wait for results.

It might seem complicated, but overall, SEO is relatively simple. You just need to determine what your target audience is searching for and incorporate those same specific terms into your content. Obviously, there's more to it, but that's the general gist of it.
Black Hat vs. White Hat
As in many areas of life, there are the people who want to cheat to get fast results and the people who are willing to take the harder, longer (and more ethical) way around. The same goes for SEO, and these different tactics are referred to as "black hat SEO" and "white hat SEO."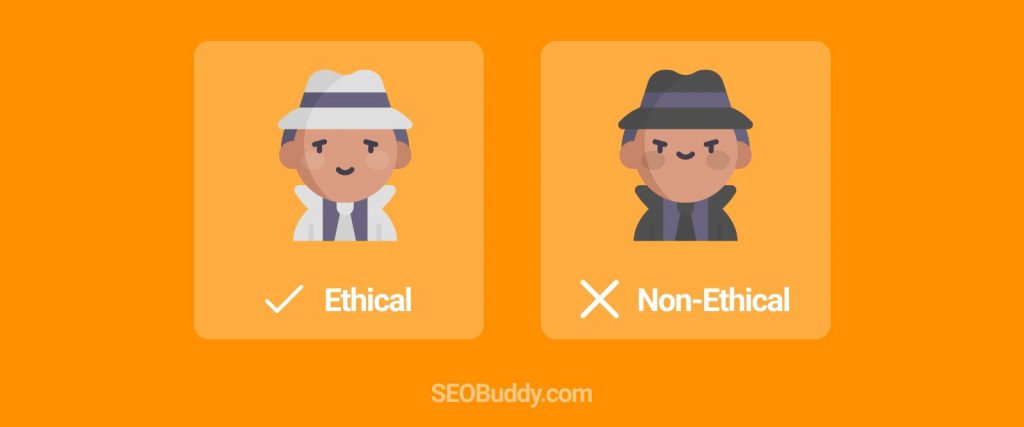 Black hat SEO is for the people who want to use a shortcut to beat the system and should be avoided.
Although it can be effective in the short term, it's usually not sustainable and can end in your website being banned or penalized. This strategy includes duplicated content, on-page text that users can't see, keyword stuffing, redirecting to irrelevant websites, and more.
White hat SEO is the virtuous side of SEO, where people abide by the rules, focusing more so on offering value to the people who are searching. It involves best practices and implementation that uses relevant and well-written content, tagged images, relevant links, mobile-friendly and responsive websites, easy navigation, and other approved methods.
Organic vs. Paid Search
Although organic search engine results can help your ranking and boost your brand awareness, you can also pay for better results. So, what's the difference between organic and paid search?
Organic results are ranked according to their quality alone.
Search engines examine these websites and determine which are the most relevant, dependable, and authentic. These sites are ranked higher based on a vast array of factors such as keywords, the quality of the content, alt tags, links, etc.
A free listing in Google Search that appears because it's relevant to someone's search terms.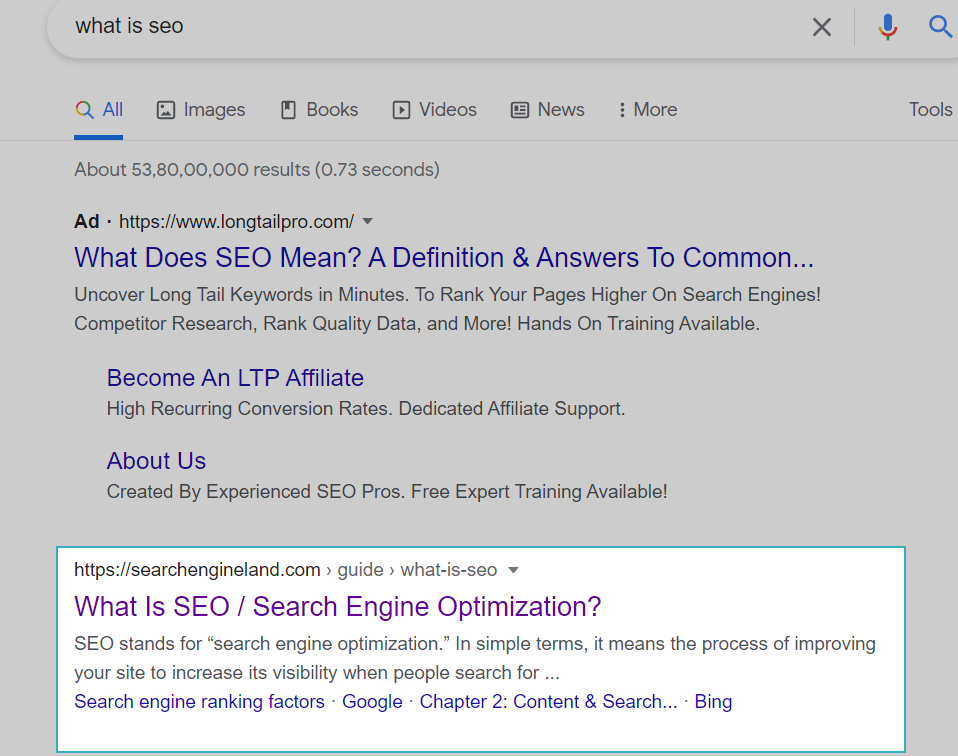 Paid search, on the other hand (also referred to as pay-per-click ads), are results you pay for.
These specific results can either show up above or below the organic results with an "AD" marker next to the title, so people know it's an advertisement. With paid search, your site is ranked based on how much you'll pay for a user to click on your URL.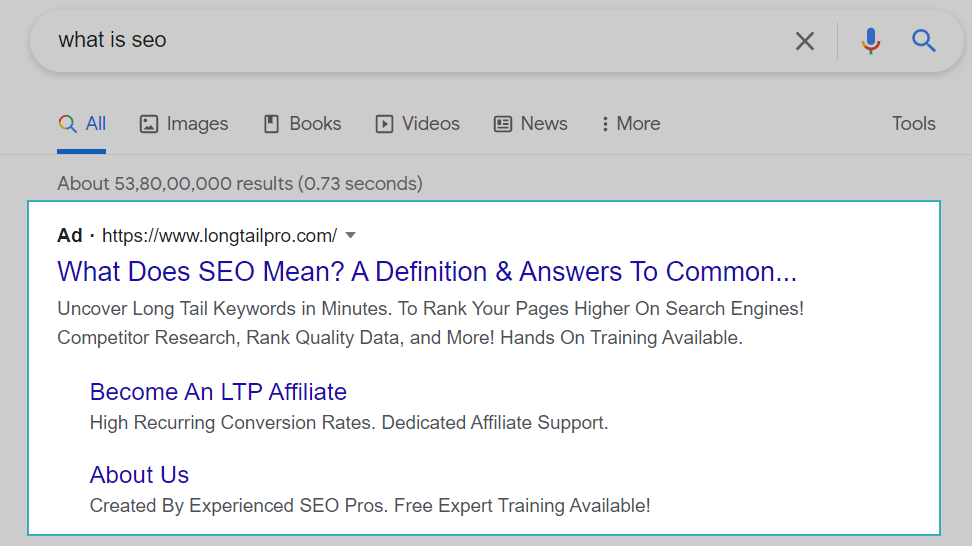 Non-organic search results are paid advertisements.
The ads above organic results contain an "Ad" box.
The ads to the right of organic results have an "Ads" box above them.
SEO vs. SEM
As you already know, SEO stands for "Search Engine Optimization." However, some people can confuse it with SEM, which represents "Search Engine Marketing."
What distinguishes the two?
SEO concentrates on revamping websites to acquire organic traffic. SEM focuses on obtaining traffic through organic search results and paid search results (PPC). Technically, SEO is included under the SEM category, as it's a type of search engine marketing.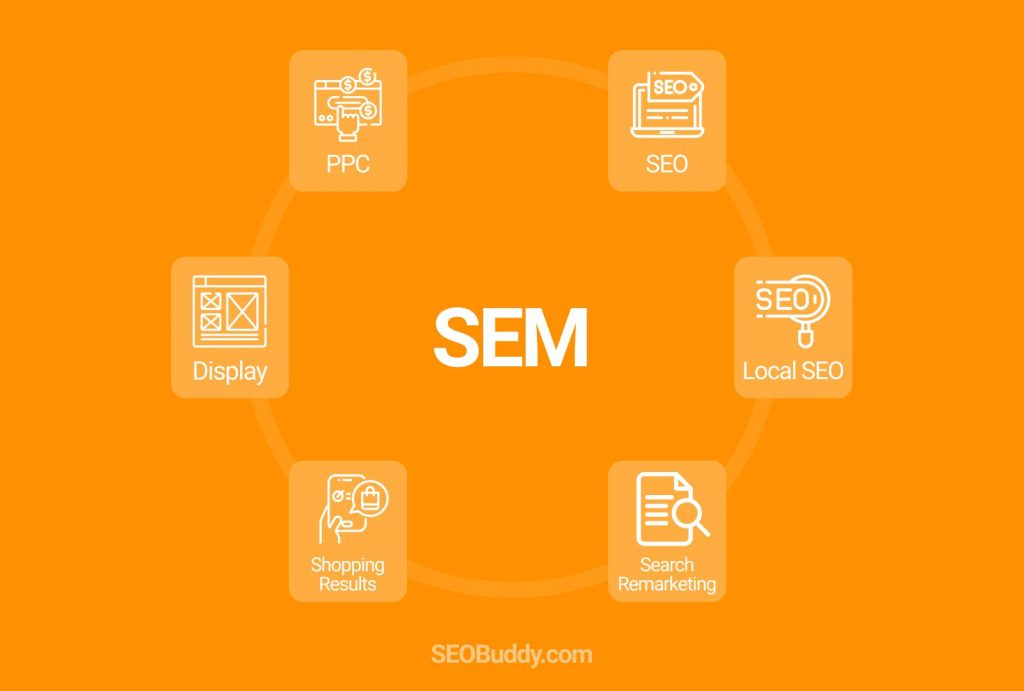 Since it uses paid advertising, SEM generally starts working quicker than SEO, but involves bidding on specific keywords, obtaining a good quality score, writing exceptional ad copy, and optimizing your ad spend. SEO takes much longer to start getting results and includes on-page SEO (keywording), off-page SEO (backlinking), technical SEO (site structure), and user interaction signals.
It may be wise to do both SEM and SEO for some people, while others may only benefit from one or the other. It all comes down to your particular needs and goals.
The 3 Pillars of SEO
At the end of the day, SEO is based on just three things: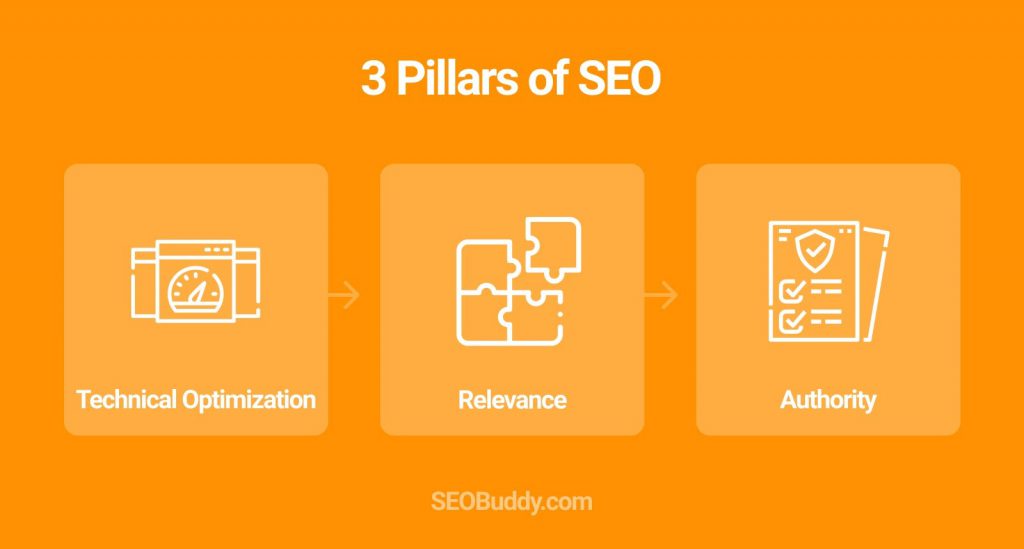 Technical Optimization – The on-page SEO effort and engineering that makes it easier for search engines to discover and understand the pages of a website.
Document Relevancy -Creating Pages & Content that fulfill the user's Search Intent.
Authority – The off-page SEO signals (links, engagement, views, reviews, mention) that tell search engines that your content is beneficial, popular, and trusted.
Let's dig deeper into each of these pillars of SEO.
Content Relevancy & Search Intent
Believe it or not, search engines used to be terrible back in the day. Searching and finding answers would take much longer, as it was difficult to find a relevant page (relevant document) in the results.
Today, it's a different story.
To make sure your website remains relevant to search users, you first need to understand your responsibilities and the search engine's responsibilities.
The search engine is in the business to deliver the best answer to the question we ask. He needs to understand what the users want (Search Intent) so it can serve the best content/answer.

Your job is to produce the most relevant, and the best content that answers their questions.

This is why you need to understand what your audience is searching for online (also referred to as search intent), as this is the only way you can truly remain relevant in your industry.
On-Page & Technical Optimization
It's not a surprise that there are billions of websites floating around the internet these days. This fact makes it all the more challenging for not only users to find your site but for search engines to find it too.
This is where on-page SEO and technical optimization come in.

On-page SEO is the process of making and optimizing the content on your web pages so that it appeals to both search engines and users.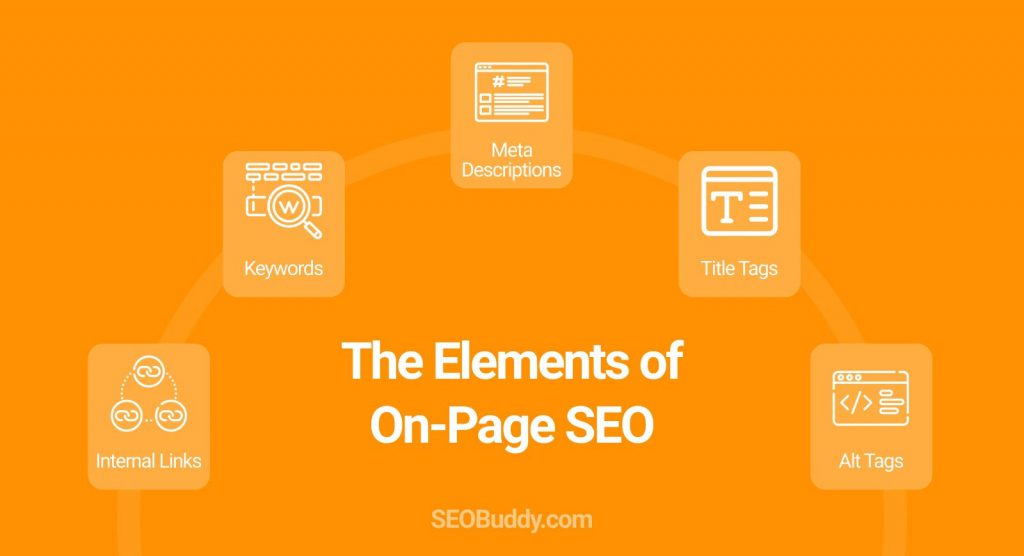 Authority
Everyone wants to be the popular one at the party. But you also have to do something to get popular, right? It's the same with SEO; it all comes down to popularity.
How often (if ever) have you clicked past the first page of Google?
Chances are, you've never done it, or it's a rare experience for you.
Now, do you understand everyone's obsession with ranking? The higher you rank, the more visibility you have. And when you have increased visibility, you also have a greater chance of capturing a sale.
But what are the metrics the search engines look at to pick the 10 best pages out of millions of results?
It comes down to off-page SEO signals such as:
Links from websites with authority (Guest Blog, Directory, Forum, etc..)
Testimonials on Review Sites
Engagement with your content: click, likes, favorites, video views, sales, clicks, comments.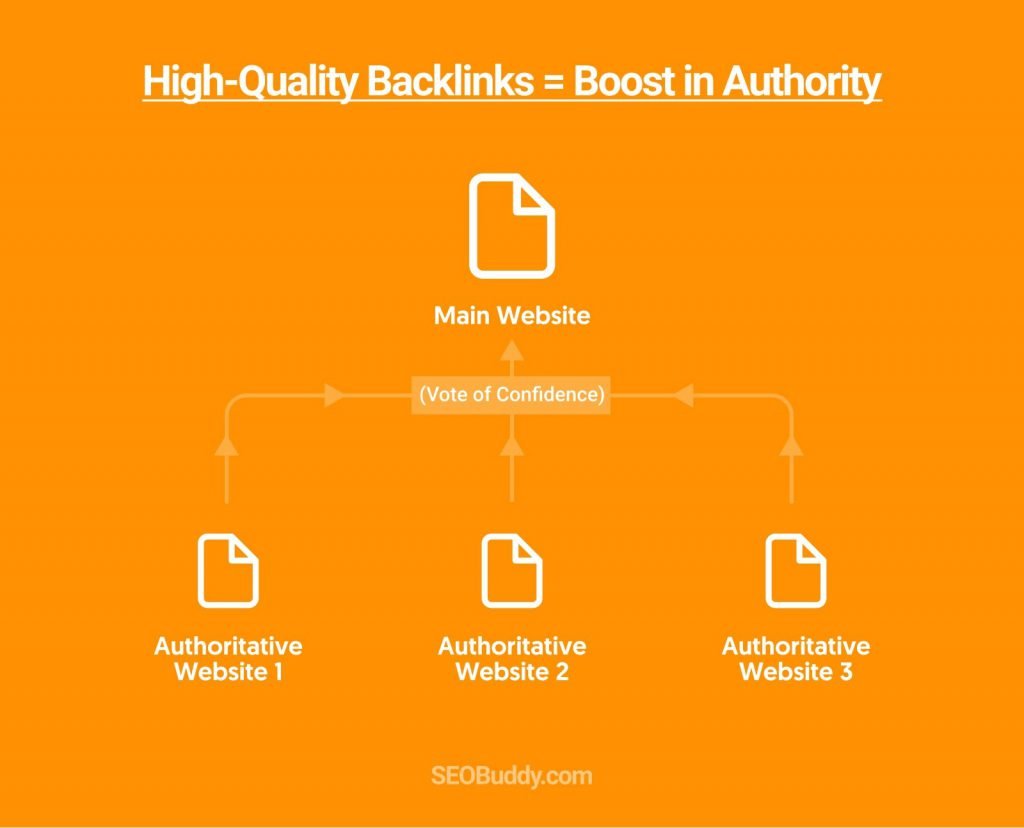 Each time you trigger an off-page signal, it's like an upvote, or simply a vote of confidence that goes toward improving your authority and popularity. And the more popular you get, the higher your ranking will be.
The goal has and always will be to get noticed. Off-page SEO helps you do that.
SEO is Not Just About Google
Remember that SEO is not restricted to just Google.
It is the most commonly used search engine, but there are plenty of other fish in the sea as well. As previously discussed, Yahoo and Bing are also among the top search engines available today.
Search engines are everywhere, from social media sites and app stores to other websites and search engines. Here are several places that utilize a search engine of their own:
YouTube
Amazon
Pinterest
Mobile Search
Google Places
App Store
Yelp
Quora
LinkedIn
eBay
Local Search
Any platform with a search engine has the ability to examine its database and provide relevant results.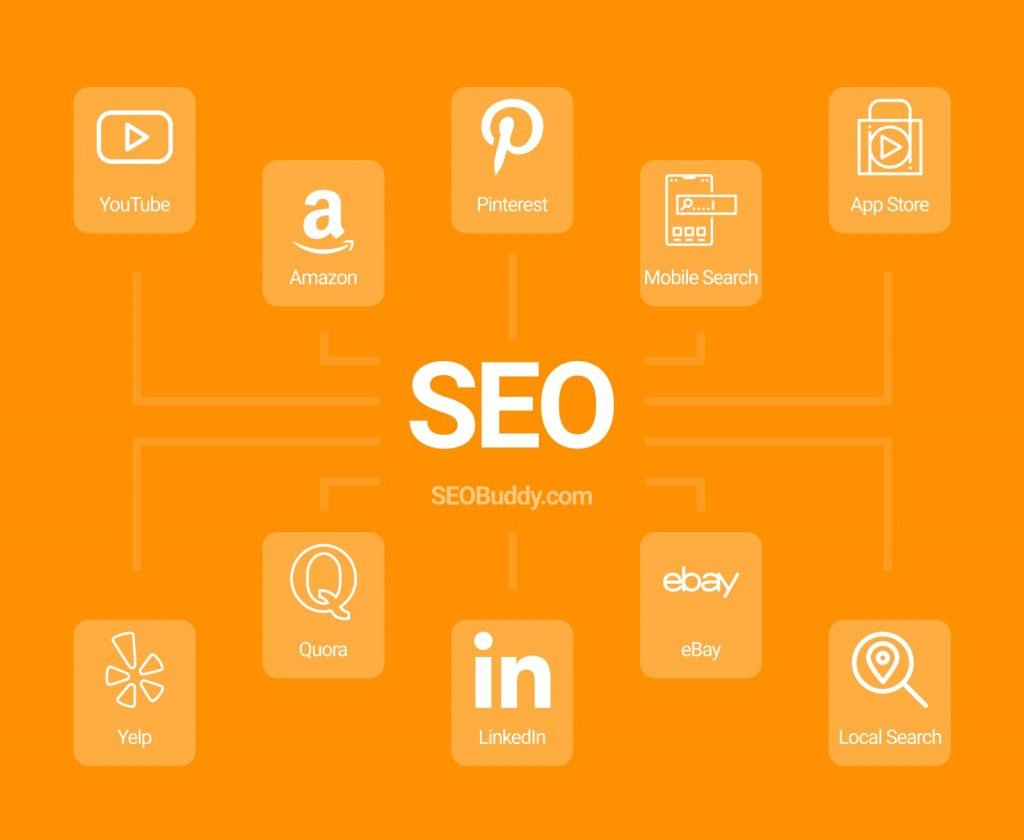 After all, it's their job! To give the best results, these search engines consider what's best for their users and what's best for their business.
Now, if your site can effectively answer one or both of these questions, you can successfully offer users the best content while simultaneously boosting your business and, eventually, your search engine ranking.
Why It Matters and Why Do You Need SEO?
Did you know that 49% of users said they use Google to discover new products?
Are you aware that SEO drives 1000% more traffic to a website than organic social media? If these shocking statistics don't convince you of your need for SEO, we're not sure what will!
SEO is a long-lasting and cost-effective strategy that plays a significant role in increasing brand awareness and driving traffic to your website, both of which are essential to the success of your business.
Implementing SEO best practices can improve reliability and trust with your users, increases visibility, and helps you remain competitive within your industry.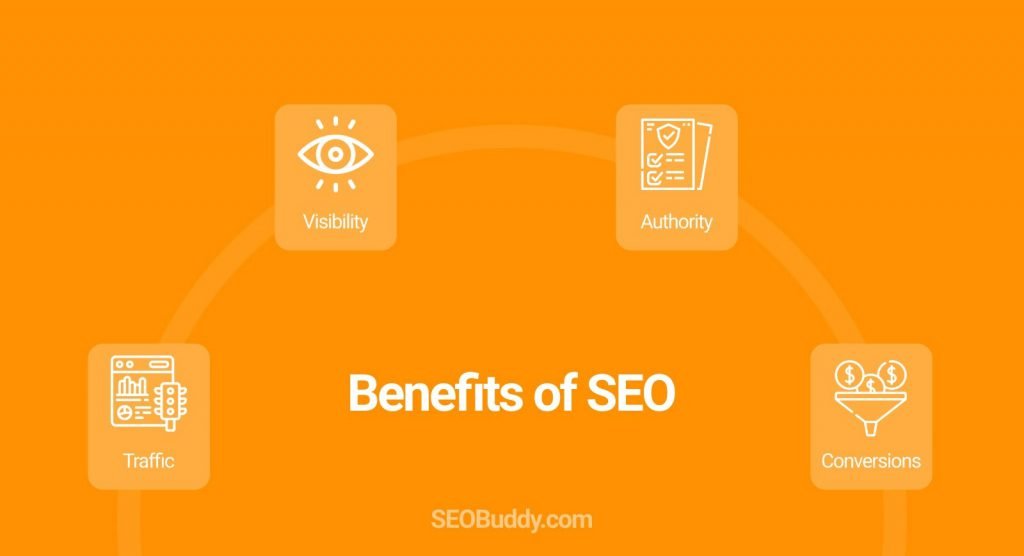 Companies of any size can start using SEO to help their company.
It's a strategy that will inevitably support your brand and improve your marketing efforts. Whether you're selling a product or service or you simply want to become a thought leader in your industry, you can benefit from SEO.
Algorithm Updates

Another reason you need SEO is the vast array of algorithm updates that frequently occur and the many tools Google and other search engines use to make their engine smarter. It's vital to understand these constantly changing algorithmic updates and tools, as it will help you to better understand whether or not you're doing the right things in your SEO strategy.
Below are famous Google's algorithm update released in the past that impacted ranking:
Penguin
Hummingbird
EMD (Exact Match Domain)
RankBrain
Panda
Page Layout Algorithm
Mobilegeddon
Intrusive Interstitials Update
Page Layout Algorithm
Click-Through Rates
It's safe to say that if you're not in the top five search engine results, then you can consider yourself invisible. A famous joke in SEO is: "The best place to hide a dead body is on page 2 of Google"
As sad as that sounds, it's the cold, hard truth.
No one really pays much attention to anything lower than the fifth result. The most famous study to support this fact is the CTR Study by Advanced Web Ranking.

For this study, CTR (Click-Through Rates) is the ratio of clicks on a specific Google result to the number of total searches for that keyword.
However, there's hope with SEO through its impact on click-through rates!
Click-through rate (CTR) refers to the percentage of users who click on a specific web page when it appears on a selection of results. It's basically a measurement of how many people saw your website pop up and clicked on it.
Improving your SEO can improve your click-through rates, which is a wonderful thing for you, as the higher your CTR, the more visitors you're getting to your site. And having a good CTR helps more than just your ranking; it can ultimately boost sales and increase your brand's online exposure.

It's truly a beautiful cycle where one improves the other.
You can improve your CTR by writing excellent meta titles & descriptions, and using calls-to-action (CTAs).
Is SEO Dead?
The answer is absolutely not. Stop the funeral procession.
Although you're up against billions of other websites looking for the same kind of success, your SEO efforts are not invalid, and SEO in itself is not a thing of the past.
People will always use search engines to answer their questions, and websites will always require visitors.

So, SEO will continue to be alive and well as long as the internet is still running.
Even though the landscape is evolving and the pool has increased and become much more competitive, SEO is still an effective means of driving traffic to your website.
What are SEO Skills?
There are a variety of both technical and soft skills required of SEO professionals, giving them a broad skill set. Take a look at some of these skills. You might be surprised at how well you fit.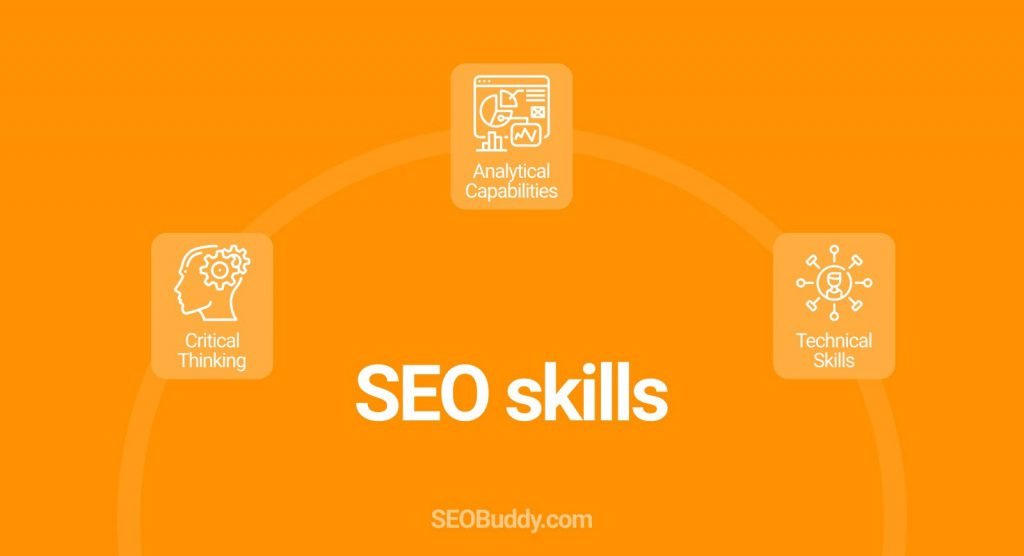 First, you need to be a critical and logical thinker who can analyze problems and develop efficient solutions. You also need to have excellent oral and written communication skills with the ability to take complex ideas and deliver them in a simpler form, especially if you're dealing with people who have never heard of SEO or you're writing content for your site.
It's also essential to understand analytics and the various optimization tools available that offer insights and help make the job a bit easier. You should have a thorough understanding of at least a couple of the following tools:
Google Analytics & Search Console (for data insights and progress reports)
Ahrefs or SEMrush (for link analysis and keyword research)
ScreamingFrog (for performing SEO audits)
Some technical programming knowledge is great to have, but there are instances where people can excel without it. It can be extremely helpful to know how to improve page loading speed, write code, create tags, backlink, and much more.
How Can I Learn SEO?
The first step to learning SEO is diving into the basics to get a fundamental understanding of SEO, search engines, and how they function. For this, we have our SEO Checklist by SEO Buddy.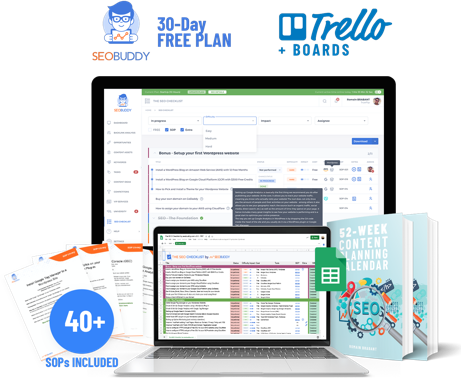 There's more…
Now it's time to discover the other 102 steps that will get more organic traffic flowing to your website. Get the SEO Checklist here.
Want to get a sneak peek of what it looks like?
Enter your email and get a free demo version of the SEO Checklist.
It's also wise to know what not to do. So, compile a list of SEO no-nos as you're conducting your research while you're figuring out what search engines and users need from you.
You should be able to grasp the concept of SEO, the research and analysis aspects, the technical optimization piece, on-page content development, and off-page development (backlinking).
One of the best things you can do is to research best practices and start applying your knowledge on your own website. The hands-on experience will help you get accustomed to not only SEO requirements but also your own site.
A great next step is to conduct keyword research and start writing some SEO-friendly content that's descriptive and well-written so that search engines can understand the topic of each of your pages.
Then, continue to chip away at your SEO to-do list.
It's important to note that learning SEO on your own is possible, but there are a few things you should consider:
There are over 200 ranking factors on Google alone.
Information is constantly changing.
There are many technical complexities that can arise.
Troubleshooting can be difficult.
How Much Does SEO Cost?
How much you pay for SEO depends on your needs, competition, and allocated budget and whether or not you already have a product-market fit to generate money from your efforts.
If you choose to work with a highly-rated SEO company, you will most likely pay around $5,000 per month. That's why most people start with Do-It-Yourself framework and bootstrap their SEO Journey.
Eventually ending up knowing enough to then hire their own in-house SEO team, or freelancer.
How Long Does It Take to See SEO Results?
The answer is: it depends on a variety of factors, from the specific keywords you're using and the competition you're facing to the search engine you're using and your geographical area.
You may begin to see results within as little as a month, but they may be minor.
Overall, you must remember that SEO is not a sprint, not a marathon, but a lifelong journey.
Conclusion
Hopefully, now you have a better understanding of what SEO is, how it functions, and why it's vital for companies. Remember that the world of SEO doesn't have to be overwhelming.
Focus on the three pillars of document relevancy, authority, and technical optimization, and you've already won half the battle.
Ensure that your content is relevant and easy to understand, prove to search engines that you're a trustworthy and valuable resource to users, and don't forget to incorporate technical improvements so search engines can find you.
After you've mastered these essentials, you can move onto bigger things and get into the nitty-gritty of it all. There's always more to learn with SEO, as search engine algorithms and rules are constantly changing.
But for now, you have a solid understanding of what is SEO to get started on your own SEO journey!