Everything you need to manage your data, your tasks and your team (just add a little willpower)
Don't get frustrated with SEO, like everyone else. Get organised, make daily progress and reap the rewards of all that juicy new traffic.
Start every day with a snapshot of your SEO Progress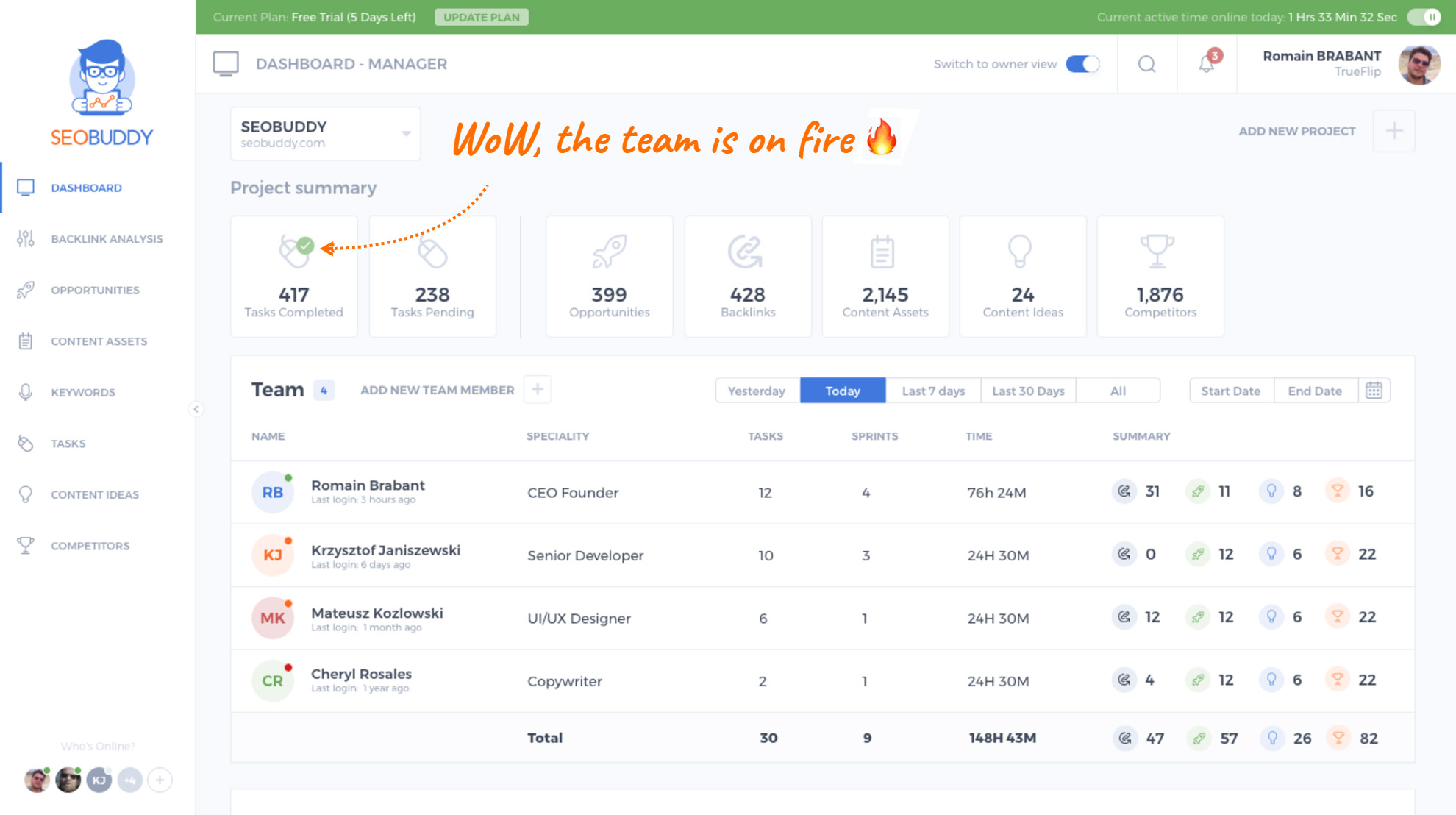 Explore
SEOBUDDY by clicking a feature below
(Or just keep scrolling)
Backlink Tracker

Easily view and manage your backlink profile

It's simple: the more quality websites that link to your site, the better you'll rank in the search results. SEOBUDDY makes it easy to view, understand and manage every single link pointing to your site. And it's easy to keep your backlink profile Google friendly.
Easily connect to Google Analytics to import all your existing backlink data.
SEOBUDDY automatically highlights suspicious links that might be hurting you.
Audit all other backlinks to ensure they're helping you, not hurting you.
Assess the quality of every backlink with regularly updated domain statistics.
And quickly see how much referral traffic you get for individual backlinks.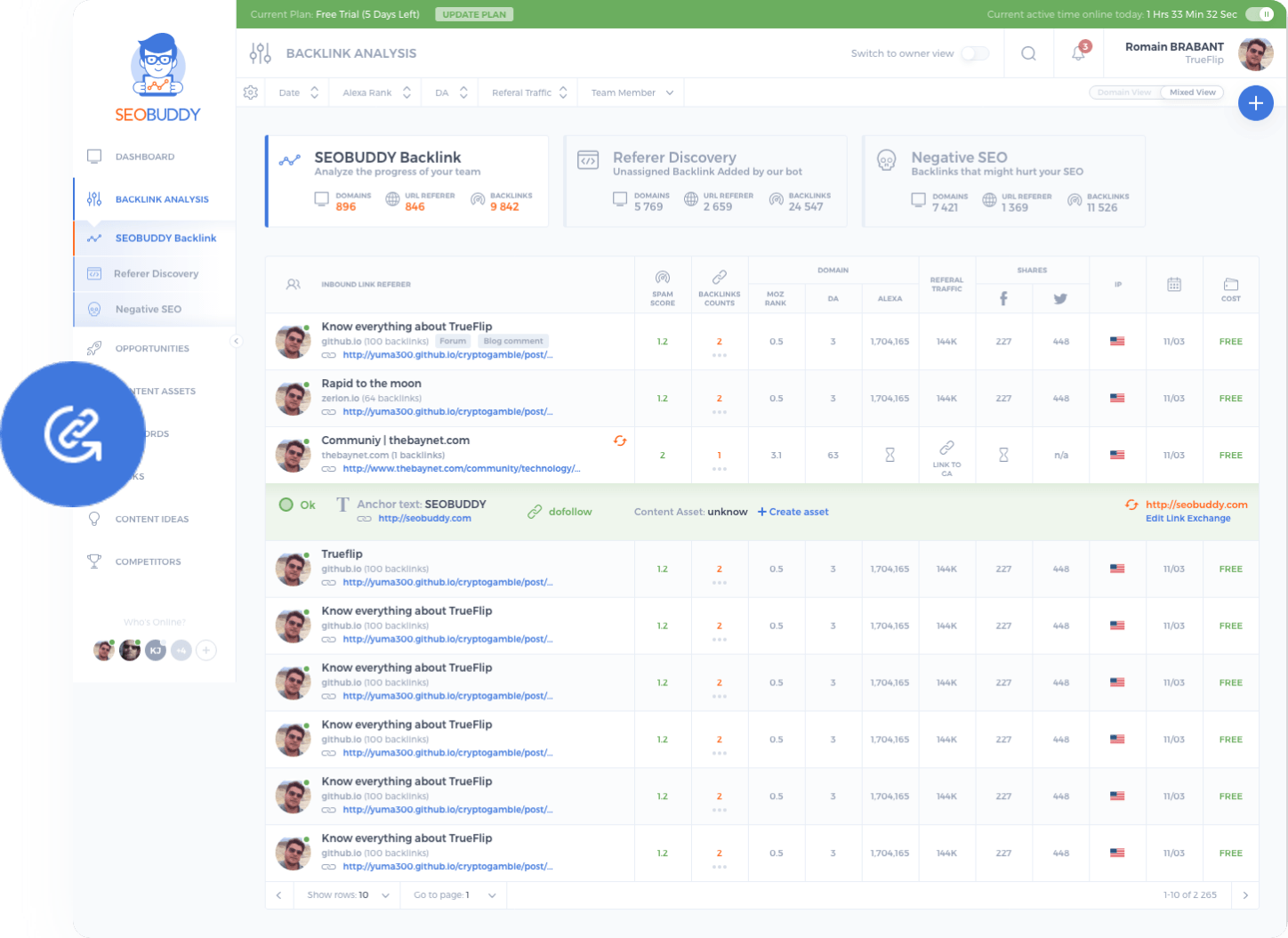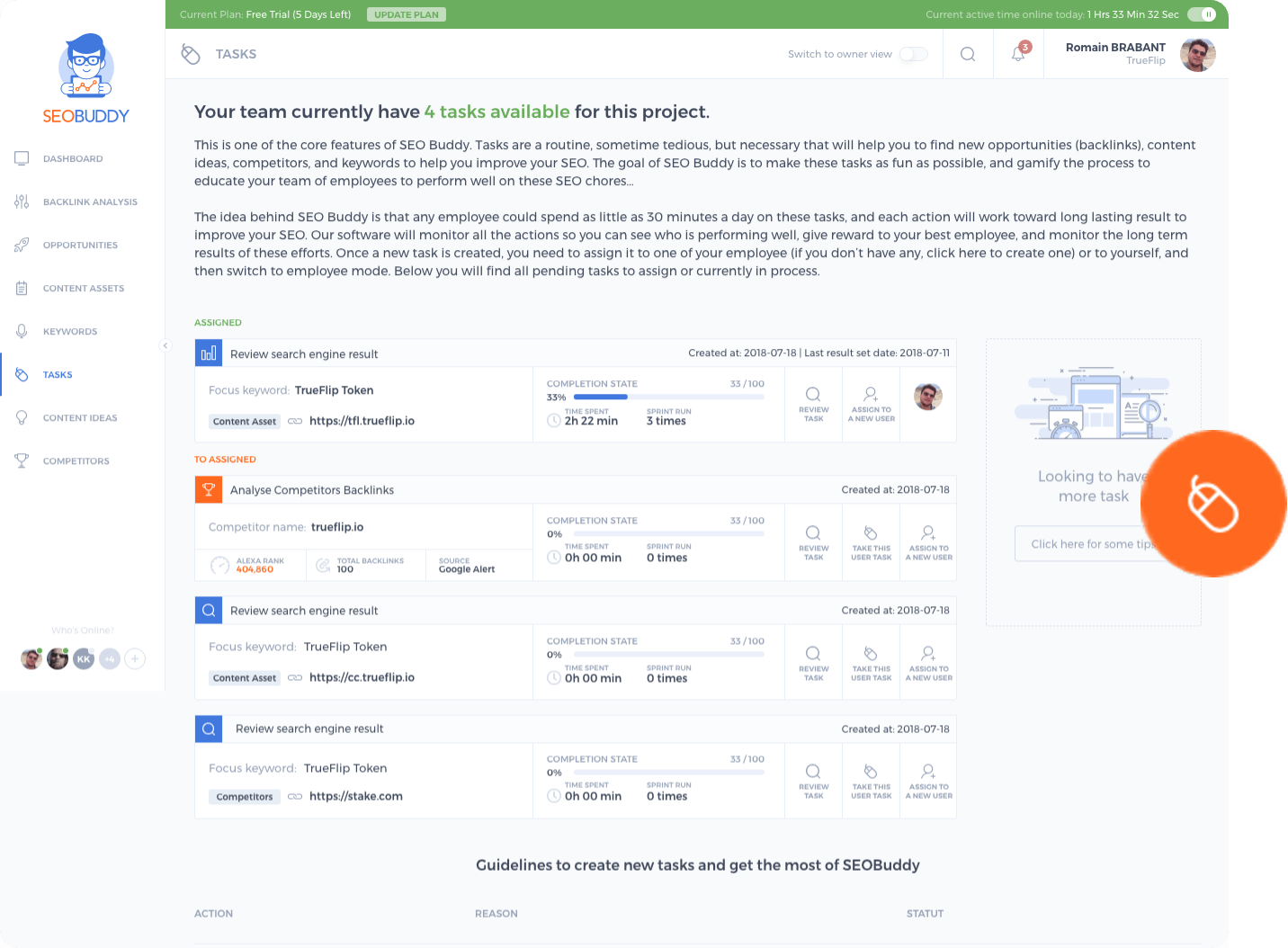 TASKS

Turn raw data into valuable SEO opportunities

SEOBUDDY pulls search results – based on your keywords and competitors – and drip feeds it to your team to be analysed. Each team member gets an auto-generated set of tasks to complete. Your job here: filter the raw search results and turn them into opportunities.
The automatically generated task list gives your team clarity and focus.
An otherwise daunting backlog of tasks is broken down into 20 minute chunks.
Uncover new keywords to target and backlink opportunities to convert.
Discover new competitors and content ideas to inform your SEO strategy.
And each task is given context so everyone knows what's expected of them.
Opportunities

Convert opportunities into sweet backlinks

After you've analysed the raw search results, any promising backlink opportunities you identified will appear here. Each opportunity is presented with useful information to help you make decisions fast. The job now is simple: convert opportunities into actual backlinks.
View the URL, page title, meta description and domain stats of each opportunity (including SPAM score, Moz Rank, DA, ALEXA and social media performance.)
This helps you quickly identify whether it's an opportunity worth pursuing.
Review any notes made about this opportunity and add notes of your own.
Don't think it's an opportunity worth exploring? Remove it with one click.
Turned an opportunity into backlink? Awesome, easily add it to your profile.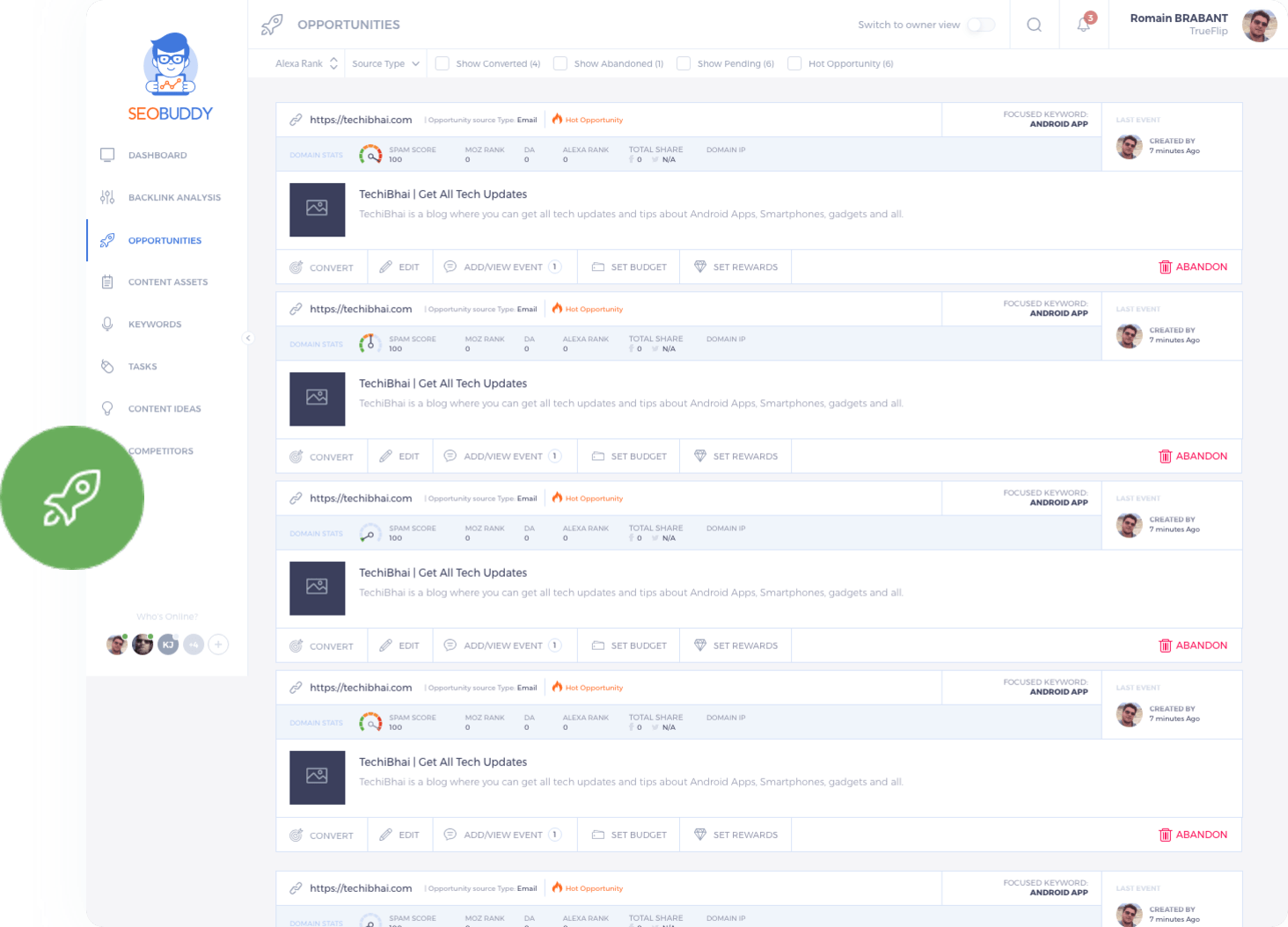 It could not be easier to get started. In four simple steps, you'll get your first list of tasks to complete
Enjoy a 7-day free trial

No credit card required

Get started in 2 minutes
Want to know more first? Keep reading
Content Ideas

Turn content ideas into traffic-generating assets

When you create awesome content, people will share it, quality sites will link to it and Google will love you for it. But instead of starting with a blank page, why not learn from what's already ranking well? SEOBUDDY will help you turn promising ideas into valuable assets.
Manage your entire content pipeline from one simple dashboard.
Collaborate effectively with researchers, writers, designers and publishers.
Assign tasks to your team, get status updates and add project notes.
Set budgets for the completion of individual content assets.
And see the history of all actions taken for each individual content piece.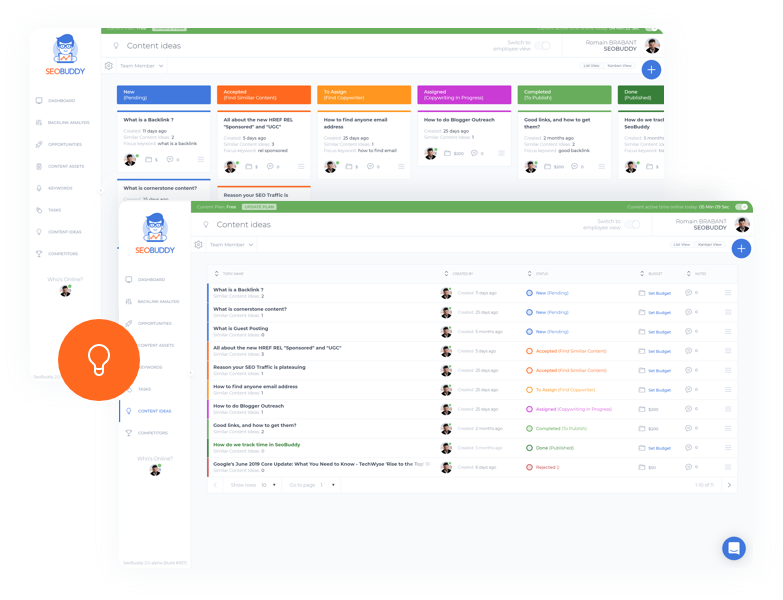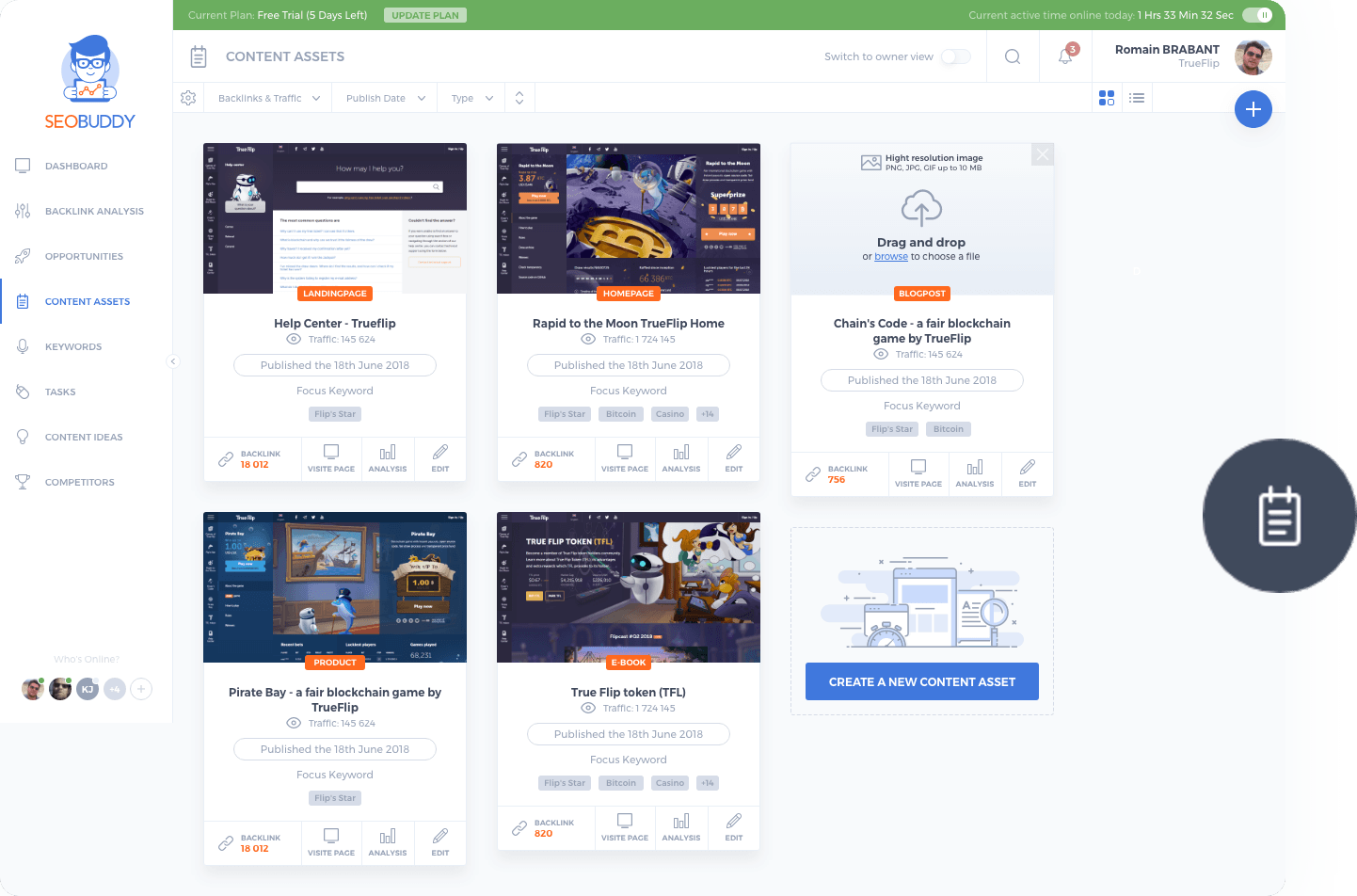 Content Assets

Monitor the performance of your content assets

A content asset can be anything you're hoping will give you some SEO juice – a web page, an article, a guest post, a video, you name it. If you don't have much at this stage, that's fine. Part of your SEO activity will be building up a library of highly valuable and highly shareable content.
Assign a focus keyword to each content asset.
Get detailed performance stats for each content piece you create.
Discover which types of content give you the most SEO juice.
See which content assets is generating the most referral traffic.
And discover what content achieves the most backlinks for you.
"SEOBUDDY is magic. Now I spend less time thinking about SEO, and more time actually doing SEO. Loving it so far."
Konstantin Katsev | CMO @ Trueflip.io
Wait, there's more?You bet there is!
Keywords

Keep an eye on how your keywords perform

As you add keywords and discover new ones to target, they will appear here. You'll have a searchable record of all the keywords you're tracking in SEOBUDDY. Plus, you'll be able to easily monitor how well each keyword is doing.
Get an update on where you rank in the SERP for each keyword.
See which content assets are assigned to each target keyword.
See how each keyword has been performing over a 30-day period.
View pending tasks linked to each keyword.
And view graphs showing individual keyword performance.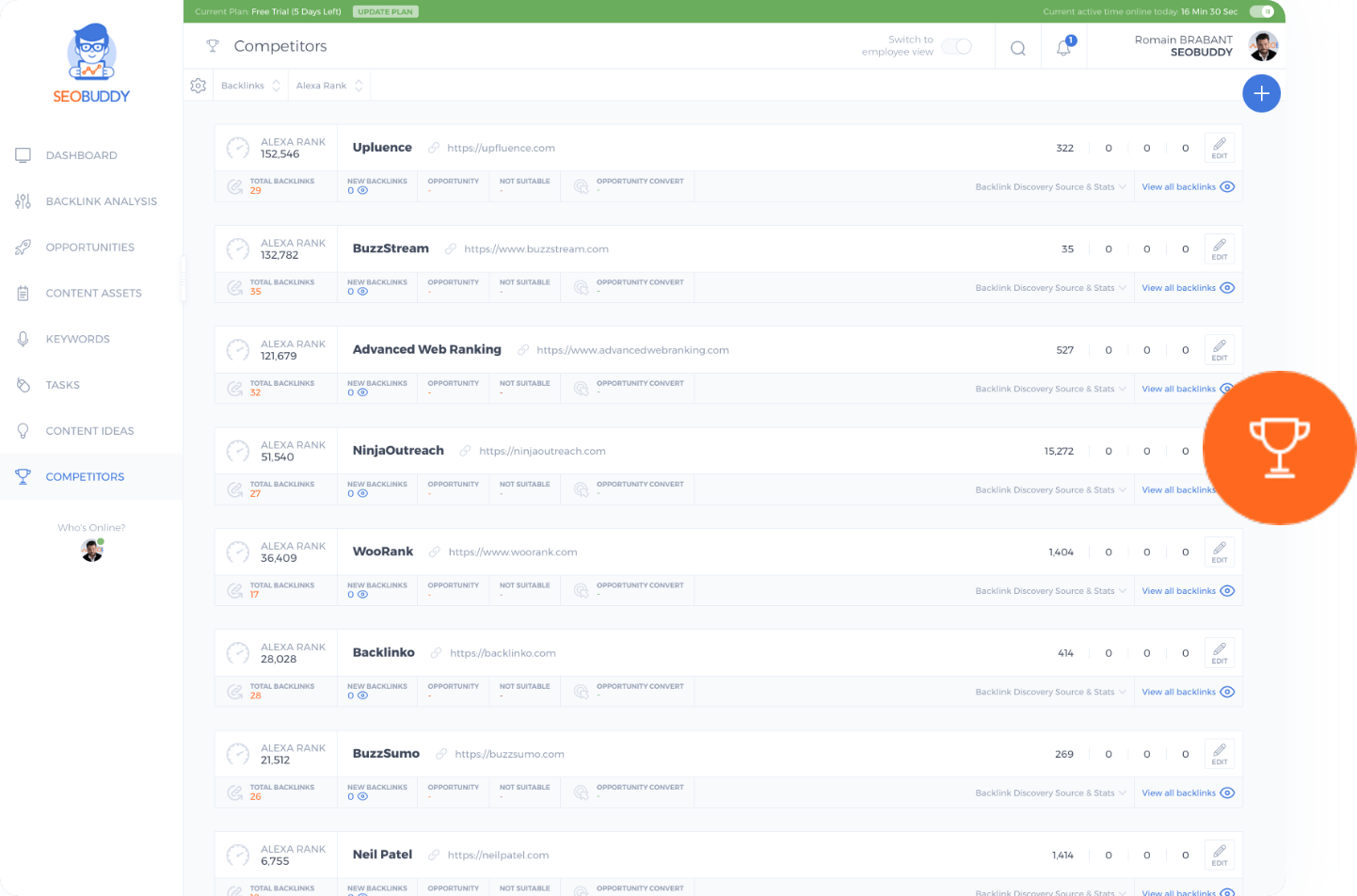 Competitors

Use your competitors' power against them

Instead of looking jealously at a competitor's Google ranking, you can now track, study and reverse engineer their SEO success. You'll learn exactly what works and what doesn't. Because when you know what you have to do to win, winning becomes that much easier.
Track the performance of your closest rivals in the SERPs.
Easily add newly discovered competitors to those you track.
View and analyse a competitor's complete backlink profile.
Discover new backlinks that a competitor has recently gained.
Get social media performance statistics for competitor domains.
Expect great support and practical SEO advice, from a team committed to helping you get more of that sweet new traffic
We're here for you
Trying to get a response from a giant tech company is a pain in the butt. We're small and customer focused, so you'll always get the friendly support you need.
Get all the features
Hate seeing premium features missing from your plan? We hear you. Big companies shouldn't get all the fun, that's why every plan gets access to every feature.
Pay based on usage
Our pricing model is based on how much you're using the tool. If you're getting loads of value, you pay a little more. If you're a light user, you pay less.
Works where you do
It goes without saying that SEOBUDDY works across your devices. So you and your team can complete your tasks and make progress, wherever you are in the world.
Get practical advice
The world is awash with SEO advice. We're not here to add to the noise. You'll get top guides designed to help you make progress and get results. No fluff allowed.
You are not alone
Join our Facebook community and get guidance from your peers. It's full of smart people who want to be organised, climb the rankings and get more sweet traffic.
So what do you say, are you ready to start climbing the rankings? Come and test the waters – it's free for 7 days
Enjoy a 7-day free trial

No credit card required

Get started in 2 minutes
What really impressed me about SEOBUDDY was how easy it was right out of the gate. The idea of learning yet another new tool makes my heart sink. But with SEOBUDDY, you just input a few simple bits of data and boom... you have a list of tasks to start working on.