What is On-Page SEO and why it's critical to your success?
What is on-page SEO and why is it important?
That is a question that many beginners ask as they start their SEO journey.
The short answer is: on-page SEO deals with optimizing elements on your site to improve your SERP rankings. It is one of the three pillars of SEO and a top-ranking factor for Google.
Relevant content and the use of keywords (key elements of on-page SEO) are two of the top three top ranking factors, according to a recent study.
It means that on-page SEO is extremely important to rank higher on (SERP), you can't choose to ignore it.
In this post, you will learn in detail:
What is on-page SEO?
The key elements of on-page SEO
How you can leverage on-page SEO to improve your SERP rankings
So, let's get started.
What is On-Page SEO?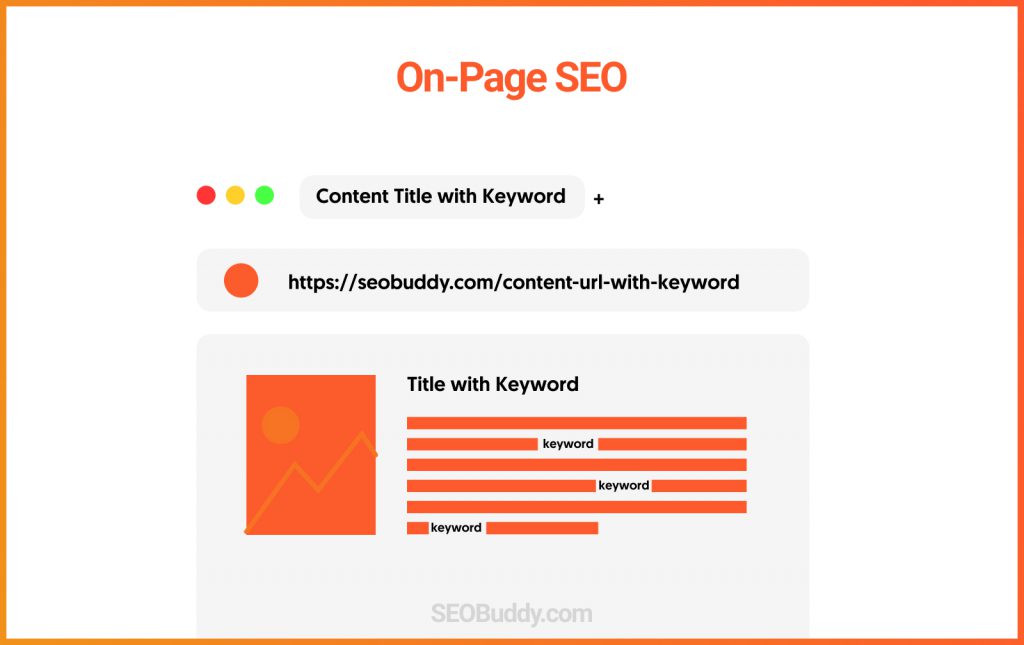 On-page SEO is the practice of optimizing web pages to improve the overall user experience and help search engines better understand a site.
It involves optimizing a page's content, URLs, Title Tags, Meta Descriptions, etc, for keywords.
It also includes code optimization.
Whenever you are planning your on-page SEO strategy, it is always good to prepare a checklist first.
It helps you to avoid missing any important points.
For those who don't have time to work on a checklist, we have created this handy, ready-to-use SEO checklist that includes all the essential points that you need to work on.
How does it differ from off-page SEO?
Find out in the next section.
On-Page SEO vs. Off-Page SEO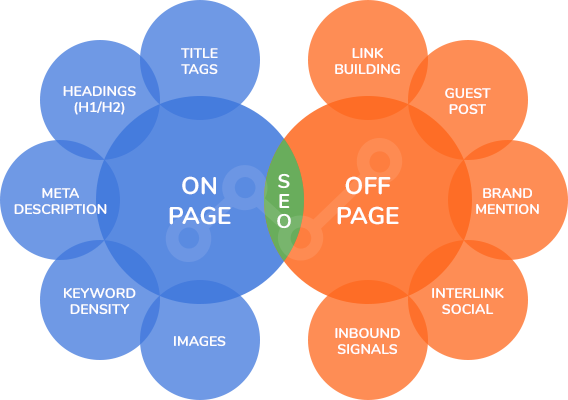 On-page SEO involves changes you make on your website to improve your SEO. This mainly revolves around content optimization by focussing on keyword placements and density.
Off-page SEO includes things you do outside of your website to improve your SEO. This mainly revolves around building backlinks, getting mentions, and improving social media reputation.
Now that we have that cleared, let's discuss the key elements of on-page SEO in more detail.
What are the Key Elements of On-Page SEO?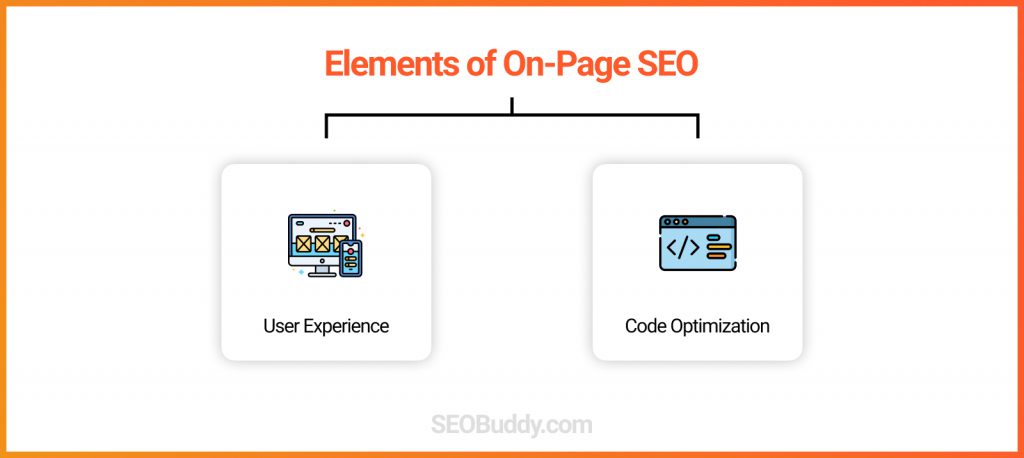 Before we get into the various elements of on-page SEO and you start optimizing, you should first assess where you stand. For that, you can do a SERP analysis and see what your current rankings are, and then start with the process.
All the numerous elements of on-page SEO can be divided into two categories:
User Experience – Things that aim to improve the user experience on your website and send good UX signals to search engines.
Code Optimization – Things that improve your website and help search engines crawl, understand, and index your site better.
Let's discuss each of these in more detail below.
User Experience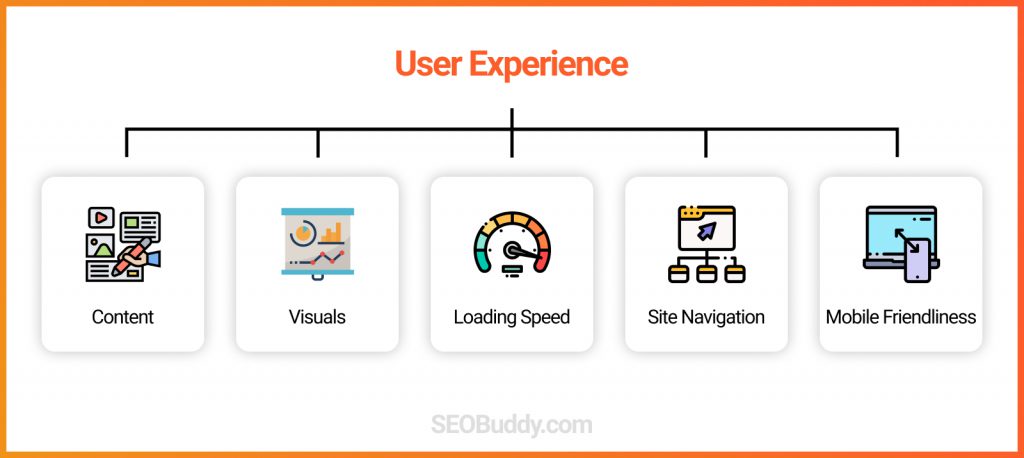 Before we discuss this, you must understand how search engines work. They look at the UX signals from a website by using metrics like time spent on page and bounce rate.
This part of on-page SEO deals with improving the user experience on your site and sending good UX signals to search engines.
The elements of on-page SEO that focus on improving the user experience are:
Content – Your website content should be plagiarism-free, be relevant, meet user intent, and have keywords and titles that help users determine whether it is useful for them or not.
Visuals – An optimized web page should have high-quality, relevant visuals with proper alt text, without affecting the site speed.
Loading Speed – Any page that takes longer than a few seconds to load loses tons of traffic and sends bad UX signals to Google.
Check your website speed using Google's PageSpeed Insights tool.

Site Navigation – Your site should be easy to navigate with proper menus and tabs to help visitors find what they are looking for.
Check out how we have provided all useful resources for our readers right in the features tab at our homepage.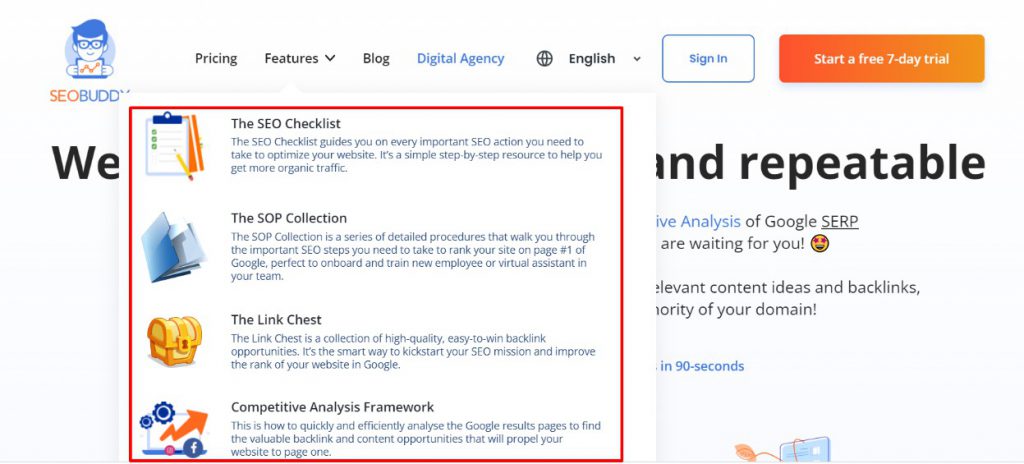 Mobile Friendliness – Pages should fit the size of the screen they are being viewed on and visuals should render well without distortion.
Code Optimization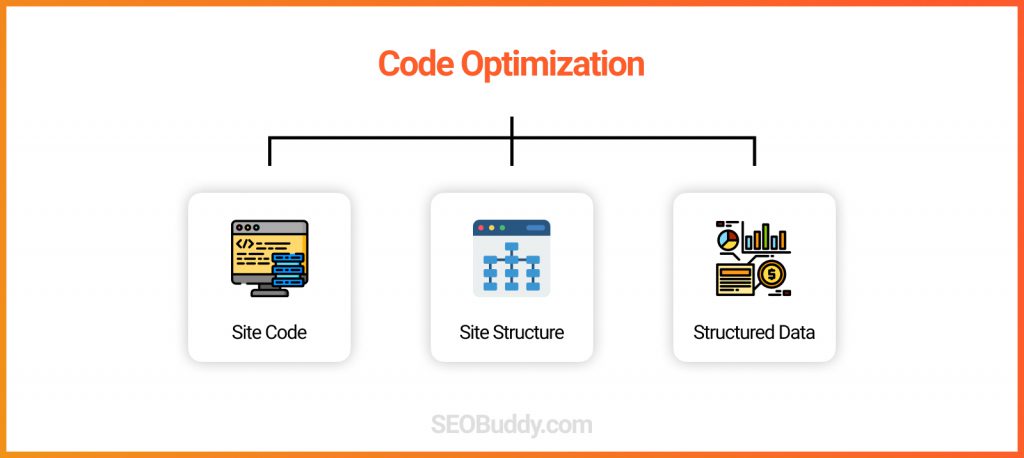 Here are the key elements of on-page SEO related to code optimization:
Site Code – Optimizing the title tags, meta descriptions, H1 tags, internal links, canonical tags, image alt tags, etc.
Site Structure – Hierarchy of web pages, content grouping, sitemaps, URL structure, internal linking structure, etc.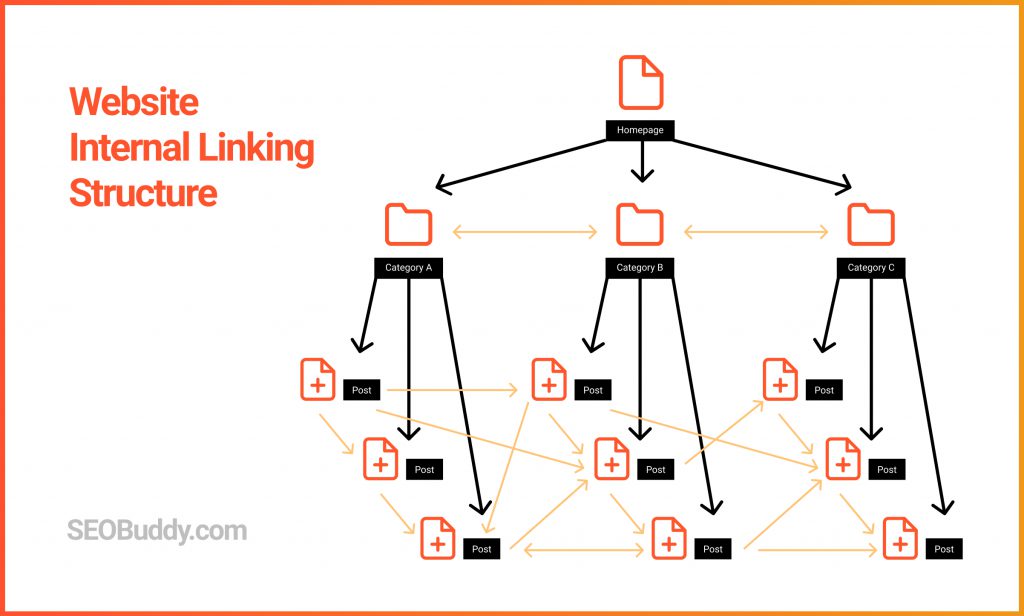 Structured Data – Use of schema markup to get featured in Rich Snippets and help search engines understand site content better.
Here's an example of how rich snippets appear on the SERP.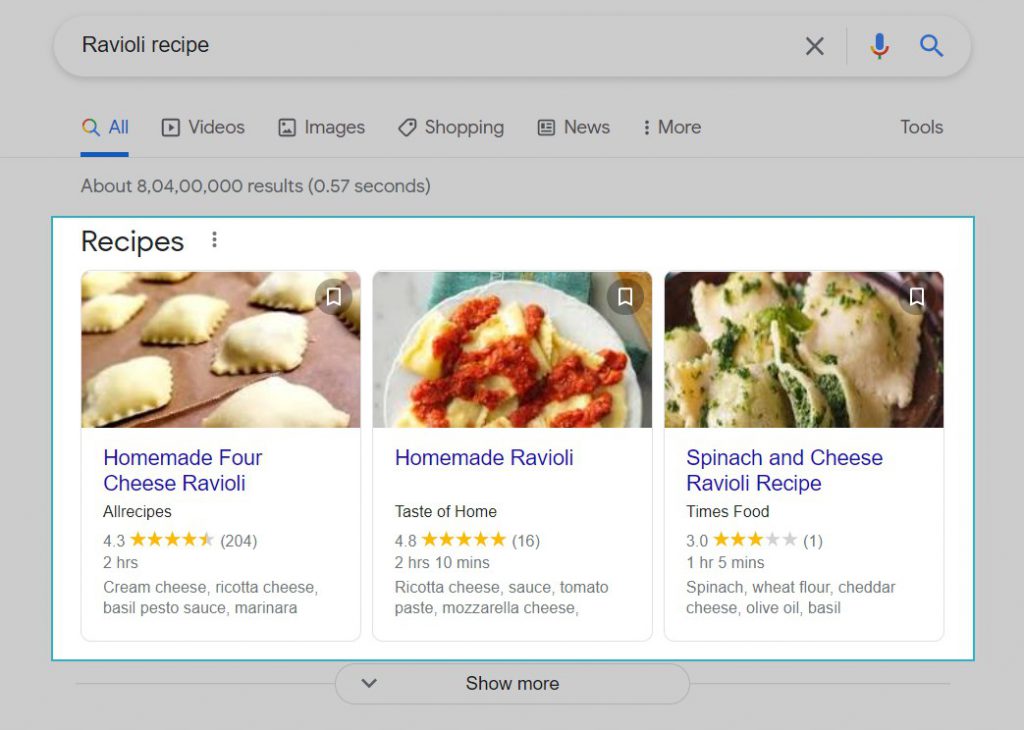 Having an exhaustive checklist can ensure that you don't miss anything important and are at the top of your SEO game. You can download our SEO checklist if you don't have time to create one.
Why is On-Page SEO Important and How Can it Improve Your Rankings?
Wondering why is on-page SEO important?
On-site SEO is important because it helps search engines fulfill their basic purpose—provide users the most relevant and useful search results.
How?
By making sure that your content is of the highest quality, provides a good user experience, and is easy for search engines like Google to understand.
The better Google understands your content and regards your website as an authoritative one, the higher it will show your site in search results.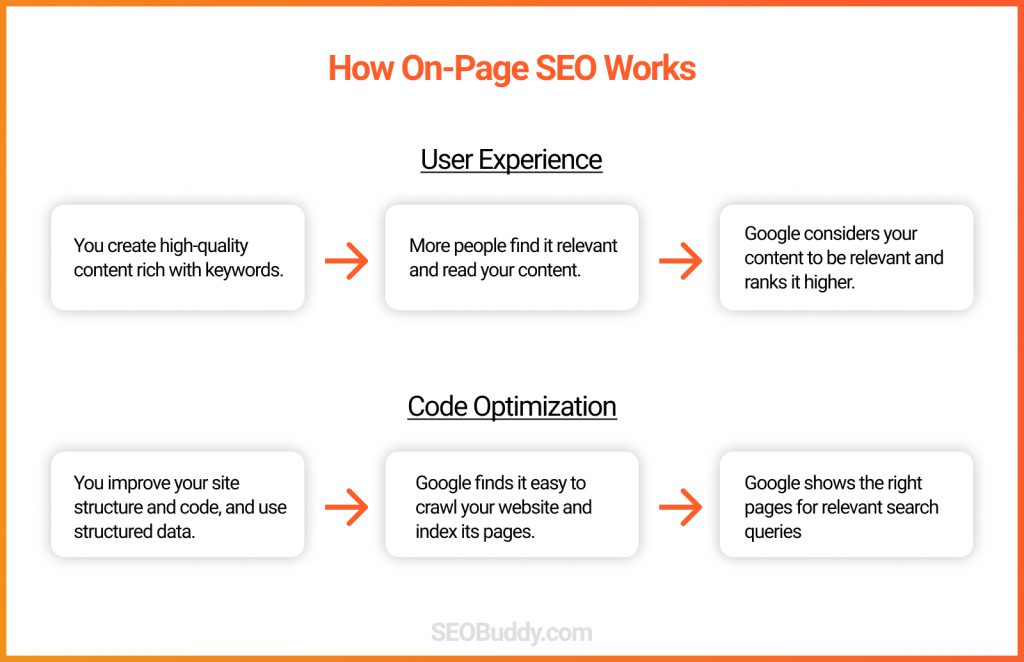 The goal of on-page SEO is to:
Improve user experience on your website
Help search engines understand your site and content
This helps search engines to:
See your site as one that their users find useful
Categorize your content and show it for relevant search queries
It ultimately helps in:
Improving search rankings
Ranking for relevant search queries
Make sense, isn't it?

FAQs
1. What is included in on-page SEO?
On-page SEO includes optimizing the following elements:
Content (keywords)
Visuals
Site navigation
Site speed
Mobile-friendliness
Site code
Site structure
Structured data
2. What is meant by on-page SEO?
On-page SEO involves optimizing the content, user experience, and structure of a website to improve SERP (search engine results pages) rankings. It involves keyword optimization, improving site structure and navigation, making a site mobile-responsive, and more.
3. What is on-page SEO and off-page SEO?
On-page SEO or on-site SEO involves improving on-site elements like content and site structure, while off-page SEO deals with external elements like backlinks from other sites.
4. What is on-page SEO with an example?
On-page SEO is a lot about optimizing your site's content, title tags, URL structures, meta descriptions, etc. with keywords to rank higher. One example of successful on-page SEO at work is by searching for a keyword and analyzing the top results.
For example, let's consider the search results for "free SEO tools".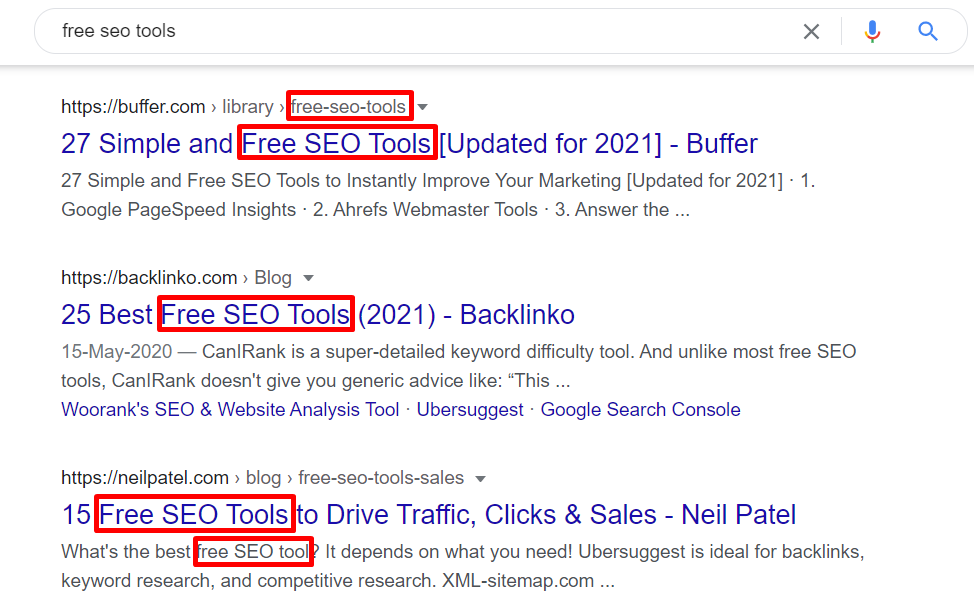 Most of the top-ranking posts have the keyword or its variation in title tags, meta description, and URLs. Clearly, on-page SEO works. Use our SEO checklist to leverage it to your advantage.
However, there are other aspects of on-page optimization that work behind the scenes like a good site code, structure, navigation, speed, etc. All these contribute to improving a site's user experience and helping search engines make sense of the site.
5. How can I practice on-page SEO?
You can start by optimizing your site content by:
Ensuring that it is of high quality and relevant to your target audience
Optimizing it with relevant keywords and maintaining a good keyword density
Using headings, subheadings, bullet points, and visuals to make it engaging
Adding keywords in first paragraphs, headings, and throughout the content
Next, you should optimize the other elements like site navigation and mobile responsiveness, to improve user experience. Post that, you can optimize the technical aspects like code, site structure, etc.
Conclusion
On-page SEO is critical to the success of your website and can significantly improve your rankings.
When you start your on-page optimization process, keep in mind that it requires a lot more than just optimizing for keywords. Use good SEO techniques to improve your site's user experience, content quality, and structure.
Ready to start your on-page SEO journey? For more tips on improving your SEO strategy, check out our ultimate on-page SEO checklist.