12 Types of Keywords That Smart Marketer Should Know and Use
Keywords are at the core of SEO (search engine optimization).
A successful on-page SEO strategy requires you to understand how to conduct a keyword research for SEO and the various types of keywords.
For a successful on-page SEO strategy, you need to know and understand the various types of keywords.
You need primary and related keywords (also described as LSI keywords in the industry) for content optimization, long-tail keywords to increase your search rankings, and an entirely different set of keywords for paid search ads.
Please note that LSI keywords don't exist according to Google, as mentioned in this tweet by a Google search advocate.
However, it's still the popular term people use to refer to related keywords and synonyms of the main keyword.
In this post, we have curated a list of 12 types of keywords that every SEO professional should know.
Ready to find out what these are?
Let's get started.
Types of Keywords – By Length
When it comes to selecting keywords to target via your content, the length matters.
The two common categories of keywords according to length are generic keywords and long-tail keywords. You can also consider a middle option as mid-tail keywords, but those are just the keywords that are on the shorter end of the range for long-tail keywords.
So, for this post, let's consider only two categories that you need for keyword research and discuss each in detail.
Here you go.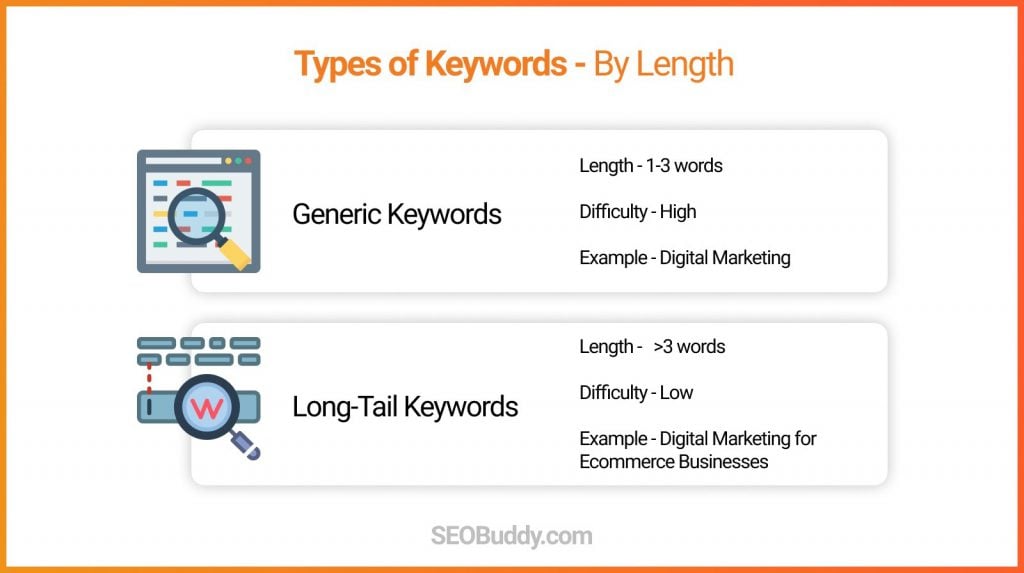 Short or Generic Keywords
These are the broad terms like "digital marketing", for example, that usually have a high search volume and level of competition. Generic keywords are always short in length and usually have 1-3 words and note more.
Long-Tail Keywords
These are longer, more specific phrases and search terms that have comparatively lower search volume, as well as the level of competition. For the example above, the long-tail keywords could be:
Digital marketing strategies for beginners
Digital marketing tactics for small businesses
Digital marketing for ecommerce businesses
And so on!
The longer and more specific a keyword is, the better your chances of ranking for it.
Moreover, long-tail keywords also help you attract a more relevant and targeted audience to your website, even though they may have a lower search volume.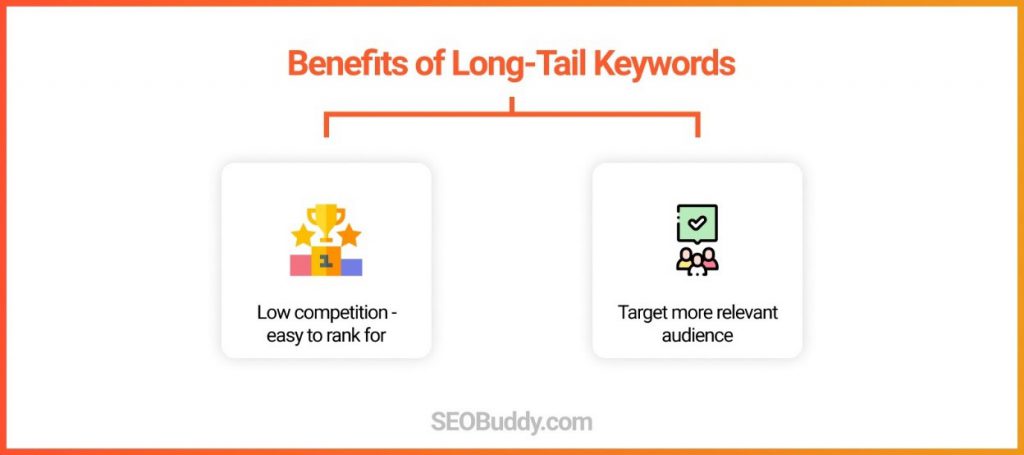 Therefore, you should use long-tail keywords, specific to your business and niche, to help your pages rank higher on SERP. When you do your keyword research, focus on the keywords that have a decent search volume and are most relevant to your business.
Follow these tips as they will help you on your SEO journey.
Types of Keywords – By Search Intent
If you want to create SEO-friendly content, then you need to consider the different types of keywords according to a user's search intent. You can target different types of leads or audiences, simply by choosing the right type of keywords.
There are four main types of keywords according to user intent―informational, navigational, commercial, and transactional.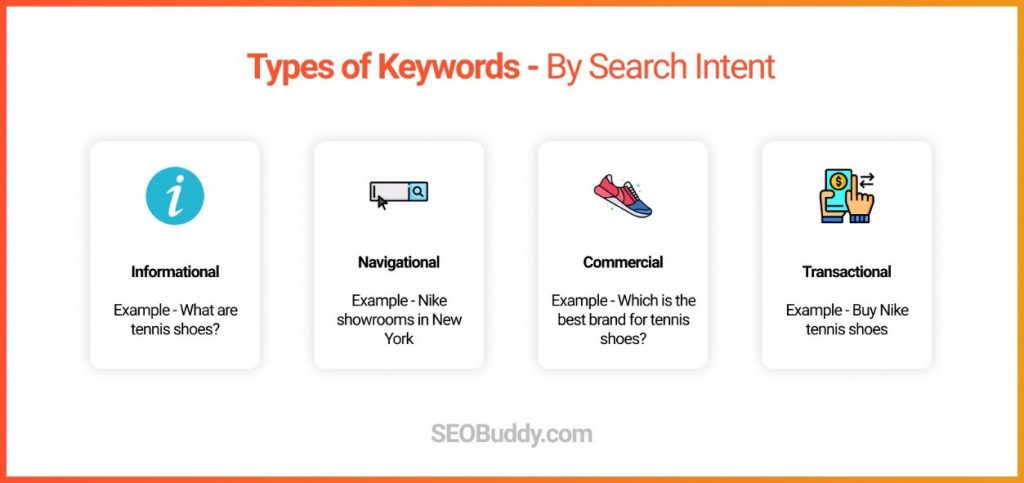 Informational
These are the keywords that aim to find information about a product, topic, business, etc. If you want to answer user questions about industry-related topics and establish yourself as a thought leader, then you should target informational keywords.
Some examples of the informational type keywords are:
What are tennis shoes?
What is on-page SEO?
What is digital marketing?
And so on!
These are the types of keywords that people use to find the location of something. Such keywords are extremely important for local SEO and you should use it for your local directory listings.
Examples of navigational keywords include:
Nike showrooms in New York
On-page SEO services in the US
Digital marketing agency London
Commercial
These types of keywords usually have slight purchase intent but are usually more focused on research before making a purchase.
The user's goal is to find out the best product, service, or brand to satisfy their requirements. Your goal, when using these types of keywords, should be to provide resources that can help users pick you over competitors.
Examples of commercial intent keywords include:
Which is the best brand for tennis shoes?
Best SEO agency in the US
Top digital marketing agencies
Transactional
These are the favorite type of keywords for ecommerce businesses as these target people with high purchase intent.
These include queries that show that a user is looking to buy a product or service. You should target such types of keywords via your product and service pages.
Examples of transactional keywords are:
Buy Nike tennis shoes
Get on-page SEO services in the US
Hire a digital marketing agency in London
The words like "buy", "get", and "hire" show the purchase intent for such keywords.
Types of Keywords – For On-Page SEO
In this section, the focus will be on the types of keywords that you need to use for creating SEO-friendly plagiarism-free content that ranks high on SERP for SEO keywords.
You would have heard a lot about keyword optimization for SEO. But have you heard about the two key types of SEO keywords you need for that?
Don't worry!
That's exactly what we will discuss in this section, so keep reading.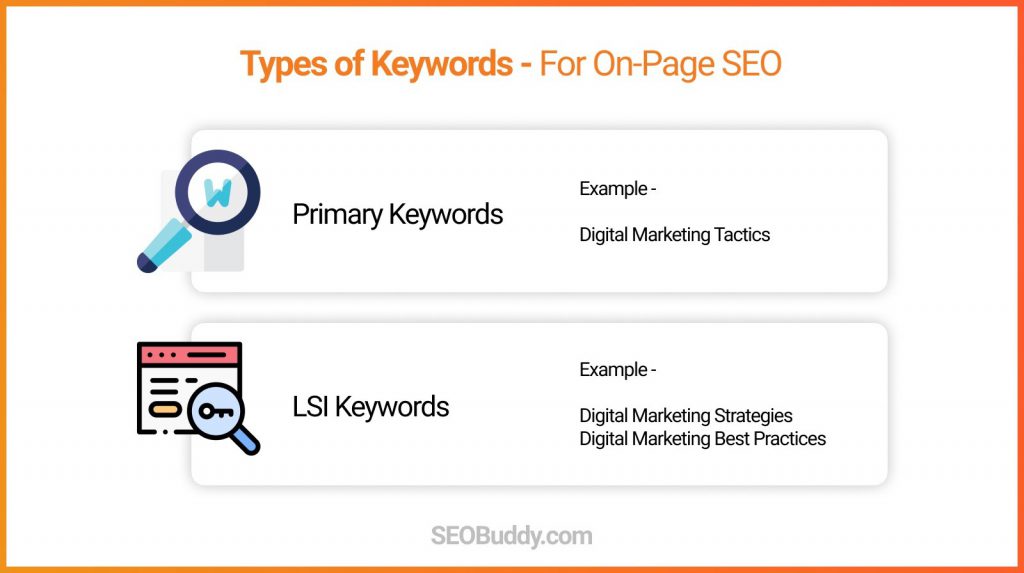 Primary Keywords
Whenever you create a new web page or a piece of content, it should focus on one central or primary keyword. This is the keyword that you want that content to rank for.
For example, let's say that you want to target the keyword "digital marketing tactics". You can create content on that topic and add your primary keyword to your title, headings, title tags, meta description, first paragraph, and throughout the content.
LSI Keywords or Related Keywords
You may ask yourself whether it is too much effort to create one entire piece of content to target just one keyword.
What about other related SEO keywords?
Well, that's where LSI keywords come into the picture.
While there is no such thing as LSI keywords, this term is widely used to refer to related keywords that are variations or synonyms of a primary keyword. These keywords add more context to your content and help Google understand what it's about.
For example, if your primary keyword is "digital marketing tactics", some LSI keywords could be "digital marketing strategies" and "digital marketing best practices".
Using LSI keywords helps in two ways:
It helps you rank for several variations of your primary keywords
It provides context to search engines to better understand your content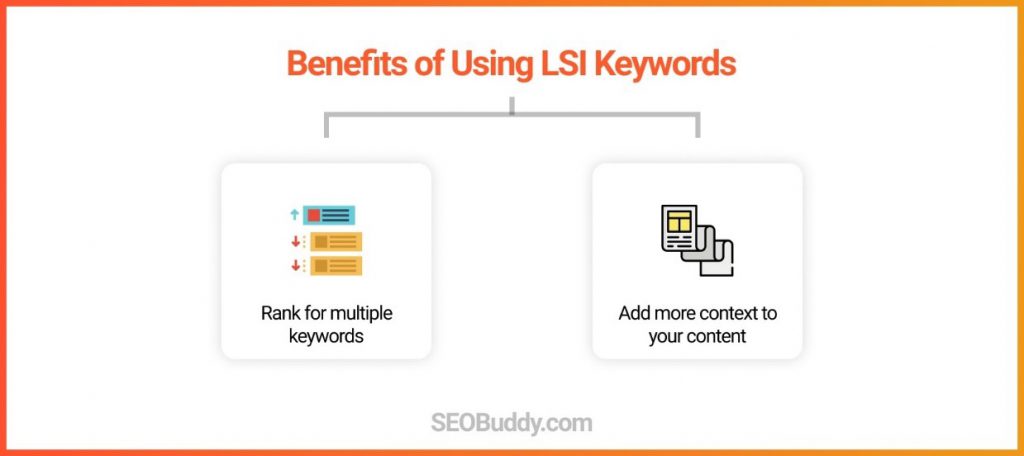 Types of Keywords – For Paid Search
Last, on this list of different types of keywords, are the keywords that are useful for paid search advertising. These are the Google Ads keywords that help advertisers target their ads and show them to the right audience.
There are four keyword match types in this category. Let's understand each in more detail.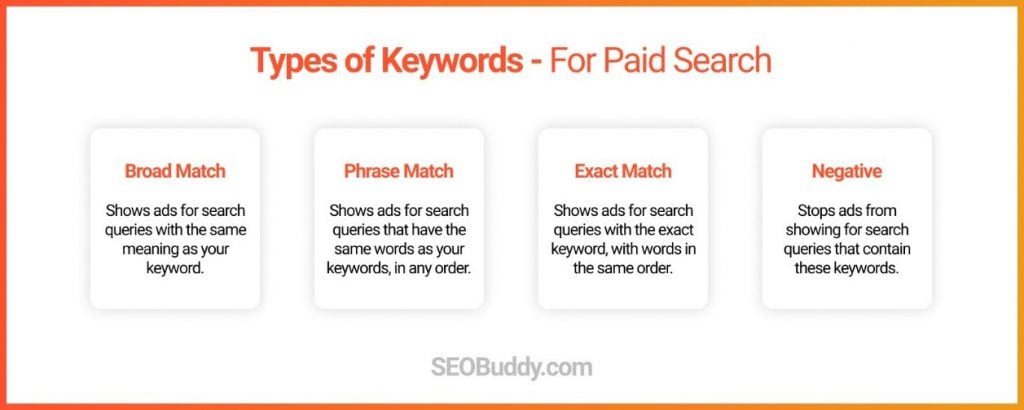 Broad Match Keywords
When you target broad match keywords with your ad campaign, you basically want to show your Google ads for every variation of your target keyword. So, your ads will show for broad search terms that mean the same thing as your target keyword.
For example, let's say that your target keyword is "running shoes". For a broad match, your ads will also be shown for keywords like "buy shoes for running", "buy shoes", "white running sneakers", etc.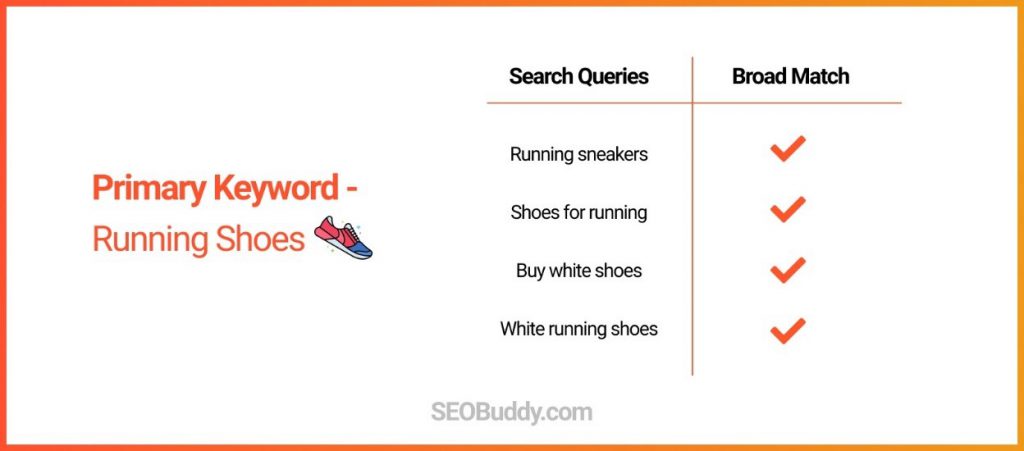 Phrase Match Keywords
For a phrase match, the search query needs to have the exact phrase as your keyword—"running shoes" in the case of the example above. For this keyword, the phrase match would apply to keywords like "buy running shoes", but not to "buy shoes".
According to Google, phrase match will also apply if the words appear in a different order. So, a phrase match will also apply if the search query is "shoes for running".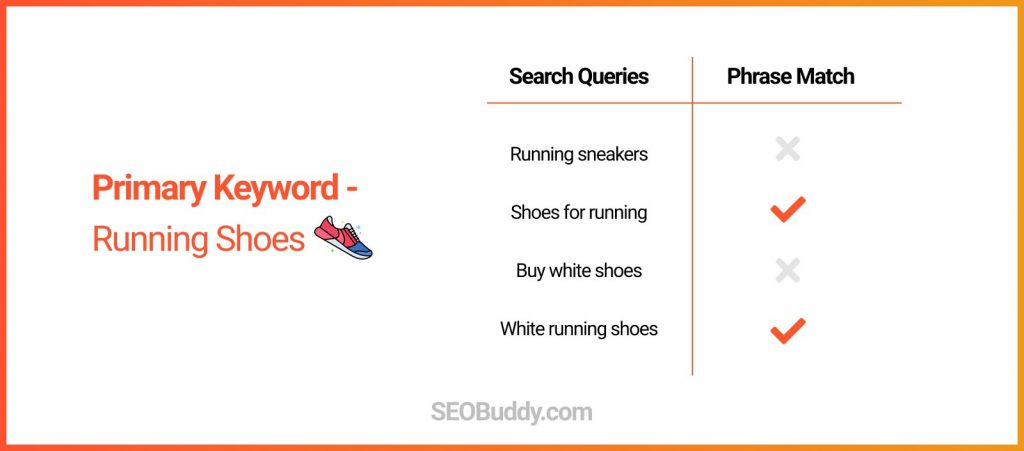 Exact Match Keywords
As the name suggests, an exact match requires the search query to have the exact words as your keyword in the exact same order.
Taking the same example, an exact match would happen only if the search query uses the words "running shoes" in this exact order.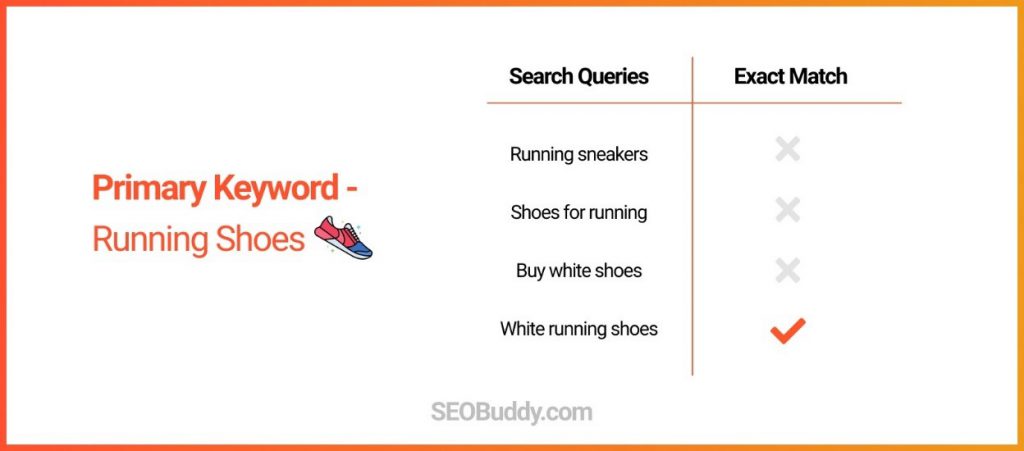 Negative Keywords
When placing search ads, these are the keywords that you don't want to show your Google ads for. These are more about which terms to exclude, rather than which ones to show ads for.
Whichever keywords you add as a negative keyword, your ads won't be shown for queries containing that term. Here's how Google explains negative keywords with an example:
FAQs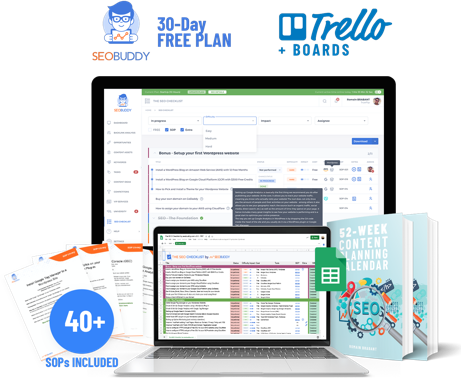 There's more…
Now it's time to discover the other 102 steps that will get more organic traffic flowing to your website. Get the SEO Checklist here.
Want to get a sneak peek of what it looks like?
Enter your email and get a free demo version of the SEO Checklist.
1. What are the different types of keywords?
The 12 different types of keywords are:
Generic keywords
Long-tail keywords
Informational keywords
Navigational keywords
Commercial keywords
Transactional keywords
Primary keywords
LSI keywords
Broad match keywords
Phrase Match keywords
Exact match keywords
Negative keywords
2. What are keywords and their types?
Keywords are words or phrases that you should frequently use in your content to rank for the relevant search queries on SERP (search engines results pages).
There are many different types of keywords that can be categorized by:
Length
Search intent
Use in SEO
Use in paid search
This post discusses 12 different types of keywords that fall under different categories.
3. What are the 2 types of keywords for SEO?
The two most common types of keywords for SEO are primary and LSI keywords.
Primary keywords are the main keywords that you want to target through a piece of content. LSI keywords are the side words, variations, and synonyms of the primary keyword that you use to provide more context to your content.
4. What are category keywords?
Long-tail keywords that use category-specific phrases are often referred to as category keywords. These keywords have descriptive, yet generic phrases that people use to find the products they want to buy.
For example, if you want to buy shoes and are not sure of the brand, then you might just search for something like "buy white running shoes". The "running shoes" part of the keyword is a product category and that makes it a category keyword.
5. How do I optimize for keywords?
You should add your primary keywords to:
Meta descriptions
Title tags
Titles
First 2-3 lines of content
Throughout the content
For articles and other content on your blog, you can maintain a keyword density of 1% to 1.5%. For landing pages, you can increase this density to over 2%.
Conclusion
Hopefully, this post would have made things easier for you in terms of understanding the different types of keywords.
Use this as your go-to guide, every time you have a doubt about which keywords to use in different situations.
Ready to take your SEO to the next level and grow your search traffic? Check out our complete SEO checklist for more tips and tricks.
Reach out to us if you have any questions or suggestions by commenting below.