A Link Building Checklist for Smart SEO Professionals (Google Sheets Template)
Link building is one of the most important SEO activities that every professional wants to do just right.
After all, backlinks are one of the key Google ranking factors, so you can't take any chances with it.
A link building checklist can help you do that.
But before we get to that, you need to understand that link building is not a one-time thing, but a complex, ongoing process that you should master. It involves numerous tasks and activities that you need to perform from time to time.
That is why we have created a link building checklist that breaks down the process into different activities or steps.
So, let's get started.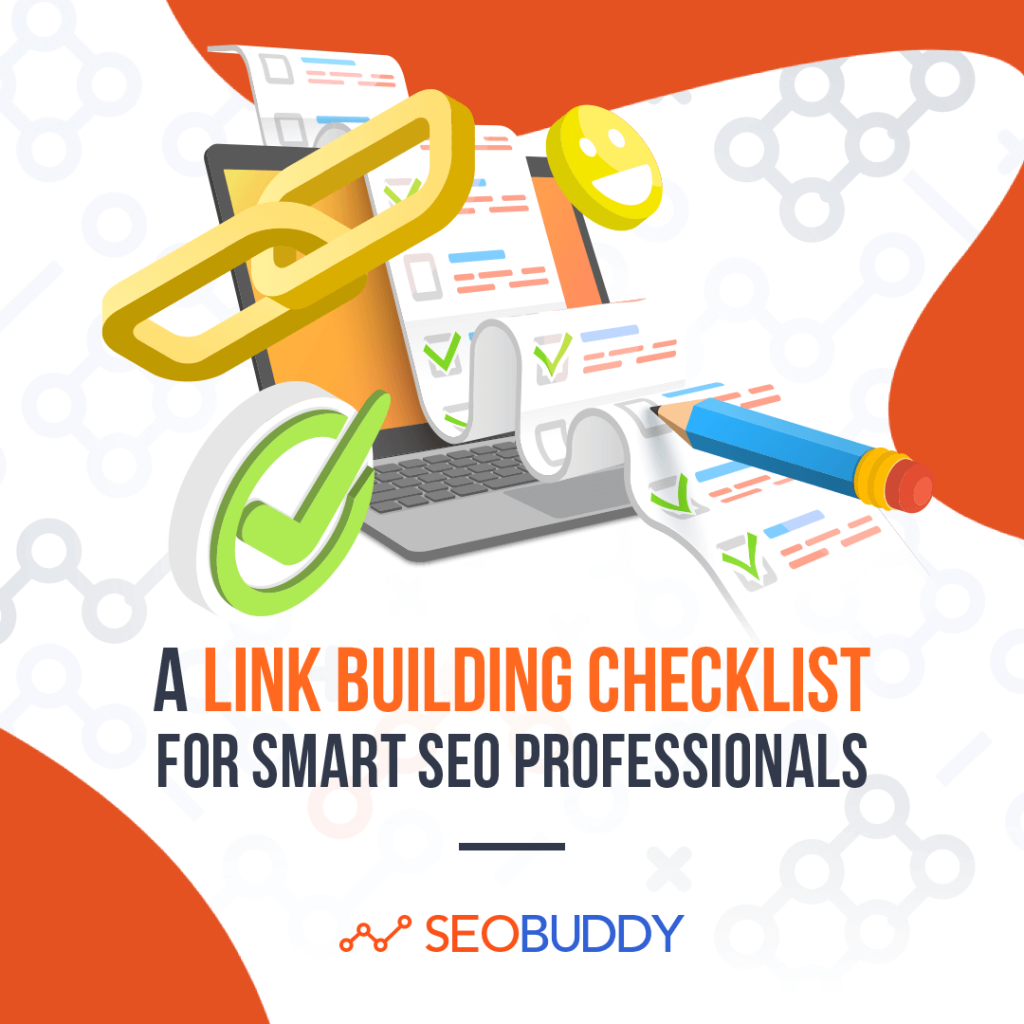 Download the Link Building Checklist
Click here to download the Link Building checklist (Google Sheets)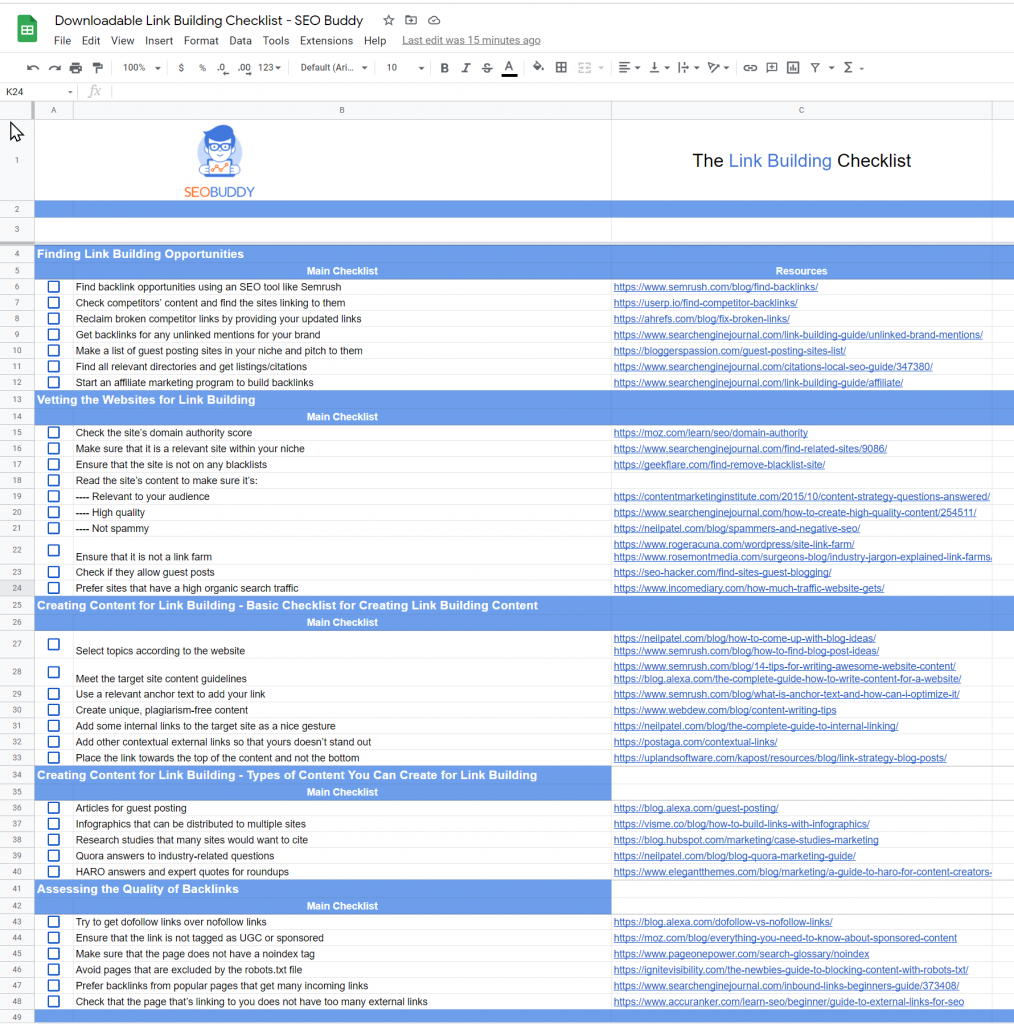 Finding Link Building Opportunities
The first step in the link building process is, of course, to find opportunities for backlinks to your website.
If you have just launched a website and are doing it for the first time, you may want to try everything in our link building checklist. However, if you already have a link building process in place, then you can simply use this checklist to make sure that you don't miss anything important.
Here is a complete checklist to find backlink opportunities:
Find backlink opportunities using an SEO tool like Semrush
Check competitors' content and find the sites linking to them
Reclaim broken competitor links by providing your updated links
Get backlinks for any unlinked mentions for your brand
Make a list of guest posting sites in your niche and pitch to them
Find all relevant directories and get listings/citations
Start an affiliate marketing program to build backlinks
Vetting the Websites for Link Building
Once you have a list of websites from which you can get backlinks, the next step on this checklist is to vet those websites. Backlinks from the wrong websites can do more harm than good, so you need to make sure that you keep your backlink profile clean.
Here is a checklist for vetting the websites you have selected for link building:
Check the site's domain authority score
Make sure that it is a relevant site within your niche
Ensure that the site is not on any blacklists
Read the site's content to make sure it's:

Relevant to your audience
Of high quality
Not spammy

Ensure that it is not a link farm
Check if they allow guest posts
Prefer sites that have a high organic search traffic
Vet the websites on your list and then filter the bad ones out using the above checklist. This will give you a good list of websites for link building.

Once you have your list of good ones, it's time to do the outreach and build relationships with those website owners. You'll need to find their best email address to contact them using an email search engine such as ContactOut.
Creating Content for Link Building
A lot of link-building activities will not require you to create fresh content as you can simply ask people to link to existing content on your website.
But, for link-building strategies like guest posting, you will need to create content specifically for link building.
We have divided this section into two different checklists to cover both the content creation best practices as well as the types of content.
Here you go.
Basic Checklist for Creating Link Building Content
Follow this useful checklist to create high-quality content;
Select topics according to the website
Meet the target site content guidelines
Use a relevant anchor text to add your link
Create unique, plagiarism-free content
Add some internal links to the target site as a nice gesture
Add other contextual external links so that yours doesn't stand out
Place the link towards the top of the content and not the bottom
Types of Content You Can Create for Link Building
Here's a quick checklist for the different types of content you can create and use for link building:
Articles for guest posting
Infographics that can be distributed to multiple sites
Research studies that many sites would want to cite
Quora answers to industry-related questions
HARO answers and expert quotes for roundups
Once you create content, you need to submit it to the target website and wait for it to get approved and published. Promote your latest content pieces on social media and other platforms to get more traction.
Assessing the Quality of Backlinks
Your job is not done when you submit your content and get backlinks. You also need to audit your new and old backlinks to make sure they meet the quality standards.
You need to conduct a regular backlink audit to evaluate your backlink profile and strengthen it.
Here is a quick checklist to assess the quality of your backlinks:
Try to get dofollow links over nofollow links
Ensure that the link is not tagged as UGC or sponsored
Make sure that the page does not have a noindex tag
Avoid pages that are excluded by the robots.txt file
Prefer backlinks from popular pages that get many incoming links
Check that the page that's linking to you does not have too many external links
FAQs
1. What are the common link building techniques?
Some of the most common and effective link building strategies include:
Guest posting
Infographics distribution
Link reclamation
Unlinked mentions
Directory listings
Quora answers
HARO answers
Expert roundups
2. What is the link building process?
Link building is a complex and ongoing process that involves a lot of tasks. Here is a broad and simple four-step process that you can follow:
Vet the websites before placing links
Create content for building backlinks
Assess the quality of your backlinks
3. Is link building dead?
No, link building is an evergreen off-page SEO strategy that is as useful today as it was a decade ago. Building high-quality links from authoritative websites is crucial for your SEO strategy.
4. What is the role of link building?
When you build links from authoritative sites, it shows to Google and other search engines that those sites trust your content.
Every backlink shows a vote of confidence in your website, which makes search engines trust your site more. In the long term, it can also help you build domain authority, which helps increase your SERP (search engines results pages) rankings.
So, you should have a link building strategy and a checklist to succeed in your SEO journey.
5. Why do I need a link building checklist?
A link building checklist can make sure that you don't miss anything important in the link building process. It helps you keep track of things to do and build high-quality links, the right way.
Final Thoughts
If you know how search engines work, you would know how important creating quality links to your website is for SEO.
Having a handy link building checklist can help you optimize your process and make sure that you don't make any mistakes in your link building campaign. It also serves as a good reference to cross-check that you have taken care of all important things in this link building process.
Use this complete link building checklist to achieve all that and more.
Need any further help on your SEO journey? We have created an ultimate SEO checklist to find everything you need to know to optimize your website for search engines. Down the SEO Checklist now.