Keyword Research and Mapping Guide + Template
Looking for a keyword research template?
You've come to the right place.
The starting point of every SEO strategy is the same — keyword research. Without it, you can't possibly get your website in front of your audience or reach the top of the SERPs.
The importance of keyword research can't be understated.
Almost all SEO decisions start from this point and that's why it's important to do it the right way. Now, there are numerous advanced tools that can help you with keyword research.
However, a large part of this process involves manual work.
And that's where the need for a keyword research template arises.
So, let's take a look at how you can go about keyword research the right way, with our template, of course.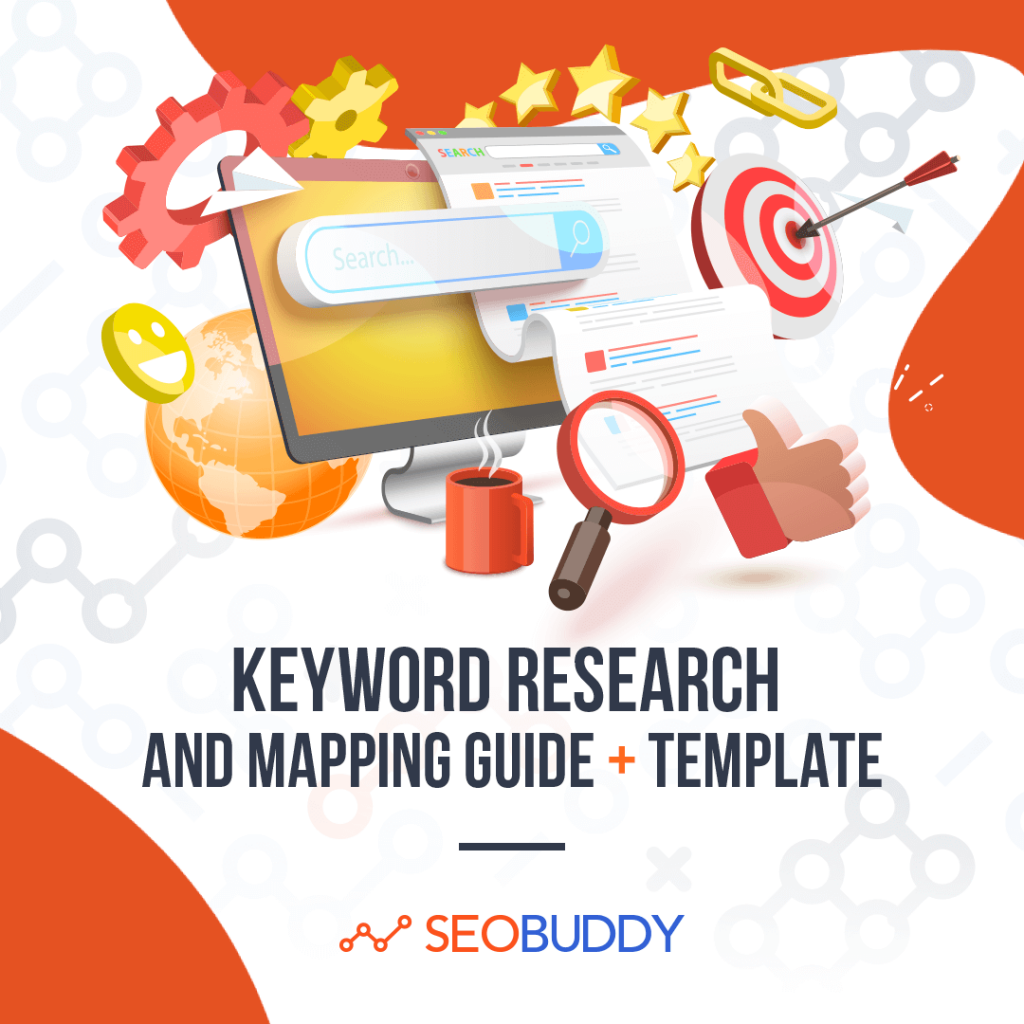 Why is Keyword Research Important?
Before we delve into how you can go about keyword research and mapping using our template, let's first understand why it's so important in the first place.
Keywords form the base of getting your website to feature in the SERPs and must be added to your content too. As a result, choosing the right keywords becomes the dealbreaker in getting your website in front of your audience.
What's more?
The keyword must also have a decent search volume and lower keyword difficulty score to ensure that you're able to rank for it easily and reach a wider audience too.
In addition to that, it's important to map each of these keywords you research to a particular URL to make sure that you don't end up cannibalizing them.
But why should you leverage a keyword research template for all of this?
Let's take a look.
What is the Goal of Keyword Research Template?
Keyword research is essential for SEO. But there may be several reasons behind using the keyword research template to analyze the keywords.
Some of the major keyword research template goals that you could have include:
Sorting keywords by keyword difficulty: This may be done to find keywords that can be easy for you to rank.
Sorting keywords by estimated search volume: This could be done to spot keywords which could drive the most traffic to your website.
Estimate the potential traffic and leads you could generate: Keyword research could help you understand the impact of your content strategy on traffic and lead generation.
To make educated decisions about your content strategy: Insights derived from keyword research could help you decide the next steps for your content marketing strategy.
With that cleared out, let's dive into the process of keyword research.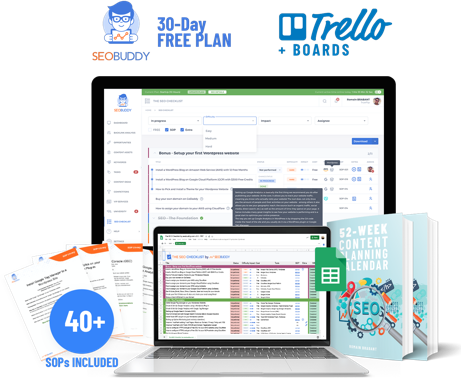 There's more…
Now it's time to discover the other 102 steps that will get more organic traffic flowing to your website. Get the SEO Checklist here.
Want to get a sneak peek of what it looks like?
Enter your email and get a free demo version of the SEO Checklist.
How to Do Keyword Research with Template
Here's how you can go about keyword research using our template.
Prerequisites
Start by clicking on this link and creating a copy of the template for your use.
Next, choose a keyword research tool that can help you discover numerous keywords based on the primary search terms you enter.
You can choose among Google Keyword Planner, Semrush, KWFinder, Ahrefs, and others.
Google Keyword Planner is the only free tool you can use for SEO among the lot but the others provide in-depth data.
For this post, we're going to be using Semrush.
Start Searching Keywords
Now that you've got all your prerequisites ready, let's get started with your keyword strategy.
Head to Semrush and head to the Keyword Magic Tool. Here, enter a primary search term related to your website's niche. For instance, if you've got a website like ours, you could write "SEO guide". Post that, select the country for which you intend to conduct the keyword research, and finally, click on "Search".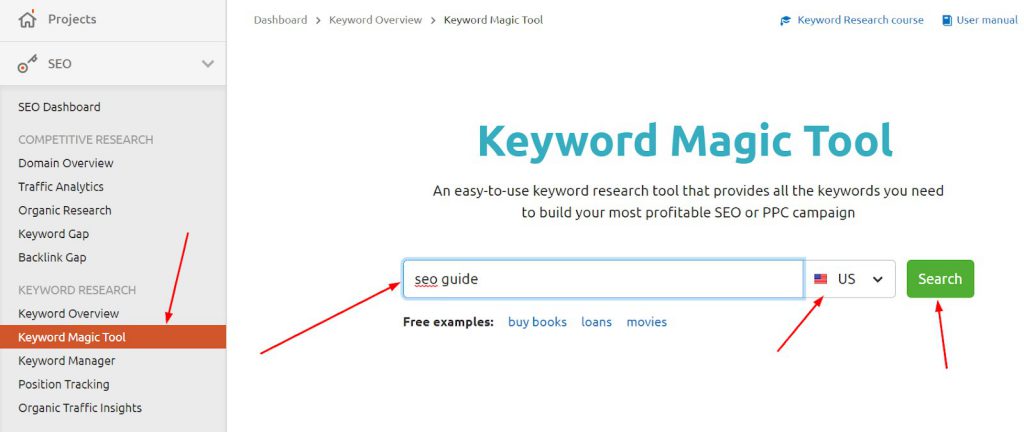 On the next page, you'll see a list of keywords related to the primary search term that you've entered. Next to each keyword, you'll see the keyword data like difficulty score, intent, search volumes, cost per click (CPC), and competitive density.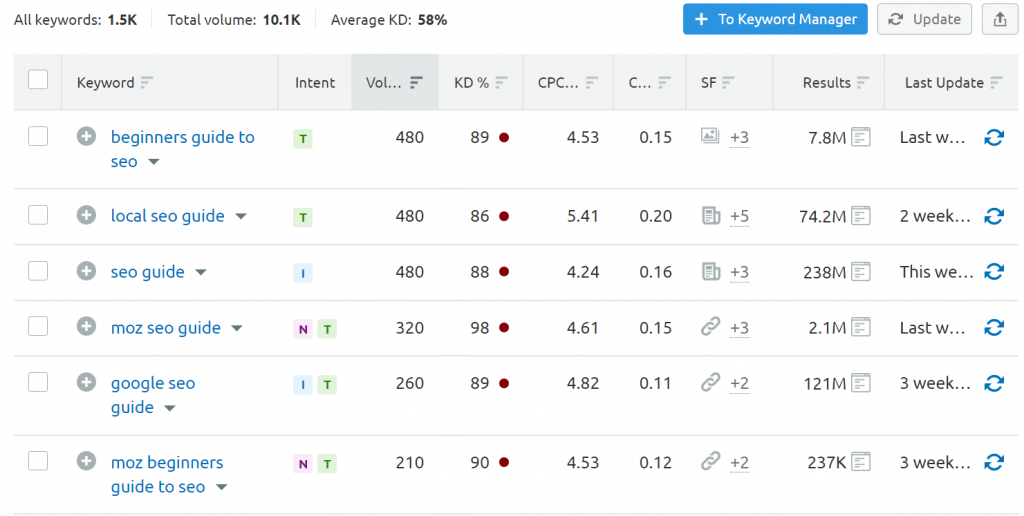 You can then start filtering out your keywords based on the type of match — exact, phrase, or broad match. Similarly, you can use filters for intent, volume, keyword difficulty, and CPC. These filters will help you narrow your search.

From this list of keywords, you can start ticking the ones that you want to use for your website. These are the ones that will come in handy for advanced research that you'll do through the template. The idea here is to come up with a comprehensive list of keywords that you can use for taking your keyword research further.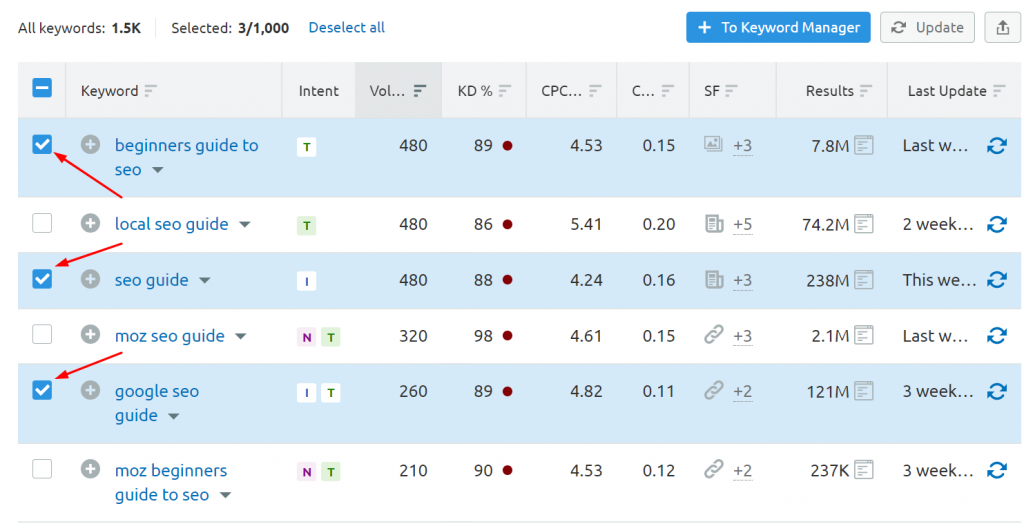 Add these keywords to your "Keyword Manager" by clicking on the "To Keyword Manager" button.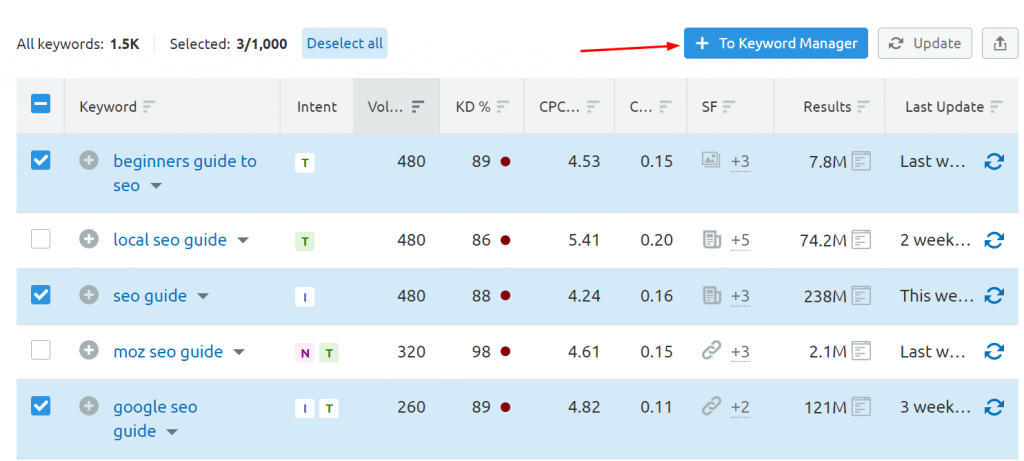 Next, instead of the primary search term, start using the keywords you've selected to find new keywords. Follow the same process for them and add them to the keyword manager. Once you've got all the keywords you want, you can export them all from the keyword manager to an XLSX file.
(Haven't downloaded the free keyword research template yet? Download it now.)
Map the Keywords
Now that you've got a long list of keywords, you need to map each of them to a particular URL on your website to avoid keyword cannibalization.
That's where keyword mapping comes into the picture. You can find a step-by-step process for the same here.
However, in a nutshell, you need to group similar keywords and assign them to a particular page.
Give Categories to Keywords
Once the keywords are mapped to individual pages and URLs, you need to segregate them into different categories. This would help you understand the purpose that each keyword would serve for your website and its pages.
The main categories for keywords are
Core Keywords: These are the main target keywords for a particular page on your website. It's the one target keyword you'll assign to each page and the rule here is that no two pages can have the same core keyword. Additionally, it must convey the core idea of your page the best.
Secondary Keywords: These are keywords that are slightly different from the core keyword but are related to it. You can rank for these keywords as well and they can bring in traffic to your website too. Typically, you can find these by using the core keyword as the main term for keyword research.
Accessory Keywords: These are keywords related to your core keywords but they have low volumes and competition. This makes it easy to rank for them. You can find them in the "People Also Ask" section of SERPs.
Keyword Variations: These are synonyms and variations of your core keyword and don't need to be used on a separate page. They include abbreviations, plurals, etc.
LSI Keywords: These are semantically similar keywords to the core keyword but not necessarily synonyms.
Once you've segregated the keywords into different categories, you can move to organizing them in the template.
(Before moving to the next step, download our keyword research template for free now.)
Incorporate Keywords in Template
The keywords you've picked from the raw data can be added to the template in different buckets.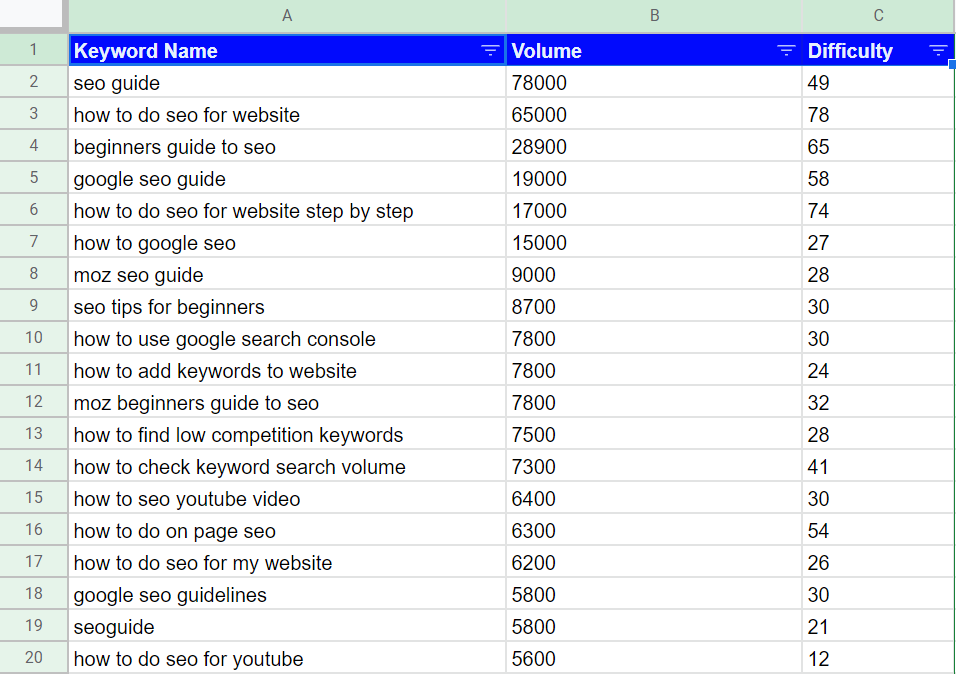 Essentially, all the core keywords would represent your core pages. Similarly, the accessory keywords would represent the accessory pages.
What's more?
Secondary keywords would be used along with the core keywords for each page.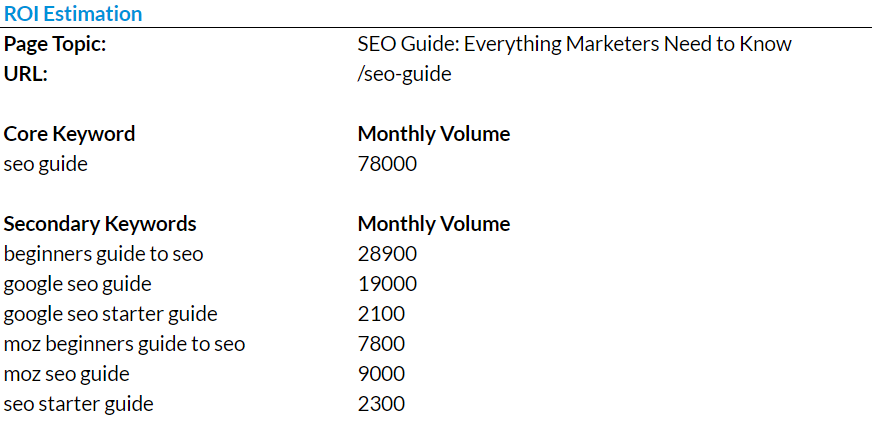 The keyword volumes will also help you understand how much potential traffic each page can drive to your website. Additionally, you can calculate potential revenue from these figures too.
So, go ahead and start filling the information in the template.
FAQ
1. How do you create a keyword research report?
Here are the steps you can follow to create a keyword research report:
Conduct keyword research
Make a list of keywords
Segregate the keywords
Map the keywords to different URLs
2. How do you do good keyword research?
Here's how you can do good keyword research:
Find the right keyword research tool
Enter primary search terms
Filter out keywords based on volume, keyword difficulty, etc.
Identify search intent
Map them to the right pages
3. How do you organize keyword research?
You can organize your keywords based on their types, namely core, secondary, and accessory.
4. How do I extract keywords from a website?
You can leverage a competitor analysis tool like Semrush or Ahrefs to see which keywords a website ranks for.
5. What is the best keyword research tool?
The best keyword research tools are:
Google Keyword Planner
Semrush
KWFinder
Ahrefs
Moz
Final Thoughts
Keyword research is the base of all SEO strategies and it's essential that you do this step right to get the most out of your SEO efforts.
What's more?
Mapping keywords well can also help you avoid keyword cannibalization where your pages would end up competing among themselves in the SERPs.
So, go ahead and start your keyword research right with our keyword research template. Download it now.