How to Write Great Content that Ranks for SEO
Everyone tells you about the importance of good content, don't they?
If you know how to write great content that ranks, you'll be able to:
Get traffic to your website
Engage your visitors
Generate quality leads
Convert leads into customers
But it's not as easy as it seems. There are more than 1.8 billion websites on the internet.
As more and more brands are building an online presence, it's becoming harder and harder to stand out.
And that's not it.
A winning content strategy is one that caters to both—search engines and your audience. And the right way to formulate such a content strategy remains a mystery to many.

So, in this article, we'll discuss how to write great content that ranks. Right from choosing the topic to writing content to testing it out, we'll walk you through all the crucial steps.
But before we do that, let's understand what SEO content is, and why it matters.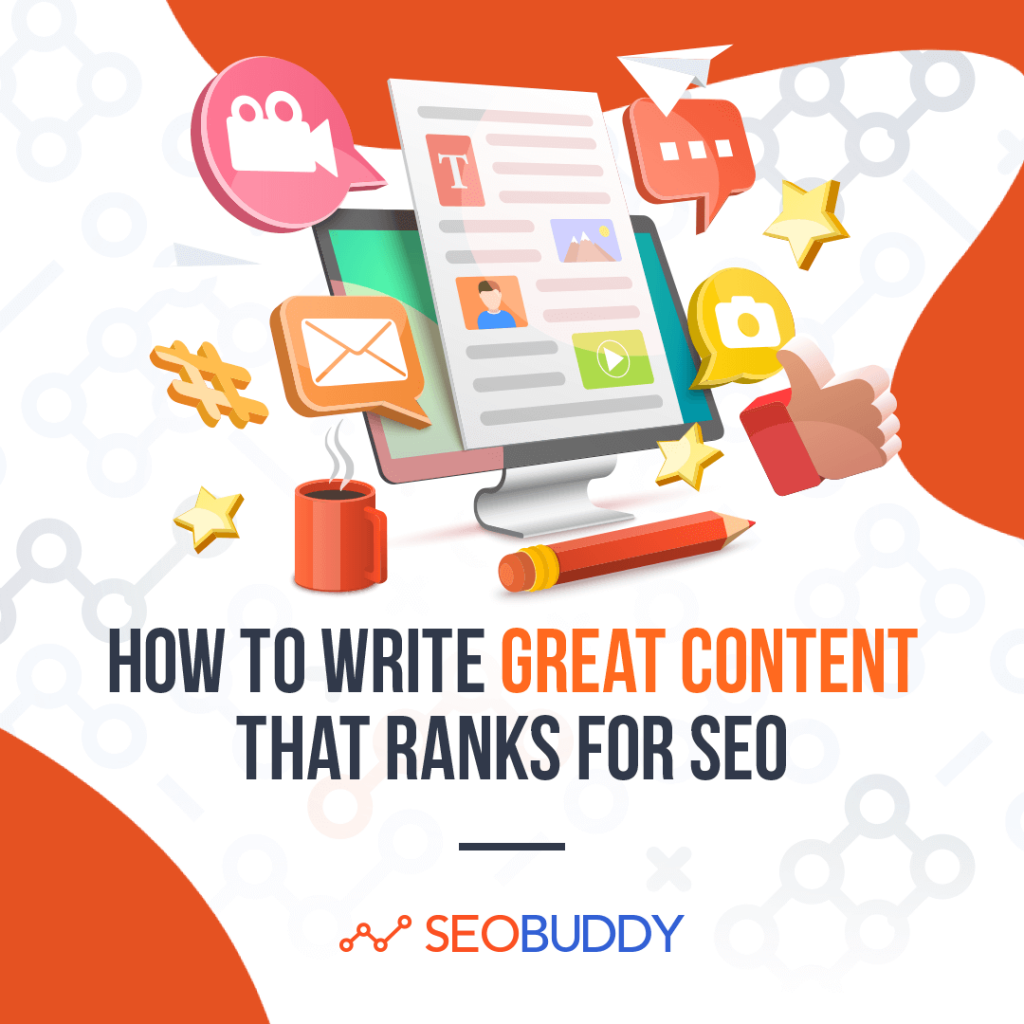 What is SEO Content?
Wouldn't it be great for your brand to show exactly when your target audience is searching for you?
SEO content can help you do that.
Here's the thing: prospective customers won't necessarily look for your product directly.
And so, there are limits to how much traffic you can drive to your 'money pages.' These are pages that directly generate leads and revenue; for instance, your products page.
For example, American brand Vaseline knows that petroleum jelly-based products are good for tattoo aftercare.
But their customers don't necessarily know that.
So, they decided to write an informative blog post on the subject.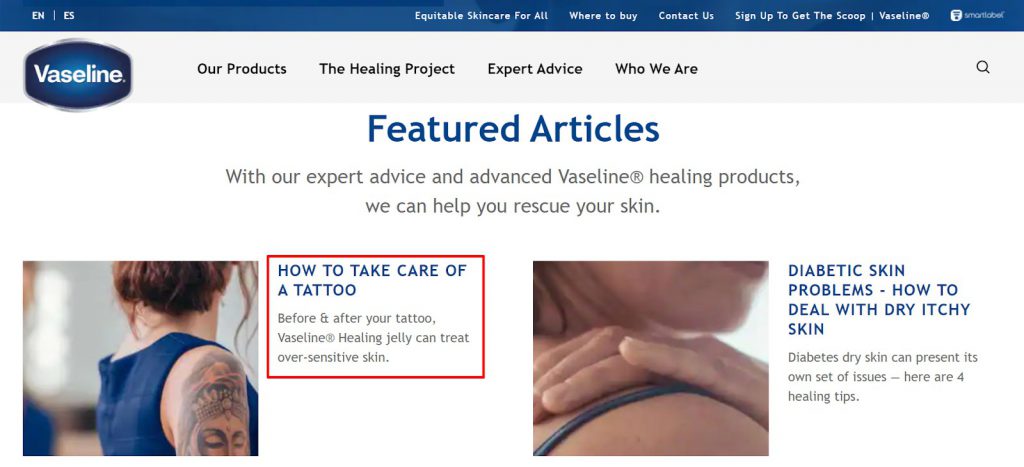 Writing content like this will help Vaseline bring more potential users to its website.
Simply put, SEO content is that which is written for users and optimized for search engines. Great content is written with an understanding of how search engines work and what a particular audience is interested in.
Of course, not any content is SEO content. And not any content will rank.
To learn how to write great content that ranks, read the next section.
8 Tips on How to Write Content That Ranks
Here are eight simple steps that you can take to write content that ranks and is also loved by your audience.
1. Pick A Relevant and Engaging Topic
Before you start writing, you need to come up with a topic that your audience cares about. A good way to start is by listing down themes relevant to your business.
Let's say that you run a digital marketing agency.
Here are some topics you can start exploring:
Content marketing
Search engine optimization
Blog writing
Paid advertising
Social media marketing
To further generate topic ideas, you can even look to research goldmines such as Wikipedia, Reddit, and Google.
In other words, discover spaces where your target audience typically hangs out.
Scouring online forums and platforms is a great way to brainstorm ideas since this is where people share their pain points, views, and thoughts on a myriad of issues.
For instance, here are the subreddits Reddit coughs up when we search 'content marketing:'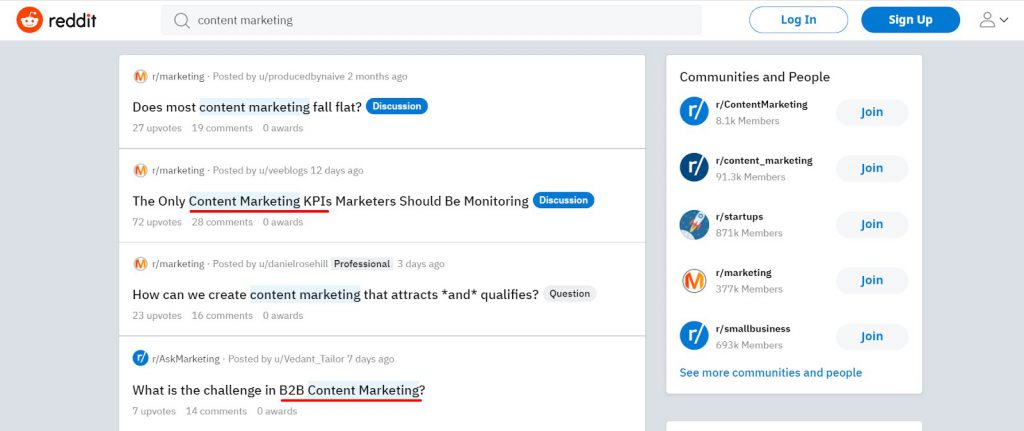 Since people are talking about content marketing KPIs and B2B content marketing, you can be sure that users are interested in these topics.
You can also rely on Google's autocomplete predictions for topic ideas.
Simply type in your main theme, and let Google do the rest:
A good practice is to jot down content ideas as and when you get them.
This will ensure you never run out of ideas.
What's more?
Before choosing a topic to write about, ask yourself the following questions:
Who am I writing for?
What stage of the sales funnel is my reader in?
What do I hope to achieve through my content?
What action do I want my ideal customer to take?
What's the competition like?
More on the last point in the next section…
2. Do Keyword Research Right
The first and second steps go hand in hand.
You can either let keyword research dictate the topics you write about or vice versa.
Now, let's go back to the list of topics we created in the previous section.
Let's say you want to write an article about social media marketing.
You need to find out which sub-topics under social media marketing there's a chance for you to rank for.
How do you do that?
A good way is to use a keyword research tool.
Simply enter the main keyword (here, social media marketing) and let the tool generate keyword ideas.
Now, check the search volume and difficulty score for each keyword. This will help you identify trending keywords and also gauge their competitiveness.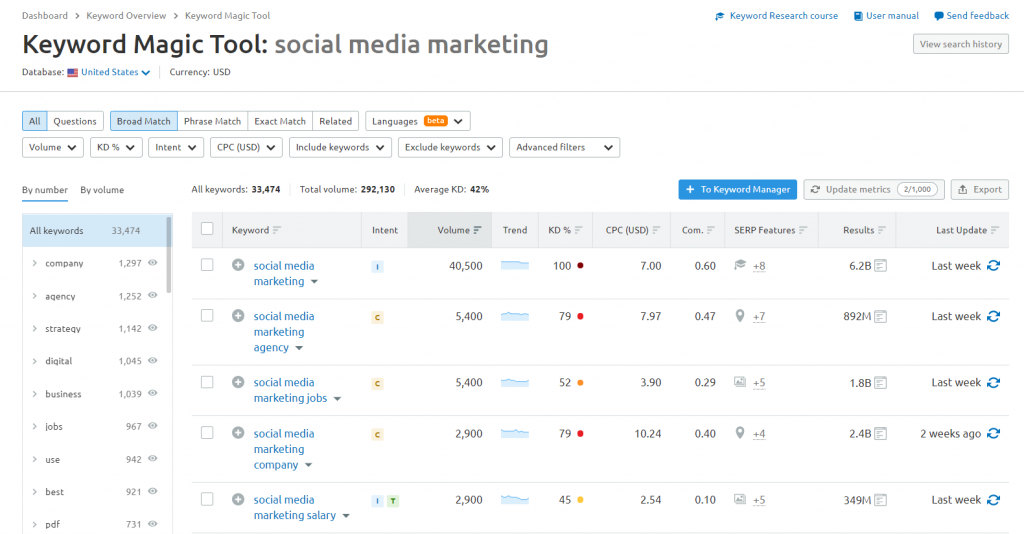 But don't forget to also look at the estimated traffic. Sometimes, keywords with lower search volumes could receive higher traffic.
Ideally, you want to find relevant keywords that represent a balance between competition (difficulty score), relevance (to your brand and audience), and potential (traffic).
Want in on another tip?
Don't just go after high-hanging fruits.
Take some time to identify long-tail keywords relevant to your main keywords.
These are four-five-word phrases and are much more specific. Generally, they also have a much lower difficulty score.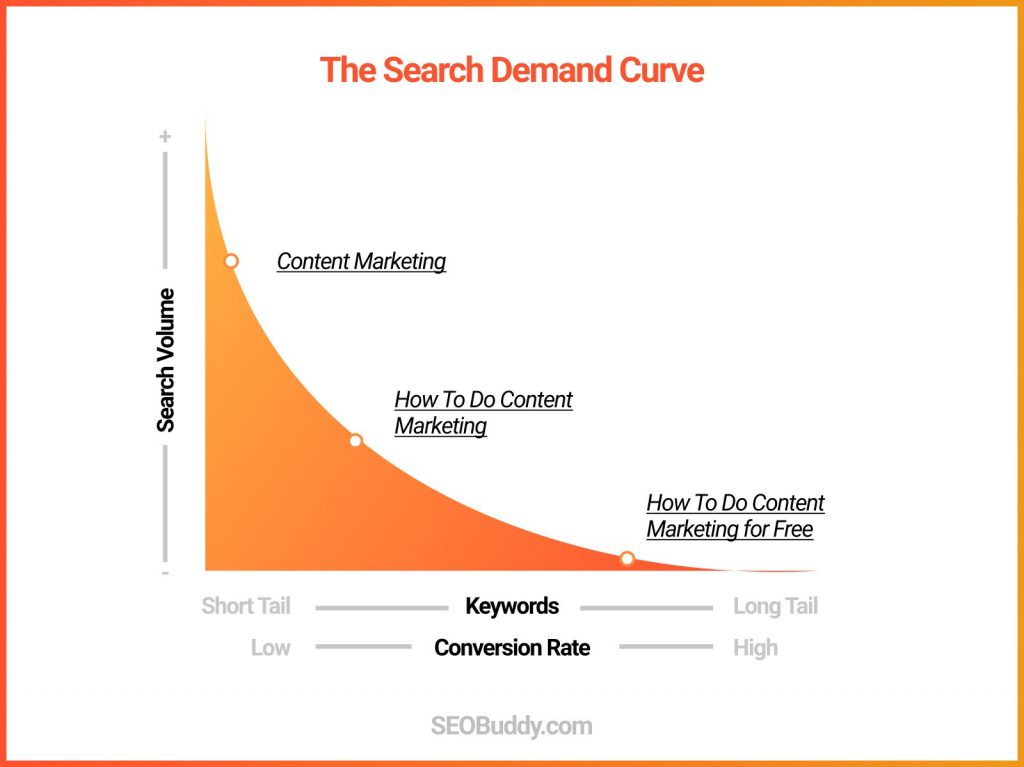 3. Look into Search Intent
Google's recent algorithm updates are obsessed with users' search intent.
This is because Google wants to provide the best possible experience to its users.
Search intent tells you why someone carries out a specific search. This will help you:
Create relevant content
Rank higher on SERP
Improve website authority
Now, there are four types of search intent, each of which relates to different stages of the buyer journey:
Informational Intent
A searcher is said to have informational intent when they are looking for answers to a specific question.
So, these queries often start with words such as "how to," "what does," "where do," etc.
Here's an example:
At this stage, there is no intent to buy.
In this case, the searcher generally knows exactly what site they want to visit.
For example, when someone searches 'Twitter,' they usually want to visit the Twitter website.
Clearly, Google understands this too: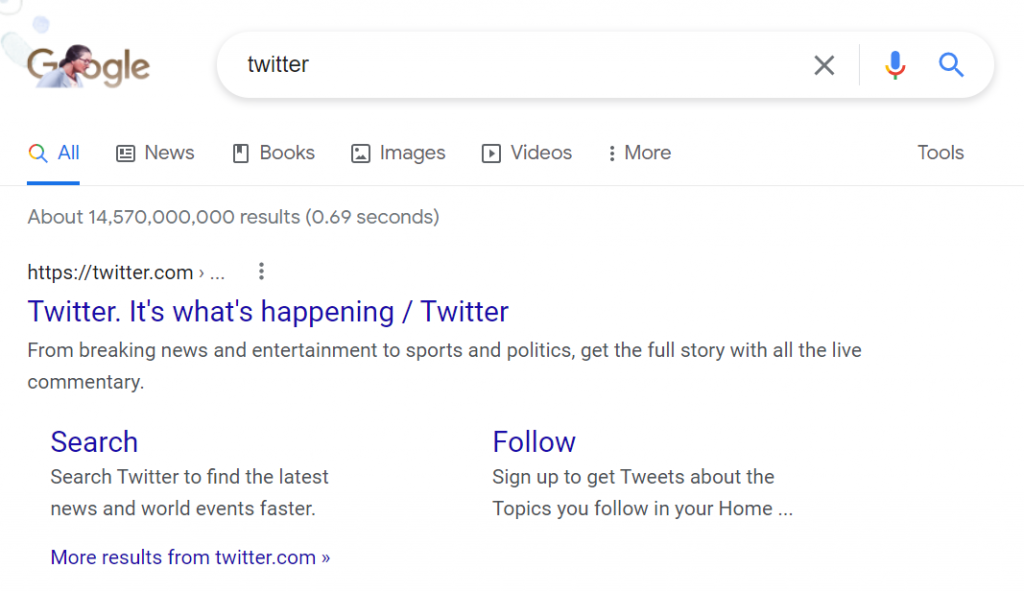 This is why navigational intent is generally dominated by branded keywords.
Transactional Intent
People with transactional intent are generally looking to complete an action.
This could involve making a purchase, completing a sign-up, or anything else that represents conversions for brands.
Example: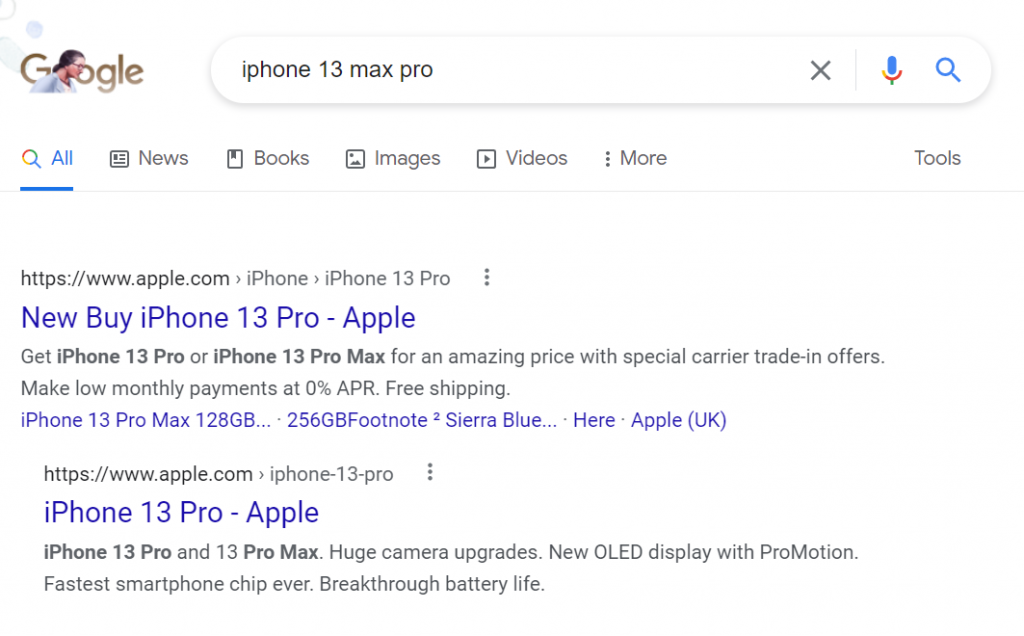 Commercial Intent
Finally, commercial intent is when searchers have the intention to complete an action in the future.
This is when searchers are still doing their research.
Here's an example:
This is a great stage to offer freebies and get in front of your target customer.
To rank for commercial keywords, consider writing product review posts and listicles.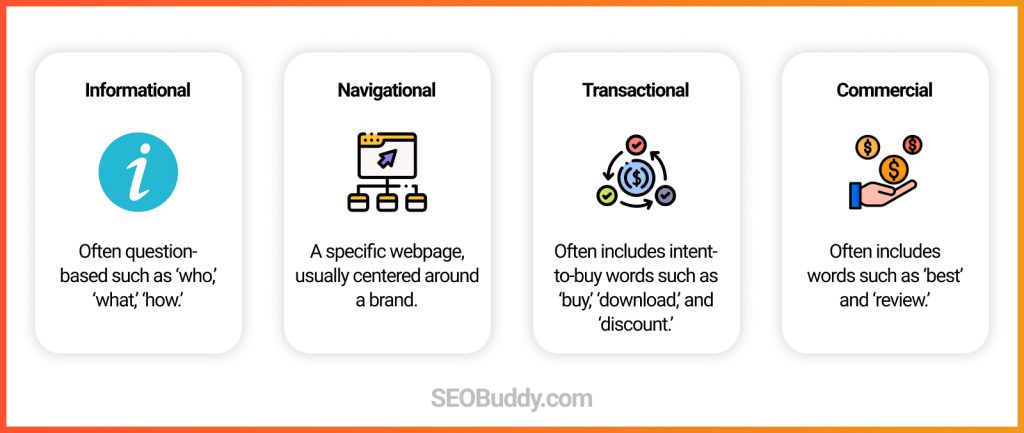 The Three C's of Search Intent
Content Type
When you type your keyword, which type of content fills up the first page of Google SERP? Is it blog posts? Landing pages? Quick videos? Or something completely different?
Conduct a SERP analysis. The highest-ranking content will tell you the kind of results users expect for that keyword.
For instance, for the keyword 'vegan chocolate cake recipe,' quick video recipes and blog articles are the way to go.
Content Format
Now, understand what kind of posts are ranking.
Are they how-tos, listicles, interviews, or studies?
For example, for the target keyword 'best christmas gifts,' Google primarily fetches lists.
Content Angle
Next, try to look for an angle.
Who is the searcher? What is their priority? Are they looking for a quick fix? Are they amateur or an expert?
For instance, Google seems to be pitching to beginners for the keyword 'caramel custard.'
4. Create Structured Content
To write content that ranks, remember to always keep the user's needs in mind.
Now, let's browse through the various steps for creating structured content.
Create an Outline
While different people have different ways to go about the writing process, our advice is to create an outline before anything.
Do this after researching the pages that are already ranking for that keyword. Identify sub-topics that they are talking about.
Another great idea is to go through the comments section of ranking articles.
See what readers like, what they don't like, and what they'd like to see more of.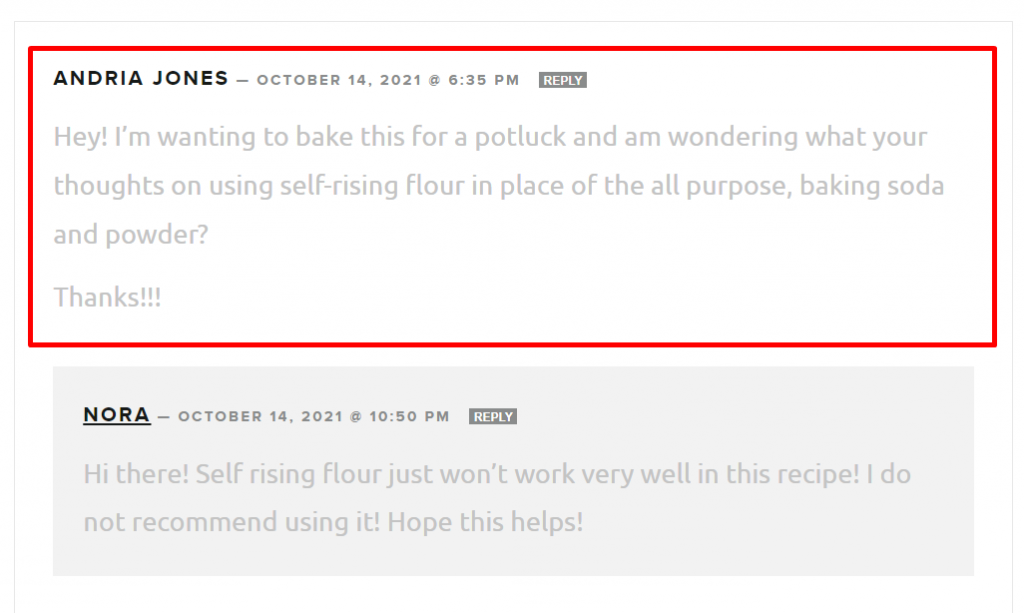 Image via Nora Cooks
Start Writing
Once you have a rough outline, begin writing.
For now, don't worry about optimizing your article for keywords.
Simply let your thoughts translate into words naturally. If you want the article to have an informal, conversational tone, consider writing as you speak.
Write Engaging Titles
Do not underestimate the power of engaging headings and subheadings.
Be specific and creative, and highlight what your reader wants to see.
For instance, which of the following do you think is more impactful?
Option 1: What Can This Product Do?
Option 2: How Can You Benefit from this Product?
The latter, right?
Tweak the headlines in a way that gives importance to the reader.
Improve Readability
Finally, keep your content simple and straightforward. Break up long sentences.
You can even use an online tool such as Grammarly or Hemingway to make your writing bold and clear.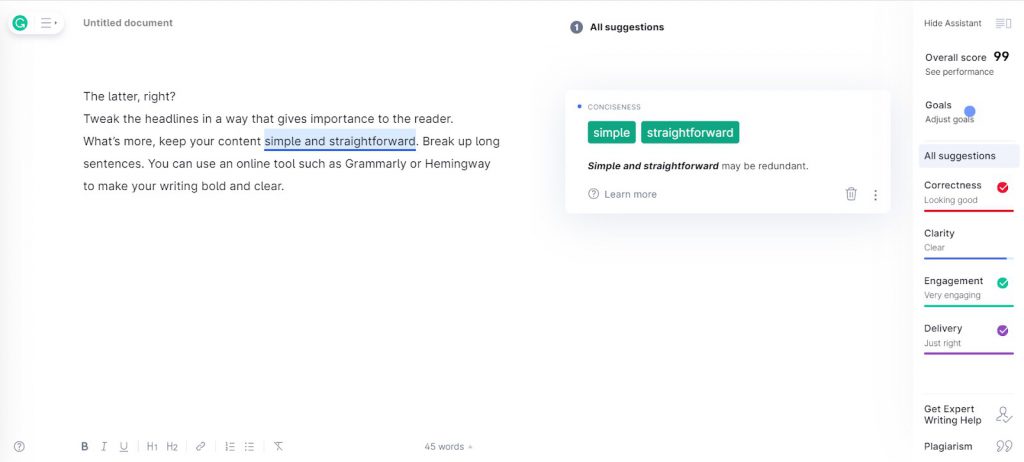 Free writing tools like these will also help you weed out any grammatical errors in your article.
Keep it Crisp
Lastly, let's talk about post length.
While Google seems to prefer longer content, make sure you're not rambling for the sake of increasing word count.
Quality will always override quantity.
5. Optimize for Keywords
Now that you've written the first draft and have decided on your keywords, it's time to optimize your content.
There are two main aspects to this—keyword placement and keyword density. Let's take a look at both.

Keyword Placement
For each piece of content you create, you must have a primary keyword and some LSI keywords.
So that search engines can index your site, you need to place these keywords through your content strategically.
To do so, include your keywords (mainly primary keyword) in:
Title tag
Meta description
H1 and H2 tags
H3 tags
Beginning of the content
Throughout the content
URL
Image name and alt text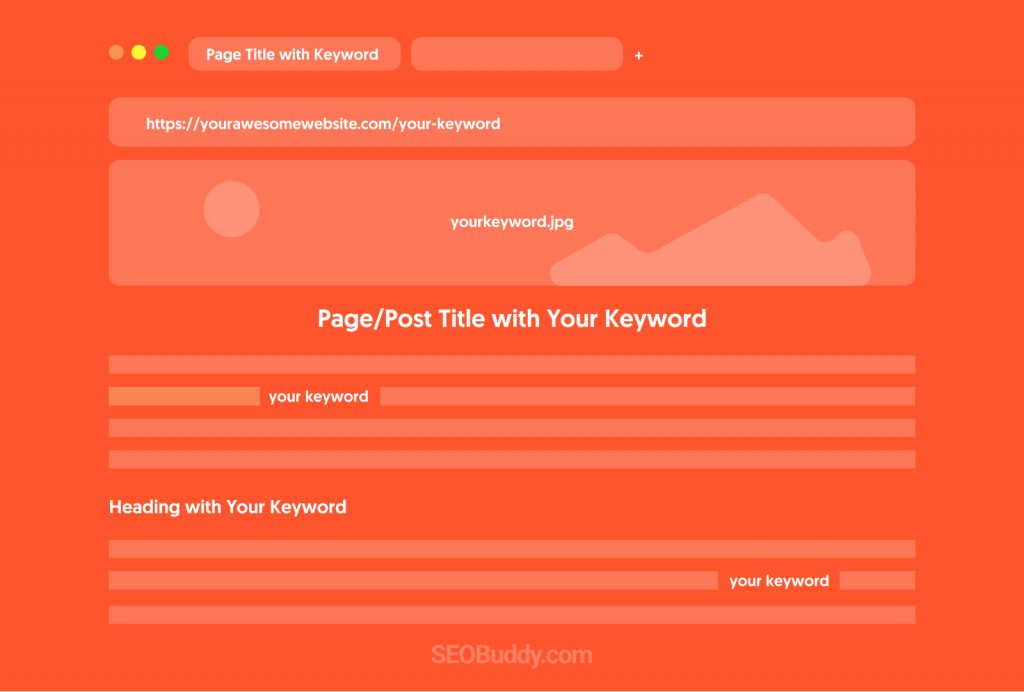 However, make sure that you're not resorting to keyword stuffing. This won't just turn off readers, but it will also hurt your rankings; which brings us to our next point.
Keyword Density
Simply put, keyword density is the number of times your primary keyword appears in your content.
Why is this important?
Because if you over-optimize your copy for a keyword, it will make for an unpleasant user experience. Naturally, this will impact your rankings.
So, what's the kind of keyword density you should go after?
A good rule of thumb is 1% to 1.5% for articles and over 2% for landing pages.

Remember—using synonyms and LSI keywords can be a great way to support your primary keyword and avoid repetitiveness.
6. Make Your Content Visually-Appealing
You want your content to be easy to read, right?
This is why visual content is more important than ever.
Not only does it make complex things easier to understand, but it also works as a lure for readers.
At SEO Buddy, we make use of highlighted screenshots to support our written content.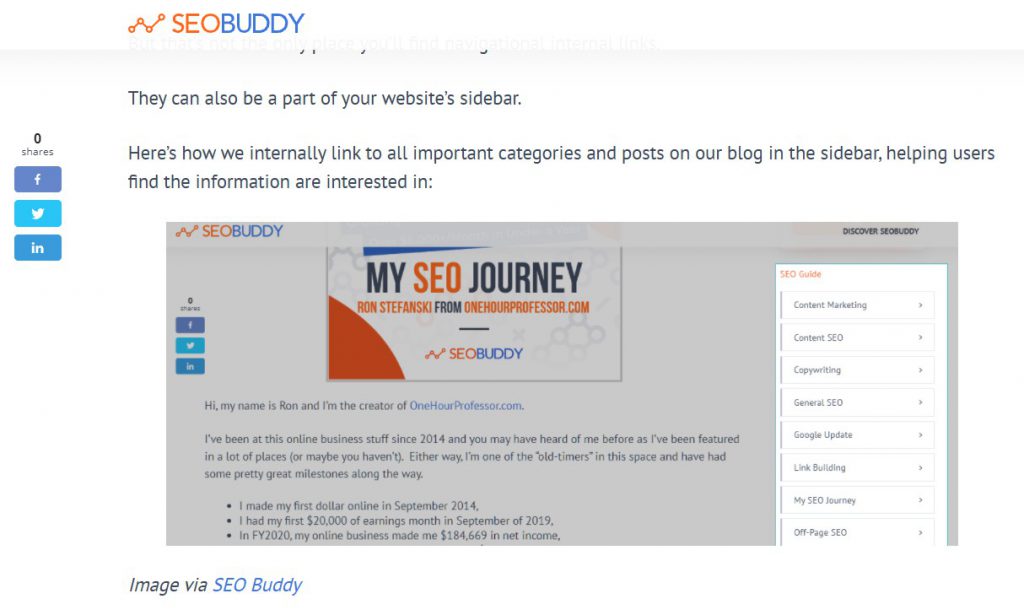 There are several online tools, like Nimbus, Lightshot, and Screely, that you can use to take and edit screenshots.
You can even use videos, infographics, and other types of graphics instead.
You know what else?
Google gives preference to content with high-quality visuals.
Visual Optimization Best Practices
To maximize SEO success, make sure you keep the following best practices in mind:
Optimize your images for search. Choose the correct file name and format, and reduce file size.
Make sure you add an alt text for every image you use. If the image isn't accessible to the reader for any reason, your alt texts will act as a substitute.
To give more context to your visuals, add a suitable caption to them. Write captions that are to the point, because readers tend to scan them as they're skimming through a web page. Take a look at how Yoast does it: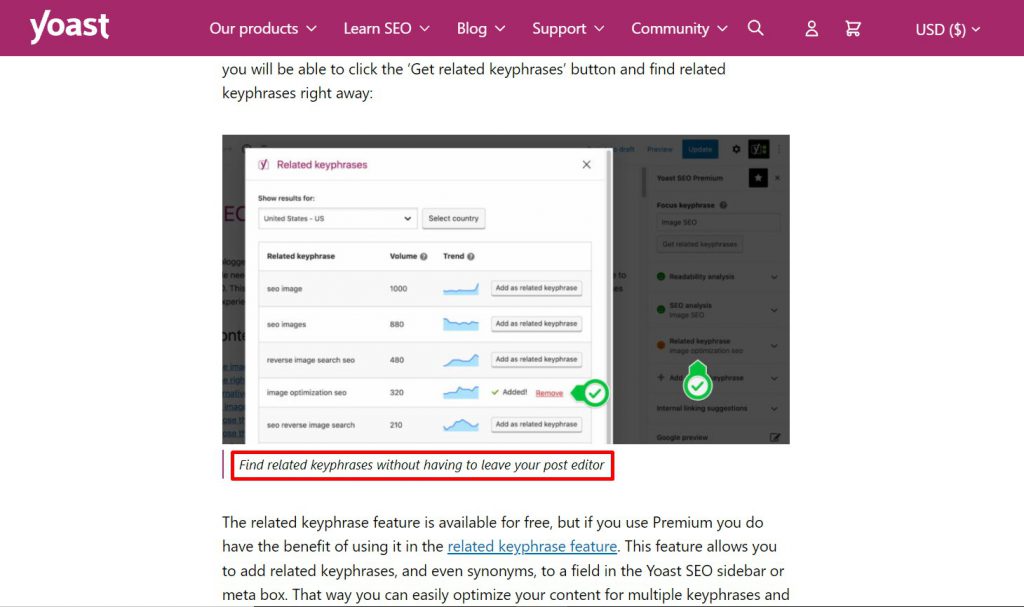 7. Add Links to Your Content
You see, you want to make it as easy as possible for Google's crawlers to discover your web pages.
Exactly what can you do to make that possible?
Interlinking.
Now, every webpage must consist of both internal links and external links. Let's find out what each means.
Internal Linking
Internal links point to another page on the same domain.
A powerful internal linking strategy will also help your visitors find more interesting content on your website, thus decreasing bounce rates.
Here are some best practices you must follow:
Make sure that the links are contextual.
Avoid using the same anchor links for two separate web pages. This could confuse Google.
Anchor texts should be chosen in a way that tells the reader what to expect if they follow the link.
Include internal links high up on the page, so that readers have something to click on immediately.
Leverage internal linking among multiple pages with related keywords. Like this: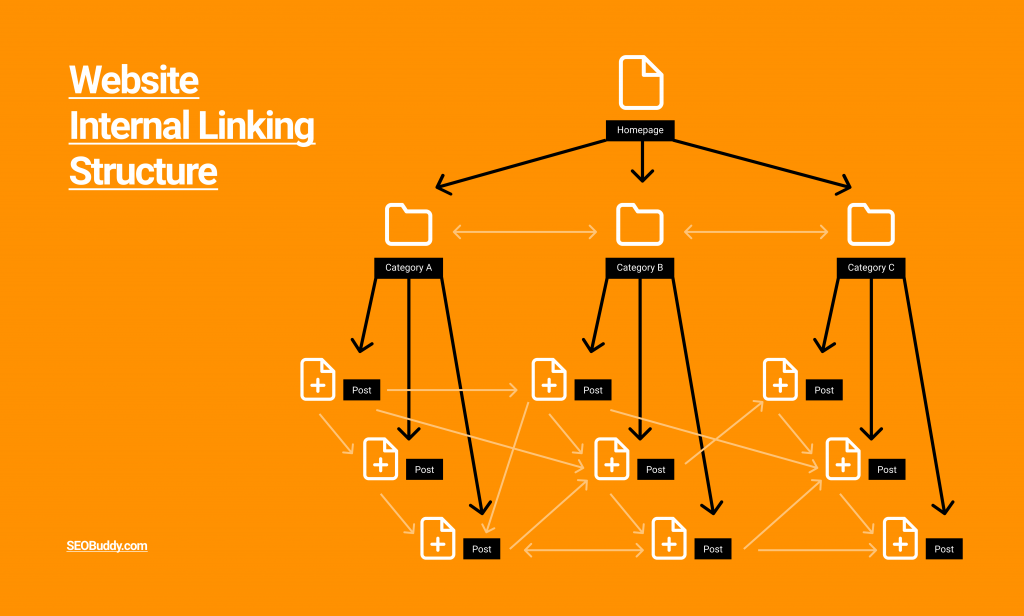 External Links
External links take users to an entirely separate domain.
While it may seem counterintuitive to direct readers to an external site, that isn't the case. Linking to credible sites can help Google understand what your content is about, along with painting you as an authority figure.
Here's an example of how we have linked to Google in one of our blog posts: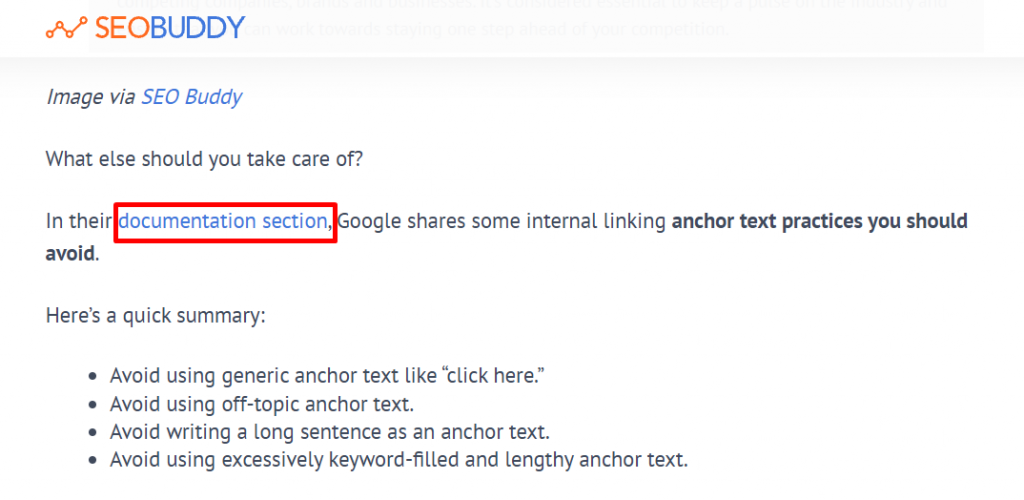 So that you can do external linking right, here are some best practices to follow:
Do not stuff links for the heck of it. This will deter both the reader and Google.
Only include links to sites that are natural fits for your content. For instance, a site about SEO wouldn't naturally link to a site about travel.
Link to authority sites to derive more value from external linking.
Choose anchor texts that describe the linked-to page in a concise and succinct way.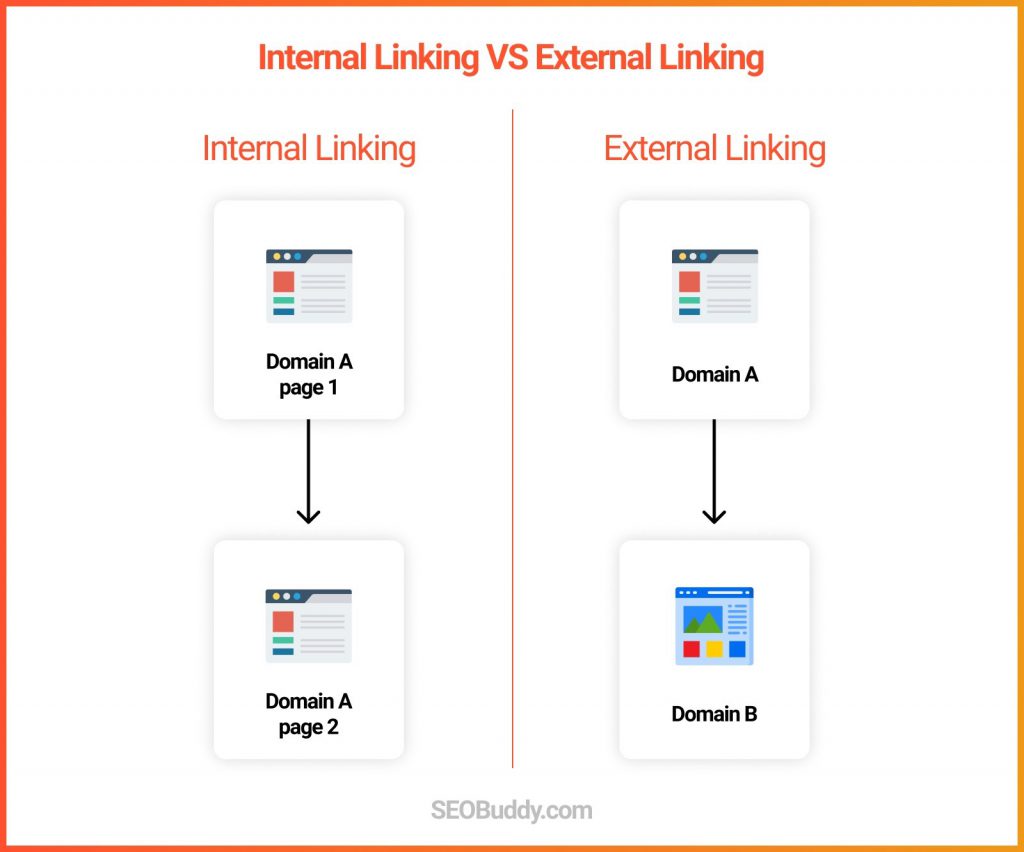 8. Measure Your Content's Success
The best way to write content that ranks is to monitor and improvise.
Most SEO professionals use website analytics tools to measure content performance.
But exactly which content marketing metrics should you be looking at?
Here are some of the most important ones:
Organic traffic: Taking a look at your unique page visits will help you gauge the SEO potential of your content.
Time on page: This will tell you how interested readers are in your content.
Inbound links: If people are linking to your site, it obviously means that you are doing something right.
Returning visitors: An effective content marketing strategy is one that keeps visitors coming back for more.
Social sharing: When visitors see that an article is being shared a lot, they deem it as valuable, and something they must read.
Leads generated: In the end, leads are what it's all about. So, keep close tabs on the number of leads originating from a piece of content.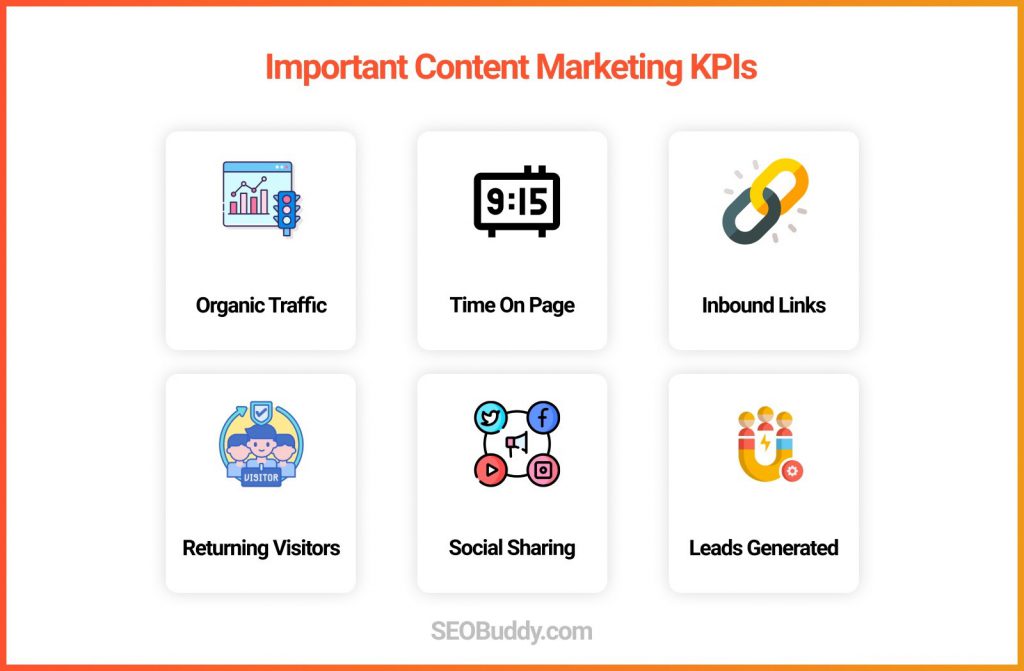 By tracking these KPIs from time to time, you will be able to identify high-performing content, and eliminate low-performing content.
Over time, this will help you optimize your resources, and improve your content marketing ROI.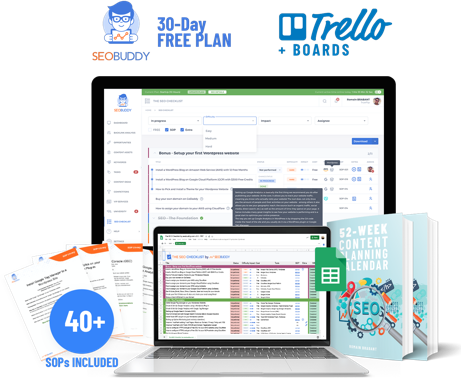 There's more…
Now it's time to discover the other 102 steps that will get more organic traffic flowing to your website. Get the SEO Checklist here.
Want to get a sneak peek of what it looks like?
Enter your email and get a free demo version of the SEO Checklist.
FAQs
1. How do you write powerful content?
Powerful content is valuable, engaging, credible, and provides a great user experience. In addition, it needs to be written in accordance with the SEO best practices.
To write powerful content, it is crucial to understand what your target audience wants and how search engines work.
2. How do you write a high-ranking article?
To write great content that ranks, follow these steps:
Pick a good topic
Conduct keyword research
Look into search intent
Optimize for keywords
Create structured content
Make your content visual
Add links to your content
Monitor success
3. What is SEO Content? How do you write content that ranks?
SEO content is content that is designed to rank high on SERP. It is content that is optimized for keywords and search intent.
To write content that ranks, you need to understand your audience well, write in a conversational tone, and keep in mind SEO best practices.
4. What is the best way to write SEO content?
The best way to write SEO content is to write for your audience first. Gaming the system won't work with Google, so refrain from making mistakes such as keyword stuffing.
5. What are some tips to be great in content writing?
Here are some smart tips for effective content writing:
Understand what your audience needs by identifying pain points.
Do your research beforehand.
Develop a unique writing voice.
Never edit a piece right after writing it.
Make use of free online writing tools.
Are You Ready to Write Great Content that Ranks?
So there you have it!
Gone are the times when you could get your content to rank simply by stuffing it with keywords. In fact, that could hurt your rankings.
As Google's algorithms are getting smarter, there's a greater need for marketers to create high-quality content for their audience.
By following the strategies mentioned in this article, you will be able to hit all the right chords with your content. Simply keep your audience in mind while drafting your content strategy, and see the results for yourself.
For more advanced tips on creating content that ranks, feel free to check out our SEO Checklist.