21 Link Building Strategies to Boost Your SEO
Link building is one of the core pillars of SEO as it directly impacts rankings.
But you need solid link building strategies to do it right, without attracting any penalties or falling into any SEO traps.
That is why we have compiled this ultimate list of link building strategies for you.
Some of these strategies are slow and steady, and will consistently bring in good results for years to come. On the other hand, some of these strategies require minimal effort and deliver quick results.
Ideally, you should use a mix of both kinds of link building strategies to future-proof your link building and SEO efforts.
Ready to find out which link building strategies we have in store for you?
Keep reading to find that and a lot more.
Pro Tip: If you want a shortcut and skip all this effort, you can simply get your hands on our coveted link chest with 1400+ easy-to-access backlinks. The choice is yours!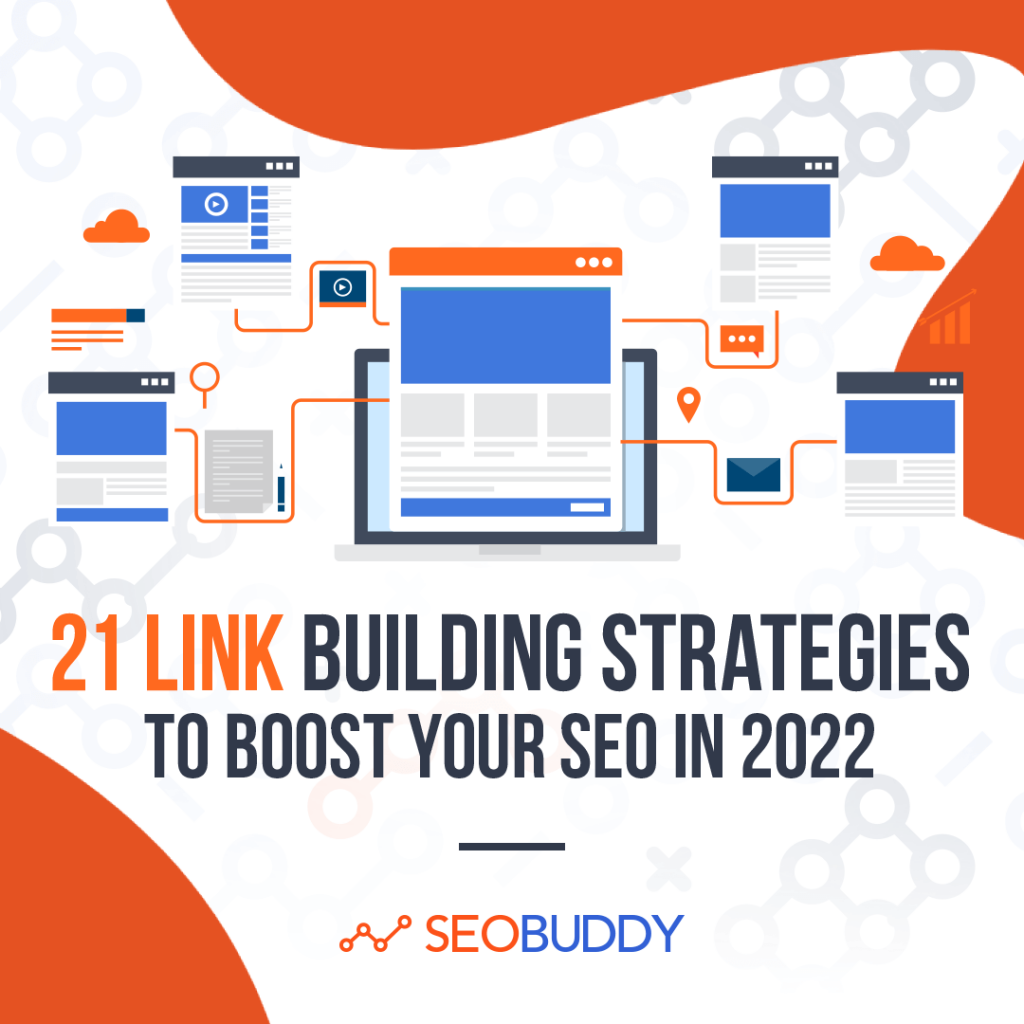 Why is Link Building Important?
If you know how search engines work, you'd know that they consider backlinks from authoritative websites as trust signals. If high authority websites in your niche are linking to yours, they're basically giving you their vote of confidence.
Having a strong backlink profile, therefore, signals that your website is useful and trustworthy and that is what Google wants to show its users. This helps improve your chances of ranking higher on SERP (search engines results pages).
Overall, it is one of the most important aspects of SEO and can't be ignored.
But you need to follow ethical link building practices to build a natural backlink profile, or else you might get penalized. Find a detailed list of ethical link building strategies in the next section.
Elements of a Strong Backlink Profile
Before we get into the list of link building strategies, you need to understand what makes a good backlink profile and the best practices that you should follow for building backlinks.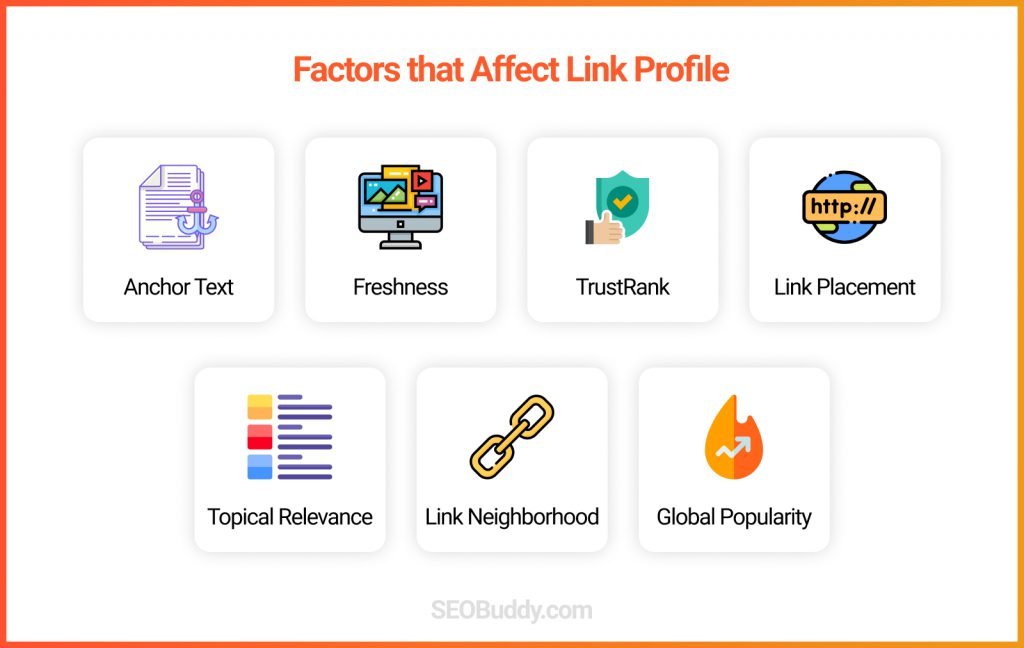 Focus on these seven important aspects and follow the best practices mentioned below when building backlinks for your website:
Anchor Text
The most important best practice that you need to follow for building backlinks is to use a relevant anchor text.
What does it mean?
It means that when a user clicks on a link, the anchor text should clearly indicate what kind of a page it will direct them to.
For example, if you're linking to a post on "SEO Copywriting", your anchor text could be:
SEO copywriting
Copywriting for SEO
How to write content for SEO
But it should not be:
Check out this post
Click here
Or any other unrelated anchor text
Why?
The reason is simple—links with a relevant anchor text pass more value or link juice to your site.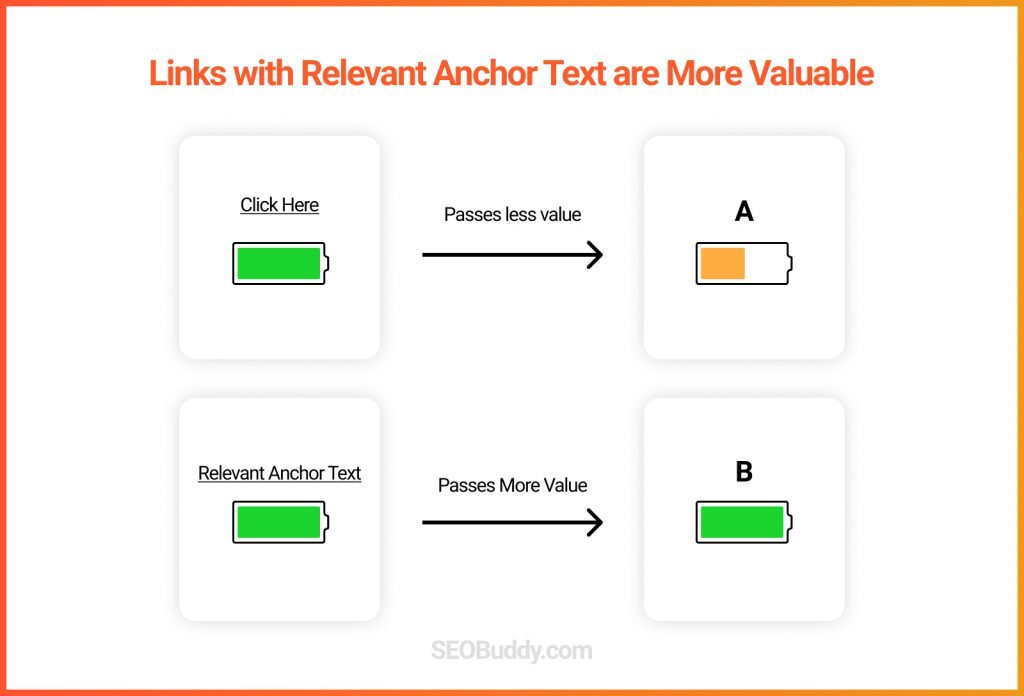 Freshness
Links from new and updated content hold more value than links from outdated content.
The same goes for website freshness as well. A new and updated website is considered much more important than an old website that's not updated frequently.
Also, if you're getting tons of backlinks from the same site, it won't hold as much weightage as it would if you get backlinks from new sites. So, try to diversify your link profile and get links from updated content on multiple websites.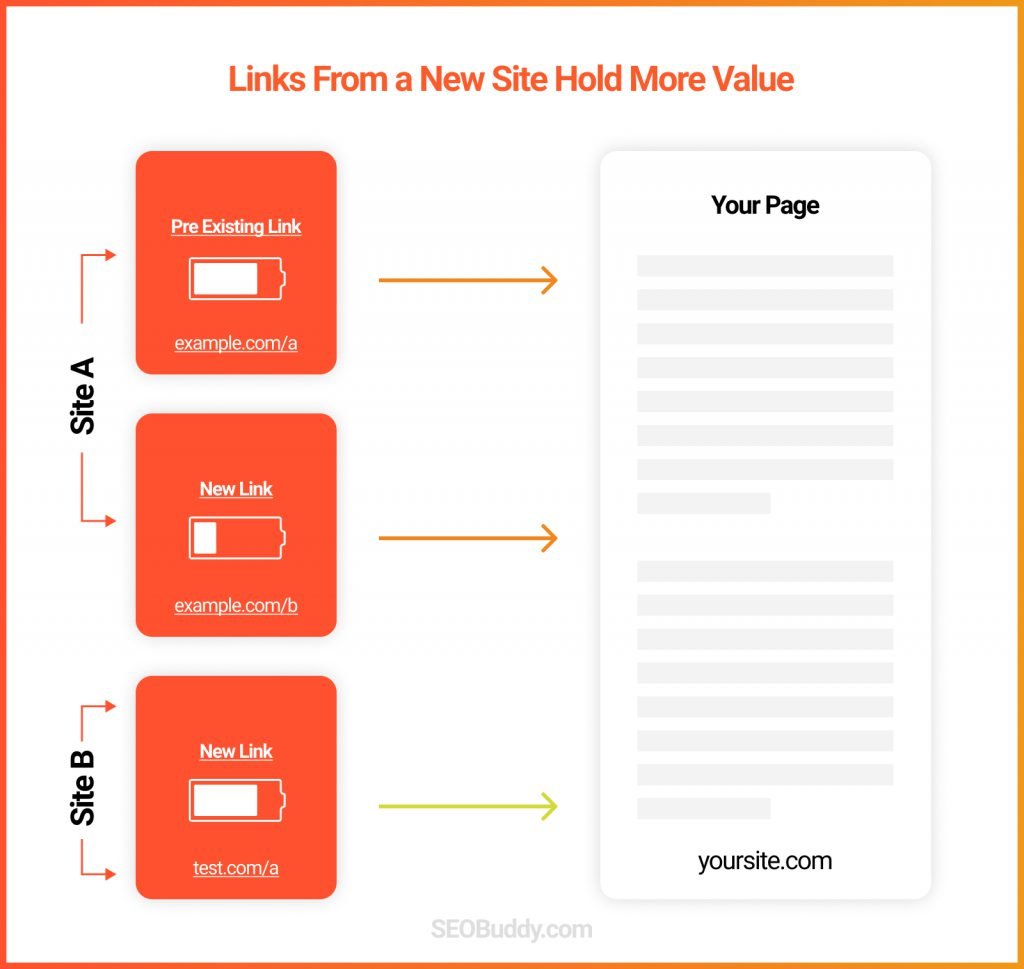 TrustRank
Another one of the important link building best practices is to build backlinks from authoritative sites. The more domain authority a site has, the more value it can pass to your site via backlinks.
After all, backlinks are all about one site giving its vote of confidence to another. This vote of confidence won't amount to much if the source site itself has no authority.
So, always check the domain authority of sites for link building and choose the best ones.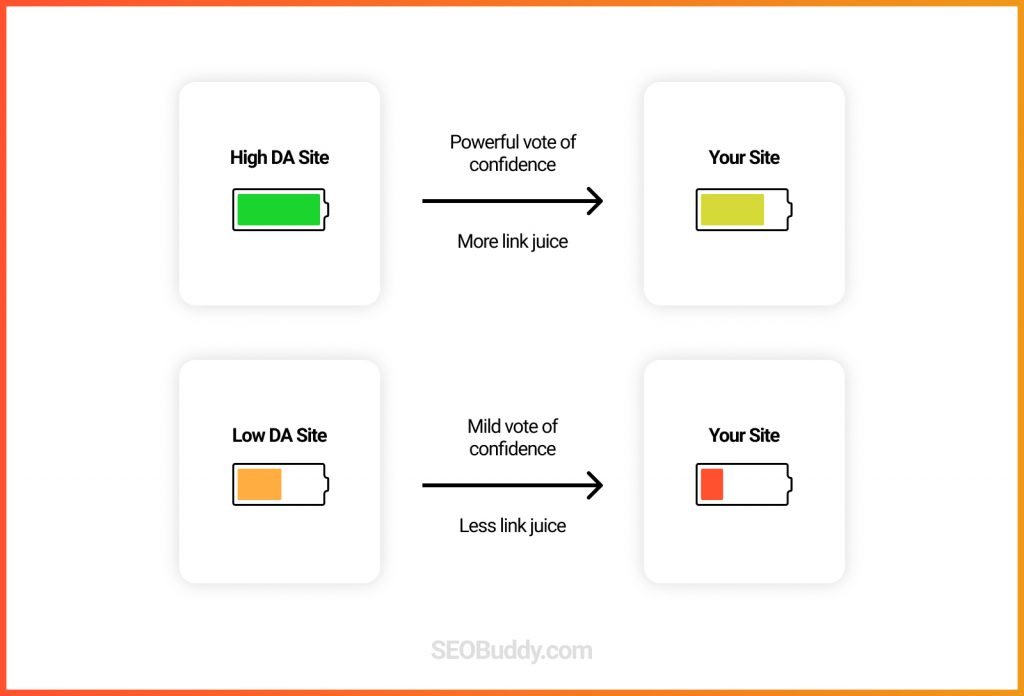 It's not just the website that matters, but also the page on which you're placing your link.
A page that has a high TrustRank will pass more value to your own site. So, find the best content pages on any website and choose those to add your backlinks.
Link Placement
This is one of the link building best practices not everyone knows about. The trick is that the higher your link is in a piece of content, the better it is.
Why?
Well, the first reason is that people don't often read an entire piece of content or scroll down all the way through to the bottom of the page. So, people have a higher chance of clicking on your link, if it's placed higher in a piece of content.
Another reason why link placement matters is that the top links hold more weight than the links placed at the bottom. So, it's good for your off-page SEO as well.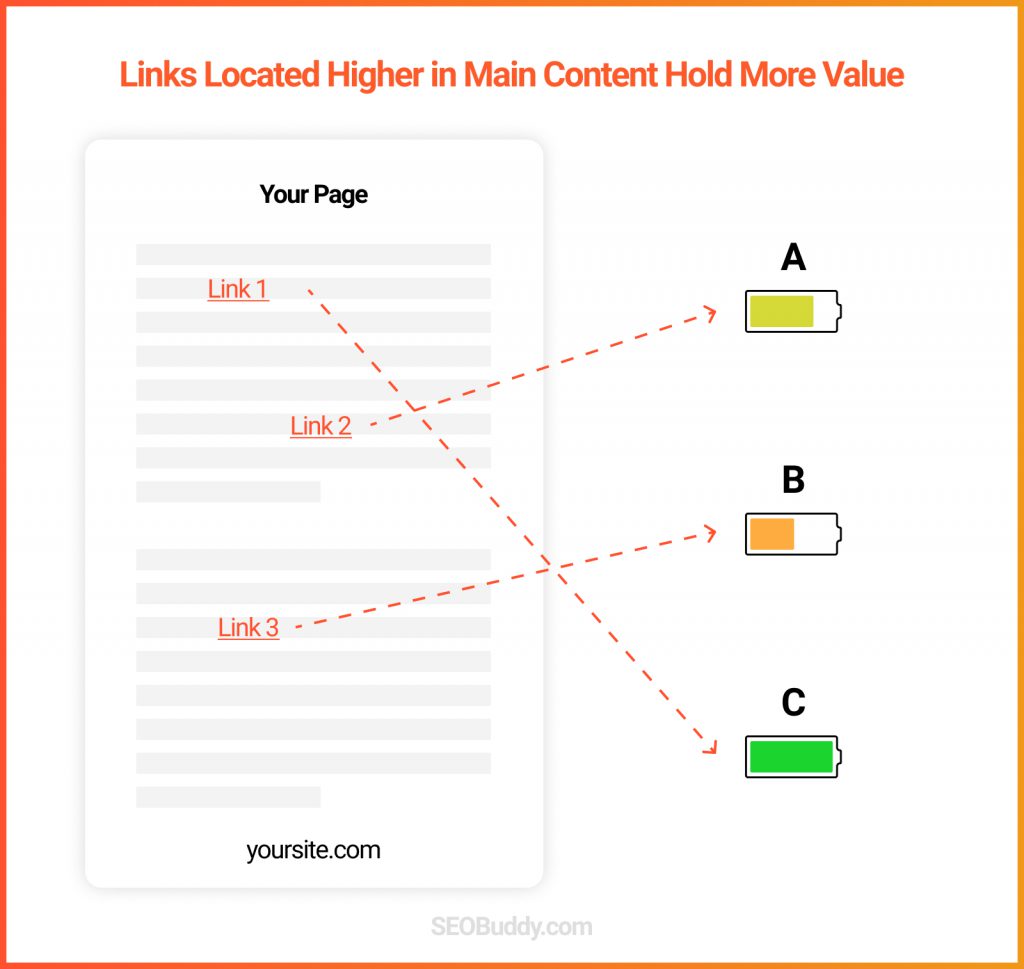 Topical Relevance
You must always link to pages that are relevant to the current page.
For instance, if you're adding a backlink on a blog post about automobiles, you can't link to a page about food or fashion or anything else. It has to be related.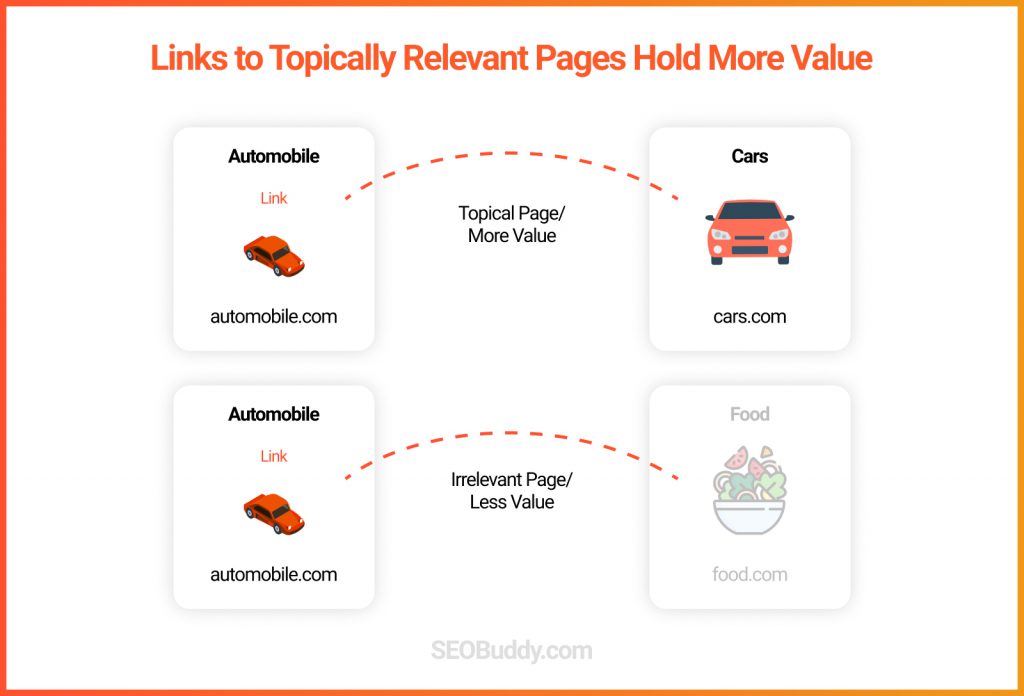 Link Neighborhood
One of the most important link building best practices to follow is to avoid linking to bad link neighborhoods.
Don't link to spammy sites or sites with adult or restricted content. You should also avoid linking to link farms as that can do more harm than good for your SEO.
Global Popularity
If you could manage to get a backlink from a popular page, then that's the best kind of backlink there is. Popular pages pass so much more value and a higher vote of confidence than any other page.
What are popular pages?
These are pages that are getting tons of backlinks from other sites and have a high TrustRank.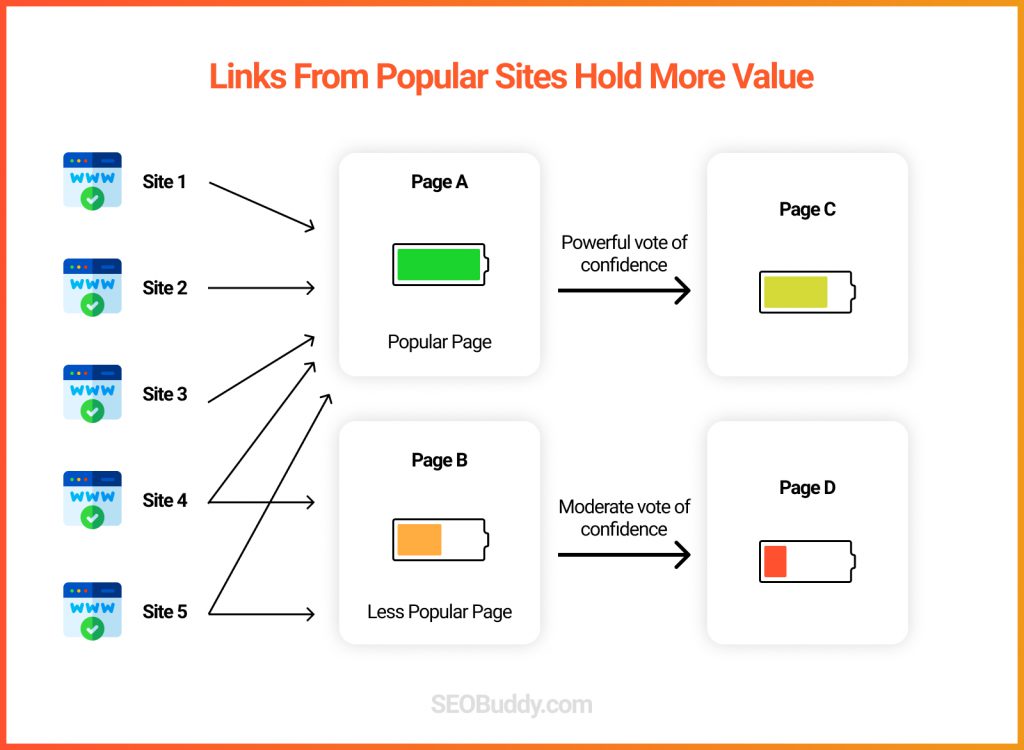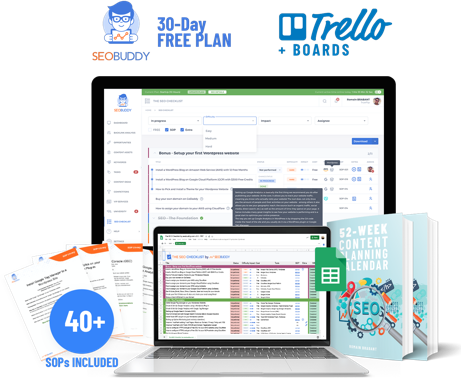 There's more…
Now it's time to discover the other 102 steps that will get more organic traffic flowing to your website. Get the SEO Checklist here.
Want to get a sneak peek of what it looks like?
Enter your email and get a free demo version of the SEO Checklist.
21 of the Most Effective Link Building Strategies
Here is a complete list of 21 effective link building strategies that you can use to boost your SEO. You can use a mix of these strategies or try everything to see what works best for you.
1. Leverage Guest Blogging
This is probably one of the most popular and effective link-building strategies that almost everyone follows. But not everyone knows how to do it the right way.
Guest posting or guest blogging is link building strategy that involves contributing articles to other websites and adding your links to those. This way, you can direct traffic from that website to yours.
However, you need to find relevant, high-authority websites within your niche, for this purpose.
The age of mass guest-blogging to build a large number of backlinks, without focusing on quality, is gone. Diverting irrelevant traffic to your website will do you no good.
Here is a step-by-step process that you can follow to leverage this strategy:
Make a list of relevant blogs in your niche
Vet these sites and keep only the best prospects
Reach out and find guest posting opportunities
Create high-quality content and add your link
Consistently guest post and build your rapport
This is a genuine way to earn backlinks by sharing great content, instead of just focussing on quantity.
Some websites add a short bio or profile of their regular guest bloggers and contributors, which is just another opportunity to get a backlink to your site and social media profiles.
Here's an example of a guest author bio with a website link:

2. Design and Distribute Infographics
This is probably one of the most effective link building strategies that deliver solid results.
How does it work?
Here's how:
Design an infographic on a trending industry topic
Publish it on your own website
Write different infographic descriptions for different sites
Distribute your infographic on other sites with a link to the original infographic
Simple, isn't it?
But that's not all! Posts with infographics get more organic traffic than regular blog posts. According to a recent study, they get 178% more organic traffic.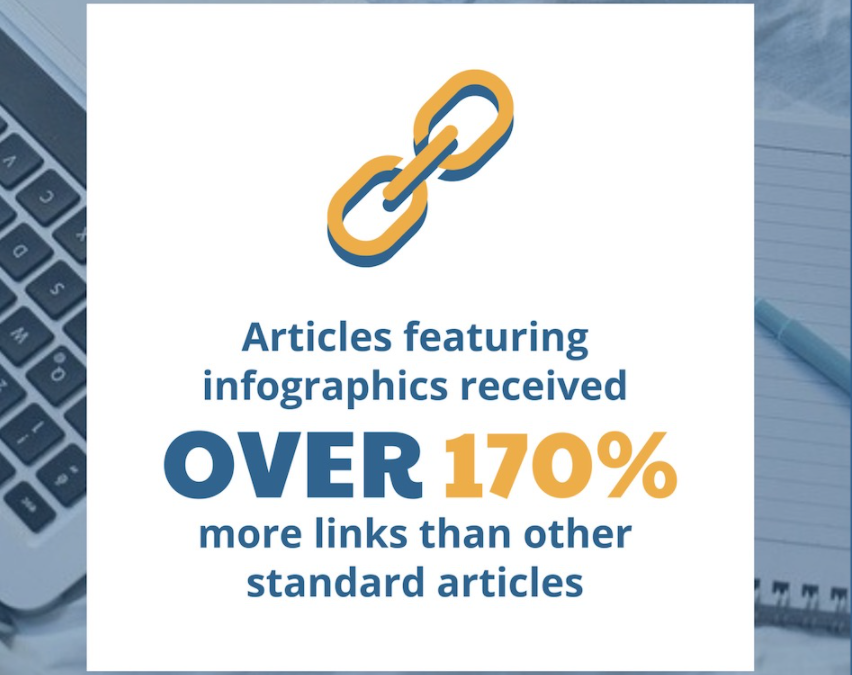 So, with this link building strategy, you will get the dual benefit of attracting both organic and referral traffic.
A lot, however, depends on how good your infographic is, so let's discuss how you can create a good infographic.
How to Design a Perfect Infographic
Here is a simple, step-by-step guide:
Search for trending topics in your niche
Conduct research on your chosen topic
Find stats, examples, images, and facts
Create infographic content using this data
Hire a graphic designer to create the infographic
Remember, an infographic is a combination of information and visuals. So, your content needs to be just as strong as your infographic design.
Pro Tip: Create a Gifographic to make it even more fun and engaging, and stand out in the crowd.
3. Add Links in Directory Listings
Directory listings and citations are important parts of local off-page SEO. If you want to attract a local audience, it's imperative that you add your business listing in all the important local directories.
Why?
Because these directories often rank on the first page of Google and get tons of organic traffic for high-volume keywords. If you add your business listings to these and add the link to your website, you will be able to direct some of this inflow of traffic to your website.
Luckily, this also works as one of the most effective link-building strategies as well. After all, most popular directories have decent authority and can pass some of the link juice to your site.
Use a listing management tool like Semrush to create and manage all your directory listings from one place.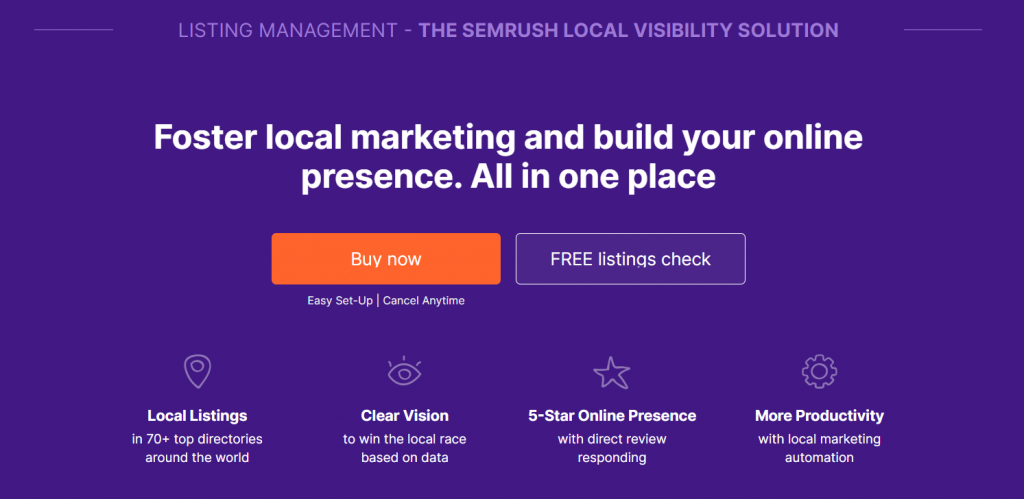 Pro Tip: You can also link to your GMB listing, social media pages, and profiles on other platforms from these directory listings.
4. Fetch Links for Unlinked Mentions
If you have been in the industry for some time, there are bound to be some organic mentions of your brand. These could be social media mentions or sources where someone was supposed to give credit to you but didn't link.
All you need to do is monitor and track your online brand mentions using social listening tools. Then find the unlinked mentions and ask people to give you a link for those mentions.
Wondering which tool to use for tracking your brand mentions?
You can use any of the popular social listening tools like Brand24 to do that.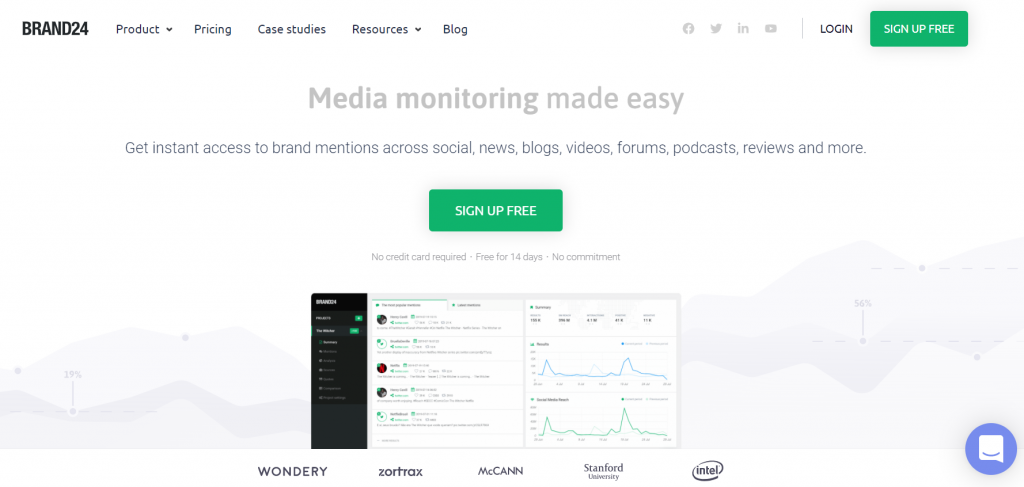 5. Conduct Research and Publish Reports
This is one of the organic link building strategies that consistently keep generating backlinks for you, without your intervention.
How does it work?
For this strategy, you need to create a valuable resource, like a research study, that people would want to cite in their content. Needless to say that any ethical marketer would automatically give credit to the original source from where they take a statistic or insight.
So, do some original research and compile a list of useful industry statistics that will be coveted by many. You can simply conduct a survey of people in your email lists or you can track your website data to find trends and patterns.
Basically, you can do any kind of research, as long as it is relevant to a lot of people within your industry.
For example, Linqia publishes an annual "The State of Influencer Marketing" report with unique insights into the industry. Resources like these automatically get links when someone quotes a statistic from it on their website.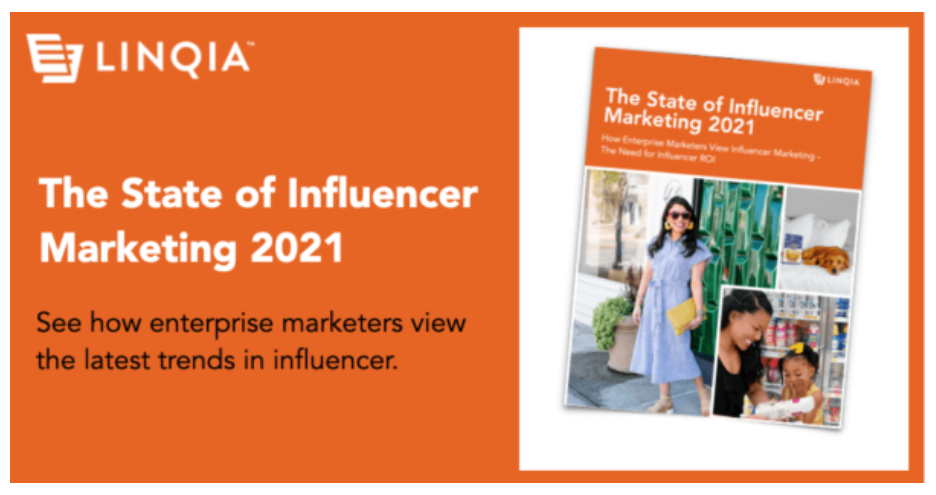 6. Get Active on Social Media Platforms
If you're looking for quick link building strategies, then you can't underestimate the importance of being active on social media.
Irrespective of who your target audience is, they will be active on some social media platform or the other. And they will also be highly engaged and attentive on their social media platform of choice.
So, if you share your website links on social media, then you can direct a lot of traffic from there to your website. However, you need to add a compelling call-to-action and give them a reason to visit your website.
For example, BuzzFeed is a media website that gets a lot of traffic from social media. Their entire model is based on sharing sneak-peeks of their latest blog posts on social media and adding links to the original article.
They use a link in their Instagram bio to direct people to an Instagram store where they display their top posts. When users click on any post, they are directed to the website.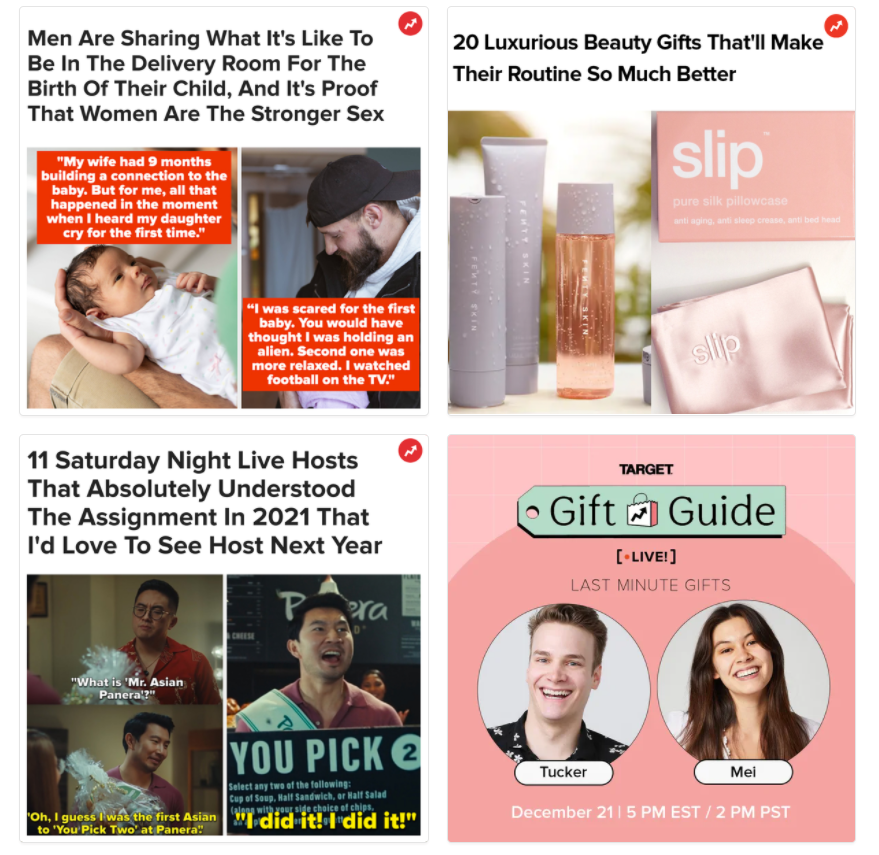 How can you leverage social media for link building?
Here are a few tips to get you started:
Add your website link in bio
Share excerpts from your latest blog posts with a link
Create an Instagram store where you can create a catalog of your latest posts
Use the "Swipe Up" feature in stories to direct traffic to your website
7. Create Roundup Posts for Link Building
Did you know that one of the best link building strategies involves giving links first to get backlinks?
Well, that's exactly what roundups are all about. You create a single blog post through which you can give links to a bunch of people or brands. Then, you reach out to them in a friendly manner and ask if they'd be interested in linking back to your site.
So, what kinds of roundups can you create?
Well, there are tons of options for that, including:
A roundup of useful resources or posts on a topic
Compilation of expert answers for a trending question
Listicle with a curation of the best tools for a specific purpose
A list of the best bloggers, influencers, or experts in a niche
The trick is simply to give links to a bunch of people and expect some of them to respond in kind by giving a link back.
8. Find and Replace Broken Links
Broken links can prove to be one of the best strategies for link building at scale. The reason here is that identifying and fixing broken links helps the webmasters of the websites that link to you too.
It's a win-win, really.
But what is broken link building?
It's the process through which you identify broken links on other relevant websites and provide a replacement to those by connecting with the webmasters.
And how can you find these broken links?
You can start by leveraging a Chrome extension like Check My Links. It helps you spot broken links on websites you browse.
It shows four types of links: valid, valid redirecting, warnings, and invalid links. The invalid ones are the broken links.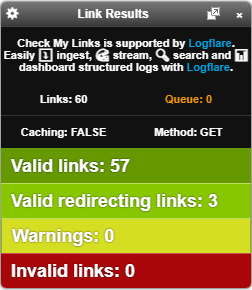 After finding a broken link, you can check if you've got a resource that could replace it.
If not, you could create a resource and approach the webmaster, telling them about the invalid link and sharing your resource with them. This might prompt them to replace the link with yours.
But this process could be slow as you can only discover a few links at a time. Thankfully, there's a method to scale it up.
You can leverage a platform like Semrush or Ahrefs to easily find multiple broken links after you've found a single one.
On Ahrefs, you could do so using its Site Explorer. Similarly, on Semrush, you can use the Backlink Analytics tool.
All you have to do is enter the broken URL in the bar. The tool will then show a list of all pages that have linked to this broken URL.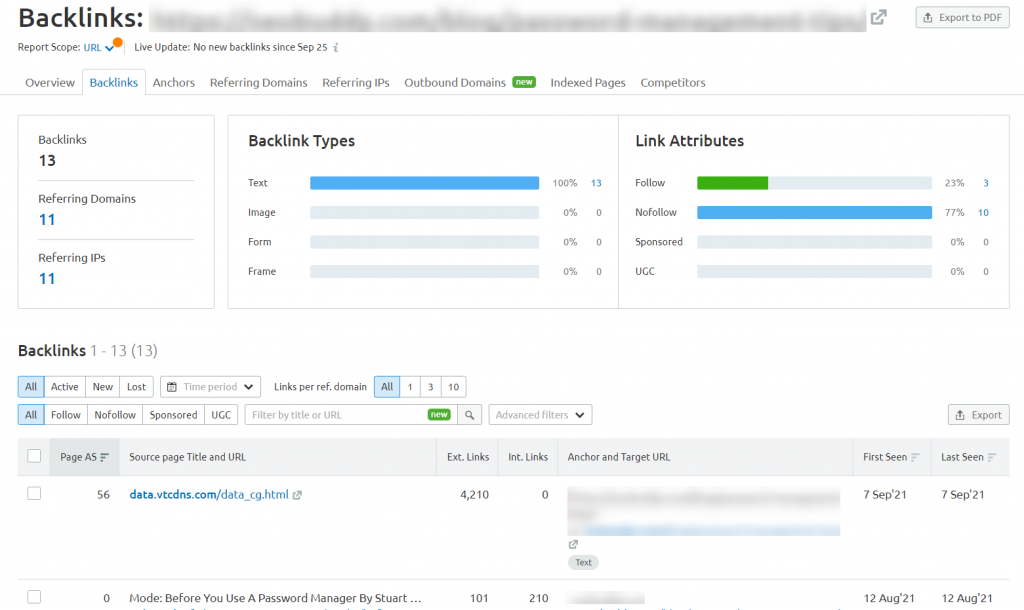 You can essentially reach out to each one of these sites and request them to replace the broken link with yours. This could help scale up your link building efforts dramatically.
9. Participate in Expert Roundups
Expert roundups are highly resourceful posts for the discerning reader. They bring together the quotes from numerous experts in a particular niche and present them all in one post.
This, in turn, means that the post would be packed with valuable information for the readers. As a result, it's likely to get a lot of attention and traffic.
What's more?
If you participate in an expert roundup, it'd help improve your personal brand as well.
But guess what?
The benefits of this strategy don't end here. In fact, it's a very important method of link building.
When you participate in an expert roundup, you also get a link back to your website along with the quote.
And as mentioned before, it's likely that such a post would get a lot of traffic and might even rank high in the SERPs. This could make the backlinks from expert roundups even more valuable.
For instance, note how Andrea Beltrami has got a backlink to her website "The Branded Solopreneur" by getting featured in the expert roundup below.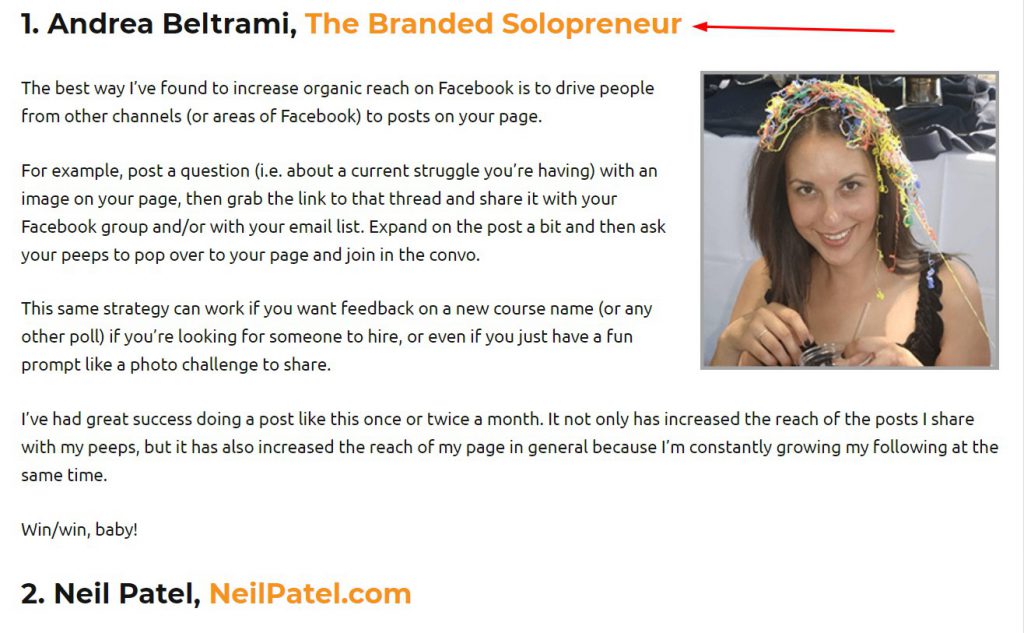 10. Write HARO and Expert Answers
HARO (Help A Reporter Out) is a service that's built for journalists who need some assistance in completing their articles.
This free service allows them to reach out to experts in different niches for their quotes or assistance.
And this means—you guessed it—free backlinks.
These links are even more valuable as they would come from news websites, which often have high authority and traffic.
If you're lucky enough, you might even get featured on some of the most popular publications like the New York Times or Wall Street Journal.
But here's what makes this one of the best link building strategies for brands — you don't conduct the outreach.
Yes, you read that right.
It's the journalists who approach you and not the other way round.
As a result, you'll be saved from the trouble of having to find the contact information of the journalists and reaching out to them. Instead, they'll approach you for your knowledge and all you have to do is share it with them.
That's all, really.
You'll likely get featured in those articles and might even get a link back to your website. In either case, it's a win-win situation for you.
So, how can you get started with HARO?
Head to the signup page on the HARO website. Once you've signed up, you'll receive three HARO emails daily at fixed times and you can then reply to those to help the journalists out.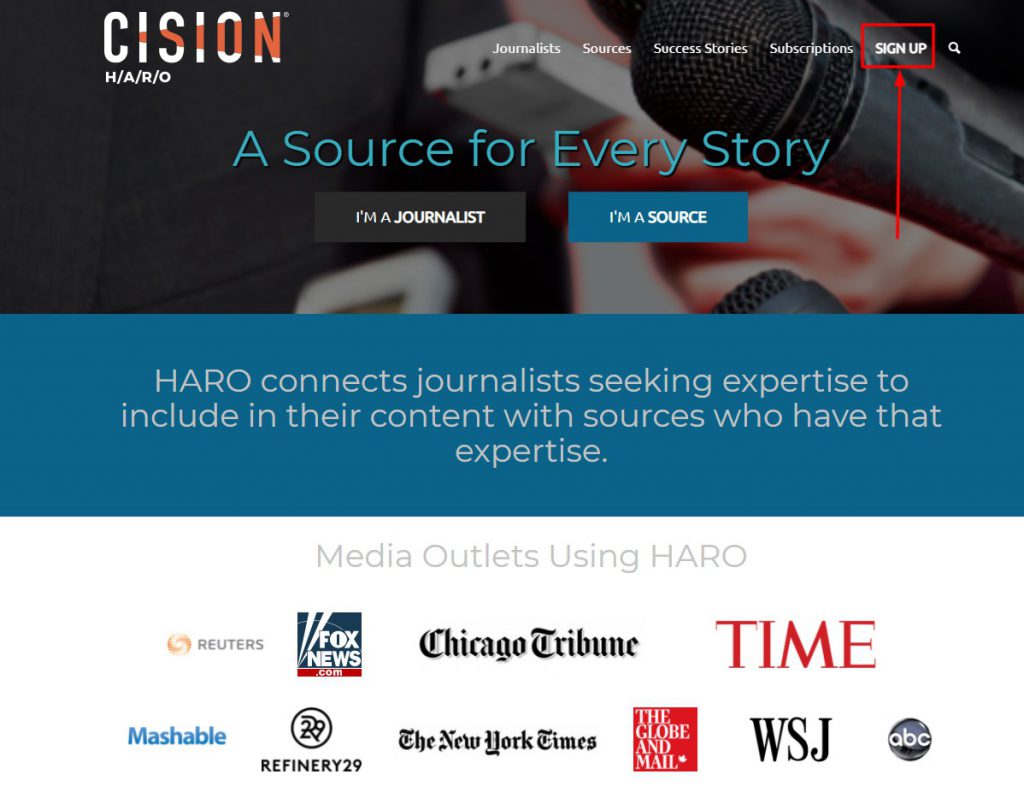 This is one of those link building strategies that work quickly and deliver solid results, so don't miss it.
11. Answer Questions on Quora and Reddit
Now—before you start reading this link building strategy with a skeptical mind, it's important to understand that Google can identify websites that are building links through Quora.
Yes, these links aren't dofollow backlinks and may not be as valuable as links from prominent websites and publications, but they do come in handy.
The reason behind this is the EAT (Expertise, Authoritativeness, Trustworthiness ) ranking factor. Quora and Reddit give you the ability to build your EAT as you can help a large audience on these platforms by answering their questions.
However, the key here is to ensure that you develop a professional profile that's complete with a real photo, bio, and name.
You must also carefully consider the questions posted by people in your niche before choosing the ones to answer.
What's more?
Here are some things you should consider when answering the questions:
Consider the question and understand the problem faced by the asker.
Write your answer in a manner that's non-promotional and helpful.
Use simple language to ensure that the message is understood well.
Only link to relevant and high-quality information sources in the answer.
Add your link naturally and not at the very beginning of the answer.
Ensure your answer provides value and isn't written for the sake of the link.
Also, avoid plagiarism when answering any questions.
For instance, note how Neil Patel has written a detailed and helpful answer to this question and has weaved in links to his website naturally.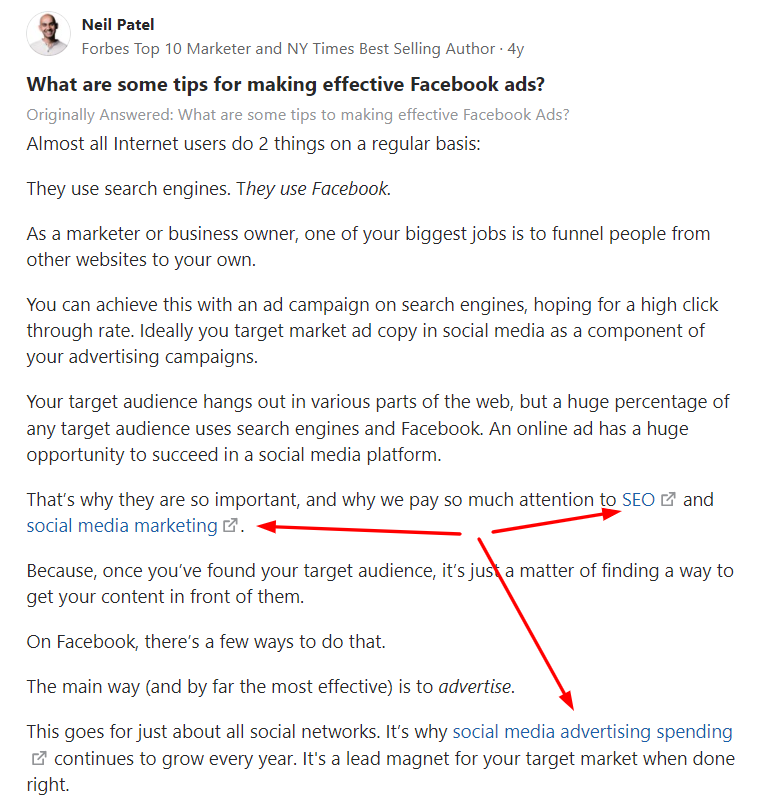 12. Spy on Your Competitors
Competitor backlink analysis is one of the best link building strategies as it lets you directly find websites that'll be open to linking to yours.
This strategy starts by first finding your competitors. It's important to find the right set of competitors as they're the ones you'll spy on for finding link building opportunities.
You can use Semrush's Domain Overview tool for that. Simply enter your domain and scroll down to the "Main Organic Competitors" section to find your competitors.
You can then analyze them to figure out if they're from your niche or a similar one. These are your main competitors.
Once you've got a list of competitors, use the Backlink Analysis tool on Semrush to identify all the pages that are linking to them. You can do this for both the home page and individual blog posts.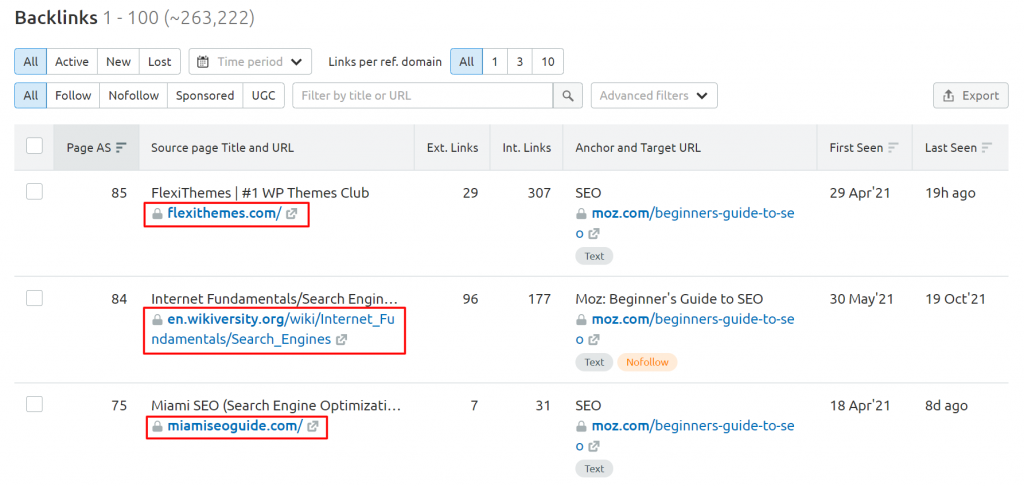 You should then analyze this list of websites and see how and why they've linked to your competitors. Based on that, you can create a resource and approach them to link to your website as well.
Alternatively, you can check which websites are linking to multiple competitors using the Backlink Gap tool. These websites might be open to linking to you as well because they've linked to others in your niche.

After finding this list of websites, you can approach them and ask them to link to your home page, blog post, etc.
13. Create Evergreen Pillar Content
While most link building strategies would require you to conduct outreach, content marketing is a great way to change things. It's a natural link building strategy where the focus is on creating valuable content that your audience would find helpful.
Pillar content is one such type of content that can drive both traffic and backlinks for your website. The long-form nature of the pillar content makes it valuable for your audience and can drive traffic to your website.
At the same time, if people find it useful, they'll likely link to it from their own websites.
To improve the chances of getting more traffic and backlinks, you can create pillar content on evergreen topics. The reason for doing so is that the content will remain relevant for your audience for a long time to come.
For instance, note how we've created numerous evergreen content pillar posts like the one below.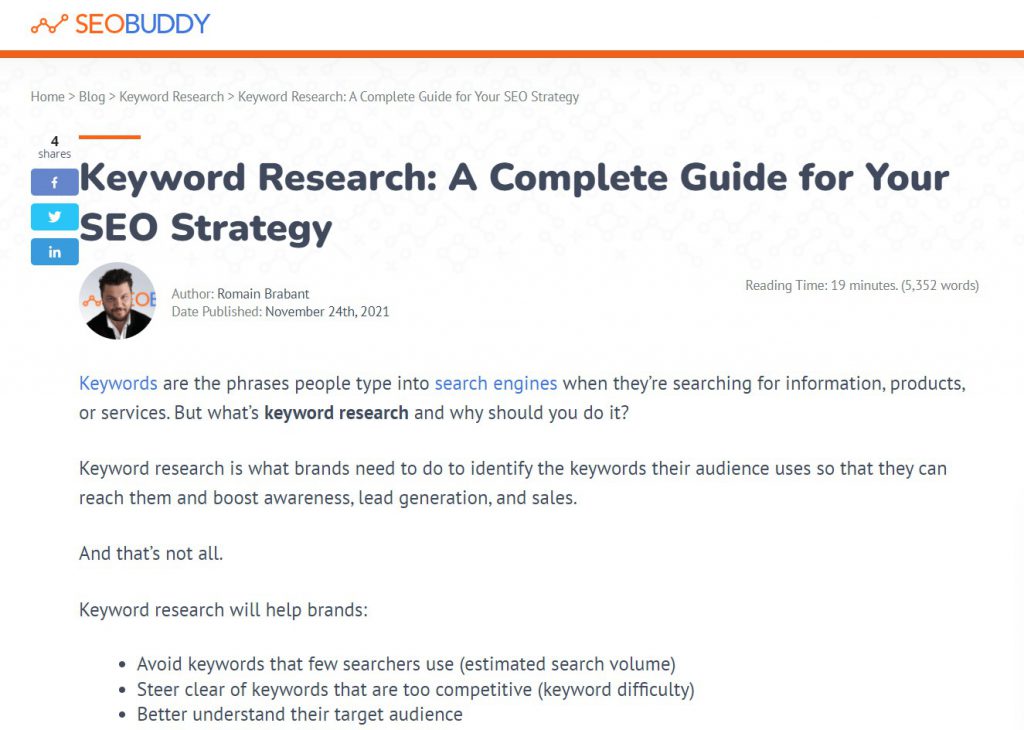 14. Write Testimonials
If you've used a product or service of a particular business, it's helpful to write testimonials for them. While it helps them build credibility, it's also one of the best link building strategies for you.
And how can testimonials help with link building?
When you write a testimonial for these businesses, they might publish those on their website. While some websites may just add your name, others may choose to add a link to your website as well.
Essentially, this backlink would require minimal effort from your end.
Many businesses might even reach out to you for your reviews and testimonials. You can reply to these emails and get your backlinks with ease.
For instance, note how Brian Dean got this backlink by writing a testimonial for Ahrefs.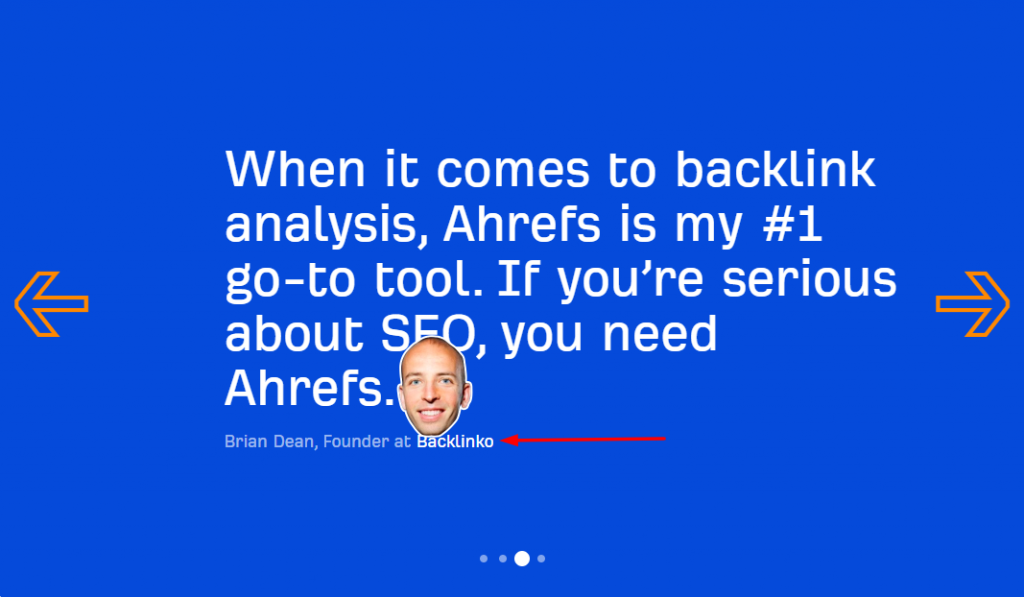 15. Leverage Expired Domains for Link Building
This is one of the lesser-known, yet effective, link building strategies that you can use to quickly build a bunch of backlinks.
What does it entail?
Well, it involves buying expired domains in your niche that have good quality content and some authority. You can then create a network of blogs that link to each other and to your main website.
The only prerequisite for this strategy to work is that all the domains you buy should have related, high-quality content.
This is a shortcut to link building that few people know of and use. Leverage this strategy to gain an advantage over your competitors and build tons of backlinks almost instantly.
Where will you find expired domains to buy?
You can use one of these:
Domain registrars
Auction sites for expired domains
Domain name marketplaces
16. Leverage Wikipedia Link Building
Wikipedia is a treasure trove of information but it's also a valuable source for link building.
And guess what?
The links from Wikipedia are extremely valuable as moderators review them before they're added to the website. Add to that the traffic and authority of the website and you've got quite the combination for SEO success.
Now onto the all-important question — how do you build links from Wikipedia?
There are three major ways of doing so:
Dead link building: Find permanent dead links on Wikipedia and submit your resource to replace that link.
Broken link building: Look for other websites that have used the dead link and approach them with your resource for replacing it.
New link building: Add in relevant links to your resources on Wikipedia pages.
While you may submit your links for addition, the final decision to add them rests with the moderators. It's thus important to ensure that you're submitting something that's valuable for the readers.
17. Interview Influencers and Industry Experts
Influencers and industry experts tend to have websites that have high authority scores and traffic. Getting a backlink from these websites would thus help in improving your SEO dramatically.
But how can you get these backlinks?
Interviewing the concerned people is a great way of doing so. You could interview them on a topic related to your niche and publish the same on your website.
While this doesn't directly get you a backlink, it does open a path for getting backlinks. This is because the influencers might link to the interview to drive traffic to it. This would help you with link building and also drive traffic to your website.
For instance, note how we've conducted interviews with numerous marketers.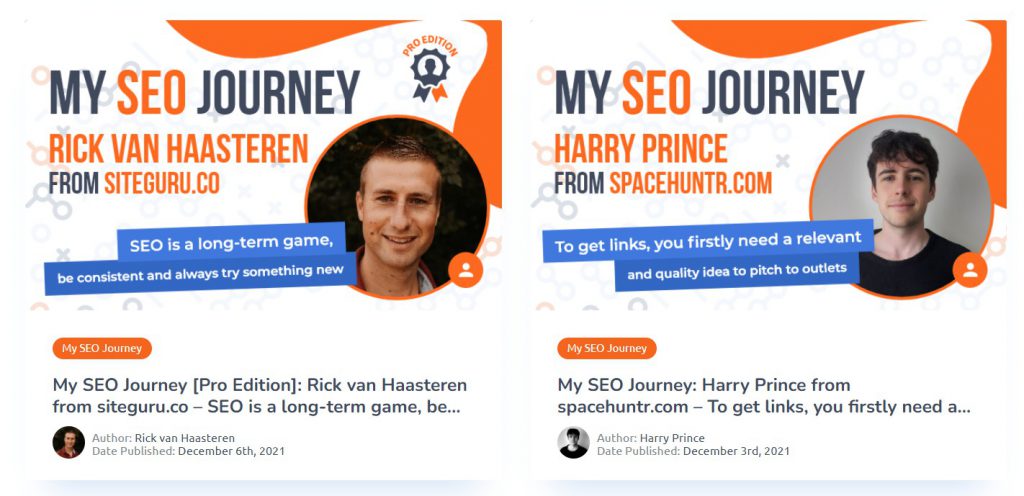 18. Create Good Content to Get Editorial Links
This is one of the toughest link building strategies that take time and consistent effort to achieve results. However, editorial links are the most coveted and most valuable kind of links that everyone wants but are really hard to get.
What are editorial links?
These are the links that people naturally give because they find your content to be extremely useful and of high quality. You don't need to do any outreach or ask for links, but you simply get those links by virtue of your high-quality content.
However, for this link building strategy to work, you need to build a solid brand reputation first. Consistently create great content and establish your authority in your niche and you will automatically start seeing organic or natural links to your content.
19. Add a Resources Page to Your Website
This strategy works in a similar manner as roundup posts. The idea is to give links first and then expect links back.
What do you need to do?
Create a resources page on your website where you list all the important industry resources. These could be websites from where your readers can get more information about the industry, tools they can use, and even people they should follow.
Think of it as your way of guiding your loyal audience to more useful and relevant content that they will appreciate.
Isn't that helping the competition?
Well, yes and no.
You don't necessarily need to link to your direct competitors, but can link to complementary people and resources. This way, you're strengthening your network and keeping your audience happy.
Here's an example of a resource page where a blogger has created a directory of plus-size clothing stores that she likes.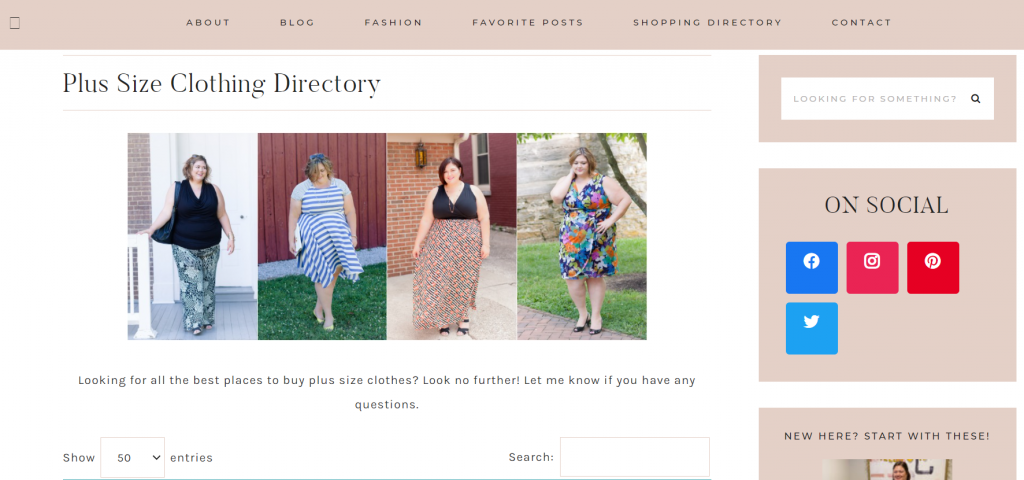 Of course, you can reach out to everyone whom you've linked and ask if they'd be willing to return the favor and add your site on their resources page or a roundup post.
20. Add Your Site Link in Your Email Signature
Looking for low-effort link building strategies that will keep delivering results for years?
Then simply add your website link in your email signature. It doesn't deliver very strong results, but it still can bring you some traffic from interested subscribers.
This is an especially good link building strategy for brands that run huge drip email campaigns all year long. Imagine the number of emails you send in a year, you'll have that many backlinks available for interested people to click and reach your website.
Even if you're not sending emails from a personal account, you can still add links to your brand's website and social profiles at the end of each email.
Here's a brilliant example of how Searchmetrics does it:

21. Leverage Reciprocal Link Building Strategies
This list of link building strategies wouldn't be complete without the mention of reciprocal link building, even though it's not the best strategy to follow.
Reciprocal link building works on the principle of "give and take"—you give someone a link and they give you a link in return. It works as long as you do it in moderation and don't link to spammy sites and link farms.
Use this as one of the lesser-used link building strategies and not something that you rely on completely and you should be good.
FAQs
1. What are the key elements of a successful link building strategy?
Here are some elements of a successful link building strategy:
Use of relevant anchor texts
Linking to and from fresh and updated content
Building backlinks from pages with a high TrustRank
Placing links at the top of the page and not the bottom
Linking to and from a topically relevant piece of content
Avoiding links from bad link neighborhoods
Getting backlinks from popular pages on a website
2. What are the best link building strategies for 2022?
Here are our top 21 link building strategies for 2022 and beyond:
1. Leverage guest blogging
2. Design and distribute infographics
3. Add links in directory listings
4. Fetch links for unlinked mentions
5. Conduct research and publish reports
6. Get active on social media platforms
7. Create roundup posts for link building
8. Find and replace broken links
9. Participate in expert roundups
10. Write HARO and expert answers
11. Answer questions on Quora and Reddit
12. Spy on your competitors
13. Create evergreen pillar content
14. Incentivize customers to write testimonials with links
15. Leverage expired domains for link building
16. Leverage Wikipedia link building
17. Interview influencers and industry experts
18. Create good content to get editorial links
19. Add a resources page to your website
20. Add your site link in your email signature
21. Leverage reciprocal link building strategies
3. Which is the best link building strategy?
Guest blogging and infographics distribution are two of the most effective and sustainable link building strategies. You can build a lot of high-quality backlinks using these and these are not going out of date anytime soon.
4. Which are the link building strategies that deliver quick results?
Here are some low-effort strategies that can drive results quickly:
Claiming unlinked mentions
Social media link building
Broken link building
Expert roundups
HARO and expert answers
Quora and Reddit answers
Customer testimonials with links
Expired domains for link building
Reciprocal link building
If you want a quick and effective way to build backlinks, get our link chest where you will find over 1400 easy to get backlink opportunities. This is the easiest way to build tons of new backlinks without much effort.
5. What are the three types of links?
The three common types of links are backlinks, internal links, and external links.
Internal links are the links that you place on your content that direct people to other useful resources on your website. External links point to other websites with related or relevant content.
Backlinks are technically external links that other sites place on their content that directs traffic to your website. So, these are incoming links to your website.
Ready to Use These Link Building Strategies?
Link building is an important part of off-page SEO and one of the important Google ranking factors.
Utilize the link building strategies mentioned above to improve your off-page SEO efforts and strengthen your backlink profile. This will also help you build more authority and, eventually, get better SERP rankings.Need help getting better results from your SEO efforts? Download our ultimate SEO checklist to make sure you don't miss anything and get the best SEO results.