9 Easy Ways To Build High-Quality .gov Backlinks
As you would know, .gov backlinks are one of the most sought-after backlinks and probably the most difficult to obtain. After all, government websites don't just link to anything.
As Google hasn't given any definitive answer regarding the power of .gov backlinks, the effectiveness of .gov backlinks is still up for debate among SEO professionals.
But we all know that government websites have the domain age, trust, and authority that make a website powerful. Clearly, getting a backlink from a .gov domain would be great for your search engine optimization and website authority.
So if you want to build .gov links, read this guide to .gov link building strategies.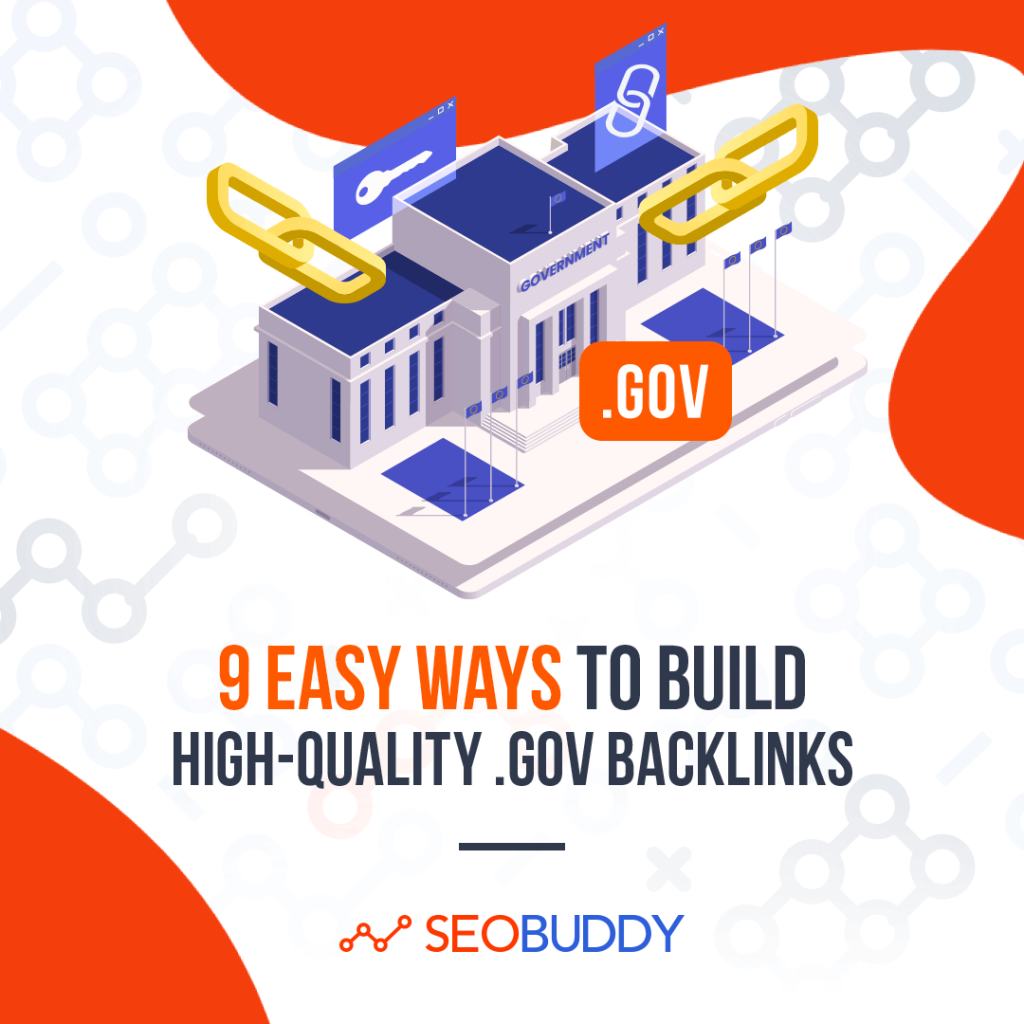 What are .gov Backlinks?
Gov backlinks are the ones that come from top-level government-owned sites that have a ".gov" extension.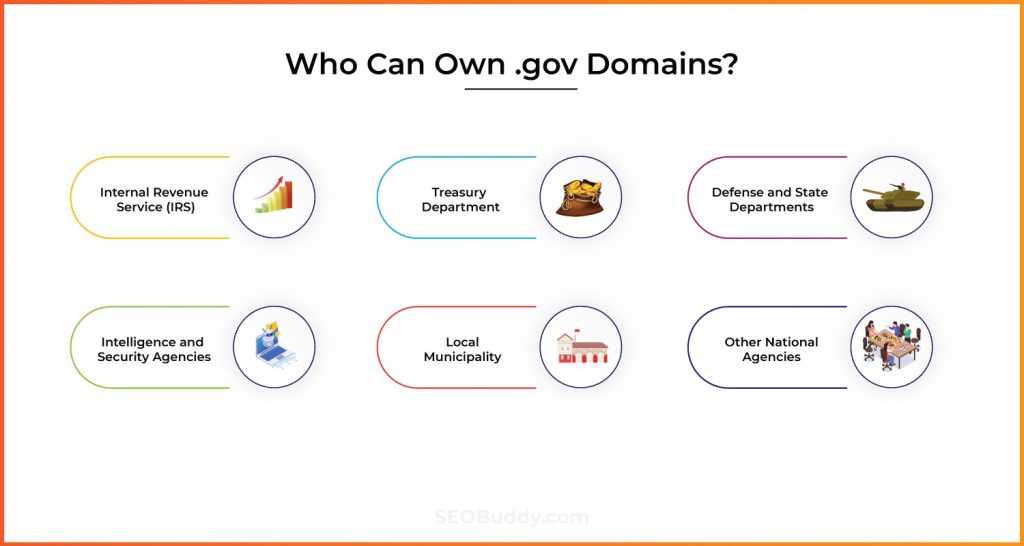 Only government departments and agencies can have a .gov extension. Some examples of these departments and agencies are:
Internal Revenue Service (IRS)
Treasury Department
Defense and state departments
Intelligence and security agencies
Local municipality
These government-owned domains have a high-trust factor and domain authority. Therefore, any .gov links from such sites can boost your SEO and domain authority.
How?
Find out in the next section.
Why Build .gov Backlinks?
SEO experts across the world unanimously agree that .gov domains are more authoritative than other domain types.
Link-building tactics you use should be according to the search engine results page (SERP) competition. If your competitor has a great link profile, you have to build a better one. This is where scarce, potent, and authoritative .gov backlinks can help you.
While it is true that a website can gain SERP (search engines results pages) rankings without .gov backlinks, these sure can get you an edge over your competitors.
However, obtaining a .gov backlink isn't child's play and this is what makes it desirable for SEO. Not everyone can obtain a .gov backlink. But if you manage to get a few, you'll see an increase in your domain authority and SERP rankings.
What makes .gov domains great for SEO is their long lifespan. Unlike .net or .com domains, .gov backlinks will certainly last long as the government sites remain in existence i.e. for a long time or maybe, forever.
The purpose of government websites is to represent the government bodies to serve the general public or businesses. Hence, they can't afford to go down or vanish from the internet.
This means that link building on .gov domains will continue to benefit you for a long time. Here are three of the main reasons why .gov backlinks are great for SEO.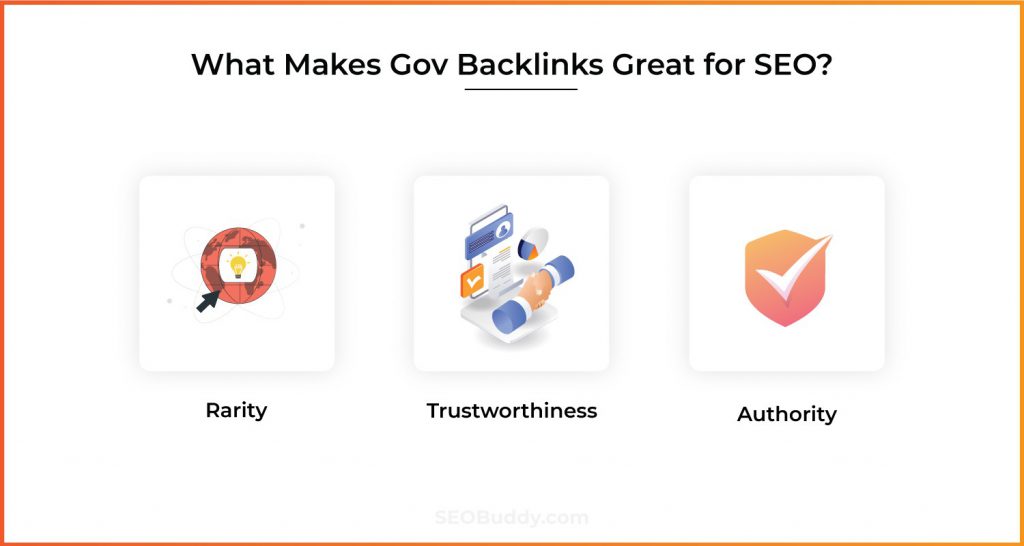 They are Rare
As government domains are reserved for government bodies, not anyone can obtain a .gov domain. As a link builder, you can't just have a link exchange with or get a paid backlink from a government site.
The process of obtaining .gov backlinks (which we'll discuss shortly) isn't a cakewalk.
This makes .gov backlinks rare and, hence, more valuable. Very few sites can get .gov backlinks and those that do have an advantage over others.
They are Trustworthy
Government websites are the most trustworthy domains you can find on the internet. They're secure and don't indulge in any spammy activities.
If you can win backlinks from .gov domains, your domain trust score will eventually skyrocket. For example, when people see your website link as an endorsement from a federal or government website, they start believing in your brand.
Basically, a backlink from a .gov domain adds credibility to your website.
They Have High Domain Authority
Government sites don't need to use backlinking strategies or on-page optimization to rank on SERP. They're already known to online users, and thousands of users search daily for these sites directly.
Given all the factors, .gov domains often enjoy high domain authority, which most off-page SEO strategists crave.
Take a look at the domain authority of federal agencies and state departments in the United States:
By obtaining .gov backlinks from these government bodies, you can funnel some of their domain authority to your domain. When a government site links to yours, they give their vote of confidence in your site, which improves your authority.
Although acquiring backlinks from national-level government sites is nearly impossible for small-scale businesses (unless you're working for a great cause or you're just lucky), there are state bodies and local government websites that are relatively easier to target.
Get the instruction manual for reaching page one of Google by checking out SEO Buddy's SOP Collection.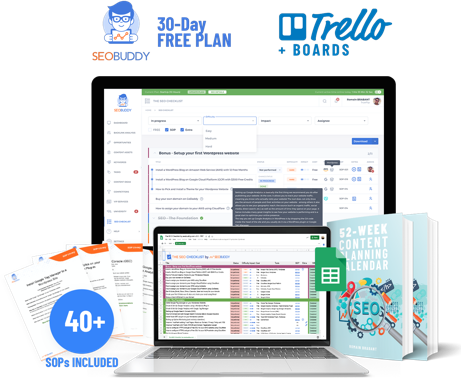 There's more…
Now it's time to discover the other 102 steps that will get more organic traffic flowing to your website. Get the SEO Checklist here.
Want to get a sneak peek of what it looks like?
Enter your email and get a free demo version of the SEO Checklist.
How to Build .gov Backlinks in 9 Easy Ways
Although winning .gov backlinks is the ultimate goal for link builders, getting them isn't easy. Link building on .gov domains requires marketers to invest a considerable amount of time and effort, more than what is needed to earn backlinks from other domains.
Most SEO specialists give up the thought of obtaining .gov backlinks, arguing that these websites are controlled by bureaucracy, and there is no way to convince them.
Some others believe that it's possible to gain links from .gov sites, but they don't have any idea where to begin.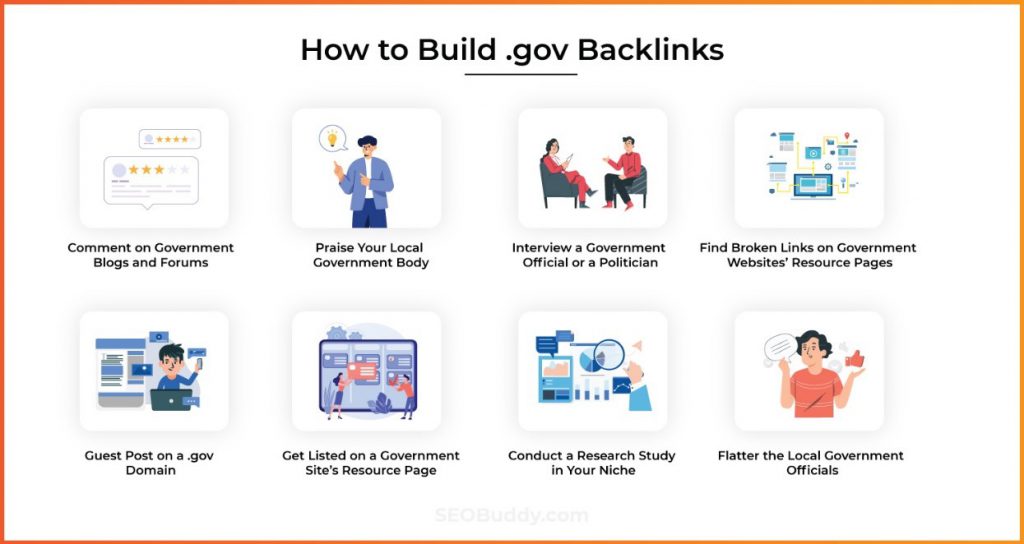 The first thing you need to do to obtain a .gov backlink is to find out the reasons why a government website would link to another webpage. Find out the relevant state departments that can potentially link to your site and try to put yourself in their shoes and figure out the reason why they would do that.
When you know the reason and the domain, the next thing to do is to pick the right link building strategy to build .gov backlinks. Here are the top 9 methods of getting .gov backlinks.
1. Comment on Government Blogs and Forums
Before we start, let's make one thing clear: we don't endorse spammy blog commenting. But when done right, blog comments can prove to be a great strategy for earning .gov backlinks.
Commenting on government blogs is an excellent approach to earn .gov backlinks faster. For that, you need to understand that writing a blog comment and posting it on dozens of blogs won't work.
You need to craft every comment you post on a .gov blog from scratch. Your comments should be insightful and contribute to healthy discussions on the blog.
However, most government websites don't allow comments, and even if they do, the link will probably be a "no-follow" backlink. Still, there are .gov domains that attribute "do-follow" links.
A similar approach to obtain backlinks from .gov sites is contributing to forums. Take a look at the following forum by American English.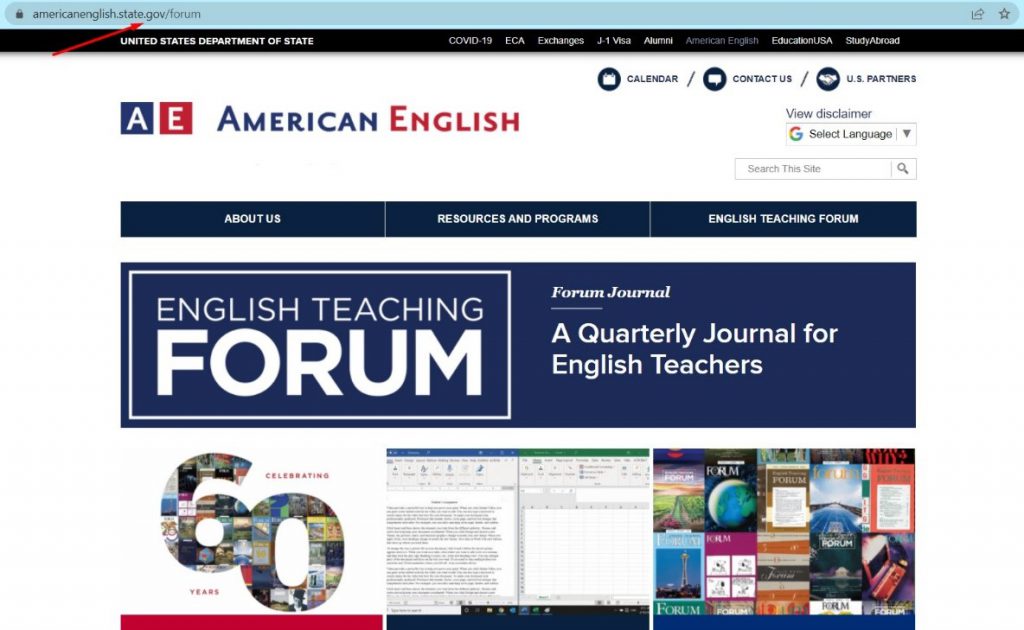 Be it blog commenting or forums, finding the right .gov domains is tricky. To find .gov backlinks for blog commenting and forums, try searching for the following terms on Google:
Site:gov "post a comment"
Site:gov "forums"
Site:gov "name of your niche"
Site:gov "you must be logged in"
These queries should show some awesome .gov blog commenting and forum submission opportunities.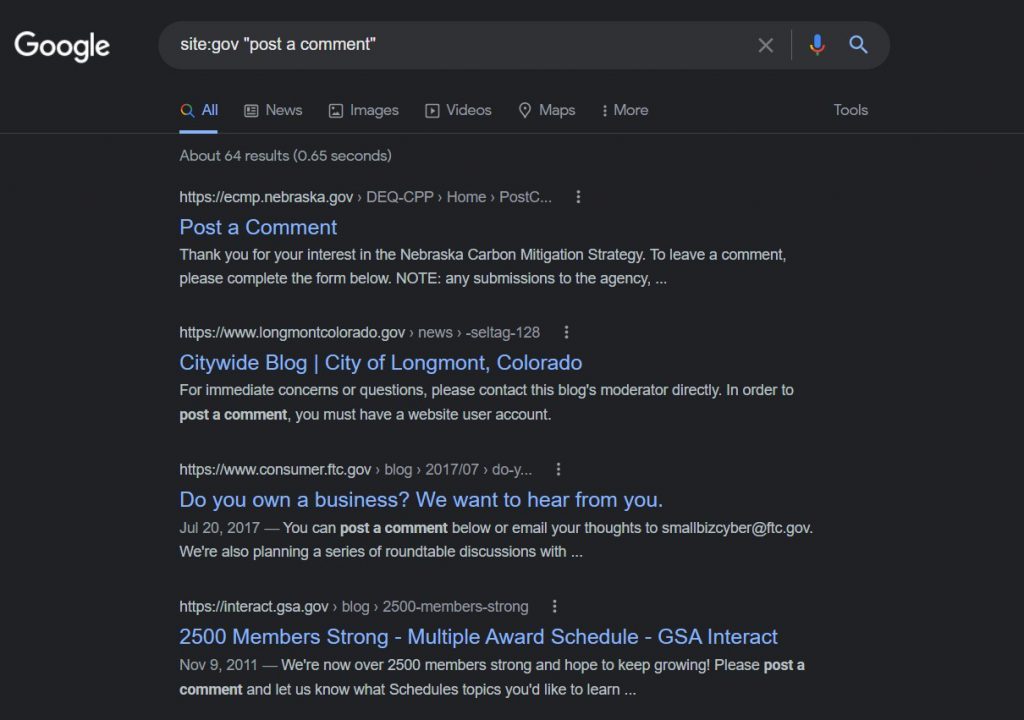 2. Praise Your Local Government Body
If you're searching for link-building opportunities, we presume that you already have writers on board. While you're writing content around your products and services, you can also write about some social issues that relate to your business.
For example, if you're an education service provider, you can do a small survey or report on the current educational infrastructure in your county. Also, mention and appreciate the local government for their good work.
Your goal should be to mention the government agency positively so that they are more likely to share your content on their website. When you're done with the article, find the right point of contact within the concerned government department and reach out to them.
Not everyone will agree to put your content on their website, but you should keep trying until you get an opportunity. And trust us, it's worth the effort.
3. Interview a Government Official or a Politician
If you're skeptical about writing about a social cause and praising a government agency just because it's challenging to get through, this one is for you.
Government officials and politicians strive to get interviews with sites that have a huge audience base. It gives them additional exposure, and for you, interviews are a great form of content.
You can get more out of these interviews by asking the concerned government body to post the interview on their website and provide you with credits. It works flawlessly if you can write the video transcript and edit it for the respective government's website.
Interviews of government officials and politicians are a great way to be featured on a government blog. Here is an example of getting a backlink by interviewing a government official.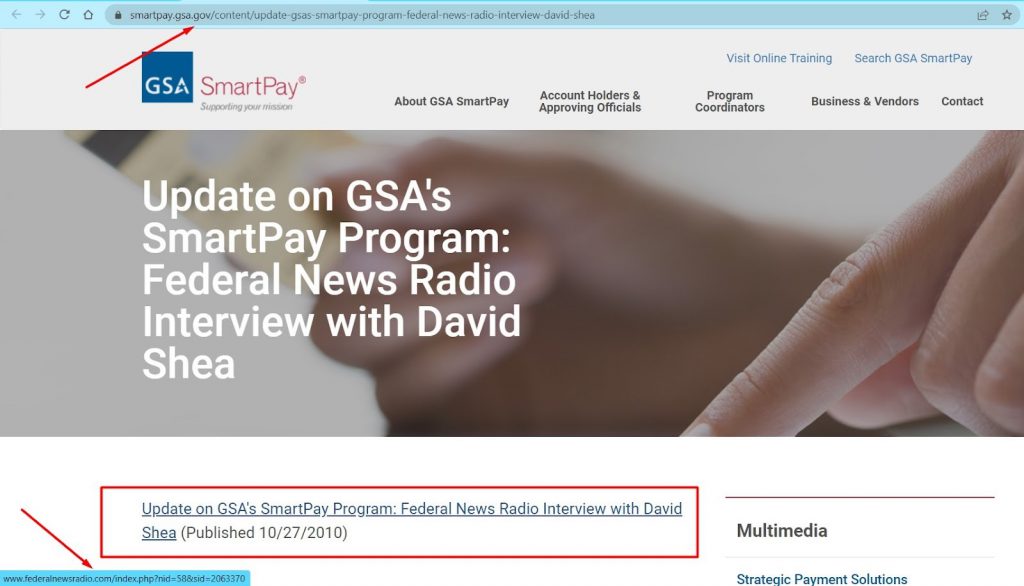 4. Find Broken Links on Government Websites' Resource Pages
Gov domains are known for not keeping their website updated. If you dig deep, you'll find many government websites that have not updated their resource pages in a while.
You should try to find government sites that are related to your niche and search for a broken link using Ahrefs or any other SEO tool.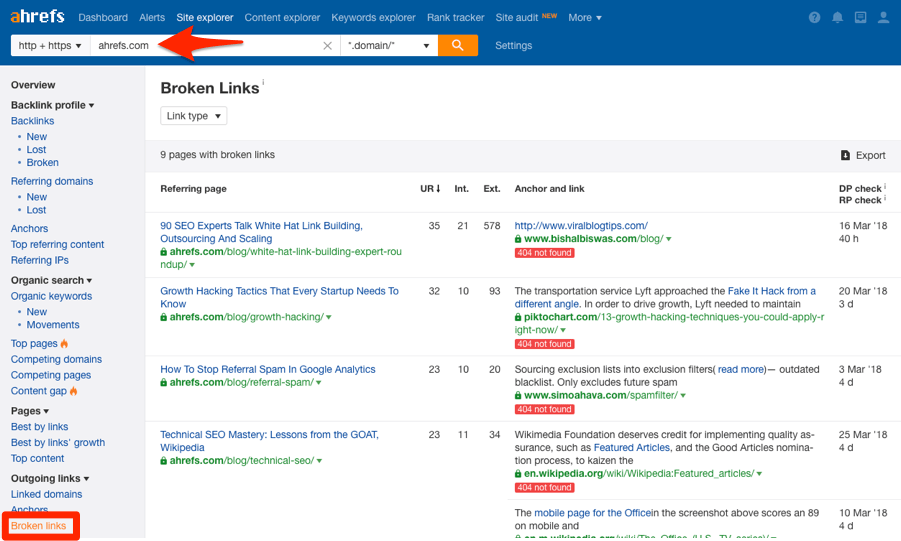 Once you identify a broken link, communicate this to the government site's webmaster and suggest a relevant link from your website as a replacement. In some cases, you'll have to create new content that fits the replacement.
Indeed, broken link building is an awesome technique to build backlinks on most government sites.
5. Guest Post on a .gov Domain
This evergreen link-building method works phenomenally with government sites. Guest posting can help you win backlinks from not only state government or county websites but also federal government websites.
Take a look at the following website we found with a simple site:gov "guest post" query on google. This website of the U.S. Department of Veterans Affairs accepts guest posts.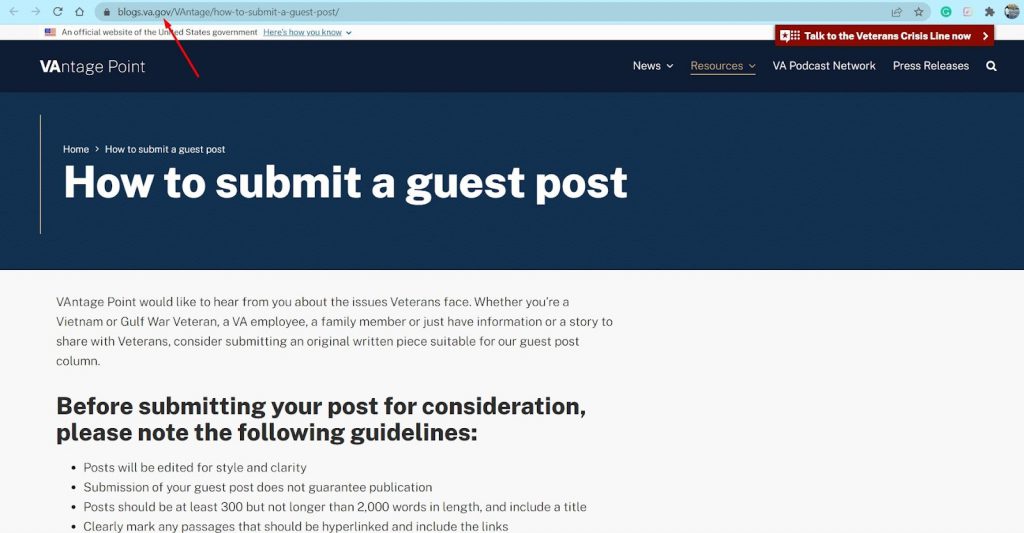 If you conduct a thorough search, you can find more .gov sites that accept guest posts.
However, guest posting on .gov websites is a lot harder than for other domains. You need to create original and fresh content that is relevant to the concerned government department.
Link building via guest posting on a .gov domain will surely result in better SEO for your website. Hence, it's worth every drop of sweat.
6. Get Listed on a Government Site's Resource Page
If you run a local business, there can be a backlinking opportunity for you in the resources section of your local government's website.
However, finding gov resource pages or business directories can be difficult. Here is how you can easily find the same on Google by searching:
Site:gov + your region/county/city + "resource"
Site:gov + your region/county/city + "business directory"
Site:gov + your region/county/city + "community"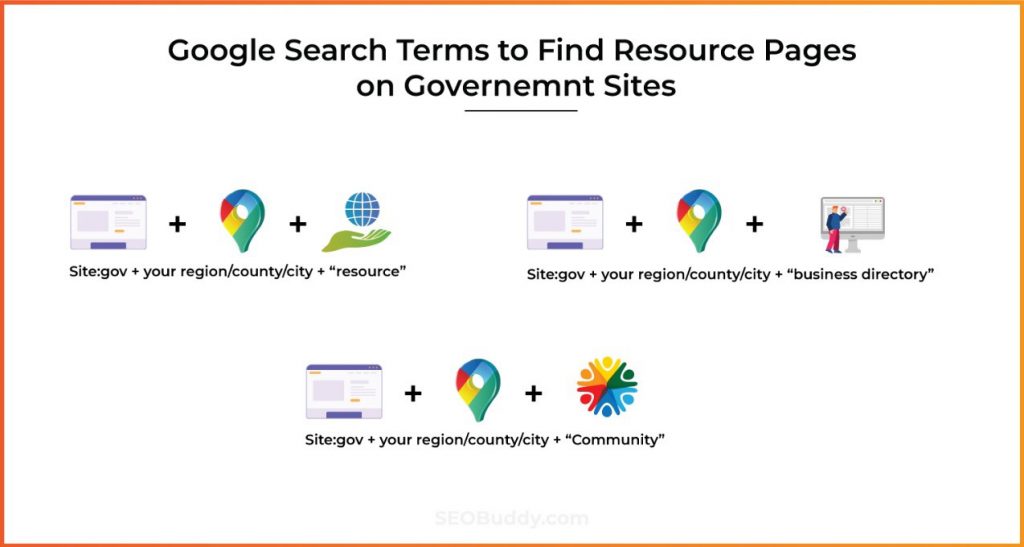 Check out this example to see how easily you could search for a business directory by using one of the above search terms.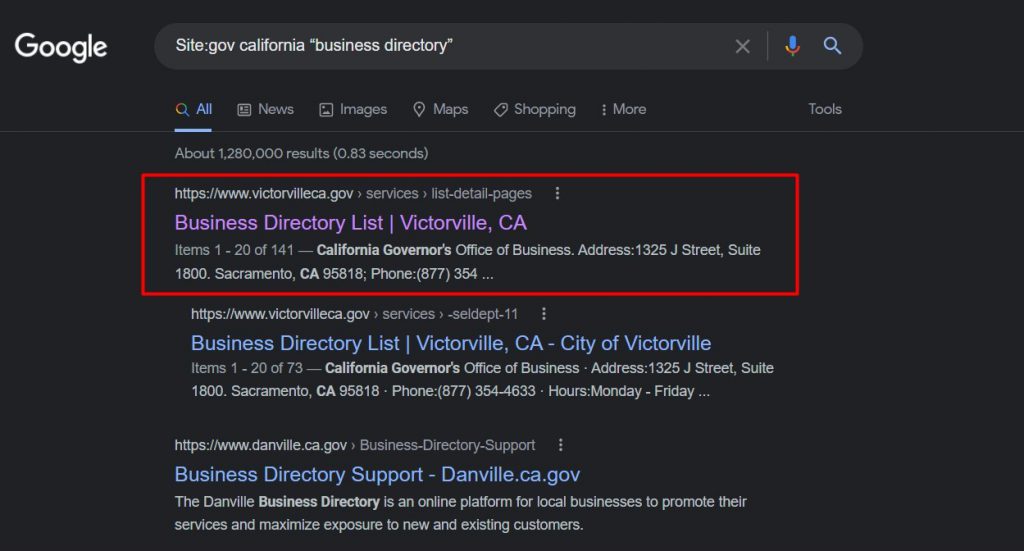 If you try different variations and go through every .gov domain on the SERP (search engine result pages), you'll find an opportunity to submit your business in the local directory. Don't forget to share your homepage URL so that the .gov domain can link to your website.
If you don't find anything relevant on the Google SERP, reach out to your local government body and ask them how you can find their resources page.
Even when you find the resources page but don't see a form to submit your business, you can call the respective department to request adding your business.
Here is an example of businesses listed on government directories.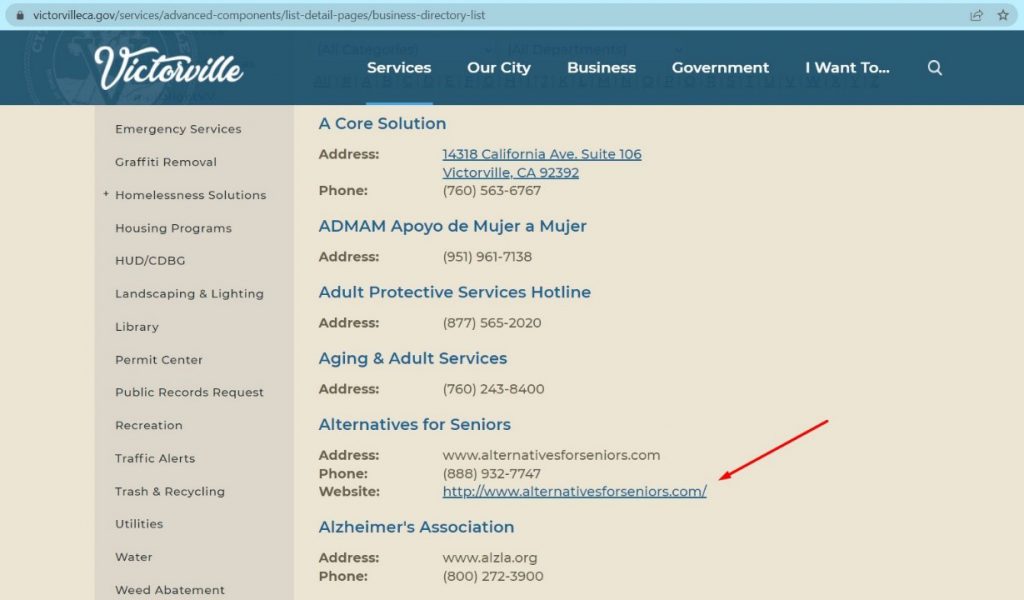 7. Conduct a Research Study in Your Niche
Although this technique of obtaining backlinks from .gov sites is arduous, the outcomes can be amazing. Government organizations are often interested in relevant surveys or research studies and you can create one that they'd love to link to.
The best way to use this approach is to contact the respective government organizations and try to partner with them for the research. Your partnership terms can be anything, depending on the scenario. For example, maybe you can provide them with the resources for the research.
When the study/research ends, you can publish that on your website as well as on .gov domain. Partnering with government agencies is a great way to:
Get business exposure
Secure .gov backlinks
Build trust in your brand
Increase website traffic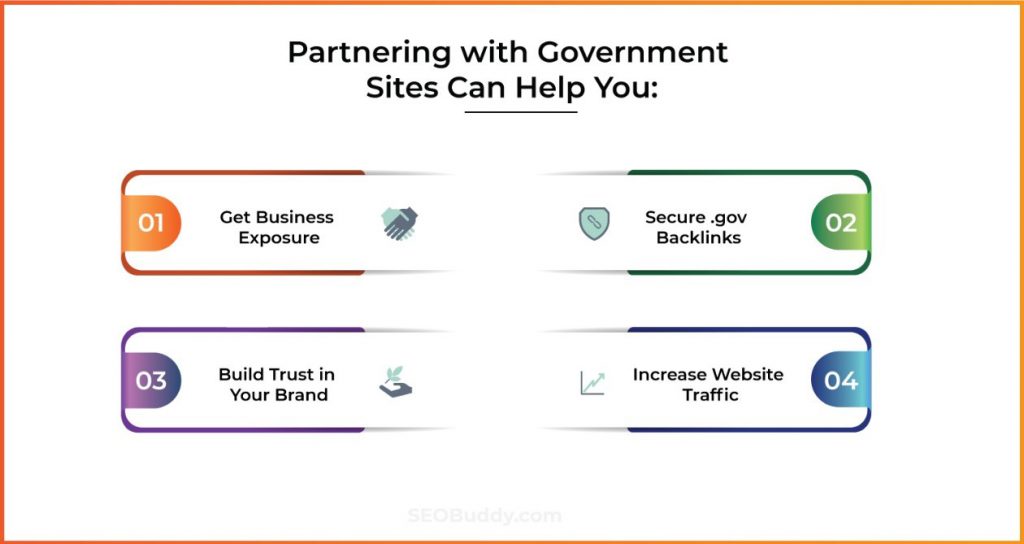 8. Flatter the Local Government Officials
Government officials love flattery, and this approach of obtaining high-quality links from a .gov site is highly successful for local businesses.
Find out the local business department that deals with issues related to your business niche. For example, it could be the waste management department of your municipality.
Once you find the respective department's .gov site, you can find the pain points they're dealing with. You can explore which department officials are working towards overcoming the challenges to make your town a better place to live.
You can then write a blog post or social media posts praising the local government officials for their work. In case of social media posts, you can tag these officials' social profiles to gain their attention.
Do note that only a couple of posts won't always do the job. It might take a series of posts to get their attention. In any case, once you have their attention and they respond to your posts, you can ask them to post your content or research on their website.
If they don't accept blog posts, you always have the interview option, which is hard to refuse.
Bonus Tip: Get Backlinks From .gov Administered Websites
The state departments and the federal agencies administer several organizations for special causes. They highlight these organizations on their website to increase exposure.
Although getting backlinks from a .gov site is tough, getting backlinks from these websites is relatively easy. As these websites are endorsed by the government, they tend to get a lot of daily visitors, have a high domain authority, and have a low spam score.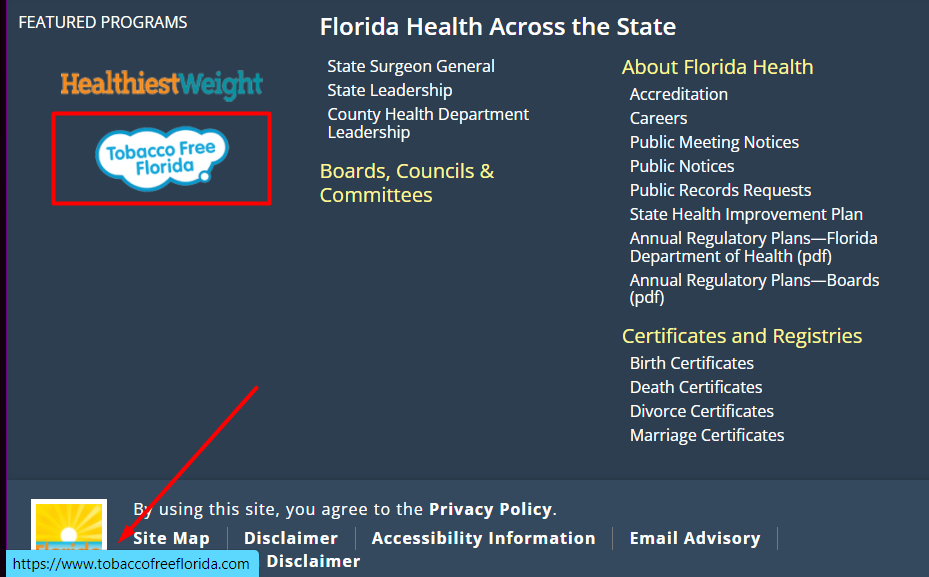 For example, the Florida Department of Health has featured the "Tobacco Free Florida" organization on its footer section. Tobacco-Free Florida is an anti-smoking organization that is administered by the Florida Department of Health and has a Domain Authority score of 53.
On this website, any anti-smoking products or services provider can sponsor their events. In addition to having their products/services displayed at the events, the brand can also ask Tobacco Free Florida to share a press release on their website.
Here's an example of a press release on this website.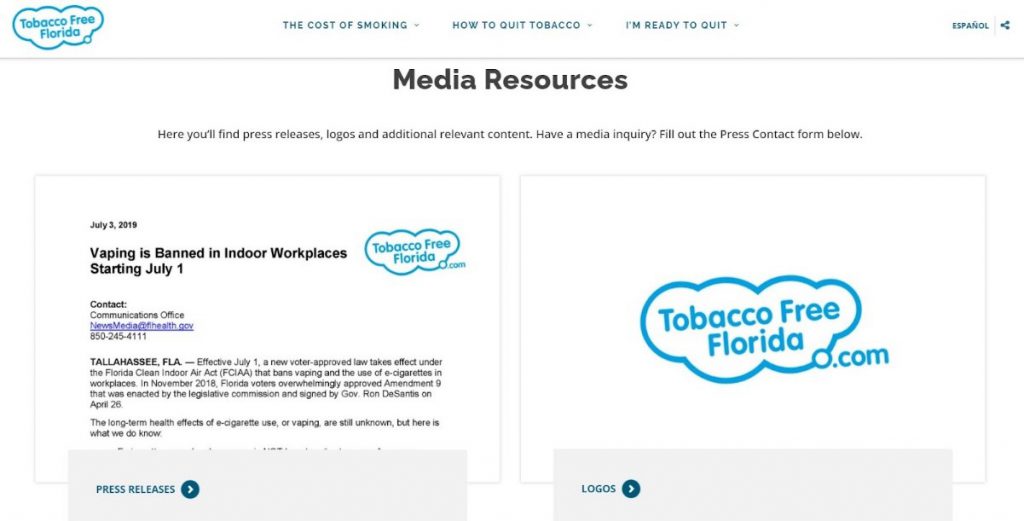 Although getting a backlink from a government-endorsed website isn't equivalent to getting .gov backlinks, it can be an excellent start for you.
To begin with, find out the organizations that are endorsed by government bodies and brainstorm on how you can collaborate with them.
Types of Sites with .gov Domains
There are three types of .gov websites you can get backlinks from. Each one of them has its own pros and cons when it comes to building backlinks.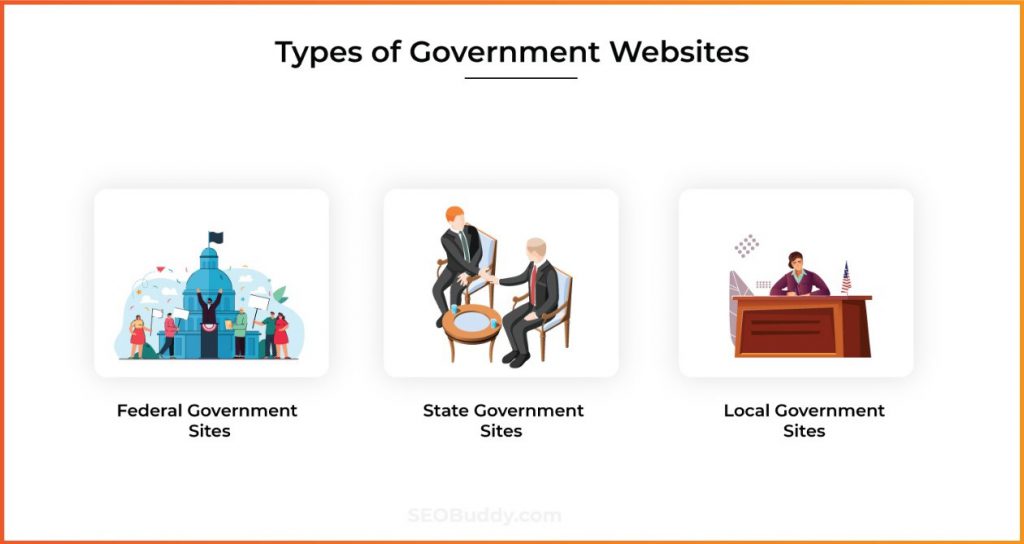 Federal Government Sites
Sitting at the top of the pyramid, federal government sites are the best you can get. Federal government agency sites tend to have a considerable traffic volume and high domain authority.
You can find link-building opportunities on various national-level government agencies, departments, and commissions.
Although finding federal government agencies for backlinking isn't very easy, here are some Google searches you can try out to find one that has backlinking opportunities.
Site:gov inurl: blog
Site:gov "blog" "comments"
Site:gov "forums"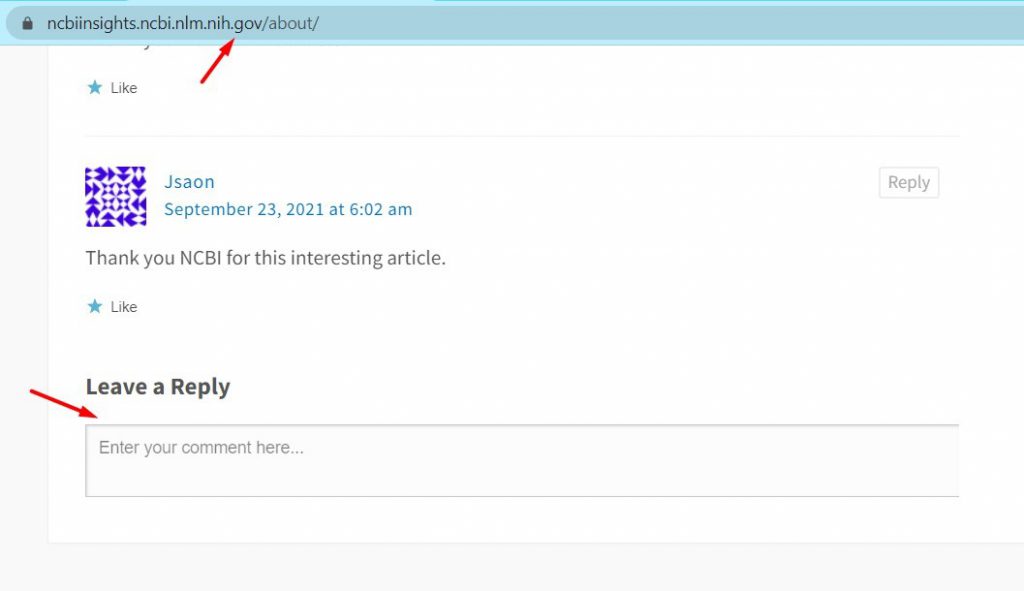 Using the abovementioned queries, you can find the government agency which is relevant to your business niche. While there are several ways you can get .gov backlinks from a federal government agency, blog comments are the easiest.
State Government Sites
Of course, you can try building links on the websites of your local governments. We'll talk about building backlinks from a local government agency website shortly.
But some counties or cities in the United States don't have a dedicated website. And even if they have one, most of these sites aren't managed well, and you cannot find any webmaster to reach out to.
In this case, you can always widen your search for government links to the state level. There are a lot of linking opportunities with the state government agencies and departments.
You can find all the state .gov links on the USA State Government Directory.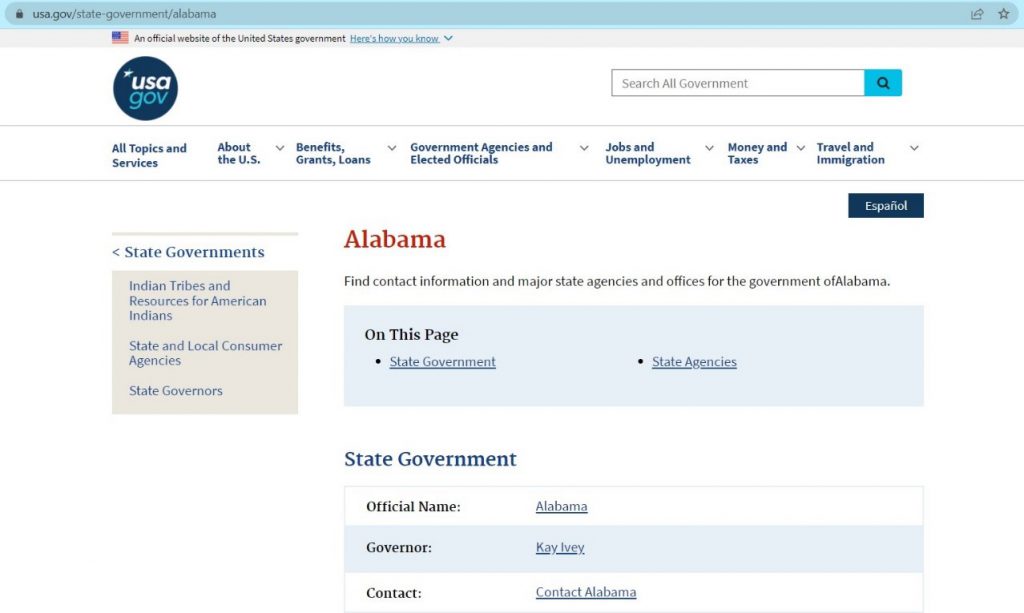 Local Government Sites
Not all counties in the United States focus on business growth or similar cause. Every geographical and political area has its own specific needs for development, and the county government focuses on them.
You need to dig through your county or city's .gov links to figure out whether there is an opportunity for you or not. If your government encourages local businesses, there is an opportunity for you regardless of which industry you operate in.
Moreover, you've already read through the best practices to build backlinks on .gov top-level domains. So you can easily obtain local .gov backlinks using those practices.
How to Find .gov Websites for Link Building – An Easy Hack
Although the Google search terms we had discussed in the article work flawlessly, there is another approach that is quick and effective.
We're talking about analyzing competitors' backlinks to find government sites related to your business niche.
If you have competitors that have already built .gov backlinks, there is no need for you to reinvent the wheel and discover new sources of .gov backlinks.
To find out whether your competitor has .gov backlinks or not, you can scan their domain on the SEO tool of your choice and extract their backlink profile. Use the .gov filter to obtain the .gov domains that link to them.
Here's an example of the backlinks section of SEO Buddy.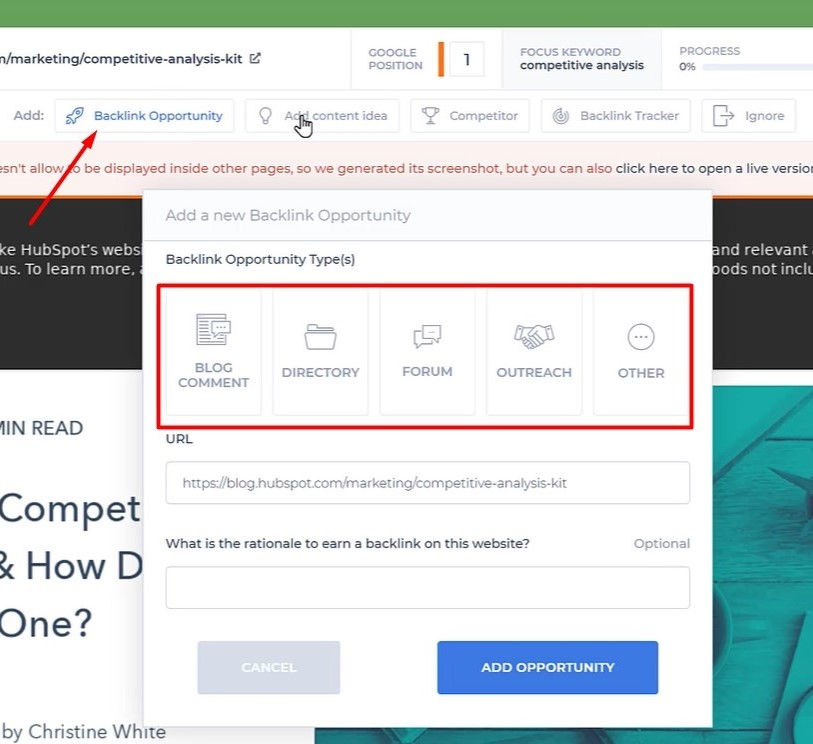 Wait, Don't Build Only .gov Backlinks
Undoubtedly, .gov backlinks are valuable but it doesn't mean that you only build .gov backlinks. If you try to build only .gov backlinks, you might face serious consequences like a significant drop in your rankings.
It is obvious.
If the Google algorithm finds out that 80% to 90% of your domain's backlink profile is made of .gov links, it may seem suspicious. You may face penalties if your domain is classified as spam.
Hence, it's always recommended to have a diverse backlink profile. To quickly gain access to a huge list of high-quality domains, you can try SEO Buddy's Link Chest to access 1699 domains right away.
The time it takes you to build one .gov backlink can be utilized to build hundreds of .com backlinks. Hence, your backlinking approach should be to build backlinks on diverse domains.
FAQs
1. How do I get a .gov backlink?
You can obtain government backlinks or .gov links using several techniques, such as:
Commenting on government blogs or posting on a gov forums site
Praising your local government
Interviewing a government agency official or a politician
Suggesting replacement for broken links to the webmaster of a .gov site
Posting guest blogs on the .gov sites
Getting listed on .gov site's resource page
Conducting meaningful research in your niche partnering with a government body
Flattering the local government officials
Use our link-building checklist to strengthen your backlink profile and boost your authority.
2. What are .edu and .gov backlinks?
The .edu backlinks are the backlinks that you acquire from domains having ".edu" extension, which basically belongs to educational institutions. The .gov backlinks are the ones that come from government-owned sites with a ".gov" extension.
3. Why are links from .edu and .gov domains worth so much?
Links obtained from .edu and .gov domains are of high quality because these domains are rare, and have a high domain authority and trust score. While government backlinks or .gov backlinks are a safe bet, you should be careful while building links from .edu domains.
4. How do I find .gov sites on Google?
The best way to find .gov sites on Google is to search for the following terms:
Site:gov inurl: blog
Site:gov "blog" "comments"
Site:gov "forums"
5. Is getting a .gov backlink practically impossible?
Although obtaining .gov backlinks is difficult, it's possible if you follow the right approach. Start with approaching local government organizations as it is relatively easy to get backlinks from them as compared to state and federal government bodies.
Conclusion
Backlinking is literally a race between websites to rank high on the SERP (search engines results pages). Ranking high requires a domain to gain a competitive advantage and there is no better way to dot hat than by building .gov backlinks.
Although finding a .gov blog site or a .gov forum is tricky, the rewards are worth the effort. So build at least a couple of .gov backlinks that will help you beat the competition.
And don't forget to help our community by sharing which of these tricks won you .gov backlinks. You can share your thoughts in the comments section.
Need any further help with your SEO journey?Download our ultimate SEO checklist to guide you towards SEO success and ensure that your SEO game is on-point.