Conduct an On-Page SEO Audit for Your Site in 7 Easy Steps
Every SEO expert out there conducts regular on-page SEO audits.
But why?
What's the hype around these on-page SEO audits? And why must you conduct them regularly too?
In this post, you will understand the importance of on-page SEO and why it is crucial to conduct a regular audit to keep your website updated.
We'll also delve into the detailed process that you can use to conduct an audit for your website.
Curious to learn more about how to conduct an on-page SEO audit?
Keep reading.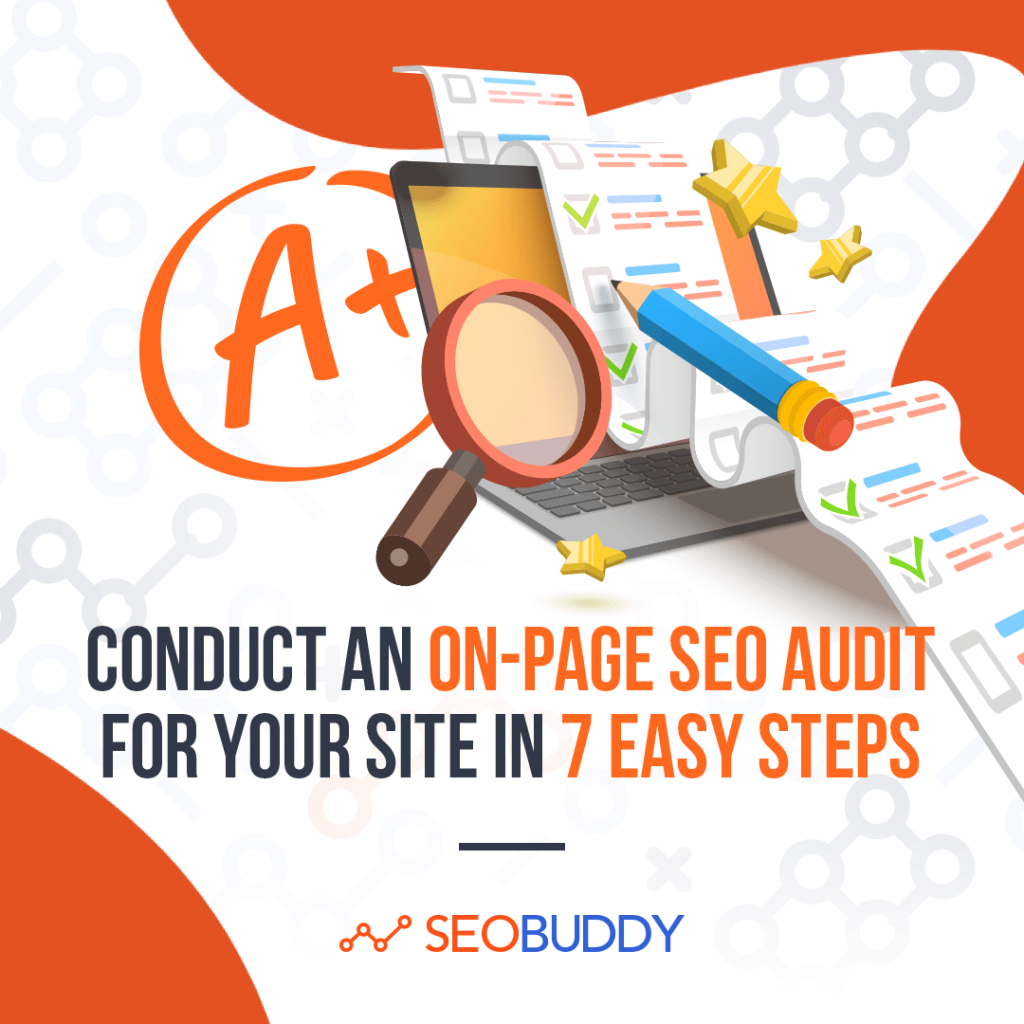 What is On-Page SEO?
On-page SEO is one of the key aspects of SEO that pertains to making changes on a website to improve its rankings. This includes changes to a website's content, HTML code, design, and more.
Some of the on-page SEO elements like keyword optimization are also among the top Google ranking factors.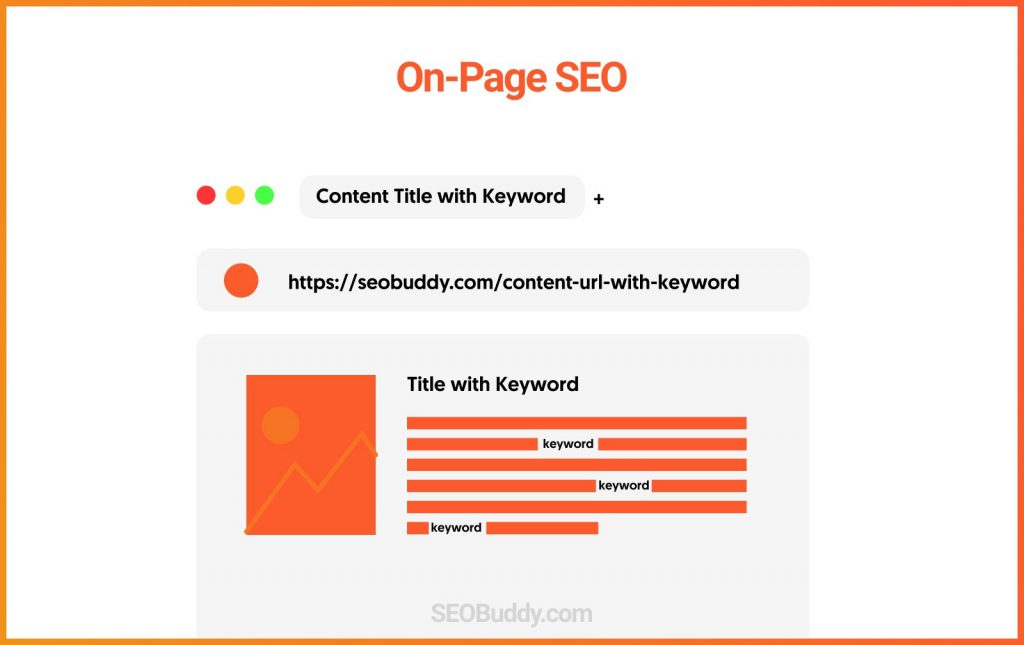 But why do you need to conduct an on-page SEO audit?
Find out in the next section.
Why is On-Page SEO Audit and Why Do You Need to Do It?
Simply put, an on-page SEO audit is a process of checking whether all the on-page SEO elements on your website are optimized. It involves identifying issues that may be causing poor rankings or could lead to Google penalties.
Another important aspect of an on-page SEO audit is to find out issues because of which search engines may not be able to crawl and index your site properly. If you know how search engines work, you would know that the easier it is for them to crawl your website, the better it is for you.
Still not convinced about the importance of an on-page SEO audit?
Let's discuss a few reasons why you should conduct a regular audit and how it can help your website.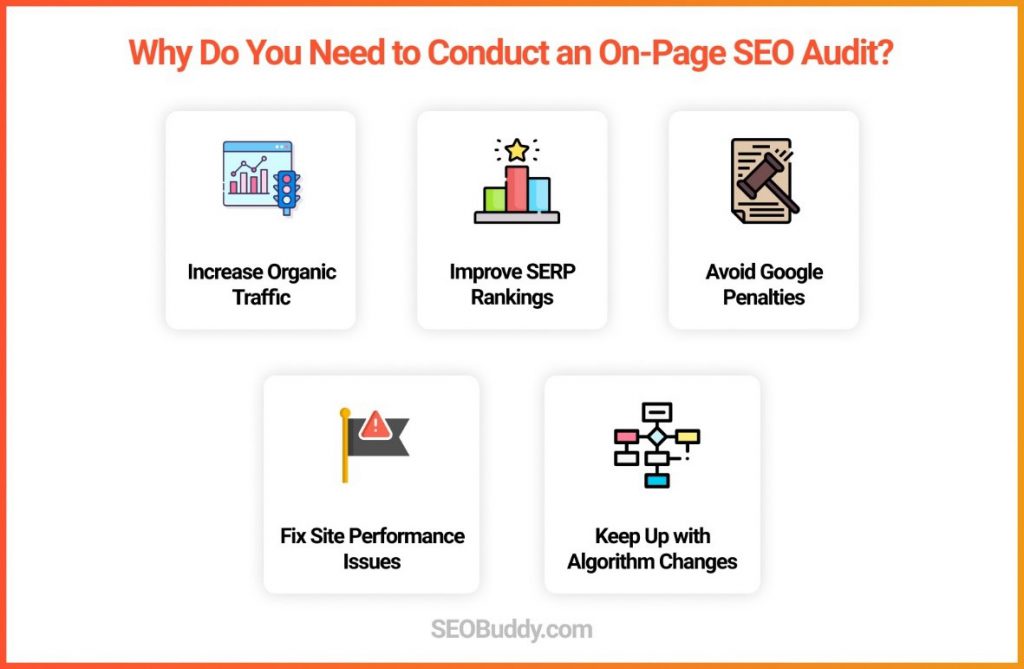 Increase Organic Traffic
On-page SEO is crucial for bringing organic search traffic to your website. When you have your on-page SEO on point, your pages rank for the right keywords and you get a steady flow of traffic.
However, if your on-page SEO is off, then the reverse can also happen.
By conducting regular on-page audits you can find and fix issues before they cause a significant drop in rankings or organic traffic. As a result, regular audits can actually help you increase your organic traffic.
Improve SERP Rankings
When performing an on-page audit you make sure that your web content and meta tags are optimized for keywords. These are two of the most important factors that affect SERP rankings.
When you conduct frequent audits and ensure that all on-page SEO elements, including keyword optimization, are on point, then you actively try to improve your SERP rankings.
Avoid Google Penalties
Here are some on-page SEO issues that can cause a Google penalty:
Duplicate content
Internal 404 errors
Keyword stuffing
Hidden content
Slow site speed
Structured data issues
And more!
A timely on-page SEO audit can help you identify and fix these issues, thus avoiding Google penalties.
Fix Site Performance Issues
Your site may be underperforming due to:
A slow server
Poorly written code
Slow page speed
Weak HTML tags
And more!
An SEO audit can help you identify and resolve these issues to improve your overall site performance and user experience.
Keep Up with Algorithm Changes
Google keeps updating its algorithm frequently and regularly. So, something that was considered important for SEO may become outdated and something could instantly become more important.
Even the Google ranking factors keep changing over time. For example, mobile-friendliness is now more important than it was ever before.
So, if you think you know how the Google algorithm works, then think again.
You need to keep updated with the latest algorithm changes and modify your on-site SEO elements in accordance with the latest updates. That's why conducting regular SEO audits can help you stay on top of your SEO game.
Tools You Will Need for Your SEO Audit
Here are some of the tools that you will need to conduct an on-page SEO audit of your website. The more of these tools you use the more thorough your audit will be.
Google Search Console
This free tool by Google provides you with tons of useful reports and metrics that you will need to identify and fix site issues.
Semrush or Ahrefs Site Audit Tool
This is the main tool that you will use to conduct a site audit as it basically audits all aspects of SEO for a website. You can use any site audit tool, but Semrush and Ahrefs offer two of the best tools.
Google PageSpeed Insights Tool
You will need this tool to check and improve your page speed.
Google Analytics
This is the best free web analytics tool that you can use to gain insights into your site's performance, identify issues, etc.
Screaming Frog
This is a tool that you can use to crawl your website just like a search engine would and find technical issues that need to be fixed. You don't necessarily need this tool, especially if you are using a paid site audit tool, but it is great for a free site crawl if you don't want to invest in a premium site audit tool.
Major On-Page Elements for Audit
Before you start conducting an on-page SEO audit, it's important to understand which elements need to be audited in the first place.
This is because the entire on-page SEO audit process will depend on these very elements of your website.
So, let's take a look at them.
1. Title Tag
The title tag of a page tells the search engines what the page is all about. This, in turn, makes it one of the most important on-page SEO factors.
It's thus important to get it right by including your target keyword and making it catchy, among other things.
2. Meta Description
The meta description is yet another element of the websites that shows up in the search results along with the title tag.
You need to thus make it compelling enough for your audience. The idea is to nudge them to click on your link to drive traffic to your website.
3. Header Tags
Like title tags, header tags are also important on-page elements for your SEO. These comprise all the visible headings on the page, i.e, h1, h2, h3, and so on.
Getting these headings right is important as they can make or break the structure and flow of your pages. It's also important to include keywords in these header tags in a natural manner.
4. Website Copy
Your website content is perhaps the most important on-page element that needs to be optimized.
The reason?
Content quality can make or break the experience of your website visitors. Poor or thin content will never give visitors the answers to their questions.
On the other hand, good content could help you become an authoritative information source for them.
5. Website Structure
Your entire website needs to be structured in a way that navigating through it becomes easy for visitors. In addition, it's important to have pages dedicated to each keyword or topic so that the search engines understand their context well.
That's why it's important to plan out your website structure and ensure that no two pages are targeting the same set of keywords too.
6. URL Structure
The way you create and frame your URLs is important too. URLs are important on-page elements because they give a glimpse of what's in store on the page.
That's why it's important to keep them as descriptive as possible while keeping them short. You could also incorporate keywords into them.
For instance, note how we've kept this URL simple and incorporated the keyword into it too.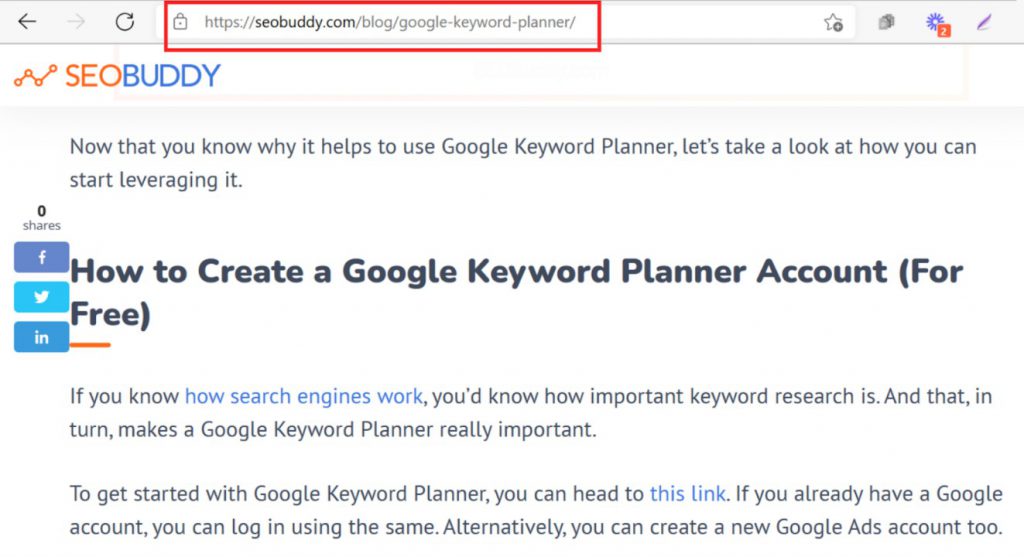 7. Images & Videos
Images and videos are also important on-page elements that need to be optimized well for improving your SEO.
While search engines can't directly crawl images and videos, you can simplify this process for them by adding the right set of alt tags for images. Similarly, you can add relevant descriptions to videos.
8. Contact Information
NAP (Name, Address, Phone) information of your website is especially important if you want to boost your local SEO. And as it appears on your website, it's an important on-page parameter too.
This is because it's this information that can help prospects reach your brand. It's thus essential that this information is both accurate and consistent across your website. You can start by putting this information in your website's footer.
9. Website Design
Yet another important parameter that needs to be taken into account during on-page SEO audits is the website design.
Your website needs to provide a good user experience to visitors. And for that reason, it must be mobile-friendly, load quickly, and offer ease of navigation. It also shouldn't have any broken links or usability issues.
That said, let's now take a look at the steps you need to take to perform an on-page SEO audit for your website.
7 Steps to Perform an On-Page SEO Audit for Your Website
Before we discuss the seven-step process for conducting an audit, there are a few things that you should understand.
First, there are numerous ways to conduct an SEO audit and you can choose how thorough or quick you want it to be. You can choose to follow through all the steps or skip a few.
Second, you don't necessarily need all the tools mentioned in this post and can use alternatives as well. In fact, if you can do manual spot checks instead of doing a thorough audit using so many tools.
Basically, it's up to you to decide how much time, effort, and money you want to invest in the process. We recommend that you follow the exact process mentioned below to get the best results.
Now that we have that cleared, let's get to the actual process of conducting an on-page SEO audit.
1. Ensure That There is Only One Crawlable Version of Your Site
This is the first step in this process for conducting an on-page SEO audit. Simply do a Google search for your website and make sure that there aren't multiple versions of it.
Why would a site have multiple versions?
Sometimes, a site may have HTTP and HTTPS versions or www and non-www versions existing at the same time. One site, for example, could have the following versions:
http://xyz.com
http://www.xyz.com
https://xyz.com
https://www.xyz.com
This is not good for SEO as search engines would not know which version to consider for indexing and ranking. As a result, all the versions may end up being discarded as duplicate or plagiarized pages.
What's the solution?
Use canonicalization to inform search engines about which version they should consider as the primary one. You simply need to add a rel="canonical" tag to the URL of your primary page.
This is an example of how it would appear:

Also, to avoid HTTP and HTTPS errors, set up 301 redirects from old HTTP URLs to the new HTTPS URLs.
2. Crawl Your Website
The next step for your on-page SEO audit is to conduct a site crawl to get insights into how search engines see your site and identify errors.
You can use a tool like Screaming Frog to crawl your website. Simply enter your website URL in the search bar and click on "Start".

The tool will automatically start crawling your site and display the results.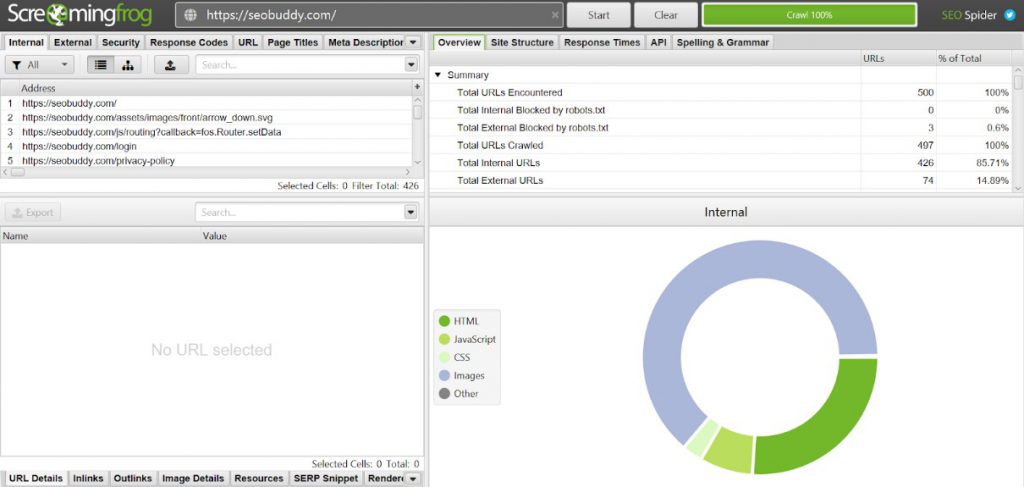 Go through the various metrics in the overview tab to audit the following: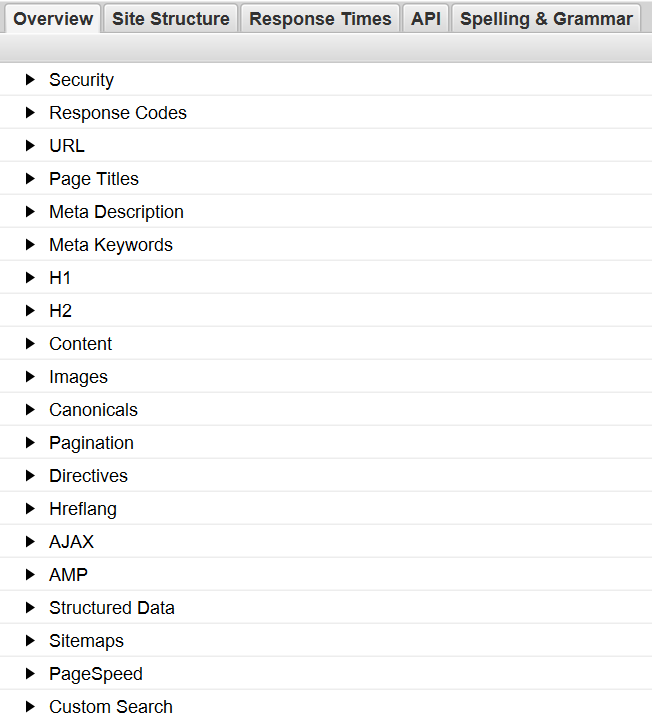 Indexable and non-indexable URLs
HTTP versus HTTPS URLs
Redirects and 404 errors
URLs blocked by robots.txt, meta robots or X-Robots-Tag
Sitemaps
Structured data errors
And more!
Use our complete SEO checklist to make sure that you audit and fix all important elements of on-site SEO when you crawl your website.
You can also analyze your website's HTML and content using this tool, but more on that in the following sections.
3. Perform a Thorough Content Audit
This is one of the most important aspects of an on-page SEO audit and should be undertaken with utmost care.
You can start your content audit by checking the Screaming Frog's "content" tab to find the following errors: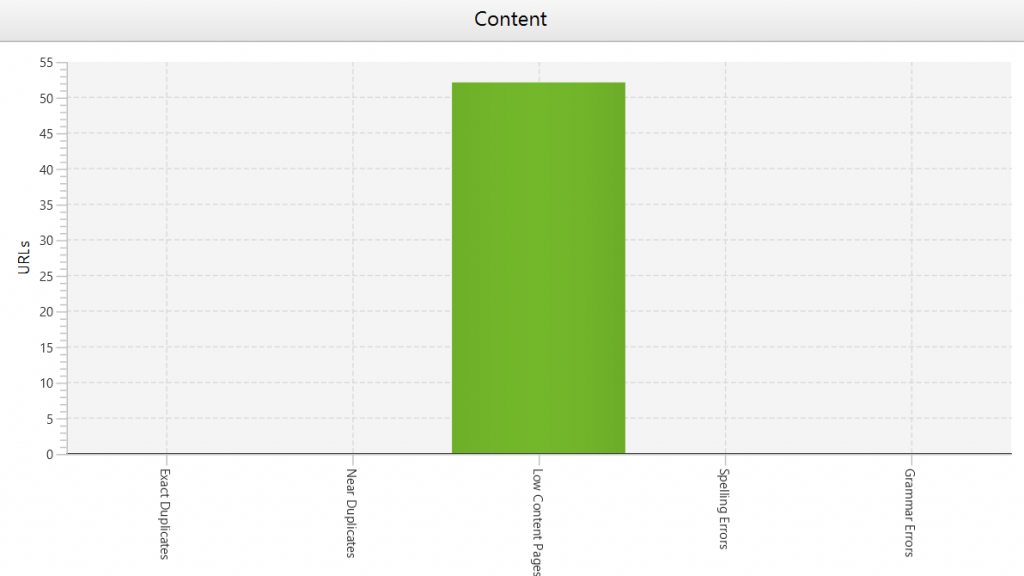 Duplicate content
Low content pages
Spelling errors
Grammar errors
However, the most important aspect of an on-page SEO audit is keyword optimization. Your website content should ideally rank for all your main target keywords.
How can you audit your website content for keywords?
Use a tool like Semrush's On-Page SEO Checker to find content optimization ideas for your website.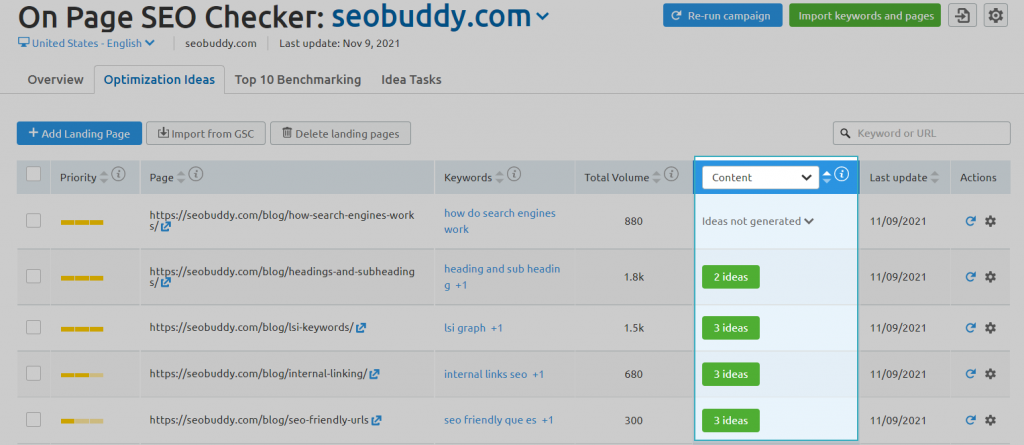 Some examples of content ideas include:
Adding the target keyword in the headings, meta tags, etc.
Enriching the page content by using LSI keywords
Suggestions on ideal content length
Assessment of and ideas for improving readability
Suggestions for adding video content or images
Warning for keyword stuffing or over-optimization
Keyword cannibalization errors
And more!
The general idea for creating SEO-friendly web content is to maintain a good keyword density and ensure that your target keyword is placed in:
Title tags
Meta descriptions
Headings and subheadings
First 2-3 lines on the page
Throughout the content
If you do this for all your web content, you will be good on the content front of on-page SEO.
4. Optimize Your Internal Linking Structure
There's one more aspect of on-page SEO that you should audit when checking your web content and that's internal linking.
For this, you can use Semrush's "Site Audit" tool. Go to the issues tab of the report and find broken links.

You will also find ways to fix those broken links making things much easier for you. Just click on the error and find the complete list of broken links that you need to fix. You can check each manually and update it with the correct link.
Next, go to the Statistics tab and check the incoming internal links. If the percentage is too low, that means that you are missing an opportunity to add more internal links.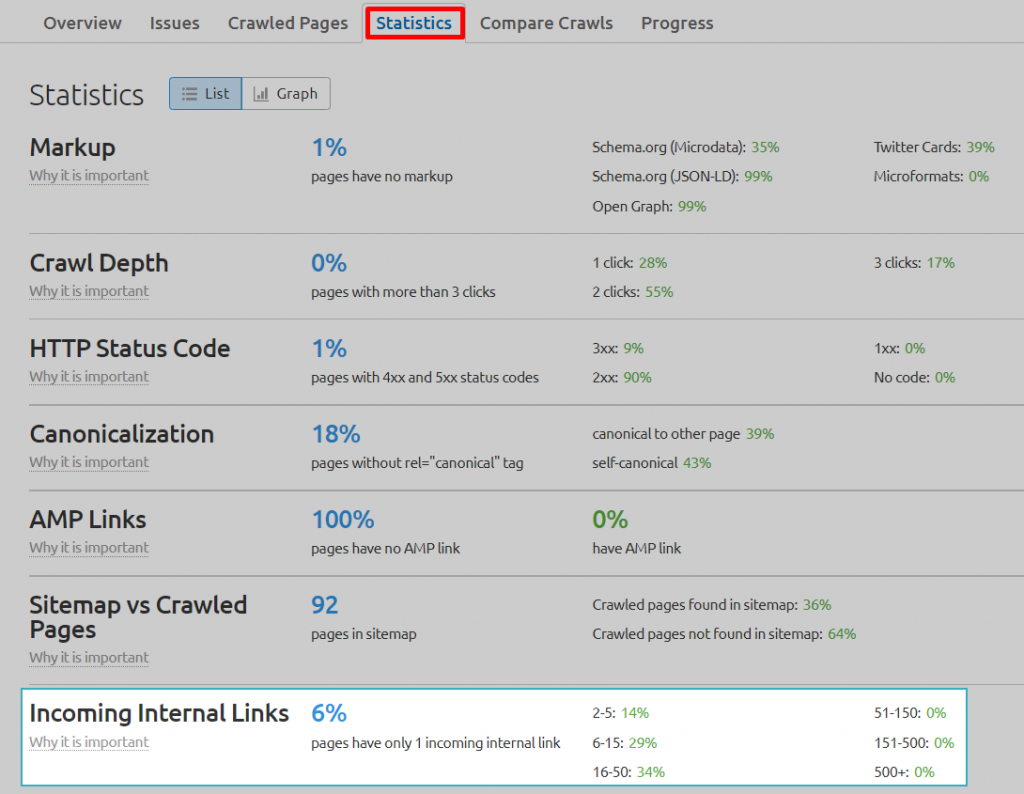 If you have very few internal links, then this is one part of the on-page SEO audit that will take some time. You need to manually check all your important pages and add more internal links.
As a rule of thumb, take care of internal linking at the time of content creation to avoid this time-taking process later. The best way to do this is by using topic clusters with multiple articles on different sub-topics or topics within a broad theme.
Here's a visual representation of a typical internal linking structure for an SEO-friendly website.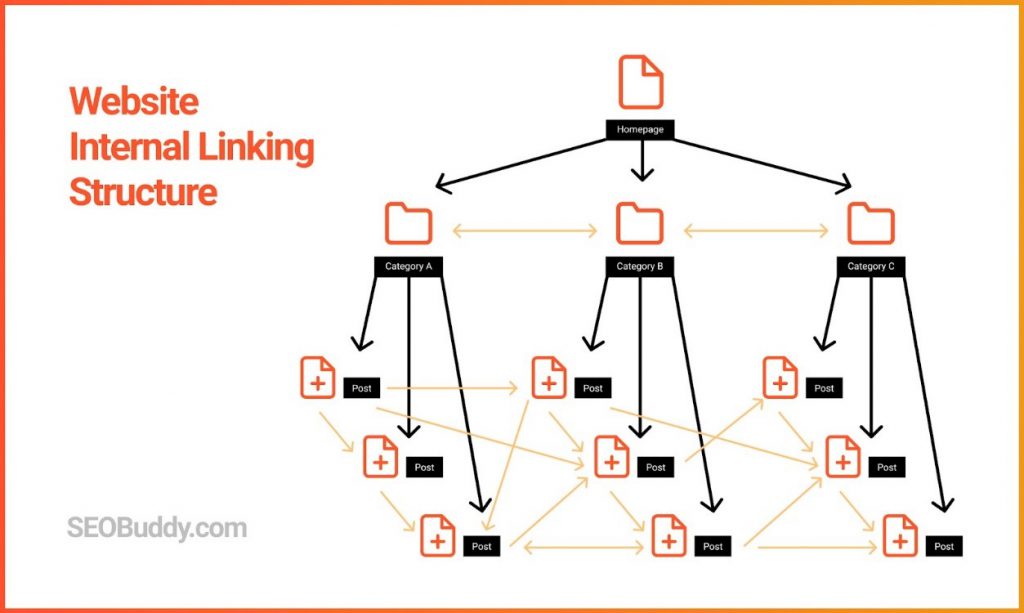 5. Check Your Site's Mobile-Friendliness
This is another important step in the on-page SEO audit for any website. With the number of mobile searches increasing every year, you cannot afford to lose mobile traffic.
Moreover, mobile-friendliness is also one of the important Google ranking factors.
Therefore, you need to have a mobile-responsive website that renders well and loads fast on all mobile devices.
You can use Google Search Console's Mobile-Friendly Test to find out whether your website is mobile-friendly or not. Simply add your website URL in the search bar and press enter.

This, however, audits the mobile-friendliness of a single page. To audit your entire website, you need to go to the Google Search Console and check the "Mobile Usability Report".
This will provide you with detailed information about the mobile friendliness of your website, including a list of pages that are valid or have an error.
The different types of errors include:
Incompatible plugins
Viewport not set
Content width more than screen size
Small or difficult-to-read font
Clickable elements close to each other
For each page that shows an error, you need to find the type of error and fix it. Once you are done, you can conduct the test again to see if the problem is resolved or not.
6. Conduct a Page Speed Test
Site speed is another one of the important Google ranking factors and an important step in your on-page SEO audit process. High site speed ensures a good user experience and avoids loss of traffic due to long loading times.
According to Google, longer page load times can result in significant loss of traffic and higher bounce rates.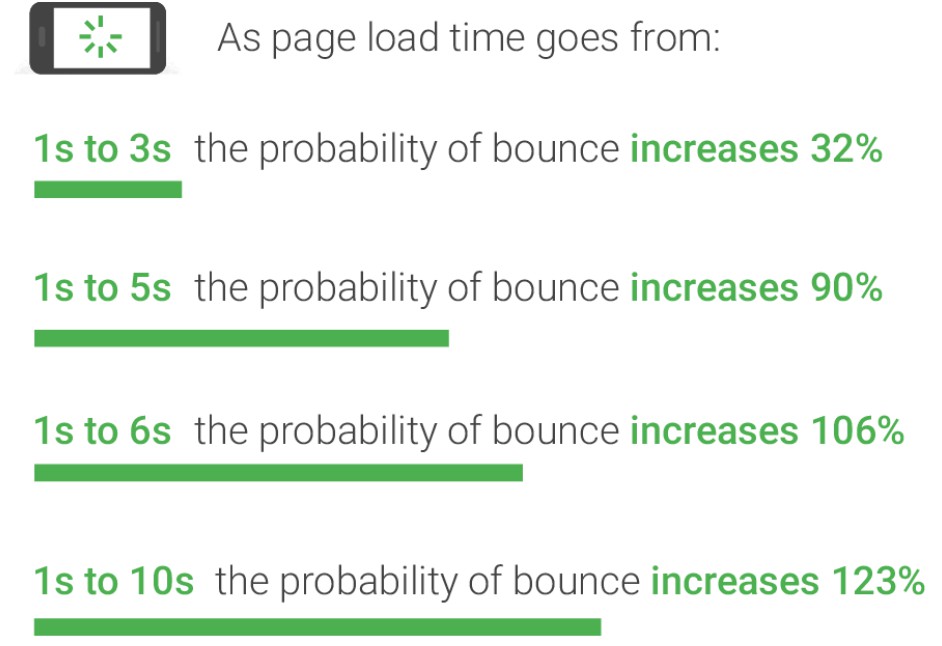 So, check your site's speed when performing an on-page SEO audit and ensure that no page takes more than 1 second to load.
You can start your audit by using Semrush's site audit tool. Check the "Site Performance" report under the "Overview" tab to find page load statistics.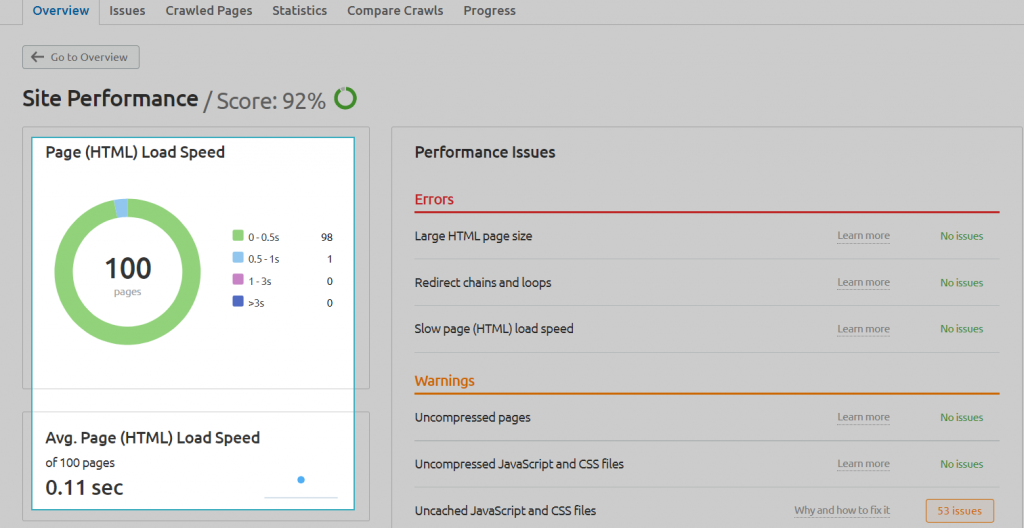 If your average page load speed is over 1 second, then you will find the slow pages under the "Slow page (HTML) load speed" section under "Errors".

Optimize the slow-loading pages using the following tactics:
Reduce the size of visual elements on the page
Use a content delivery network (CDN)
Defer offscreen images
Improve server response times
Minimize your HTML code
Use caching
Follow these tactics to improve the loading speed of slow pages and make your site more user-friendly.
7. Make HTML Improvements
This part of the process aims at optimizing your website's meta tags and alternative text are optimized.
Let's discuss each in more detail.
Title Tags
This is the page title that appears in search engine results pages and is often the first thing that a user sees. It helps a user decide whether the page is relevant to them or not.
But, that's not all.
Title tags are also important for search engines to understand, index, and rank your pages. Therefore it is important to ensure that all your title tags are unique and have your primary keywords.
You can search Google for any keyword and you will notice that the top results always have the primary keyword. Here's an example:
Clearly, keywords in title tags are important for rankings and that is why you should optimize your title tags during an on-page SEO audit.
Make sure that:
Each title tag on your website is unique
Each tag has the primary keyword, preferably towards the beginning
The length of each title tag is between 50 and 60 characters
Once you have checked that, you can then move to the next step.
Meta Descriptions
Similar to title tags, meta descriptions are also visible in the search results and are important for both users and search engines.
Meta descriptions should have:
The primary keyword towards the beginning
A clear and concise description of the page or content
A length of 150 to 160 characters
A unique and compelling call to action
Also, make sure that each meta description is unique and engaging.
For the same keyword, "SEO Checklist", here's our search result, with a short and unique meta description optimized with the primary keyword.
Similarly, you need to add your primary keyword to create SEO-friendly URLs as well.
Headings
Add clear and distinct HTML headings to your page, to structure your content properly and provide more information to search engines about your content.
You should make sure that your content:
Is well-structured with H1, H2, H3, and H4 headings and subheadings
Has headings that have the primary keyword
Has only one H1 heading that is unique
Check out this table of contents from one of our blog posts to see how we have structured the content into several headings and subheadings.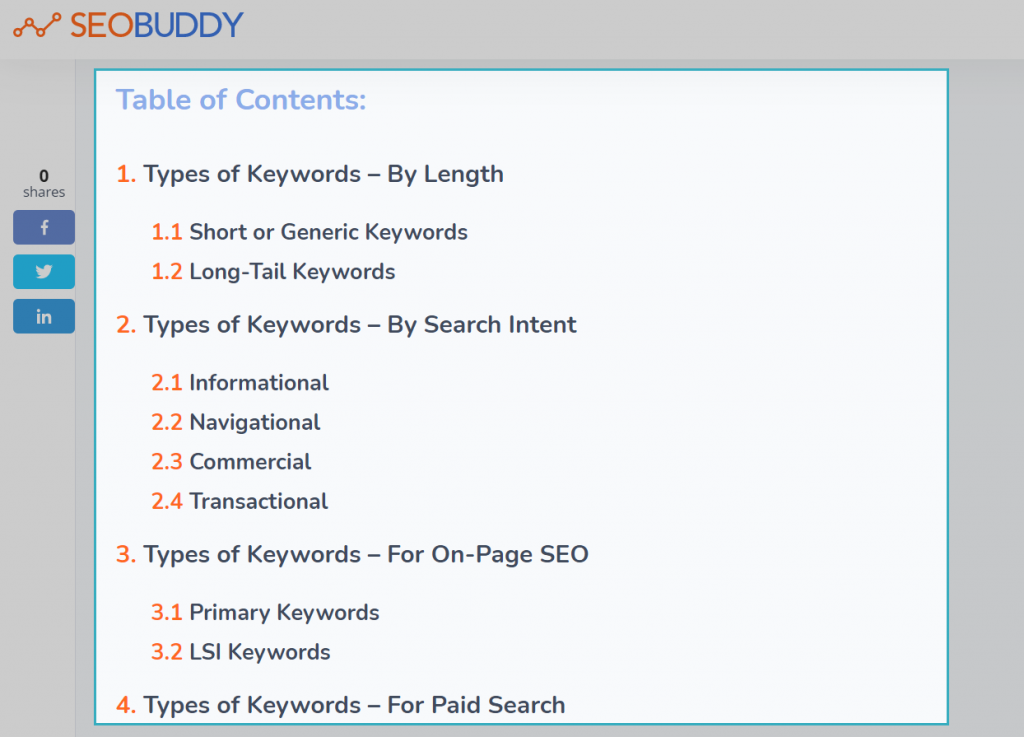 Alternative Text
One thing that many people often overlook when conducting an audit is to check the alternative text for images on their website. Make sure that you don't make this mistake.
Alternative text for images helps search engines understand the image content on your website. That is why it is important to add relevant keywords and provide a precise description of an image through its alt text.
Here's what you need to do:
Check that all images on your website have alt attributes
Make sure that the text is not longer than 150 characters
Check and optimize your alt text and complete your on-page SEO audit.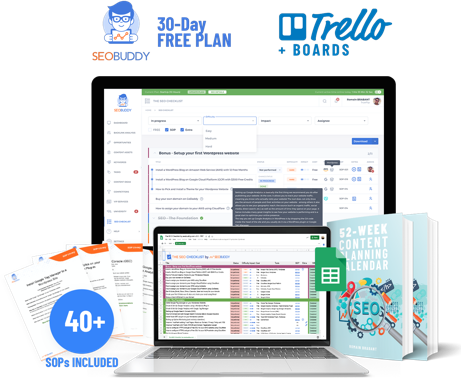 There's more…
Now it's time to discover the other 102 steps that will get more organic traffic flowing to your website. Get the SEO Checklist here.
Want to get a sneak peek of what it looks like?
Enter your email and get a free demo version of the SEO Checklist.
FAQs
1. What is an on-page SEO audit?
An on-page SEO audit involves checking all the important SEO elements on your website to find and fix errors that may be causing poor rankings or even penalties.
2. How do you do an on-page SEO audit?
You can conduct an on-page SEO audit by performing seven easy steps:
1. Ensure that there is only one crawlable version of your site
2. Crawl your website
3. Perform a thorough content audit
4. Optimize your internal linking structure
5. Check your site's mobile-friendliness
6. Conduct a page speed test
7. Make HTML improvements
You will need various site audit tools and other SEO tools to perform an on-page SEO audit. Some important tools include:
Google Search Console
Semrush or Ahrefs site audit tool
Google PageSpeed Insights tool
Google Analytics or any web analytics tool
3. Why is on-page SEO important in 2021?
On-page SEO is one of the three pillars of SEO and cannot be ignored if you want to rank well in SERPs (search engines results pages).
Many of the on-page SEO elements are among the top Google ranking factors. So, on-page SEO is crucial for any website that wants to rank high on SERP and get tons of organic traffic.
4. What is an on-page SEO checklist?
An on-page SEO checklist covers all important elements that you need to check and fix to ensure optimum site performance.
Here is a quick checklist for your reference:
Duplicate versions of the site
Indexable and non-indexable URLs
HTTP versus HTTPS URLs
Redirects and 404 errors
Blocked URLs
Sitemaps
Structured data errors
Duplicate content
Low content pages
Spelling errors
Grammar errors
Title tags
Meta descriptions
Header tags
Alternative text
Internal links
Site speed
Mobile-friendliness
5. What is the most important on-page SEO factor?
SEO-friendly content is perhaps the most important on-page SEO factor as it directly contributes to more web traffic and a better user experience.
Content is considered SEO-friendly if it is useful and relevant to the audience, and is optimized with relevant keywords for search engines. Basically, it should be good for both the readers and the search engines.
Conclusion
Conducting regular audits can help you stay on top of your SEO game and maintain high SERP rankings. It helps you proactively identify issues and potential threats before they do much damage.
It doesn't just help you avoid any issues, but actively helps you grow your organic traffic and improve your rankings.
Use the seven-step process mentioned above to conduct your audits. Also, schedule a quick audit every month and a thorough audit every quarter to stay updated. Need any further help boost your SEO? Download our complete SEO Checklist to gain access to advanced tips and tricks.