How to Create a Successful SEO Campaign for Your Website
So, you want to create a successful SEO campaign.
Great! You've taken the first step towards improving your website's SERP rankings, organic traffic, and conversions.
But why do you need an SEO campaign, to begin with?
You need an SEO campaign if:
Your website doesn't rank on the first page of Google, even though you publish great content
No matter what you do, you're always a step behind your competitors in terms of SEO
You don't get enough organic search traffic to your website, despite tons of useful resources
You get decent organic traffic but not enough conversions as most people leave quickly
Overall, your website is not performing as well as you'd hoped
Can you relate to any of these?
If yes, then you definitely need an SEO campaign to improve your website's performance.
Before we get into the details of how to create and run an SEO campaign, you should understand what an SEO campaign actually is and why it's important.
Here we go.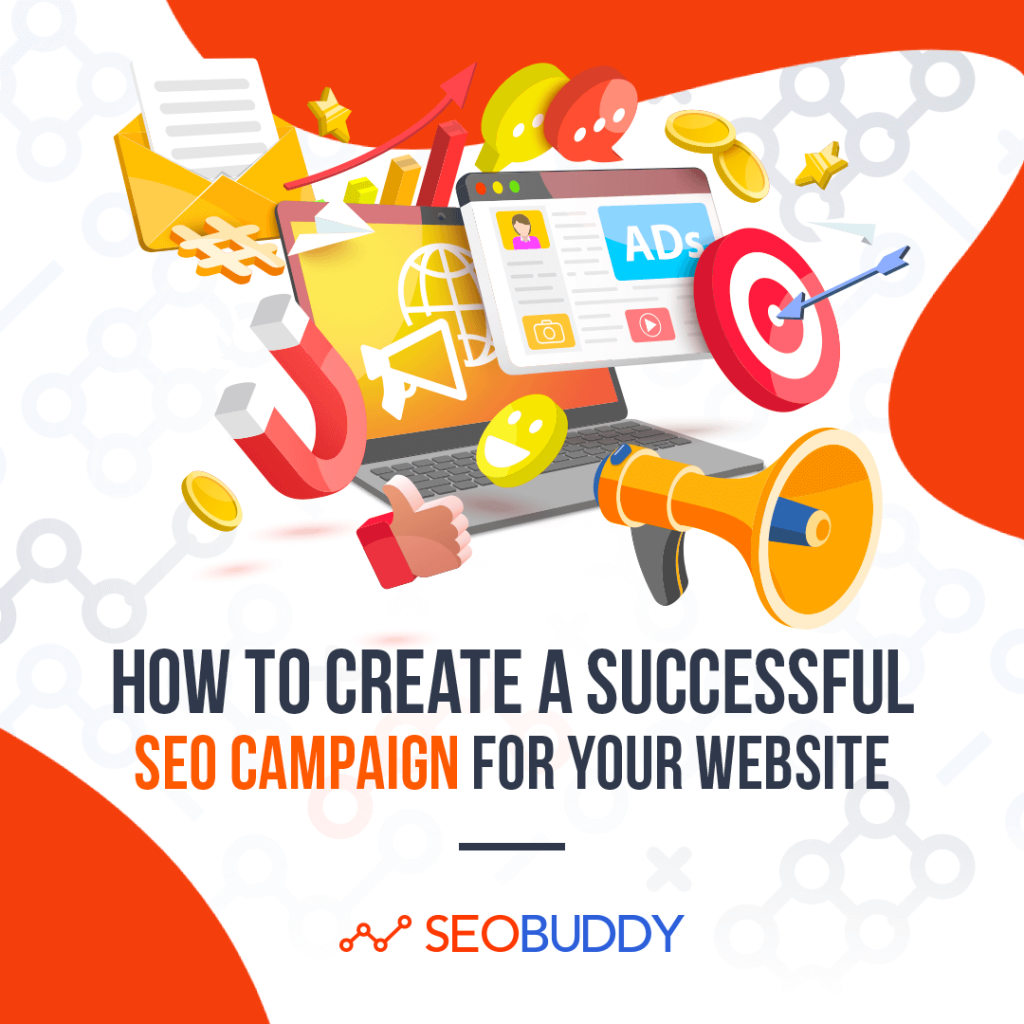 What is an SEO Campaign?
An SEO campaign is an intentional and time-bound process to improve a website's search engine rankings or SERP rankings.
Unlike SEO strategy, which is a generic, long-term guideline, an SEO campaign strives to achieve quantifiable results within a specific time frame.
This does not mean that it can't be a long-term campaign. But an SEO campaign is more effective when you aim to achieve specific goals within a specific time frame, even if that time frame is a year or even more.
The key elements of an SEO campaign are:
Site Audit: Understanding the current performance of your website and identifying areas of improvement.
Keyword Research: Conducting thorough keyword research to identify keywords that you should target with your website content.
Competitor Analysis: Analyzing competitors' SEO strategies and finding keyword gaps that you can fill and other opportunities to get ahead of them.
Content Optimization: Optimizing website content based on keyword research and SERP analysis to ensure that it ranks higher on search engine results pages (SERP).
Link Building: Finding backlink opportunities and strategically building backlinks to improve the site's authority and get more referral traffic.
On-Page SEO: Optimizing on-page SEO elements like meta descriptions, title tags, page speed, etc. to improve a website's search rankings.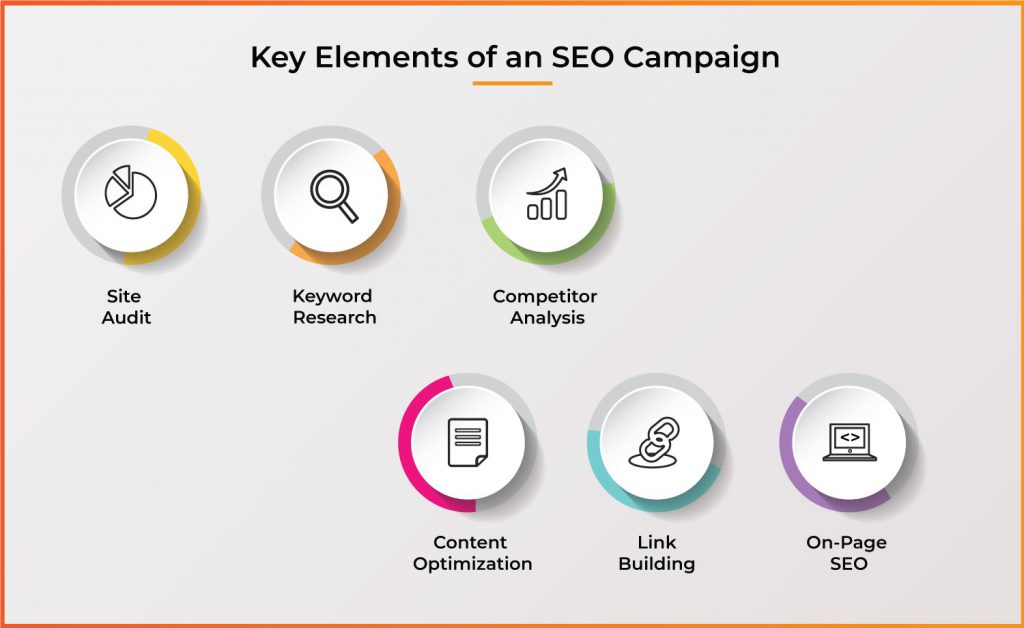 Now that you understand what are the key components of an SEO campaign, it's time to learn how to create a successful SEO campaign.
Step-By-Step Process to Create an SEO Campaign
Every marketer or SEO expert approaches SEO campaign planning and management differently. This is often based on their unique requirements, based on their current website performance.
In this post, we'll cover the process of creating and running an SEO campaign in a holistic and comprehensive manner. We'll provide you with a detailed guide on how to create and run a successful SEO campaign.
So, let's get started.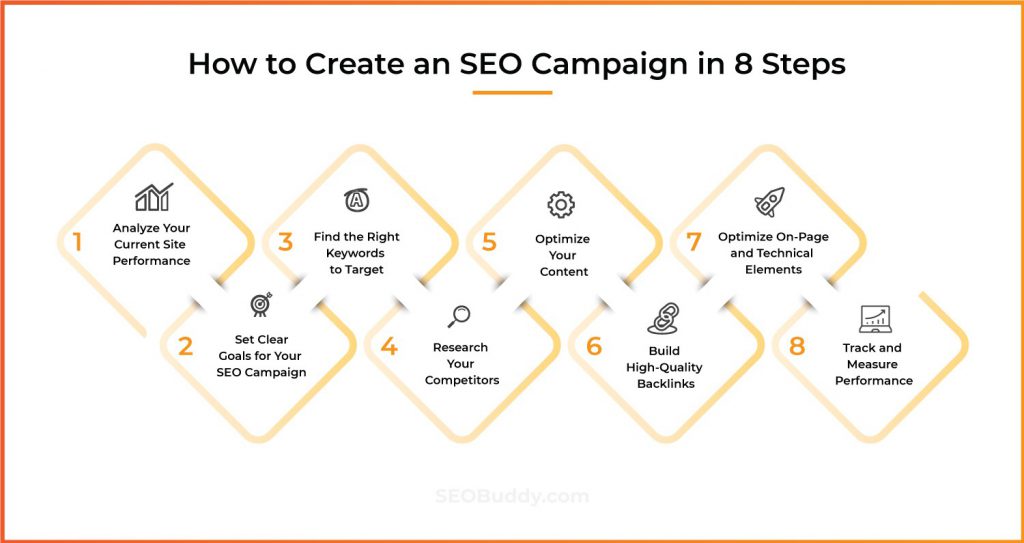 1. Analyze Your Current Site Performance
The first step of your SEO campaign should be a thorough site audit.
Why?
It's because a site audit will help you understand where you stand, find areas for improvement, and set goals for where you want to reach. Understanding your current position gives you direction and helps you plan for the future.
Conduct an off-page and on-page SEO audit of your website using a good SEO tool like Semrush.
Here are some things to consider when doing a site audit:
Organic traffic
Number and quality of backlinks
Broken links
Well-performing and low-performing pages
Site speed
Basically, identify all areas of improvement and plan your SEO campaign accordingly. Your SEO campaign should be able to improve upon these areas and optimize these for better performance.
2. Set Clear Goals for Your SEO Campaign
Before you start your SEO campaign, you need to set clear and specific goals for what you want to achieve and by when.
Follow the SMART goals framework:
Specific – Goals should not be vague or generic, but very specific.
Measurable – Identify KPIs to track performance on goals and set goals that can be quantified or measured.
Achievable – Set goals that can be realistically achieved through your SEO campaign.
Relevant – Your SEO goals should be relevant to your business and not generic.
Time-Bound – Specify a time frame within which you want to achieve your SEO goals and objectives and plan your SEO campaign accordingly.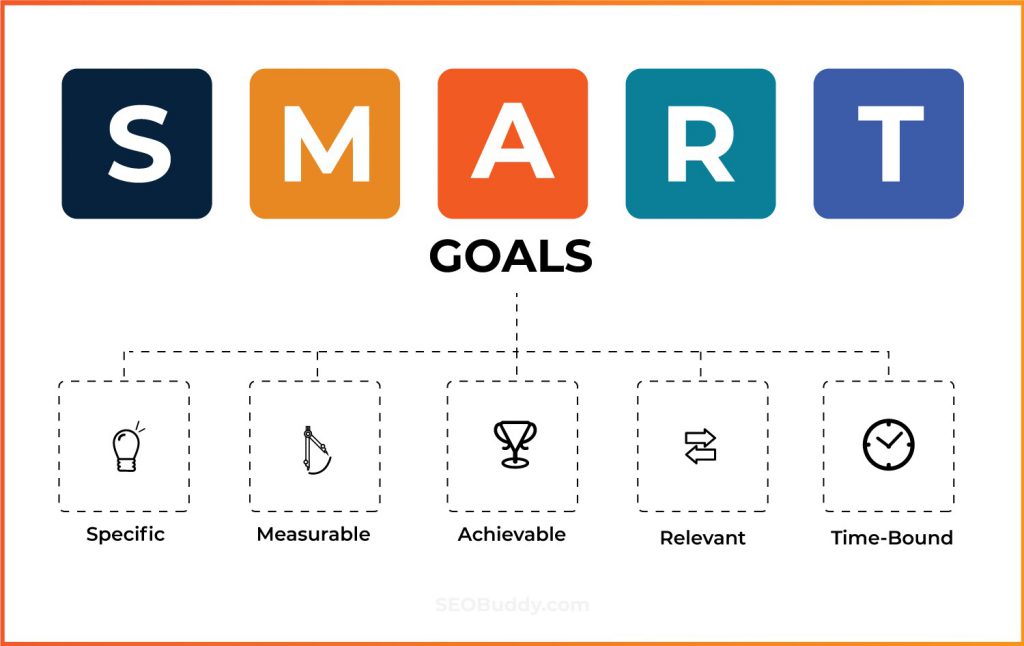 Once you've defined your goals from your SEO campaign, also decide the KPIs you'll use to measure your performance on those goals. This will help you measure the performance of your SEO campaign and make improvements, if necessary.
Remember, your goals are only as good as your ability to track your performance on the said goals. So, hit the ground running by clearly defining both the goals and KPIs, before you start creating your SEO campaign.
3. Find the Right Keywords to Target
Solid keyword research is an important building block of a successful SEO campaign. It is one of the initial steps of creating a data-backed and results-driven SEO campaign.
Why do you need to conduct keyword research for your SEO campaign?
The purpose of an SEO campaign is to improve a site's search rankings and keywords play an important role in achieving that. All your website content should target specific keywords to rank for relevant search queries.
Also, you'll need a different set of keywords for your landing pages and a whole lot of keywords for your blog. While creating content for your blog, you'll need to do keyword research continually, but for landing pages, you need to do this just once.
Use a keyword research tool like Semrush or Ahrefs to find keyword ideas relevant to your business. You'll need to start your keyword research with some broad keywords or topics and these tools will give you tons of keyword ideas related to the broad term.
Here's an example of the keyword research tool offered by Ahrefs for finding keyword ideas.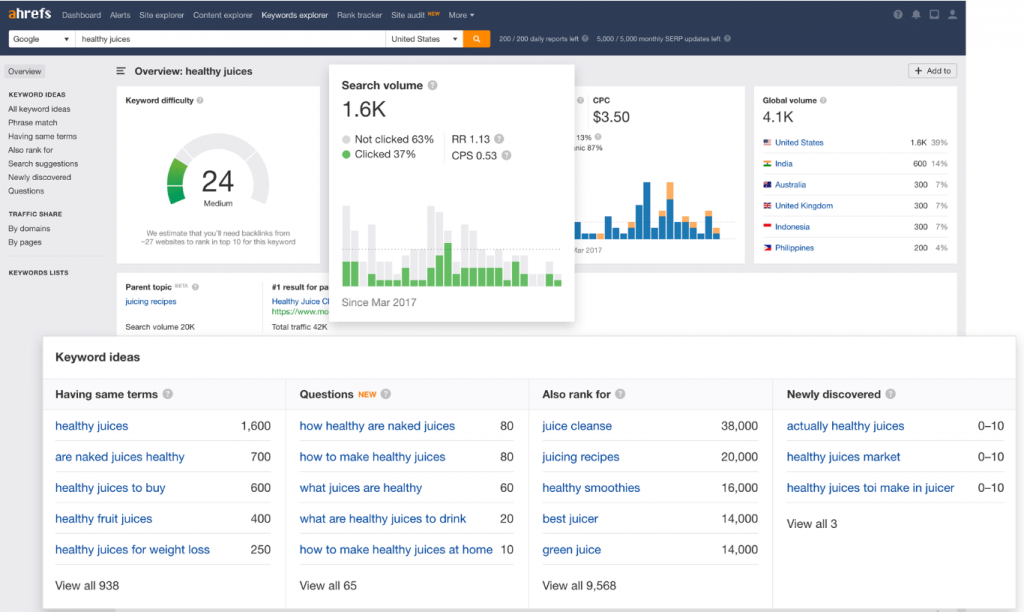 Once you've got an initial list of keywords, you need to sort and filter these to find the best keywords to target.
Some of the factors that will help you in keyword selection are:
Search volume of keywords
Keyword difficulty scores
Relevance to your business
Short or long-tail keywords
Ideally, you should target keywords that you can realistically rank for. So, don't choose keywords with very high keyword difficulty scores, even if they have a high search volume.
You need to strike a balance between search volume and keyword difficulty to find the best keywords to target with your content. Also, choose long-tail keywords as these help you target a more relevant and specific audience, and these are not very difficult to rank for.
Next, choose the right keywords from your list for different types of content on your website. This is called keyword mapping and it's a skill that you should master if you want to run a successful SEO campaign.
We'll discuss the keyword optimization part later in this post, so keep reading.
4. Research Your Competitors
Keyword research is not done in a silo and should include researching competitors' keywords as well. In fact, the whole concept of keyword gap analysis is to identify which keywords your competitors are targeting and find keyword gaps that you can fill.
Still, a proper competitive analysis requires more than just finding keyword gaps.
You should also analyze what content is performing well for them, which topics they're targeting, which sites are linking to your competitors, and more.
You can use SEO tools like Semrush or Ahrefs to conduct a detailed competitor analysis and benchmarking.
For researching your competitors' keywords and rankings, you can use Semrush's organic research feature. Simply put your competitor's domain and you'll get detailed information on where they're getting their organic traffic from. Here's an example.

Don't forget to do a comprehensive competitor backlink analysis, as it would help in the link-building part of your SEO campaign. For that, you can use Semrush's backlink gap tool.
This allows you to compare your website's backlink profile with that of four competitors.

You'll then find the best prospects for link building for your website, which will be useful later in the link-building part of your SEO campaign. Here's an example using eBay and Amazon to show how the tool works.
So, you've conducted a thorough competitor analysis.
Now what?
Well, now you draw insights from it and use that to create your SEO campaign. Find keyword gaps that you fill, find backlink opportunities for your website, and find the topics to cover through your content.
Need help with competitor analysis?
Leverage our ready-to-use competitive analysis framework to research your competitors and draw valuable insights.
All the research you've done at this stage will help you in the next steps of this process to create your SEO campaign.
So, let's get right to it and see how all your research will be used to improve your SEO campaign.
5. Optimize Your Content
This is probably the most important part of any SEO campaign and should be the top priority for your SEO campaign as well.
This will require two steps:
Optimizing your existing content
Creating new SEO-friendly content
Let's discuss each of these in detail.
How to Optimize Existing Content
If you have a huge website or blog, it's not practical to try and optimize all your content for one SEO campaign.
So, what's the solution?
Prioritizing. Use the insights drawn from the site audit you did to find low-performing pages and content. See if the content needs to be optimized or simply discarded.
Make a list of pages that need to be optimized and focus your efforts on these.
Here are some things you can optimize in your existing content: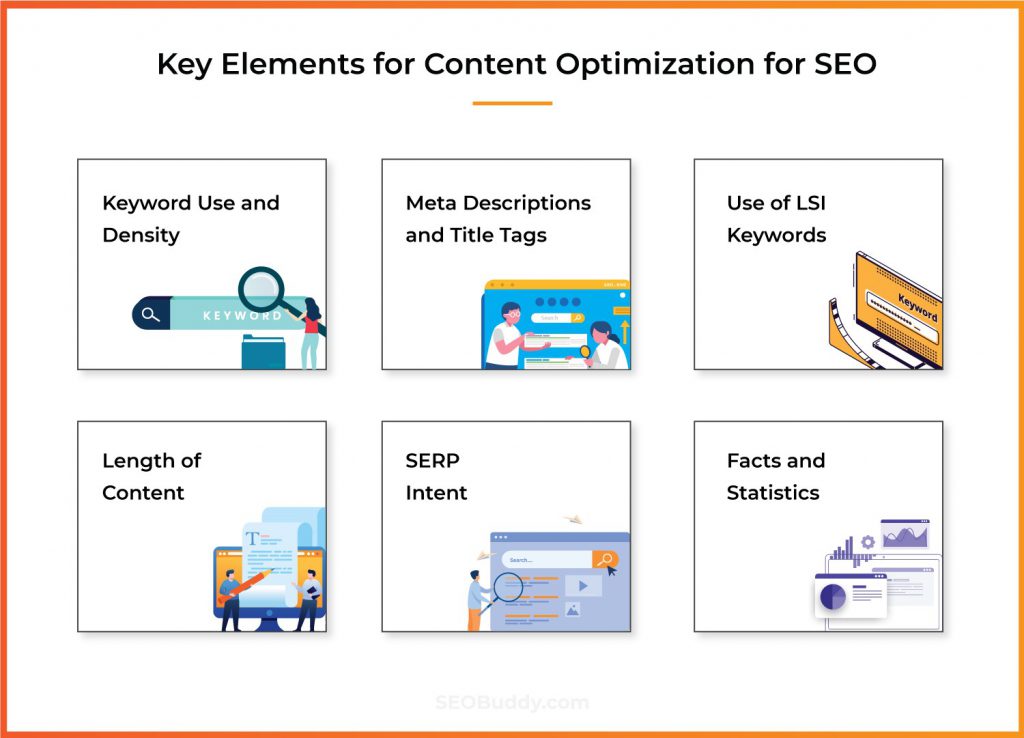 Keyword Use and Density
Use your primary keyword throughout the content and especially in headings and subheadings. Maintain at least a 1.5% keyword density for blog posts and over 2% for landing pages. This helps search engines understand your content and rank it for relevant search queries.
Meta Descriptions and Title Tags
Add meta descriptions and title tags if they're not there and use your primary keyword in these to improve your rankings. These are often the first things a user sees and use to make a decision of reading further or moving along. A relevant meta description or title can let potential readers know that your content is relevant to them.
Use of LSI Keywords
Make sure that you use related keywords and keyword variations in your content to provide more context to search engines. Related keywords help Google understand and categorize your content better and show it for relevant search results.
Length of Content
Long-form content tends to rank higher as it covers a topic in-depth and provides more value to the readers. Additionally, it also has the scope to add more headings, subheadings, and keywords. This allows search engines to see that your content is relevant to a search query and covers a topic in detail.
SERP Intent
Sometimes your content may not perform well because it does not meet users' search intent. So, when you optimize your old content always do a SERP analysis to see what type of content is ranking for that keyword. This will give you an idea of which sections to add and what type of content to create on a particular topic. Here is a brief explanation of the different types of search intent.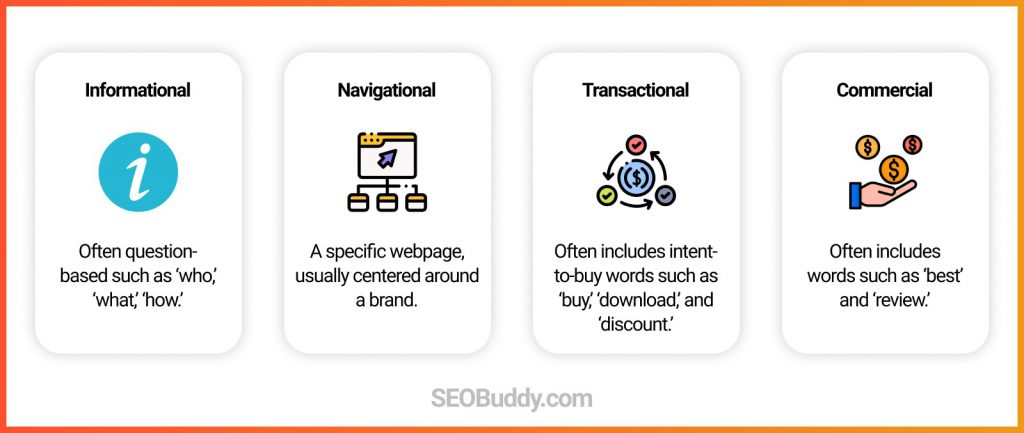 Facts and Statistics
When updating old content always make sure that it is still relevant and is not outdated. Change the statistics and use new ones. Add or delete sections to improve the relevance and quality of the content.
When you update old content and re-publish it, do change the date of publication to let people know that the content is fresh and updated.
Why does it matter?
If you know anything about the Google ranking factors, you'd know that content freshness plays a role in determining search rankings. So, when you plan your SEO campaign don't overlook this small detail.
How to Create SEO-Friendly Content
If you are running an SEO campaign, you should keep some space for content creation and posting as well. If you can create just a few pieces of high-impact, SEO-friendly content, it will instantly boost the results of your SEO campaign.
How does it work?
Well, this is where all your keyword research and competitor research comes into the picture.
By now you should have a list of at least 10-20 keywords that:
Have a high chance of ranking
Your competitors are missing
Others are using but you can create better content
Are long-tail keywords that can attract a niche audience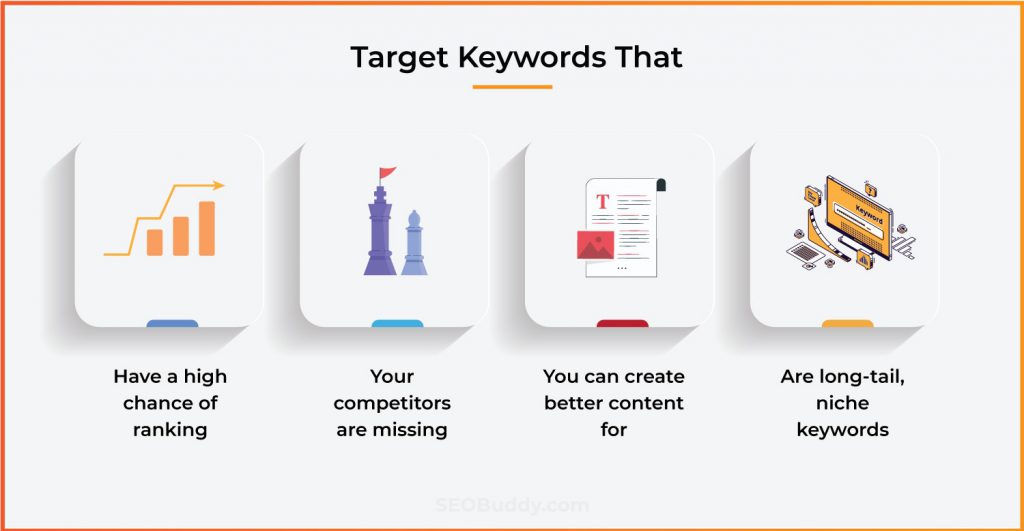 Basically, you want to use those keywords for your SEO campaign for which you can realistically get a position on the first page of SERP. Of course, the quality of your content will be a big factor in making that happen, so let's get right to it.
Here's how you can create high-quality content that ranks well.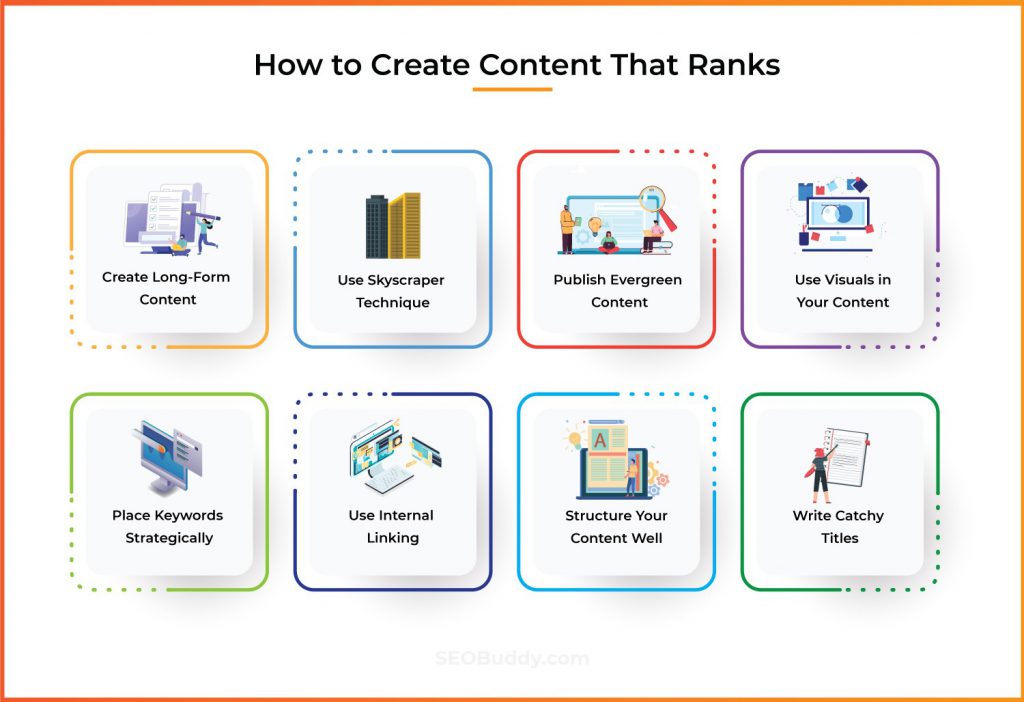 Create Long-Form Content
Any piece of content that has a word count of over 1000 words can be considered long-form content. The reason long-form content should be a focal point of your SEO campaign is that it offers more value to readers.
While the length of your content may not directly affect rankings, it does help in a lot of indirect ways.
First, there is more scope to add backlinks in long-form content than it is in a short one. And, we all know that high-quality backlinks improve your domain authority and help you rank better.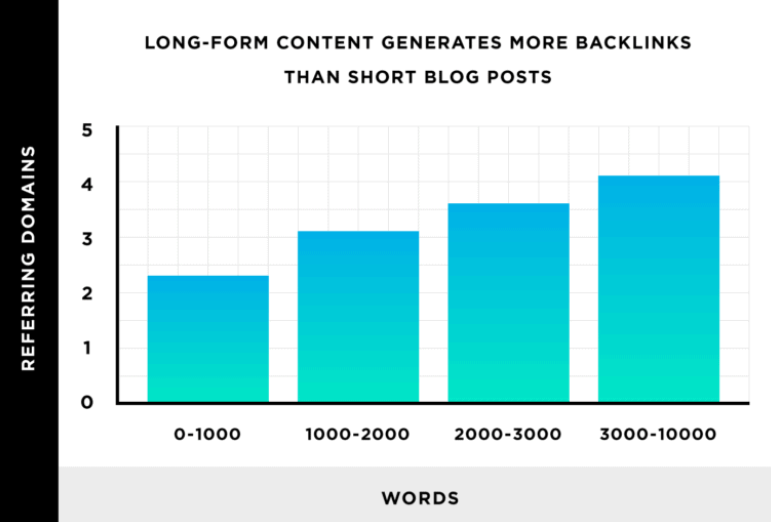 Second, long-form content covers a topic in-depth and offers a lot of information to both your readers and the search engines. When you create an in-depth content on a topic, you establish yourself as an authority in your niche. This also improves your authority and helps improve your rankings in the long term.
Third, people spend more time on pages reading high-quality long-form content than they would spend reading a short piece of content. This improves your website performance metrics and signals to Google that people are spending more time on your website so they must find it relevant and useful. As we all know, that matter to Google and can help improve your SERP rankings.
So, when planning the content part of your SEO campaign, don't forget to include a few pieces of long-form content. Make sure to cover topics in-depth and add relevant headings based on SERP intent.
Use the Skyscraper Technique
If you want to boost the results of your SEO campaign, learn and master the skyscraper technique.
What's that?
The skyscraper Technique involves researching your competitors' top-performing content and creating longer and better content on the same topic. The insights you gathered from your competitor research will come in handy for this.
By now you'd have a list of your top competitors' high-performing content. Now you need to read their content and find ways to improve it.
For each such piece of content, create long-form and better-quality content for your website. Use SERP analysis to find more sections that you can add. Add more examples, visuals, and statistics to make it more authoritative. And, of course, optimize for your main keyword and Latent Semantic Indexing keywords.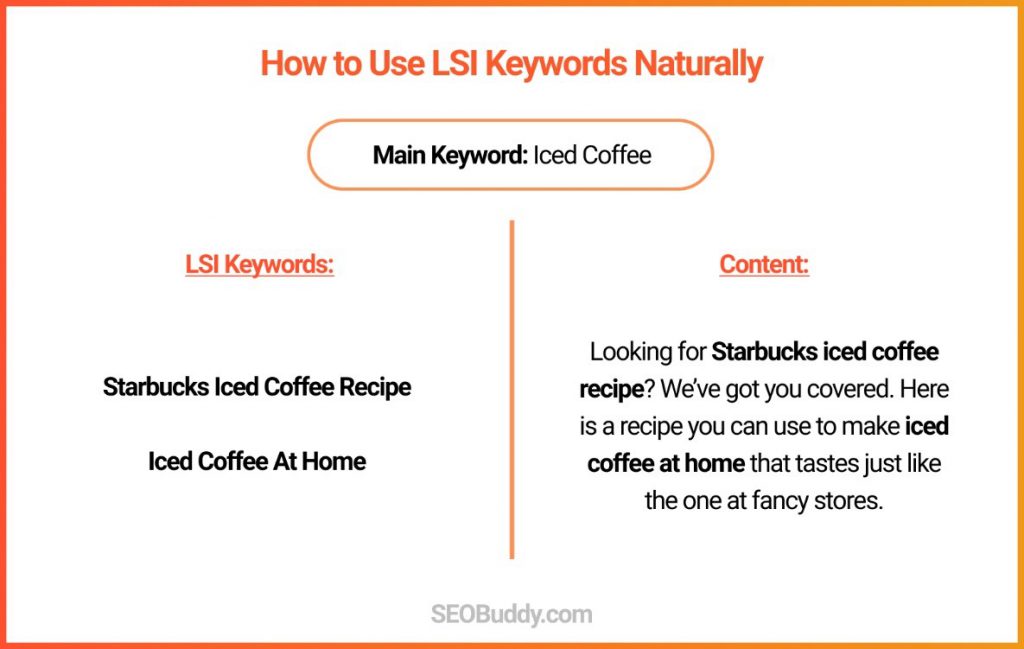 The next part of the Skyscraper Technique is to build backlinks for your new and better content. Reach out to the webmasters of domains who are linking to your competitors' content and offer them your improved content on the same topic.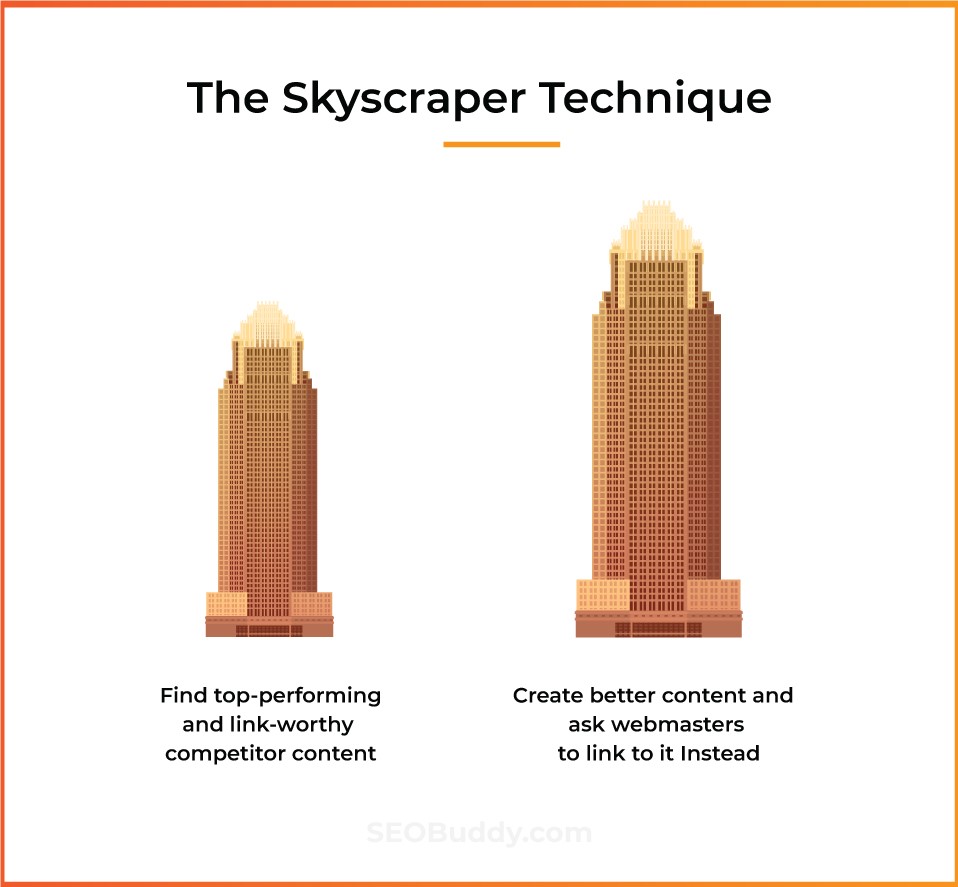 Why is it so great for your SEO campaign?
It solves two purposes at once―creating content that ranks well and link building.
Pro Tip: When selecting the best options from competitors' content prioritize the ones that not only rank high but also get tons of backlinks.
Publish Evergreen Content
This is one content strategy for your SEO campaign that adds to the previous two points, instead of being separate. You can create long-form content that is evergreen and you can use the Skyscraper Technique to create evergreen content that's better than your competitors' existing content.
In fact, you can use all three of these strategies together to create high-quality content as part of your SEO campaign.
But, before that, let's understand what evergreen content actually means and why is it important for your SEO campaign.
Evergreen content is something that stays relevant for years to come and does not become outdated easily.
For example, consider this guide on wines. It is a content hub on everything related to wines and is something that will never become irrelevant or outdated.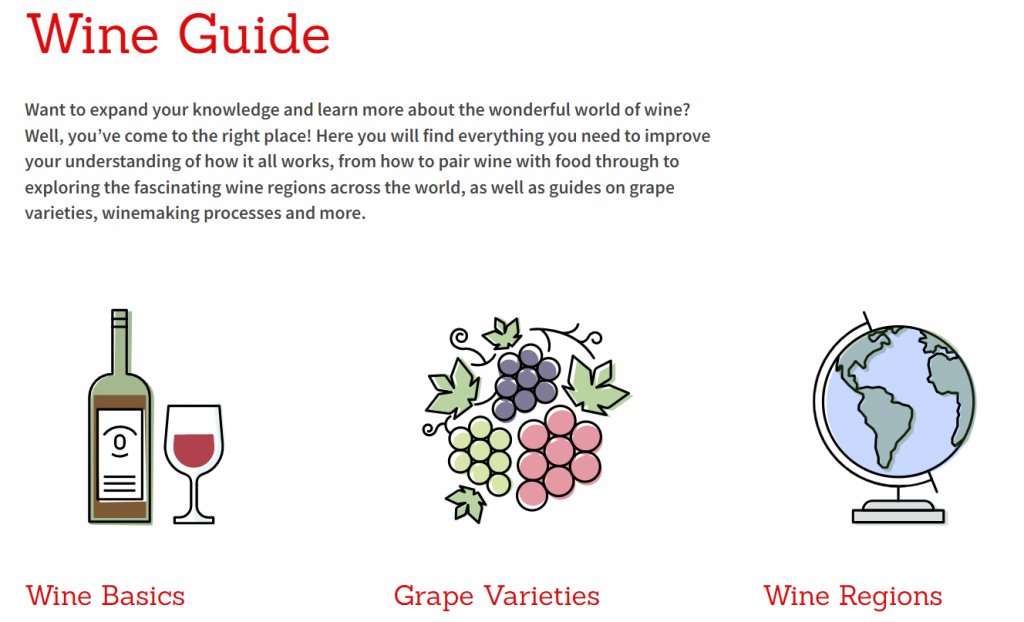 What's more, is that it ranks on the first page of Google SERP.
Evergreen content need not just be a content hub but can be a single long-form post as well. Here's an example of another wine guide that ranks on the first page of Google SERP and qualifies as evergreen content.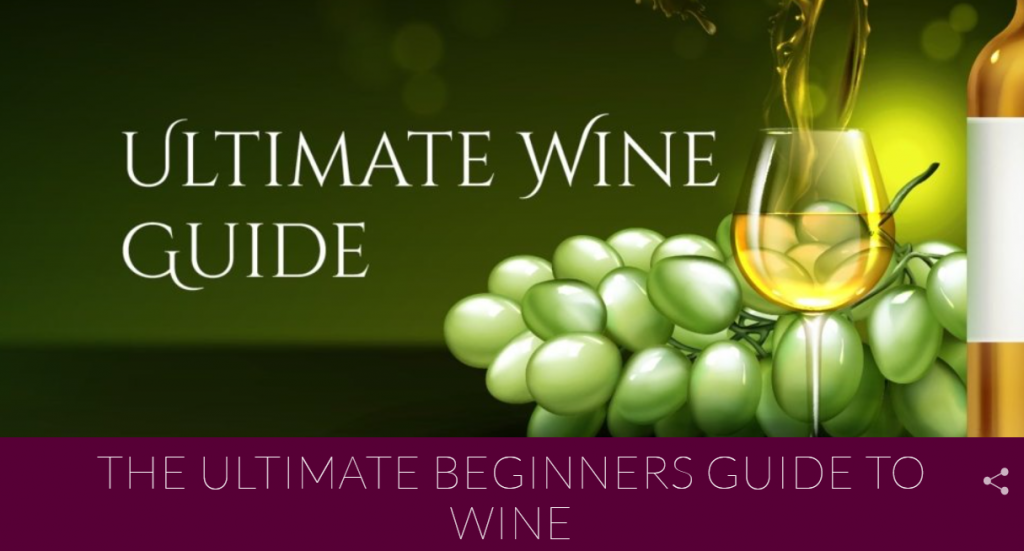 Here are some types of evergreen content that you can use for your SEO campaign:
Listicles
How-To Content
Comprehensive Guides
Product Reviews
Glossaries
Case Studies
Use Visuals in Your Content
Visual content is the future of content marketing as it is the most engaging type of content. That's why you need to include visual content in your SEO campaign, if you want to win over your readers and not just search engines.
When we say visual content, we don't just mean that you should create standalone content like videos or infographics. Instead, add visuals to every single piece of content on your website, be it a landing page or a blog post.
Why?
Because people love reading content that has a good mix of text and visuals. While the text is needed to explain certain things, visuals can complement the text to further prove your point.
Use examples, in the form of images, to prove your point. Use infographics and illustrations to explain processes and concepts. Create videos to deliver tons of information in a concise and engaging manner.
Use a mix of visual content to make your posts and landing pages more engaging and informative.
But why should you make all that effort if it doesn't directly affect your SEO campaign?
Because it does affect your SEO campaign. Higher engagement means site visitors will spend more time on your site, which is one of the UX signals for Google. It shows search engines that people love your content and find it useful.
Here are the other components of user experience, some of which we've already discussed and some we'll discuss later.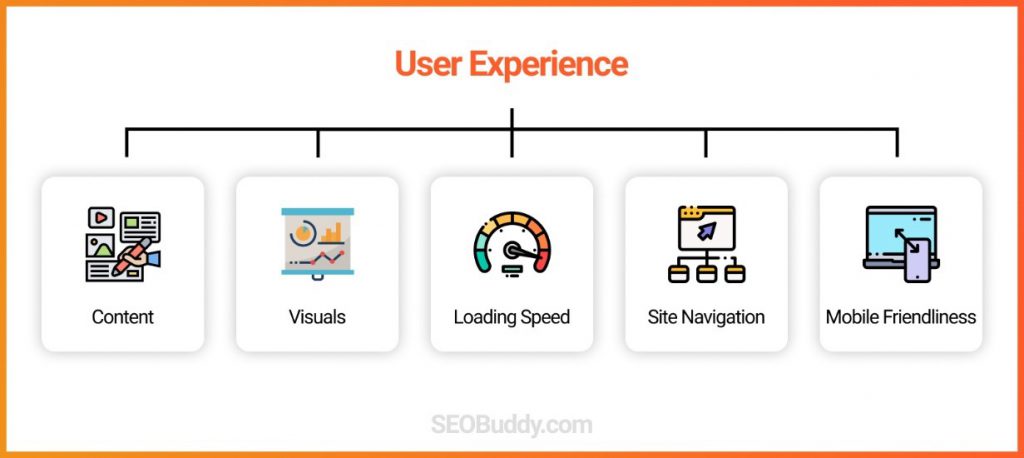 But visuals have a more direct relationship with SEO than that. You can optimize your image alt text, video descriptions, file names, etc. with keywords to improve your search rankings.
Moreover, these things also help search engines understand your visual content better and index it properly, which again affects search rankings. It also makes your images discoverable and help them rank for Google image searches, which is one of the goals of image SEO.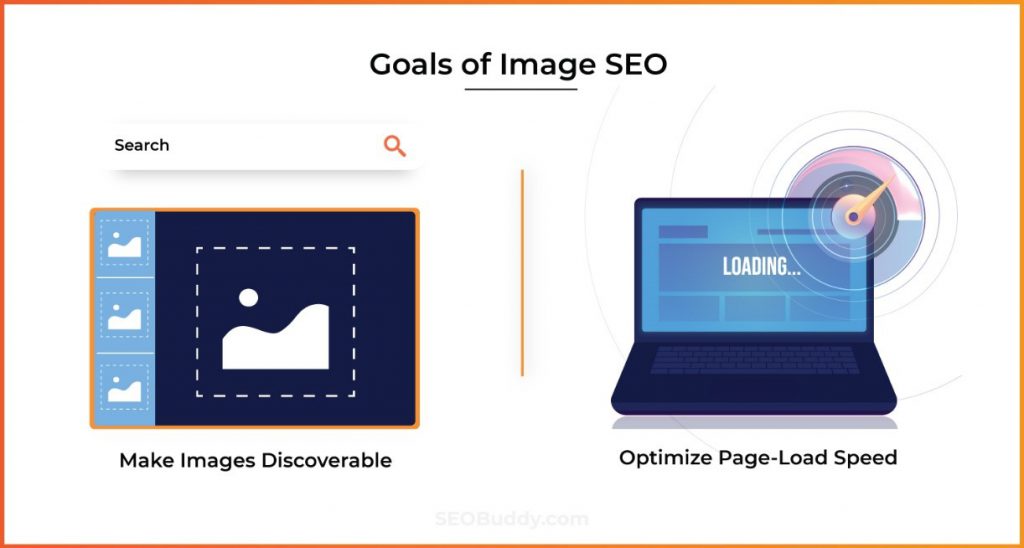 We'll talk more about image SEO in the on-page SEO section, so keep reading.
Place Keywords Strategically
Keywords play an important role in helping your content rank well on search engine results pages. While we've already discussed the importance of keyword density, you still need to master keyword placement.
Here are a few places where you need to add your main keyword:
Title tag
Meta description
Main Heading/Title
Image alt text, file names, and description
First 100 words of your content
Headings and subheadings
Throughout the content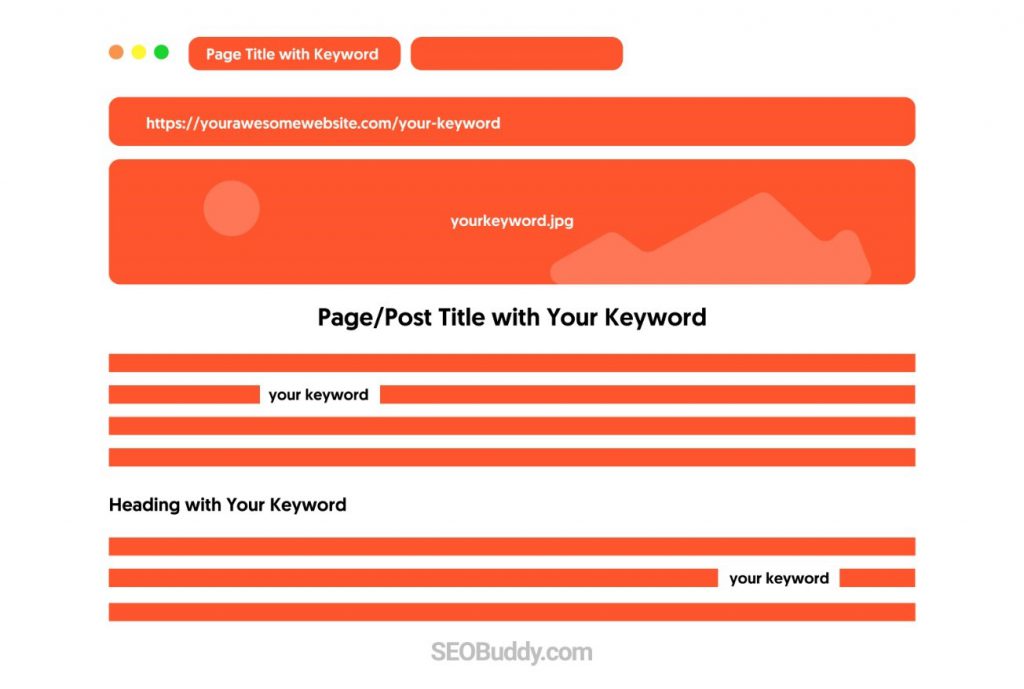 Follow this for every piece of content you create for your SEO campaign and you'll take one step towards higher rankings.
Use Internal Linking
When designing an SEO campaign, many people don't focus much on internal linking as it doesn't directly affect rankings. But what they forget is that rankings are determined by a lot of small ranking factors both direct and indirect.
So, if you focus only on a few of the direct factors, you may or may not get the desired results. However, if you consider all important factors and run a holistic SEO campaign, you will see the results for sure.
So, what is internal linking and why does it matter?
Internal linking is the practice of linking to related content and resources from any piece of content on your website. Let's say you write a post about off-page SEO. You can easily link to content on related topics like:
What is link building
Link building checklist
Backlinking strategies
How to find backlink opportunities
Wikipedia link building
And more!
A more organized way of internal linking is using a hub and spoke model. This requires you to create a content hub with multiple pieces of content covering the different aspects of a broad topic.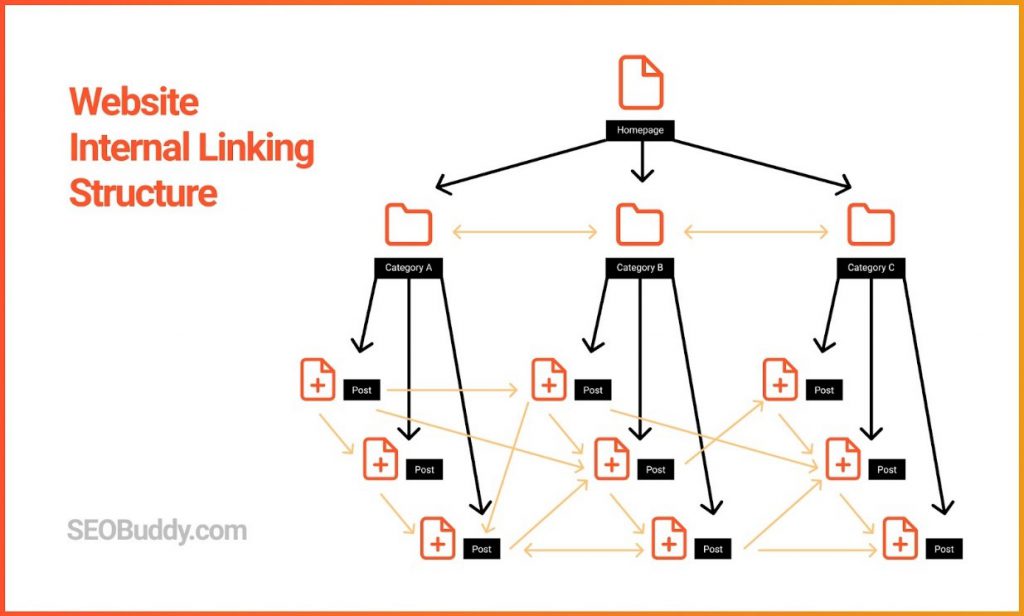 Interlink all these pieces of content with each other to ensure that if a user reaches one piece of content, they can easily find related content.
Why does it matter for your SEO campaign?
If your site visitors read multiple articles on your website and spend more time on it, it sends a clear message to Google that your content is relevant and useful.
Google wants to show the very best and most useful content to its users and good UX signals from your website will put you in Google's good graces.
Pro Tip: Don't make your content spammy by adding too many links; just add a few relevant and high-quality links.
Structure Your Content Well
When talking about user experience, you can't miss the importance of structuring your content well.
What does that mean?
It means that you should make your content easy to read and engaging. While visuals take care of the latter, structuring and layout help with the former.
Here are a few tips to structure your content to increase readability:
Break the content down into relevant sections with apt headings and subheadings
Use numbered lists or bulleted lists to increase readability
Create a table of contents to improve scannability
Avoid huge blocks of text and break the monotony by adding visuals
Basically, make sure that a reader finds exactly what they're looking for, without having to work hard to find it within the content. Make it scannable.
See how we use a ToC for all our blog posts with clickable headings so that our readers can directly go to the section they want.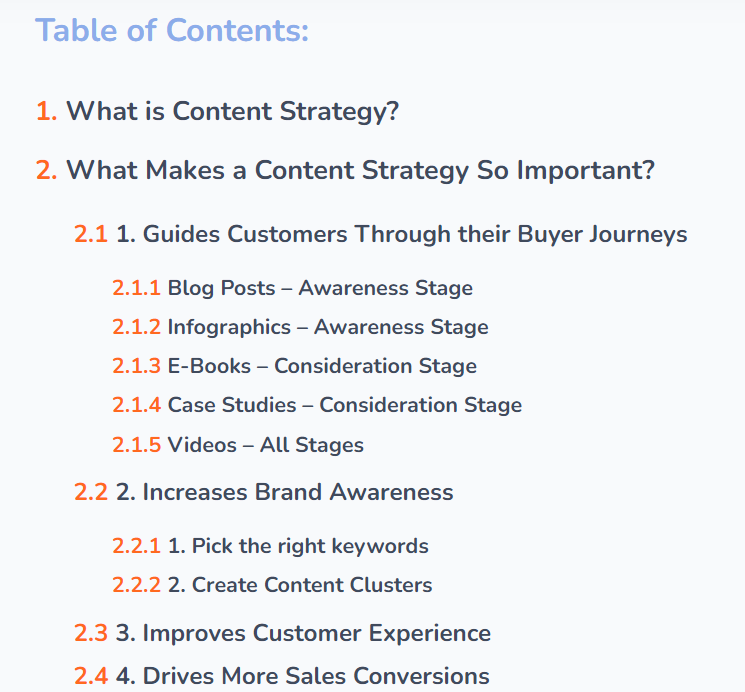 But doesn't this mean that people will now spend less time reading your article? Isn't that bad for SEO?
Well, no. If people don't find what they're looking for quickly, they may just leave. And if their first impression of your website is bad, they may not visit again.
So, user experience is more important than forcibly making people spend time on your website. Also, if they easily find useful information, they might be more inclined to read other content on your website and visit again.
So, when planning the content part of your SEO campaign, pay special attention to content structuring and readability.
Write Catchy Titles
One of the first things that a potential reader sees in your content is the title. It is often what determines whether someone will read your content or not.
So, your titles should be instantly able to grab the attention of potential readers and encourage them to read your content.
Here are a few tips to write catchy titles:
Keep it short, crisp, and relevant to the content
Make your value proposition clear
Use questions to evoke curiosity in readers
Add surprising facts or statistics to draw attention
Use numbered lists to promise a specific number of points
Make use of action words and emotion-provoking words
Address your target audience's pain points and challenges
Here's an example from our blog. The title tells people exactly what they can expect and also promises 8 hacks to achieve their goal. It addresses a problem that people face—finding sitemaps—and it provides the solution to that problem.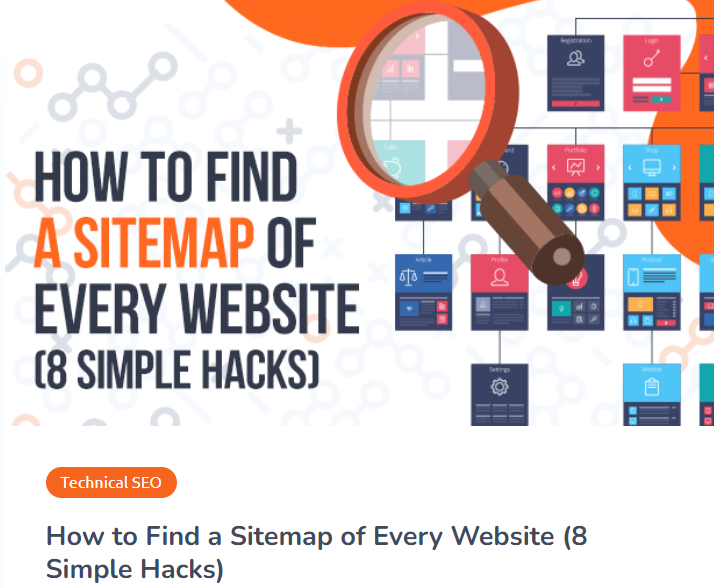 This brings us to the end of this section on content optimization for a successful SEO campaign. This is the most comprehensive and probably the most important part of designing an SEO campaign, so pay special attention to doing this right.
6. Build High-Quality Backlinks
Most of the points we've covered so far, deal with on-page SEO. Link building, however, is the core of off-page SEO and one of the key pillars of SEO overall.
Building high-quality backlinks is an important part of every SEO campaign as it directly helps improve your website's authority and trust.
How?
When an authoritative website links to yours, it gives a vote of confidence from them in you. After all, they'll only link to your content if they find it valuable and trustworthy.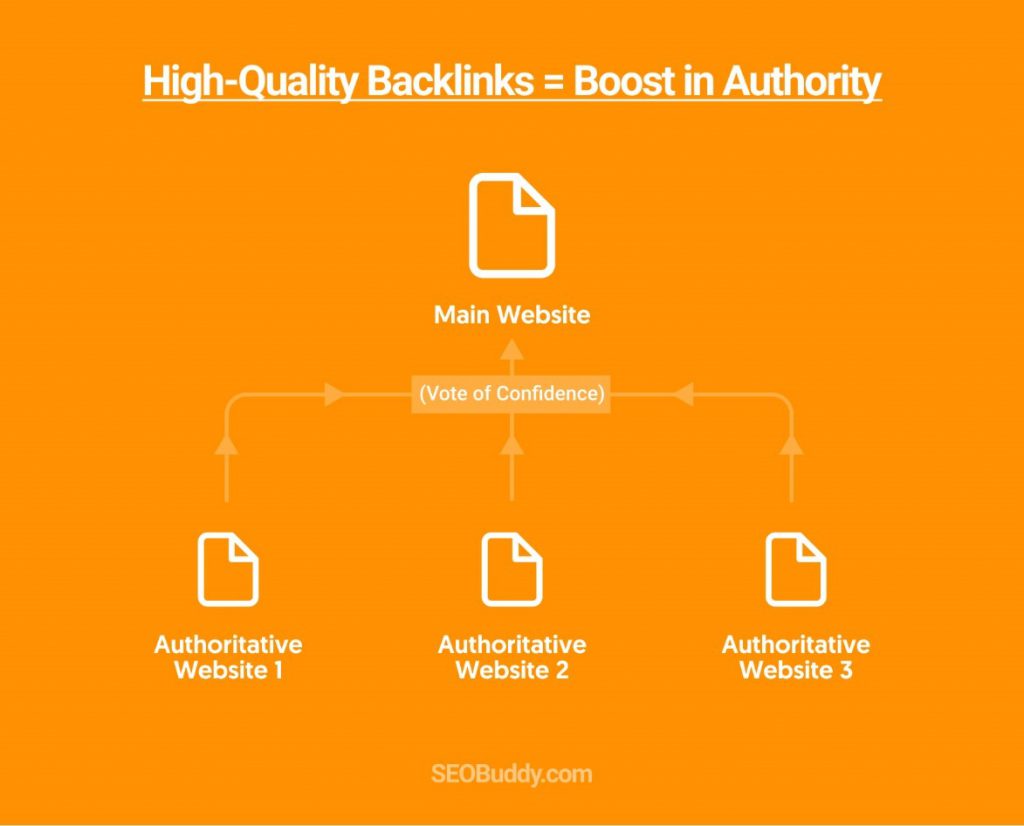 The more authoritative domains that link to you, the better it is for your website.
But what are these authoritative domains and what makes a high-quality backlink?
Let's understand briefly.
Authoritative websites are those that have a high domain authority score. It is a score developed by Moz to determine the trustworthiness and reliability of a website.
Domain authority has a direct impact on search rankings and, therefore, should matter to you for your SEO campaign.
Now, it takes years to build high domain authority, especially if you just create and publish content in silos. Building links from authoritative websites, however, can expedite this process.
Now that we've cleared that, let's get to the components of a strong link profile.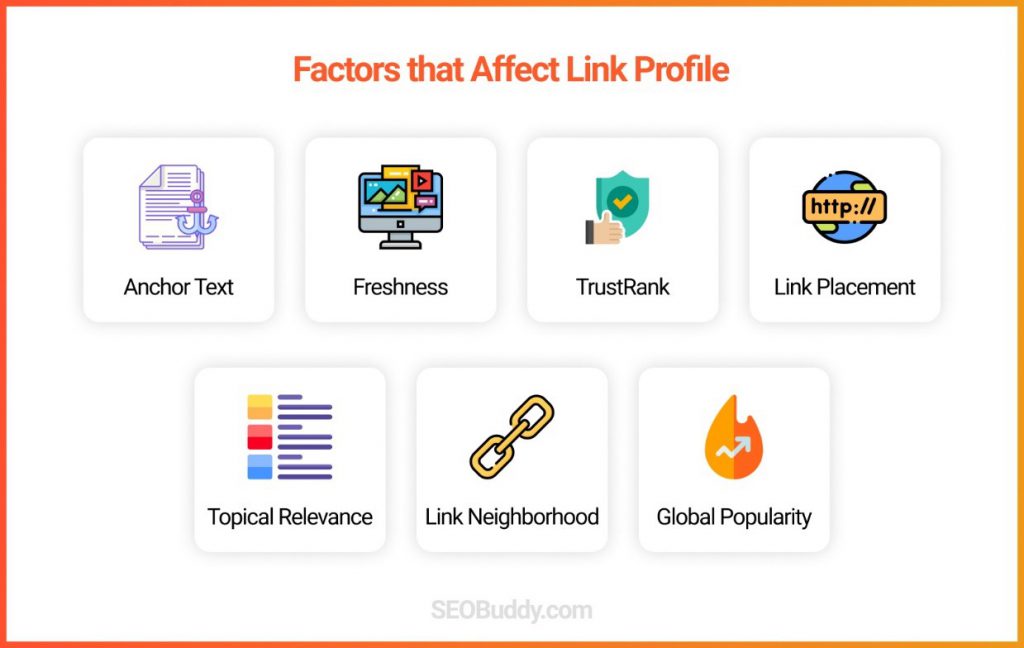 Here are some factors to consider when building backlinks:
Use a relevant anchor text
Link to and from fresh and updated content
Try to get links from pages with a high TrustRank
Make sure your website's links are placed at the top of a page or content
Always link to and from related and relevant pages and content
Avoid links from spammy websites and link farms
Get links from popular pages as they hold more value
Follow these tips for building high-quality backlinks to your website and strengthening your link profile.
But how exactly will you get these backlinks?
Here are some link-building strategies that you can use.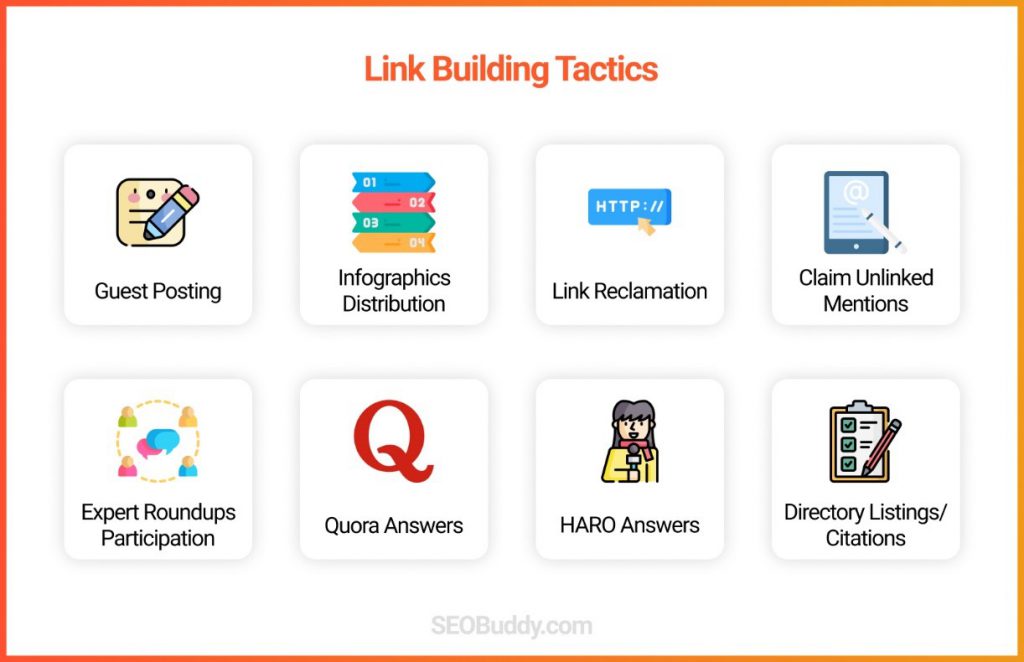 Let's discuss each of these in brief.
Guest Posting – Create high-quality content, add your internal links to it, and post it on authoritative websites in your niche.
Infographics Distribution – Make a useful infographic on a relevant industry topic and publish it on different websites with different descriptions, each with a backlink to your website.
Link Reclamation – Find broken and removed links to your website and reclaim those links by reaching out to respective webmasters of the referring domains.
Claim Unlinked Mentions – Find unlinked mentions of your brand or website and ask for links from those mentions.
Expert Roundups – Give quotes for expert roundup posts and add a relevant backlink to your website in your quotes or answers.
Quora Answers – Answer relevant industry-related questions on Quora and link to a related resource on your website that answers the question in detail.
HARO Answers – Join the HARO (help a reporter out) platform, answer questions within your niche, and add links to your website in the answers.
Directory Listings – Get your business listed in local directories and get links to your website from each listing.
Need a quick and hassle-free way to build some high-quality backlinks to your website?
Use our link chest that contains over 1900 high-quality backlink opportunities that are ready to be exploited.
7. Optimize Your On-Page and Technical Elements
We've already covered many of the on-page elements like keyword optimization and internal linking in the content optimization section of this post.
So, we'll mainly cover some of the key technical SEO elements that you should optimize when running an SEO campaign.
Page Speed
One of the tasks you should undertake as part of your SEO campaign is to optimize your page speed. When you do your site audit, you should also check your site speed and find slow-loading pages.
Using a tool like Ahrefs is much more useful than using something like PageSpeed Insights as the latter can only check one page at a time. So, use a good SEO tool to flag all the slow-loading pages on your site and optimize those to improve their speeds.
Here are some tips on how to optimize page speed:
Use compressed images and videos
Leverage a content delivery network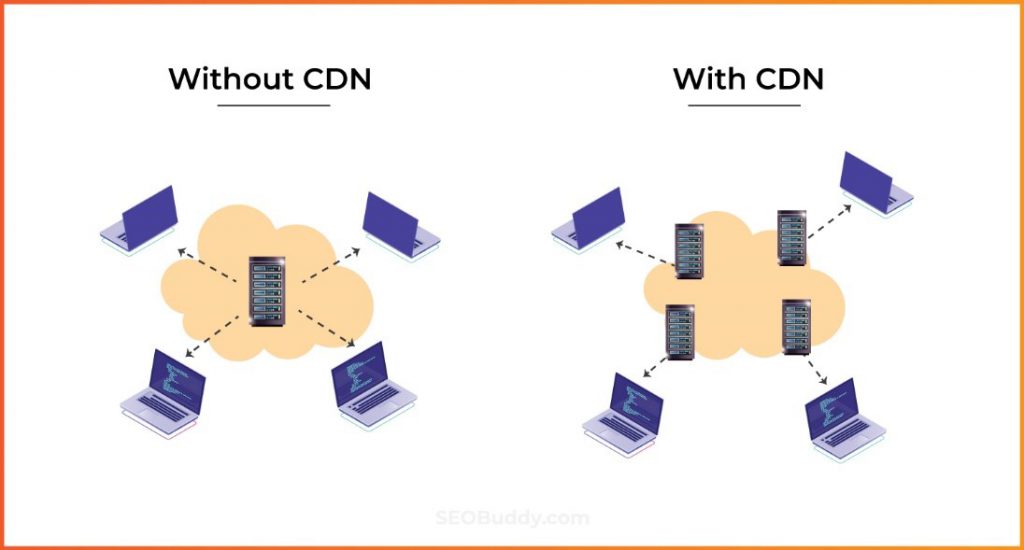 Make use of caching
Avoid or at least reduce redirects
Use asynchronous loading
Minify your HTML and CSS code
Make your site easy to navigate, both for users and search engines.
For users, you can choose a simple and well-organized site structure with logical page hierarchies.
For search engines, use sitemaps and remove the noindex and robots.txt tags to make your site easy to crawl and index. You can, of course, choose to exclude some pages from being indexed, but make sure you're in control and know exactly which pages are being crawled and which are excluded.
Image SEO
This deals with optimizing images to make them more SEO-friendly, discoverable, and indexable. It involves optimizing elements like alt texts, file names, image titles and descriptions, etc. for SEO.
Here are some tips for image SEO:
Add keywords to image alt text, titles, and descriptions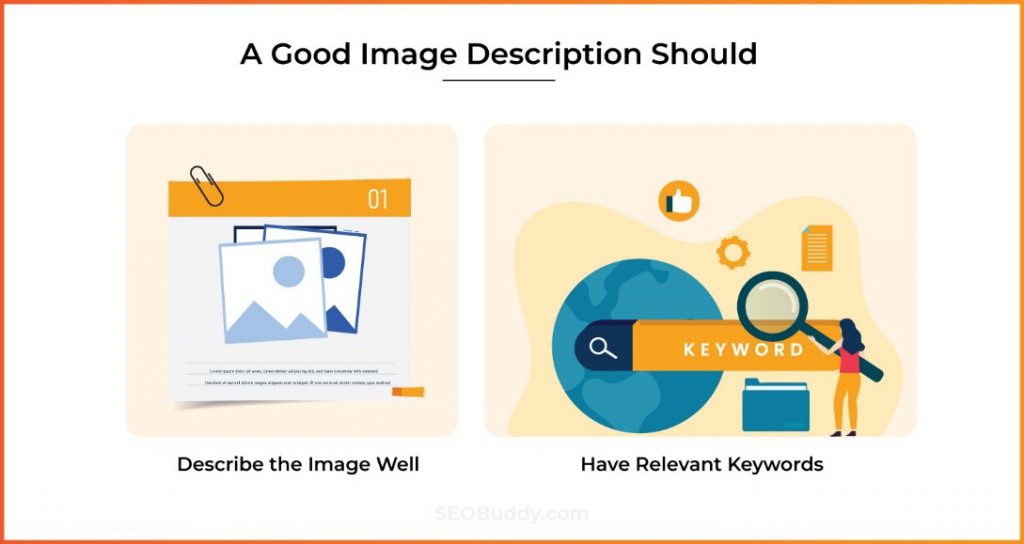 Always save images with proper file names that describe the image
Compress your images to improve the page loading speed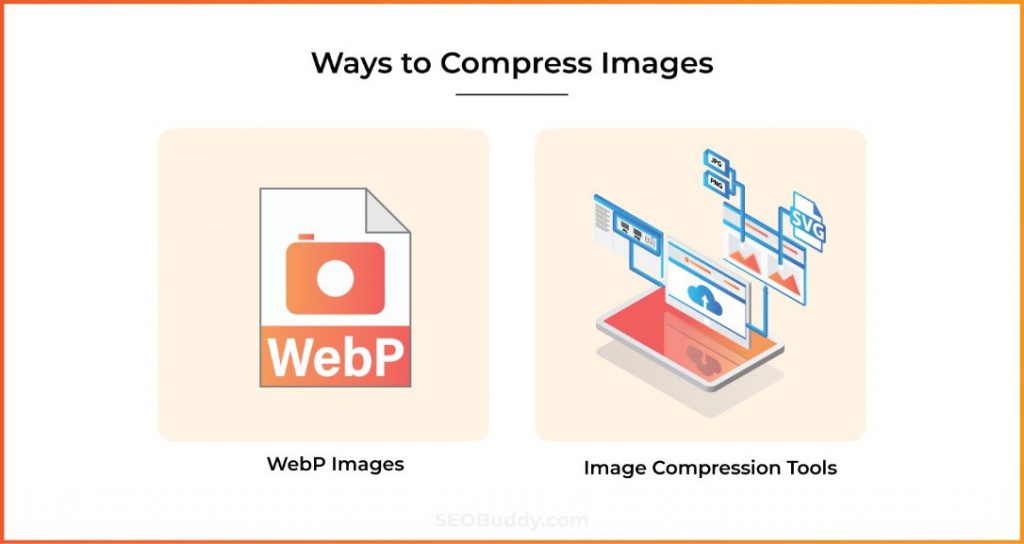 Create a separate sitemap just for images
Add schema markup for images in your content
Choose the right image sizes and formats for your content
Image SEO may well be a small part of your SEO campaign, but it's an important part. Images can not only help with other aspects of your SEO campaign like optimizing page speed but can directly affect rankings. Not just that, images themselves can rank for image searches, thus increasing your website's chances of getting on the first page of Google.
So, follow the image SEO tips mentioned above and increase your website's chances of ranking higher on SERPs.
HTTPS
Make your site secure by using HTTPS, instead of HTTP. This is especially important for ecommerce sites that enable payments through their site.
Using an HTTPS website tells both the search engines and users that your website is secure and this helps improve your website's trustworthiness.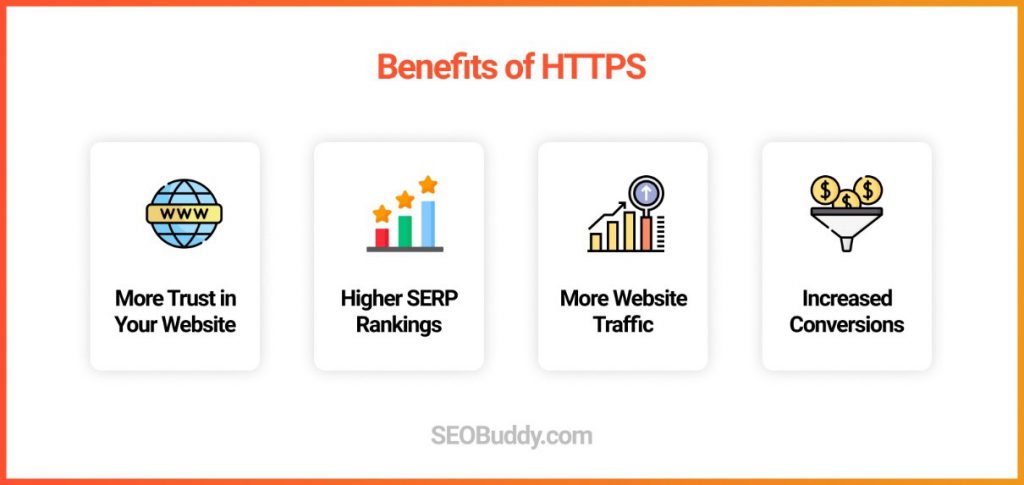 Want to see proof that using HTTPS has a direct correlation with rankings?
Type in any search query on Google and you'll see that most, if not all, of the sites ranking on the first page will have an HTTPS site.
Here's an example of a random search for "SEO tools". See how the top-ranking websites all have HTTPS instead of HTTP.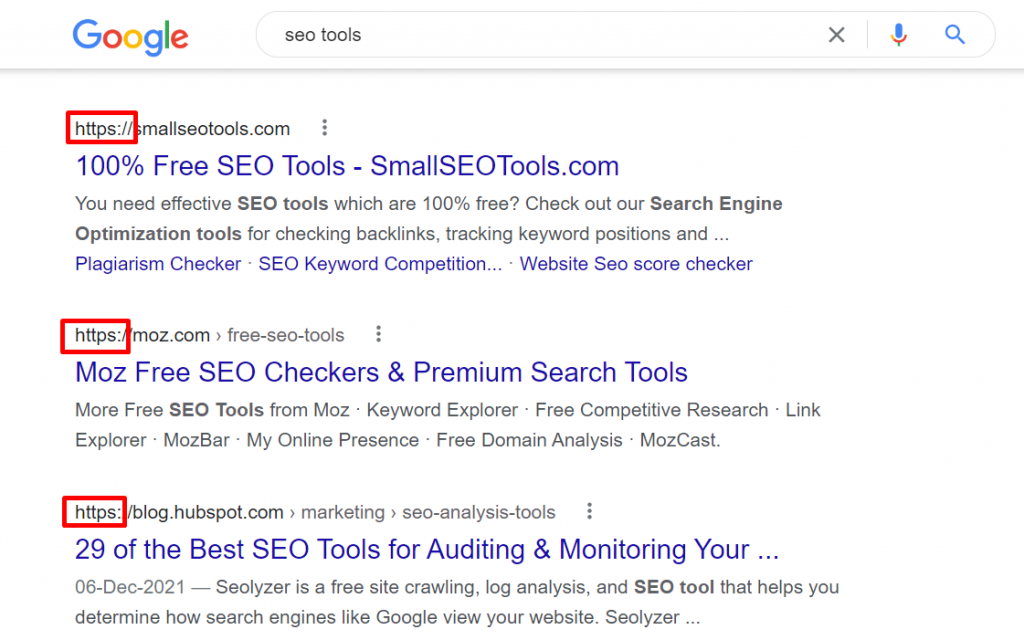 Does this mean that if you switch to HTTPS then your website will start ranking well?
No. But it does mean that if you still use HTTP, your rankings will be adversely affected.
Why?
Simply because search engines do not want to direct their users to unsecured websites. So, this is more of a necessity than a choice, if you want your SEO campaign to succeed and your website to rank on the first page of SERP.
Mobile-Friendliness
Use a mobile-responsive theme for your website and write content keeping mobile audiences in mind. Making your website mobile-friendly is not a big task these days as most website builders offer read-to-use mobile-friendly themes, to begin with.
8. Track and Measure Performance
Once you plan and run your SEO campaign, your job is not done. You also need to track and measure the performance of your SEO campaign and improvise, if needed.
Don't wait till the end of your SEO campaign to analyze performance, but do it continually. This will ensure that you take corrective action in case things are not working as planned.
A simple web analytics tool like Google Analytics can show you how your website's performance has changed since you launched your SEO campaign. You can, of course, use more comprehensive and user-friendly SEO tools like Semrush and Ahrefs as well.
With that, we come to an end of this post on how to create and run an SEO campaign.
Let's now answer some of the frequently asked questions on SEO campaigns and how to run a successful one.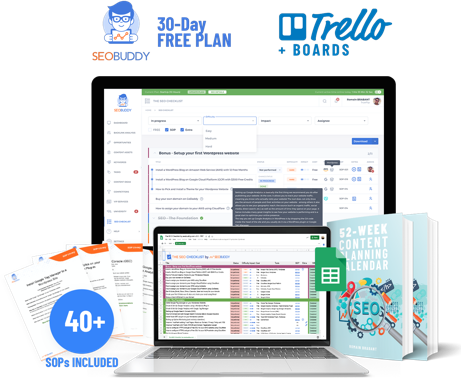 There's more…
Now it's time to discover the other 102 steps that will get more organic traffic flowing to your website. Get the SEO Checklist here.
Want to get a sneak peek of what it looks like?
Enter your email and get a free demo version of the SEO Checklist.
FAQs
1. What are SEO and SEM campaigns?
An SEO campaign aims to improve the search rankings of a website using a well-planned campaign with different SEO strategies. A search engine marketing or SEM campaign, on the other hand, uses search advertising to show a website in the top results.
While an SEO campaign aims to increase search rankings organically, an SEM campaign uses more direct, paid methods to get the results quickly. This makes an SEO campaign a more sustainable and long-term solution.
2. How can you make an SEO campaign?
Here is a step-by-step process to create an SEO campaign:
1. Analyze Your Current Site Performance
2. Set Clear Goals for Your SEO Campaign
3. Find the Right Keywords to Target
4. Research Your Competitors
5. Optimize Your Content
6. Build High-Quality Backlinks
7. Optimize Your On-Page and Technical Elements
8. Track and Measure Performance
3. What makes an SEO campaign successful?
While diligently following the process for an SEO campaign helps, ultimately it all boils down to the quality of your initial research. This includes keyword research, competitor research, and site audit.
After all, your whole SEO campaign and strategies are planned according to your initial research, so it should be accurate and comprehensive.
4. What are the key components of an SEO campaign?
An SEO campaign involves the following stages:
Research
Planning
Strategy Implementation
Performance Tracking
The key SEO strategies or components of an SEO campaign are:
On-page SEO – Keyword optimization, internal linking, image SEO
Off-Page SEO – Link building
Technical SEO – Site speed, navigation, security, mobile friendliness, etc.
5. What is the goal of an SEO campaign?
The key goal of an SEO campaign is to increase the organic SERP rankings of a website by implementing SEO strategies. This, in turn, helps achieve other end goals like an increase in website traffic, engagement, and conversions.
Ready to Plan Your Next SEO Campaign?
Clearly, an SEO campaign is quite useful in improving a website's performance and SERP rankings. By now, you should be in a position to start your SEO campaign with a clear understanding of all the steps that go into making a successful one.
Use this post as your reference for planning and implementing your next campaign and achieving all your SEO goals.
Need more help planning your SEO campaign? Get our ultimate SEO checklist that lists every SEO tip, trick, and hack you need to run a successful campaign.