What is Off-Page SEO? A Guide to Signals to Grow Your Authority
Off-page SEO is a set of practices that you follow outside the website to affect the search engine rankings and increasing your credibility, authority, popularity, and relevance
It's one of the 3 pillars of SEO.
It mainly revolves around link-building and reputation. Having strong backlinks is the second most important ranking factor for Google but there are other off-page SEO signals such as brand mentions and testimonials/reviews.
Additionally, domain authority, trust, relevancy (other off-page SEO factors) also play a major role in how Google or other search engines perceive your site and rank it.
Off-page SEO plays a vital role in your SEO journey that's exactly what we are going to uncover in this post
In this post, we will explain:
What is off-page SEO?
Why does off-page SEO matter?
The key elements of off-page SEO
So, let's get started.
What is Off-Page SEO?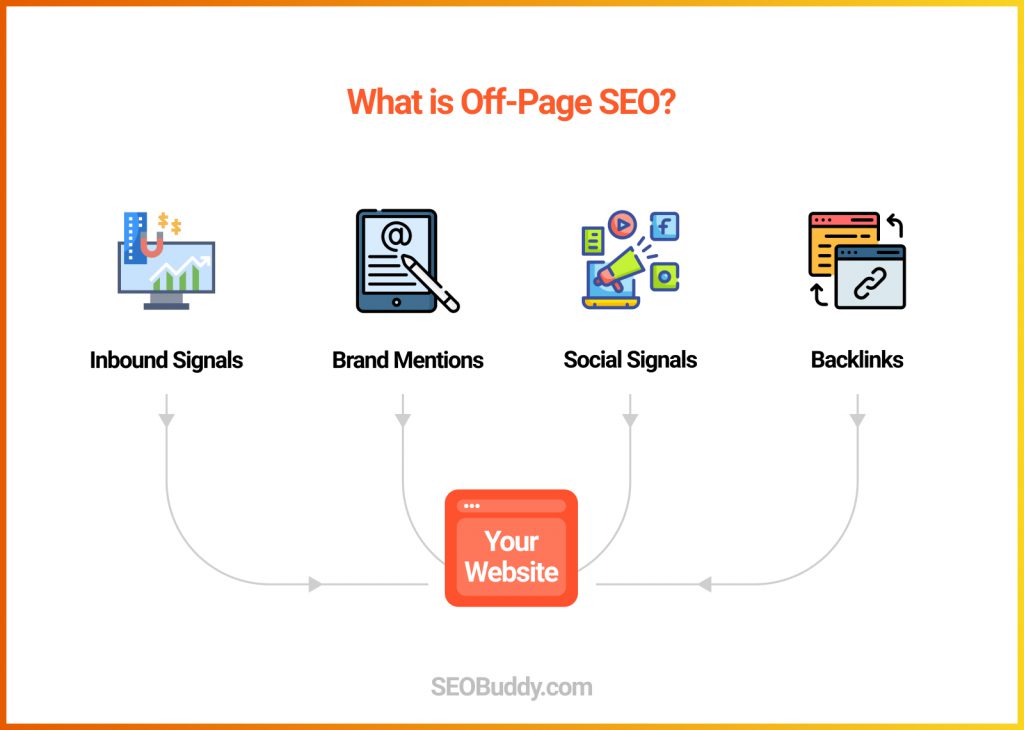 As we mentioned above, Off-Page is a set of practices that an SEO consultant follows to achieve higher SERP (search engine results pages) rankings.
Different search engines like Yahoo, Bing, Google, Yandex, Baidu take off-page signals as one of the most important ranking factors.
Here we are going to focus on Google as it has the majority of the world traffic, but these tips are relevant for other search engines as well.
Why Does Off-Page SEO Matter?
The main aim of off-page SEO is to build your website's authority and trust.
How does it do that?
The more people link to your website and mention your brand, the more Google and other search engines will think that your site is a credible and trustworthy source of information. That's how search engines work.
Backlinks from authoritative sites in your industry provide a vote of confidence in your website.
With over 100 Google updates over the last couple of years, content now plays a major role in off-page SEO.
Publishing pillar content on third-party websites that link to you gives a signal to Google that your website is authoritative in a specific niche. This, combined with brand mentions (high-quality backlinks) and a stellar online reputation boost your domain authority over time and thus, your website ranking.

You should create a checklist covering all the points to ensure that your SEO game is on-point. To help you out, we have already compiled a detailed SEO Checklist that you can use to improve your authority, build backlinks, and rank for any keyword.
On-Page SEO vs. Off-Page SEO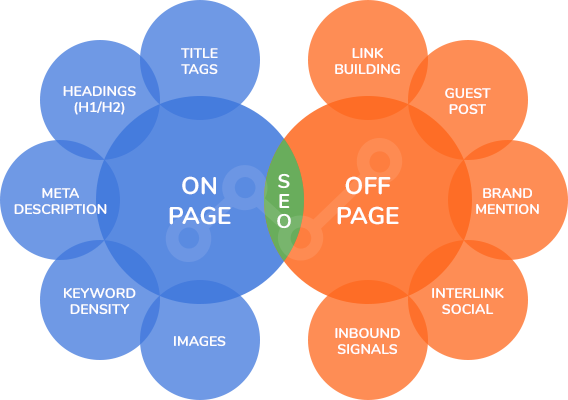 On-page SEO deals with making changes on your website, especially content, to improve your SERP rankings. Essentially, on-page SEO focusses on keyword optimization by placing the right keywords at the right places in the right number.
Off-page SEO deals with doing things outside of your website to improve search visibility and rankings. This mainly includes link building activities, building a social media presence, and getting brand mentions from authoritative sources.
Now that we have that cleared, let's discuss the key elements of off-page SEO in more detail.
Key Elements of Off-Page SEO
The key elements of off-page SEO are link building and social media marketing.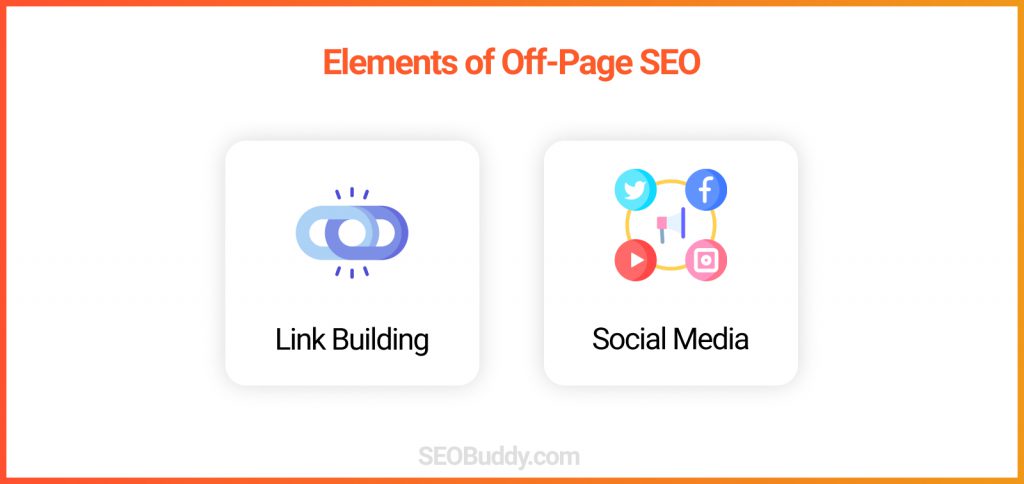 Let's discuss each of these in more detail.
Link Building
Off-page SEO focuses a lot on building backlinks from authoritative websites. For that, you need to find good backlink opportunities using an SEO tool.
You can build high-quality links to your site through the following link building tactics: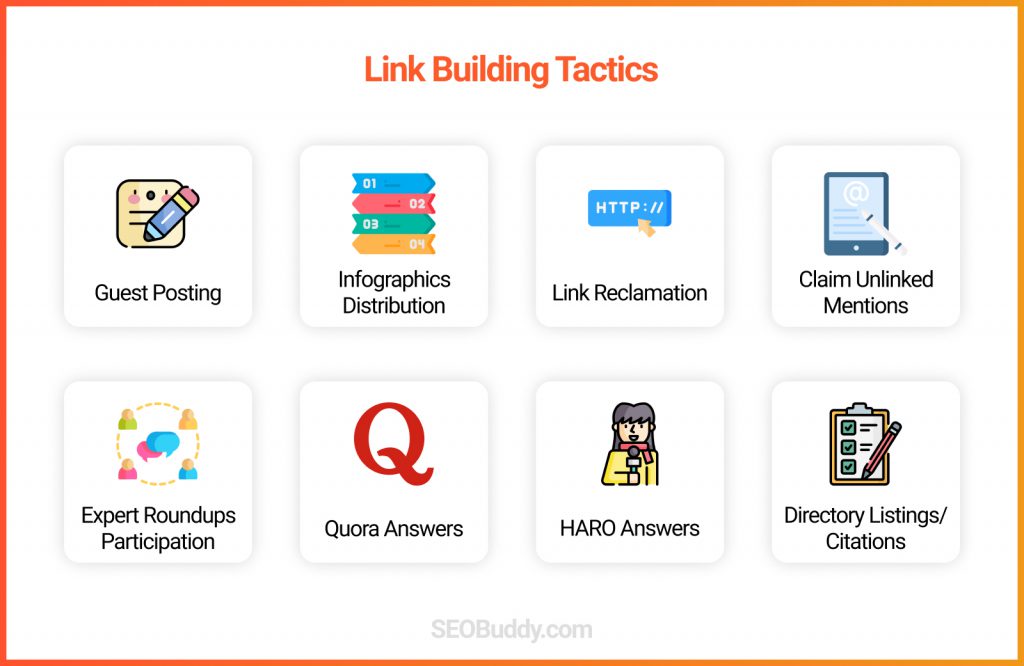 Guest posting – Conduct keyword research, create high-quality content on trending industry topics and post it on authoritative websites in your niche. Add relevant backlinks to your website within your content.

Infographics distribution – A great way to earn multiple backlinks is by creating one infographic on a relevant topic and distributing it on several authoritative websites. Write unique, plagiarism-free content for each website and add a backlink to each.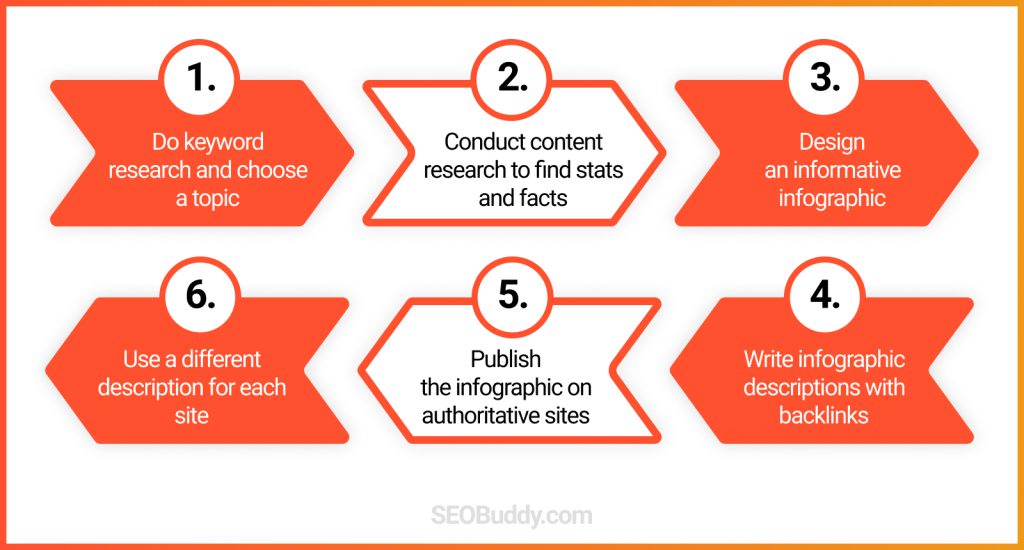 Link reclamation – Find broken or removed backlinks to your website and fix them or update them with updated URLs. This is an easy off-page SEO tactic that can quickly help you strengthen your backlink profile.

Claim unlinked mentions – Find unlinked brand mentions of your website and ask for backlinks. This is an easy way of building new backlinks without the need to create fresh content.

Expert roundups participation – Participate in expert roundups by providing expert opinions, quotes, and answers to questions. Simply add a backlink to these and get backlinks from each expert roundup that you participate in.

Quora answers – Join Quora and answer questions related to your industry or niche. Establish yourself as an expert by giving valuable information and links to other useful resources on your website.

HARO answers – You can also answer questions on the HARO (help a reporter out) platform and add backlinks to the answers you provide. This helps establish you as an industry expert and earn backlinks easily.

Directory listings/citations – Get your business listed on Google My Business (GMB) and other local directories. Add your website link to each listing and earn backlinks from these directories.

Guidelines for Link Building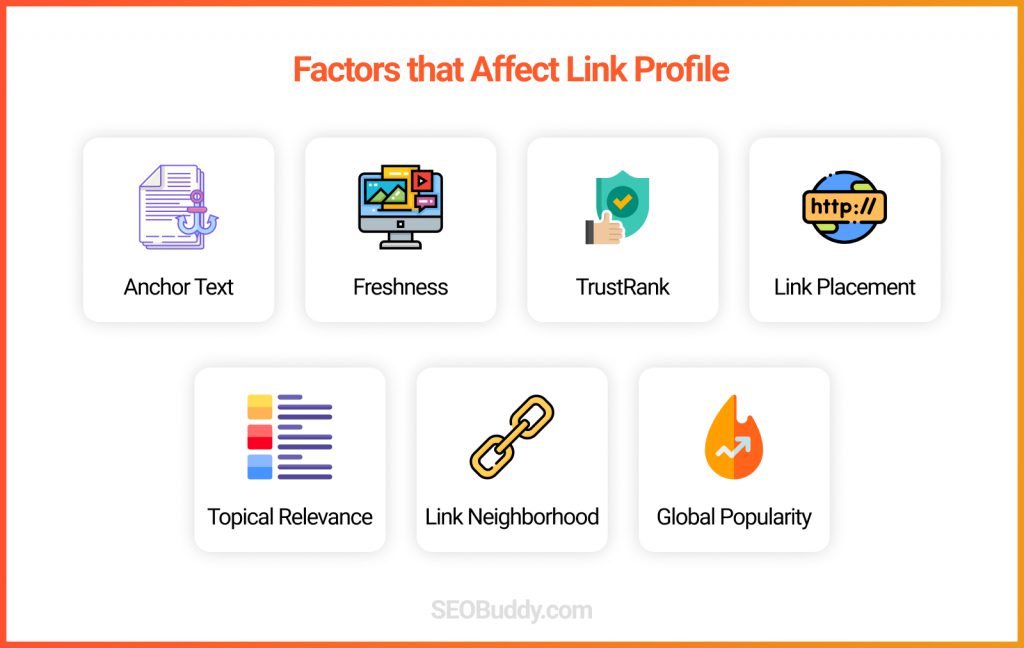 Follow these guidelines to create a strong link profile and earn quality backlinks to your website.
Anchor Text – Use a relevant anchor text that tells users exactly where they will be directed if they click on a link. Use branded anchor texts, where appropriate.

Freshness – Add links from fresh or regularly updated pages as those are considered more relevant and hold more weight than links from old/outdated pages.

TrustRank – Links from authoritative and trusted websites hold more value, so focus on building more backlinks from trusted sites and avoid any spammy sites.

Link Placement – Make sure that your backlinks are placed within the main content on a page and not on the sidebar, header, footer, etc. Links from the main content hold more value.

Topical Relevance – Backlinks to related content or topics are more powerful than links to unrelated content. So, make sure that all the backlinks you build direct people to related content.

Link Neighborhood – Avoid links from spammy sites, sites with too many external links or ads, sites with bad content, etc. These all are considered bad link neighborhoods in the SEO world and can deteriorate your link profile.

Global Popularity – Try to earn links from popular pages that a lot of other pages are linking to. A page that gets linked a lot shows that it is trusted and popular. So, when you get a backlink from it, it passes off some of that trust and authority.
Social Media Marketing
Does social media affect SEO?
The short answer is YES.
According to an experiment conducted by Hootsuite, there is a direct correlation between social media activity and an increase in search rankings. Their experiment delivered the following results:
Organic social media activity boosted the search visibility by 12%.
Boosted or paid social activity increased search visibility by 22%.
This clearly shows that social media is an indirect ranking signal and important for SEO.
The best way to leverage social media is to build a strong social reputation and direct traffic to your website.

You can use social media for off-page SEO to:
Build a Reputation – Maintain an active presence on social media, respond to customer comments, engage in conversations, etc.
Drive Website Traffic – Use links in bio and other social media content to drive social traffic to your website.
Engage Your Audience – Engage your audience with useful and relevant content to foster stronger relationships and brand loyalty.
If you build a good social media reputation and get enough social traffic, it sends a trust signal to Google and other search engines showing that your website is trusted and legit. This, in turn, helps in search rankings.
FAQs
1. What is off-page SEO?
Off-page SEO is the practice of doing activities outside of the website that helps web pages rank high on SERP (search engines results pages). Off-page SEO is more than just link building.
It revolves around building backlinks to your website, improving your website's trust and reputation, and attracting local audiences through directory citations.
It helps to create a checklist so that you don't miss anything important. Luckily for you, we have done all the work for you and created a detailed SEO Checklist that covers everything you need to improve your SEO.
2. What is off-page activity in SEO?
Some of the most effective activities that should be a part of your off-page SEO strategy are:
Guest posting
Content marketing
Infographics syndication
Local SEO
Social media marketing
Digital PR
These off-page optimization tactics help with link building as well as trust-building.
3. What is on-page SEO and off-page SEO?
On-page SEO refers to the activities done on a website to improve its rankings, while off-page SEO involves activities outside of the website. Both aim to increase website traffic, authority, and rankings.
4. How do you do off-page SEO?
A large part of off-page SEO strategy focuses on link building from authoritative websites in a niche. This is usually done using link-building tactics like guest blogging, expert roundups participation, infographics syndication, etc.
Off-page SEO also involves activities like trust-building, online reputation building, local SEO, and social media marketing.
5. What is a good SEO score?
Domain authority is a great way to measure your website's SEO performance in a quantitative way. A domain authority score of 40 and above is generally considered good.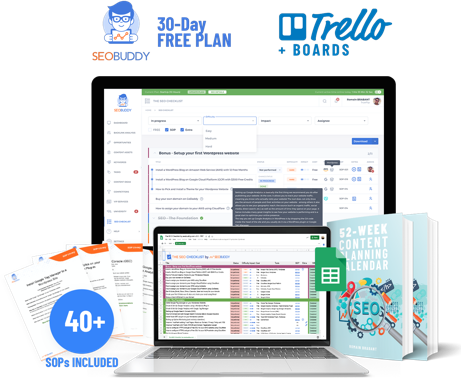 There's more…
Now it's time to discover the other 102 steps that will get more organic traffic flowing to your website. Get the SEO Checklist here.
Want to get a sneak peek of what it looks like?
Enter your email and get a free demo version of the SEO Checklist.
Conclusion
Off-page SEO is one of the most important elements of SEO and you can't ignore it.
So, use this post as a reference and start building backlinks and trust for your website.
Ready to kick off your off-page SEO efforts? Get our complete SEO checklist for more advanced tips and tricks on how to improve your SERP rankings.
Also, if you have any further questions on this topic, feel free to leave a comment below.