SERP Analysis: What It Is and Why It Matters
If you want your website to rank for a specific keyword, you first need to know what's currently ranking and why. Otherwise, there's no way you'll be able to optimize your own website to rank for your chosen keywords.
This is why analyzing Search Engine Results Pages (SERPs) is so important, but with Google changing its algorithm 9 times per day (on average) you need a method for staying on top of the ever-changing search results.
Doing this will give you valuable insights into how to why your content isn't ranking as well as you want it to or isn't even ranking at all.
In this guide, we're covering the exact steps you can take to run a manual SERP analysis and apply the results to your own search engine optimization (SEO) strategy. Before we dive right in, let's take a look at and get you the answers to some common questions.
What Is SERP Analysis?
SERP analysis is the process of analyzing the top-ranking websites in the search results for a given keyword to determine whether the keyword is relevant to your website and presents ample opportunity for you to outrank your competitors.

This is inherently an important part of the keyword research process because it assists you in finding keywords that your site has the highest possibility of ranking for. It also enables you to identify competitive advantages that might help you rank your website above the competition.

Beyond this, there are also a number of other benefits that we'll cover in this post…
What Is Competitive Analysis?
Competitive analysis is the process of carrying out research with the aim of collecting and keeping track of competing companies, brands and businesses. It's considered essential to keep a pulse on the industry and ensure that you can work towards staying one step ahead of your competition.
The Benefits of Conducting a SERP Analysis
Analyzing SERPs is not just about looking at the search results and copying what the top sites are doing. Instead, it's about analyzing what the top-ranking sites are doing right so you can identify new optimization strategies, find keywords worth targeting with new content, and, last but definitely not least, backlink opportunities.
Here are a few additional benefits of running a SERP analysis:
Analyze top-ranking websites to find competitive advantages
Identify new keywords and backlink opportunities
Find creative content ideas
Determine a target word count range for your content
Find ways to optimize for featured snippets
Find commonalities in content structure (H2s, bulleted lists, etc.)
And even finding new product or feature ideas
Running a SERP analysis is a vital step in any SEO strategy and planning process.
Doing so will give you a much clearer idea and help you stay focused, but how do you keep track of all of this information?
We're glad you asked, so without further ado – let's dive right in 🏊‍♂️
How to Do a Manual SERP Analysis – 5 Steps
While there are many tools that automate the SERP analysis process, we recommend doing a manual SERP analysis (with the help of SEO tools) so you really do get the full picture. Keep in mind that with SEO the ultimate goal is still and always will be to create content that's valuable to users as well as optimized for search.
Below, we've outlined the 5 steps to conducting SERP analysis with the help of SEO Buddy.
Step 1: Identify Relevant Keywords 🕵️‍♂️
The first step in the SERP analysis process is to identify keywords that are relevant to your website (and ideally also your business model).
So, what does this include? Well for starters:
Keywords that you are targeting (aiming to rank for) with existing content
If you're running a manual SERP analysis in this first situation, it is beneficial as it allows you to keep a pulse on what's working for keywords that you are aiming to rank for with existing content.
You may often realize that keywords you don't rank for are the ones where you failed to consider whether or not the content asset you've created is actually relevant to searchers.
Keywords that you wish to rank for with new content
It's more efficient to conduct a SERP analysis before you start producing content because it will save you both time and money in the long run. When doing this, you'll want to examine the intention behind the user's searches.
A great example of this is if you are thinking of ranking for "Thailand Travel Guide", you should be considering whether the user is looking for an informative guide about traveling in Thailand or an actual human guide to show them around Thailand.
Obviously, depending on what is working and currently ranking, you'll be able to identify what content you'll need to create if you want to have a running chance to rank alongside and hopefully also above the currently ranking websites in due course.
If we just head to Google to type in this keyword and quickly glance at the results, we can see that the results reflect in-depth guides for how to travel in Thailand.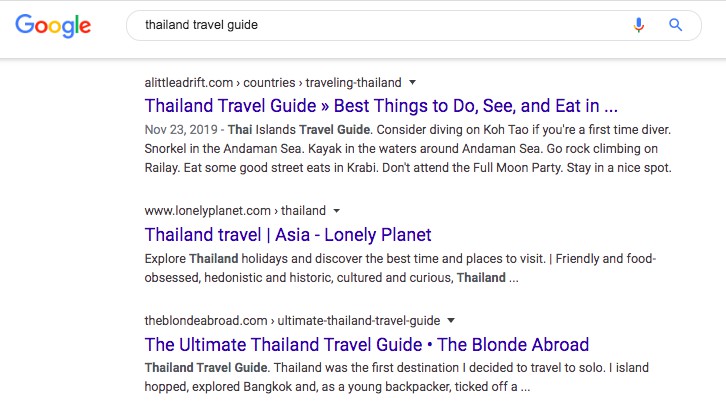 So obviously, it would not make sense to target this keyword with a service page about certified travel guide services, if this is the business that you're in, but this is an arbitrary example that applies to any business, in any industry with any business model. 🎯
Keywords that are otherwise related to your website's industry/niche or parallel industries
In this third scenario, there are a number of benefits. Apart from understanding the competitive landscape, you'll also keep an eye on what's going on in your industry and discover new backlink opportunities that are actually worth pursuing.
---
We'll go through examples of each of the above scenarios and how you can keep track of everything in SEO Buddy, but in short, there will always be three aims when conducting a SERP analysis:
Identify what's working – keeping a pulse on your competition
Finding new content ideas
Finding backlink opportunities
Step 2: Add Your Keywords To SEO Buddy 🏷
Once you've identified the keywords for which you want to analyze & prospect the SERPs, it's time to add that keyword in your SEO Buddy project.
Whenever you add keywords, SEO Buddy will automatically generate tasks tailored to the keywords you are targeting. So once the task has been generated and you come back to SEO Buddy ready to start analyzing SERPs, here's what you'll see.

You'll see that a task has been generated to review the search engine results for the keyword that you just added a few moments ago. This page here shows you a significant amount of information related to the task and also allows you to group tasks, which only touches the surface on the benefits of carrying out this process using SEO Buddy instead of messy spreadsheets. Don't worry, that's something we'll look at later in this article.
Now that you've added your keyword to your SEO Buddy dashboard, it's time to start prospecting and analyzing your organic competitors.
To get started, simply click start on the tasks page of your dashboard – as highlighted below.

Once you click start, you'll be taken to SEO Buddy's Prospecting Module.
This is where the process of actually analyzing search engine results pages and keeping track of competitors, new content ideas as well as backlink opportunities take place.
If this is your first time using SEO Buddy, the onboarding wizard will also guide you through the entire process and you're also more than welcome to book a call with us at any time using the "book a demo" widget in the bottom, right-hand corner of this page.
So, as you can see in the background of the above image, we're fully ready to start prospecting with the very first website already loaded and ready to be logged as a backlink opportunity, competitor, and/or content idea.
If a website ranking for the keyword you've entered is one you simply want to ignore for whatever reason, then you can also choose to ignore it and move onto the next prospect. If you do so, you will conveniently not be shown this website again throughout the duration of this task (or any other tasks in this task group).
Step 4: Put The Data From Your SERP Analysis To Good Use 👨‍💻
Let's be real. Conducting a SERP analysis on its own is not going to help your website rank. However, what truly will is when you put the data into action, and this can be done in a number of ways.
Depending on how you choose to categorize or tag a website during the prospecting process, they will appear in one, two, or all three of the following areas (unless you chose to ignore the website in which case they will appear in none).
1. Your Content Ideas
Let's kick things off with my personal favorite. The SEO Buddy Content Ideas tab visible in your dashboard is where you have a kanban view of all of the content ideas you've identified during the prospecting process or added manually.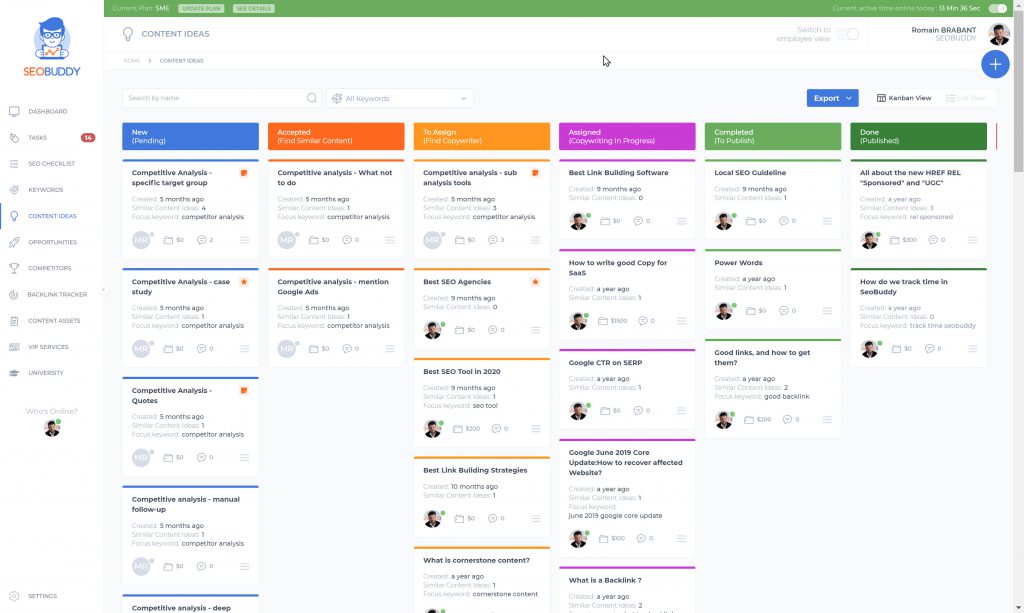 This is the perfect place to keep track of your content production workflow and understand what you should be focusing on when it comes to creating new content as well as updating existing content.
2. Backlink Opportunities
As you might've guessed, the backlink opportunities section is where you'll be presented with all of the websites that you logged as opportunities during the prospecting process.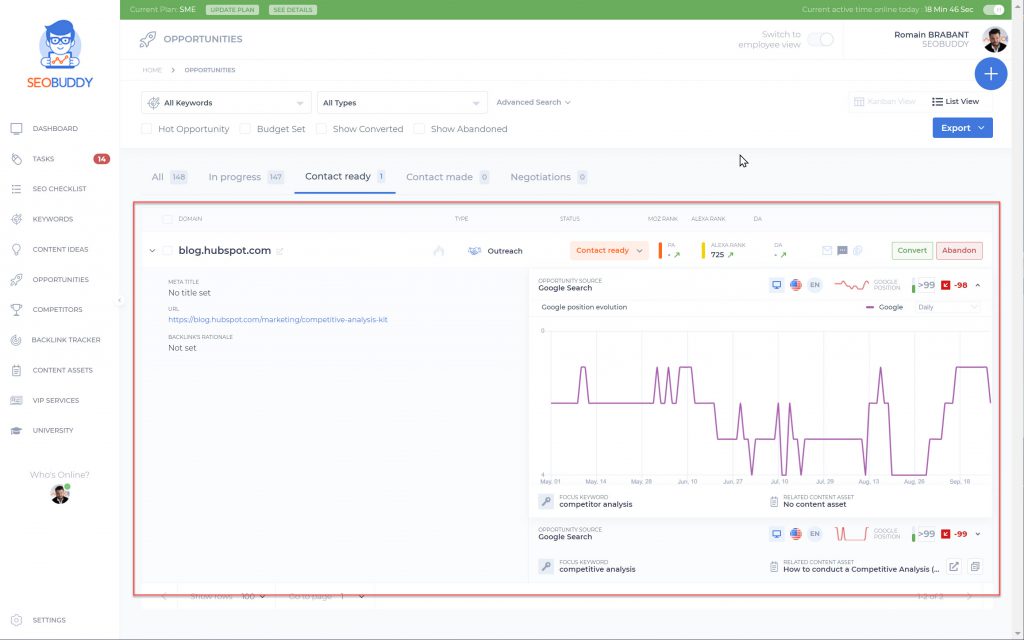 3. Competitors
And last but not least the SEO Buddy Competitors tab is where you can keep an eye on all of the websites that you've identified are competitors.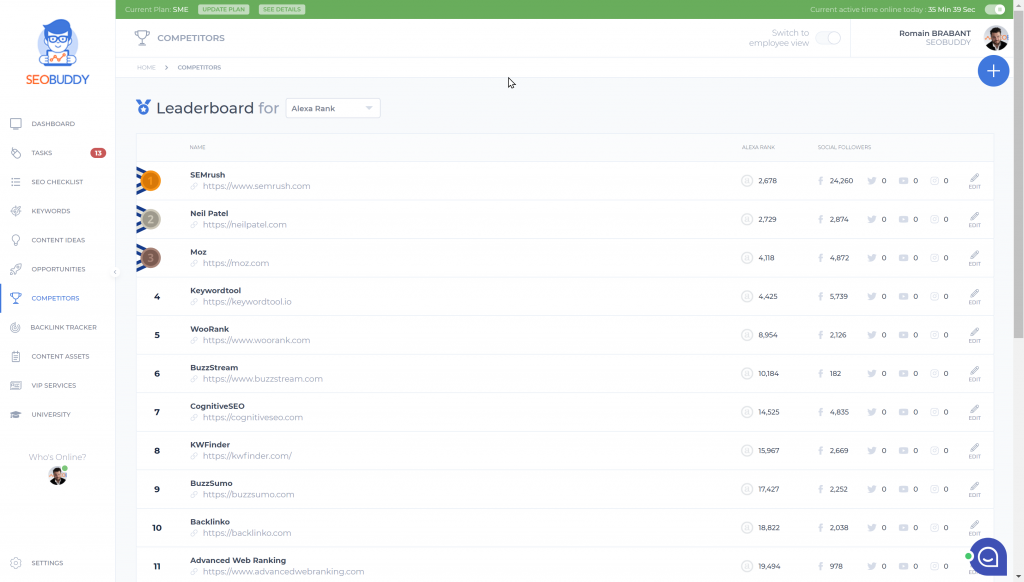 Here you will be shown the following information:
Domain and page authority (Alexa score)
Citation and trust flow
Total backlinks vs new backlinks
Rank position
And more.
With this information, you can lay out a strategy for how to improve your website's authority, earn more backlinks, use keywords in a different way, write better-quality content, etc.
Your goal here is to see what the top-ranking sites are doing and figure out a way to do it better – which is one of the best ways to start outranking your competitors.
SEO Buddy vs. Messy Spreadsheets
Before SEO Buddy: Everyone is stressed, backlink opportunities, content ideas, and information about your competition are scattered and hard to keep track of. Managing everything is virtually impossible.

With SEO Buddy: You got this. Everything is organized in one place, you never waste time setting up spreadsheets or analyzing the same websites and pages multiple times. You can actually stay on top of things and put in the consistent effort that is required for SEO to work.
If you've been following along, you will have seen how SEO Buddy really takes the legwork out of the SERP analysis process throughout the rest of the article. Sure, we're biased but one of the reasons SEO Buddy was built was to make our own lives easier.
Without a solution like SEO Buddy, you'll end up with dozens of Google Sheets (or even worse, Excel Spreadsheets) where you try and create a makeshift solution to keep track of all of your backlink opportunities, content ideas and competitors. But the truth is that a system like that won't cut it in the long-term.
Not only would you spend countless hours analyzing the same websites and accidentally reaching out to the same people when link building, but you'll never be able to put in the consistent effort that it takes.
Search results change frequently and whatever makeshift system you might have to analyze search engine results pages is so time-consuming that you are most likely not going to use it or only use it once per keyword.
While with SEO Buddy, you'll automatically know which new pages are ranking in the top 100 that are worth prospecting and analyzing so doing it on a consistent basis becomes a breeze.
Dominate SERPs with SEO Buddy 📈
Running a SERP analysis is made easy when you have the right process and the best tools at your fingertips. While you can conduct a manual SERP analysis without any software, tools like SEO Buddy help you save loads of time so you can start seeing results, faster.
Throughout the entire process, you can use SEO Buddy to conduct in-depth SERP research and keep track of what you find to actually use it to your advantage & drive rankings. From competitive analysis to finding backlink opportunities to spying on the competition, you have the tools you need to gain a competitive edge.
Start your free 7-day trial of SEO Buddy to conduct your own SERP analysis today.