How To Find More Relevant and Natural Backlink Opportunities
It's no secret that finding backlink opportunities that are both relevant and natural is becoming increasingly difficult.
Let's start at the beginning by taking a look at what a backlink actually is.
What is a backlink?
A backlink for a given web resource is a link from another website to that web resource. A web resource is defined as a website, web page, or a web directory. A backlink is a reference comparable to a
citation
.
How do I earn a backlink?
We are going to review the different ways you can earn backlinks organically, which will help your website grow in the SERPs. We are also going to cover the tools you need to be successful. In this article, we'll be taking a look at the following ways in which you can earn & land backlink opportunities for your website:
The Tools You'll Need 🧰
Ahrefs or SEMrush
Ahrefs helps you learn why your competitors rank so high and what you need to do to outrank them (in their very own words). Create an account and conduct a full competitor analysis that will help you build a competitor backlink strategy.
SEMrush is similar in that it helps you track, monitor and conduct competitor analysis. It is important to cross-reference these tools to make sure your data stacks up. Use both of these tools to find articles including your competitors and reach out to be included.
SEO Buddy
We're obviously a bit biased here, but SEO Buddy really does take the legwork out of manual SERP analysis.
By automating and breaking everything down into short, enjoyable sprints of 20 minutes. The days of using messy Google Sheets to keep track of backlink opportunities, content ideas, and more that you discover in search are gone – all thanks to SEO Buddy…
#1 – Manual SERP Analysis 🕵️‍♂️
Manual SERP analysis is one of my personal favorite ways to do a number of things in SEO.
Why? Well, I'm glad you asked. 😅
The answer is simple. Before I even think of ranking for a certain keyword, I conduct a competitive analysis of Google Search Engine Results Pages. Without doing this, I'd waste both time & money by not understanding the competitive landscape which answers key questions I should consider:
Is it possible to rank for this keyword?
What kind of content do I need to create to rank?
What websites am I competing with?
Are there other relevant content ideas that I should consider covering?
What are some sites worth approaching to build links?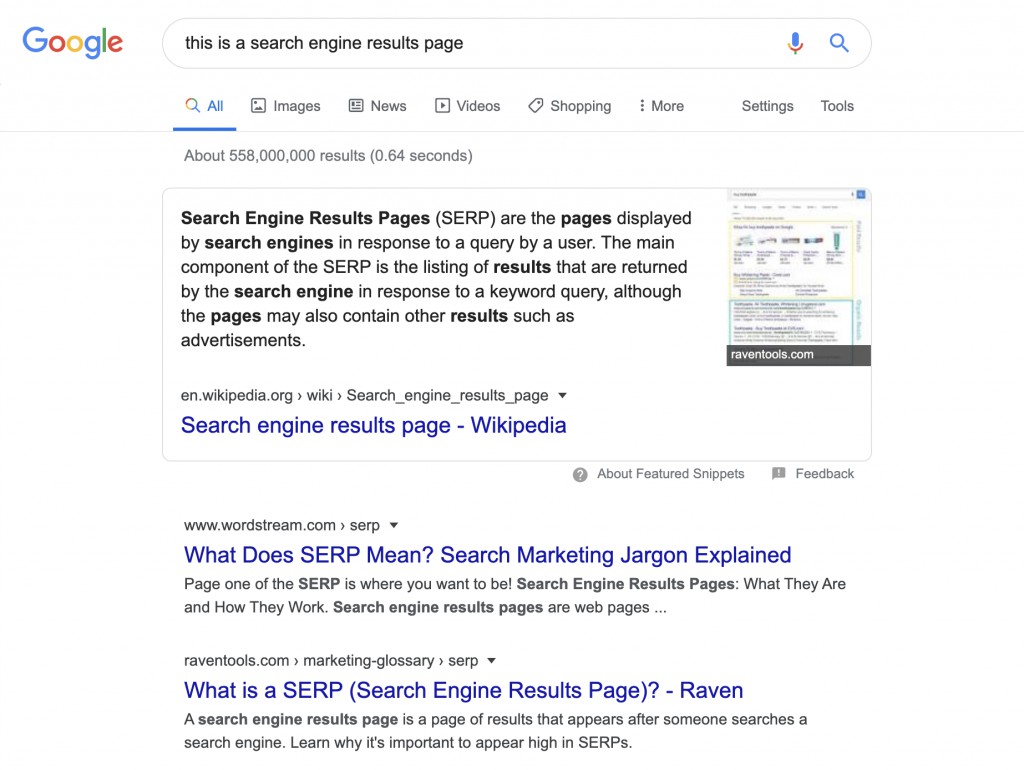 Regardless if you're just starting out or already have the money to afford expensive tools like Ahrefs, actually looking at search results to find out what's working and ranking is incredibly important.
What is a SERP?
SERPs are search engine results pages. These pages are where you'll find content that is currently ranking for the search term you have just entered.
Manual SERP analysis is the process of searching the top ranking websites to evaluate whether the keyword you want to rank for is relevant and to calculate how to outrank your competitors. It is a very important part of keyword research.
While you can easily perform manual SERP analysis without additional software, keeping track of the results and opportunities you find is an absolute mess.
Fortunately, this is one of the reasons we created SEO Buddy.
What You'll Need:
Simply log into SEO Buddy to begin a manual SERP analysis and enter your domain in the Dashboard. Here are the goals of conducting a manual SERP analysis:
Ensure you're targeting the right keywords for SERPs
Ensure the content you're producing is relevant
Assess your ability to outrank the competition
Create content that matches search intent
Be sure to check the 'click data' and featured snippets as well. Just because you are trying to rank high in the SERPs does not necessarily mean it will be showing on the search page. Be sure to research how to be incorporated into Featured Snippets and get higher click data with your keywords.
You will also need to analyze your secondary keywords as well! Plug them into SEO Buddy to be sure you are optimizing your reach with keyword rank.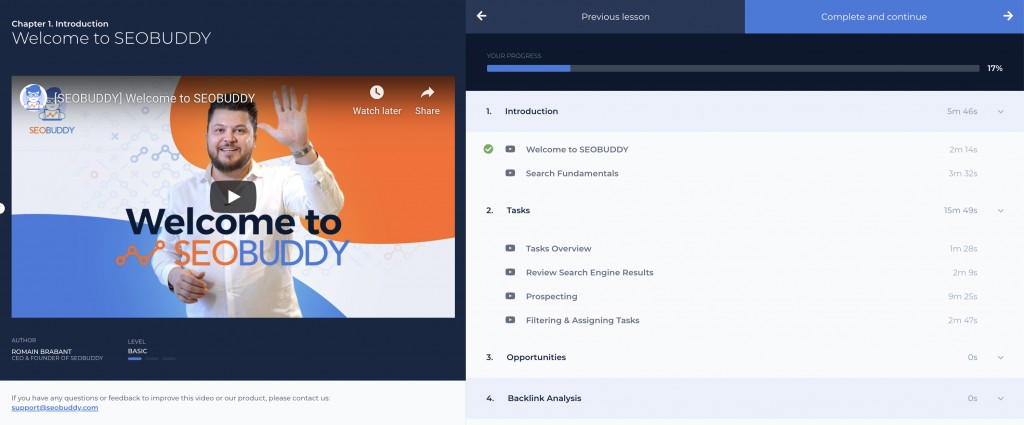 PRO TIP: Set your keywords to backlink analysis in SEO Buddy and find out who has linked to you in previous articles!
#2 – Guest Posting 🛎
Guest posting is without a doubt one of the best ways to both build your site's authority as well as build a name for yourself in the industry. After all, it's easy to forget but link building isn't all about improving your site's authority. It's also about contributing to other popular websites is a great way to tap into an existing audience, provide them with value and grow your following.
What is a Guest Post?
A guest post is a piece of content that you contribute to a website that is not your own. It is typically recommended that you solely do this on renowned blogs in the industry so you are able to tap into and help an existing audience…
The art of guest posting is a tedious but prosperous process. First, you will need to build a list of high domain authority websites to target. In doing your research, you will find websites that are authorities in your industry, have higher website traffic and a large social following. SEO Buddy is a great tool for this as well!
Our advice before you reach out to contribute content is to follow their journey digitally. Be sure to fan, friend and follow their social media accounts as well as engage with them on their community networks. As a show of good faith, be sure to share their content with a compliment. Reach out and introduce yourself and attempt to connect on LinkedIn. These are all valuable ways to start a fruitful partnership.
Once you have compiled your list and connected online, you will then need to review the guest post guidelines provided by the host. Be sure to follow their rules very carefully, as it can be a very arduous challenge if not. Submission guidelines are key to satisfying each party involved.
What You'll Need:
SEO Buddy
Guest Post Tracker
Google Drive
SEO Buddy will help you find websites that are already ranking for the keywords that you're targetting so that you know which sites to pitch for guest posts.
Once you create an account, you will be able to conduct keyword research, backlinking opportunities and monitor high domain authority websites. This is the perfect research tool for guest posting!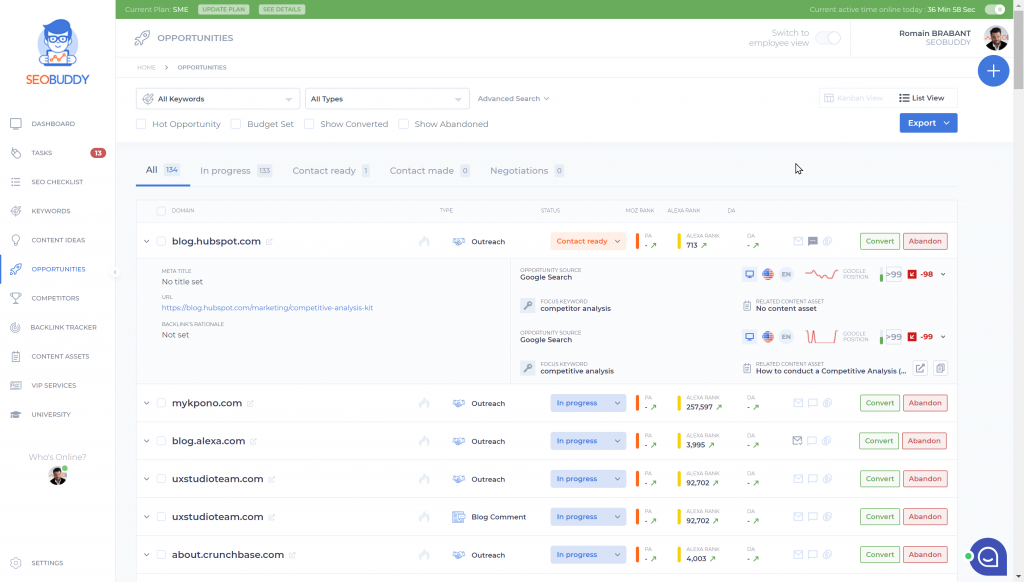 As someone who has contributed to other websites in the past, it is no secret that Google Drive is essential to getting things done. Simply because most of the time you will not receive access to the backend of the website you are contributing to and will need to go through multiple revisions and make a number of changes because it is suitable…
#3 – Competitor Link Building 🥊
This may be new to you if you're just getting into link building. Often, you keep an eye on what your competitors are doing, but have you ever thought of using them to build links?
What is competitor link building?
Competitor link building is the process of finding out who links to your competitors and attempt to get them to link to you instead.
Now that you know what competitor link building is, it's worth mentioning that this is not something that's easy to do. The first – and perhaps most common – way is to offer your product or service as more valuable or a better resource to be included. This would take on a sales pitch approach, so be ready to prove why you're better than your competitors.
In both cases, you want to encourage a partnership, content swap or social share so that you are offering something in return. Be sure to state this upfront so you will increase the chances for inclusion.
What You'll Need:
Ahrefs or SEMrush
SEO Buddy
#4 – Broken Link Building 💔
What is broken link building? Glad you asked!
What is broken link building?
A tactic to find a broken or dead link online and recreate the content. Next, you would research who is linking to that broken link and encourage them to link to your recreated and updated content instead. It benefits both parties because dead links are obviously not ideal.
Another way to find backlink opportunities is to find an outdated article that has broken links or dead links to competitors. You can then ask them to update the article with a fresh, relevant link to yours and this will bring additional traffic.
First, you need to find those broken links! Conduct thorough research to form a list of broken links that pertain to the keywords or general topics that you're targeting.
You can also find external links or domains that are broken as well to further your list of content to recreate. Once your list is complete, it's time to recreate more valuable, relatable content!
When your content is ready to be shared, it's then just the simple process of reaching out to them via email and letting them know about the broken link on their website as well as nonchalantly sharing your updated link as a replacement.
What You'll Need:
Again, Ahrefs and SEMrush are excellent tools for broken link building. They have a 'broken link' research tool embedded in the dashboard for this specific reason. There is an extensive article and knowledge base breaking down the exact ways you can extract broken links and use them to your advantage. We encourage you to check that out!
#5 – Collaboration & Partnerships 🤝
This is by far the most difficult way, but also our personal favorite and the most natural way to land high-authority backlinks.
Strategic collaboration and partnerships between websites & companies are great link building and business opportunities.
We recommend creating a comprehensive list of "dream partners" that you would want to collaborate/partner with in some way at some point. It is important to note that if you're an early-stage startup or company it's likely going to be very difficult in order to be able to make an offer that is mutually beneficial and your potential partners will agree to.
PRO TIP: The key to a successful partnership is making sure that while you do want something from them, that is not the sole purpose of the partnership and that, all in all, it should also be mutually beneficial.
Once you've connected with your ideal partner, it's time to hit the ground running and think of creative ways you can collaborate. This can involve a number of things, including offering to host a webinar, feature them on a podcast, create a workshop or write a blog post highlighting their team. These are some typical ideas, but there really are a number of other ways partners can tap into each others' audiences – we suggest scheduling a video call to meet them in person as this is the best way to put their mind at ease that you aren't simply trying to use them to further your career, business or grow your audience and actually care about what it is that they're doing as well…
What You'll Need:
We've gone over these two tools extensively as ways to build backlinks. Building partnerships is honestly no different!
Compile a list of resources and use SEO Buddy to research each keyword, Alexa Rank and domain authority for the potential partners to reach out to. As you do this in SEO Buddy, you can easily and conveniently keep track of each opportunity as well as add notes that you think off on the fly, which is far more convenient to deal with than Google Sheets.
And once you've done this for a suitable number of sites, you can either reach out to them individually, crafting an outreach email using the notes that you took in SEO Buddy.
Conclusion – Find Relevant & Suitable Backlinks with SEO Buddy 🚀
This shouldn't be news to you, but black-hat link building techniques are a thing of the past. It's time to keep up with the times and do content marketing like it's 2020, not 2010.
With the strategies described in this post, you'll find a number of ways to easily find both competitors as well as lucrative link building prospects so you can start increasing your website's authority with truly natural links.
While we still have you, here's a quick summary of the key takeaways in this post:
Analyze SERPs (search engine results pages) to find competitors and backlink opportunities so that you can work your way through them.
Search for relevant guest blogging opportunities
Find and approach websites linking to your competitors
Collaborate and partner with people in your industry
Start your free 7-day trial of SEO Buddy today to start prospecting websites actually ranking for keywords you're targeting to find relevant backlink opportunities.