How to Find and Leverage Expired Domains for SEO
Did you know that you could buy expired domains and use them to improve your SEO?
Well, a lot of people don't. Sadly, despite its effectiveness, using expired domains remains an underrated SEO strategy.
In this post, you will learn all about the benefits of using expired domains and how they can help you boost traffic and authority. You will also learn the top places to buy expired domains and ways to leverage them to your advantage.
Ready to go further on your SEO journey?
Keep reading.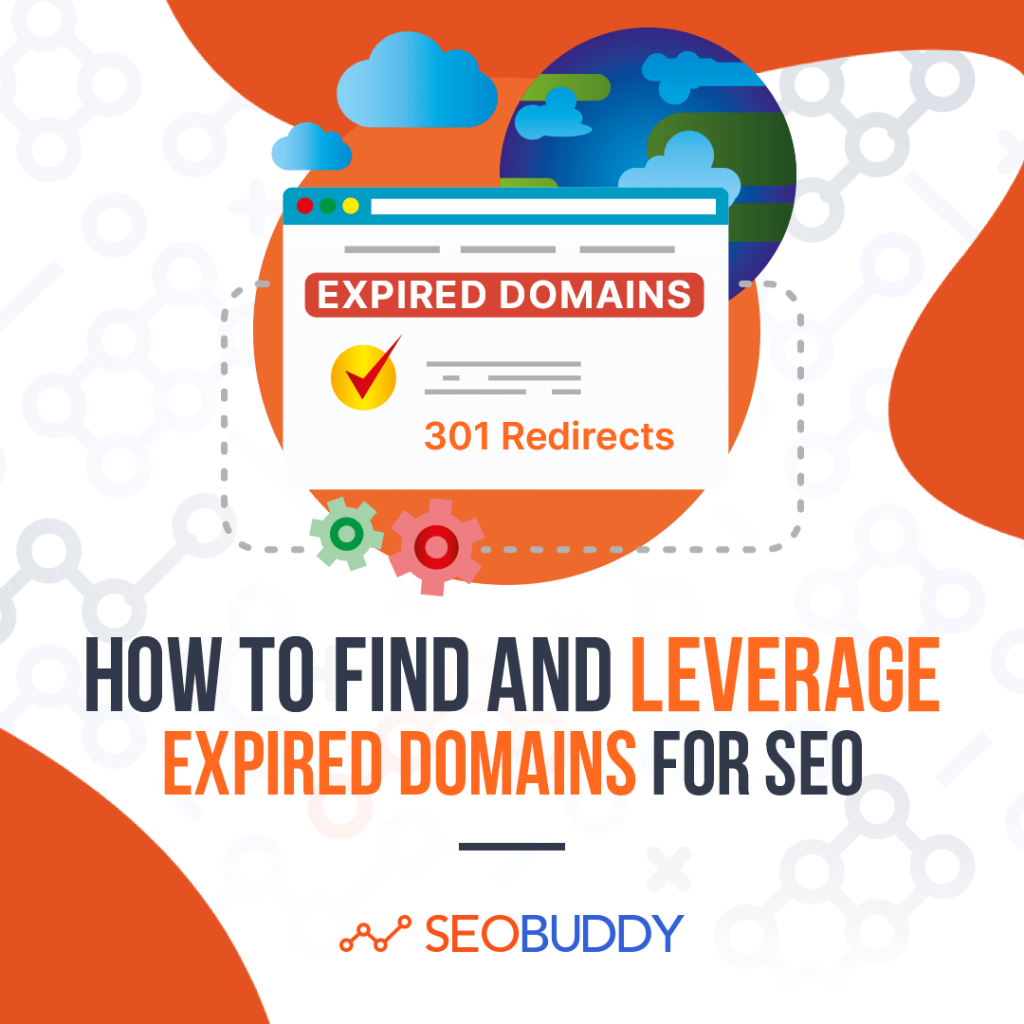 What are Expired Domains?
When you buy a domain, it's not a one-time purchase, but you need to make annual payments to keep using the domain. When site owners do not renew their domain registration, the domain gets expired.
In such cases, the host renders such domains/websites inactive.
The site owners usually get some grace period to extend their payments after which the domain can be sold off at auction sites by the host.
But why would someone purchase expired domains?
Find out in the next section.
Why Should You Search for Expired Domains?
Expired domains were once active websites and may have accrued some authority and traffic while they were active. When you purchase expired domains, you get all these benefits in the deal.
Basically, if you play your cards right, you can get lucrative expired domains that still have some authority and backlinks.
Here are some of the ways you can use expired domains.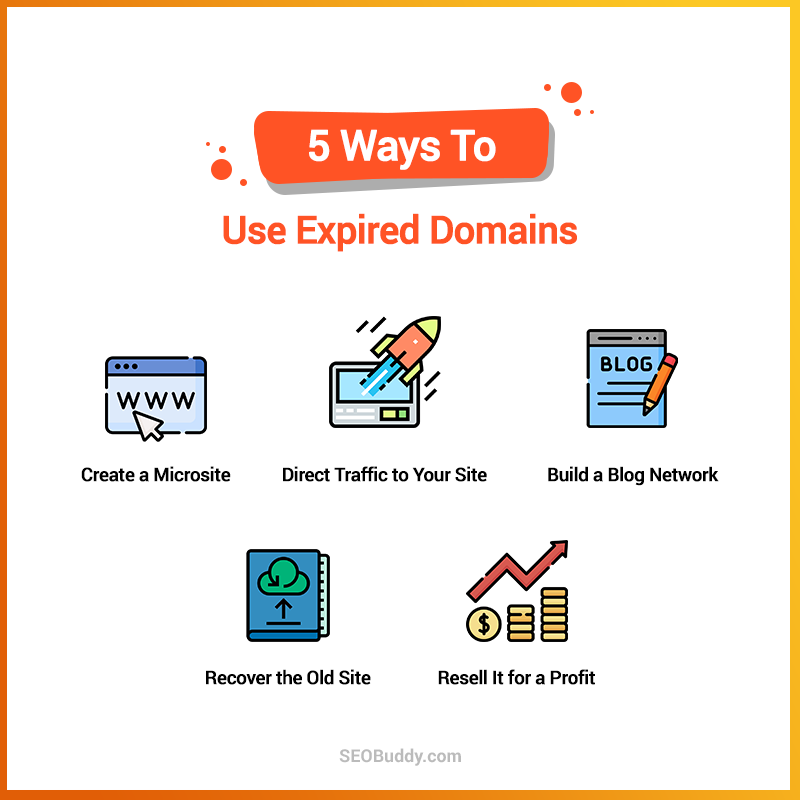 Create a Microsite
You can take advantage of expired domains' authority by creating a microsite within your main website. Use such domains to create a set of relevant web pages (microsite) that will work independently within your main site.
This will not only help you get more traffic but will also improve your website's authority,
Direct Traffic to Your Site
Another way to leverage expired domains to get more traffic to your website is by setting up 301 redirects. If the expired domain had a steady flow of traffic before it got inactive, chances are that it will get some of it back once it becomes active again.
How can you capitalize on that?
Set up redirects from individual web pages on that website to corresponding pages on yours. This way, you'll instantly earn some of the traffic that the domain was getting.
How?
301 redirects essentially tell search engines that the content or the page has moved to a new location. So, Google will consider the new page (where a redirect is pointing) as the updated location for the old content. 301 redirects will send all the traffic and link juice to the new page.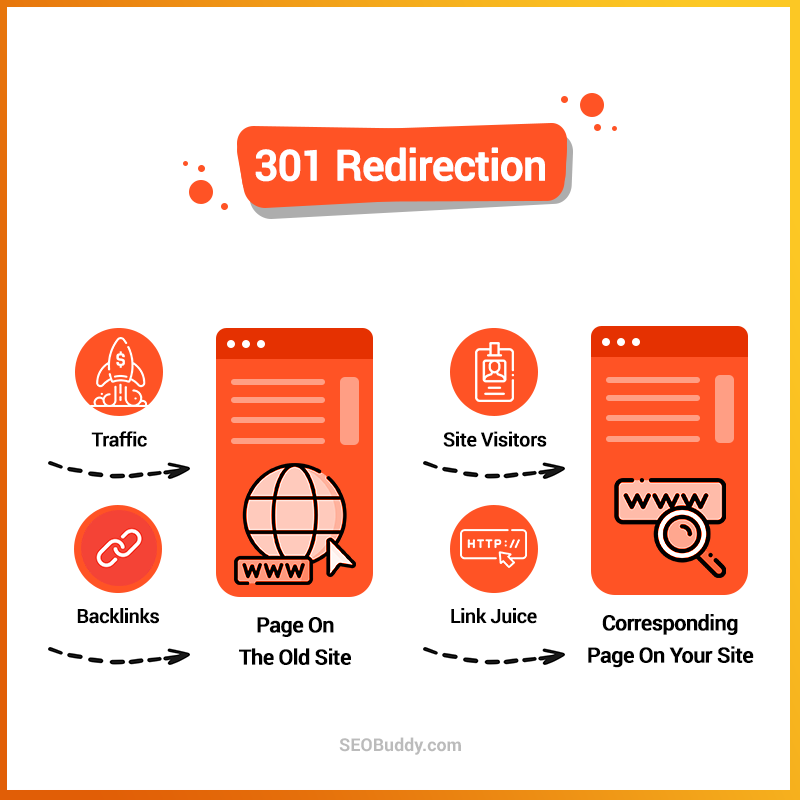 However, for this tactic to work, you need to set up 1:1 redirects for every page on the old site to your main site, with the same or similar content. That is why it is important that you buy expired domains within your niche.
Build a Blog Network
This strategy works best if you buy several expired domains within your niche and use them for building backlinks to your main site.
You can create an entire network of blogs with relevant content pertaining to your niche and have them link each other and to your main site.
Recover the Old Site
Sometimes you may find expired domains that have good content relevant to your niche and a decent amount of traffic and authority. In such cases, you may simply recover the old site and use it for your benefit.
Building authority for a new site may take years. Using expired domains can give you a headstart as it would already have some authority and good content.
Resell It for a Profit
This is not exactly one of the SEO tactics, but just another way in which you can use expired domains. You can buy expired domains that you think will be in demand and sell them for a profit to people who want them more than you.
Well, now that you know why expired domains are useful for SEO, let's discuss how to find expired domains that you can use.
Ready to get started?
Here you go.
How to Find Expired Domains
There are different types of tools that you can use to find expired domains in your niche. Almost all of these will provide you with search filters to sort the list and find exactly what you're looking for.
Ready to learn the different types of tools at your disposal?
Here you go.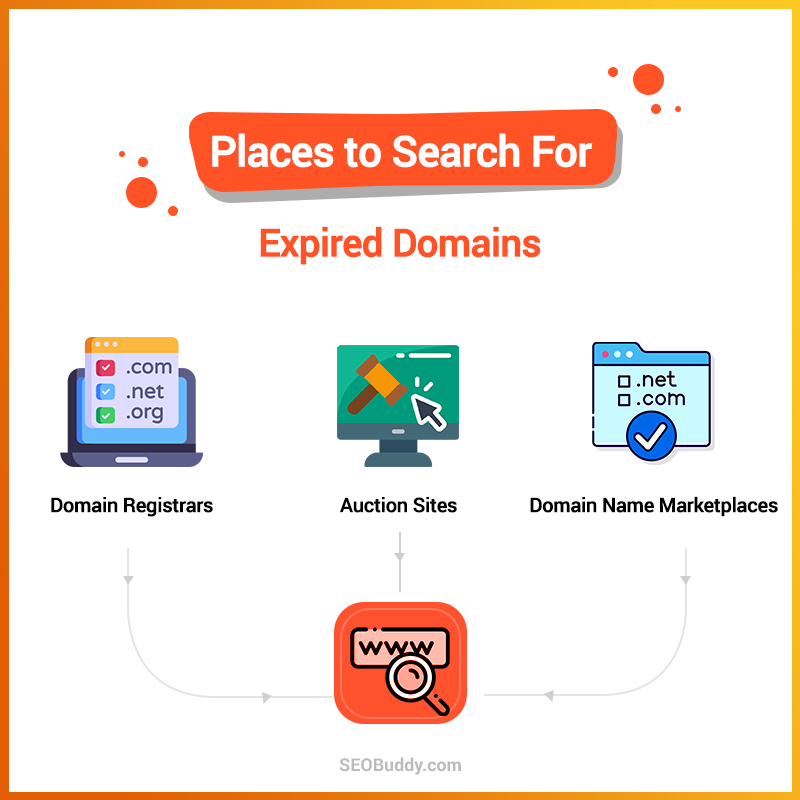 Domain Registrars
Domain registrars are basically the sites from which you can buy domains. These sites have a complete list of available, active, and expired domains.
Using domain registrars like GoDaddy, you can find high-quality expired domains within your niche. These sites usually have enough filters to help you find the right types of expired domains that you need.
You can, for example, search for expired domain names by keywords, traffic, domain age, extensions, and more.
GoDaddy also runs domain name auctions, so you can bid for the expired domains that you like. Or you can simply find the owner of an existing domain and contact the owner to see if they're willing to sell.
Another registrar that is great for finding expired domain names is DomCop. You can use it to find expired domains with high-quality backlinks that will directly help you with SEO.

Pro Tip: Another advantage of buying from a registrar is that there will be no downtime and you won't need to change the registrar after purchase.
Auction Sites
These are the sites where hosts can sell expired domains that have been inactive for a while. These may be registrars or third-party sites that deal specifically with auctions.
The only disadvantage of taking this route is that there is no upper limit on the price of a domain as it depends on how much people are willing to bid. So, if you get into a bidding war with someone, the prices can rise rapidly.
Still, it is an effective way to get your hands on coveted expired domains in your niche.
Here are a few auction sites that you can check: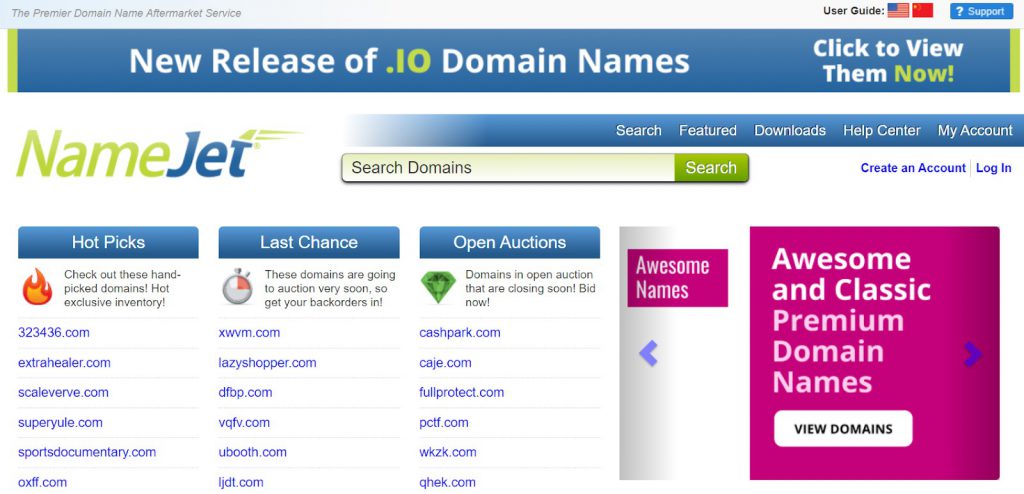 You simply need to create an account, provide your credit card information, and start bidding. The platform charges a 2.5% transaction fee for both the sale and purchase of expired domains.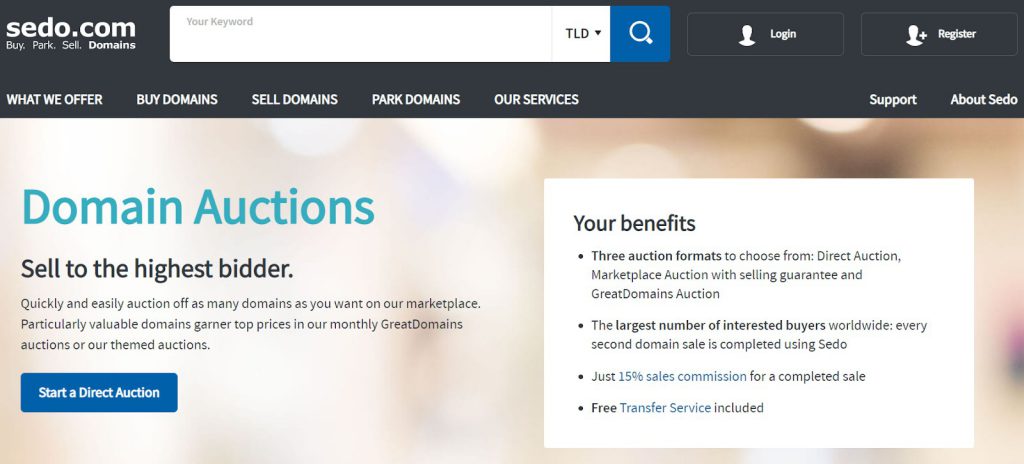 This is another good auction site that you can use to quickly find relevant expired domains. It also offers three different types of auction formats to choose from and takes a 15% commission on all completed transactions.
Domain Name Marketplaces
Marketplaces differ from auction sites in one key aspect—the prices are fixed and, more often than not, you can see the exact price of each domain.
That makes these sites one of the most direct and quickest ways of buying expired domains.
Want to know the best part?
You can search for relevant domains using search filters like domain age, price, niche, etc.
So, which sites should you use for this purpose?
Here are some of the most popular sites to find expired domains.

This site will simply give you a huge list of expired domains—no fuss, no lengthy process, simply a database of expired domains. You can then use its many filters to find the relevant domains for your business. The best part is that it is free to sign-up and start using all of its amazing features.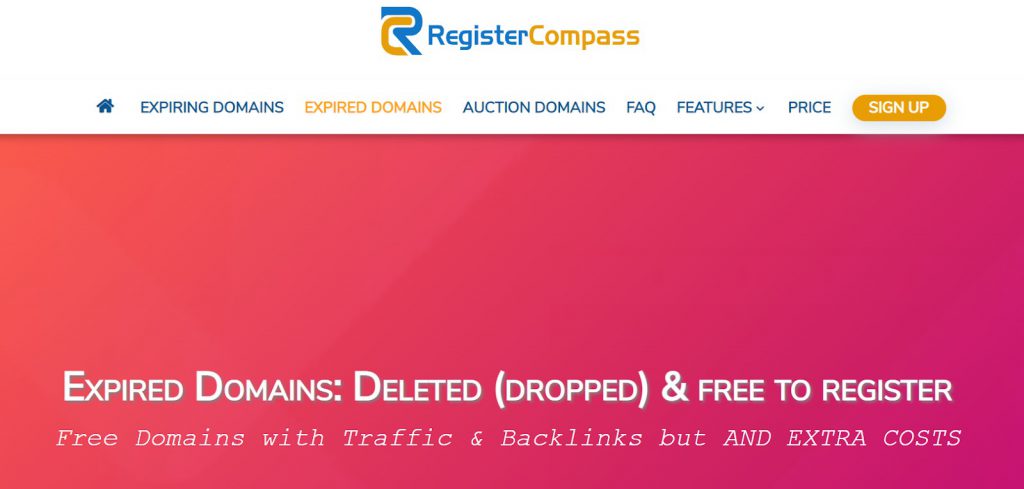 This is another site where you can easily find expired domains within any niche. it has a database of over 1.5 million expired domains for you to choose from. To use this tool, however, you need to buy their paid plan that costs $37 per month. You can also go for quarterly, annual, and lifetime plans.

This is one of the best sites to find expired domains because it gives you an overall "SpamZilla Score" to assess the quality of a domain. It checks spam, backlinks, domain authority, and all other important metrics to find the best expired domains for you.It also has some of the most advanced filters to find the perfect expired domains for your business. They have a free plan that allows you to review 25 domains and a paid plan for $37 per month.
How to Select the Right Expired Domains
While expired domains can be really useful for SEO, not all domains are worth investing in. You need to vet the expired domains to select the most relevant and useful ones.
How?
Use the following parameters to judge a domain before you make a purchase.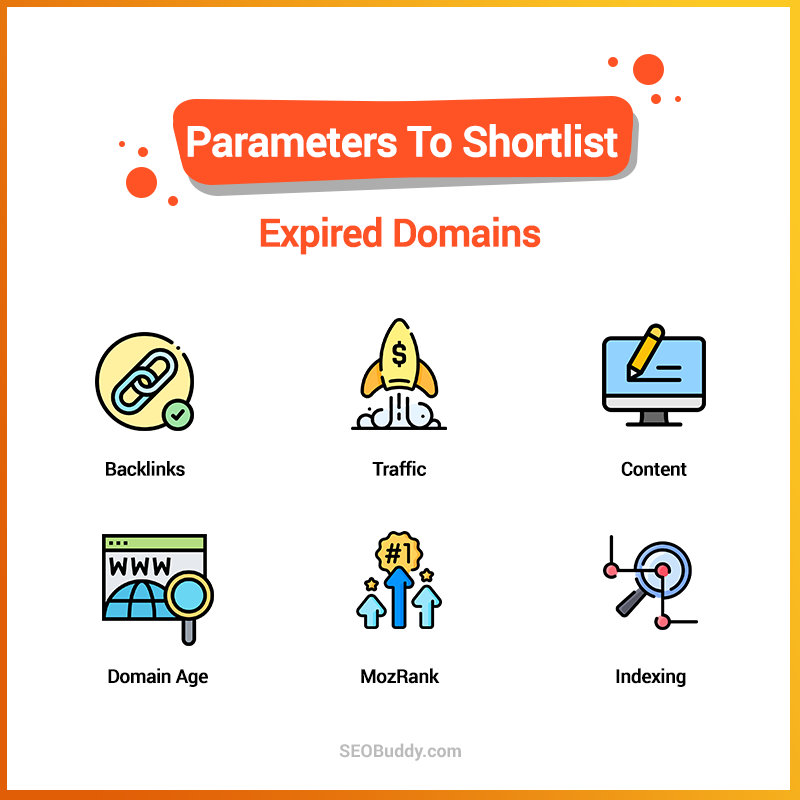 Backlinks
Analyze the backlink profile of the expired domains that you wish to purchase. A good site will have:
A natural backlink profile
Tons of backlinks from authoritative websites
Backlinks from websites in your niche
You can use any of the popular SEO tools like Semrush and Ahrefs to conduct a thorough analysis of a domain's backlink profile.
Using Ahrefs' "Backlink Checker" for example, you can analyze the backlinks of any domain simply by typing its URL.

You will then get a detailed report with important metrics like the number of referring domains and the number of backlinks.

Also, check the toxicity score and conduct a thorough backlink audit to assess the quality of these backlinks.
This is probably the most important parameter to assess the value of a domain, so pay special attention to it. Furthermore, backlinks are one of the most important Google ranking factors.
Once you are sure that the domain you want to buy has a solid backlink profile, move to the next set of parameters.
Traffic
When buying expired domains, make sure that you buy the ones that had a steady flow of traffic when they were active. Chances are, when you make these domains active again, they will get some of that traffic.
High traffic also indicates that the site has good content that users found relevant and useful. So, that gives you an added advantage.
Content
Make sure that the expired domains you're interested in buying have high-quality content related to your niche.
Otherwise, it will be a waste. No matter how good the content is, if it's not related to your industry, it's not useful for you.
But how can you check the content of an inactive website?
You can check the archived version of any website on the Internet Archive.

Domain Age
First things first—domain age is not the same as website age. A domain is as old as the first time it was registered.
So, how does it matter?
Well, older domains usually hold more SEO value, given that they had a clean history.
There are many domain age checker tools like DupliChecker's Domain Age Checker that you can use to find this information.
Domain Authority
One of the most important aspects to look at is the authority that a domain has accrued over the years. You can use MozRank to check any domain's page authority and domain authority.

MozRank analyzes both of these and gives a score out of 100. The higher the score, the better the authority of a domain.
As a rule of thumb, only buy expired domains with a score of more than 25.
You can also check Ahrefs' "Domain Rating" metric to assess the authority of any domain. Simply use its free "Website Authority Checker" and type the domain URL and you will get the domain rating.


Indexing
Any website or web page is only useful for SEO if it is properly indexed by Google. Non-indexed pages may as well not exist, as they don't make any contribution to SEO.
Use the Google Search Console to find out the indexing status of a domain, particularly, how it looked like when Google last crawled it.
There is absolutely no point in buying expired domains that Google never indexed. So, always check this aspect before you buy an expired domain.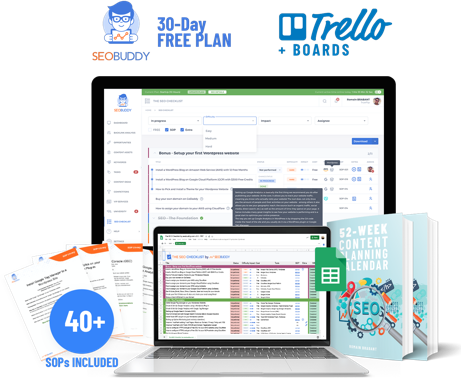 There's more…
Now it's time to discover the other 102 steps that will get more organic traffic flowing to your website. Get the SEO Checklist here.
Want to get a sneak peek of what it looks like?
Enter your email and get a free demo version of the SEO Checklist.
Bonus Tips
When selecting an expired domain you should also check for domain name and history.
Go for domain names that are relevant to your niche, short, memorable, and useful. Going for names like abcxyz.com is not going to be useful for you.
Next, check the domain's history to ensure that the site was never penalized or into some spammy stuff.
How?
Simply go to the Internet Archive (https://archive.org/) and search for the domain's history. If the site has remained more or less similar over the years then that's a good sign.
You can also search for the domain's historical traffic data on Ahrefs to see if there have been any major dips, which would be a sign of a penalty.

Avoid such expired domains that have had unexplained traffic dips as this might be due to a Google penalty.
FAQs
1. Do expired domains still work?
No, expired domains are rendered inactive after their owner fails to pay for their registration renewal.
However, you can buy expired domains, make them active again, and use them to your advantage. If you do it right, expired domains can really help you boost your web traffic, rankings, and even authority.
2. Can we buy expired domains?
Yes, you can find expired domains from one of the following places:
Domain registrars – these are sites that sell domains and often have the option to sell expired domains as well. Some of these, like GoDaddy, may also provide the option to bid in an auction for expired domains.
Auction sites – these are the sites where expired domains are auctioned off to the highest bidder.
Domain name marketplaces – these are specialized expired domain finder sites that help you find the right domains for some commission. Most of these sites will have advanced search filters to help you sort through the list of expired domains and choose the best ones.
3. What domains are expiring?
If you want to be proactive and buy expiring domains that are still active, then you can do it using some of the domain finder sites like RegisterCompass. It has a separate section for expiring domains where you can search for domains that are due to expire within the next five days.
It is a smart strategy to look for expiring domains as these are not inactive yet and haven't lost their traffic or authority due to that. If you make a purchase just after a domain expires, you won't require much effort to revamp it to its full glory.
4. Why should I buy expired domains?
Expired domains can help you with your SEO if you learn how to use them. You can use these expired domains to:
Create a microsite
Direct traffic to your site
Build a blog network
Recover the old site
Resell for a profit
Some expired domains would have had a good amount of traffic and authority before they became inactive. You can take advantage of such expired domains to boost your own web traffic, rankings, and authority.
5. How can I audit expired domains?
You can audit and select the perfect expired domains by vetting them on the following parameters:
Backlinks – Buy domains with high-quality backlinks from authoritative sites in your niche.
Traffic – Choose domains that have a steady flow of traffic, preferably those that match your target audience.
Content – Buy websites that have useful and relevant content that would resonate with your target audience.
Domain age – Older domains hold more value than newer ones, given that they had a clean history.
Domain Authority – Check the domain authority of a website before you decide to invest in it.
Indexing – Only buy websites that were properly indexed by Google, as non-indexed domains are practically useless.
Ready to Find and Use Expired Domains for SEO?
If you are starting a new website and want a headstart in terms of traffic and authority then using expired domains is your best option.
These are especially important for off-page SEO as these can instantly give you tons of backlinks and authority without doing anything at all.
You can either recover an old website and start using it or make it a part of your main website by creating a microsite. There are different ways to leverage such inactive domains and make them useful. Need more help with your SEO strategy to boost traffic, rankings, and authority? Download our ultimate SEO Checklist to up your SEO game and gain an advantage over your competitors.