How to avoid plagiarism in SEO?
Most of us have a basic grasp of what plagiarism is, but understanding the ins and outs can be quite complex. The internet is swirling with myths and misinformation about what constitutes plagiarism and how to protect yourself from it.
We'll walk you through everything you need to know about plagiarism in SEO and how to avoid plagiarism online.
What is Plagiarism?
Plagiarism is taking someone else's words or ideas and passing them off as your own without properly crediting the source.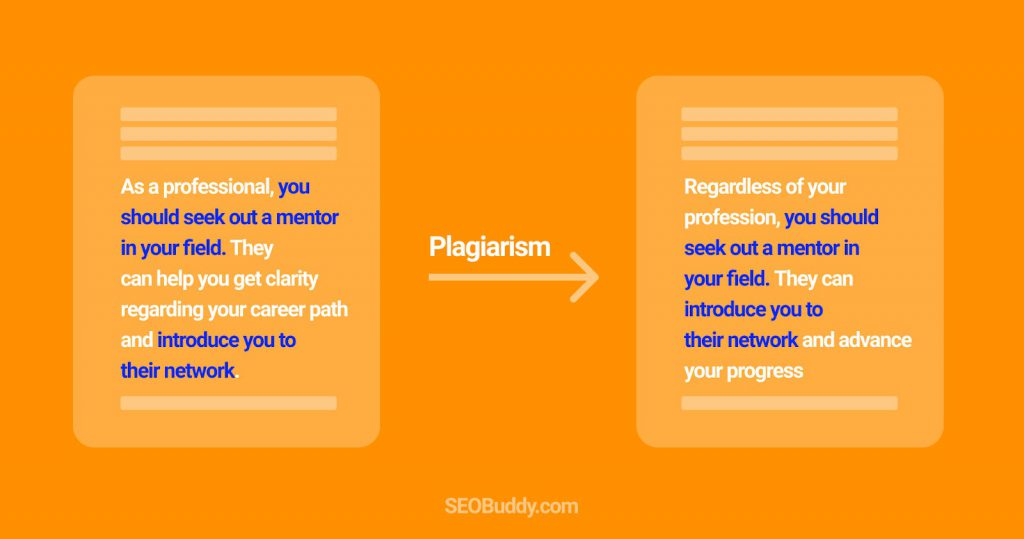 We often think of plagiarism as an intentional act, but plagiarism can be accidental, too. Sometimes words or phrases we've read stick in our minds, and we unintentionally repeat them in our writing. Other times, we may simply write some of the same content by pure coincidence.
Intentional or unintentional, plagiarism is an ethical and sometimes legal issue.
It can also hurt your SEO.
Degrees of SEO Plagiarism
We all want to avoid plagiarism! But first, we have to understand how to identify plagiarized content.
Plagiarism can come in a variety of forms in the SEO world. Let's explore the main categories so you can be alert and protect yourself.
Patchwriting
Patchwriting happens when a writer copies someone else's work but makes minor changes to disguise the duplication.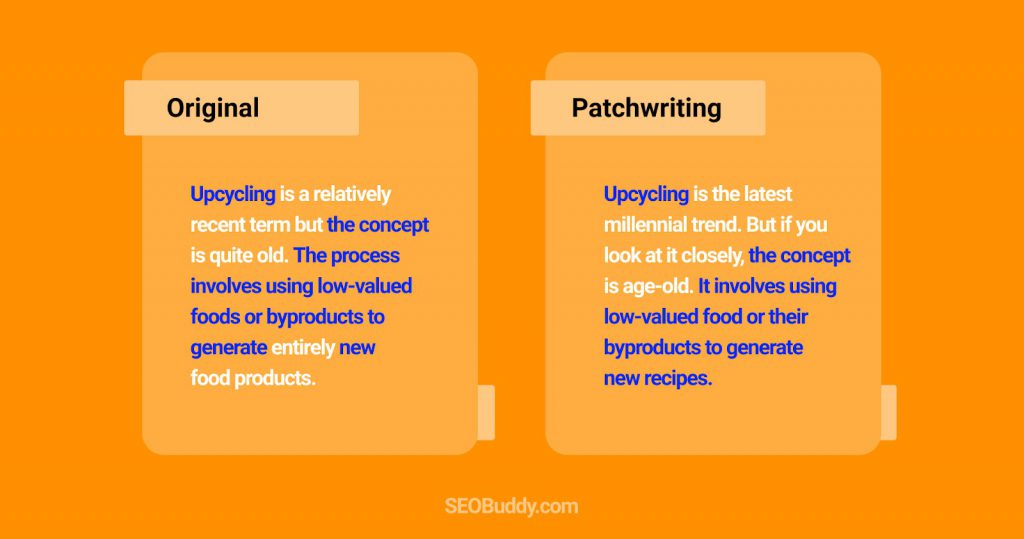 These small changes might include switching out a few words and moving some phrases around. However, the content is still very close to the original in its vocabulary and sentence structure but doesn't cite the source.
Patchwriting may avoid getting flagged by a search engine, but it is unethical and a fireable offense.
Copy-and-Paste
Copy-and-paste is what many of us think of as straightforward plagiarism: copying and pasting content from someone else without crediting them.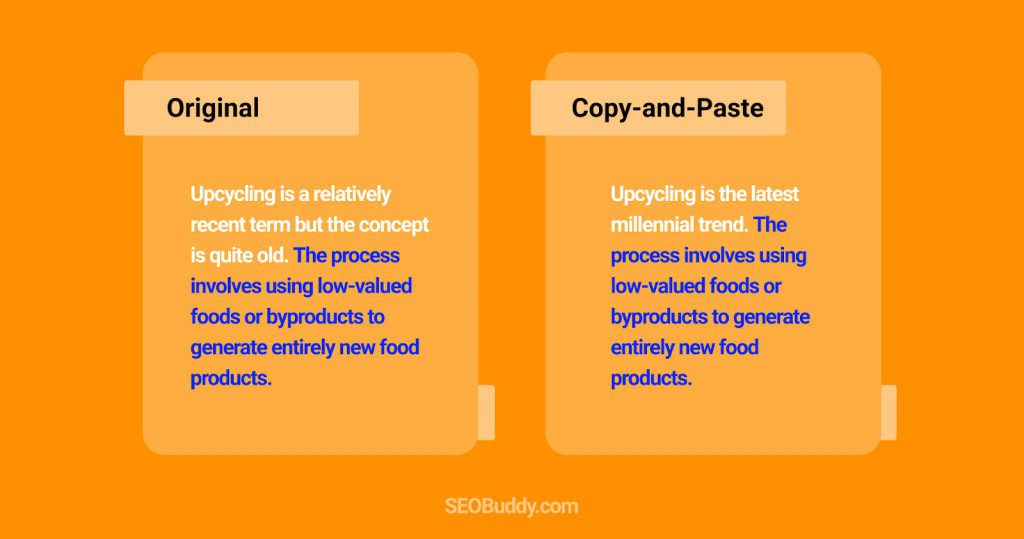 You might be shocked to find out that copy-and-paste plagiarism still exists in the age of search engines and anti-plagiarism tools, but it can still happen. You'll rarely see an entire article copied word for word.
More often, writers will copy and paste one or two paragraphs or a few sentences throughout the piece.
Accidental Plagiarism
As we mentioned before, some plagiarism happens by accident. Writers sometimes even plagiarize themselves without realizing it.
Accidental plagiarism can be prevalent in niche subject areas where writers struggle to find new ways to describe a topic.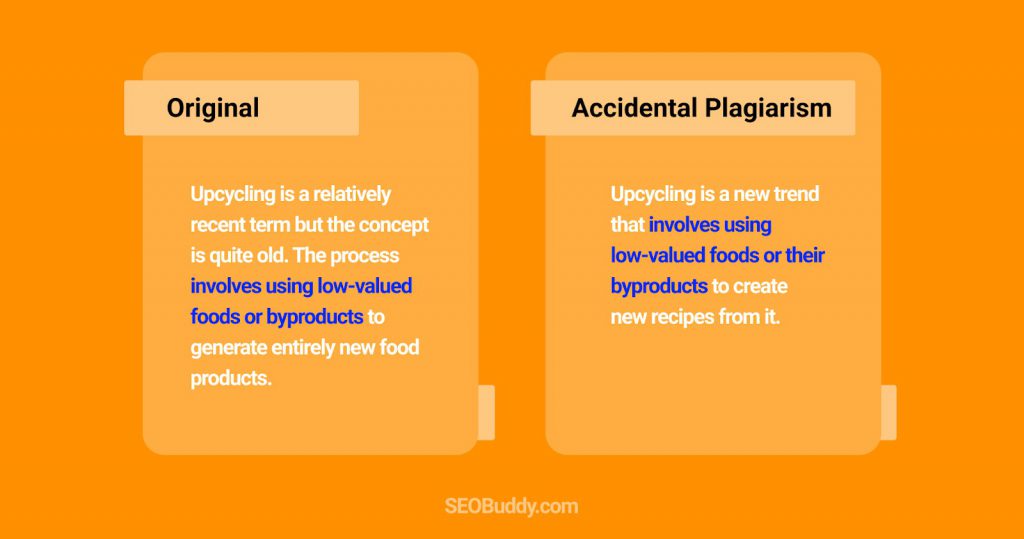 Plagiarism checkers are a critical tool to ensure you haven't accidentally copied someone else's work.
SEO and Plagiarism
In today's SEO landscape, similar content is everywhere.
Search engines analyze pages to find topical content for their results. So, writers use common keywords, phrases, and content to rank higher. That's part of what on-page SEO is!
However, too much similar content can hurt SEO rankings or even get the perpetrator into trouble.
Search engines can usually recognize plagiarism.
They will automatically list the older page to give credit to the original, and the plagiarized page won't be listed.
The best way to rank on search engine results pages is to provide fresh, unique content that readers will value. That's also the best experience for your customer.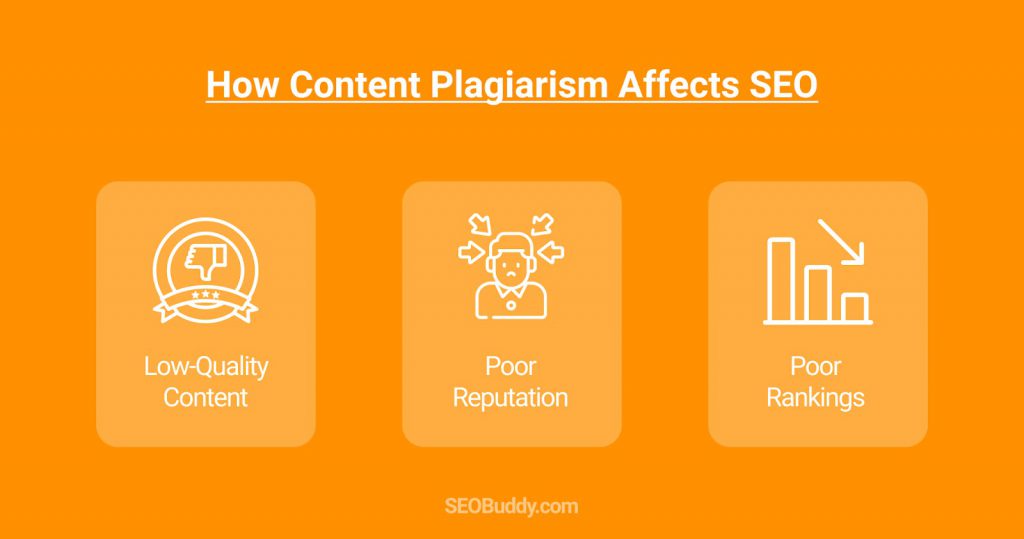 Plagiarism in SEO Can Hurt Both Sides
We all know plagiarism is a bad idea, and we should try to avoid it in our content.
Fortunately, in SEO, plagiarism tends to hurt the plagiarizer the most.
But what if you get plagiarized? Can you be mistaken for the plagiarizer?
The answer, unfortunately, is yes. But it shouldn't happen very often.
Generally, search engines will recognize the original. As long as your page came first, search engines will rank your content, not theirs.
However, in some rare cases, Google or other search engines may penalize both you and the plagiarizer – or assume you are the problem. While this seems profoundly unfair, you can do something about it. At the end of this article, we'll outline options for action when someone plagiarizes your work.
Is Duplicate Content Plagiarism?
In the online world, duplicate content generally refers to something separate from plagiarism.
Duplicate content is not exactly as harmful as plagiarized content. Here is what Google mentions about it:

Image via Google
Here is how duplicate content differs from plagiarized content:
Plagiarism is stealing words or ideas and selling them as your own.
Duplicate content is identical content that shows up on more than one web page. Duplicate content usually includes credit to the original.
Duplicate content is often acceptable. You may have duplicate content on your site if you have printer-only versions of your pages, an online store linked to multiple URLs, etc.
The way to control your ranking is by employing "canonicalization." This term means tagging the original page, so search engines know which to list. With a few canonical tags, you can ensure that this duplicate content isn't flagged or ranked incorrectly.
Search engines will consider duplicate content malicious when it is copied and reproduced intentionally to deceive search engines.
Best Ways to Avoid SEO Plagiarism (Checklist)
None of us want to plagiarize. But in an increasingly dense online marketplace, unintentional plagiarism may seem hard to avoid.
Use our handy checklist to make sure you're following best practices for how to avoid plagiarism.
Citing & Keeping Track of Sources
As you research a piece, make a list of sources. I like to keep tabs open on my web browser. I check my work to ensure I've credited any sources and haven't accidentally stolen content.
Check out how I've added a link to a post from Moz in one of my blog posts:

Image via SEO Buddy
If you want to include content similar to the original – like a statistic or fact – simply link directly to that source in your content. You should also request permission from the original author.
Make sure you review your content compared to your sources.
Paraphrase Correctly
If you choose to paraphrase a source, you should always cite them as well. However, you still need to make sure you paraphrase correctly. Let's compare plagiarizing to paraphrasing:
Plagiarizing is copying phrases word-for-word and/or using similar words in the same structure.
Paraphrasing is summarizing content in new words and a new structure. You convey the idea without using the exact words or outline.
If you see some content with an idea you also want to express, think of a fresh way to communicate it.
Or, if you are referencing the original text, paraphrasing it is a great way to maintain your voice. A good paraphrase will communicate the essential message of the original text but in a more direct, concise, and unique way.
Paraphrasing vs. Quoting
Before we move ahead, do you know what is the difference between paraphrasing and quoting?
Take a look at the graphic below to understand it better.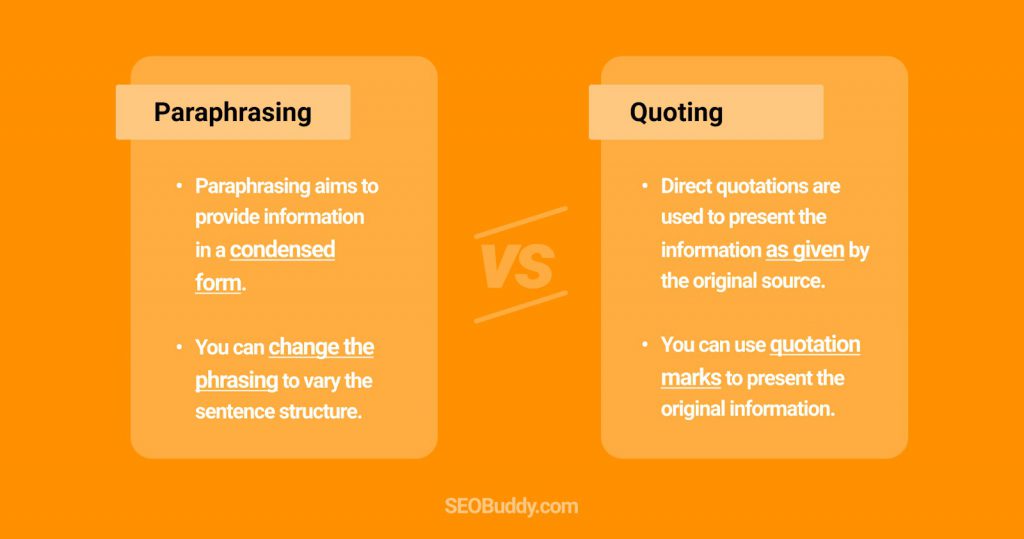 If you want to reference a source directly, you can paraphrase or quote them and cite them. In an SEO article, citing is as simple as linking directly to the original.
Paraphrasing: For longer passages, we recommend paraphrasing for simplicity. Link to the source you are paraphrasing.
Quoting: For a direct quote, you can copy the exact sentences word for word. You must use quotation marks around the section, and you should include a more direct citation in your piece by naming the source and linking.
To simplify paraphrasing, you can use handy tools like this sentence re-worder.
Showcase Original Ideas
In the world of SEO, because so many sites discuss the same topics, original ideas are a fantastic way to stand out from the crowd.
Brainstorm fresh themes and content.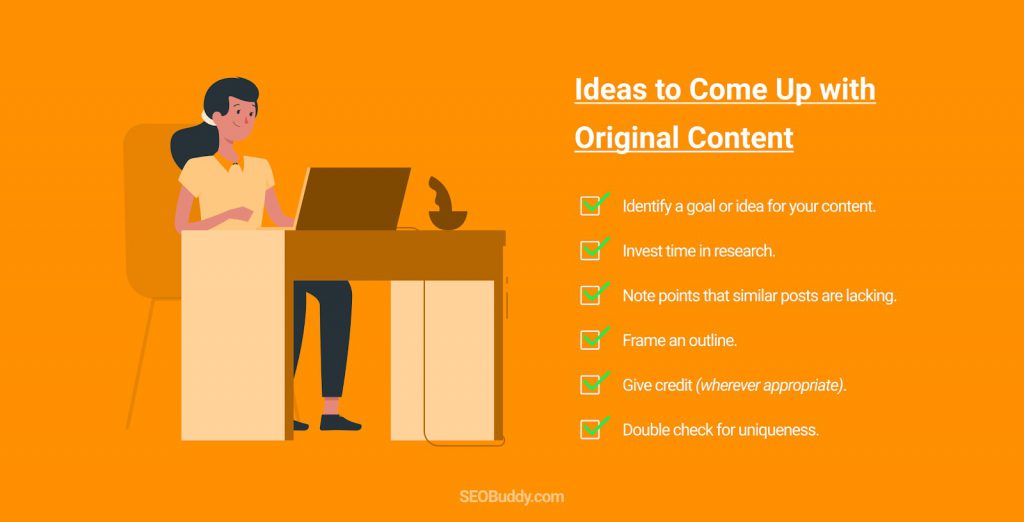 Even when you're covering a topic that isn't new, you can put a new spin on it. Use the following steps to ensure your content is fresh, no matter the subject:
Start with a blank document and do not copy and paste anything into it.
Identify the core goal, idea, and themes of the piece you wish to write.
As you research the topic, identify where other sources fall short. Note what works, and think about how you might emphasize the essential message.
Run your piece through a SERP analysis audit tool to ensure you include the optimal keywords and structure for your topic.
Outline your new piece with those goals in mind.
Run your finished article through a plagiarism checker to ensure you haven't stolen any content by accident.
Avoid Duplicate Structure
We generally think of plagiarism in terms of words, but you can plagiarize an outline, too. Even if your piece has different words, your article may be flagged if you follow the same outline as someone else.
Follow the same steps you did above to showcase original ideas. Consider what outline makes sense to get your message across.
If you need help with brainstorming ideas, you can use a platform like MindMeister.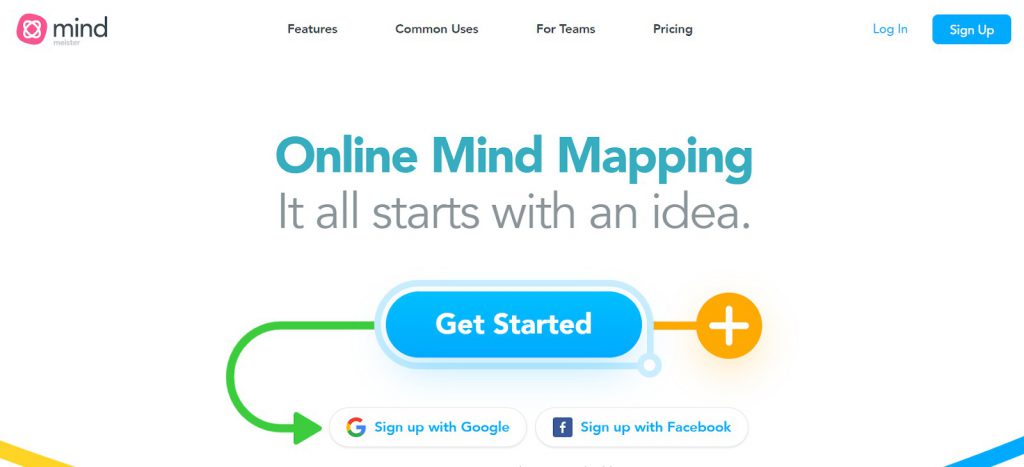 Image via MindMeister
Create an outline and structure without consulting other pieces. Then, compare your end product to your other sources to ensure you haven't accidentally taken content from them.
Check for Plagiarism Using a Plagiarism Checker
We understand what plagiarism is and how to avoid plagiarism. But how do you check for it in your work?
You can use several online services to check your work for duplicated content or check whether someone copied your content.
We've outlined the top 19 plagiarism-checking tools and how they stack up.
Grammarly is primarily a grammar checking service, but they will also scan your document and the web for matching content. Their plagiarism check isn't as robust as some other services, but the convenience is a plus.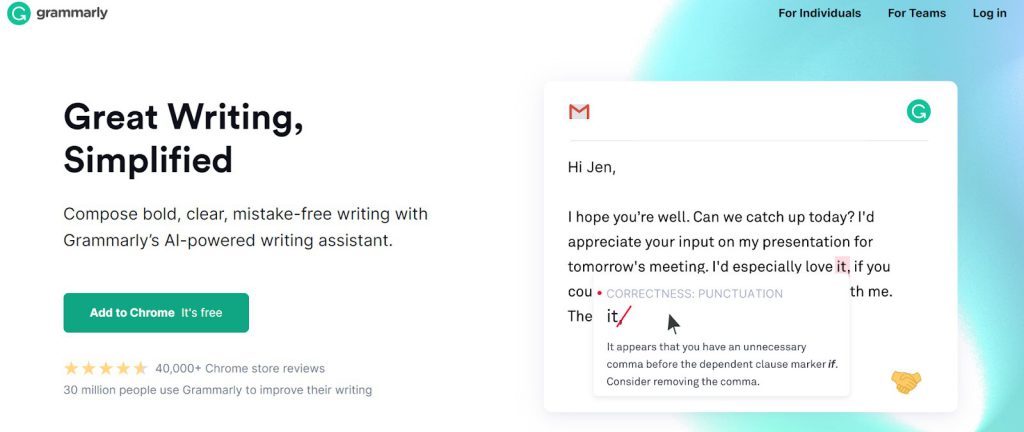 Image via Grammarly
Pros
All-in-one grammar and plagiarism tool
User-friendly interface
Cons
The plagiarism feature is subscription only
It doesn't detect patchwriting and isn't the most thorough tool
Copyscape is one of the original plagiarism checkers. Their scan is incredibly accurate and can handle bulk content. After scanning, Copyscape provides links to any hits and highlights the words or sections that match.
For full searches, you'll need to purchase their Premium service.

Image via Copyscape
Pros
An accurate and exhaustive search
Provides links and highlighted text for every match
Can handle bulk content
Cons
Full plagiarism search isn't free
Scribbr is geared toward students and academic writing and provides one of the most accurate plagiarism checks on the web.
Their reports will share the percentage of your work with duplicate content and highlight the sections that have a match online. The service is a bit pricey but delivers well.

Image via Scribbr
Pros
Highly accurate
Provides highlighted text on matches
Access to academic databases
Cons
Duplichecker offers a basic plagiarism check service for free. Like others, they will highlight the section that has a match. It's easy to use and reasonably accurate, but you have to sift through ads to get your results.

Image via Duplichecker
Pros
Cons
Not as accurate as a paid service
Ads hurt user experience
Plagramme is a budget-friendly option. For free, Plagramme will scan the web and show you what percent of your document matches other content. To see what words or phrases are duplicates, you pay a small fee. Overall, for the cheap cost, Plagramme does the job, but it's not the most accurate search out there.

Image via Plagramme
Pros
Free or low cost
Can handle bulk content
Cons
Not as accurate as others
May flag common phrases as plagiarism
Unicheck offers a full service with different pricing plans for personal, business, or educational use. The search can handle bulk content and is highly accurate. You can also edit your content directly in the system to see your match percentage drop.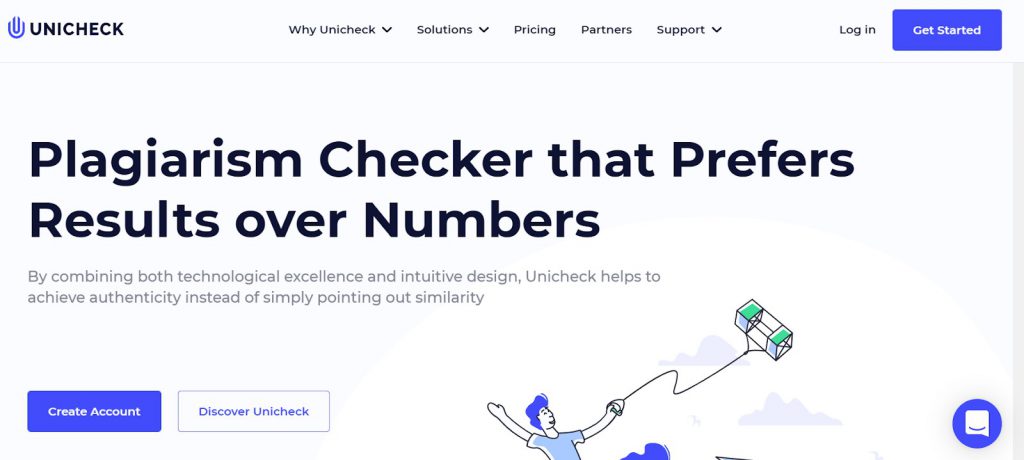 Image via Unicheck
Pros
Accurate search
User-friendly interface
Can handle bulk content
In-app editing
Cons
WhiteSmoke is an all-in-one solution for grammar, language, and plagiarism checks. The app will integrate with Outlook, Word, or Chrome extension, and the search is reasonably accurate.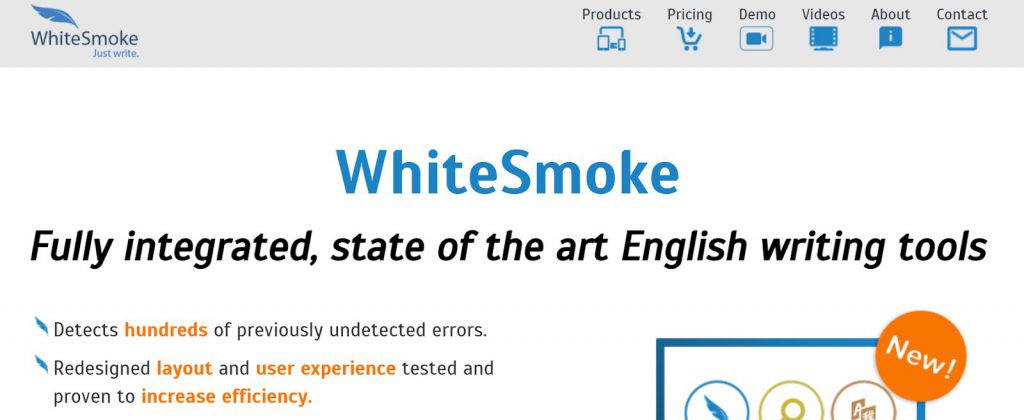 Image via WhiteSmoke
Pros
Accurate search
All-in-one content solution
Integrates with multiple apps
Cons
Pricey
The interface is somewhat clunky
PlagScan has been around since 2009 and is an excellent plagiarism checker. They will scan and highlight matching content. Students and individuals can check up to 2,000 words for free. After that, select from a payment plan based on word count for individuals or service level for businesses.

Image via PlagScan
Pros
Accurate search
Free up to 20 articles
Cons
Payment plans can be pricey
Copyleaks is free for 2,500 words per month. Above that, they have subscription plans based on page count and offer multiple writing tools for business and educational work. Copyleaks is not great at detecting patchwriting.

Image via Copyleaks
Pros
Free up to 2,500 words
Multiple services available
Cons
Not the most accurate search
Plagiarismhunt is the search engine of plagiarism checkers. They bring together all available plagiarism checkers on Google, like PlagScan and Unicheck. For free, you can have your work checked by three of these, and you can pay a small fee for a full report.

Image via Plagiarismhunt
Pros
Thorough scanning
Securely deletes your content after 24 hours
Free or affordable
Cons
Not as robust a service as others
PaperRater offers the most services for free of any of these sites. You can upload a document and get a highly accurate plagiarism and grammar check and suggestions for improvements. A premium version removes ads, gives you faster processing, and displays matching text.

Image via PaperRater
Pros
Basic services are free
Very accurate plagiarism check
Incorporates grammar and writing support
Cons
Additional features are expensive
Quetext offers some of the best quality support for free up to a specific word limit. You can get customized services for an affordable rate per month as well. Our favorite feature is their ColorGrade feedback, highlighting exact matches or and near-matches in different colors.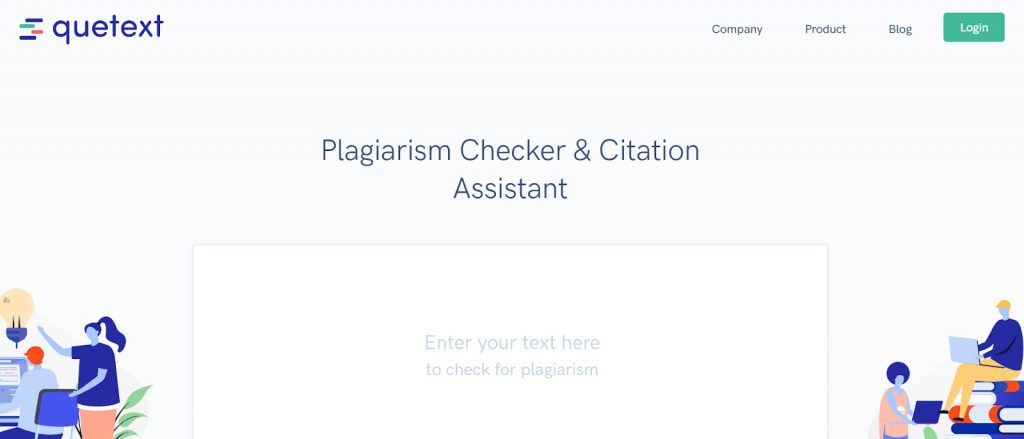 Image via Quetext
Pros
Free version
ColorGrade feedback
User-friendly interface
Cons
Premium version not as robust as other paid services
Dustball is one of the oldest plagiarism checkers but does an excellent job identifying matches. You'll need to pay a subscription, but this is an excellent option for companies that need to check a large amount of content for plagiarism and don't need extra services.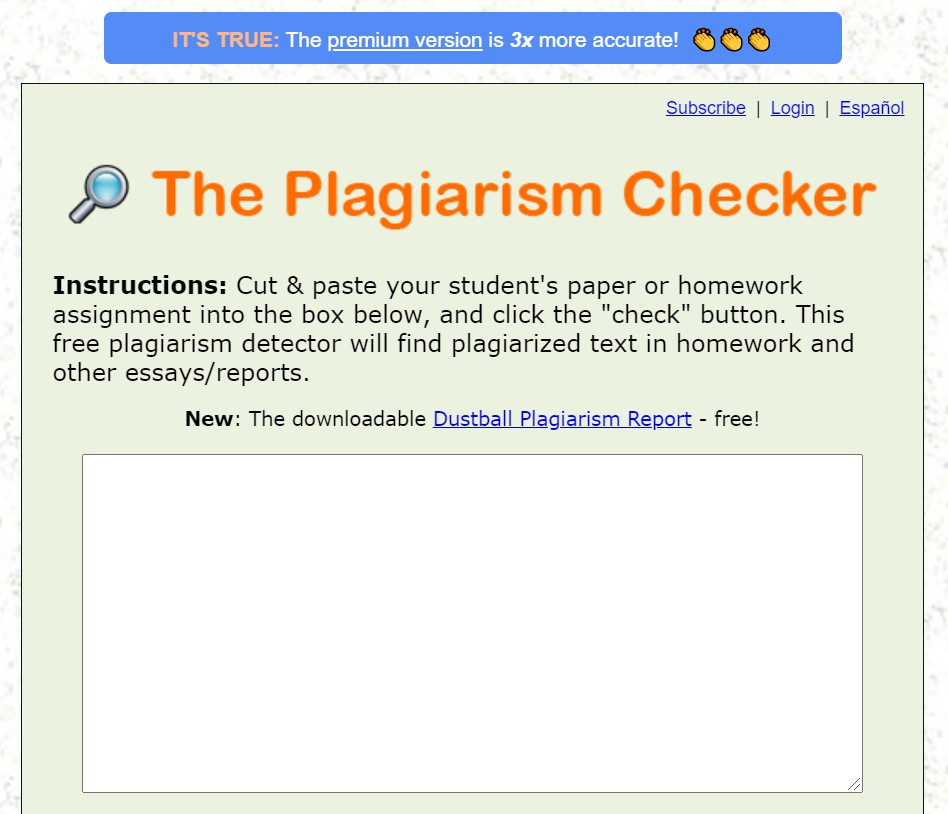 Image via Dustball
Pros
Excellent plagiarism check
Can handle bulk content
Premium subscription isn't expensive
Cons
Doesn't offer other services in premium
As the name suggests, Small SEO Tools supports online marketers. The service offers plagiarism checks showing where texts matched, the original material, and a sentence-by-sentence breakdown. However, their algorithm only catches exact matches.

Image via Small SEO Tools
Pros
Good for small-batch content
Offers multiple reports
Cons
Misses near-exact plagiarism or patchwriting
Search Engine Reports might be the one genuinely free tool available. However, their search is not robust, and the ad experience makes the site tough to navigate. Their plagiarism check only shows exact matches, so this might work if you're only checking a few sentences, but it is not ideal for longer content.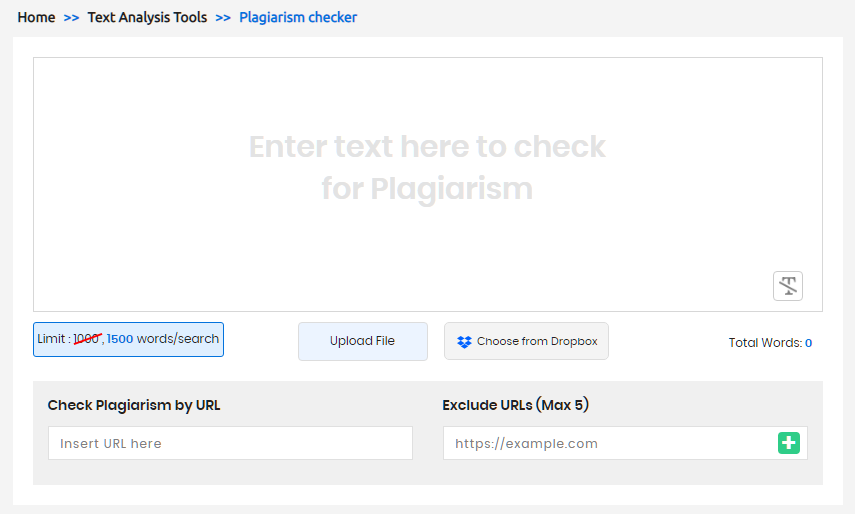 Image via Search Engine Reports
Pros
Completely free
Good for short snippets
Cons
Only check exact matches
Ads are distracting
Edubirdie is primarily an essay-writing service with additional perks like plagiarism tracking. The plagiarism check is free, but we have questions about the privacy of your documents once you upload them. The plagiarism check is not as good as others in this list.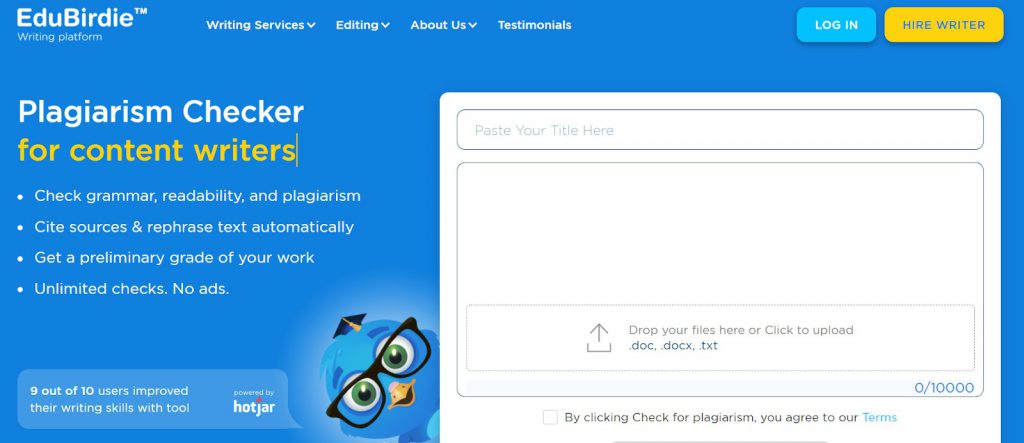 Image via Edubirdie
Pros
Good services for essay writing support
Free plagiarism check
Cons
Questionable security
Plagiarism check is not very robust
Ephorus has joined with Turnitin, a longstanding academic service for educators. The plagiarism check is one of the best online and has access to many academic databases—best for teachers and professors.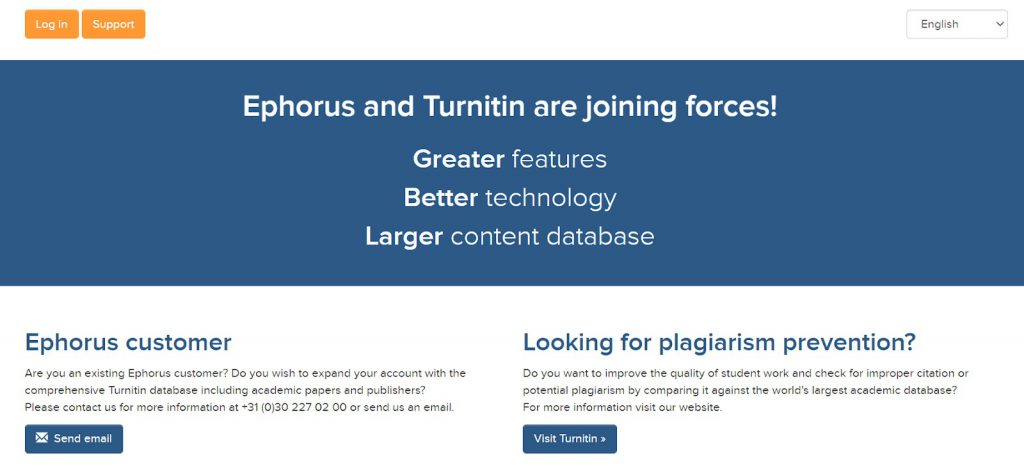 Image via Ephorus
Pros
Robust plagiarism check
Excellent services for educators
Cons
Not designed for students or writers
Pricey
Compilatio Studium markets itself to students working to improve their work and originality. It offers a cheap plagiarism check and very accurate results. However, you won't be able to see what parts of your work had a match, only a list of sources you matched.

Image via Compilatio
Pros
Robust plagiarism check
Affordable
Cons
Plagiarism report doesn't include what phrases match
Another site designed to support students, BibMe, provides a reasonably accurate plagiarism check alongside other services like a spell check and citation tool. They offer a free trial and then a fairly affordable subscription. Their plagiarism check is only mediocre.

Image via BibMe
Pros
All-around services for students
Free trial
Cons
For its price, you can find better plagiarism checks
What To Do If Your Content Got Plagiarized?
So let's say you run your content through a plagiarism checker and find a hit that looks suspiciously similar to one of your original pieces. How can you address the issue?
How to Remove the Offending Content
The first thing to do is reach out to the person who owns the other site. Find the website's contact page if you can, and email them directly.
You can be polite at this stage and be clear that you will need to file a complaint if the offending content is not removed.
Typically this type of threat may be enough for the webmaster to take down the article immediately.
However, some people who steal content are just going to ignore your message and accept the risk.
Who Is Hosting It?
If the direct contact is either ignoring you or unwilling to take their plagiarized content down, you need to go higher up. What do we mean?
Find out what web hosting service they use to host their site and contact that service. You can easily find this information through the WHOIS Tool. Inform the hosting service of the issue, providing them with a link to your article and the date you published it.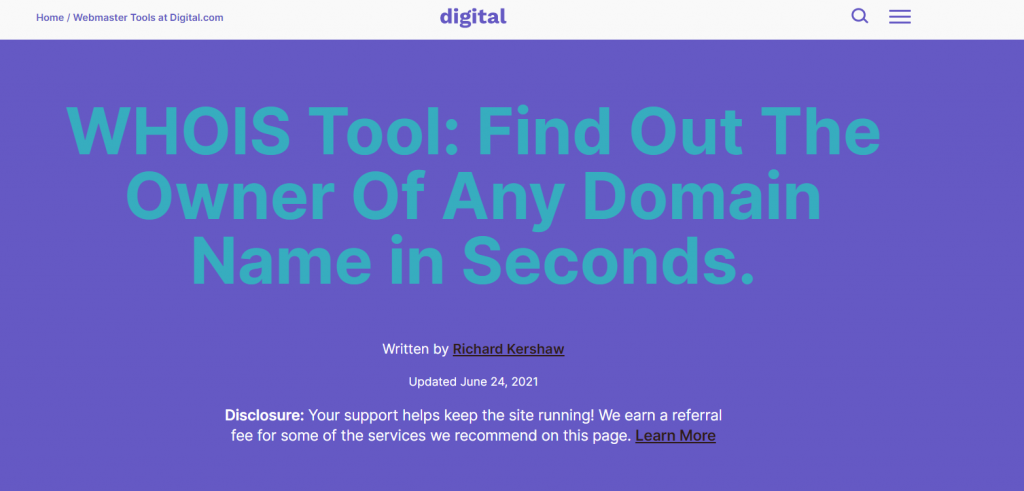 Image via Digital
How to File Google DMCA Removal Request
The Digital Millennium Copyright Act – or DMCA – protects online creators from copyright infringement.
You can file a DMCA removal request via the formal DMCA website, but you will have to pay a one-time or subscription fee.
Fortunately, Google also offers a DMCA filing option for free through their Webmaster Tools.
A few things to note:
Filing a removal request is only worthwhile if the plagiarized page gets high traffic and profits from your original content.
To file, visit Google's Copyright Removal Dashboard. Select "Create a new notice" and then follow the prompts through the filing process.
Google should respond within ten days, and if they decide your claim is legit, they'll remove the offending page(s).
Google won't inform the offending site, so we recommend sending the webmaster a message that you've submitted the request.
Conclusion
While plagiarism can be nuanced and difficult to identify, you can rest easy with the help of several tools online. Producing original content, knowing how to avoid plagiarism, and how to protect yourself from copycats is part of the game of your SEO Journey.

Stay on top of it and your rankings and clicks will only go up!