How to Win Wikipedia Backlinks Easily: The Complete Guide
Wikipedia is one of the biggest, oldest, and most authoritative websites in the world. That is why Wikipedia backlinks are coveted by SEO professionals worldwide.
After all, Wikipedia is often the first result for many search queries and gets a monthly traffic of over 1.4 billion people.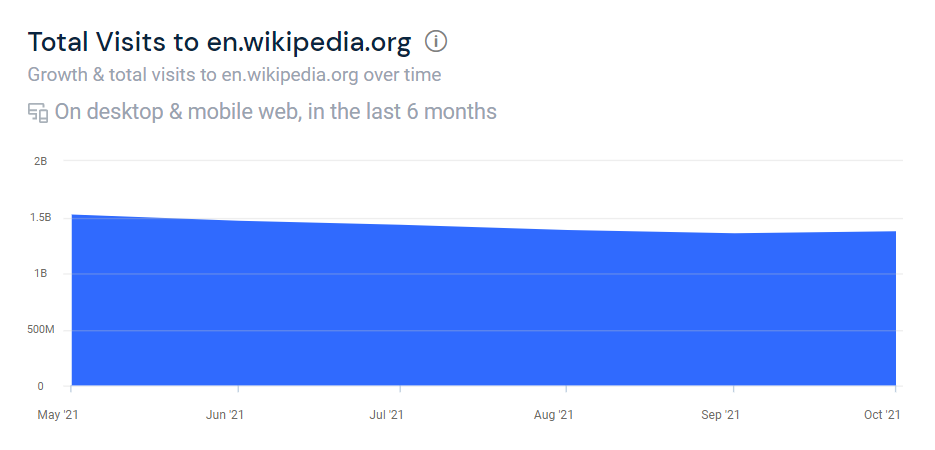 Which other website can boast such numbers?
Hardly any!
That is why building Wikipedia backlinks is one of the most important link building strategies to direct tons of traffic to your website.
But the main question is:
Do Wikipedia backlinks hold any value?
The short answer is yes. Wikipedia does not just get tons of traffic but has an extremely high domain authority of 93.
What does it mean for you?
If you get Wikipedia backlinks to your site, you will get high-value backlinks with a lot of link juice. This will, in turn, boost your authority as well.
In this post, you will learn:
Why Wikipedia backlinks matter
Three types of link building opportunities on Wikipedia
How to find Wikipedia link building opportunities
How to get Wikipedia backlinks
Sounds interesting?
Keep reading.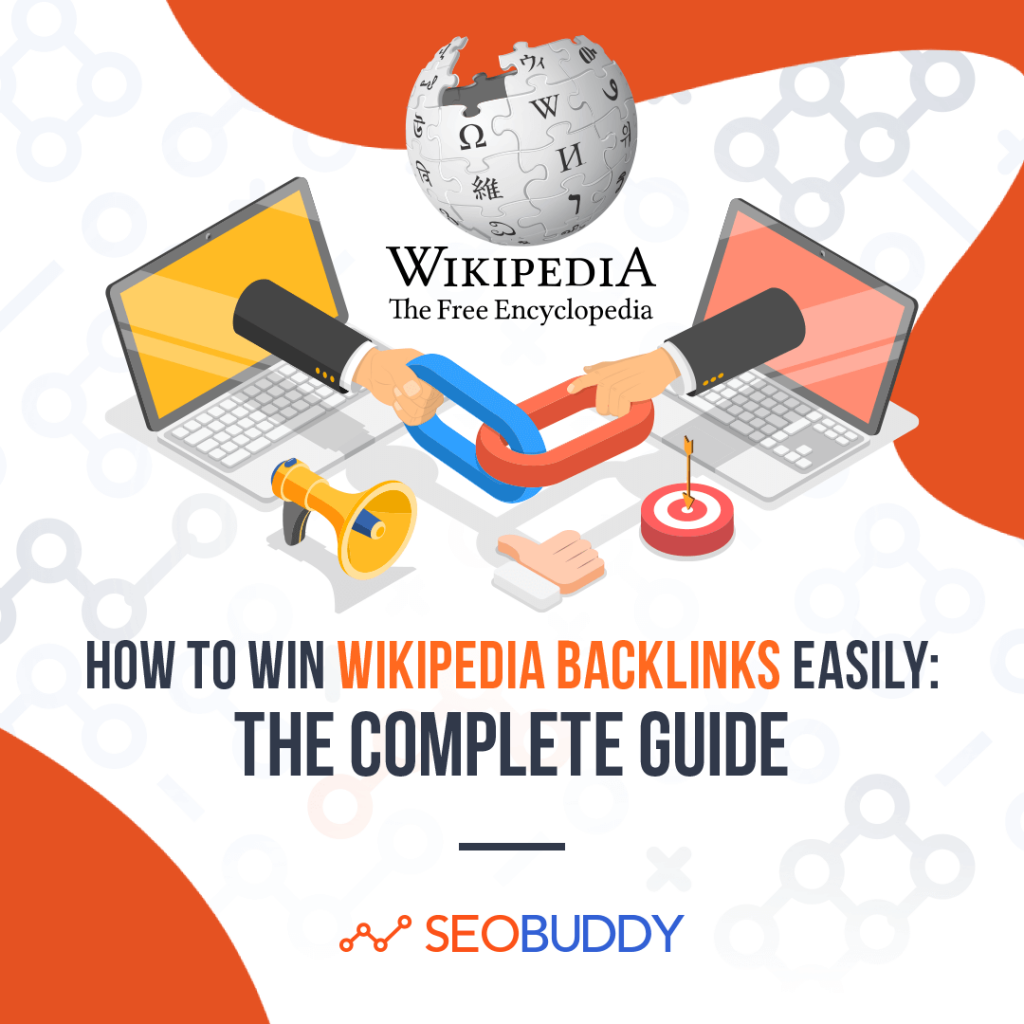 Do Wikipedia Backlinks Really Matter?
Google loves Wikipedia. This explains why it shows up on the first search results page for most search queries.
Take a look at how Wikipedia ranks first for the keyword 'amazon rainforest' amongst 44,600,000 results: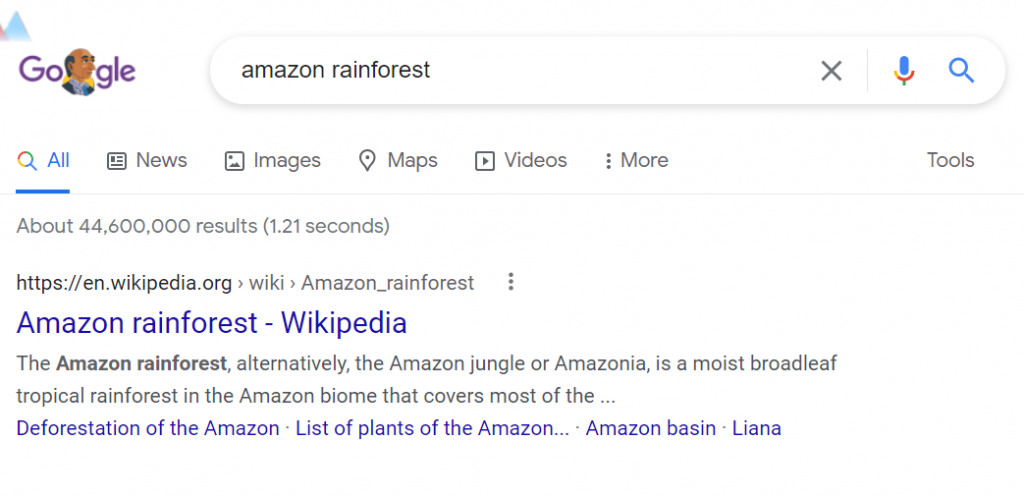 Considering its popularity, you could naturally grab more eyeballs through Wikipedia backlinks.
However, there are two things marketers often worry about in this regard:
The accuracy of Wikipedia content due to it being easily editable.
The value of Wikipedia backlinks since they are no-follow.
Let's take a look at both these concerns.
For starters, Wikipedia has a really strict moderation in place.
Not any edits will make it to the website. They need to pass human moderation before they take a spot on the website.
On the other hand, users trying to create a page of their own on Wikipedia will have to pass a notability test.
Now, let's talk about no-follow links.
Simply put, a no-follow link is one that does not vouch for the target link.

However, contrary to popular belief, Wikipedia's no-follow links come with a lot of SEO benefits.
To begin with, they can build your site's authority. After all, search engines will look up to any link listed on a website as authoritative as Wikipedia.
What's more, these no-follow backlinks can help you win lots of referral traffic.
How is that, you may ask?
Well, some of Wikipedia's visitors might come across your website and want to link to it.
In short, irrespective of their type, backlinks can be powerful assets for your site.
Three Types of Link Building Opportunities on Wikipedia
Now that you know just how powerful Wikipedia backlinks can be, you need to understand how to find backlink opportunities.
There are three main ways you can do this.
1. Dead Links
Dead links usually lead to a page that has been moved or deleted.
Such links don't just make for an unpleasant visitor experience, but they can also hurt site rankings.
Ideally, such links need to be fixed or updated.
However, Wikipedia is a huge platform with thousands of links. So, it is hard for the moderators to keep track of all these dead links.

This is where you have an opportunity for building backlinks.
In simple words, if you have content that could fill that link, you're in the perfect spot to propose your page and build backlinks. Easy, right?
2. Broken Links
Broken links usually hold the message: "404 error."
One can also create their own custom 404 error page. Here's how Amazon does it: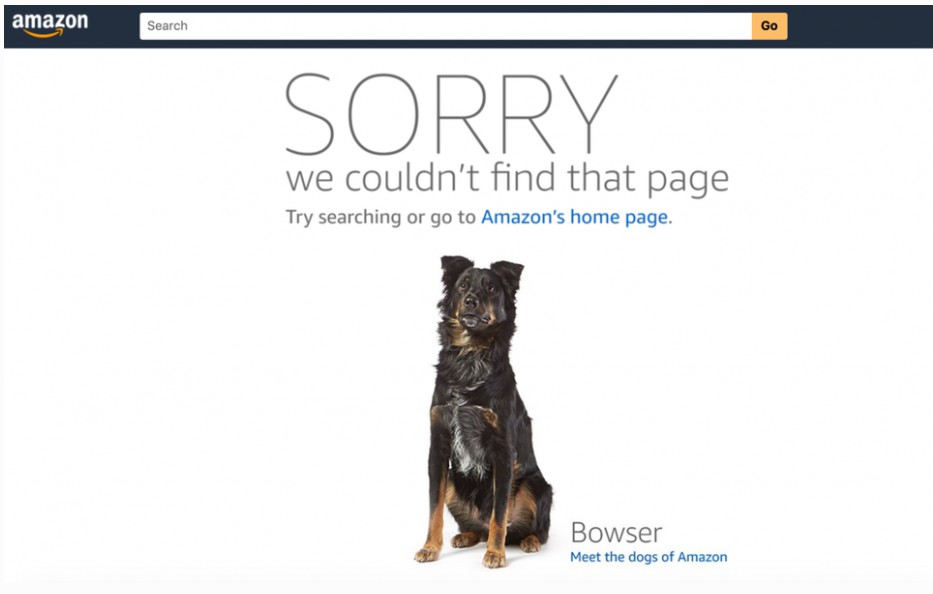 Broken links might not work for a number of reasons. Here are some of them:
The URL provided is wrong or invalid.
The site is temporarily offline.
There are broken elements within the page.
If you've worked with SEO before, you probably know that if the link is broken on Wikipedia, it is likely broken elsewhere across the web.
This means that finding one broken link can reward you with hundreds or even thousands of link-building opportunities.
3. Unique Links
These are the most valuable Wikipedia backlinks that you can get by editing or updating Wikipedia articles.
How does it work?
Follow these simple steps:
Find a relevant article on Wikipedia, with a keyword for which you have authority
Write a high-quality blog post on the topic backed by research and statistics
Update the Wikipedia article with some of these insights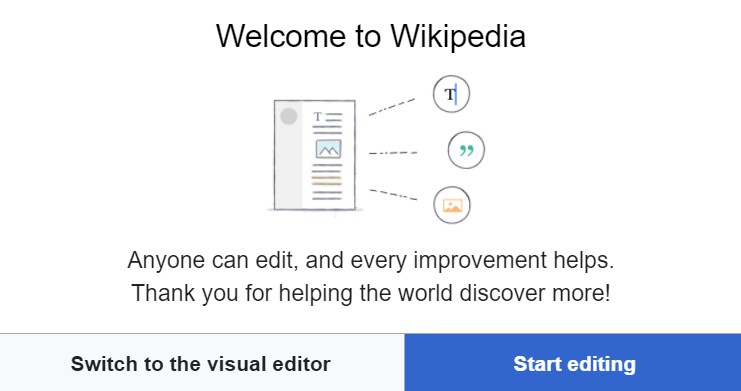 Add your post's link in the "References" section of the Wikipedia page

This is a simple, yet effective way to build unique Wikipedia backlinks that will boost both your traffic and authority.
Clubbing All Three Opportunities Together
The best way to win several Wikipedia backlinks without being flagged?
It is to club the dead link, broken link, and unique backlink opportunities together.
This way, you'll be able to get a lot of link juice and website traffic.
But the question is—how do you find these link-building opportunities? How do you scour Wikipedia for dead and broken links?
Let's find out.
How to Uncover Wikipedia Backlinking Opportunities
Fortunately, there are online tools that can complement most of your SEO efforts.
Here are two ways to find possible Wikipedia backlink opportunities quickly.
Wiki Grabber
Wiki Grabber is one of the leading tools to find Wikipedia pages that need dead or broken link replacements.

Using the tool is pretty easy, and doesn't require you to have any technical knowledge.
To get started, simply enter a keyword related to your content, and the tool will feed you with a list of Wikipedia pages that require citations or have dead links.
You can even enter multiple keywords at once.
For instance, let's search for the term 'budget travel:'

Wikigrabber generates a list of pages related to budget travel that are in need of citations or new links.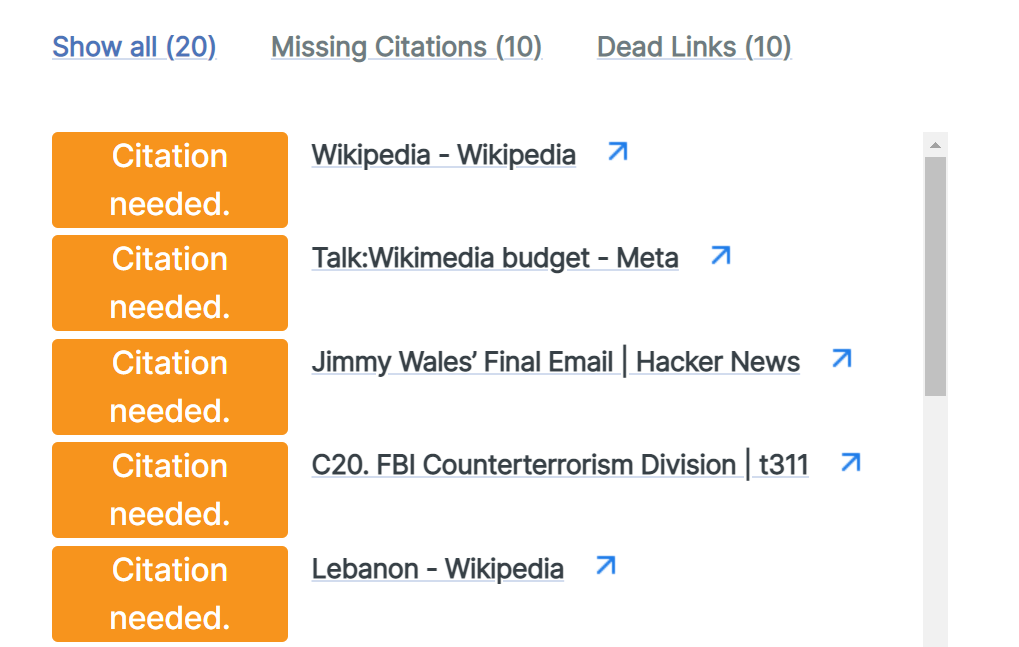 You can use the filtering system on the top to view what you want.
Once you find a requirement relevant to you, simply visit the page by clicking on the link. Then, hit ctrl+F to locate the dead link on the page.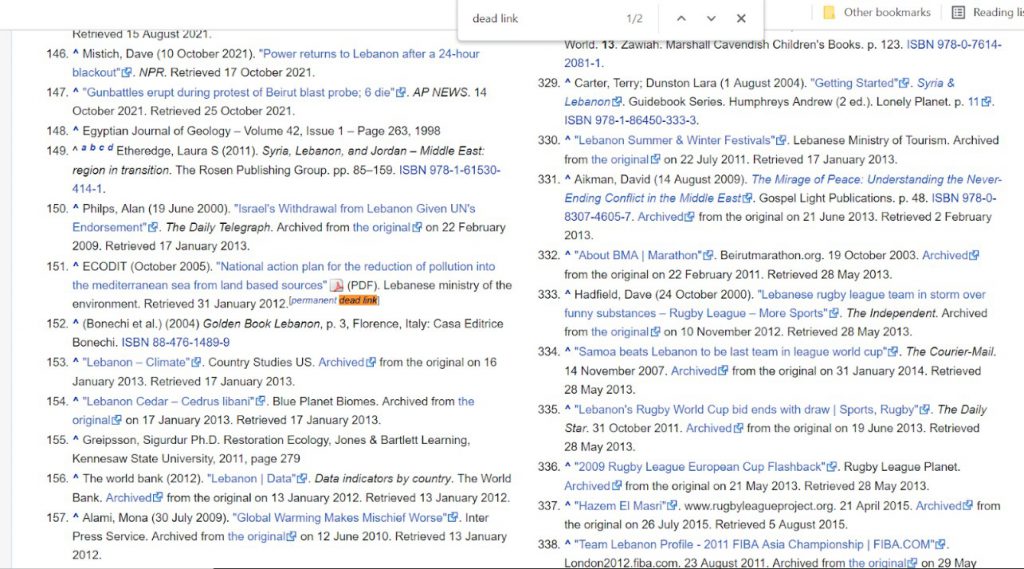 Google
If you don't want to use an online tool for the purpose, you can resort to good old Google.
A Google advanced search can help you breeze through the process of finding dead links.
Simply type the following into the search bar:
site:wikipedia.org + "search term" + "dead link"
Let's use the same keyword as above and see what results Google generates.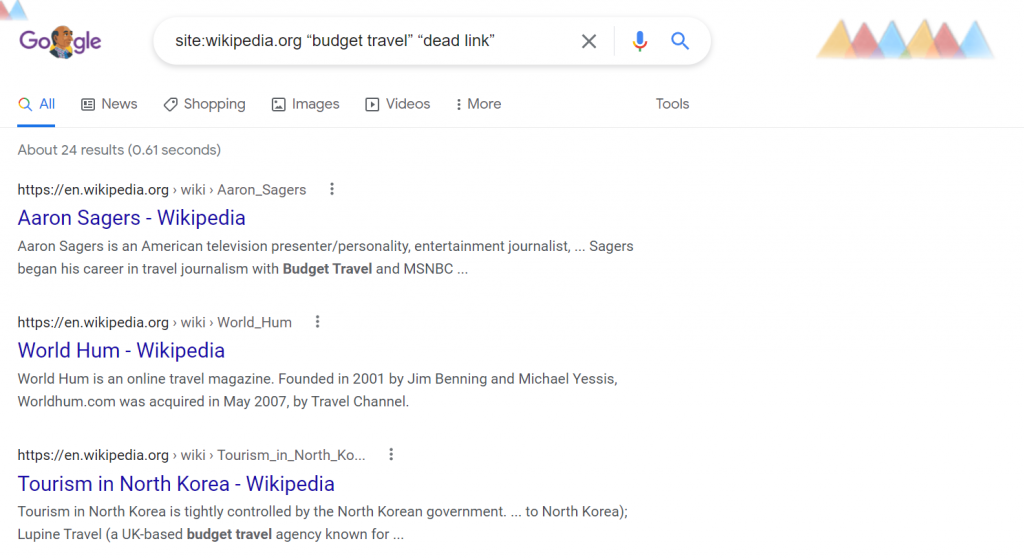 Next, visit the page that best suits your content and follow the same method of locating the dead link: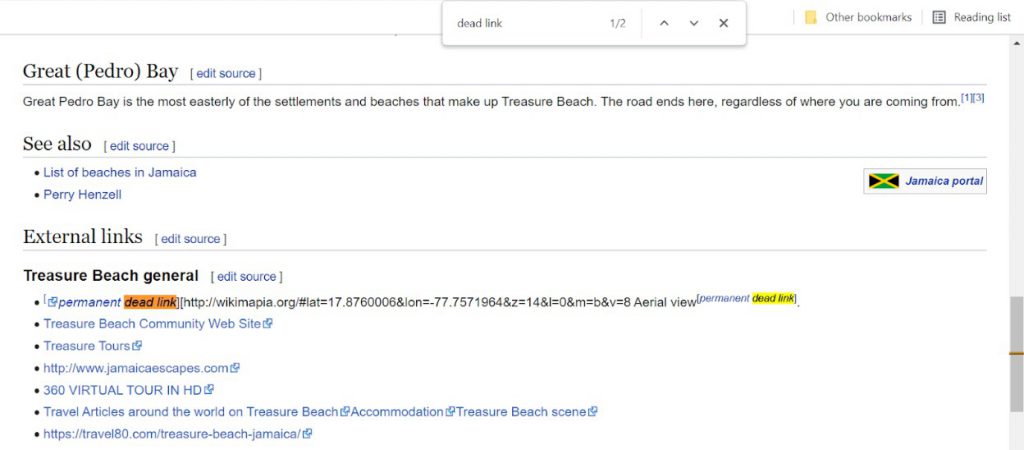 While this approach is pretty straightforward too, it requires a bit more time and effort. However, you can try out both methods and see what works better for you.
Now, let's take a look at the next steps.
Inserting Your Wikipedia Backlinks
Now that you know how to locate dead and broken links, let's walk through the final process of building Wikipedia backlinks.
Step 1: Pick A Dead Link
Remember how we mentioned that the same broken or dead link on Wikipedia would probably have multiple backlinks pointing to it?
A good practice is to identify dead links with a large number of backlinks.
How do you do that?
Use a tool such as Ahrefs or SERPed.
If a dead link has 20 or more backlinks, your efforts in creating or editing content will be absolutely worth it.
Then, you can start reaching out to each website that currently links to the dead link, and let them know about your proposed content.
Step 2: Create Your Wikipedia Account
Now, let's go back to building Wikipedia backlinks.
Before you do anything else, you need to create a Wikipedia account.
To do so, click on 'Create account' in the top right corner of the page: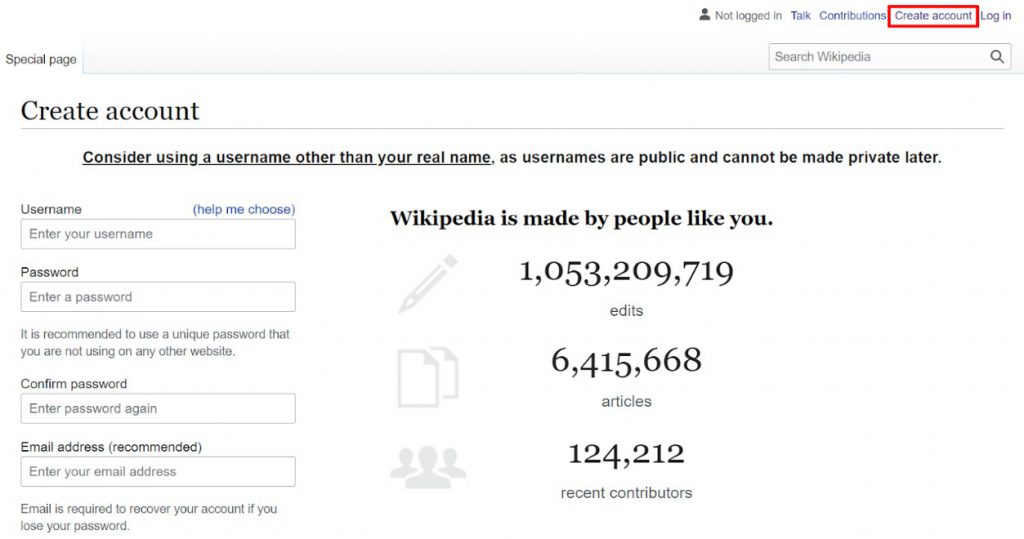 The next steps are pretty self-explanatory, and you should have your account ready in just about 5 minutes.
Step 3: Choose Your Source Content
Now, you need to decide which page(s) on your site you want to generate backlinks for.
A good place to start is to paste the chosen dead link into the Wayback Machine tool.

It will tell you what the page looked like before it was deleted or moved.
Read through the content, and gauge if it matches an existing piece of content on your site.
If yes, you're good to go. If not, you can create new content as per Wikipedia's requirements from this link.
Step 4: Insert the Link on the Target Wikipedia Page
Now, for the final part.
Editing a page on Wikipedia is pretty intuitive.
Simply find the page you want to add your backlink on, and click 'Edit' in the top right corner.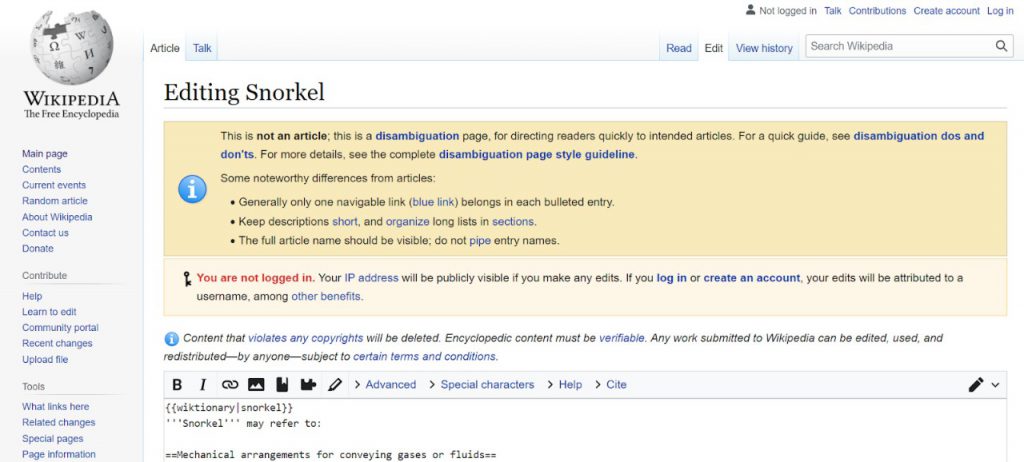 Clean up the page by fixing the dead links you can. Then, preview the changes, and once you're satisfied, click on 'Publish changes.'

Then, keep your fingers crossed and hope that your changes get approved by the Wikipedia moderators.
FAQs
1. Are links from Wikipedia good for SEO?
Yes. Wikipedia is one of the most visited and authoritative websites on the internet.
Besides, it has highly credible information since each piece of content is passed through strict human moderation and quality checks.
Wikipedia backlinks can not just help you win lots of traffic, but they will paint you as trustworthy in the eyes of search engines.
2. Can I get do-follow backlinks from Wikipedia?
No, you cannot get do-follow backlinks from Wikipedia. All external links on the platform are tagged as no-follow.
However, no-follow links also come with a range of benefits for your site.
To begin with, they can build your site's authority. Search engines will look up to any link listed on a website as authoritative as Wikipedia. What's more, these no-follow backlinks can help you win lots of referral traffic.
3. How can I find dead links on Wikipedia?
To find dead links on Wikipedia, you can either use Google search or free tools such as Wiki Grabber. Alternatively, you can also visit a relevant page on Wikipedia, and search for the phrase 'dead link' on the page by pressing ctrl+f.
4. Why does Google rate Wikipedia highly?
Every web page on Wikipedia is strictly moderated and scrutinized by experts. So, anything that finds a spot on the encyclopedia is of the highest quality.
Moreover, a lot of websites link back to Wikipedia. This tells Google that the platform is doing something right, and leads them to rank Wikipedia higher in the SERPs.
5. Can anyone create or edit a page on Wikipedia?
Yes. It is absolutely free to create an account on Wikipedia. Once you do so, you can easily create or edit a page on the website.
You can even make edits on Wikipedia without logging in. But note that in this case, Wikipedia will be tracking your IP address.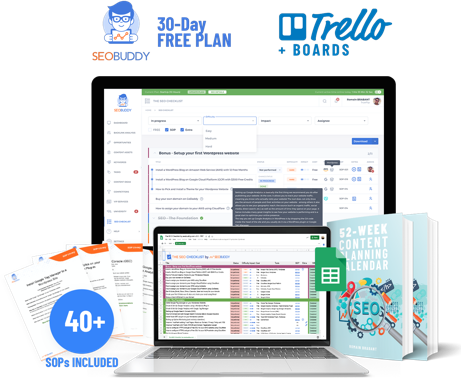 There's more…
Now it's time to discover the other 102 steps that will get more organic traffic flowing to your website. Get the SEO Checklist here.
Want to get a sneak peek of what it looks like?
Enter your email and get a free demo version of the SEO Checklist.
Conclusion
As you can see, Wikipedia backlinks can greatly help your site's traffic and rankings.
The only catch?
It requires a little effort. This is the reason why not a lot of people opt for this link-building tactic.
However, you need to remember that even just a few backlinks from Wikipedia can set you apart from your competition.
So, simply follow the process outlined in this article, and start building links.
Just make sure you don't overdo it, or you'll risk being flagged forever.Ready to start winning those powerful Wikipedia backlinks? Should you need more advanced SEO tips, feel free to check out our complete SEO Checklist.