SEO Copywriting for Better Content and Rankings
SEO copywriting can make a stellar content idea mediocre, it's an unskippable part of every SEO strategy.
If done right, it can expose your content to a wide audience. But failing to do so would mean that even the best of copies will languish among the masses in the search engine results pages (SERPs).
SEO copywriting, when done right, will help your business:
Increase website traffic
Win more backlinks
Improve conversion rates
Reduce bounce rates
SEO copywriting's ultimate goal should be to create content that's written for people, and optimized for search engines.
That's a killer combination, isn't it?
Now, you're probably thinking—how can I do SEO copywriting for my brand?
Don't worry if you can't afford an SEO content writer at the moment.
We'll walk you through all the steps and best practices in this article to help strengthen your SEO and copywriting concepts. These, in turn, will help you create SERP-busting copies that can drive your brand's growth.
Here's what we're going to cover:
Why SEO copywriting is challenging but important
How to optimize your content for Google
Some writing tools that are worth using
SEO copywriting best practices
Let's get started.
Why SEO Copywriting Matters
Content marketers often say, "write for people, not for search engines."
That makes sense, right?
However, the meaning behind this phrase is often misinterpreted.
What it really means is that one shouldn't write just for search engines and ignore people, or vice versa.
If you write content only for search engines, you risk sounding robotic:
In reverse, if you write just for people, your content will be missing important keywords:
The consequence?
Your target audience might not be able to find you.
SEO copywriting will help you create valuable content for your target audience, whilst aligning with SEO best practices.
Why SEO Copywriting is Challenging
Doing SEO writing right is harder than you probably think.
Let's find out why.
It's More Than Just Keywords
Gone are the days when you could get your content to rank simply by repeating a keyword several times.
Today, you need to be very careful about the way you use keywords.
Besides, there are a lot of other things you need to account for.
For instance, Google's algorithms are now better able to understand the intent behind search queries.
Here's what Google itself has to say about it:
Interlinking is Crucial and Tricky
Most SEO writers understand the importance of link building.
But very few really do it right.
For instance, some people end up going overboard with links. Instead, one should only link to other pages when they're really relevant.
Besides, the choice of anchor text needs to be smart.
Writers often make the mistake of using generic anchor texts such as "click here."
Look at how we leverage internal linking in one of our articles:
It Takes Time
Oftentimes, businesses expect quick results when it comes to SEO copywriting. Unfortunately, doing that is equivalent to digging your own grave.
No matter how great your content is, seeing real results will take time.
Why is that?
Because search engines need to see that you're creating valuable content consistently.
Keyword Research
Before you start writing content, you need to decide what you're going to write about.
Now is when you figure out which search queries a.k.a keywords you want to be found for.
The best way to do this is via keyword research. It will tell you which queries to target, their popularity, ranking difficulty, and more.
To do keyword research right, follow these three steps.
1. Nail Down On a Few Topics
First things first, you need to create a list of topics relevant to both—your business and your target audience.
Let's say you own a beer brand. Some topics you can consider are:
Unique cocktails to try
Best snacks with alcohol
Popular beers
P.S: These aren't keywords yet. They are mere themes.
These are themes that don't just relate to your product, but are also probably being searched by your target audience.
Let's move on.
Once you have your topics listed, you can conduct further research to build on them.
Let's look at some of the ways to do so.
For starters, you can search for your topics on platforms such as Reddit, Quora, and Wikipedia. Then, see what exactly people are talking about. Spend some time going through the comments section, and identify common pain points.
For instance, look at how varied the Reddit results for 'popular beers' are:
Platforms like these can be a great way to generate unique ideas you probably wouldn't think of.
This way, you can even identify trends with no search volume, and create your own keywords.
Google's 'Related Searches' section is also a reliable way to see what sub-topics are trending.
Lastly, you can also use an SEO tool to discover content ideas.
2. Curate a List of Keywords
You have your topics listed down.
Now what?
Let's say you want to write a blog post about popular beers.
You need to start by gauging which sub-topics you have a chance to rank for.
To do that, simply pick any keyword research tool, and enter your main keyword (here, popular beers).
The tool will generate a list of different types of keywords, along with accurate data on metrics such as search volume, keyword difficulty, competitiveness, etc.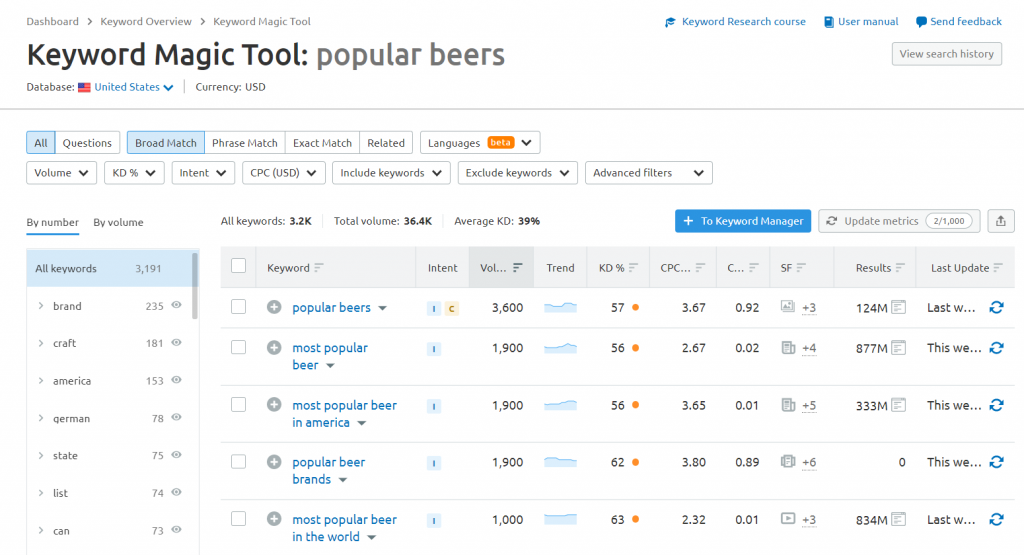 If your site is new and has a low Domain Authority (DA), it is better to target keywords with low competition.
What's more, you should also include long-tail keywords in your content.
These are keyword phrases with four or more words, and are much more specific.
And why's that good for you?
Because higher specificity makes them easier to rank for.
3. Consider Search Intent
Why does Google give so much importance to search intent?
Because understanding exactly what the searcher is looking for is key to generating relevant results.
For example, let's say you run an SEO agency and want to attract new leads to your business. You thus go on to optimize your site for the keyword 'grow your website traffic.'
When someone types that keyword into Google search, what do you think they're expecting?
Sure, they could be looking for professional SEO services.
But they could also be looking for tips to grow their website traffic themselves.
Turns out, Google thinks it's the latter: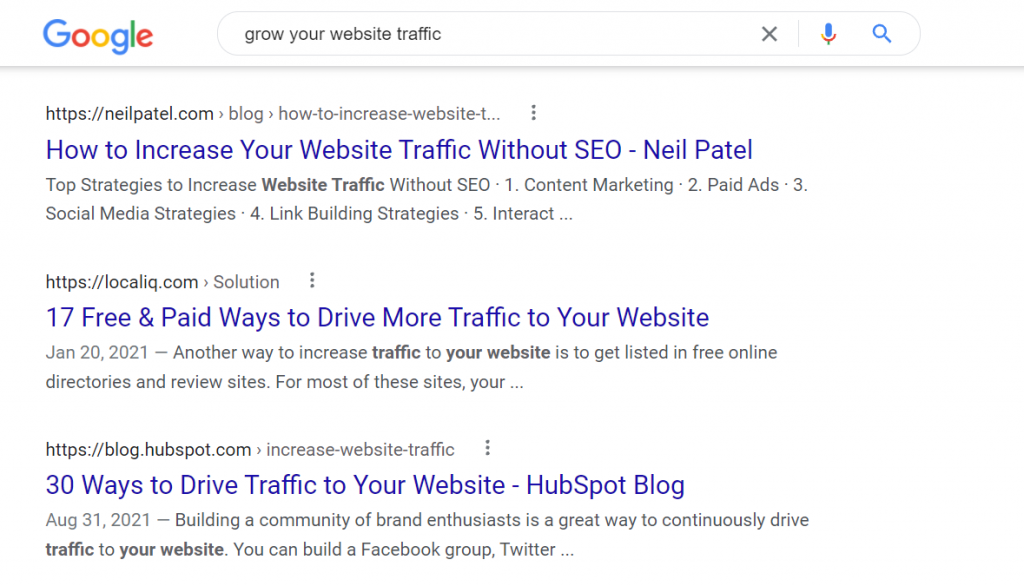 Instead, if you optimized for a keyword such as 'SEO expert service,' you'd probably have more chances at being found.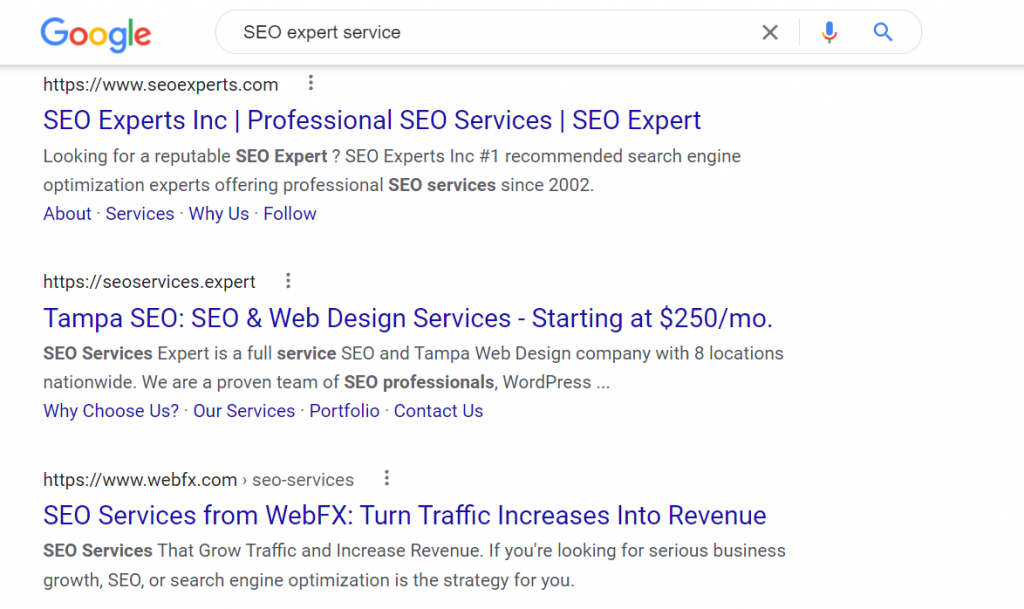 Remember—Google always optimizes its search results for search intent.
So, one of the best ways to understand keyword intent is to simply check the top five results on the first SERP.
The Three-Step Process of Writing
Once your topic and keywords are finalized, it's time to begin the actual SEO copywriting. The writing process can be broken down into three phases: planning, writing, and editing.
1. Plan
While it may seem tempting to skip this step, don't.
Planning your piece will ensure that you only have to worry about things like sentence formation and tonality when you're actually writing.
Now's a good time to find answers to questions such as:
Why am I writing this article?
Who am I writing for, and what are they looking for?
What will be the takeaway of this article?
When will this article be published?
Where do I look for research?
How do I want to present the information?
Next, you must think about your visitors' intent.
Are they simply looking for information or do they want to make a purchase?
If you've done your keyword research right, you'll know what the intent behind your target keyword is.
Why is this important?
It will help you decide what type of content to create.
For instance, the keyword 'buy blue shoes' clearly has a commercial intent.
So, you'd ideally want to write a compelling, sales-focused web page for it.
Needless to say, Google understands this too.
Take a look at all the top-ranking pages for the keyword 'buy blue shoes:'
Lastly, create a rough skeleton for your piece.
Articles with clearly-structured text will have higher search engine rankings on Google.
Besides, most visitors will scan your web page before deciding whether they want to stay or not. This makes it even more important for you to have strong sections, headings, and subheadings.
Take a look at how we have structured one of our posts: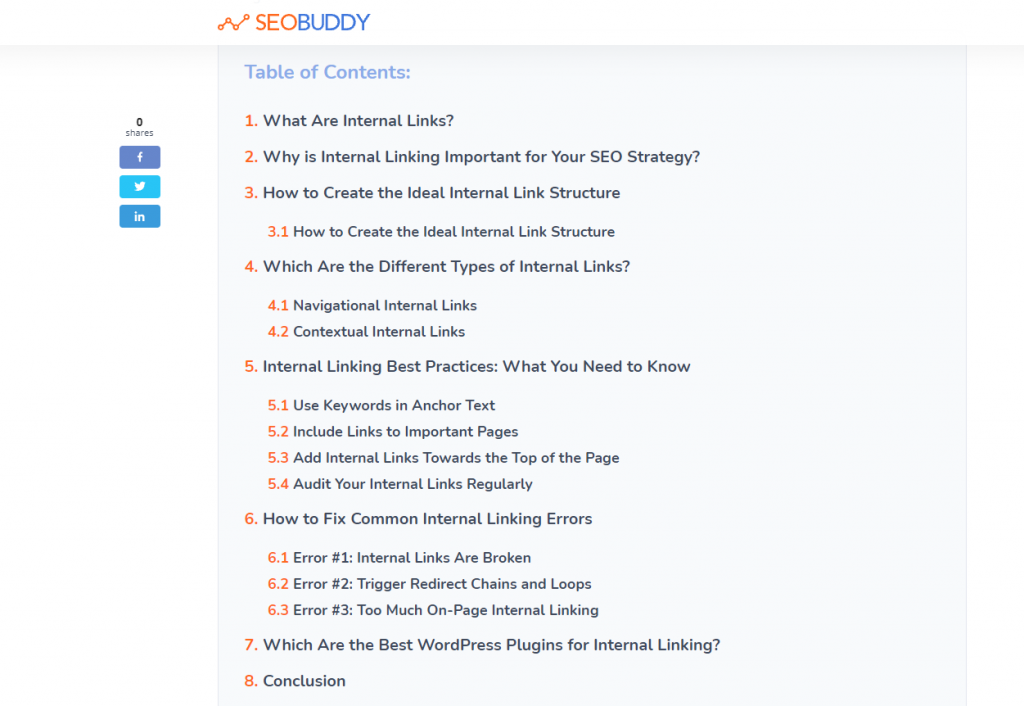 Structuring is not just helpful from an SEO perspective, but it will also help you save time.
2. Write
Provided you've done the steps until now right, this phase is generally pretty straightforward.
Here are three tips to help you nail this step of SEO copywriting:
Let Your Thoughts Flow
At this stage, the goal is to stay in the flow of writing. Don't worry about things like grammatical errors. You can look into that in the editing phase.
If you're finding it hard to come up with the introduction, skip that part.
Simply come back to it when an idea pops into your head.
Write Readable Content
Probably the most valuable SEO copywriting tip is this: keep things simple.
Naturally, posts that are easy to comprehend will lead to longer average sessions and higher conversion rates.
Here are some simple ways to improve readability:
Keep paragraphs short
Use pointers whenever required
Write in the active voice
Define difficult words
What if the section you're reading just now was written like this?
Much harder to read, isn't it?
Follow the Inverted Pyramid Style
A popular writing style in mass media news, the inverted pyramid style simply requires you to share your most important information first.
This helps hook your writer right from the start.
Of course, you don't want to spill it all out upfront.
A smart way to go about this is to give readers the 'what' right at the start and spread the 'how' throughout the article.
Let's look at how Neil Patel implements this tactic.
Here's the first paragraph from one of his articles: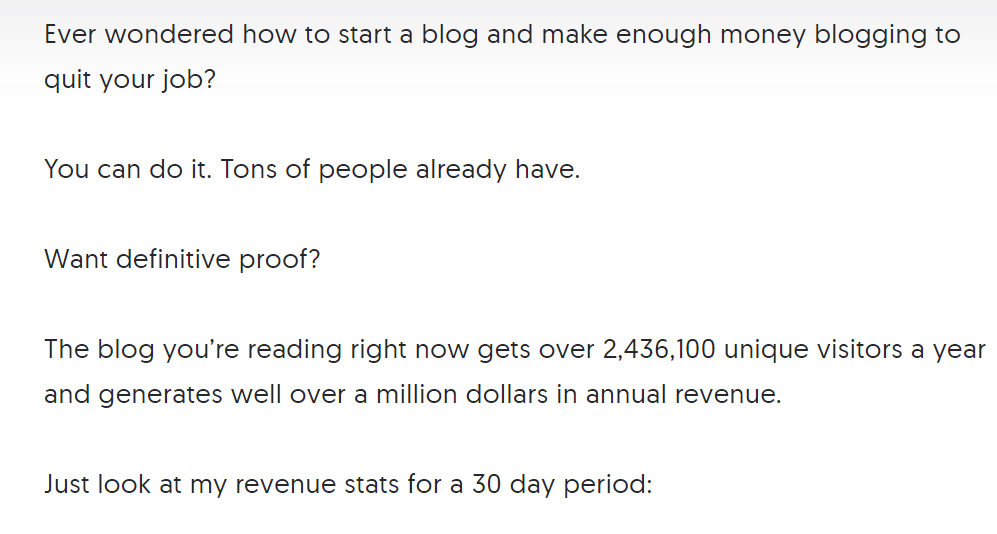 3. Edit
This step of SEO copywriting takes some time.
First things first, correct and condense your article. Don't refrain from throwing out the extra stuff. You want to keep your piece crisp and to the point.
If any part seems too wordy, consider breaking it up with visual aids such as charts and tables. These will make your content easy to digest, as well as visually appealing.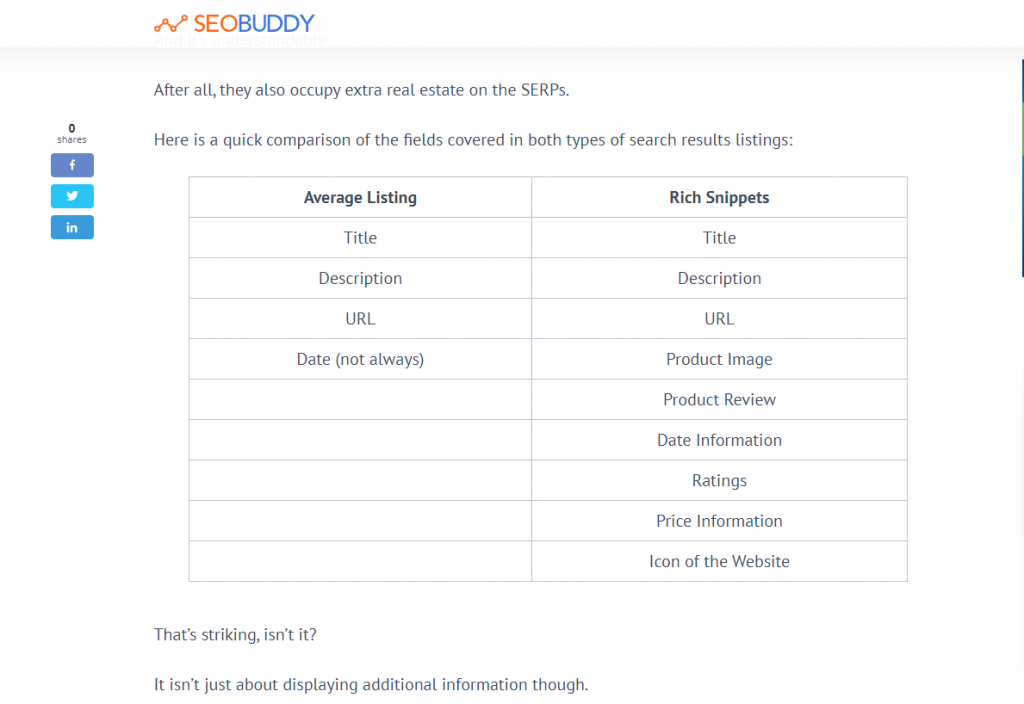 The next thing you'd want to do is check for broken links. These are links that don't open, or that lead to an error page.
And because broken links negatively impact user experience, they will hurt your SEO rankings.
You should also proofread your article at this stage. If you come across any awkward sentences, tweak them. And if spellings and grammar aren't your strong suit, consider using a free online writing tool such as Grammarly.
This is also the perfect time to optimize your content for search engines—we'll explore this theme in the next section.
Once you're satisfied with your piece, ask people for feedback.
This helps writers weave in the perspective of another person, which generally leads to huge improvements.
Optimizing Your Content for Search Engines
So you're done writing your article. Now comes the more technical part.
It's time to work on improving your article's visibility on search engines.
Insert Keywords in the Right Places
Your work doesn't end at choosing the right keywords.
For real results, you need to place them throughout your content strategically.
Page Titles
A page title is the first line of a search results entry. Including your keyword here will help both Google and searchers know what your content is about.
Another good practice is to write the main keyword at the start of the title.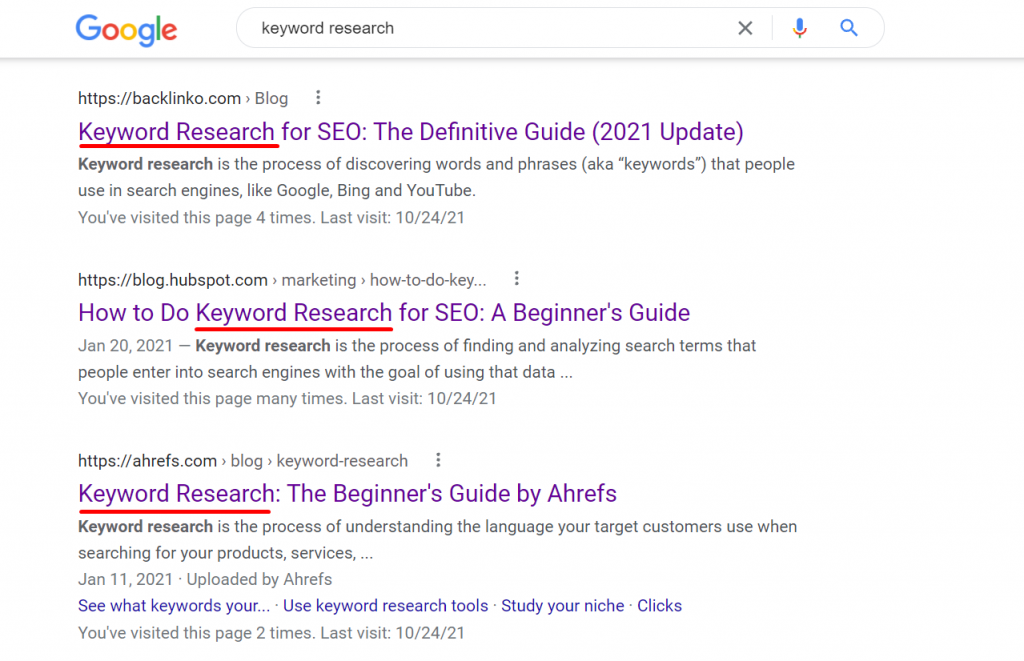 Meta Descriptions
Although meta descriptions are not a direct ranking factor, they largely decide whether a searcher will click on your website or not.
So, you must definitely include your main keyword here. This will help searchers know what to expect from your article.
Subheadings
We've already spoken about how readers generally scan articles.
Subheadings help visitors decide the relevance of the content for them.
So, it is best to use keywords in at least some of them.
Images
This is a part of SEO copywriting that often gets sidelined.
However, remember that images get indexed too. Thus, they're one way for searchers to find your content.
So, include keywords in image titles, file names, and alt texts.
Content
While this one's a no-brainer, a lot of SEO writers end up messing it up.
You should include your keyword naturally throughout the article.
However, it's crucial to steer clear of keyword stuffing. That's what Google hates.
Besides, your readers won't like it much either.
Take a look at some examples of keyword stuffing as written by Google:

URL
The best URLs are those that give Google and visitors a hint about what's happening on the page.
This means including keywords in URLs and keeping them short and clear.
Nobody wants to see that ugly string of alphabets and characters in URLs.
Optimize Your Title Tags
We just learned that one should include their target keyword in their page titles (or meta title).
But that's not it.
If you want to improve your visibility even more, take the following steps.
Use Modifiers
What if you could rank for two keywords for the same article?
Title tag modifiers can help you do that.
We use modifiers in our daily life. These are words such as the following:
Best
Awesome
Fastest
Definitive
Checklist
Simple
Free
Guide
Ultimate
Take the example of Ahrefs in the image above.
Now, chances are that Ahrefs would also be ranking for the keyword 'free keyword research tools.'
Check it out:
Title tag modifiers are a great way to cash in on some long-tail keywords.
What's more, it helps capture the exact set of words searchers would most likely use.
Use Numbers
This is a simple hack to capture searchers' attention.
One wouldn't typically search '25 ways to make money.'
But they would rather click on it in a SERP than on 'how to make money.'
Take a look at what's ranking first for the keyword 'best ways to make money:'
Use 50-60 Characters
While numbers and modifiers are great additions, always be mindful of your title's character count.
If you cross the 60 character mark, part of your title may not be displayed.
Google will simply shorten it and add an ellipsis as in the screenshot below:
Craft an Engaging Meta Description
Meta descriptions are what generate click-throughs from search engines.
Google won't always display the meta description you've written in the search engine results pages. But considering there's a chance it will, it's worth writing a powerful one.
How do you do that?
Keep it under 160 characters. This is to keep it from being cut short.
Write in active voice and don't make it too wordy. Your meta description should tell searchers what they're going to get if they follow the link.
Finally, include a strong call to action. Phrases such as 'learn more,' 'find out now,' and 'get yours now,' can come in very handy here.
Include Links in Your Article
Page links are a sign that you're sociable and have more useful content that users can consume elsewhere.
You can either link to content on your own site (internal linking) or to other domains (external linking).
While the latter may seem counter-intuitive, it isn't.
Remember—Google knows that there's always going to be more information out there.
If you link out to other authority sites, you'll be telling Google that you value content other brands create.
SEO Copywriting Tools
Because SEO copywriting is so important, a lot of online tools have cropped up for the purpose.
Here are some tools you can use to write content that ranks.
Semrush
Semrush is the tool you need to conduct keyword research for your content.
It helps users gauge the value of any keyword by generating information on metrics such as keyword difficulty, cost per click, number of results, estimated traffic, etc.
You can also use the tool to benchmark your site against your rivals'.
This will enable you to identify untapped opportunities for your SEO campaigns.
What's more, you may ask?
With Semrush's database of 20 billion keywords, you'll never run out of keyword ideas.
Yoast SEO
If you're struggling to write keyword-optimized content, Yoast SEO is the tool you need.
Yoast SEO is a WordPress plugin that can check your web pages for various factors that influence SEO. Some of them are meta description, internal links, outbound links, image alt attributes, and keyword density.
It even checks your content for readability and makes relevant suggestions.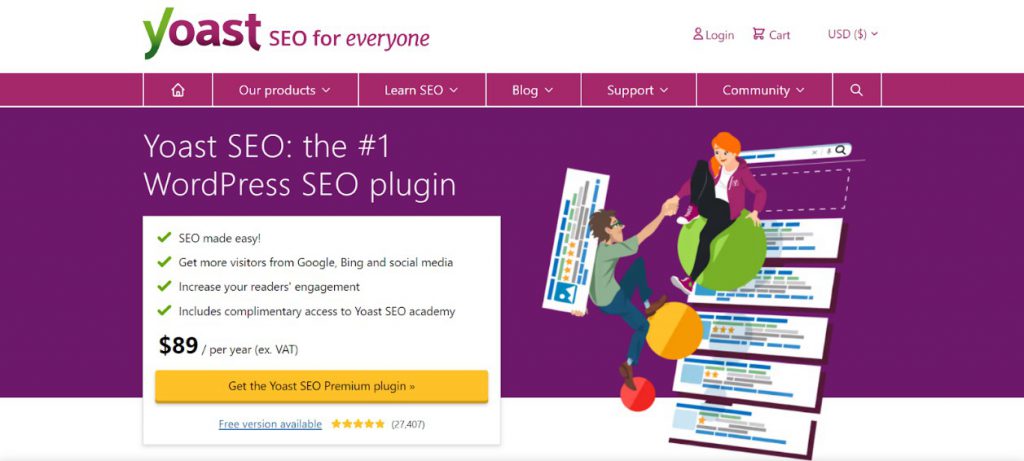 The best part about the tool?
It automatically adds the right structured data to your site, thus increasing your chances to get rich results.
Ahrefs
Succeeding in SEO copywriting is a lot about understanding your competitive landscape.
This is where Ahrefs comes in.
The tool can help you analyze search results in minutes.
You can also use Ahrefs to find backlink opportunities.
What's more?
Ahrefs lets you monitor your Google rankings across 170 countries.
All you need to do is enter your target keywords, input multiple countries for each of them, and your competitors' URLs.
Hemingway Editor
As the name suggests, Hemingway Editor is an editing tool for users to refine their writing.
The Hemingway Editor analyzes your text and highlights areas that need improvement.
Different colored highlights as in the screenshot above denote different problems.
For instance, green highlights indicate passive voice, and red denotes an extremely complex sentence.
What's more, Hemingway Editor's functionality doesn't just end at drafting.
You can also use the tool to publish your pieces straight to Medium or WordPress.
The tool is a fuss-free and cheap way to up your SEO copywriting game.
CoSchedule
We have already spoken about the importance of writing powerful headlines.
CoSchedule has a suite of tools, one of which is a headline analyzer.
All you need to do?
Simply enter your headline, and the tool will do all the work thereon.
The tool displays a headline score and an SEO score, whilst making suggestions to improve your headlines.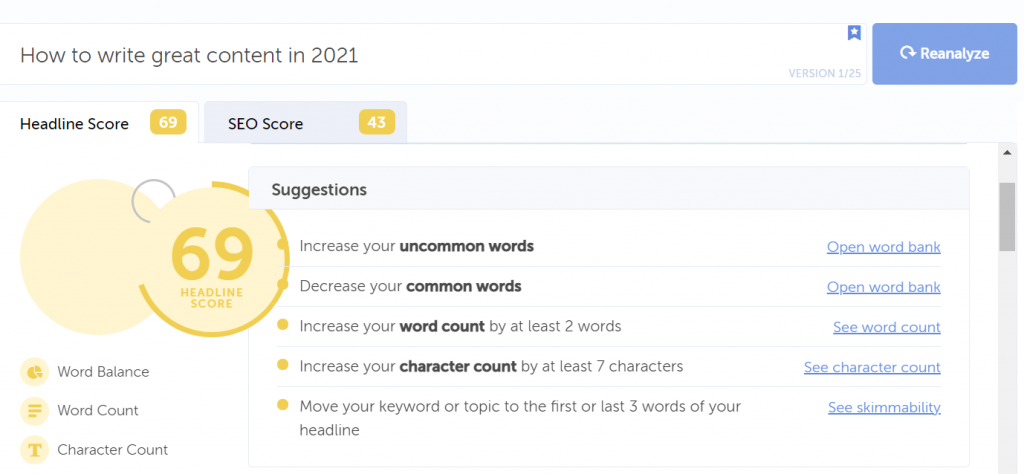 It further analyzes your headline by type, reading grade level, sentiment, clarity, and more.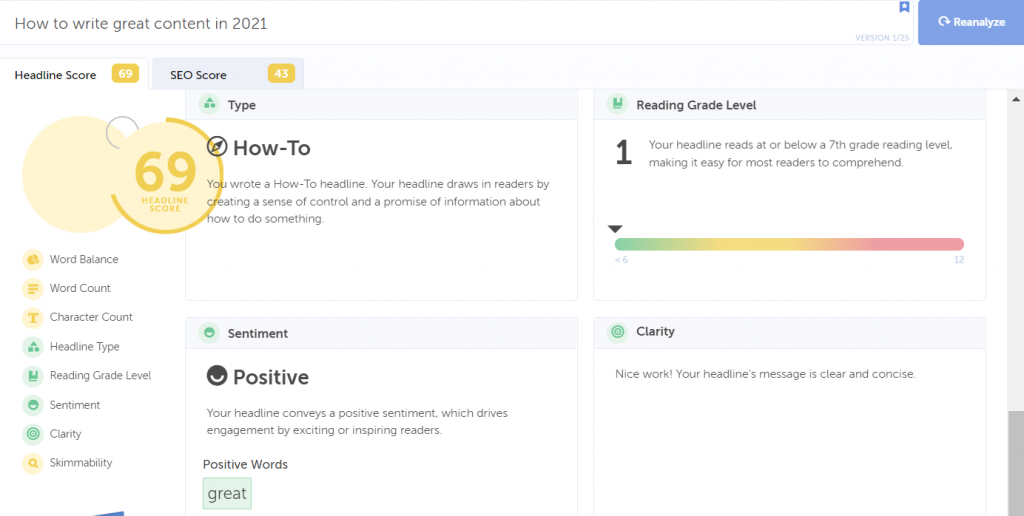 Some other useful tools for SEO copywriting include Wordcounter, Thesaurus.com, and Google AdWords.
If you want to create better website content, you should scour the internet for various writing tools.
SEO Copywriting Best Practices
Let's conclude this article by looking at some of the most important SEO copywriting best practices.
Ready?
Follow the APP Method
It's not easy to write in a way that keeps readers glued to your piece.
But the APP writing method is a fail-safe way to do so.
It helps to hook readers right at the start, improving your average page on time.
The abbreviation stands for Agree, Promise, and Preview.
Now, let's break down each of the three.
The APP method suggests starting blog articles by agreeing with the reader on something.
Here's an example: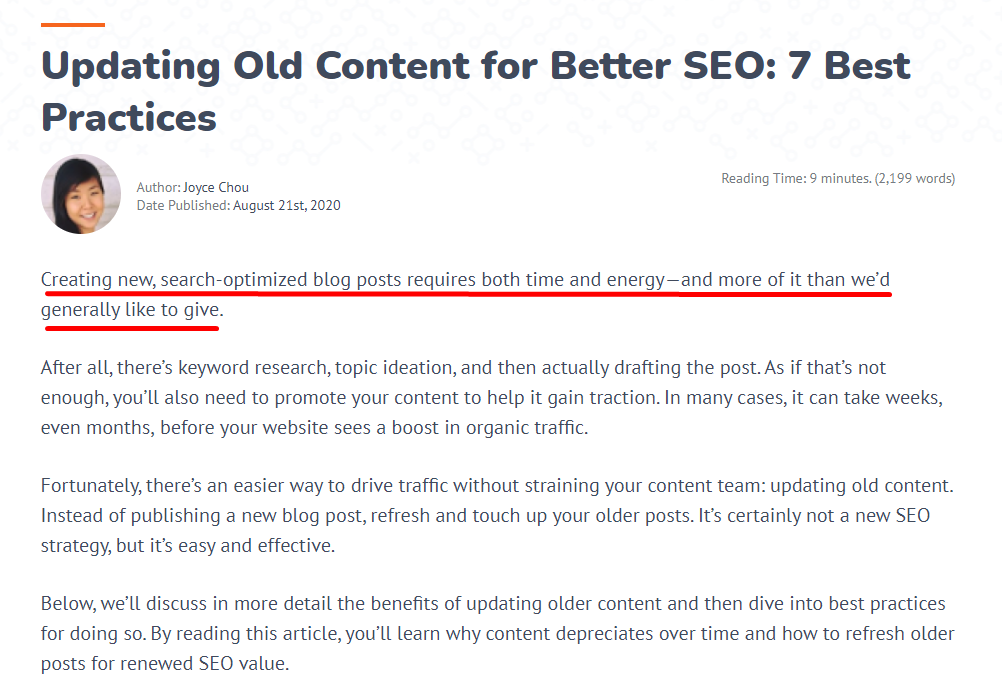 Most people that have written search-optimized blog posts know how consuming the process can be.
By acknowledging that, we send across the idea that we feel their pain.
Doing this will help you start your piece on a note of relatability. Readers love that. It makes them believe that they're going to derive value from the article.
Next, you need to continue your article with a promise.
There is no dearth of content on the internet.
So, to convince readers to stay, you need to make them believe that they'll derive value from the article.
Finally, you need to feed readers with the preview.
Remember—you don't want to keep beating around the bush.
At the end of your introduction, let readers know exactly what they can expect from your article.
Use Bucket Brigades
You just learned how to write a gripping introduction for your blog articles.
But how can you keep readers reading till the end of the article?
Bucket brigades.
Bucket brigades are short sentences that can make your copy conversational.
Besides, they're an easy way to keep readers' attention when they're starting to drift.
We use them in our articles all the time.

Bucket brigades can also help you add white space to wordy articles.
Now, there's a variety of bucket brigades you can use. Here are some of the most classic ones:
What's in it for you?
Still not convinced?
How can you beat that?
Think I'm exaggerating?
Astonishing, isn't it?
What's the bottom line?
Of course, you can also come up with your own bucket brigades.
Just make sure that you're not using too many of them.
Competitive Analysis
A thorough competitive analysis will help you understand what you're really up against.
It will enable you to identify SEO copywriting opportunities, thus shortening your learning curve.
So, let's understand how to conduct a competitive analysis.
Check Your Competitors' Traffic and Keywords
There are various platforms and tools to estimate the number of visitors to a site.
Pick a tool of your choice, and you can get a complete domain overview for any site as in the screenshot below: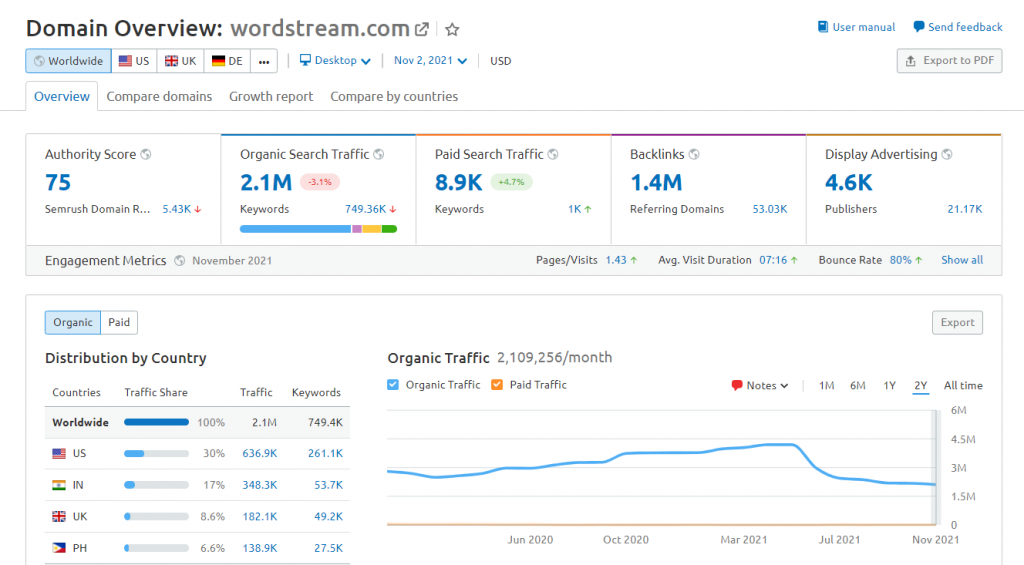 Next, it's time to conduct a keyword gap analysis.
This is what you should be looking for in this phase:
Valuable keywords you aren't targeting
High-volume keywords that your site is ranking in #5 to #15 for
Once again, you can use an SEO tool for this purpose.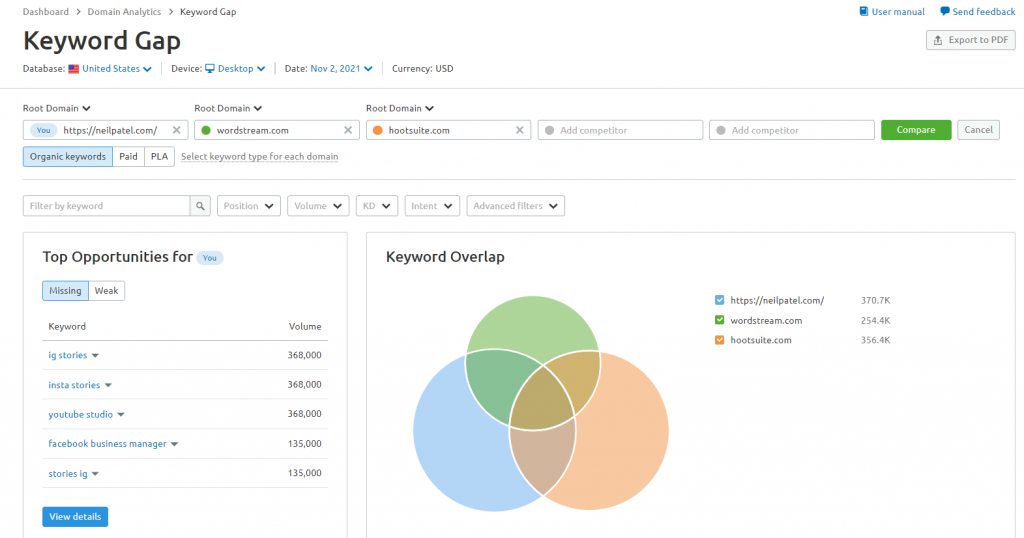 You should also gauge how many keywords both you and your competitor are ranking for in articles written on the same theme. Then, compare and understand how you can further improve your content.
Assess Your Competitors' Content Assets
During this stage, you should try to understand what kind of content your competitor posts, where they post it, how often, and more.
First things first, identify the various content assets on their site.
For instance, in addition to a blog, Keyhole has customer studies, FAQs, and how-to videos.
Next, understand their frequency of posting. Do they have a set schedule, or do they post sporadically?
This will indicate the kind of resources they have at their disposal.
Finally, check where your competitors are present.
New online platforms are coming up every other day, and it is important for you to be where your target audience is.
If you do come across a platform that your competitor is on but you aren't, it may be time to target it.
Evaluate their SEO tactics
The competition for organic traffic is fierce.
Take a look at the number of results for the keyword 'content marketing:'
But SEO is an elaborate process. Chances are that your competitors are missing out on certain things. Each one of these things would represent a golden opportunity for you.
Here are some questions you can ask in this stage:
Where has my competitor included their primary keyword?
How long are their URLs?
What kind of visual content are they using?
Are their title tags keyword or engagement-driven?
What is their content's keyword density like?
Use data from what your competitors are doing right (and wrong) to guide your own SEO copywriting strategy.
Write for Featured Snippets
Featured snippets are a quick, convenient, and easy way for searchers to find what they're looking for.
And they help businesses improve visibility, boost conversions, and drive traffic to their site.
But how exactly do you rank in this section?
One of the best ways to do this is to think like your audience.
What are the most important questions people are trying to find answers to?
For instance, there's a lot of confusion around whether veganism is really good for the human body.
And so, the search query 'is veganism healthy?' has a featured snippet:
For more ideas, you can also check out the "People also ask" section:
Then, start adding snippet bait sections to your content.
Simply put, this is content that is specifically written for featured snippets.
For instance, we include an FAQ section in some of our articles:
Want in on another tip?
Include some LSI keywords in your content to increase your chances of showing up in featured snippets.
Furthermore, format your content right. One good way to do this is by organizing your article with appropriate headings.
What's more?
Google knows that people love to learn from visuals.
So, visual content is often given preference in featured snippets.
Thus, it's a good idea to include lots of high-quality visuals in your content.
This brings us to our next point.
Break Your Content with Images
SEO copywriting is not just about creating written content.
You need to break up your text with appropriate visuals.
In 2020, almost 50% of content marketers primarily created visuals for blog posts and landing pages.
Remember—search engines love visual content.
Here are some types of visual content that can improve your articles:
Images
Videos
Infographics
GIFs
Graphs and charts
Quotes
Furthermore, don't forget to add relevant captions and optimize your visuals for SEO.
Use Open Loops to Hold Attention
We have already learned about the APP method of writing.
Open loops are another way to grab and keep your readers' attention.
These rely on the brain's natural inclination for completion.
You can use open loops in any sort of content, and instantly make it magnetic.
Here's an example:
This makes readers want to know about that 'easier way' to get traffic from Google.
Open loops are pretty easy to implement.
Simply ask lots of questions, and expand on them vaguely.
The incomplete nature of your content will in turn keep your readers scrolling for more.
Include a Clickable Table of Contents in your Articles
A simple search will tell you why a table of contents (TOC) is important to SEO copywriting.
Adding them to your blog posts can help you increase:
Site traffic
Click-through rates
Dwell time
A TOC will help users get an overview of your article right at the start.
It also improves navigation on your site, which is something Google appreciates.
And that's not it.
A TOC may also help add clickable links to your results as in the screenshot below:

This makes it super easy for searchers to go to the most relevant section.
Besides, if your headings and subheadings are eye-catching, a TOC will automatically make your readers want to read till the end.
Leverage the Power of Case Studies and Statistics
Readers appreciate honest storytelling, and case studies can help you offer that.
A good case study will go on to explain what your product is, and how it solves a problem. It will highlight common customer pain points, costs, and more.
Now, you may be wondering: if online reviews already cover these things, why do I need case studies?
Great question.
However, a professionally written case study will align with your brand's values, look, and tone of voice.
This is crucial for successful SEO copywriting.
Another good idea is to include relevant statistics in your articles.
This can help you give proof of real impact to your readers.
FAQs
1. What is SEO copywriting?
SEO copywriting is the process of writing for people and optimizing for search engines. While writing content, an SEO copywriter will account for keyword density, tone of voice, readability, interlinking, and more.
Over time, SEO copywriting can help improve a website's visibility on search engines.
2. How long does it take to learn SEO copywriting?
There is no definite answer to this. However, the average person can grasp the basics of SEO copywriting in 1-3 months. This is provided you're reading a lot, consuming lots of knowledge, and learning from experts.
You can even sign up for an online SEO course to accelerate the learning process.
3. Why does SEO need great copywriters?
This is because when done right, SEO copywriting can benefit brands in a number of ways:
It makes websites look professional and trustworthy
It attracts qualified traffic
It turns visitors into customers
It reduces bounce rates
4. What are the SEO copywriting tips?
Here are some effective SEO copywriting tips to help you rank better:
Conduct keyword research thoroughly
Write compelling call-to-action
Consider the intent behind queries and keywords
Break your content up with visual aids
Use bucket brigades wherever needed
Write for featured snippets
5. What is the difference between content writing and copywriting?
Content writing and copywriting can be distinguished based on the primary purpose they serve. While content writing is designed to educate, entertain, and instruct, a copywriter will write in a way that persuades the reader to take some action.
Content writing can include articles and social media posts, whereas copywriting includes stuff like ads and landing pages.
Conclusion
If you look closely, you'll find copy everywhere—on billboards, on soap bottles, in advertisements. But when it comes to creating online content, copywriting is quite different.
It needs to be valuable, engaging, as well as technical.
However, SEO copywriting isn't as difficult when you have a well-laid-out strategy.
And remember—while there are any number of technical SEO tips to make your content rank, you should always write for your audience.
Google prefers what people prefer.
What's more, in the marketing world, things are ever-changing.
Make sure that you're always in the know about what's happening, so that you can create relevant content. For a step-by-step framework to climb the SERPs faster, feel free to check out our SEO Checklist and SOP Collection