What is Link Velocity and How Does it Work?
One of the many SEO metrics businesses need to look out for is link velocity.
But what is link velocity?
The term might sound technical, but if you've been building backlinks to your site, then you likely already know what it means.
Link velocity simply refers to the speed at which your domain or pages gain backlinks over a set period. And backlinks are, of course, one of the most important Google ranking factors in SEO.
Here's why you need to track your link velocity.
To rank higher in organic searches, Google analyzes the number of links pointing back to your site. Therefore, it's important to keep tabs on your backlinking trends at all times.
It's also essential to note that when you're analyzing link velocity, you need to focus on the quality of the backlinks you've built.
This post takes a deeper look into what link velocity is, how it works, and why it's important for your site.
Let's get started!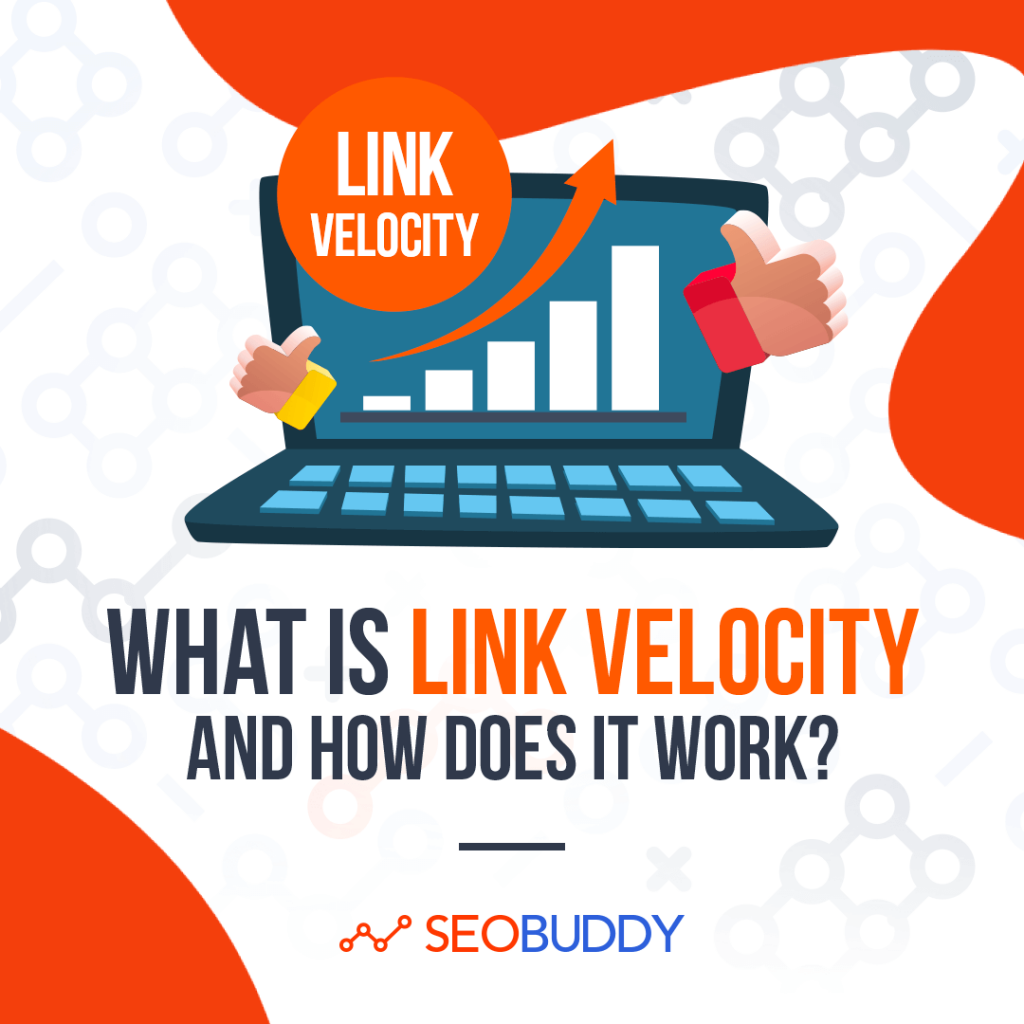 What is Link Velocity?
As mentioned above, link velocity refers to how fast a domain or page grows its backlinks over a period. It's measured per month and is determined by the number of links gained.
The idea of link velocity was developed in 2003 from a Google patent. The patent was based on generating search information from historical data. It talks about measuring the growth of links on a website over time ‌to rank pages.
It's important to note that the concept of link velocity as a metric is not an official Google standard for SEO. It's an idea that was developed within the SEO community as a practical ranking strategy.
Therefore, a high or low link velocity doesn't automatically guarantee better rankings as per Google's standards. In fact, according to Google, the most valuable practice is to focus on the quality of backlinks you build for your website above all else.
In an ideal scenario, you should get natural backlinks based on your content. But this isn't possible in most cases, which is why you need to earn your backlinks actively.
Building your backlinks fast does not negate your SEO rankings, although there needs to be a balance. The growth in your link velocity needs to be steady‌, as this increases your website's credibility‌. The graph below shows how you should go about building your links.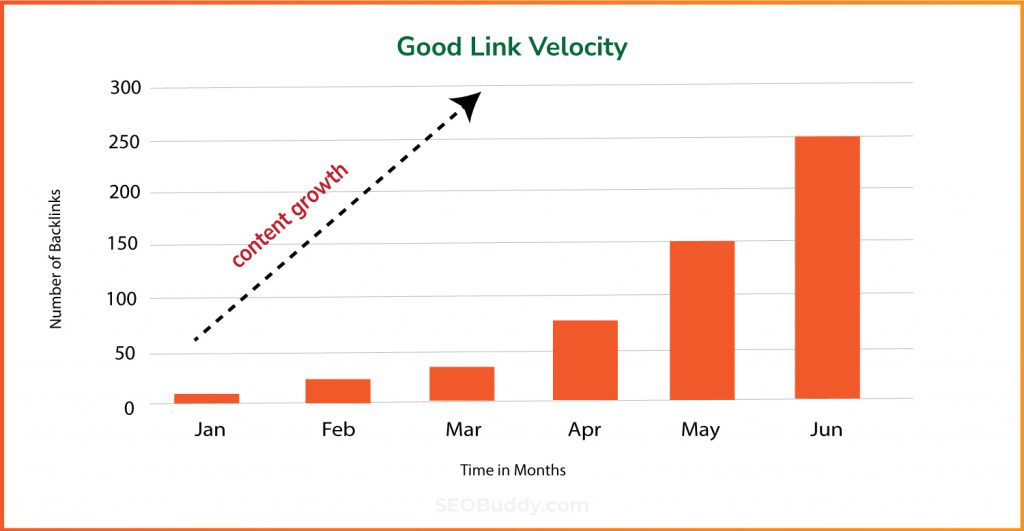 For instance, if your website is new, it's expected to gain a few backlinks at the beginning. Now, suppose you instead gained 1,000 backlinks overnight. Wouldn't that seem suspicious? Note how the graph below has huge spikes.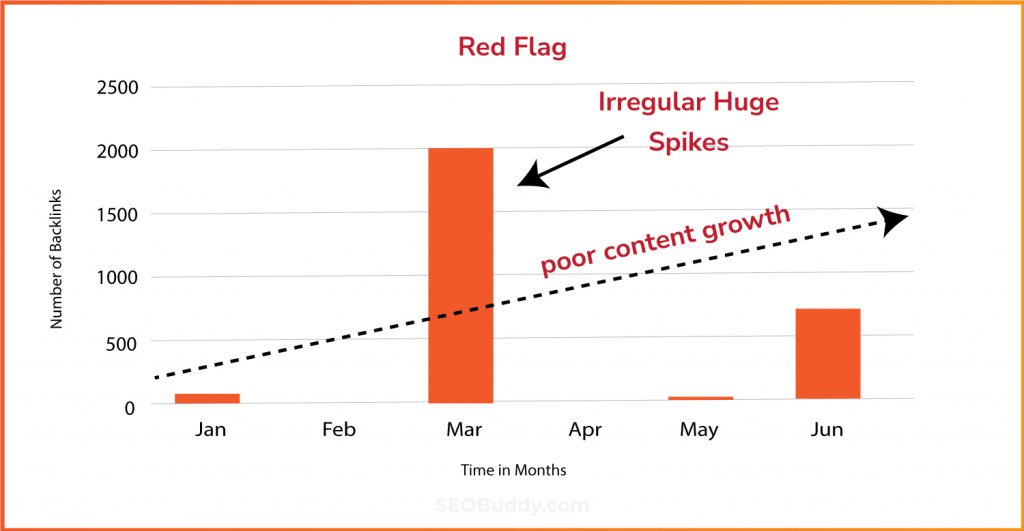 Google picks up on such spikes in link building and this might adversely impact your SEO rankings, and, resultantly, your website's credibility.
Here's why link velocity is an important metric to track.
Why is Link Velocity Important?
Link velocity is one of the most critical SEO techniques that attract traffic to your website.
A recent study by Semrush found that the more backlinks a domain has, the higher it ranked on the search engine results pages (SERP). Here's a look at the study's findings.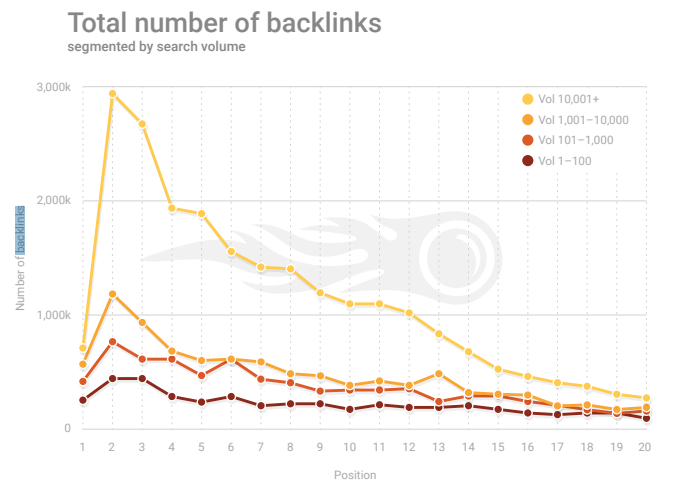 Besides ranking highly on SERPs, analyzing link velocity trends levels the playing field for you and your competitors. This is especially true if you examine your backlinks against those of other players in your industry.
You can easily identify how your business ranks against your competitors. Tools such as Ahrefs help make these analyses easier for you.
Below is an example of what a competitive analysis on Ahrefs looks like.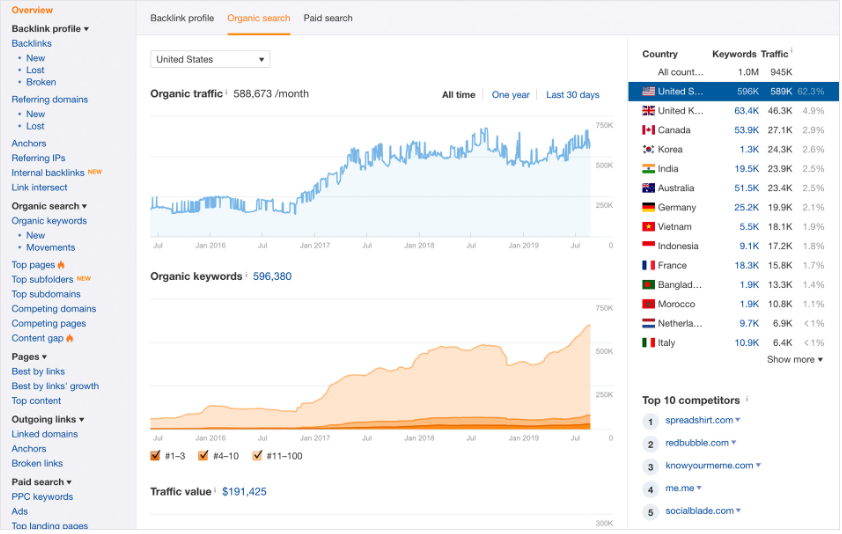 If you build links organically for your website, you need not worry about being penalized by Google. However, Google frowns at backlink building that does not follow recommended guidelines, also known as black-hat link building.
Unnatural spikes in the growth of your links also signify a red flag to search engine crawlers as earlier mentioned. However, this depends on the type of business you're running.
For instance, established ecommerce sites such as Amazon get lots of backlinks daily, therefore high spikes are not unnatural.
However, new and growing businesses gaining numerous backlinks in a day would seem unnatural. And that would attract penalties from search engine crawlers, leading to a drop in their SEO rankings.
The case is different with viral links, as we will find out in the next section.
Are Viral Links Considered for Link Velocity?
Sometimes, one or a few of your posts may go viral and put your business on the map. This attracts both valuable and spammy backlinks.
You might get mentioned by numerous popular websites and get quality backlinks. Similarly, many small websites with low rankings will also want to link back to your site.
Such spikes may seem unnatural, especially if your site's usual popularity levels aren't as high.
However, search engine crawlers do not pick these spikes up as a sign of unnatural link building. Google, for instance, treats viral link building differently. You need not worry about your viral link velocity seeming unnatural. In short, it won't affect you negatively.
This is especially so if your website receives spam backlinks that are likely to hurt your rankings. Google has ways of making sure such spam from viral posts does not hurt your credibility.
A tweet once posed a question to John Mueller of Google if they should disavow spam backlinks from their viral article, and here was his response.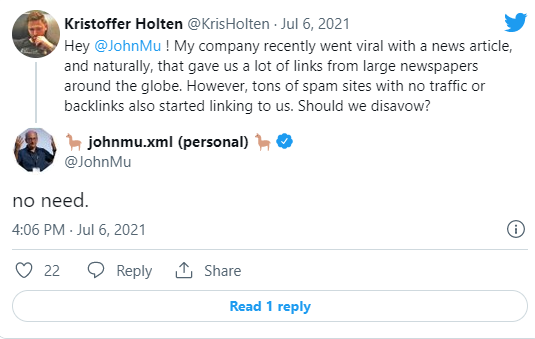 To monitor your link velocity over time, and to ensure it's steady, you need to analyze your link velocity trends.
What are link velocity trends? Let's find out in the next section.
What Are Link Velocity Trends?
Link velocity trends help you measure the rise and fall of your link building rate. Tracking link velocity trends will show you if you're gaining links the right way.
This way, you'll identify your negative, positive, and optimal link velocities‌.
What's positive, negative, and optimal when referring to link velocity trends? Let's take a look.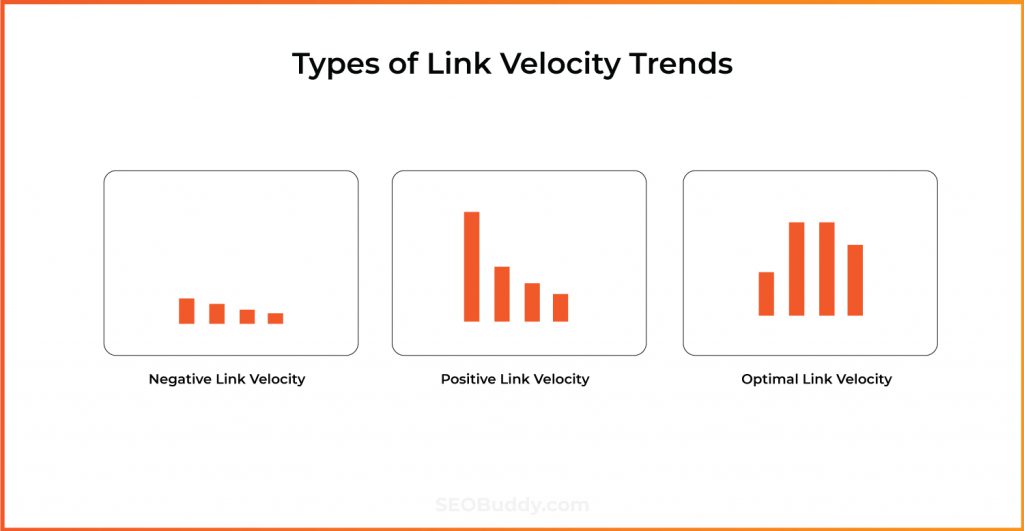 Negative Link Velocity
This refers to the state when the number of backlinks to your website declines. Search engines interpret this as a bad sign for your website and it could reduce your SEO rankings.
Positive Link Velocity
Positive link velocity shows growth in the number of backlinks to your website. Search engines interpret this as a website that's gaining both integrity and popularity. Hence, they might raise your SEO rankings.
Optimal Link Velocity
This is when your website contains high-quality content that automatically guarantees organic backlinks for your domain. Also, as mentioned, it refers to the consistent growth in backlinks you actively build yourself.
Here's a deeper dive into how you can use link velocity trends to analyze your backlinks and compare your website with your competitors.
How to Use Link Velocity Trends For Backlink Analysis
Tracking link velocity trends helps you identify the health of the links pointing back to your site. It also lets you analyze the backlinks to your competitors' sites.
This way, you can pick out quality links, drop negative or broken links, and learn from your competitors.
Analyzing Inbound Links
With link velocity, you get a better understanding of how each inbound link is performing. This way, you're able to distinguish regular from irregular spikes that can hurt your website.
You can also identify popular links that bring in more traffic versus the poorly performing ones that add no value. This is also how you find expired domains that are no longer reachable. These are the links you need to disavow.
Studying the link velocity of other sites gives you a look into more popular domains that your site could benefit from. You can use those insights to inform your link building strategy.
Analyzing Own Link Velocity
This helps you analyze where your domain stands in terms of credibility as a platform to link back to other sites. It's especially important when building on reciprocal backlinks.
Reciprocal backlinking happens when websites link back to each other. It's a common practice in the link-building world that we'll discuss later in this post.
The more quality your domain brings to another site, the more likely they're to agree to a reciprocal linking arrangement.
Analyzing Other Domain's Link Velocity
You can analyze the link velocity of any other websites you have an interest in. It could be a website you're looking to get backlinks from. This way, you can assess how valuable that would be to you.
It could also be a website you're looking to own or de-link from. Either way, studying their link velocity will give you the insight you need to make your decision.
Analyzing Competitor Link Velocity
Conducting a competitor backlink analysis helps you know your position in the industry with respect to your competitors. By analyzing the link velocity of other businesses in your industry, you'll know which of their backlinks are powerful and compare those against your own.
You also get to know which of their domains have higher ratings, and by extension, how they've impacted their link velocity.
Also, you'll get to compare how your website is ranking for specific keywords against competitor websites.
For instance, you'll know which businesses have higher backlinks for certain keywords and what they're doing well. Then, you can take the required action and optimize your content and link building strategy.
There are several tools you can use to make these comparisons easily. One is the Competitive Landscape Analyzer.
A link velocity comparison on the Competitive Landscape Analyzer software would look something like this:

Reciprocal Links and Link Velocity
As mentioned earlier, reciprocal links are links that are built by two websites that decide to build links between their websites. The websites build relationships based on the value of their content, which, in turn, leads to link exchanges.
As a result, they end up linking back to each other either on their pages, articles, or blog posts. Sometimes, it's an unaware practice that stems from sites having content relevant to each other's niches.
It's a go-to way to build valuable backlinks to your site with minimal effort too.
This strategy is fairly common. About 73.6% of the domains analyzed in a study had reciprocal links. Here's an infographic of the study.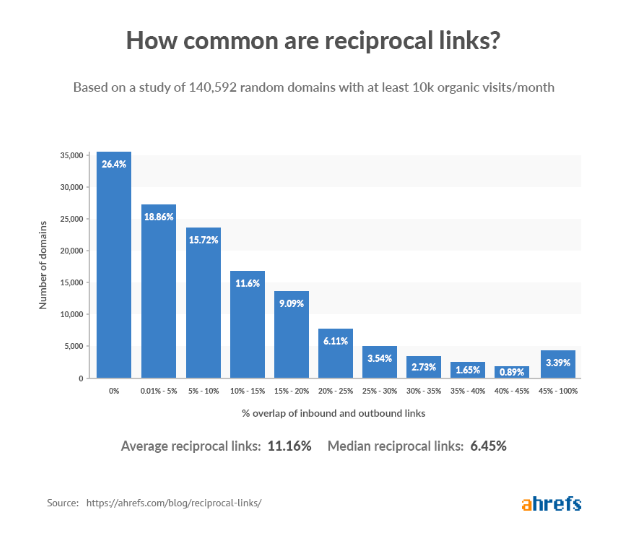 Please note that reciprocal linking does not merely involve approaching a website to exchange links. You need to develop a relationship with them.
How do link velocity and reciprocal links relate, you may ask?
Here's how.
First, studying your link velocity trends helps you determine which websites have valuable backlinks. Before you approach a website to build a relationship with them, you need to determine its relevance and credibility.
Their link velocity will help you determine if they're authoritative enough for your inbound and outbound links. Remember, when your site is connected to spammy sites in any manner, search engines may penalize you.
Why is it important to build reciprocal backlinks anyway? And how do you effectively do that?
First, every website wants to rank higher in the SERPs, since this means more conversions. Creating backlinks is one way to do that, and reciprocal links are an easy way to create backlinks.
Now that we know the why, let's move on to the how.
To ensure your reciprocal link building strategy is effective, you need to perform the following practices: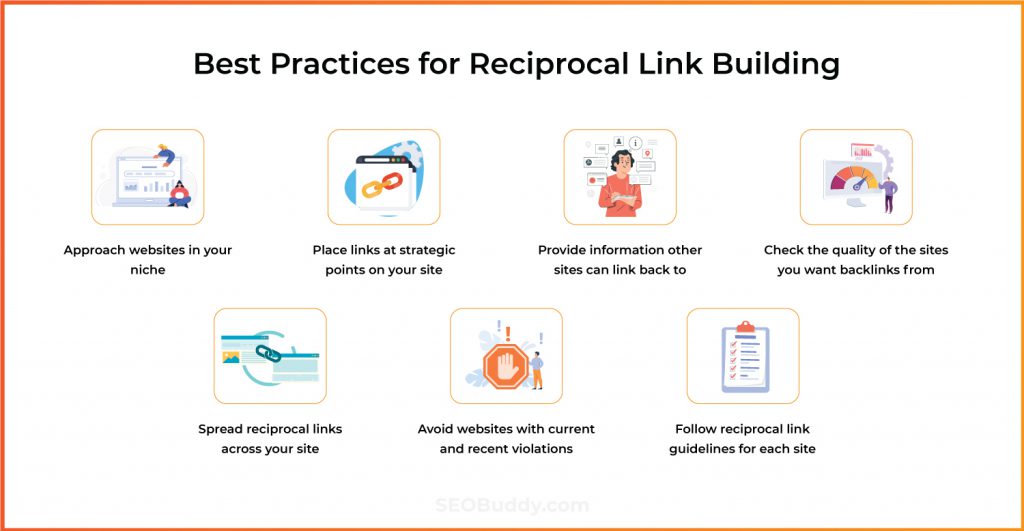 Approach websites with content related to your niche or industry.
Optimize the click-through rates (CTR) by placing your links at strategic points on your site.
Try providing information other sites can link back to.
Check the quality of the sites you want backlinks from.
Spread reciprocal links across your pages.
Avoid websites with current and recent violations. You can spot this by looking at their negative link velocities.
If the site has any reciprocal linking guidelines, make sure you follow them.
If your content is of good quality, reciprocal links will build up organically with no effort. However, when you have to build them on your own, the above guidelines will come in handy.
How Best to Apply Link Velocity
If your site frequently has links pointing back at it, search engines get the impression that you produce quality content. The more relevant and higher-quality your backlink sources are, the better SEO rankings your site will get.
Relevance has to do with factors such as keywords, niche, and page content. So, make sure you target the right keywords when you conduct keyword research for content creation.
Search engine crawlers index your website for the keywords you use in your content. So, if your content is well-optimized, it'll rank higher in the SERPs and attract greater traffic to your website.
This takes time, sometimes months, as these crawlers orbit your website looking for consistency in your content's quality.
One way they determine your website's consistency is by studying your backlinking gains, i.e. observing your link velocity trends. Once the search engine finds out that your site's backlinks are growing at a natural rate, your SEO rankings might rise.
Therefore, building your link velocity in the right manner is a great way to give a boost to your SEO. To further boost these results, you need to:
Create quality content that will help your audience
Use tools like Ahrefs to find out the relevance of the backlinks you choose to build
Another tool for link velocity is the Competitive Link Velocity Tool (CLV). This tool analyzes your link velocity compared to your competitors to identify opportunities for valuable backlink creation.
Here's what the tool looks like in practice.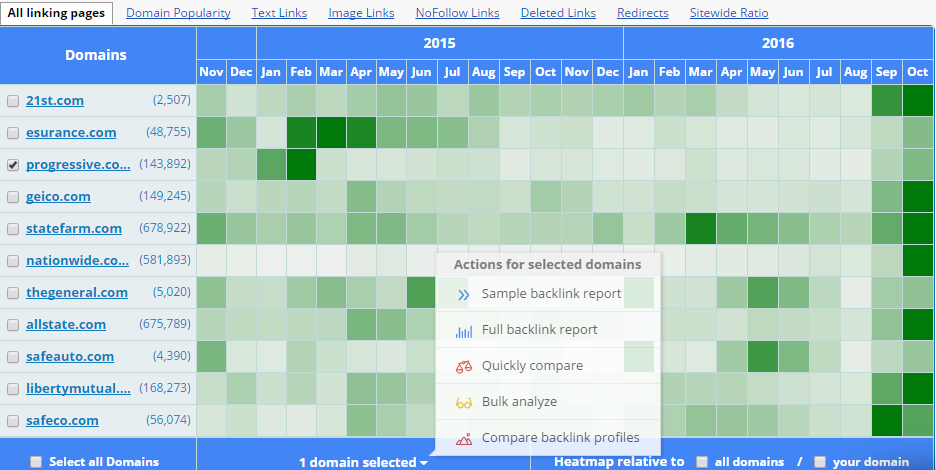 Besides helping your SEO rankings, tracking your link velocity can also help you build your content strategy. For instance, studying competitor domains and backlinks helps you:
Get ideas on which keywords to maximize on
Know what new content to produce
Identify what's more relevant to your audience
How to Get Higher Rankings
Every business with an online presence wants to reach page one of Google or have content that ranks. After all, the first step towards making money online is to attain visibility.
Tracking your link velocity and identifying quality backlinks helps with your website traffic. Backlinks help with your rankings because they show search engine crawlers that:
The information you produce is beneficial to your website visitors
Other websites value your viewpoints, so much so that they want to share them with their audience
There is mutual goodwill between sites, especially those linking back to each other
The best advice for getting higher rankings is usually to try building backlinks as naturally as possible. And, as mentioned earlier, make it steady and consistent as well.
For instance, having high rankings for a couple of months and none at all later is cause for alarm. Google and other search engine crawlers validate the credibility of sites with steady backlink growth.
This is how tracking link velocity helps you boost your site's Google ranking.
(Find the best links for backlinking. Download the Link Chest now!)
How Can Link Velocity Help You Avoid Google Penalties?
Link velocity can help you avoid Google penalties only if it's not unsteady growth. Unsteady growth, otherwise called spikes, in backlinking attracts penalties. Negative link velocities are how you identify links that can cause these penalties.
Google has rules that guide its search engine results pages (SERPS). So, it's critical to follow Google's guidelines to get your website to rank higher in the SERPs.
These guidelines allow you to link back to specific content and breaching these guidelines also leads to penalties.
Another one of the most important algorithms that Google uses to rank websites is PageRank. This algorithm checks the authority of your website to determine its rankings. Link velocity is one factor that PageRank algorithms pick up on.
Having many domains linking back to your website helps you rank highly on SERPs and gives you a better PageRank. Therefore, you must strive to get the best possible backlinks for your website at a consistent rate.
One way to do that is by spreading your backlinks out over time so there are no sudden spikes. Other ways include:
Using different anchor texts when building backlinks
Ensuring your tactics aren't black-hat, especially for paid SEO backlinks
Following Google Webmaster guidelines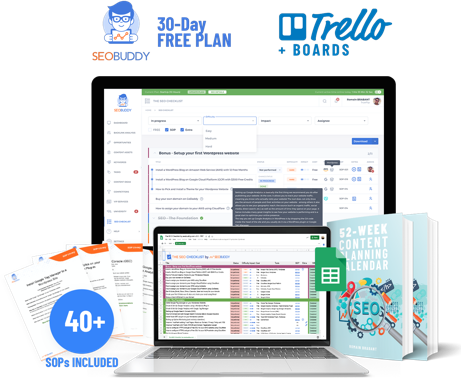 There's more…
Now it's time to discover the other 102 steps that will get more organic traffic flowing to your website. Get the SEO Checklist here.
Want to get a sneak peek of what it looks like?
Enter your email and get a free demo version of the SEO Checklist.
FAQs
1. What is link velocity in SEO?
It refers to the rate at which your website gains backlinks over a set period.
2. What are link velocity trends?
Link velocity trends measure the rise and fall of your backlink building rates. It shows how steady your link velocity is.
3. Where is link velocity in Ahrefs?
In Ahrefs, you find link velocity on the domain backlinks section. By typing URLs of the top-ranking sites in your niche you'll see their backlink growth over time against your own.
4. How many backlinks are good for SEO?
When building links for your website, there is no specific number that is good for SEO. You can have as many backlinks as you can as long as they're valuable and relevant.
5. How do links help SEO?
Building links shows Google ‌your website has quality content. Therefore, search engine crawlers rank your site higher if you consistently have quality links pointing back to your website.
Time to Start Analyzing Your Link Velocity Trends
Even as you create your SEO strategy, it's crucial to note your link velocity and its influence on your website rankings.
Search engine crawlers will monitor your backlink trends to determine the authority of your website. Therefore, consider using link velocity to weed out negative backlinks and build more quality inbound links.
What's more?
When Google crawlers find your website highly authoritative, other website visitors will too. This way, not only will your SEO rankings rise, but it'll also result in more organic backlinks building naturally.
And how do you find potential backlink opportunities for your website? Head to our Link Chest to find out.