My SEO Journey [Pro Edition]: Jay Vics from jvimobile.com – Focus on quality instead of the quantity
My SEO Journey [PRO Edition] is a series where professionals of the SEO Industry, Digital Marketing, or Web Design, share their honest SEO Journey filled with failure and success, and most importantly proven results. Episode #80 features Jay Vics from JVI Mobile Marketing.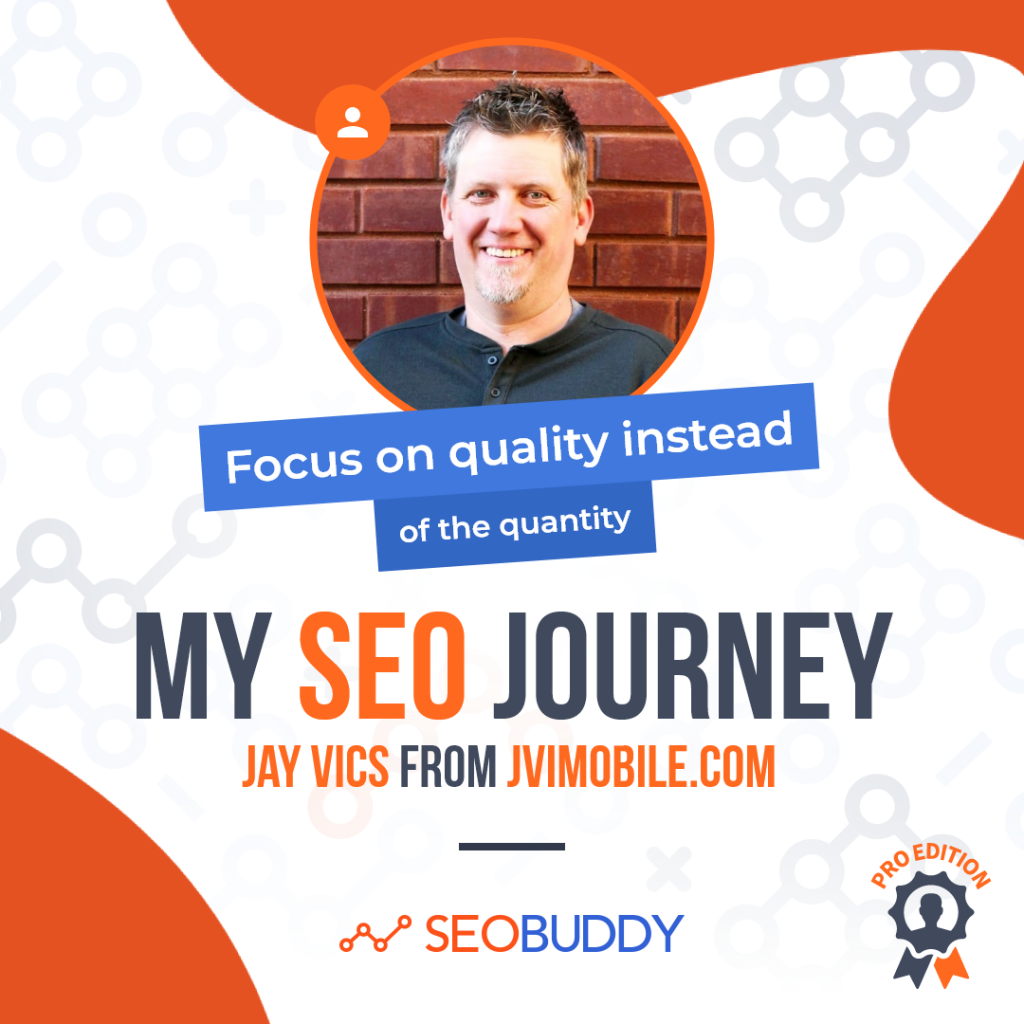 Hi there! My name is Jay Vics and I am the founder of JVI Mobile Marketing in Greensboro, North Carolina.
We are a DigitalMarketer Certified Partner agency focused on strategy and implementation of marketing systems into a few small business niches.
We have several products designed to meet the needs of our clients, and while each client requires a bit of customization, the path to success remains the same. Our flagship offering is a half-day strategy bootcamp that will give us a clear understanding of what the client needs, what they are really solid at, the transformation that they sell, and what metrics are most important in their business.
We work well with e-commerce and brick & mortar retail, B2B lead generation, family fun centers, and estate sale companies. We are on a mission to double the revenue for 500 businesses in the next 5 years.
What's your backstory and how did you come up with the idea?
I started my professional career in 1997 and I learned how to build websites with HTML.
Over the years, I held several different types of jobs in web development, sales and marketing, along with management. In 2010, I was working for a cell phone retailer, and went to a business growth workshop where someone who I knew stood up and said "I wish someone would teach me how to use my stupid smartphone!"
I remember immediately taking out a piece of paper and writing the words "how to use your stupid smartphone", that day my company unknowingly began. Even though we didn't officially launch until 2012, I began teaching people how to use their Android devices. What I found is that most people coming to the workshops were a bit older, and they wanted to keep up with their kids and grandkids.
Trends come and go, and are out of your control. Momentum is something you can create by focusing on what you want.
What was interesting is that several "students" owned small businesses and didn't have any clue how to utilize the technology available to market their businesses.
I had a few conversations with some small business owners who began to ask questions about using this technology for their business.
I knew I could help them.
I wasn't available or ready to begin the process of helping these small business owners market their business as a full-time job so I started it completely as a "side-hustle" with about $500 to invest in the business. The very first service that I offered was as a white-labeled mobile app reseller where I partnered with a company and we were able to build small business loyalty apps that could be downloaded from the Apple or Google app stores.
Over time this grew into text message marketing, website maintenance and design, graphic design, and social media management.
In 2015, my wife and I moved out of the state and I told her I would go if I could make my now growing company a full-time endeavor. I remember her telling me that I could, just as long as the business would fund itself and I wouldn't be borrowing money from our personal account to pay the business' bills!
Today, not only are we a full service, full-stack digital marketing fulfillment agency, but we really start out as a "Fractional CMO" for small business owners which is really bringing us back to our "roots" of teaching small business owners how to use the available technology in their business.
We now have several blogs, a livestream interview series, a SaaS product, and a coaching program that keeps my head spinning every day. The 6 people that we now have on the team are steering the ship really well, though.
Since launch, what has worked to attract more organic traffic?
Most of our organic traffic comes from backlinks on other sites. We have a few partnerships with companies like DigitalMarketer and Manychat, and the listings in their directories bring us really great, high-quality traffic.
The pandemic really changed our business and the way we look at acquiring traffic.
As a B2B business that serves clients who are both B2C and B2B, we have had to learn different methodologies. However, the biggest catalyst for traffic has been prospecting for people with a pure "value in advance" offering to people we think would be great to work with. We offer prospects a free 15 minute "commercial" all about their business. It is called "Meet The Experts" and we livestream an interview with the business owner or general manager hosted by me. We stream it to up to 8 different platforms and provide the company with all the files when we are done for them to share it with their audience.
They get free, sharable, video content. I get my foot in the door, expand my network, and position myself as a community leader. It is a massive win for both parties involved.
50% of all the people that apply to become a guest on the show ask me what else we might be able to do for them and this has led to thousands in monthly revenue.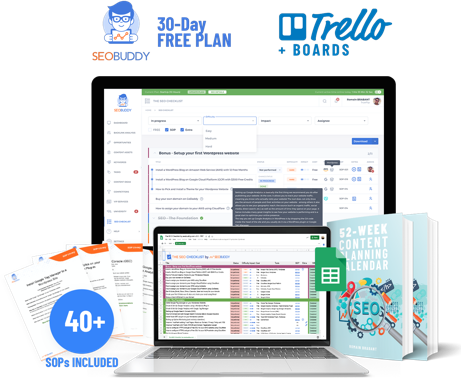 There's more…
Now it's time to discover the other 102 steps that will get more organic traffic flowing to your website. Get the SEO Checklist here.
Want to get a sneak peek of what it looks like?
Enter your email and get a free demo version of the SEO Checklist.
Have you learned anything particularly helpful in your SEO Journey?
During my SEO journey, I've learned some really important lessons. One, traffic isn't hard to get. You can always buy more traffic. But from a pure SEO perspective, focus on the quality instead of the quantity. Traffic numbers are a vanity metric if the traffic isn't targeted. Know your ideal customer avatar and find those people. Also, find a tool that can help guide you to make impactful decisions on your site.
An app like Squirrly is great because they constantly audit the sites we have and give us suggestions of actions we should take to improve our rankings. Additionally, take time to look at your rankings and optimize. You can't optimize what you don't track, so get a tool that can automate the delivery of rankings, traffic, and other impactful metrics for your business.
The biggest thing I've learned in my journey as a marketing professional is that people don't buy products and services, they buy transformations. They buy the "after state". This means that people don't buy a bottle of water, they buy the quenching of their thirst and hydration that will give them the energy to make it through their day.
The next biggest thing we've learned was that it is important to be intimately familiar with our clients customers before we can take on the client. We failed over and over again in the early days by saying yes to anyone that would give us money to perform marketing tasks. We knew the mechanics and tactics really well. But we didn't always know the customer avatar, or where our marketing fit in relation to that customer's journey with our clients. We lost a few clients over the years by not really developing a strategy with the client before taking them on.
What SEO tools do you use for your business?
We are AppSumo junkies. Most of the tools we've bought come from lifetime deals on their site. The best SEO tools we've bought have been Squirrly for WordPress, TruRanker, and Conversion.ai (Jasper).

Squirrly is great because it allows us to optimize sites based on the AI recommendations of the platform. Anyone can utilize the tools and suggestions to achieve higher search rankings, but you still need to know how to create good content. Squirrly also helps with that using their live assistant feature.

Tru Ranker is really good for monitoring where your site is for particular keywords, what your competitors are ranking for, and uncovering opportunities to create content based on some low hanging fruit.

Conversion.ai, formerly Jarvis and now Jasper.ai, is one of the coolest copywriting tools we've ever come across. It uses the GPT3 technology (look it up) to take a little bit of input from us (keywords, description, key information), and turn it into different types of full-fledged content.
We can use it to write blog posts, emails, YouTube scripts, headlines, and all sorts of other marketing copy.
For Link building, we use 2 services that have been helpful. For citations, we've always used Yext.
But beyond that, a service that we like is called Alli.ai. This is another deal we picked up from AppSumo and they have a Done For You (DFY) link building service. 
Link building is not something we want to spend time doing. We would much rather outsource it.
What have been the most influential books, podcasts, or other resources?
We absolutely love everything from DigitalMarketer, and we should since we are Certified Partners, right?
Additionally, they have a sister company called Scalable, which is designed to help businesses scale by installing a Company Operating system. They've borrowed from Traction by Gino Wickman, Profit First from Mike Michalowicz(sp?) and their own DigitalMarketer material (among others), to create a really great coaching and cohort-based membership program.

I also follow people like Molly Pittman, Ezra Firestone, Justin Brooke, Kasim Aslam, and Neil Patel. They all have a ton of great value in what they put out.
What's the next step in your SEO Journey?
SEO is hard. There are so many areas we need to improve on. Our journey never really seems to get a ton of traction if I look at the short-term.

But that's the kicker, right?
It's not supposed to be.
If I look at where we were 10 years ago, we will see massive strides in our search results. It is a long-term goal. You really can't just keyword stuff a blog post and expect #1 rankings overnight. It's like watching your stock portfolio. It goes up, it goes down in the short term. But over the long term is where you'll see the improvement. Zoom out a bit.
Where can we go to learn more?
If you own a small business, have a hard time coming up with new content, and aren't quite sure what to do when it comes to effectively marketing your business, we want you to be a guest on Meet The Experts.
To apply (it's free), just visit this link and we will talk to you really soon.

In addition, we are on social media. And we do a lot of it. You can find me by searching @Jay.Vics on Insta or Facebook. You can find our agency by searching JVI Mobile Marketing @jvimobile on Facebook and Twitter, or @HowTo.Agency on Instagram.

We have a ton of resources online. Here are a few:

www.jvimobile.com – Our main agency website
www.howto.agency – Our blog with resources for business owners who want a primer on digital marketing
www.subscribestage.com – All things "Opt-In" related like landing pages, lead magnets, chatbots, email, and text related tips and articles
www.local5stars.com – This is our brand new Online Review SaaS that we've been working on for nearly 18 months and are launching in April, 2022 to the world.
www.advertisinggreensboro.com -Local directory where we host all of our local Meet The Experts episodes.
If you would like a Double Your Sales Discovery Session and Audit for your business valued at $1000, we can cover your costs with a small business grant we have access to. If this is something you are interested in, visit https://link.howto.agency/seo-story