My SEO Journey: Sean Green from sportsgamblingpodcast.com – If you create high-quality content people inevitably link back to it
My SEO Journey is a series where entrepreneurs and Indie makers share their honest SEO Journey filled with failure and success, and most importantly proven results. Episode #74 features Sean Green from SGPN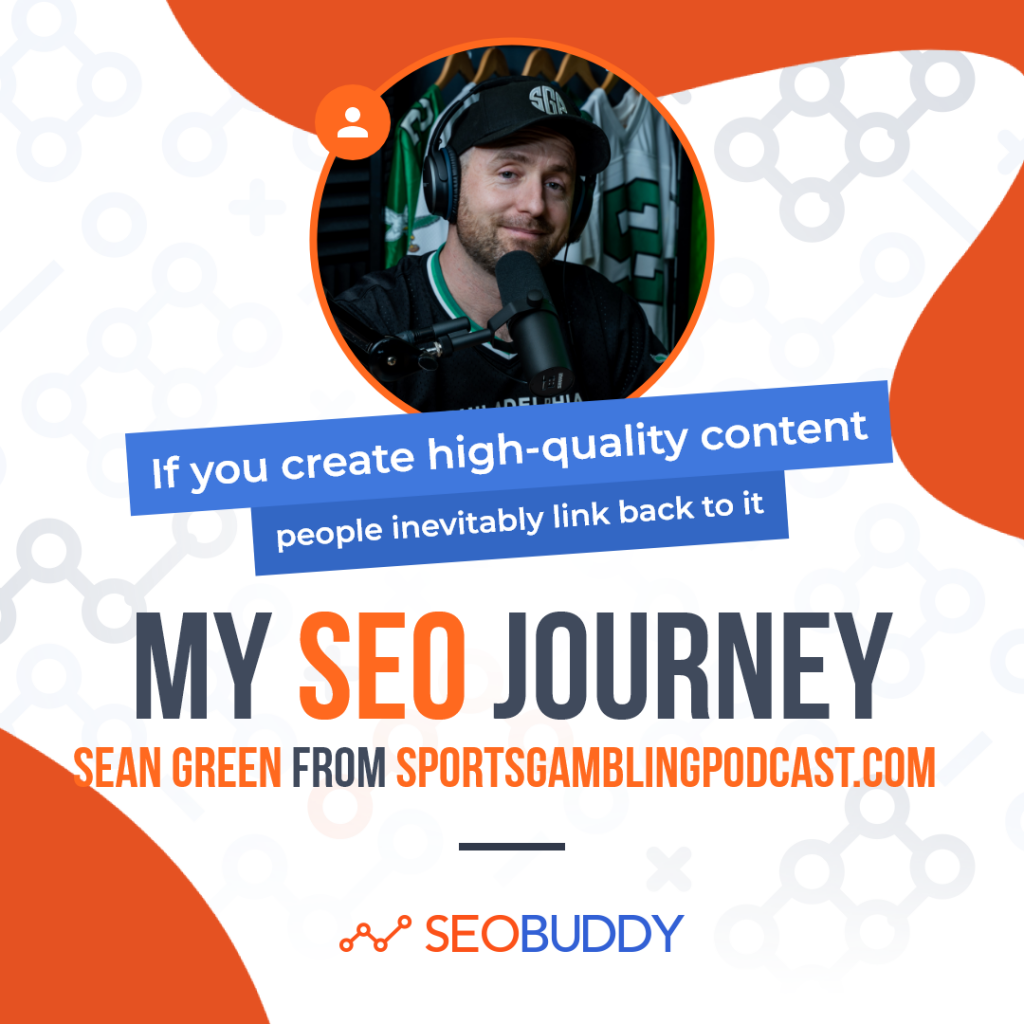 I'm Sean Green, the co-founder of The Sports Gambling Podcast Network and co-host of our flagship show The Sports Gambling Podcast.
Our goal is to provide the most entertaining sports gambling shows on the Internet.
What's your backstory and how did you come up with the idea?
The beginning of SGPN started like many tech companies between a couple of buddies in a garage in California.
The original show, that then helped launched the network, was originally just myself and my friend and co-host Ryan Kramer simply talking about the games we wanted to bet on. It started out as a hobby for us for years, but slowly our download numbers increased, and then our first breakthrough moment was when we got a sportsbook to sponsor our show.
That was the moment where things changed and it became less of a hobby and more of a business.
Since launch, what has worked to attract more organic traffic?

The number one thing that has worked for us traffic-wise has been a ton of original written content.
We formed an editorial staff primarily made up from listeners who were interested in contributing and writing for our site. Having them writing and then sharing their work via their social media was a great way to jump-start our editorial.
We created regular recurring articles, which really helped generate return readers.
Another thing that really helped us get going was the choice of our domain, being http://www.sportsgamblingpodcast.com helped us rank for a ton of sports gambling-related terms which were ideal for what we were targeting.
In addition, our site was built on WordPress which really is helpful for dialing in the SEO.
Using the tools Yoast offers was also a great move for dialing in our SEO efforts.
The biggest move we made that paid dividends in regards to organic traffic was being included in Google News.
We signed up via the Google News publisher portal and once we got approved we saw a dramatic increase in site traffic. Being included in Google News allowed us to appear in the carousel and was a game-changer for our traffic.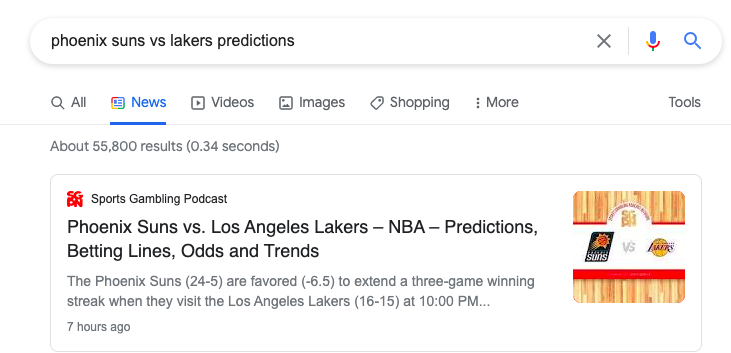 Have you learned anything particularly helpful in your SEO Journey?
The biggest thing I learned on my SEO Journey was to avoid buying links at all costs. It may seem like a good short-term solution, however, it's not worth the risk. In a previous project, not SGPN, the client had been buying links and ended up getting hit with a Google penalty.
It's really a nightmare getting those fixed and it feels like the traffic never fully recovers.
Ultimately the rise in interest in online sports betting has been truly fortuitous for us. As the interest has grown nationally so has our website and our podcast. So being early and being in a growing industry has truly helped us as well.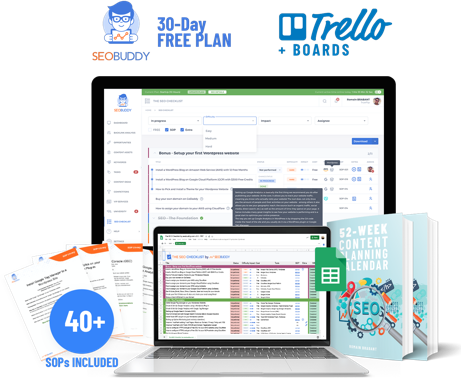 There's more…
Now it's time to discover the other 102 steps that will get more organic traffic flowing to your website. Get the SEO Checklist here.
Want to get a sneak peek of what it looks like?
Enter your email and get a free demo version of the SEO Checklist.
What SEO tools do you use for your business?
Yoast's array of plugins has been one of the best tools for us. In addition, Google Analytics and Google Search console are obviously a must. The last tool that we couldn't live without is the Moz Link Explorer.
Moz Link Explorer allows you to see your whole link profile and the most valuable links.
It's an easy way to monitor your link profile and can't imagine doing SEO on a website without it.

One of the efforts that have paid off most for us in link building has been writing for other websites.
For instance, I wrote sports-related articles for MTV.com, and part of my payment was having my articles link back to http://www.sportsgamblingpodcast.com. In addition to guest posting, being a guest on other podcasts has also been a great link-building formula. After being a guest on other podcasts when the episode goes live I ask that they also include a link back to our website.
The other link-building effort that was super successful was building high-quality content.
If you create high-quality content people inevitably link back to it like the Washington Post did when it linked to one of our golf articles. Or when we have a particularly high profile guest, often times our interview segments will get picked up by various blogs.
What have been the most influential books, podcasts, or other resources?
Moz.com has been my bible when it comes to learning techniques. It was where I learned all my SEO strategies and the most common tools I recommend.
The other resource that has been really helpful is Reddit. I joined /r/SEO and it's been a great resource for answering questions and learning from fellow Redditors.
What's the next step in your SEO Journey?
Currently my biggest goal right now SEO is to be listed in Wikipedia. We have a number of articles written about us and picked up by a number of high-profile outlets so we should qualify.
It's not easy to get an entry in Wikipedia but that's our big SEO challenge for the upcoming year.
Where can we go to learn more?
Website – http://www.sportsgamblingpodcast.com
Facebook – http://www.facebook.com/sportsgamblingpodcast
YouTube – http://www.youtube.com/sportsgamblingpodcast
Podcast – http://sg.pn/sgp
Twitter – http://www.twitter.com/gamblingpodcast
SGPN App – http://sgpn.app