My SEO Journey: Nimrod Cohen from onlinepianist.com – Follow Google's guidelines and focus on User Experience
My SEO Journey is a series where entrepreneurs and Indie makers share their honest SEO Journey filled with failure and success, and most importantly proven results. Episode #72 features Nimrod Cohen from OnlinePianist.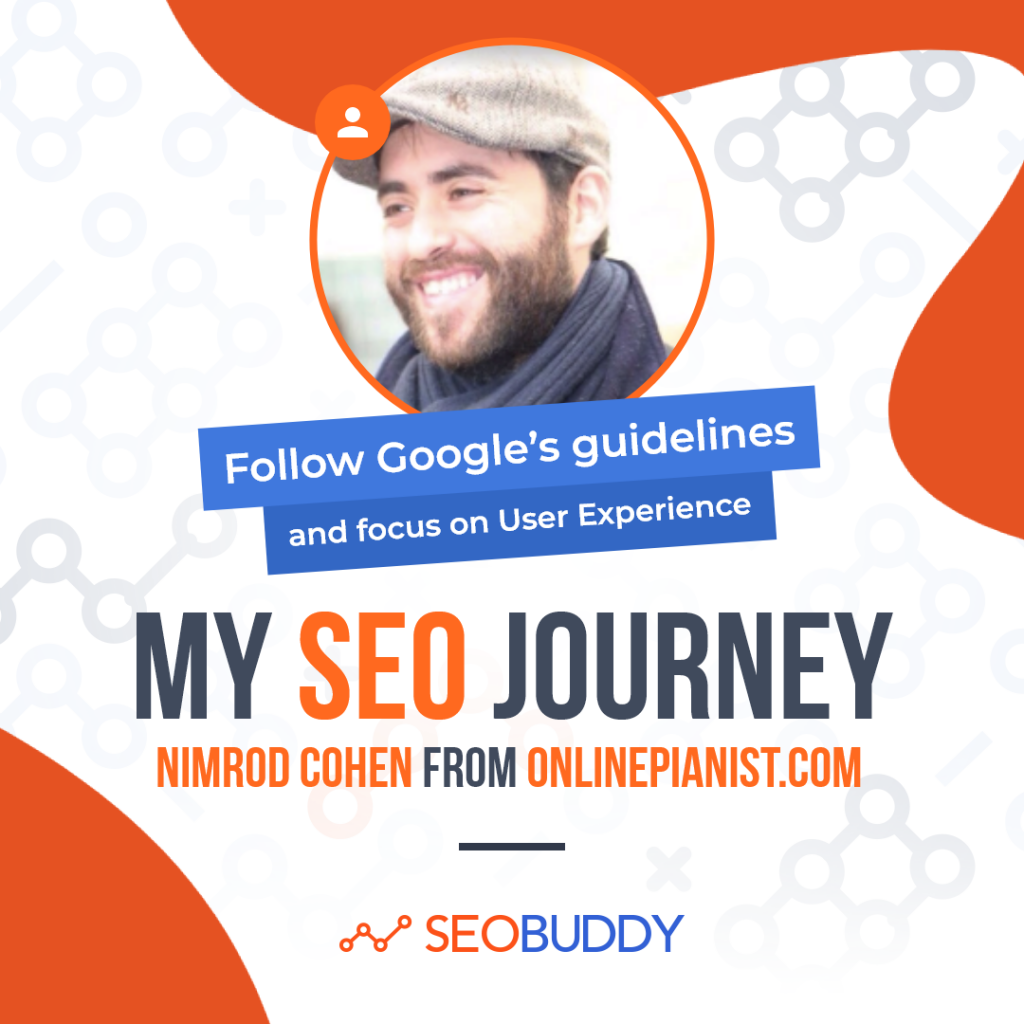 Hey!

I'm Nimrod, co-founder at OnlinePianist, a web & mobile app that makes it easy & fun to play favorite songs on the piano. Our app doesn't teach how to play the piano (there are a bunch of other apps that do just that!), but rather helps play that new piece by your favorite artist, even if you don't know how to read sheet music.

Our piano tutorials catalog is the biggest outside of YouTube (more than 3,000 songs) that are arranged by genres & difficulty levels.

So if you are not completely new to piano and not an expert either, and all you want is to play the songs you love on the piano, OnlinePianist is the app for you.
What's your backstory and how did you come up with the idea?
The idea of OnlinePianist came to me once after I decided to follow a childhood dream of mine, playing the piano. However, more than learning how to play the piano & read sheet music, I wanted to play my favorite songs & artists.
In other words, I wanted to play the Beatles & not Beethoven (No offense, Ludwig…)
So I started searching online for something that teaches just that, play my favorite songs. I found tons of piano tutorial videos for almost any song on YouTube, so I gave it a go. Overall, the experience of learning songs using video tutorials was ok, but felt quite limiting in the capabilities it gives you as a user. So I thought that creating a similar experience with an app would provide a much better experience, and the rest is history 🙂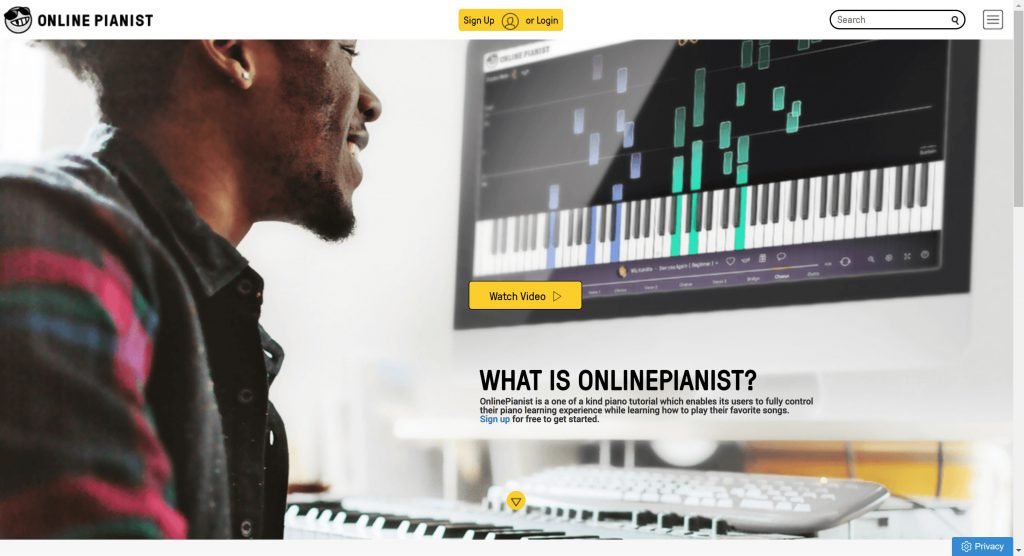 I didn't have any background as an entrepreneur back then and I did not realize what it will take to build such an app, it just felt right, sometimes it's better than anything else…
So alongside my cousin Tal, a computer geek, and a hobbyist piano player, we started to build the app.
Neither of us had the expertise to build our unique player so we had to outsource it, which is a journey on its own. Couple of months and an "almost lawsuit" after (with a developer that didn't think that the sound and image should sync with each other) we have found the right guy for the job.
Back then, both Tal (Computer science) & I (Government) were students, but the app (back then, a website only) was starting to get very nice traction and good feedback, so we both decided not to complete our student obligations and to dedicate ourselves to this new adventure.
Since launch, what has worked to attract more organic traffic?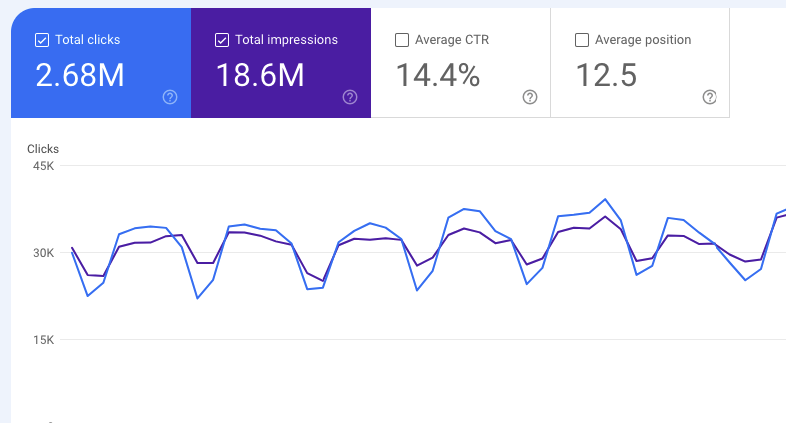 Sometimes stating the obvious isn't obvious at all…
My #1 recommendation to anyone in the SEO business is very straightforward – follow Google's guidelines.
Build your website properly from the start and keep it updated based on Google's guidelines, and you are off to a good start. The best SEO combination in my opinion is building the site properly & producing something that gives real value. These are the building blocks of a successful online business.
Having non of the above would be impossible, having only one of them would be hard.
Moreover, the combination of an up-to-date (from the perspective of a Google's guideline) website & quality product will make everything easier – keeping users longer on the site, keeping them coming back, and more.
Have you learned anything particularly helpful in your SEO Journey?

One of the best things that are happening to the SEO industry (and not only) is the importance of user experience. It is already a very known ranking factor but it became huge in importance in recent years and in my opinion, will become even bigger.
When building an online business (or any business actually) put your users and customers in the center, build it for them, put yourself in their shoes, think of what you would expect to get in terms of experience. It's not an easy task as often there are conflicts between short & long-term goals, or to be more specific, cash flow vs. user experience. These are not always competing, but when they do, it takes a solid vision of your business to give up on some cash in the short term for long-term gains.
Eventually, if users choose your product over others, choose to use it more often and for longer periods, Google acknowledges it and rewards you.
Can you tell me more about this content that generate 80% of your organic traffic?
And rank for 7k+ Keywords!
That's an interesting story. As a bootstrap company with a very limited marketing budget, we always think about creative ways to generate more traffic to our products.
One such way was the creation of the virtual piano section, which now comprises 80% of the traffic to our website.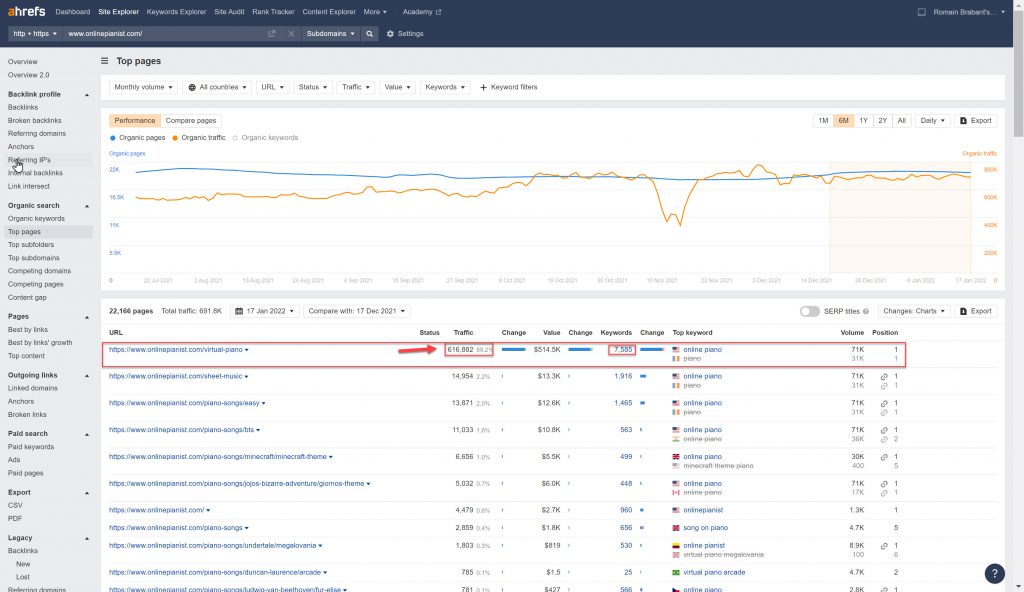 The idea was to create an additional complementing product that will provide additional value to our target audience on the one hand and to attract new users to use our main product on (the piano tutorial app) on the other.
Eventually, this section received a life of its own, generating both relevant and not-relevant traffic to our website, and opened the company to a whole new target audience – People without physical pianos that want to play the piano.
To some extent, the project was "too successful" as the Virtual Piano took over some keywords that we wanted to promote to the main product, but eventually, we've managed to find the right balance between the growing power of this new section and the rest of the website.
The important lesson to take from here is that creativity may sometimes be as important as having a decent marketing budget, and crucial when you don't have a marketing budget at all.
Here is a creativity workout:
Write down the most accurate description of your target audience (Should not exceed one sentence)
Make a list of 3-5 online & offline locations (a website, a social network, etc…) where your target audience is hanging out on.
For each such location, create a list of various ways they can be reached.
Categorize these by cost (Free, Low, High) & Impact (Low, Medium & High)
Choose the ones with Free/Low cost with a medium to high potential and execute them.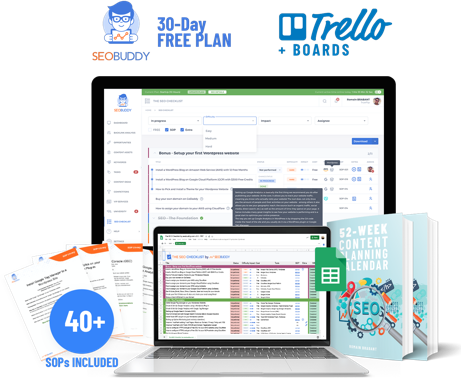 There's more…
Now it's time to discover the other 102 steps that will get more organic traffic flowing to your website. Get the SEO Checklist here.
Want to get a sneak peek of what it looks like?
Enter your email and get a free demo version of the SEO Checklist.
What SEO tools do you use for your business?
To be honest, my favorite SEO tool is the Google Search Console as it provides you with all the necessary information to build your online presence in a way that is friendly for both search engines and users.
I also like the simplicity of Ubbersuggest of Neil Patel and its opportunities recommendation about where you should invest your SEO efforts & energy.

We don't put a lot of effort into link building, but when we do, we always favor quality over quantity.
For me, one of the best methods (that was mentioned in previous episodes) is building relationships with complementing products, where there is an obvious win-to-win situation, this makes the communication much smoother and faster.
What have been the most influential books, podcasts, or other resources?
I really liked SEO Moz back in the days of Rand Fishkin, his content was great and was delivered brilliantly. In the early days, it helped me focus on the important SEO tasks.
Today, I like to read Neil Patel's blog.
Backlinko by Brian Dean is also a great source.
What's the next step in your SEO Journey?
Our current challenge is to provide an excellent mobile web experience on the one hand, while encouraging users to download our mobile app on the other. This is challenging because creating a great mobile web experience requires a lot of resources that we have already invested into our mobile app (as the experience on the app is much better of course).
Creating a great mobile web experience is required for a strong and stable organic mobile traffic, but building a great experience just to send users to download the mobile app can be frustrating, so we try to find the right balance between the two.
Where can we go to learn more?
If you want to play your favorite songs on the piano, give us a go!

The OnlinePianist website
The OnlinePianist iOS App
The OnlinePianist Android app
Don't have a piano? Use our Virtual Piano