Google Trust Signals – Does Google Trust Your Site?
TrustRank Introduction
Especially since Google's introduction of E-A-T (Expertise, Authority, Trust), trust continues to become an increasingly important ranking factor. In this article, we're going to cover everything you need to know about Google trust signals…
The core idea is that Google relies on a whole range of "trust signals" which help evaluate the legitimacy and authority of a website's content and its creator. A select, small number of these fundamental trust signals are ones we actually have direct control over, which is what we'll cover in this post – so, let's give right in. 🏊‍♂️
Here's what we'll cover:
Trust Pages 101: Why you need to include about, contact and privacy policy pages – find out why…
Using Public WHOIS Information: Most websites don't, which begs the question, is this even considered a trust signal anymore?
Is domain age even considered a trust signal and ranking factor?
Why domain renewal length is no longer publicly considered a trust signal.
How effectively linking to reliable external resources can help your content rank.
You're reading point
8 of our 102
point SEO Checklist
Get the full SEO Checklist and start taking ALL the steps you need to in order to rank at the top of Google.
Reveal The SEO Checklist

John Abott The SEO Checklist by SEOBuddy is awesome. It doesn't just tell you what you need to do, it walks you through the process.
4
Trust Pages 101 – About, Contact, Privacy Policy…
Whenever you launch a new website, creating these websites is absolutely essential in this day and age – without them search engines won't consider your site trustworthy and nor will actual readers:
Your About Page

Who are you? Who runs the site & why do you have authority to share your expertise in the industry?
Your About page is your opportunity to shine – don't hide behind a logo. People love to see faces. Who's on your team, what role do they have and where can people follow them on social media? Use this opportunity to showcase how you're different from your competition while also earning Google's trust at the same time.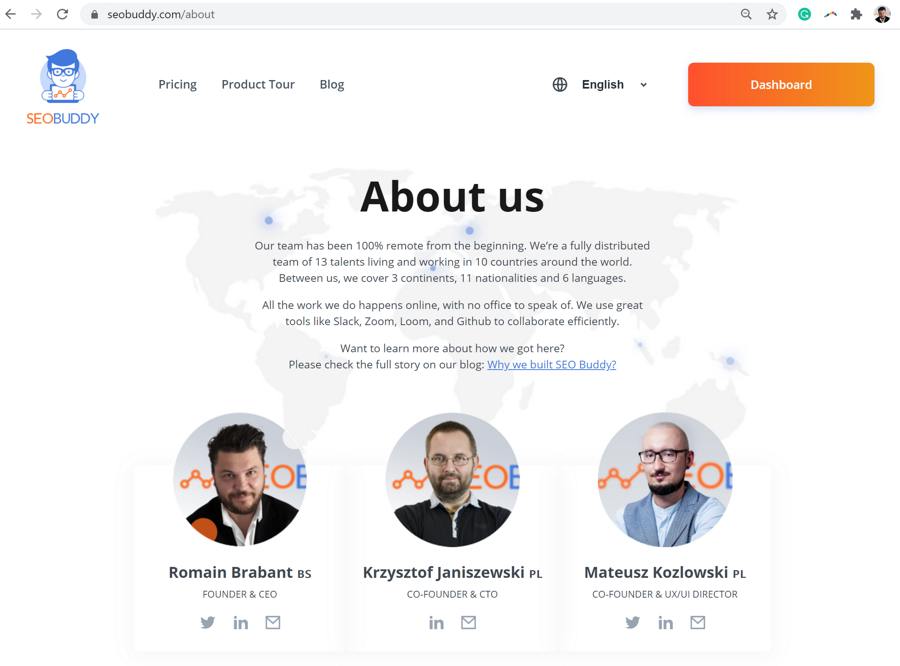 The Contact Page

Where can people get in touch with you? Are you actively available to help people? These pages are particularly important for local businesses and Local SEO.
Local businesses in particular (i.e. ones where customers can visit to purchase products/services at an actual location rather than just online), should include their addresses and the appropriate schema (structured data) which can easily be done using a WordPress SEO plugin like Yoast if your website is powered by the WordPress content management system.
Privacy Policy & Terms of Conditions Pages
And last but not least are policies, disclaimers, and affiliate disclosures. These "boring" pages are ones Google evidently pays attention to since they even require all Google Adsense Publishers to have them on their sites in order to be accepted into their ad network.
The reason is simple. Most spammers or people building PBNs won't even bother to include them which makes it a way to differentiate real websites run by real people from websites that can't be trusted. For privacy policies and terms of conditions, we recommend using a solution like Termageddon, Iubenda, or WebsitesPolicies since they actually provide documents that automatically update as the law changes.
Obviously, not every site that has these pages along can be considered reliable but it's a step in the right direction and one of the many signals that search engines like Google use to improve their understanding of the web.
Use Public WHOIS – Another Trust Signal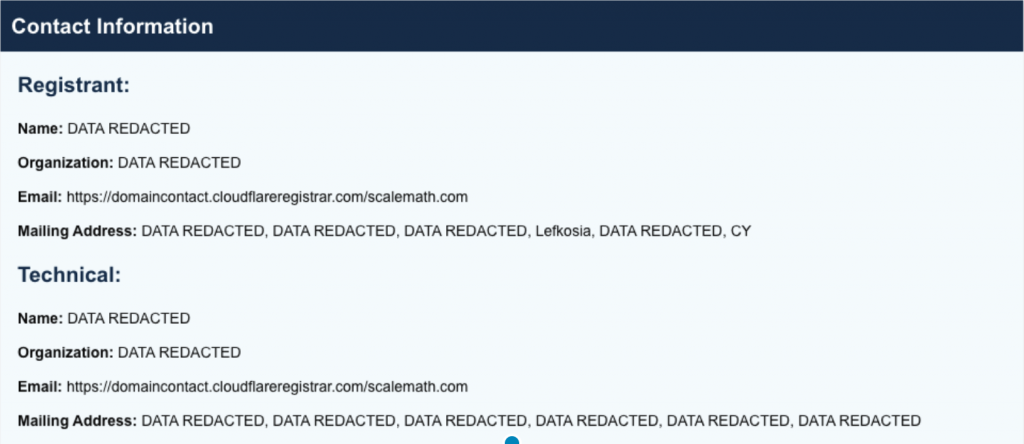 What is WHOIS?

WHOIS (pronounced as "who is") is a query protocol used to check information about the ownership of a domain name. 

If you're a real registered business, make this information public. No serious business has private WHOIS information but before you do this make sure the address is real and not your home address (it should be the address where your company is officially incorporated). 

It's understandable that some people choose to hide their ownership of a domain so that nobody tries to reach out to them or knows who's behind a website but as Google is starting to recognize sites that it considers unreliable, it may be worth avoiding this.

In isolation, this sounds like a minor change that has no impact on your site overall, but when you take into account the wide range of changes – having a real address, essential pages (about, contact, privacy policy), the list goes on. And while none of these signals or the lack thereof will independently negatively affect your sites, it is just one of many steps you can take in the right direction. 

What website are you more likely to trust? 

A website with no contact information, no essential pages, and no information about who runs the website. 

A professional website that clearly describes who runs the website/business as well as information about how to get in touch with them & where they're located. 

Note: Most websites actually now do redact their information from WHOIS public records because Cloudflare does so automatically (even for my own website). That being said, it is understandable why this has been reported to be considered a trust signal… 
Domain Age – Does It Even Matter?
Is domain age even a real factor? Well, consider this.
A brand new website with no content & no links starting on a blank slate is less likely to rank than a website that has been around for over 5 years. Naturally, the older the domain, it will typically have better content, generate inbound links, and have an advantage.
This is not to suggest that newer sites have no chance of succeeding.
However, in the unlikely event that everything would be equal – number if inbound links and content quality – the general consensus is that the older domain name will still find it easier to rank. Google's objective is to serve the most relevant results and it's therefore logical to assume that they're making the assumption that a brand new website is less reliable than a website that's been around for a year. Although it is old, this brief 3-minute video from Matt Cutts on the topic of domain age is worth watching…
It is however worth noting that Google's Seniors Webmaster Trend Analyst, John Mueller, more recently suggested that this isn't relevant. All in all, I'd still argue that indirectly purely by correlation matters because you're more likely to rank for a keyword in your industry with a website/domain that's been around for a while and created content on similar topics before than with a brand new domain name – but obviously, there's more to the reason why this is the case than solely domain age on its own.
Domain Renewal Length (Debunked)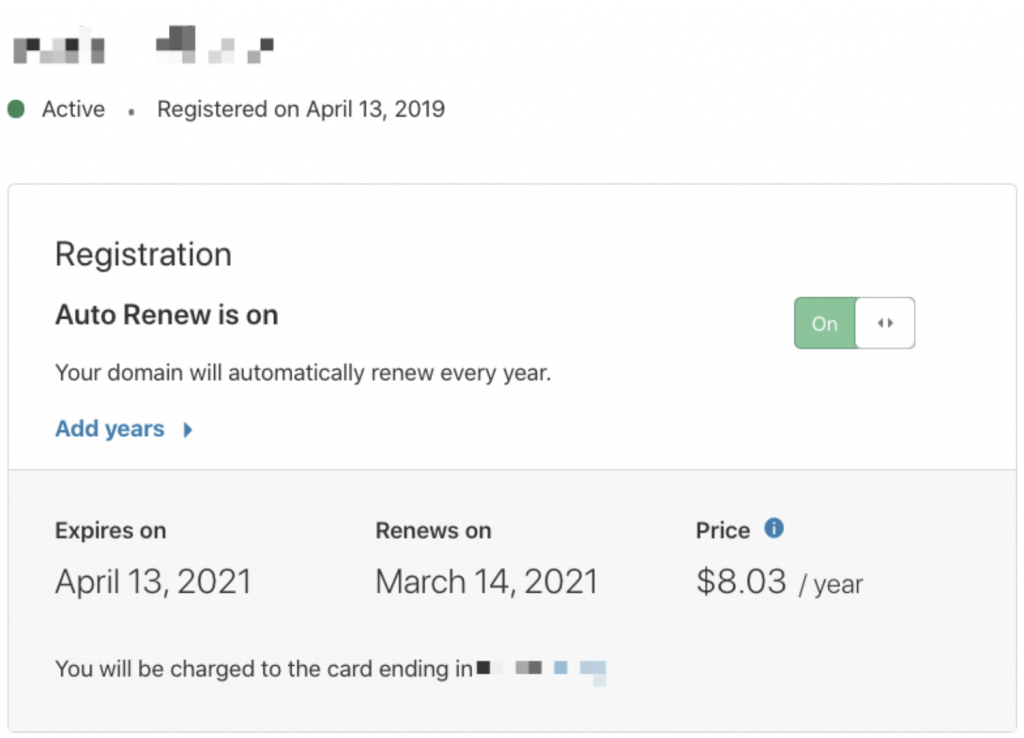 The situation on the other hand when it comes to domain renewal length is extremely clear-cut. There have been a few people in the SEO industry who arbitrarily stated suggesting that the length of your domain registration has an effect.
Google themselves have actually directly responded to these claims saying that this isn't based on anything they have said and users shouldn't care about how many years their domains are registered for. It's very standard for domains to renew yearly…
The initial logic behind these claims was also based on the ideas of why trust pages matter. Most fake, unreliable websites would register their sites for shorter periods purely to pay less. This thought process was however fundamentally flawed because most websites you visit on a daily basis renew their domains on a yearly basis. Beyond that, it actually tends to be more expensive because domain registrars offer special deals to people who register for longer terms – which would suggest that if at all a factor, the opposite would be true.
Link To Reliable External Resources
Linking out to authoritative domains has on the other hand been proven to be a major trust signal. Look at any website that ranks and you'll notice that they link out to support their statistics, be transparent about where they get their data and give people credit for contributing to their articles.
Strategically & more importantly naturally linking out to other resources on the web is a fundamental part of writing great content that's engaging (and rankable). We're about to do it in this post.
Here's a perfect example, we're about to link to a relevant resource…
This study from RebootOnline validates the idea and successfully found a correlation between linking out and ranking higher. They even recently reran this experiment in April of 2020 and were able to confirm that the results were the same. External links remain a ranking factor and are good SEO practices, to this day.
Think about linking out as contributing to the web community. Linking to other sources proves that you know what's going on in your industry and aren't afraid to share other resources that other sites are already linking to because they are helpful and worth including in your content rather than isolating yourself from the rest of your niche or industry.
It is however important to remember that the sites you choose to link out to directly reflect on your site's quality. If you're linking to websites in a way that Google determines to be unusual, or websites they have determined are low-quality this can actually negatively affect your ability to rank.
When doing this you don't only need to be cautious of unreliable, low-quality websites. In general, you also wouldn't want to link to any competing content. If you're writing a guide about On-Page SEO, linking to another guide about On-Page SEO wouldn't work in your favor.
Internal Linking
While we're on the topic of links, there are two other factors that come into play here.
The first is inbound links.
Inbound links evidently play a big role – and are actually considered one of the most important ranking factors – so have a look at this guide we put together all about finding relevant backlink opportunities.
In addition to this, if you run a site that already has a lot of content, you can and should also use internal linking to your advantage.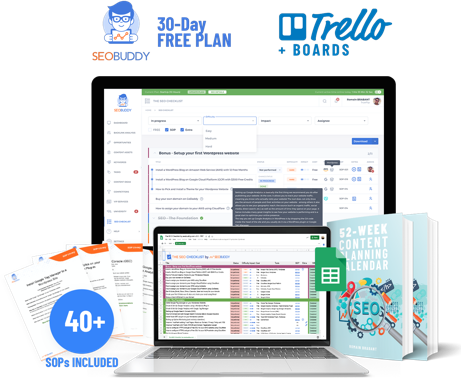 There's more…
Now it's time to discover the other 102 steps that will get more organic traffic flowing to your website. Get the SEO Checklist here.
Want to get a sneak peek of what it looks like?
Enter your email and get a free demo version of the SEO Checklist.
Conclusion – What Trust Signals Are You Missing?
Now that you know what you can do to earn Google's trust – the simple things to ensure your site is on the right track – it's your turn. Leave a comment below and let us know what trust signals were your site missing? Or were you already all set?
Let us know by leaving a comment below! 💬