What Do SEO Companies Do and How Should You Pick One?
During our interactions with clients, we often encounter questions like what do SEO companies do in general and how do they increase website traffic?
Well, then this marks the end of your quest to hunt for answers.
Everything we discuss in this article will revolve around three essential aspects of the existence of SEO agencies – SEO, outsourcing, and efficiency.
SEO has been the point of discussion among marketers since the rise of search engines. And its importance only increased as the number of searchers increased.
Currently, with 85% of searchers using Google, it's the most focused search engine for SEO strategists across the world, except, of course, in China.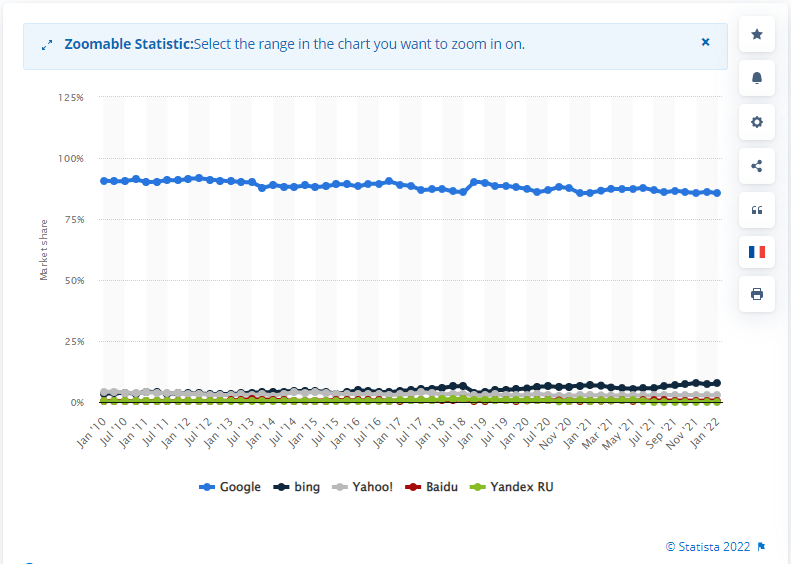 While almost every one is influenced by SEO in one way or another, many in the business world don't have a clear understanding of what SEO is and how to get started.
So, the next best thing would be to work with a digital agency.
If you're wondering what SEO companies do, we've got the answer for you then.
Let's find out.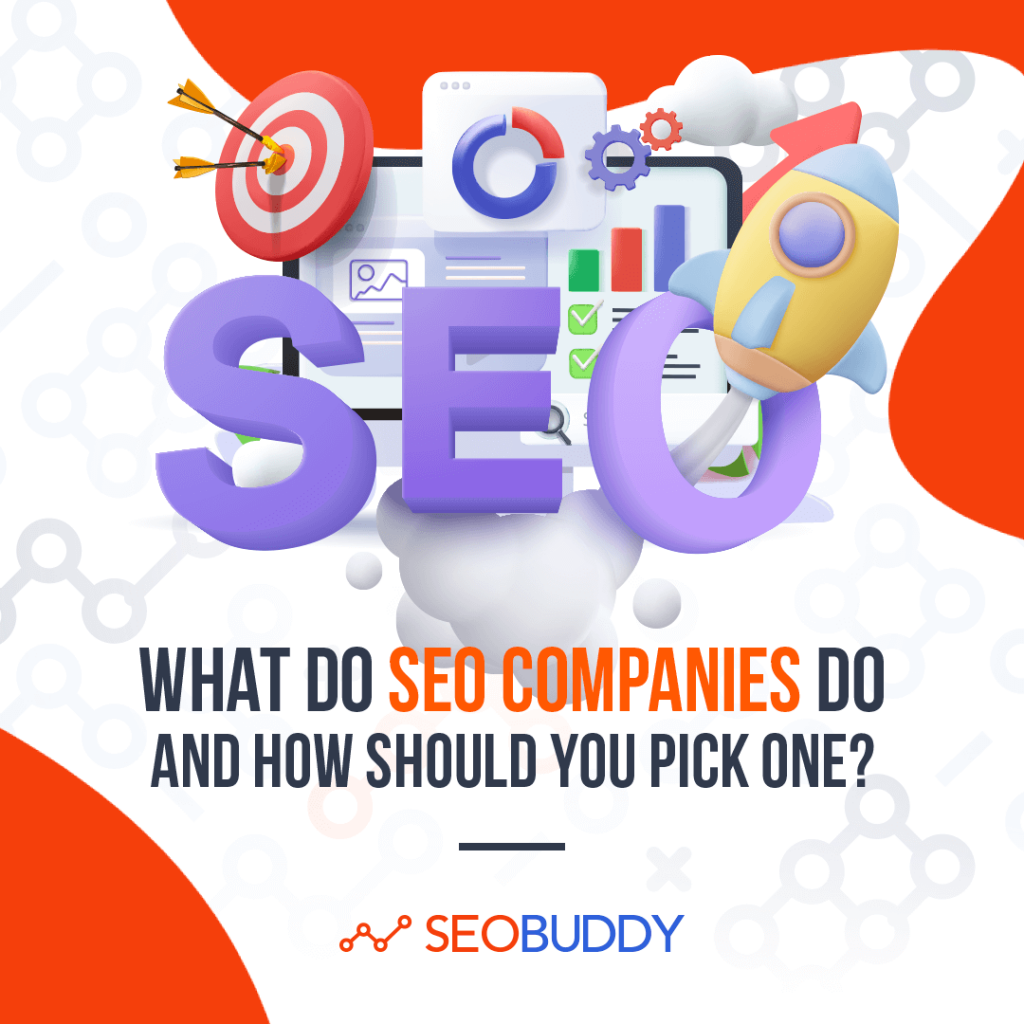 What is an SEO Company?
An SEO company is a team of experts in the search engine optimization (SEO) domain. The company helps businesses optimize their websites so that they rank higher in the search engine results and get more traffic and sales.
Good SEO companies often have years of experience in optimizing websites and know which SEO strategies work.
While many businesses would argue to have an in-house SEO team, SEO agencies are very hard to beat.
The reason is that throughout this time they've built a database, process, and a reputation on the internet which is nearly impossible for an in-house team to acquire in a short span. And by the time they have it all, the agency would have proceeded further.
Another factor here is that SEO companies work with several clients at a time. So, they can repurpose their strategies for multiple clients, helping them offer SEO services at a lower cost than usual.
Google and other search engines frequently update their algorithms, which makes it difficult to decode how you can rank higher. However, SEO companies keep building new technologies and strategies to cope with the search engine's preferences.
But what exactly do these SEO companies do?
Let's take a look.
What Do SEO Companies Do?
SEO companies offer website optimization services for search engines.
But is that all?
Of course not; there's a lot happening behind the scenes while optimizing a website for search engines.
Let's discuss all of that here.
Following are the things renowned SEO companies do to optimize their client's websites.
1. Website SEO Audit
SEO audit is a process of understanding the current state of SEO optimization of a website. During this, SEO companies identify technical as well as content gaps and create a strategy based on the outcomes to plug those gaps.
It's based on this SEO audit that the SEO companies determine the amount of effort required to push your website to the goal you want to achieve. Based on this, they come up with a realistic plan and cost.
(Here's an SEO checklist to help you understand what steps need to be taken for an SEO audit.)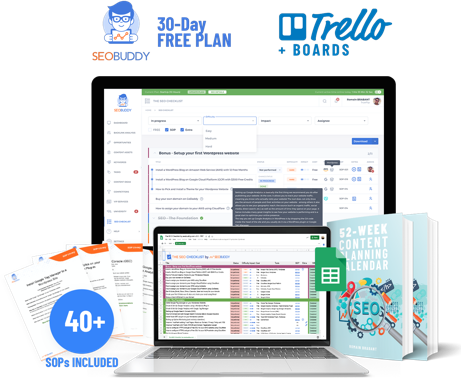 There's more…
Now it's time to discover the other 102 steps that will get more organic traffic flowing to your website. Get the SEO Checklist here.
Want to get a sneak peek of what it looks like?
Enter your email and get a free demo version of the SEO Checklist.
On-Page SEO Audit
This audit deals with the various on-page SEO ranking factors. These include your content quality and type, page loading speed, mobile-friendliness, internal linking, and page structure, among others.
Websites having tons of pages require content auditing. This helps SEO companies identify the pages that aren't performing well on the Google SERP.
The content audit generally comes to a conclusion where the auditor would suggest which pages to keep, rewrite, or remove from the website.
Additionally, by analyzing the page loading speeds and mobile-friendliness, these companies identify if your website needs to be optimized further. Faster loading times and better design lead to improved user experience, which is better for SEO.
In fact, a 0.1 seconds improvement in the loading speed improves retail conversions by 8.4%.

If you've got a local business, they may even do a local SEO audit to see if your business information is accurate on your website.
Off-Page SEO Audit
Apart from on-page SEO, you also need to take care of off-page SEO. This involves an SEO audit of all the external factors that could be affecting your website ranking. This mainly includes your backlinks and citations.
The companies do backlink analytics to figure out if high-quality websites are linking back to you. And if some spammy websites are linking to you, they disavow those links to improve your authority.
For this, they leverage platforms like Semrush and Ahrefs that give them a detailed picture of your backlink profile.
What's more?
They also check the number of do-follow and no-follow links that are linking to your website. This helps them understand which links are impacting your SEO and which ones may not be doing so directly.
Additionally, they check online citations of your business as they help with improving your website's off-page SEO.
(Check out our Link Chest to find great backlinking opportunities for your business.)
Technical SEO Audit
The technical SEO part of website optimization often overwhelms business owners. It's full of jargon, and understanding it in-depth would require website designing and development knowledge.
The SEO companies have technical SEO experts in-house who don't miss anything that relates to the technical part of the SEO of a website.
The technical SEO of a website includes a lot of things, most importantly, the following: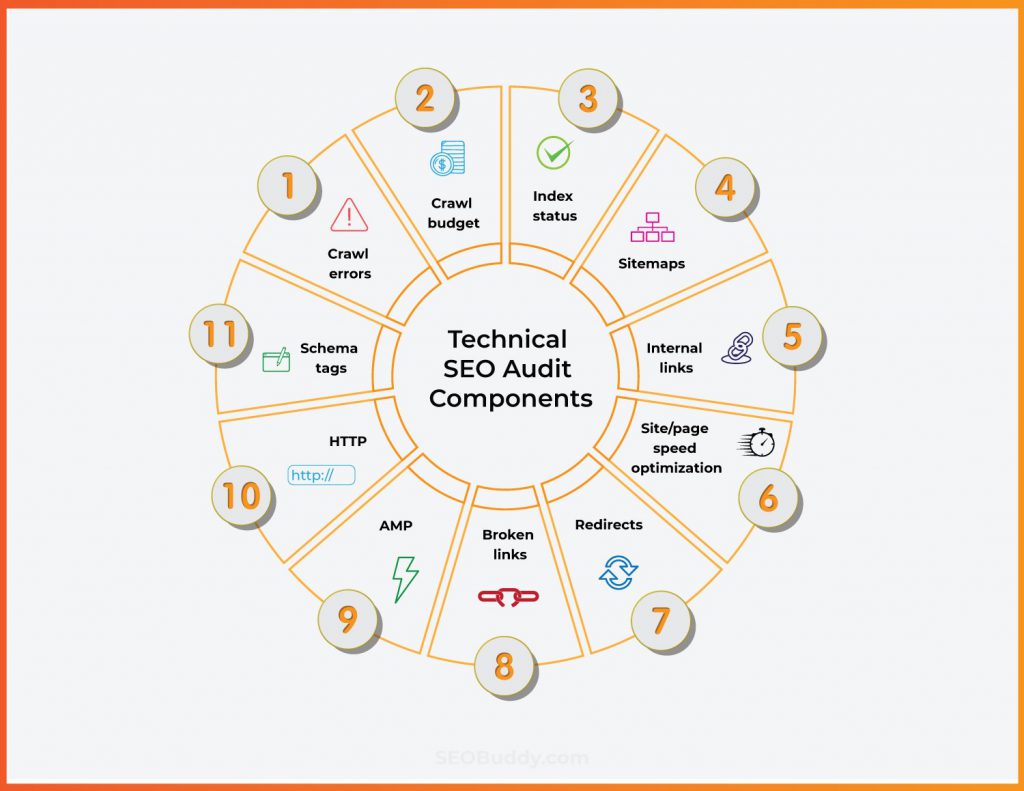 Crawl errors
Crawl budget
Index status
Sitemaps
Internal links
Site/page speed optimization
Redirects
Broken links
AMP
HTTP
Schema tags
Optimizing a website from a technical perspective requires a holistic approach. Taking care of some of the items on the above list won't have the desired impact on your SEO rankings.
And that's why it's essential to go to an SEO agency as they can work on each of these technical factors.
When you improve your technical SEO, your website's functionality and user experience (UX) gets better, resulting in more conversions. This is because your visitors find your website easy to navigate and engage with.
2. Keyword Research
Keyword research is an integral part of the on-page SEO process. Without proper keyword research, there's possibly no way of knowing what your target users are searching for while looking for the services/products you provide.
SEO companies use several keyword research tools like Semrush, Ahrefs, and Moz for conducting keyword research. These tools reveal how many internet users are searching for a particular term and other factors like difficulty, related terms, search volume, etc.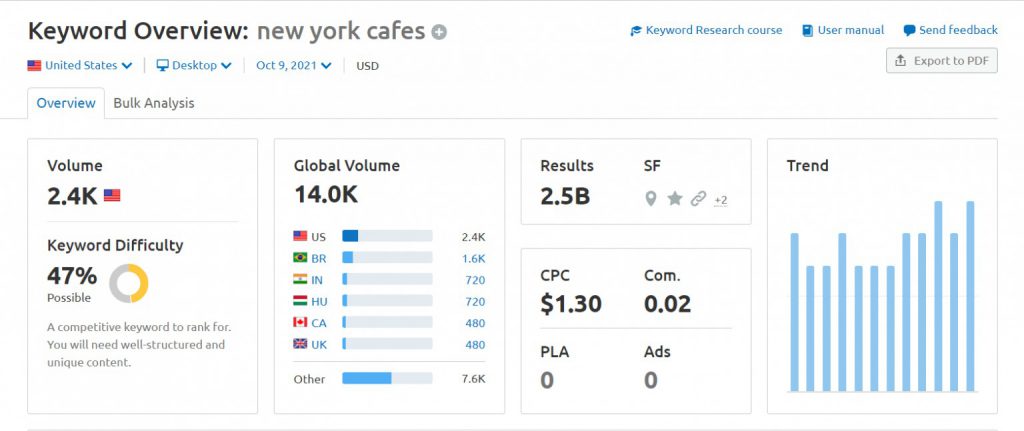 SEO companies will start the keyword research by figuring out primary search terms related to your product/service/information that your target customers are likely to search for.
Based on these keywords, the tools will come up with a list of potential keywords. The companies then analyze these keywords and their related metrics to identify which keywords to target for your content.
Keyword research is regarded as the heart of every SEO strategy. The content, backlinking, and even the URLs will revolve around the keywords you pick for your strategy.
Hence, make sure to work together with your SEO company while they search for keywords in your niche. Having a subject matter expert will improve the keyword research process and no one knows your products/services better than you.
3. Content Strategy and Creation
You've probably heard about the power of content in marketing. And it's true.
Although there are several other factors that affect the ranking of a website on Google SERP, content is the most significant one among all those.
This is why having a content strategy is imperative for every business that is willing to increase its website traffic.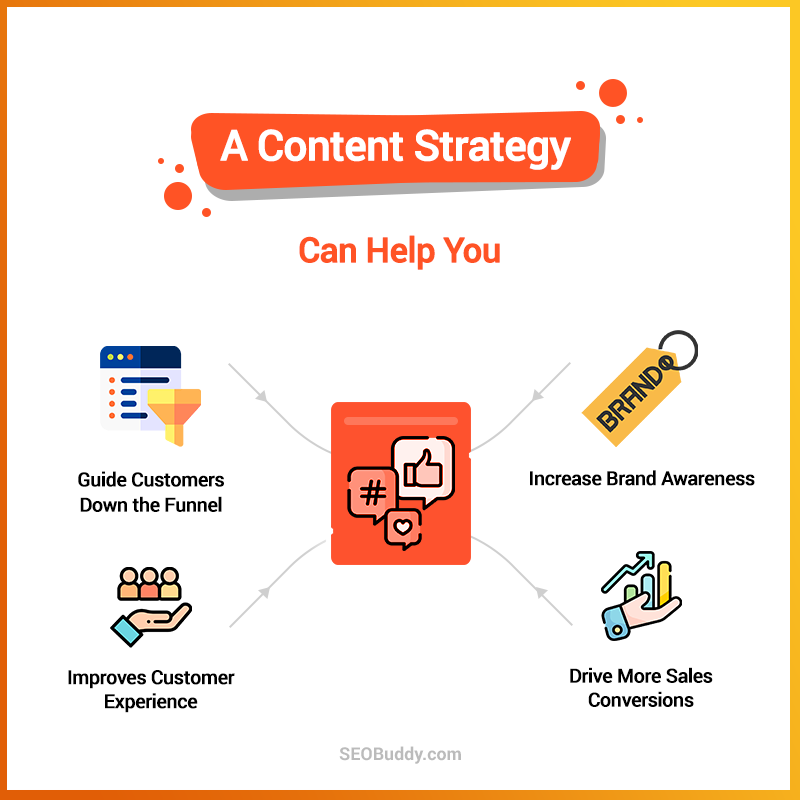 But what is a content strategy, and how do SEO agencies create one?
Let's find out.
Steps to Create a Content Strategy
Here is how an SEO agency develops a content strategy for businesses.
Define marketing goals – The SEO agency defines the marketing goals behind the strategy and sets up metrics that they would use to monitor the progress.
Understand the target audience – The agency will create buyer personas for your business, understand them, and develop sales funnels to strategize the content requirement.
Create a content calendar – The agency's content marketing specialists create a content calendar for your business where they define when and where they'll post content for your business, including social media, guest posting websites, blog, etc.
Content Creation
After creating the strategy, the SEO company would work on creating content. The content creation part requires expertise in terms of keyword optimization, user intent, and other on-page factors.
The key to SEO-optimized content is to write content for the users, not for the search engines. So, SEO companies ensure that they follow best practices like:
Primary keyword in H1 and H2
Primary keyword in the meta titles and descriptions
Primary keyword in the first 40 words of the webpage/blog
Sizable keyword density throughout the page
In addition to the above, they also add media in different formats like images and videos to further enhance the readability of the content and improve engagement.
What's more?
The SEO companies employ professional content writers and graphic designers who can develop high-quality content for you in the form of blog posts and images. They also employ video editors who can create customized video content that can engage your visitors.
The idea here is not only to improve your SEO but also to establish your brand as an authority in your industry.
When helpful content is published on your website, it improves your image and you can become a go-to resource for your customers and prospects.
Additionally, SEO companies also go about internal linking to improve the average time on site. They also link to various external sources that can provide value to the visitors.
You may, however, have to guide them on the type of content you require or the various topics you'd like them to cover.
4. Link Building
Gone are the days when SEO companies would buy backlinks to gain website authority. It's 2022, and the link-building process requires a tremendous amount of effort to boost your off-page SEO.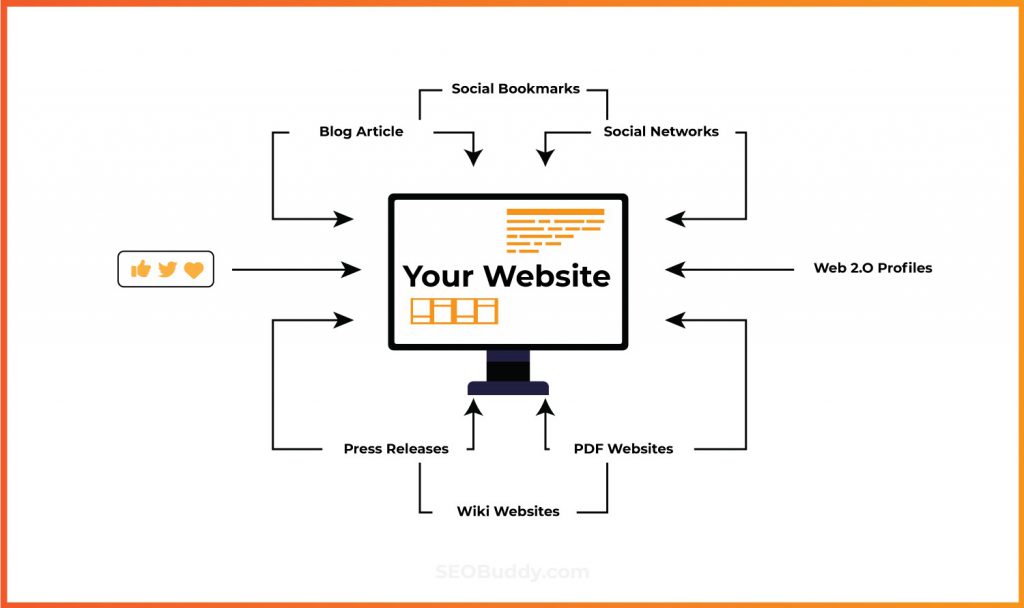 There are several techniques for link building, and explaining all of them here would derail us from the point of this post. However, here are some of the most popular link-building techniques SEO companies use:
Guest posting
PDF submission
Infographics submission
Publishing high-quality content
Publishing guides and case studies
Now, a lot of these link-building techniques require you to reach out to other websites and consistently communicate with them. You also need to find such websites first. For that, you'd typically have to conduct thorough research and find relevant websites in your niche.
Additionally, you'll have to analyze each potential website to assess its content quality, relevance, domain authority, and more.
That's where SEO companies can help.
They can find a large number of high-quality websites in your niche and reach out to them for link building. Well, you don't have to swim into the ocean of link building.
And if you'd like to do it yourself, you can leverage our link-building checklist and Link Chest.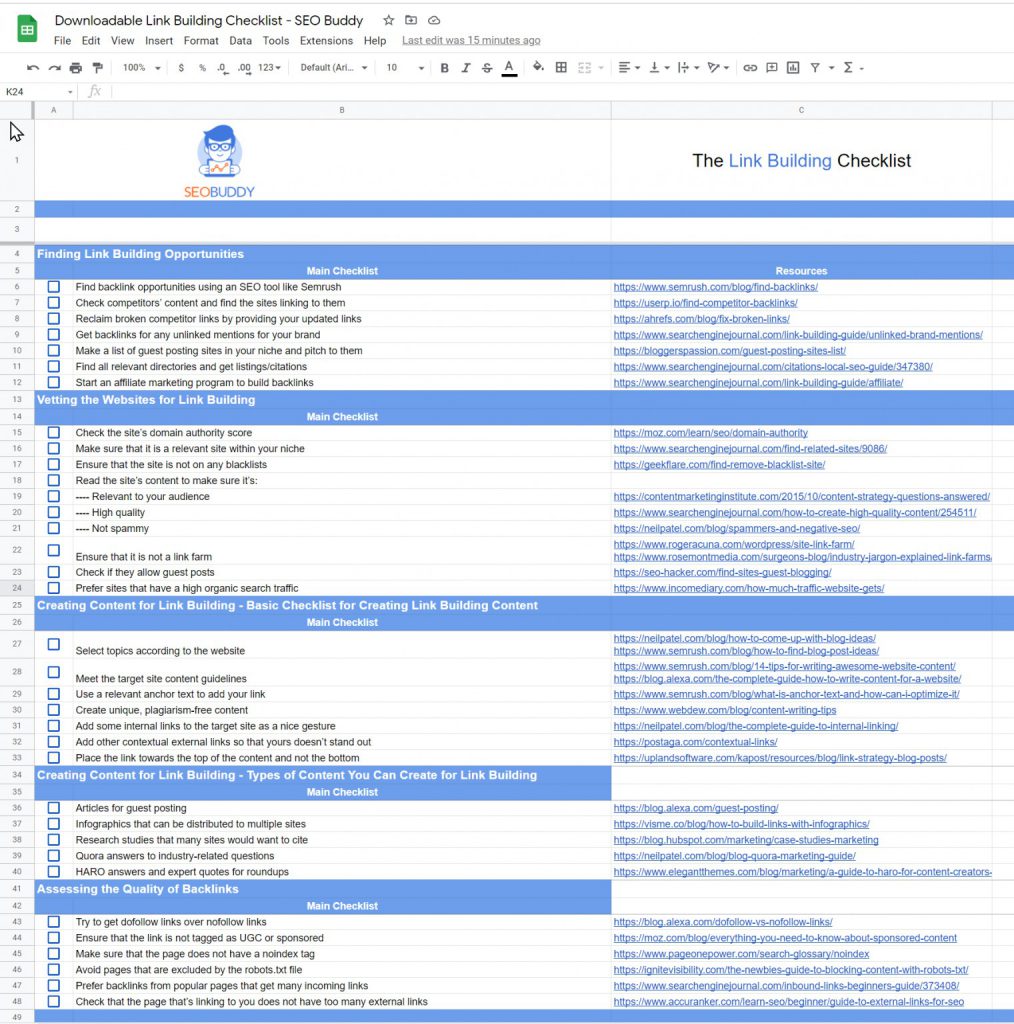 Add-On Services Provided by SEO Companies
What we've discussed until now are the things SEO companies do to bring organic traffic to their clients' websites. But their services aren't generally limited to SEO.
SEO companies often provide add-on services like paid marketing and web design and development services to their clients.
Why?
There are several reasons behind this:
To provide holistic marketing services to their clients
To retain their clients for a longer term and keep their marketing engines running
To expand the clients' budgets by offering them additional value
To leverage their domain expertise in other related areas
To tap into a bigger pool of clients
Let's see what other services SEO companies offer.
5. Paid Marketing Services
Paid marketing, aka PPC and social media marketing, complements every SEO strategy.
While SEO focuses on generating organic traffic, the paid marketing approach fills in the traffic gap at the beginning when SEO isn't in its full force.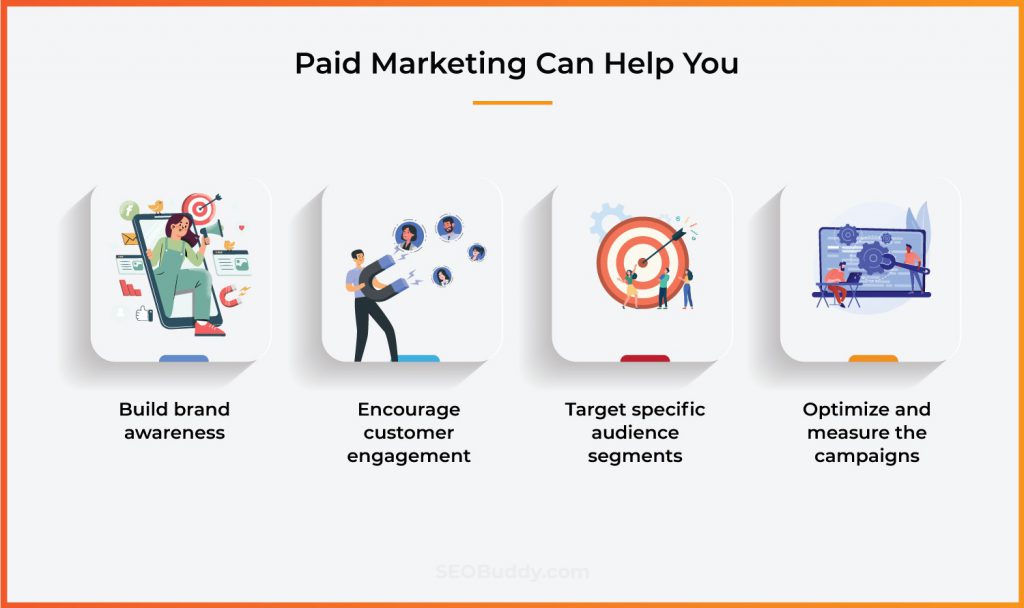 In ecommerce, where there have to be several sales funnels, the mix of organic and paid marketing is significantly efficient.
For example, if there's a festive sale, the SEO companies will run paid ads on Google as well as major social channels to tap into the customers' wants and needs immediately.
If you aren't aware of these paid marketing techniques, the next section is for you; else, you can skip to the next add-on service.
Google PPC
Google's pay-per-click ads are an excellent approach for almost every business that wants to generate traffic immediately.
As you have to pay for each click that you get, the budgets may tend to explode in this case. However, if the PPC campaigns are done the right way, they can be extremely beneficial.
This is where SEO companies can help you. They can target the right set of keywords, write the ad copy, and optimize the bidding to ensure that your ads get the best clicks within your budget.
Social Media Ads
Social media advertisements are a bliss to the ecommerce industry. With over 4.2 billion people using social media worldwide, it's a great opportunity for businesses to promote their products and services to a wide audience.
However, running paid ads on social platforms is as complex as doing PPC for search engines. There's a lot of work you have to do in the background of a successful ad campaign.
Many businesses try the "do-it-yourself" approach as social media platforms provide an intuitive and easy-to-use interface for ad management.
But the catch isn't the dashboards and functionality, it's the optimization of the ad according to the sales funnels, and this is where you need experts to do your social media paid marketing.
And that's precisely what SEO companies help you with. They do all the optimization and help you launch the best social media ad campaigns.
6. Website Design and Development
Although it does seem like a job for a web development agency, if you want your website to reach a vast audience, it's always recommended to go with the SEO companies as they can help you build SEO-optimized websites.
They know the technical aspects behind website optimization and design both. This way, they'll develop a website that's fast to load and secure. They'll also work on making it mobile-friendly so that your audience has the best experience possible. It'll also have SEO benefits.
How to Pick the Right SEO Agency?
This is the bit where things get tricky.
In a pool of SEO companies where everyone claims to be the best in the business, it's not as easy as it seems to partner with the right SEO company as per your needs. You need to analyze their track record, see their reviews, and do thorough research before choosing one.
A tip here — before you start your hunt for an SEO company, make sure that you understand what SEO is, how it works, and most importantly, what outcomes can you expect from SEO campaigns?
This will help you choose the right SEO companies for your business.
Here's the process of choosing the right SEO company for your business once you have a list of a few companies.
1. Look at the SEO Company's Past Work
Past and proven experience is the most crucial factor when you're looking for an SEO agency for your business. In addition to scrolling through the SEO company's website, you should also ask them directly about the businesses they've worked with and the results they've driven. Make sure you look at hard figures for it.
For example, look at the following figures to see the results we, at SEO Buddy, have driven for our clients.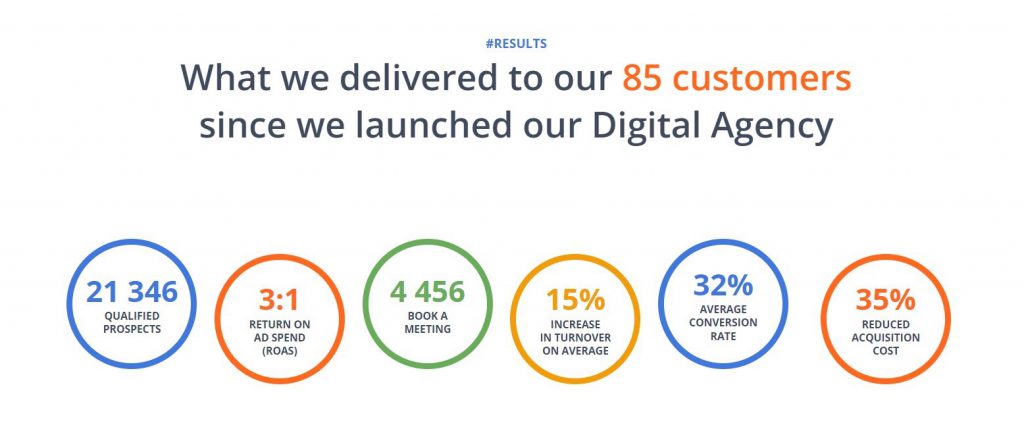 One thing to note here is that the number of customers served doesn't matter until the company has served all of its customers in the best way. You should look at the performance of their campaigns and check metrics related to them.
Ask the following questions to the digital company you want to partner with:
How many qualified leads have you generated for your clients?
What was the average conversion rate for the websites?
What was the average customer acquisition cost for the projects you've handled?
What was the Return on Ad Spend (ROAS)?
2. Reach Out to Agency's Customers to Verify the Claims
Connect with the SEO company's past clients and confirm whether the claims the company has made were true.
You might have read the customer's testimonials on the SEO agency's website, but talking to them will provide you with more in-depth information that will help you decide whether the agency is the right fit for you or not.
You may ask the following questions to the past clients of your prospective SEO agency:
How fast does the SEO agency respond to their client's queries?
Do you have any dedicated point-of-contact at the agency?
How frequently do they conduct meetings to analyze the reports?
Does the agency integrate your opinions and suggestions into its SEO strategy?
Make sure you learn as much as possible about the agency's SEO process and reporting. Getting the third-party view does help you confirm the SEO company's effectiveness.
3. Talk to the SEO Company Personally and Clear Your Queries
Although it's not necessary to go to the SEO company's office to meet them, you could do so if it's feasible. You can even do a video call to get in touch with them to find out more about them.
Talking over a video conference or a visit to the office will give you a casual space with the company where you can clarify your doubts and ask for their recommendations related to the business challenges you've faced.
You should also inquire about their past campaigns and their results. If possible, do try to communicate with some of the SEO team members to understand their side of the story.
This would also give you some insights into their knowledge and experience. Which, in turn, can play an important role in deciding whether or not to go ahead with the SEO company.
4. Ask the Agency for a Proposed Plan of Action for Your Website SEO
The implementation plan that the SEO company delivers for your website's SEO will give you an insight into the type of work you'll receive and the outcomes you can expect from them.
That said, don't ask for the implementation plan from every company you get in touch with. You should ask only a few ones that you've shortlisted, considering all the factors mentioned before.
The SEO companies will share their proposed plan of action for your website. The plan will include in-depth details about their SEO strategy customized for your website and other inputs.
Based on the plans you receive, you need to decide to pick the right SEO agency. Make sure you go through the plans in detail before making a decision.
You might, however, require a general sense of SEO to understand the plans. Here is an SEO checklist that will ease the process for you. Ensure that the SEO company includes most of the things listed in the checklist.
What Does an Ideal SEO Company Comprise?
An SEO team typically has several roles played by different people. However, the catch is the collaboration among them which is essential for the success of any SEO strategy. So, you should analyze if the SEO companies you've shortlisted have relevant professionals or not.
Following are the roles in an SEO team: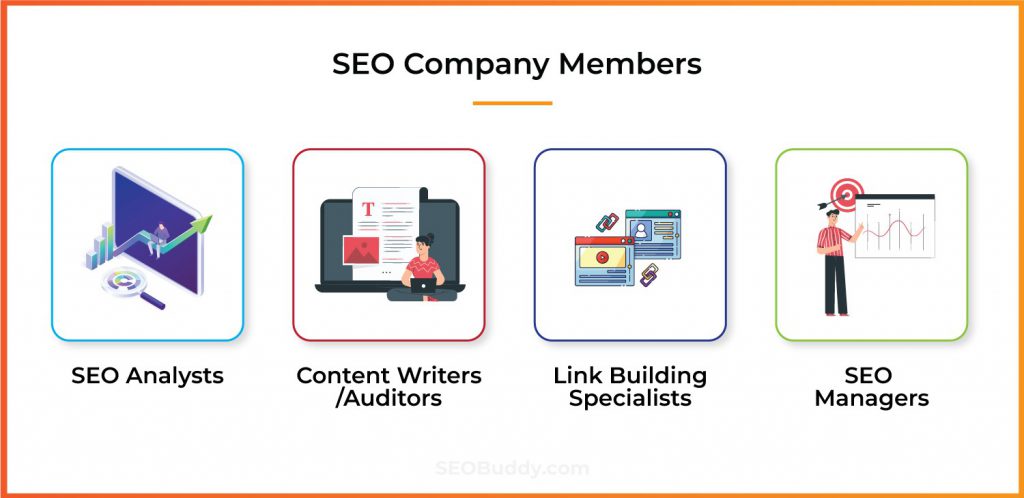 SEO Analysts – SEO analysts work on identifying and implementing search engine optimization efforts like keyword analysis, search engine results page (SERP) analysis, content gap analysis, etc. with an aim to funnel more organic traffic to your website. SEO analysts have technical SEO expertise and can conduct useful website audits.
Content Writers/Auditors – They are the heart of every SEO team. Content is at the core of SEO efforts and that's why writers and auditors play a crucial role in the process of generating organic traffic. Writers create quality content based on the keywords and guidelines provided by SEO specialists. This, in turn, plays an important role in driving your SEO efforts.
Link Building Specialists – In small and low-budget SEO teams, you'll find SEO analysts performing the duties of link-building specialists. However, highly-qualified SEO teams always have link-building specialists who are solely focused on content outreach and link building.
SEO Managers – Like any other team structure, the SEO team requires someone to manage the entire operations. This is where the role of SEO managers comes. Ideally, SEO managers are dextrous in every aspect of SEO which allows them to create and implement SEO strategies efficiently. In a low-budget team, you'll find SEO analysts wearing the hat of an SEO manager.
SEO teams (which are part of a digital marketing team) need to collaborate with social media and paid marketing teams to successfully implement a holistic marketing strategy. So, do check if the SEO companies have other teams too.
If you're dealing with an SEO agency, make sure they have a dedicated project manager. In small-scale SEO teams, the project manager's role is played by the SEO manager, but ideally, this role is very different. The project manager will have the bandwidth to focus on your desired goals and keep a check on the strategy implementation.
Should You Do SEO On Your Own?
Of course, you can hire an in-house team of SEO professionals, content writers, graphic designers, and web specialists to do SEO in-house.
However, you should avoid doing SEO by yourself if possible. Because: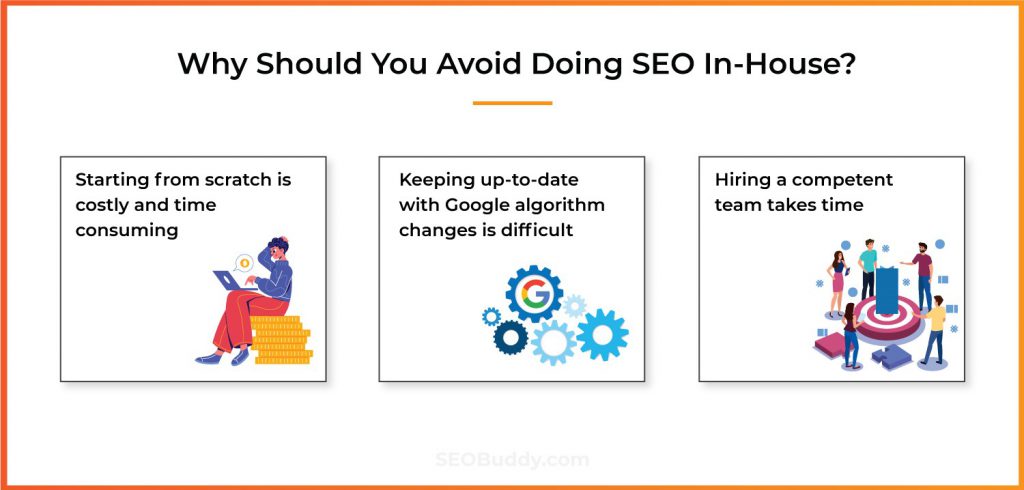 You'll have to start from scratch and build a database and processes, which is time-consuming and costly
You can't possibly stay updated with frequent Google algorithm updates and make required changes to your website. As a result, you might see fluctuations in your rankings
You'll have to hire a team to get started with SEO
It's not easy to beat SEO agencies at this as they've gained knowledge in the field throughout the years and have an experienced team.
What is the Cost of SEO Services?
You might wonder how much do SEO services cost?
Typically, SEO companies charge their clients on a time and material basis. But there's a big flaw in this technique. Most businesses aren't aware of the process of SEO, and they often get fooled by SEO agencies.
That's why it's essential to find SEO companies that are transparent about their pricing. You should inquire about it thoroughly with them before going ahead and partnering with them.
Frequently Asked Questions
1. How much do SEO services cost?
The cost of SEO services varies based on the type and extent of services required from the SEO companies. For instance, at SEO Buddy, our plans start as low as $47/month for businesses that have very minimal requirements. However, for fully-managed services, these costs can go up to $5000/month and beyond.
2. What do SEO services include?
SEO agencies typically offer digital marketing services that are coupled with search engine optimization. Following are the services they do offer:
Website SEO Audit
Keyword Research
Content Strategy and Creation
Link Building
Google PPC Marketing
Social Media Ads
Web Design and Development
3. What is SEO, and why do businesses need it?
SEO is the process of optimizing a website for search engines like Google with an intention to rank higher and get more traffic. It includes both on-page and off-page optimization with components like page loading speed, backlinks, keywords, and mobile-friendliness, among others.
4. Do SEO companies really work?
Yes, SEO companies do work well. However, you need to find the right ones. Finding the right SEO agency isn't easy in the pool of companies claiming to be the best in the business.
However, you can follow the below steps to identify the right SEO agency for your business:
Look at the SEO company's past work
Reach out to the agency's customers to verify the claims
Meet the SEO agency personally and do ask them your queries
Ask them about their proposed plan of action for your website's SEO
Do this with several companies and then pick one that suits your needs
5. What should an SEO company do?
An SEO company should work towards helping its clients achieve their desired goals through organic traffic and marketing.
It should analyze its clients' requirements thoroughly and create strategies that align with the requirements.
Following are the things SEO companies should do to deliver the best results to their clients:
Website SEO Auditing
Keyword Research
Content Strategy and Creation
Link Building
Paid Marketing Services
Web Design and Development
In addition to performing all these tasks, the SEO company should also include their client's suggestions and recommendations in their strategy to direct it towards the business goals.
Also, the company should share performance reports with their clients so that they stay in tune with what's going on.
Conclusion
SEO companies are the need of the hour for businesses that want to rank high on search engines like Google.
The SERPs have become increasingly competitive and ranking high on them is challenging, if you aren't an expert. This requires you to implement SEO best practices, which SEO companies can help you with.
Hence, it's recommended to go with an SEO agency that aligns with your desired business outcomes. Don't fall for the agencies that do the job for less. Price shouldn't be the only factor in choosing the right SEO agency for your business.If you're among those businesses who are looking for the best digital agency to handle your SEO, do explore our SEO services.