Ecommerce SEO: The Guide to Improve Your Store's Ranking
What's the difference between a striving eCommerce business and a struggling one?
Successful businesses understand their ideal customers' search behavior and the queries they use to find products. And through effective ecommerce SEO strategies, they use this info to guide potential customers to their stores.
Any time there's a search query relevant to their products, successful ecommerce sites are always available on the first page of search engine results pages, offering a solution. They have good ecommerce website design and SEO strategies and hence comes up on the search results.
For instance, try searching "women's shoes" on Google. Successful brands like Nordstrom and Macy's appear among the top search results. The same goes for other keywords like "women's dresses".
However, achieving this kind of visibility through ecommerce SEO is not as straightforward as it looks.
Effective ecommerce SEO involves plenty of interlocking bits that work together to yield positive results. These includes things like:
Keyword choice
Keyword placement
Product descriptions
Website architecture
Content creation
Link building
Technical SEO
In addition, you must continually monitor and improve each of these aspects of SEO to get positive ecommerce SEO results.
How do you achieve this?
Let's dive in.
What is Ecommerce SEO?
Ecommerce SEO (search engine optimization) is a strategy of attracting organic traffic from search engines to your online store.
Using ecommerce SEO tactics you can ensure that your store ranks on the first page of the search engine results page (SERP) and occupies the top positions.
According to a study by SISTRIX, the first position on Google's SERPs get an average click-through rate of 28.5% while the second position gets 15.7%.
The third position gets only 11%.
These numbers go to show how quickly click-through rates fall as you move down the search engine results page.
The higher you rank, the more traffic your store will get.
How Ecommerce SEO Can Benefit Your Ecommerce Store
Ecommerce SEO provides a cost-effective way to increase conversions through a boost in traffic.
Here are the key benefits of using ecommerce SEO:
More organic traffic: Using ecommerce SEO strategies like keyword optimization will help you attract more organic traffic to product pages.
Increased conversions: The more traffic you get on your website, the higher will be chances of conversions.
Higher brand awareness: Appearing on the first page of search results creates brand awareness without costing a fortune.
Enhanced user experience: By optimizing your product pages and providing proper product descriptions you can also enhance user experience.
6 Aspects of Successful Ecommerce SEO
In this section, you will learn various tips and tactics related to six of the most important aspects of ecommerce SEO.
If you want a more detailed and instruction-style search engine optimization manual, this SOP collection will walk you step-by-step through every task necessary to take your store to the first page of Google.
Let's get started with the six key aspects of ecommerce SEO.
1. Ecommerce SEO Keyword Research
The first step to an effective ecommerce SEO campaign is keyword research.
The keywords you choose will determine how well your product and category pages perform on search result pages compared to other ecommerce sites.
You need to work with relevant keywords that:
Attract a lot of quality traffic to your site. You want to attract people in your target market.
Reflect buyer intent. Buyer intent refers to how deep a person is into their decision to buy. A person searching "best dining tables" for instance, is far from making the decision to buy compared to someone searching "Rubberwood Solid Wood Dining Set".
Have high search volume. If no one is searching for a keyword, it'll not be of any help to your ecommerce SEO efforts.
Are not too difficult or competitive. This will make it easier for your store to rank on the first page of Google.
Finding a balance between competitiveness and search volume is key.
This is because it's difficult to rank for keywords with high search volume. That's because they have high competition.
On the other hand, if a keyword has low competition, it could mean that other ecommerce websites don't see it as important. But it's easier to rank for these keywords.
For ecommerce SEO, you want to work with keywords that are relevant but easy to rank.
We recommend long-tail keywords out of all the types of keywords.
The reason?
Long-tail keywords (3 to 5 words) are more targeted, less competitive, and convert better than short-tail keywords (less than 3 words).
Short-tail keywords are broad and very competitive.
So, how do you perform keyword research for ecommerce sites?
Get the Help of a Keyword Research Tool
SEO tools like Ahrefs and Semrush will help you in three ways:
Find keywords that your website is ranking low for. With some effort, there's potential to rank higher for these same keywords
Find keywords other ecommerce sites are ranking for
Find variations of keywords
When using Ahrefs for keyword research, for instance:
Go to Site Explorer. Key in your website's domain.
Under "Organic Search", find the keywords where you rank between 3-10 in the SERPs.
Export these keywords to a CSV.
Research your competitors' keywords:
Under "Organic Search", look for keywords that are ranking between 1 and 20 in the SERPs.
Filter the results to show keywords with a keyword difficulty (KD) of 15 and below and set the search volume to max. You can set the minimum search volume to about 200, depending on the size of your niche's audience. This will show low-difficulty keywords your competitor is ranking for.
Export the list to your CSV and repeat the search for other ecommerce sites.
If you choose to use Semrush for competitor keyword research:
Head to Organic Research
Enter a competitor's URL in the search field
You'll get all the keywords your competitor is ranking for
Export the list
Semrush will also show you other sites similar to the one you're looking at. These are your competitors as well. Paste these domains in the search bar and get the different keywords they're ranking for.
You can also use a free tool like Google Keyword Planner for the same.
Use of Amazon for Ecommerce Keyword Research
Amazon is an ecommerce behemoth through which you can sell your products. But it's also a gold mine of keyword ideas for two reasons:
Most people searching on Amazon have an intention of buying. It makes Amazon a great resource for high commercial intent keywords.
The keyword suggestions from Amazon are usually long-tail.
Type a keyword in Amazon's search box and check the autofill suggestions.
For instance, "dog food" brings suggestions like "dog food wet" and "dog food dry".
You can then add the relevant keyword ideas from these to a spreadsheet.
If you have a lot of products, manually copying and pasting the autofill suggestions could take some time. To save up on this time, use the Amazon Keyword Tool. You get two free searches per day under the free version.
Using it, you can easily filter the search results by popularity score, word count, country, and more.
For example, the seed word "dog food" has 257 high intent keyword suggestions.
To export the list to a CSV, Deselect the keywords that aren't relevant to your products and click "Download Selected Keywords".
Use Search Engines
Google is another free resource for conducting keyword research.
Type your seed keyword in the search bar, and check the suggestions in Google's autocomplete feature.
These will mainly be long-tail keywords that are related to the search term. Add them to your list of keywords.
You can also check "Related Searches" at the bottom of the page, and add the relevant search phrases to your list.
Now that you have your list of target keywords, it's time to use them in your ecommerce SEO strategy.
2. On-Page Ecommerce SEO
On-page ecommerce SEO simply means optimizing the content on your ecommerce website for search engines through a variety of strategies.
It lets the search engine know what your ecommerce website is about, improves the user experience, and helps drive up your ranks in the SERPs.
For an online store, most of your traffic and sales will come from the product and category pages.
Let's see how you can optimize these pages for on-page ecommerce SEO.
On-page Ecommerce SEO for Category Pages
If Google ranks your category pages, you can expect some of that traffic to head to your product pages as well. This, in turn, can help boost your sales.
Here are a few things you need to optimize your ecommerce category pages for on-page SEO:
The category page URL – It should be readable, short, and contain the target keyword. Short URLs should be preferred over long URLs.
The title tag – The target keyword should be as close to the beginning of the title as possible. Include modifiers like "buy" and "cheap".
Image alt text – Google relies on the alt text to know what your image is about. Include the keyword in it and be descriptive.
Meta description – A meta description is a summary of the content on a web page. You should include your target keyword in it and also make it as engaging as possible. Include click-magnets like "free shipping" to attract more clicks.
Intro – Introduce your category pages. Add the keywords naturally and close to the beginning.
Here is an example of the H&M category page for women's jeans.
Notice how the keyword "jeans for women" is in the first sentence of the intro?
On-Page Ecommerce SEO for Product Pages
To optimize your ecommerce product pages for on-page SEO, optimize the page URL, title tag, image alt text, and meta descriptions like you did in the category pages.
Also, use long-form product descriptions to describe your product well. This will also help you rank for multiple target keywords.
Descriptions for product pages should include:
An intro outlining what the product does and who it's most suitable for
Bullet list of the product features
Search terms related to the main keywords. These are known as latent semantic indexing (LSI) keywords
A more comprehensive description of the product features and their key benefits
Use cases and clear images of the product in use
User-generated content like videos, pictures, and reviews
FAQs
A call-to-action (CTA)
Here is an illustration of Away doing their product pages the right way.
This product page is visually rich. There're plenty of images showing all the parts of the suitcase.
The comprehensive description of the product features is accompanied by an image showing the product in use.
And the product page contains lots of awesome reviews that include customer photos too.
A rule of thumb is to include your target keyword once in every 100 words. Sprinkle related keywords or LSI keywords generously, but without keyword stuffing.
3. Content Marketing for Ecommerce SEO
Your product and category pages can't contain many keywords as you would want to rank for.
This is especially true for keywords targeting people who are still in the initial stages of the buyer's journey, such as "best dog food for rottweiler" or "how to feed a dog".
It can hold back the success of your ecommerce SEO efforts.
One of the easiest ways to rank for more keywords related to your industry is through content marketing or blog posts.
And the best part here is that once you create the content, you can link it to your product pages and get more conversions.
The reason why blog posts work well is that you can target a wide range of keywords using them and drive more traffic to your website.
Here's an example of a blog post by BioLite.
See how they incorporate links to their product pages in the content.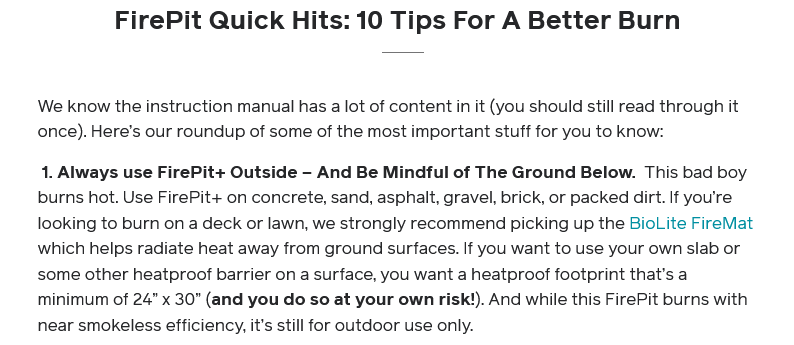 So, how do you create content that ranks and your audience wants to read?
Find out where your potential customers hang out online and join in their conversations.
This can be in forums like Reddit or social media groups related to your industry.
It'll provide insight into their pain points, fears, and dreams.
You'll learn the language that they use to describe their problems as well. These are the same words they'll use when searching for solutions on search engines.
They represent keywords that should inspire the topics of your content.
You can then create content that's targeted at solving their problems.
Providing your audience with content that's relevant to them will build loyalty, drive conversions, and generate revenue.
Here are a few content writing tips for ecommerce SEO.
Aim for Strategic Keyword Placement
Get maximum ecommerce SEO value by placing keywords in the:
First sentence or first 100 words
Meta description
Title tag
Header tags
Naturally throughout the body
Image alt text (if it fits naturally)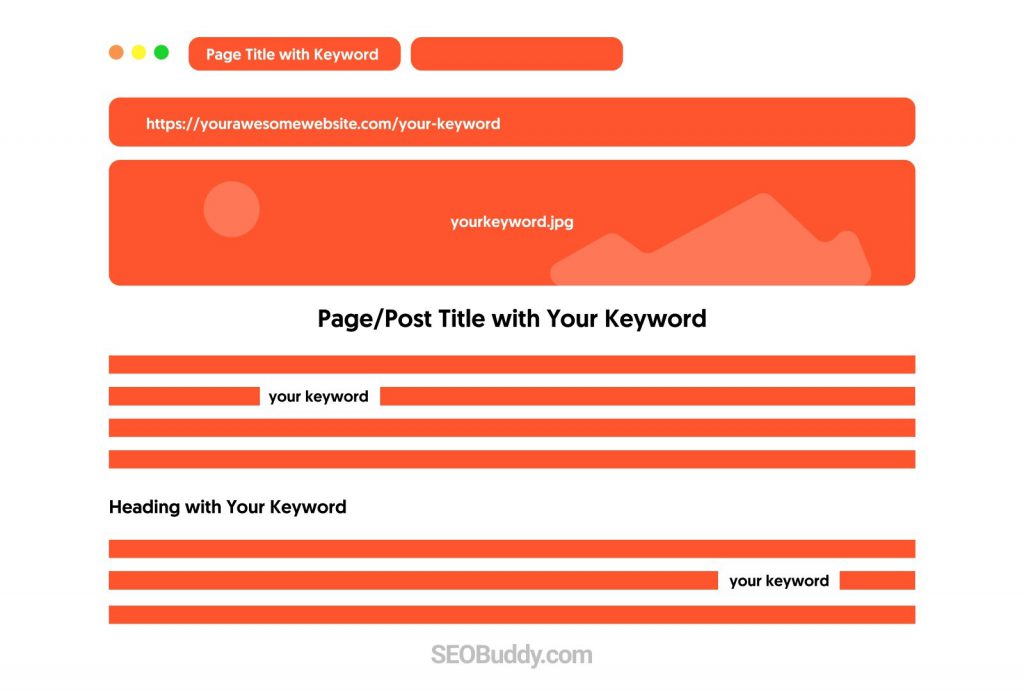 Target Multiple Keywords for Ecommerce SEO
A blog post should target one primary keyword. But be sure to target multiple secondary search terms (LSI keywords) in your content.
Long-tail secondary keywords, in particular, are excellent for ecommerce SEO.
They boost conversions by targeting a more specific search intent. This brings the most motivated audience to the website.
Be sure to create content that addresses the needs of visitors in different stages of their buyer's journey—awareness, consideration, and decision. Insert related keywords in all of these posts to ensure that they bring in the right traffic to your website.
Here's an example of how you can use LSI keywords naturally in your content.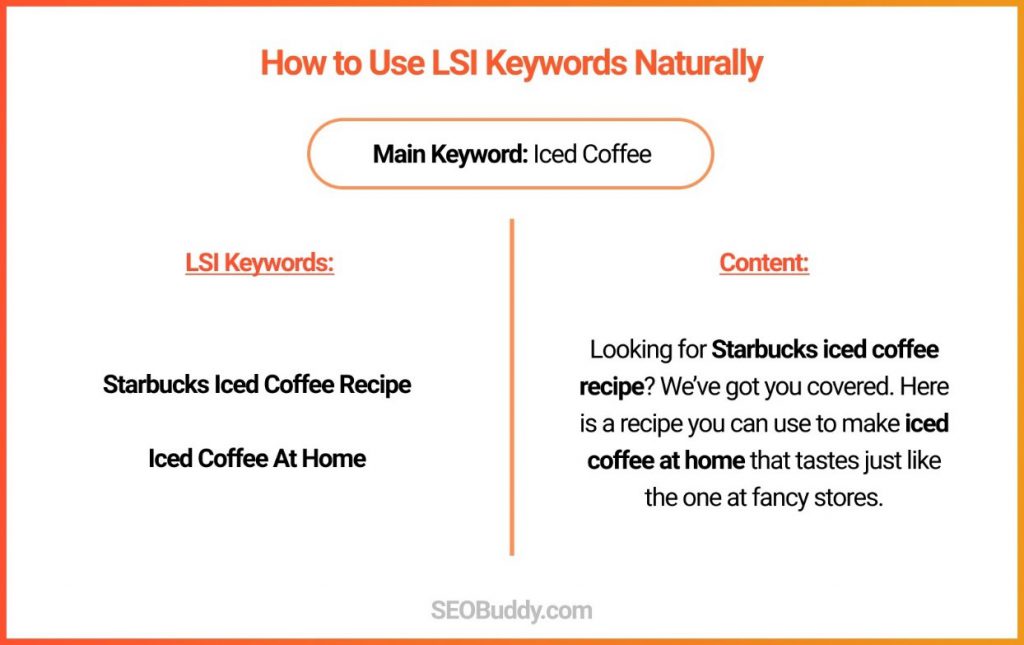 Maximize the Content's Readability
User engagement metrics, which is the time a visitor spends on your website, affect ecommerce SEO. It's one of the metrics Google uses to rank websites.
And guess what?
The readability of your content directly impacts user engagement metrics.
Take these steps to improve your content's readability:
Break big blocks of text with short paragraphs and lists
Use active voice
Use short sentences
Make use of transition words to help your readers connect your ideas and thoughts
Use clear headings to break your content into sections
Be clear and concise. Use simple language that your audience can understand
Use images, videos, and infographics to make the content more engaging
Use white space to reduce visual clutter
Format the Content for Google's Featured Snippets
Featured snippets are brief excerpts from a web page that quickly answer a user's question.
They appear on top of Google's search results page, especially when a user uses informational keywords and searches with "how to" or "what is".

Featured snippets have a significantly higher click-through rate than the website links that appear below them.
Here are a few ways through which you can increase your chances of getting a featured snippet for your content and boost your ecommerce SEO.
Use question-based headers in your H2s, H3s, and H4s
Use question-based keywords
Use your content to provide logical and accurate answers to Google searches. They should be concise and direct
When possible, outline steps to solve a problem or answer the question
For paragraph-style answers to the question, keep it between 54 to 58 words
Keep Your Content Fresh
In addition to posting relevant and resourceful content frequently, it's important to regularly update old content pieces.
You can add new data or research material relevant to the post regularly.
This helps keep your content fresh and relevant. Doing so helps improve your SEO as Google sees the content as better suited to answer a searcher's query.
See how WPBeginner does this. The date of the last update of this piece of content is indicated right under the title.

4. Link Building for Ecommerce SEO
In simple terms, link building is the process through which you get other websites to link to yours.
But why is link building important for ecommerce SEO?
The reason here is that each backlink counts as a vote of trust for your website in the eyes of Google.
A link from a website with high domain authority to your site is an indication to Google that your website is a quality resource on the subject.
The more high-quality backlinks you get, the better will the chances be of your website ranking higher in the SERPs.
Links also bring increased referral traffic to your website, which could lead to more conversions.
So, how do you get websites to link to you?
Apply the Skyscraper Technique
We are all attracted to the best.
This is the principle that Brian Dean, founder and CEO of Backlinko, used to come up with the link-building tactic "The Skyscraper Technique."
The technique involves:
Step 1: Choosing a keyword that's relevant to your industry and target audience.
The keyword should have a lot of information you can cover.
Step 2: Finding an evergreen content piece around that keyword.
It should have plenty of shares, comments, and backlinks. You also want to choose content that has room for improvement, such as one with outdated statistics and inadequate details.
Step 3: Creating new content on the same topic.
Make it superior to the original. You can get into more details and add modern solutions to the problem. Enhance it with images, infographics, and fresh examples.
Step 4: Sending outreach emails asking for backlinks to the content.
Start with websites that have already linked to the original content. Outline how your new piece is better and encourage them to replace the old link with your new one. Next, reach out to websites that regularly publish content directly related to your piece.
Once you're successful, this technique will bring plenty of quality backlinks and traffic to your website.
Reach Out to Resource Pages
These are web pages that offer helpful resources to their audience.
Here is an example:
You can search for resource pages in your industry using "inurl:resources + X" in the search bar. Replace X with your product or industry and search.
Here is an example of a search for pet food:
From this list, find the most relevant websites. Paste the URLs into a spreadsheet and send outreach emails to them.
Reach Out to Bloggers
Find bloggers and niche experts in your industry who aren't competing directly with you and partner with them.
For example, if you're in the food industry, reach out to a popular food blogger and request them to link back to your main category and product pages. In exchange, you could provide them with a free product.
They can either create new content featuring your product or add a backlink to existing content.
A simple Google search can get you a list of influential bloggers in your industry who you can contact.
And if you're in luck, the search will reveal resource pages that'll make your search easier.
Broken Link Building for Ecommerce SEO
This is one of the easiest and most effective methods of getting backlinks.
You'll be solving a problem for a website while getting quality backlinks to your ecommerce website.
Here's how broken link building works:
Step 1: Find an ecommerce site in your industry that has high domain authority
Step 2: Use a browser extension like Link Checker to check for broken links in content that relates to your products or services.
Step 3: Create content on your website that can serve as a replacement to the content on the broken link.
Step 4: Contact the owner about the broken link and recommend replacing it with the link to your ecommerce site.
Repeat the process with other websites in your industry to scale up your link-building process.
Spy on Your Competitors
If your competitors are ranking high in the SERPs, they probably have quality backlinks and content that gives their ecommerce SEO a boost.
Chances are, the websites linking to these ecommerce sites would be happy linking to yours, too.
There are plenty of tools you can use to spy on your competitors' backlinks and improve your ecommerce SEO.
A tool like BuzzSumo can help track the backlinks of these ecommerce websites.
You can see the highest-ranking pages on a topic and see websites that have linked back to them.
Reach out to these website owners. Offer superior content on your site that they can link back to or sweeten the deal with commissions.
We'll be honest, finding viable backlink opportunities to boost ecommerce SEO is not easy.
And it might take several hundred outreach emails just to get a few backlinks, especially for a new ecommerce store.
The good news is that you can get help with finding backlinks.
Our Link Chest provides a wealth of high-quality backlink opportunities made available on a single platform.
All you have to do is pick the right opportunities for your store and request backlinks.
5. Website Architecture for Ecommerce SEO
Website architecture is critical in ecommerce SEO. This is because an average ecommerce store will have significantly more pages than an average blog.
Ecommerce site architecture is all about optimizing the set-up of your navigation, category pages, and product pages for users and search engines. Therefore, it is crucial to use a reliable site architecture and this is when ecommerce microservices architecture comes in handy, as it can improve the performance, flexibility, and scalability of your e-commerce website.
It carries the following benefits for ecommerce SEO:
A well-structured site architecture makes it easy for search engines to crawl your site, find, and rank important pages.
It makes it easy for visitors to find what they need on your ecommerce site. It reduces bounce rates and increases conversions.
To improve ecommerce SEO through site architecture, have easy and well-structured navigation.
Here's why:
The home page carries the most authority with search engines, compared to other internal pages.
It passes down this authority or what is known as "link juice" to other pages through the internal links on it.
If the navigation on the home page has too many links leading to interior pages, the authority is diluted, making interior pages less likely to rank.
But if it's concise with minimal links, more authority from the homepage passes to the interior pages, helping them rank.
Ideally, the best site architecture for ecommerce SEO will have 2 main characteristics:
The homepage will link to the major category page
Every page will be 3 clicks from the homepage or fewer
This will help your interior pages rank while also making it easy for visitors to find the most relevant content.
Check out the website architecture of Overtime.
A visitor only needs to go to the home page>category page>product page to make a purchase.
Here's the homepage.
From the navigation on the home page, a user can click on a category page of their choice, such as hoodies, tees, and bottoms.
From the category page, they can click on a product to head to the product page.
And place an order.
This is a good example of SEO and user-friendly ecommerce website architecture.
6. Technical Ecommerce SEO
This involves optimizing the infrastructure of your website to improve its SEO.
This makes it easy for search engines to crawl and index the website. It also gives users the best possible experience on your website.
So how do you perform technical SEO?
Speed Up the Website
Page speed or page load time also affects ecommerce SEO. It's a part of Google's algorithm for ranking pages.
In addition, page load time directly impacts your conversions.
According to a study by Deloitte, a 0.1s site speed improvement can have an 8.4% increase in conversions among retail consumers and a 9.2% increase in the average order value (AOV).
Page loading speed is the time it takes a server to display content on the browser screen from the time it receives the initial request.
Fast load times equate to high ranking and better user experience.
You should aim to have high page load speed for both mobile and desktop.
Routinely test your pages using Google's PageSpeed Insights. You'll get a speed performance report and suggestions on what's slowing the site down.
A score that's 90% and above is good, but you should try to get it to a perfect 100%.
Here are a few measures you can take to improve ecommerce SEO through quick page speed:
Research the best ecommerce platforms that are fast and make a switch.
Upgrade your hosting. Your hosting provider and the plan you sign up for could be the reason behind the slow speed.
Compress your image to reduce the file size. Large images can make your website load slowly.
Use a content delivery network (CDN). This is particularly important for an ecommerce store because your customers are likely distributed around the globe. A CDN is a network of geographically distributed servers. They bring web content closer to users' locations and this speeds up its delivery.
Analyze Your Backlinks
Although backlinks are important for ecommerce SEO, spammy links could get your website penalized and affect your ranking.
Use tools like Ahrefs to analyze the links coming to your website.
For spammy, artificial backlinks, or low-quality backlinks, disavow the links on Google Search Console. It's a way of telling Google that you don't want any association with those websites.
For broken backlinks, you can create a 301 redirect. This means all visitors who click on the broken link will be redirected to the new URL you set.
If you don't want a 301 redirect, contact the owner of the website to replace the broken link with a more relevant page.
Make Your Site Secure
Site security is a critical aspect of technical SEO.
Secure your website by getting a Secure Sockets Layer certificate (SSL). An SSL certificate is indicated by a padlock icon and "HTTPS" in your website address.
Here is an example of Amazon's secure website.
It encrypts communication between the browser and the server where your site is hosted.
With a secure site, you'll be on the good side of Google's ranking algorithm. That's because Google has explicitly stated that HTTPS is a ranking signal.
Your visitors will also feel comfortable when submitting sensitive personal information to your website, which enhances the user experience.
Run an Ecommerce SEO Site Audit
Your ecommerce SEO strategy needs continuous monitoring to ensure that you keep getting the best results.
This means regularly evaluating the factors that affect your website's ability to appear in SERPs through a process called SEO site audit.
Start your ecommerce SEO site audit by using Google Search Console.
First, click on Crawl and select Crawl Errors. This should reveal errors Google's indexing robots are getting when crawling your site.
If you have:
Links pointing to pages that no longer exist – Redirect these links to related pages
Duplicate content – Apply a 'noindex' to the pages that don't bring a lot of search traffic but are causing duplicate content issues. For the pages that bring in search traffic, rewrite the content to make it unique.
Next, go to Search Appearance and select HTML Improvements. Fix any on-page SEO issues that are affecting your ranking.
It doesn't hurt to double-check with other tools like Ahrefs, Semrush, Raven Tools, or DeepCrawl.
These tools can reveal problems in your title tags, descriptions, or duplicate content you could have missed with the Google Search Console audit.
For your ecommerce store to have a fighting chance against others that dominate the SERPs, your SEO needs to be close to perfect.
How to Measure the Performance of Your Ecommerce SEO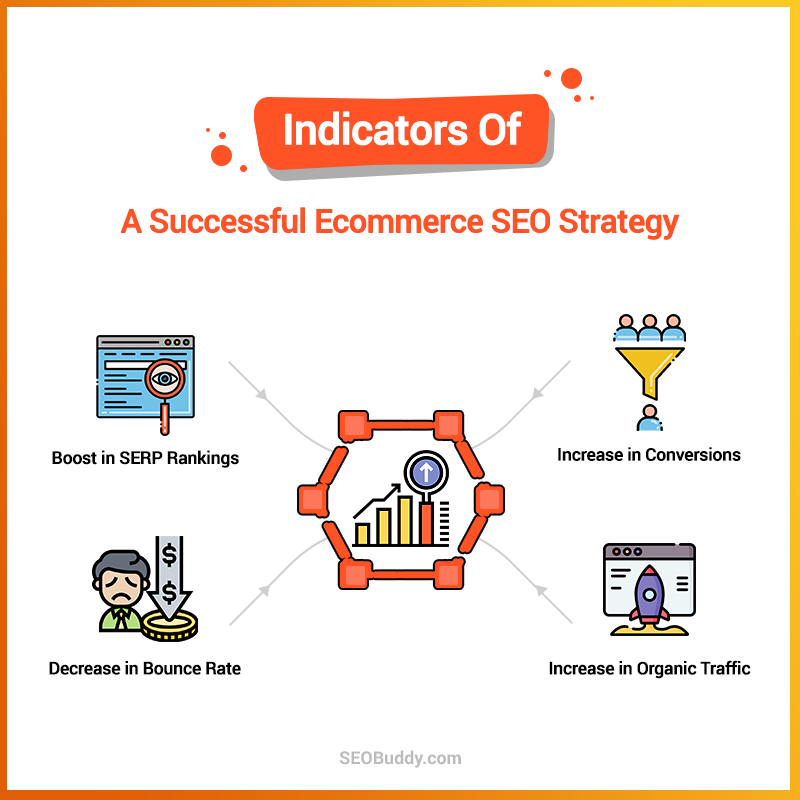 So, you've taken all the recommended ecommerce SEO steps.
But how do you know if they're working?
Here are a few things to check when measuring the performance of SEO for ecommerce:
Your Ranking in the SERPs
Increases in your search engine rankings, no matter how small, are an indication that your ecommerce SEO strategy is working.
A tool like Ahrefs has a built-in rank tracking feature that notifies you whenever there's a change in your ranking.
You can check the progress of other ecommerce stores against yours and determine your overall search visibility too.
Semrush also lets you compare your ecommerce SEO performance with select competitors and review it over time.
You can even use it to see the search intent and pages that are bringing the most traffic.
Transactions from Organic Traffic
If there's an increase in revenue from organic traffic, you're doing ecommerce SEO right.
Use Google Analytics to view organic sales separately from the traffic and sales from other sources like paid ads.
Keep in mind that most people don't make a purchase the first time they visit an online store.
So, a visitor could find your website through a search engine, leave, then come a second time through a different channel like social media and make a purchase.
In such a case, ecommerce SEO contributed to this sale. It's an organic-assisted conversion.
Luckily, Google Analytics can provide insights into such transactions, helping you track your ecommerce SEO adequately.
It does this by setting a cookie for every user who comes to your site.
The cookie keeps track of the number of times the user visits the store, the source of the traffic, and the start and end of each session.
Change in Bounce Rate
A change in bounce rates can tell if you're targeting the right keywords in your ecommerce SEO strategies or not.
If the organic bounce rate is lower than before, it means your keywords are doing a good job at attracting the right kind of traffic to your store.
Compare the bounce rate from organic traffic to the traffic from other sources.
If the bounce rate from organic traffic is lower than the bounce rate in traffic from other sources, your ecommerce SEO efforts are paying off by bringing in visitors with buying intent.
Portion of Total Traffic From Organic Search
Your aim for ecommerce SEO is to have a large section of your traffic come from organic search, right?
Track the percentage of your total traffic that's coming from organic search. If this percentage is rising, your ecommerce SEO strategy is winning.
Keep in mind that a drop in this percentage could also happen if you're paying extra attention to social media marketing or investing more in the pay-per-click (PPC) model of advertising.
But overall, it's recommended to keep track of the portion of traffic coming from organic search.
FAQs
1. How is ecommerce SEO different?
When it comes to ecommerce SEO, there are different things you need to optimize, such as:
On-page SEO for category and product pages.
Unique content on your product pages.
Website architecture. A visitor should be able to get from the homepage to a product page in 3 clicks.
2. How do ecommerce sites do SEO?
Ecommerce SEO involves:
Finding the right keywords for all stages in a buyer's journey. They should have a high search volume but low keyword difficulty.
Placing the keywords strategically in meta descriptions, title tags, URLs, product pages, blog posts, and image alt texts.
Creating readable and informative content that incorporates primary and long-tail keywords.
Reaching out to relevant websites for backlinks.
Optimizing your website architecture for easy navigation.
Ensuring your website has high page load speed, is secure, and has no broken links or duplicate content.
3. Is SEO important for ecommerce?
Yes, ecommerce SEO is important because:
It helps your website rank higher on search engines. This drives organic search traffic and increases conversions.
It creates low-cost brand awareness.
It opens remarketing opportunities.
It increases customer loyalty through a positive user experience.
4. What is Amazon SEO?
Amazon SEO is the practice of optimizing your product listings for Amazon's ranking algorithm. The algorithm determines the best results to display to a customer.
Amazon SEO helps your products appear at the top of these search results in Amazon.
The Amazon ecommerce SEO optimizations include:
Using high-quality photos
Researching the best keywords to use in your product page title, features, and descriptions
Setting competitive prices
Joining Fulfillment by Amazon (FBA)
5. What comes under technical SEO?
Technical ecommerce SEO involves:
Optimizing website speed
Fixing broken links
Enhancing site security with HTTPS
Eliminating duplicate content
Correcting problems with title tags, descriptions, meta tags, and image alt texts
Ecommerce SEO: Make a Move Towards Better Ranking
If you're like any other online store owner or marketer, you'd want more traffic, conversions, and brand awareness.
And implementing these ecommerce SEO practices will get you started and set you up for success.
Take an extra step and get our complete SEO Checklist to grow your ecommerce site.
It'll provide a more advanced step-by-step guide on every action you need to take to optimize your online store.
A final thought — keep in mind that achieving ecommerce SEO success is a slow and steady process, but the results will be long-term.