What are Toxic Backlinks and How Can You Get Rid of Them
Backlinks are one of the top Google ranking factors and are crucial for SEO. But the way we build backlinks has changed a lot over the years.
Now, spammy, irrelevant, or unnatural backlinks are categorized as toxic backlinks and are considered harmful for SEO. A few years ago, these were considered out-of-the-box link-building tactics instead of unethical or black-hat link-building.
Given the changing industry dynamics, it's better for you to understand what toxic backlinks are and avoid them at all costs.
In this post, you'll learn:
What are toxic backlinks?
What're the differences between good and toxic backlinks?
Why toxic backlinks are bad for SEO
How to identify and remove/disavow toxic backlinks
Which toxic link-building techniques you should avoid
Which link-building best practices you should follow
There's a lot to learn about SEO and link building, so let's get started.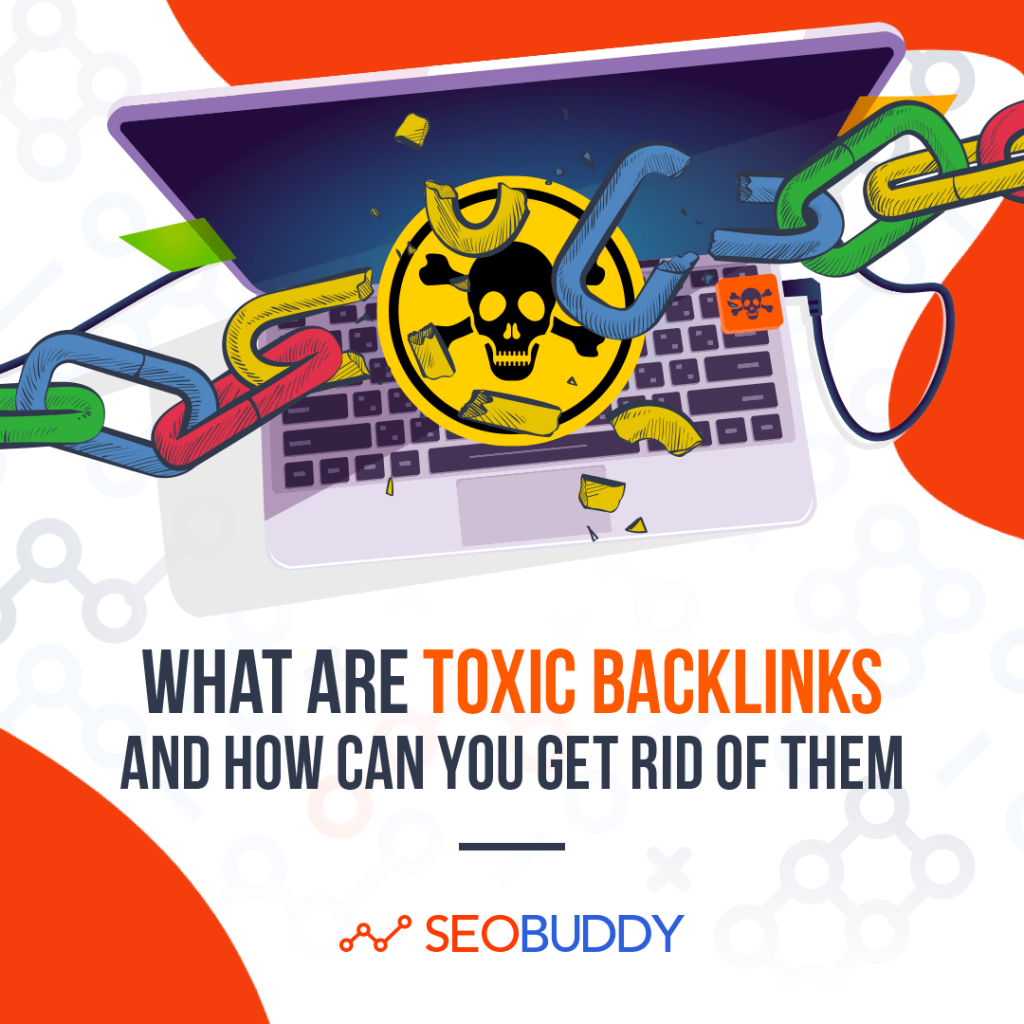 What are Good Backlinks?
High-quality backlinks are earned in an organic manner and come from trusted sources within your niche. These backlinks are placed on relevant anchor texts within content that is related to the post being linked.
High-quality backlinks don't try to manipulate a site's rankings and are editorially placed by webmasters to redirect their audience to useful resources.
Here are some characteristics of high-quality backlinks:
Authoritative
Good backlinks are earned from authoritative and trusted sources within a specific industry. These links show a vote of confidence that the trusted site finds your content useful enough to link to it and that will improve your domain authority.
Most good backlinks are dofollow links that have the potential to bring referral traffic from one site to another.
Relevant
Good links are placed in content that is topically relevant to the content being linked. For example, if your article is about automobiles, a link to an article about cars would make sense. But, if you link to a food blog from an automobile blog, it would not be relevant.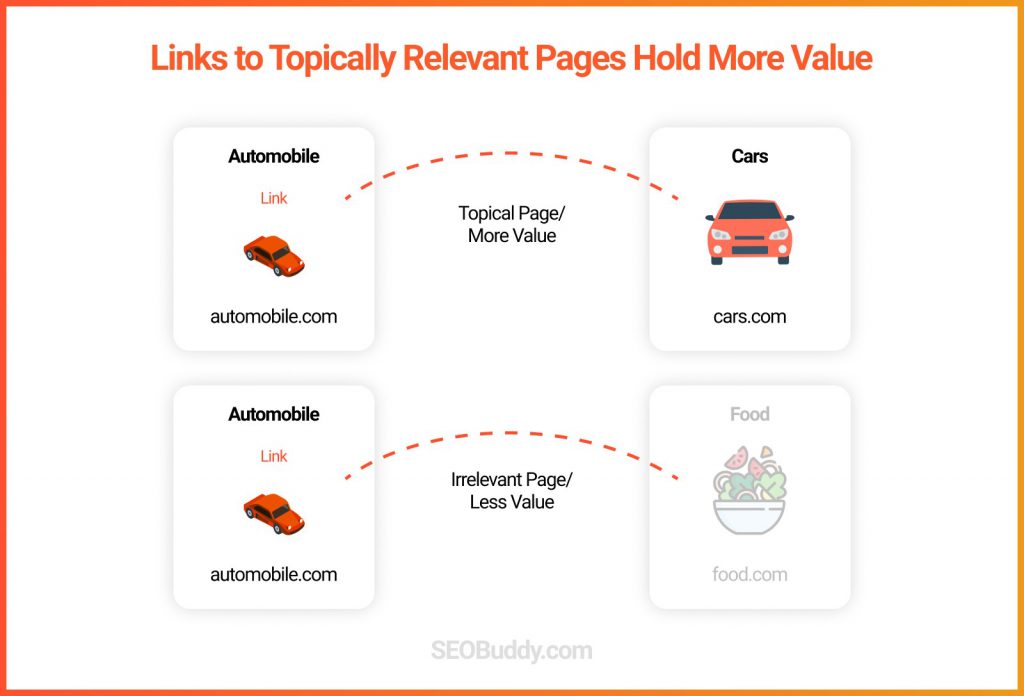 Organic
Good links are not paid for but are editorially earned. The key to earning good links is to create useful and high-quality content that people would genuinely want to link to.
You can conduct original research, write informative articles, and design infographics to earn editorial backlinks from a site with high domain authority. Links from such sites pass more value (link juice) than links from low authority sites or spammy sites.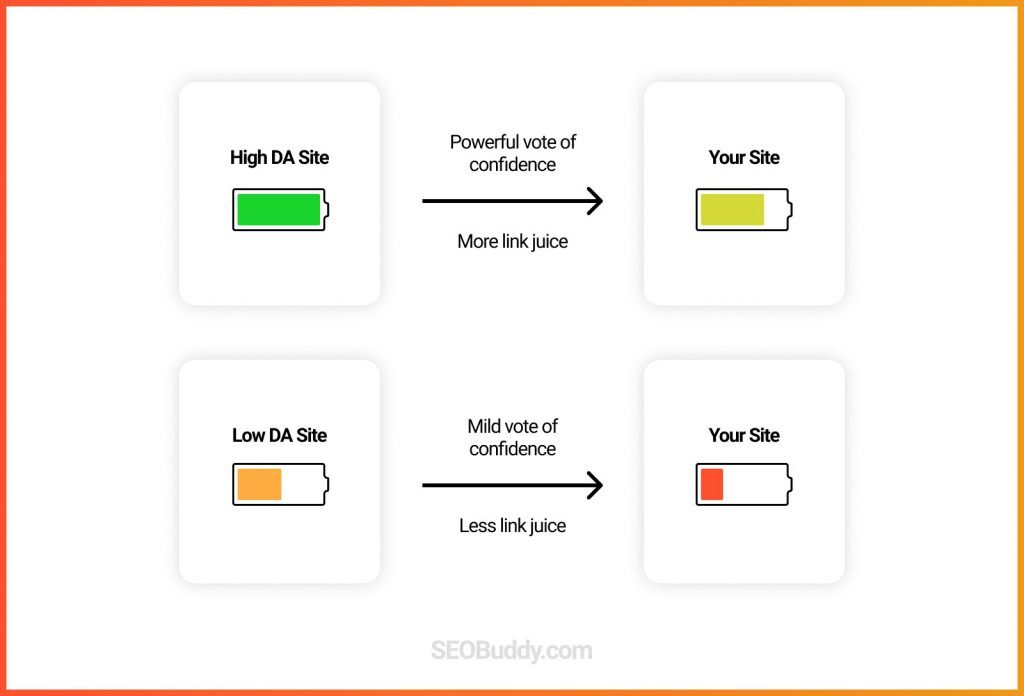 Natural
Good links are placed naturally within the content, on relevant anchor texts. For example, if you're linking to a post on how to conduct keyword research, the anchor text could be:
Keyword research
Keyword mapping
How to do keyword research
But it should not be:
Click here
Learn more
Or any unrelated or generic keyword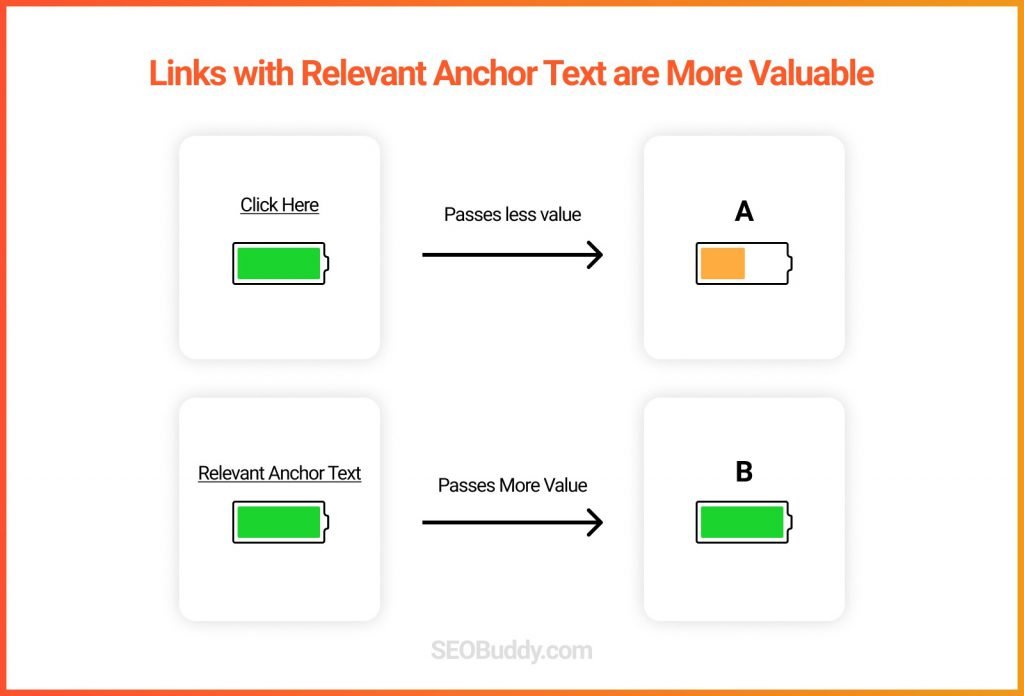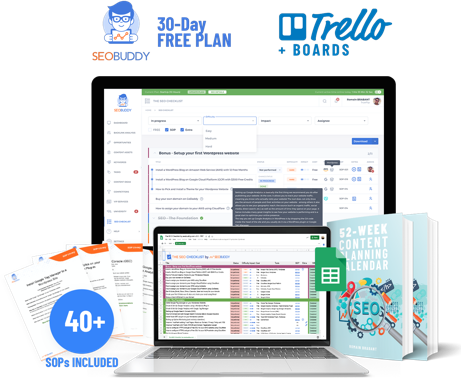 There's more…
Now it's time to discover the other 102 steps that will get more organic traffic flowing to your website. Get the SEO Checklist here.
Want to get a sneak peek of what it looks like?
Enter your email and get a free demo version of the SEO Checklist.
What are Toxic Backlinks?
Toxic backlinks are the ones that are either paid for or gained via unethical link-building tactics. These aim to manipulate site rankings and often pass PageRank in exchange for money.
Toxic backlinks are not editorially placed and are often hidden in ads, comments, and other places on a page.
Here are some characteristics of toxic backlinks:
Spammy
Toxic backlinks are the links that come from spammy sites or bad sources like link farms and unindexed sites. Any link that is added for the sole purpose of manipulating a site's rankings and not to add value to the readers is a toxic backlink.
Irrelevant
Toxic backlinks often link to topically irrelevant pages as these are added for the sole purpose of backlinking to improve site rankings. The irony is, though, that such links do more harm to a site's reputation and rankings than good.
Paid
Most of the toxic backlinks are either paid for or are a part of link exchange. Toxic links are bought using unethical SEO practices and are bad for SEO.
Many toxic backlinks are hidden within blog comments, footer, and HTML of a page, rather than being added naturally within a piece of content. Though not all blog comments are bad, the irrelevant ones definitely are.
Quality Backlinks and Toxic Backlinks: A Comparison
Here is a quick comparison of good and toxic backlinks that you can use for identifying the latter.
| | | |
| --- | --- | --- |
| | Quality Backlinks | Toxic Backlinks |
| Sources | Relevant and authoritative websites within a specific industry or niche | Spammy sites, blog comments, forums, link farms, etc. |
| Relevant | Yes | No |
| Earned or Paid | Earned organically | Paid for |
| Visibility | Placed naturally within a piece of content | Often hidden in blog comments and footers |
| Anchor Text | Relevant and natural anchor texts | Exact match money keywords |
Keep these differences in mind when looking for backlink opportunities and avoid spammy links.
How Can Toxic Backlinks Hurt Your SEO?
There was a time when toxic backlinks were actually successful in improving site rankings. People used unethical link-building tactics to unnaturally boost their rankings.
But over the years, Google and other search engines have significantly improved their algorithms. Now, it's tough to partake in black hat SEO and not get caught.
Also, if you do get caught, Google imposes heavy penalties that can ruin your site's reputation and rankings drastically.
So, if you have lots of toxic backlinks on your site, it can severely hurt your SEO campaign. Here are some specific ways in which toxic backlinks hurt your SEO: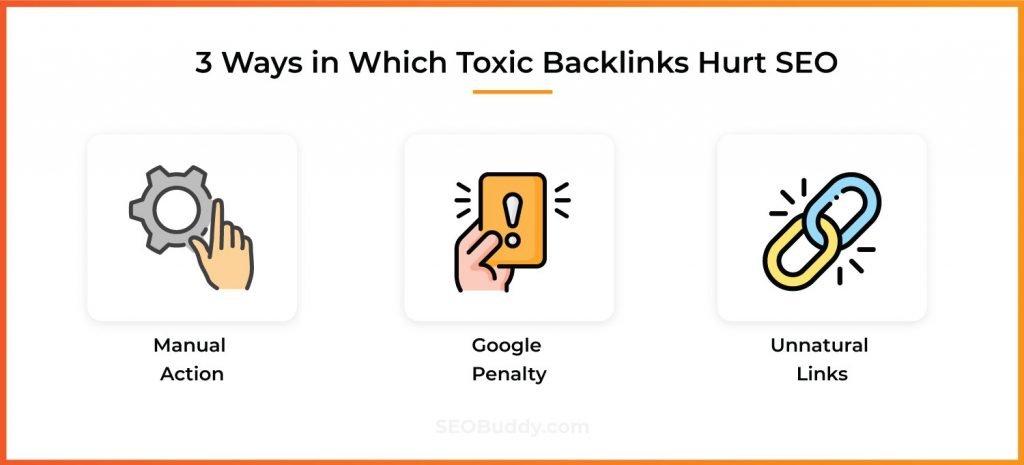 Google Penalty: Google's algorithm is getting smarter and dit can detect sites with tons of spammy links and can impose penalties. In such cases, it would automatically adjust (degrade) your rankings without notifying you. The worst part is that you can't send a reconsideration request to remove such penalties, which is really bad for SEO.
Manual Action: This happens when someone from Google's team manually reviews your website, finds unnatural links, and applies a manual action against these. You will get notified about manual action and will need to remove toxic links manually.
Unnatural Links: Sometimes, Google will just ignore unnatural links and won't count them towards rankings, even if you don't disavow such links. While this will avoid penalties, you will not know that your link-building efforts are going to waste.
Overall, there are no upsides to building toxic links. Even if they help you in the short term, they are bound to damage your SEO efforts sooner or later.
So, it's better to engage in white hat link-building practices and keep your slate clean.
And, if you need help with your SEO efforts, you can use our SEO checklist to do things the right way.
How to Find and Remove Toxic Backlinks
Finding and removing toxic backlinks is easy if you use one of the top SEO tools like Semrush, Ahrefs, Moz, or Majestic. Most of the popular SEO tools have the provision for finding toxic backlinks and directly sending removal requests.
For this post, we'll use Semrush to explain the process of how to find toxic backlinks and remove them. So, let's get started.
1. Conduct a Backlink Audit
The first step is to conduct a backlink audit using Semrush's backlink audit tool. Simply enter your website's URL and let the tool perform an audit on your backlink profile.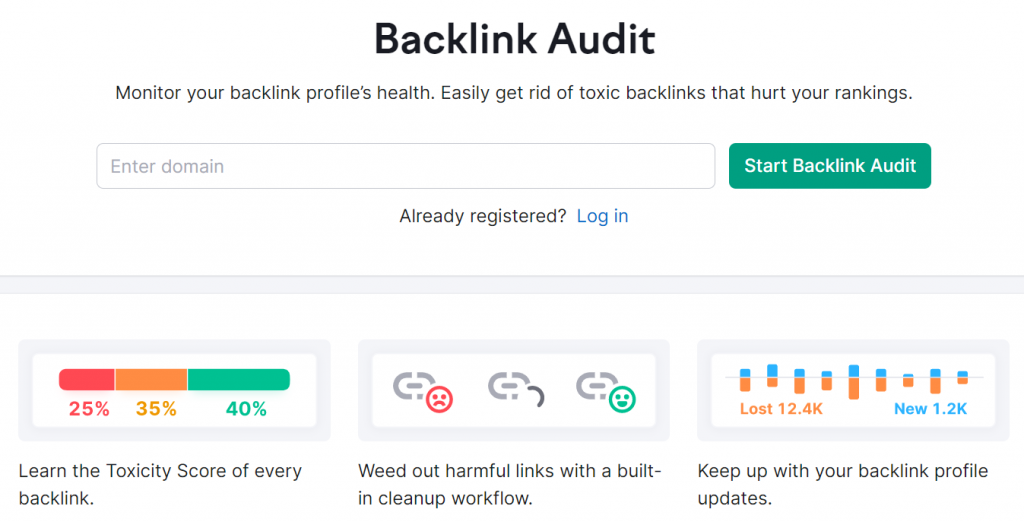 You'll then see a detailed report that will show you the toxicity score of your backlink profile. It will also show you the number of toxic backlinks and domains.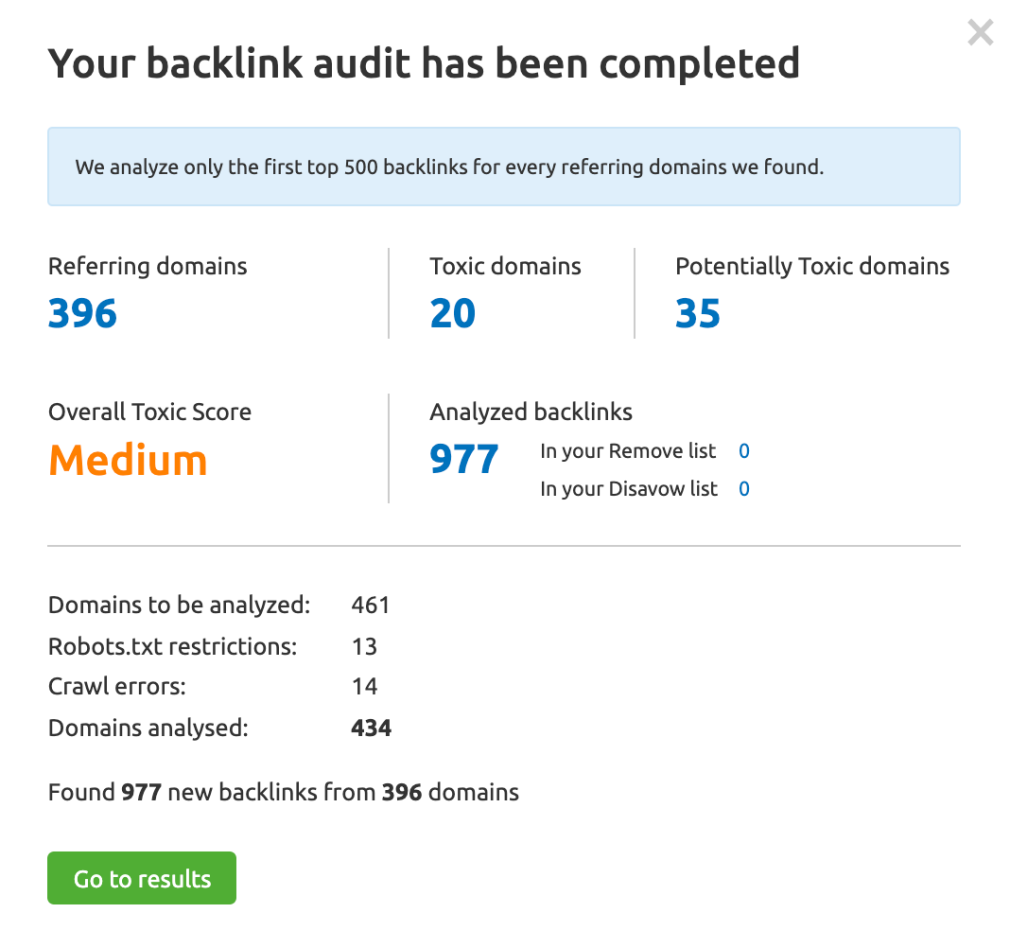 2. Identify the Toxic Backlinks and Start Auditing Them
Next, you need to check all the possibly toxic backlinks one by one and determine whether they're harmful. Sort your list of backlinks by "toxic score" to find the most harmful backlinks at the top.
For each link, when you click on the toxic marker, you'll find more information about that link and why it's toxic.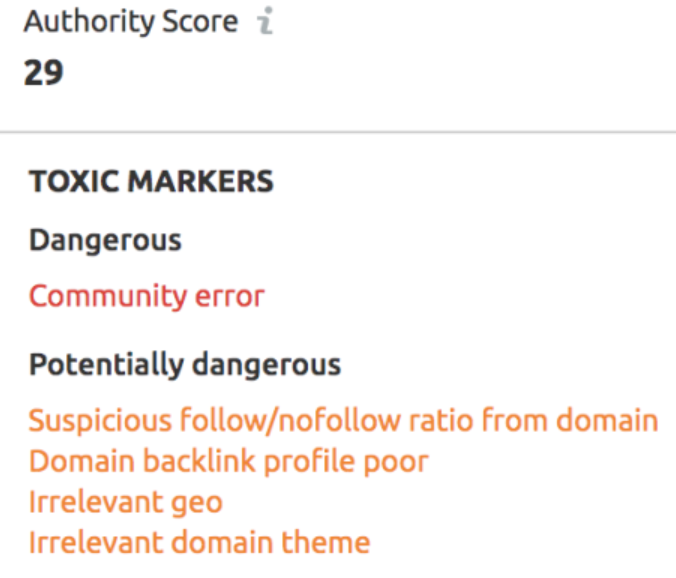 For links with low toxicity scores, you can refrain from taking any action, but you need to immediately remove highly toxic links. So, go through all the toxic links one by one and make a list of the ones that need to be removed immediately.
3. Send Removal Requests for Toxic Backlinks
After you've identified your toxic backlinks, you can do two things—send removal requests to webmasters to remove those links or disavow them using Google Search Console.
If you want to disavow, you can skip this step.
To send removal requests you'll need to find the email addresses of the webmasters whom you want to request. Semrush allows you to add your email account and send removal requests with a single click.
However, this is a tedious process and we recommend you go directly to disavow these links using Google Search Console.
4. Disavow Toxic Backlinks
Google provides a disavow tool in the Google Search Console that allows you to disavow toxic backlinks. This means that Google will not consider these links when analyzing your site or its ranking factors.
Create a disavow list where you add all the spammy links that you need to disavow. If you have prepared this list before, then you need to simply add new links without removing the previous links.
Why?
Because Google will only consider the latest disavow file, so you need to ensure that all previously disavowed links are also present in your list.
You can create your disavow list directly on Semrush.

Go to the Google Disavow Tool and upload your list and you're done.
5. Schedule Regular Backlink Audits
SEO is an ongoing process and so is backlink analysis and optimization. You should conduct regular backlink audits to find and weed out toxic backlinks from your site.
Also, remember to update your disavow list and not create a new list every time, or the previously disavowed links will be removed from the list. Follow this process and remove toxic backlinks from your site regularly.
5 Toxic Link-Building Tactics to Avoid
Here are the top five unethical link-building practices that you should avoid at all costs.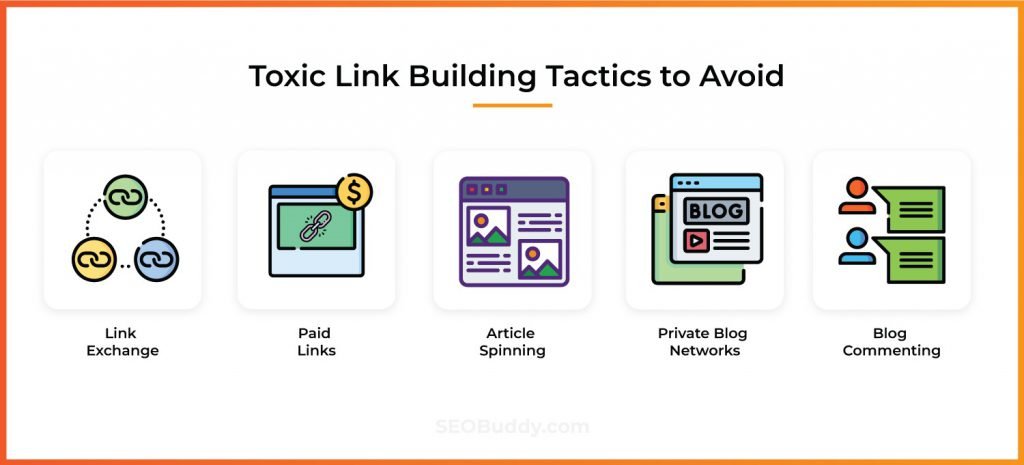 1. Link Exchange
Don't participate in reciprocal link building or in link schemes. When you do reciprocal link building at scale, Google notices, even if you think you're being smart.
It's not possible that if you're exchanging 100 links with a site, they'll all be relevant or of high quality. When you participate in such schemes, you are bound to end up with a bunch of spammy, unnatural, irrelevant, and toxic backlinks.
This doesn't mean that any kind of reciprocity is bad. More often than not, if you give high-quality editorial links to a site, they're likely to return the favor. In fact, natural link building often results in reciprocal links.
So, how is link exchange any different?
The difference is in the number and quality of links.
2. Paid Links
One of the most questionable link-building tactics is paying money to get backlinks and it's in direct violation of Google's Webmaster guidelines.
And if you're using sponsored content for marketing purposes, use nofollow links and rel="sponsored" attributes to provide full disclosure.
3. Content Spinning
This is a backhanded SEO tactic that involves creating one piece of content and then using AI-based software to create multiple versions of it.
People then add these to different directories and low-authority websites to get dozens of backlinks with minimal effort.
Avoid this toxic link-building tactic as it will harm your site's reputation and, eventually, rankings.
4. Private Blog Networks
A private blog network is a network of sites that are designed specifically for providing backlinks to other sites. It's a black hat SEO tactic that you must avoid using as search engines can identify and penalize such networks.
Some link schemes are designed in a way that multiple sites are created just to give backlinks to the main (money-making) website.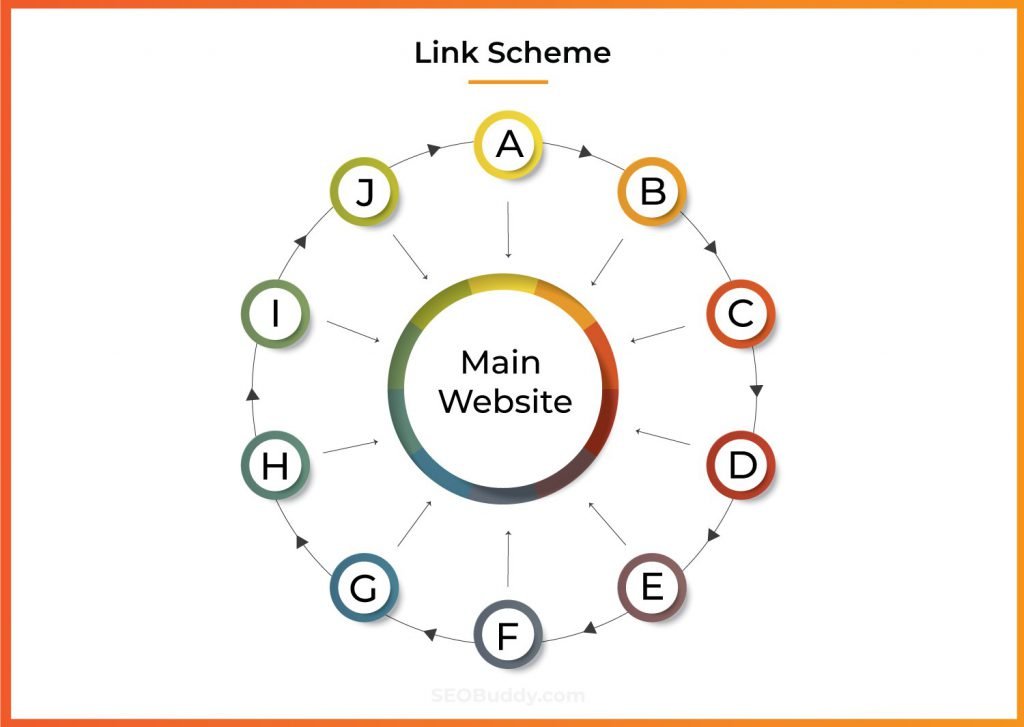 In such cases, the main website suddenly gets a boost in the number of backlinks, and search engines can identify such unnatural link building.
5. Blog Commenting
One way of building tons of backlinks without much effort is to leave spammy comments and links on blogs. You must have seen those blog comments promoting a website or product.
Such comments are spammy and annoying for the readers but are also flagged as spammy by search engines.
However, you can comment on blogs to engage in conversations and provide useful answers or resources to users. Spammy blog commenting is bad, but relevant and useful blog commenting can actually be good for SEO.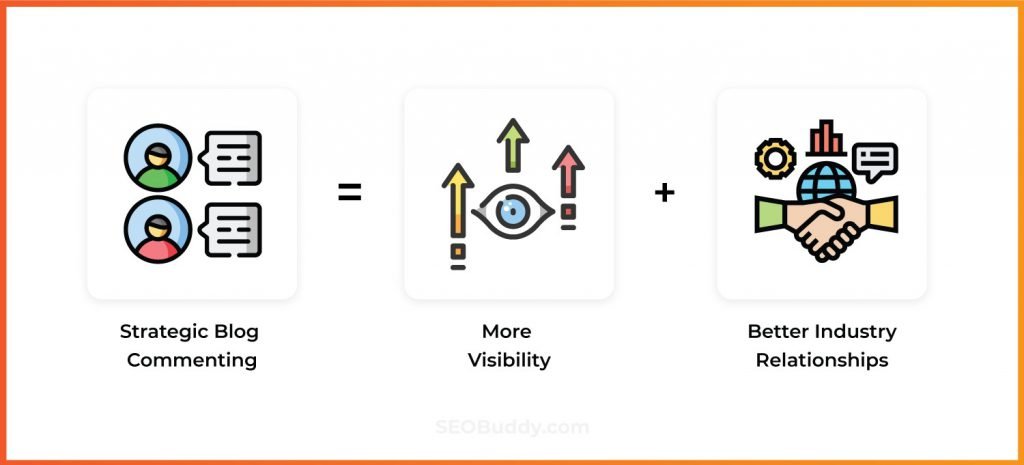 Which Link Building Practices Should You Follow?
In this section, you'll find some of the best link-building tactics that you can follow to build high-quality links and avoid toxic backlinks.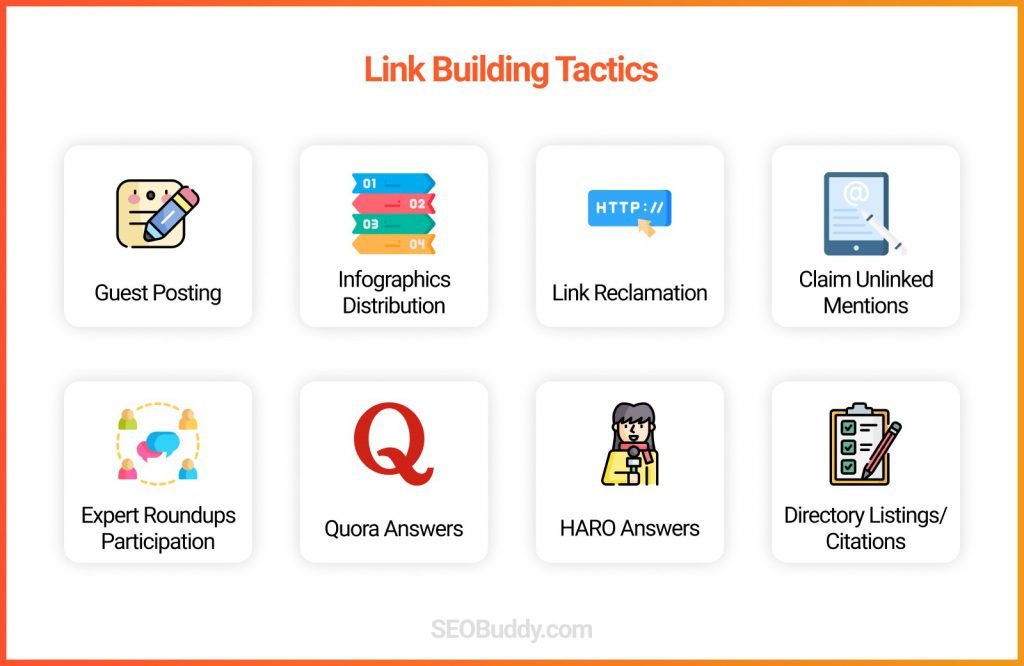 Guest Posting: Create and share content on high-authority websites in your niche with links to your website. Use partial-match anchor texts and only place contextual links.
Infographics Distribution: Create an infographic on an important industry topic that people would want to share on their sites. Write different infographic descriptions for each site and add a link to the original infographic on your site.
Link Reclamation: Reclaim broken links for competitors' sites by suggesting relevant pages on your site to replace them. Start by finding competitors' broken links and theme each out to webmasters of sites that were linking to them. Also, find broken links to your site and update them with working links.
Claiming Unlinked Mentions: Find your unlinked brand mentions online and reach out to the webmasters to give you a link for each mention. Anyone who's mentioning you or your brand would not be very resistant to giving you a link as well.
Expert Roundups Participation: Participate in expert roundup posts by giving quotes and tips on a certain topic and linking back to a relevant resource on your website.
Quora Answers: Write expert-level answers to Quora questions related to your area of expertise and link to relevant and useful resources on your site. Follow the community guidelines and don't spam, but strive to provide value to the readers.
HARO Answers: Join the HARO platform and choose your areas of expertise. Journalists will reach out to you with questions and you can answer the relevant ones and add links to relevant resources on your website.
Directory Listings: Find local directories that list businesses similar to yours and get a listing with a backlink to your website. Only get citations from relevant and high-authority directories and avoid spammy websites.
If you don't want any toxic backlinks to your website, use these ethical link-building techniques.
Keep the golden rule of link-building in mind—build contextual links from authoritative websites that provide value to the readers.
The only sure-shot way of avoiding toxic backlinks is to place editorial backlinks that direct users to useful resources and are valuable. That brings us to the end of this guide on toxic backlinks.
Follow our link-building checklist to further improve your results and create a solid link profile.
FAQ
1. What are toxic backlinks?
Toxic backlinks are links that usually come from spammy sites, private blog networks, blog comments, and forums with the sole purpose of manipulating a site's rankings.
Such links are not editorially placed and are not valuable to readers or topically relevant to the content on which they are placed.
2. How do I know if my backlinks are toxic?
Here are some characteristics of toxic backlinks that can help you identify them:
They come from spammy sites, low-authority websites, and link farms
These links are part of a link exchange scheme or are often paid for
Toxic backlinks are often hidden within the HTML of a page
They are not topically relevant or placed on relevant anchor texts
Toxic backlinks are often placed on exact-match, money keywords
To find toxic backlinks on your site, you can simply run a backlink audit using a good SEO tool like Semrush. It will give you a toxicity score for your backlink profile and a list of potentially toxic backlinks.
3. How can I get rid of toxic backlinks?
Once you identify toxic backlinks using an SEO tool, you can go to the Google Search Console and upload your updated disavow list. This list will have all the toxic backlinks on your site that you want search engines not to consider for your site's ranking.
However, if you are facing a manual action penalty from Google, you'll need to remove these toxic links permanently. For that, you'll need to reach out to the webmasters of sites that are giving you low-quality links and get the links removed from the source.
Given that this is a time-consuming process, we recommend that you disavow links if you're not facing any penalties.
4. Why are toxic backlinks bad for SEO?
Toxic backlinks can signal to search engines that your site is using unethical linking practices and it may impose penalties on your site or simply hurt your search engine rankings without even notifying you.
Most of the toxic backlinks come from practices that are against Google's webmaster guidelines. So, avoid bad links at all costs or Google will penalize you in one way or another.
Needless to say, this also affects your brand reputation and not just search rankings.
5. What is the toxicity score in SEO?
When SEO tools analyze your backlink profile, they assign a toxicity score that shows the health of your backlink profile.
A healthy backlink profile with no toxic links will have low toxicity and a site with too many toxic backlinks will have a high toxicity. If your toxicity score is medium or high, you need to take action and remove toxic backlinks from your site.
Final Thoughts
Toxic backlinks are more prevalent than you think. Even if you don't actively participate in link schemes, you may still get some toxic backlinks that are not under your control.
That's why it's important to learn how to identify and remove toxic backlinks from your website and do SEO yourself. It's also important to conduct regular backlink audits to keep your backlink profile healthy.
Use this guide as a reference for how to build quality links and avoid toxic backlinks that hurt your SEO campaign. If you need a quick list of easy-to-win backlinks then get your hand on our Link Chest to get access to over 2100 high-quality backlinks.