How to Do Blog Commenting for SEO: Everything You Need to Know
Are you looking for cost-efficient strategies to drive more qualified traffic to your blog or website?

Blog commenting is a simple, but valuable, tool to help you develop industry relationships, increase your brand awareness and gain attention for your site.
A successful strategy is more than commenting on any and every blog post.
It is a strategic process that requires time, research, and thought. You must approach every blog comment with a mindset to provide value, instead of asking for something right away.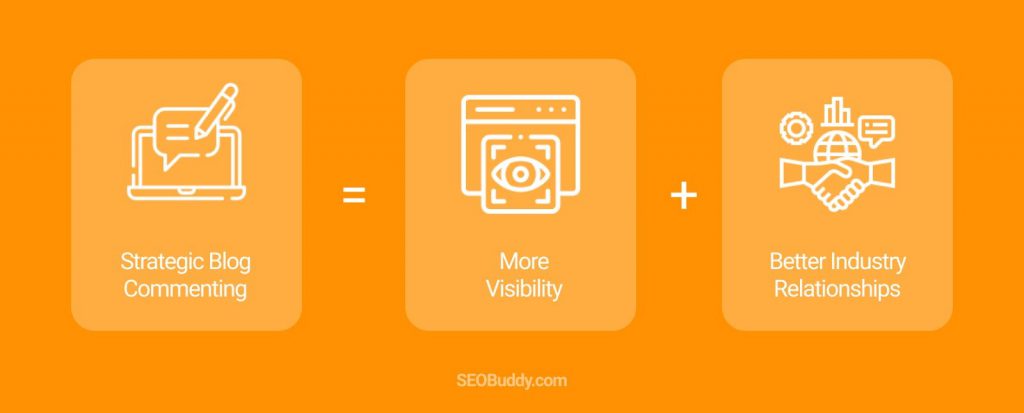 It is all about where you look, who you connect with, and the unique insight you provide on other posts.
Once you understand the ins and outs of blog commenting for SEO, you can take your online presence to a whole new level. 🚀
What is Blog Commenting?
Blog commenting is a simple and straightforward method for building links to your website while establishing a meaningful relationship with other online users and professionals in your industry.
If you have a solid blog commenting strategy, you can attract leads, traffic, and build your brand online.
It is more than leaving a comment on a post and leaving. 🙅‍♂️
Blog commenting enables the valuable exchange of opinions and ideas about a specific topic. When blog commenting has its true effect, it develops a bond between blogs, the readers, and the bloggers.
You're reading point
94 of our 102
point SEO Checklist
Get the full SEO Checklist and start taking ALL the steps you need to in order to rank at the top of Google.
Reveal The SEO Checklist

John Abott The SEO Checklist by SEOBuddy is awesome. It doesn't just tell you what you need to do, it walks you through the process.
4
Why You Use Blog Commenting for SEO?
When you perform blog commenting correctly, it provides many positive benefits for your website traffic, brand, and overall blogging community. Below are some crucial reasons why blog commenting is essential.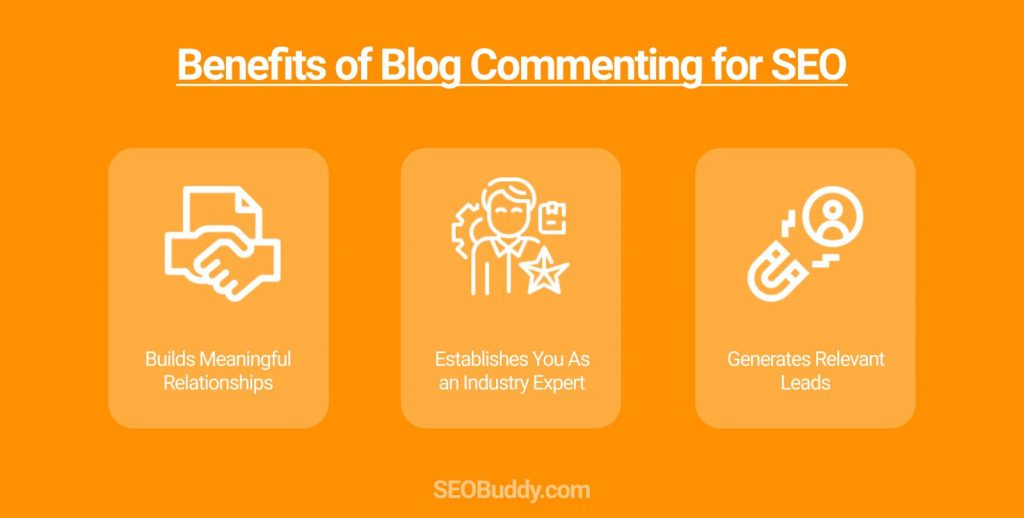 Creating Relationships with People in Your Industry
Blog commenting is an effective strategy to build connections in your industry.
If you continue to add value first and meet the right people, it could provide the breakthrough you need for your website. When you create a solid relationship with a blog owner, owner, or author, it can lead to a potential guest post, which means more backlinks for your website.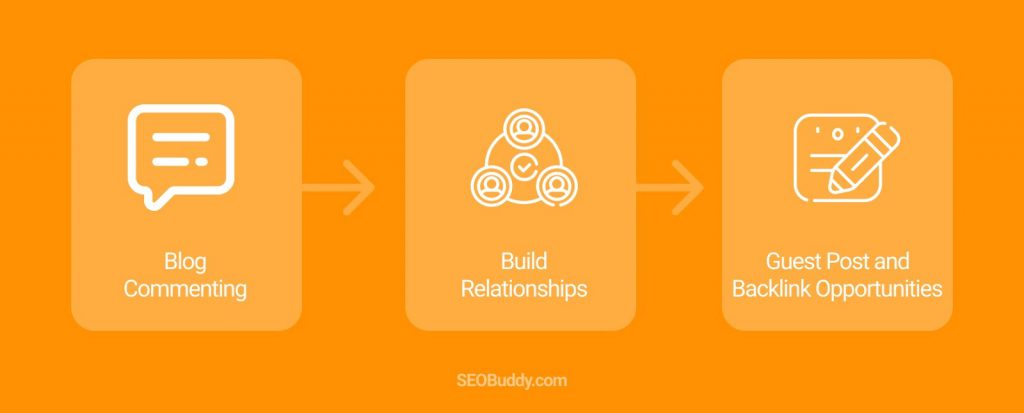 Attracting Attention to Yourself and Your Website
Many people who read blog articles will immediately go to the comments to see what others say.
When you publish a comment, you represent yourself and your brand. If you leave comments methodically, it can attract attention to you and your website.
Getting Leads
When you add value to the blog conversation, people will pay attention to you. If you leave an insightful comment, it would be wise to attach a link to your website so people can learn more.
Leaving links is a delicate tactic, however. You must ensure that the link you give is relevant and provides more detail on the initial blog post topic.
Example:
Check out how this commenter has strategically placed a link in a comment.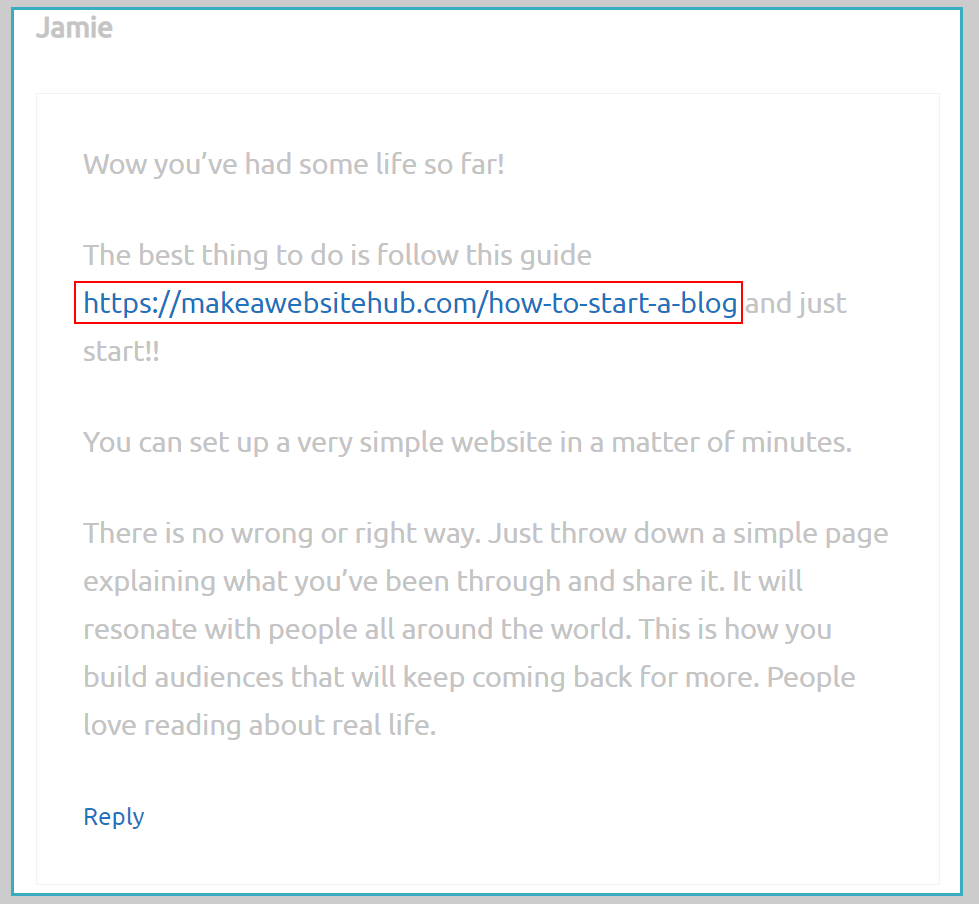 How to Find a Blog Commenting Site for SEO?
So, how do you find a blog commenting site to begin your SEO and ranking strategy?

Our favorite method at SEO Buddy is to do a SERP Audit for the relevant keywords, and stay consistent at it (SEO Buddy will monitor daily the top 100 positions to find new potential leads/opportunities).
To discover how it work, check this video:
Why are Blog Comments Losing Favor?
(Or not an easy Link Building SEO Strategy)
Blog commenting may be losing favor because it is a perfect opportunity for spammers.
Only a small percentage of the blog comments on a standard blog post will remain. Spam commenters are getting more creative too. Many of their posts look real and legitimate, and it can be exhausting to deal with them over time.
Bloggers also utilize robust WordPress comment moderation tools to refine the comments that remain on the post. If the comment is insulting, off-topic, or profane, it gets removed.
Google will devalue any links added in spammy comments:

When your blog comment section is full of spammy links and comments, it can harm SEO for your site. If you intentionally protect your blog's comment section, you do not need to fear any SEO penalties.
What if blog commenting is no longer an easy link building SEO strategy? As more people discovered the effectiveness of leaving a link to their website in the comments, everybody started doing it. Blog commenting services popped up everywhere, and the comments were full of links and spam instead of insightful comments.
Google took immediate action and deployed updates like Penguin and Panda, which made excessive link building worthless. If you are intentional about providing high-authority and highly related backlinks, you can still achieve meaningful traffic results through blog commenting.
Blog Commenting Mistakes You Need to Avoid
You could have an excellent overall blog commenting strategy, but one of these mistakes could bring you down. It is easy to become guilty of one of these deadly commenting sins but understanding each one can refine your methods.
Not Using a Full Name in Your Comment
When you comment on other blogs, you represent yourself and your brand. Keep it professional and utilize your full name in the blog comments, not your childhood nickname.
When you engage in the comment with your full name, it creates a consistent brand identity.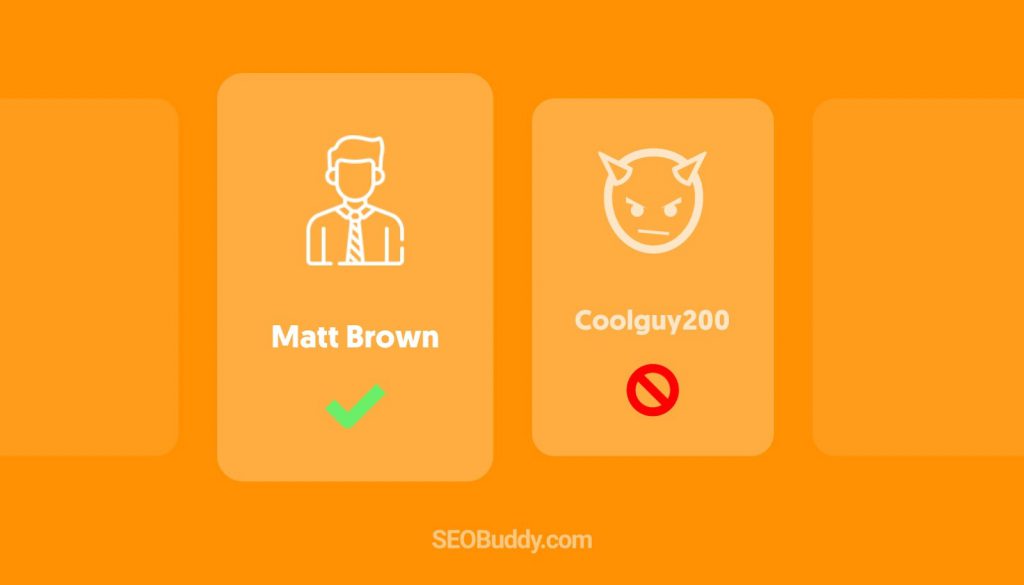 Using a Fake or Inactive Email
A huge blog commenting blunder is using an inactive or fake email address. A fellow commenter cannot reach out to you effectively if you do not publish your true email.
It is understandable to be worried about getting spammy follow up emails from a blog commenter. But you can always create separate email accounts for specific tasks.
By making an email specifically for blog commenting, you will build trust with the online community. Getting a "bounce back" email for messaging a fake account is not a great way to start a relationship.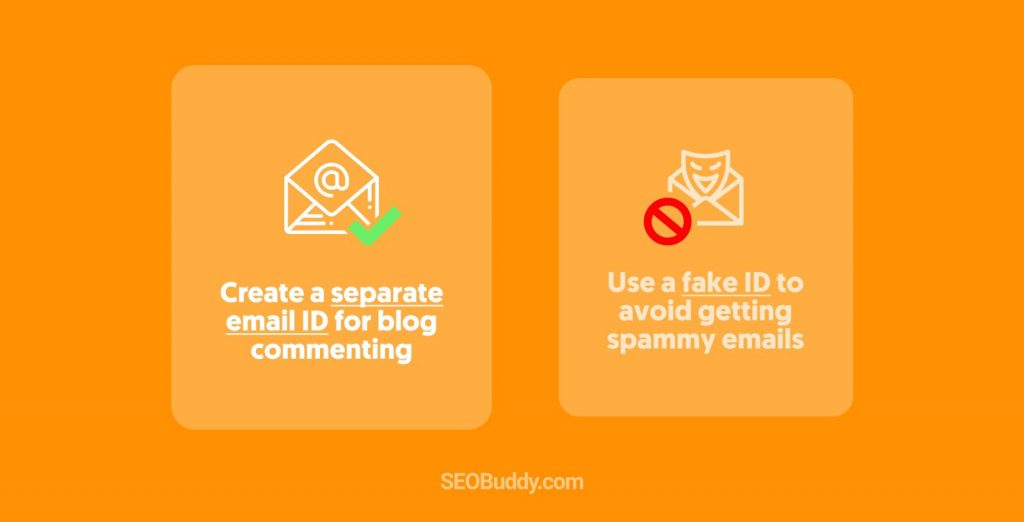 Using an Email that is not Connected to a Gravatar
Utilizing an email address not paired with a Gravatar is another monumental mistake to avoid.
So, what is Gravatar? It is a web application created by Automatic, a company that owns Vaultpress, WordPress, Akismet, WooCommerce, JetPack, and others. Your Gravatar is the image that follows your blog commenting journey around your web. It represents you and your brand.
Without Gravatar

With Gravatar

Gravatar can help you develop effective WordPress blog commenting systems to gain visitors to your blog. The application will also help you earn more email subscribers and make more revenue. First, you must connect your email address to Gravatar.
Most of the blogs connect with Gravatar's system. You must ensure your Gravatar image is a professional photo that identifies with your business, email address, and brand. Using an email connected to your Gravatar will help create a more personalized, marketable online experience for you and other users.
Leaving a Comment on a Non-Industry Blogs
As you approach potential blogs, you must be selective in the ones you comment on.
If you go where your potential readers will be, you can drive meaningful traffic and leads to your site. Commenting on a non-industry blog will not bring the quantity or quality of visitors. The people who read your comments will not be your ideal target market, which is not a good use of time for you.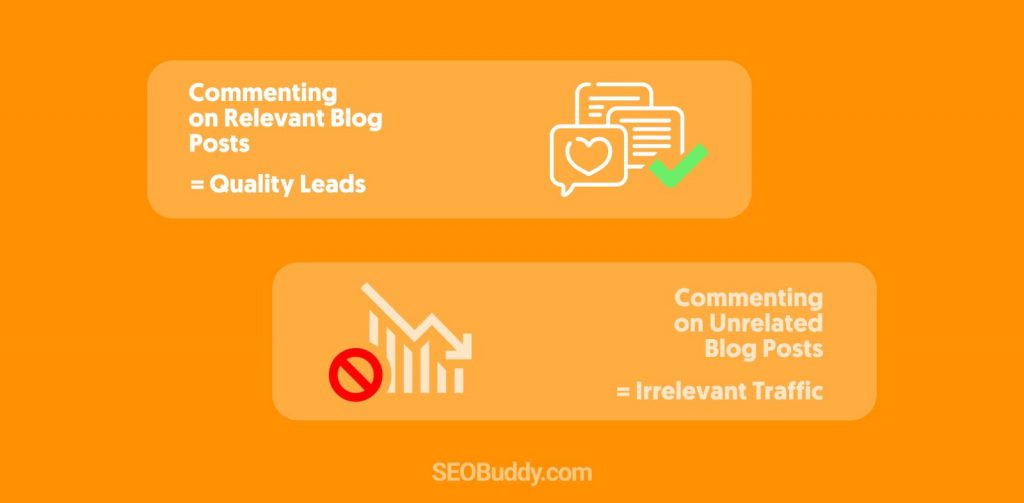 Directing your attention toward industry-related blogs is excellent for your branding strategy. It will allow you and your business to gain attention from the right prospects. If you are consistent in commenting on the right blogs over time, you will create better search engine optimization and optimal lead generation.
Writing Comments that do not Relate to the Topic
Do your blog comments add insights or support the topic in question? It is easy to rush to leave a popular comment without evaluating if it pertains to the blog post's theme. If your comment is not related to the article topic, then it is classified as spam. Relevant comments will help you generate leads and visitors to your blog.
So, how can you gain traction for your blog through a relevant commenting process?
First, begin by searching for relevant articles centered around your goal. It is challenging to leave valuable comments if you do not gain any value from the article yourself. Whatever your goal may be, you can search that term into Google and start reading through blogs from there. You can narrow your search results to blogs only by typing "inurl:blog" in the Google search bar.
Simply write the topic or niche for which you want to find blogs and then add "inurl:blog". Here's an example:

Next, you should select where to comment specifically. As you browse through the blog sites, you can evaluate the different traffic levels, authority, social media influence, and approximate page views. You can be confident that the search results on the first page have high authority because the websites are ranked highly.
Asking Questions Instead of Contributing and Vice Versa
Different times call for questions and recommendations. You need to be self-aware and understand your knowledge on the topic in any given situation.
If you are skilled or knowledgeable on the subject, then you should add your contribution. If you are not a subject matter expert on the blog topic, you should ask a meaningful question. That way, the author can go back and highlight any complicated sections.
Here's an example of a comment where one of our readers made a recommendation.

Writing Spammy Comment
There is a grey area when it comes to "spammy" content on the internet. Spam comments come in many forms, including links, webpages, email, or comments. When you comment on blogs, you should try your best to avoid spam on other blog posts. Provide value or ask thoughtful questions while using your full name, real name, valid email address, valid links, and an updated gravatar.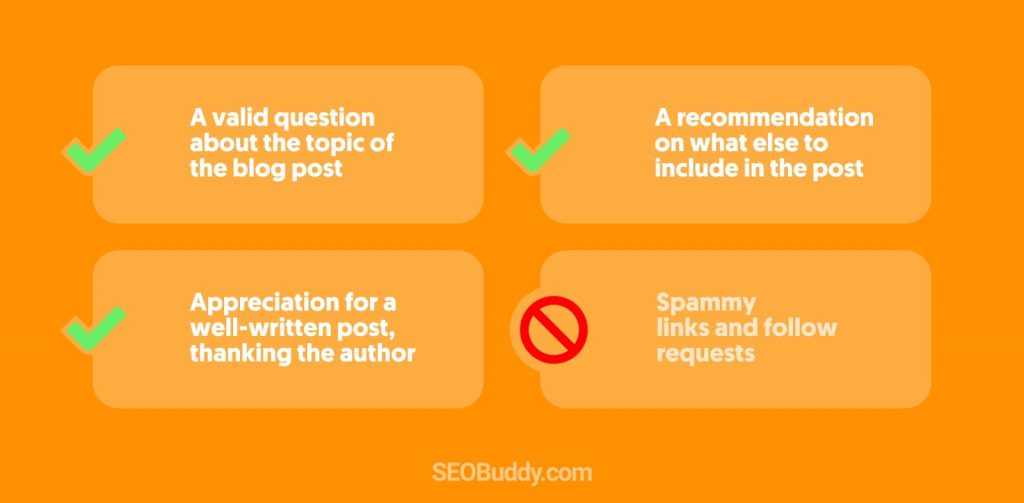 Over-Optimizing with your Keyword in the Name or Comment Section
Over-optimized keywords in the name or comment section can disrupt the rhythm of a good thread. Comments could add value, but it is a mistake to have the exact keyword in the name section rather than the blogger or owner's name.
Reader contributions like backlinks, social media sharing, and insightful comments can help build awareness of your brand and website. Do it tastefully without over-optimizing your name section.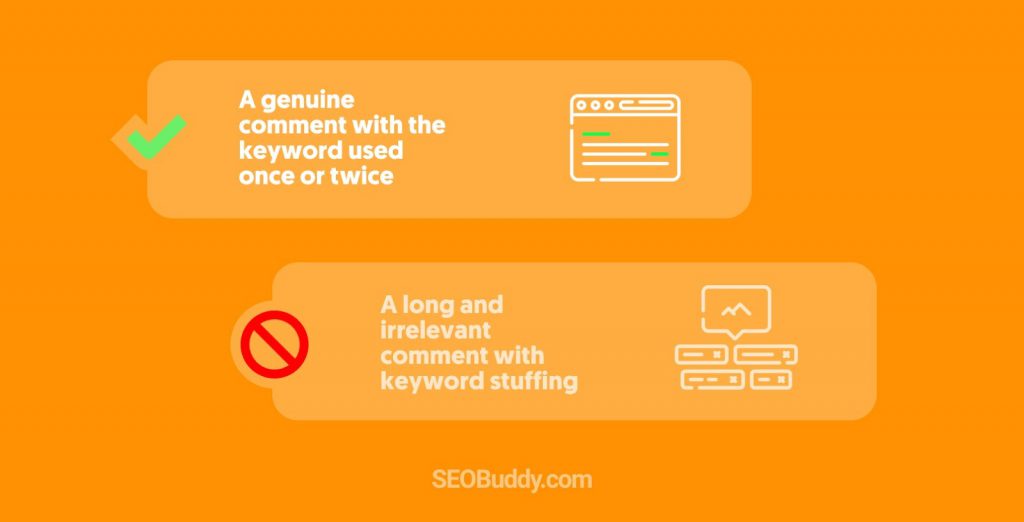 Commenting without Reading the Blog Post
You cannot leave a value-added blog comment without first reading the blog post. As you read the material, reflect on what it means to you and how you can add new insights.
Instead of just inputting a link to your website, try to understand the article. People will make an effort to come to your website if you try and learn from others.
Here are a few examples of spammy comments that don't add any value: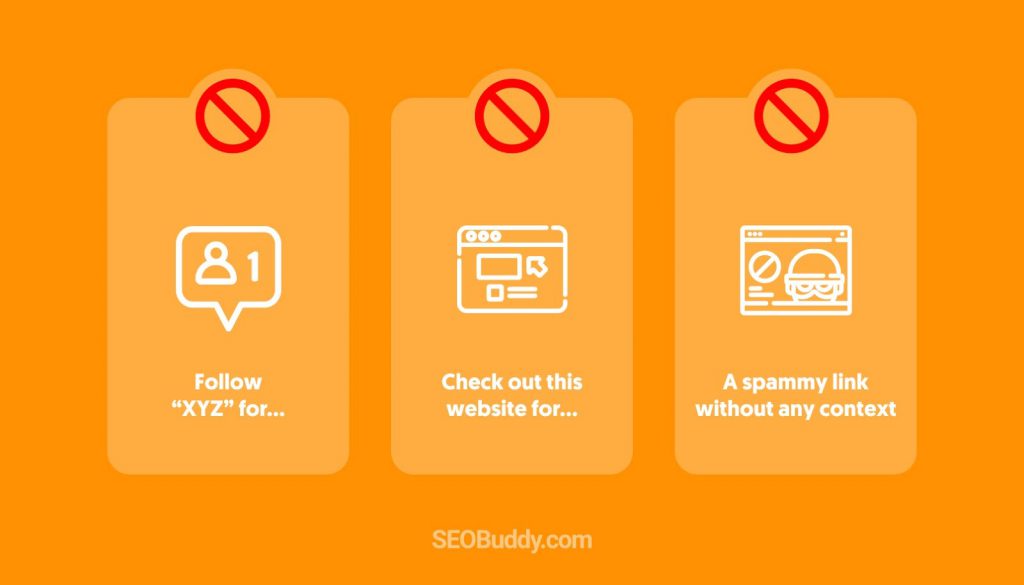 Droning On and On
It would help if you always focused on quality over quantity when it comes to blog commenting. Unless your comment sparks serious discussion or provides unique value, try to stay under 500 words, if possible.
When people are scrolling through the blog comments, they want to see concise points. You only receive their attention span for so long, so make it count with your comment.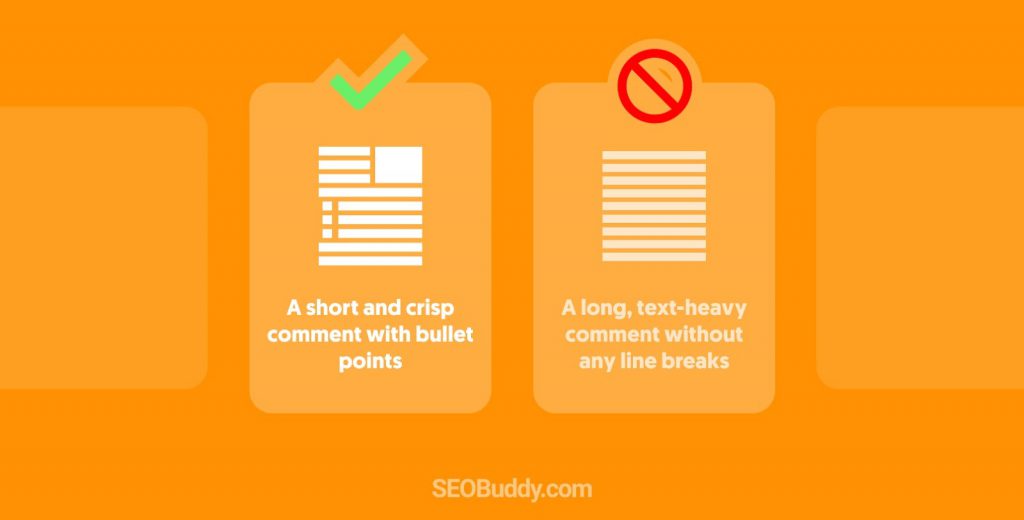 Repeating what the Post Just Said
Repeating what a post said does not add anything insightful to the bloggers' conversation. It does not bring a new perspective or challenge anyone else's frame of thought. You can summarize a specific point here and there, but make sure the comment does more than re-word what was previously stated.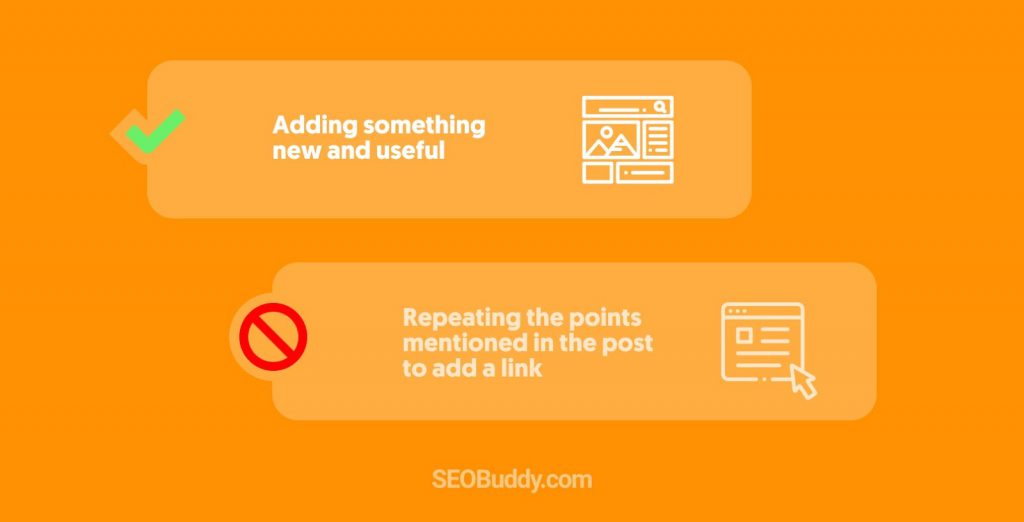 Steps to a Successful Blog Commenting SEO
Blog commenting is all about adding value first. You cannot expect to gain traffic and website visitors without helping someone out before. Looking to achieve results from your blog commenting system? Apply one of these simple steps below.
The Friendly Greeting
It is important to remember that a human being wrote the article that you comment on. A blogger is a real person with feelings, and he or she likes to be acknowledged. When you meet someone for lunch, it is not normal to go straight into what is on your mind. A friendly greeting applies to blog commenting, even though you are not face-to-face.
You can apply this common courtesy when you scroll up to the article, make a note of the author's name, and begin the greeting with a simple "hello." Start on the right foot by thanking the person for writing an insightful article. Other readers will take your point better if you begin in a friendly way.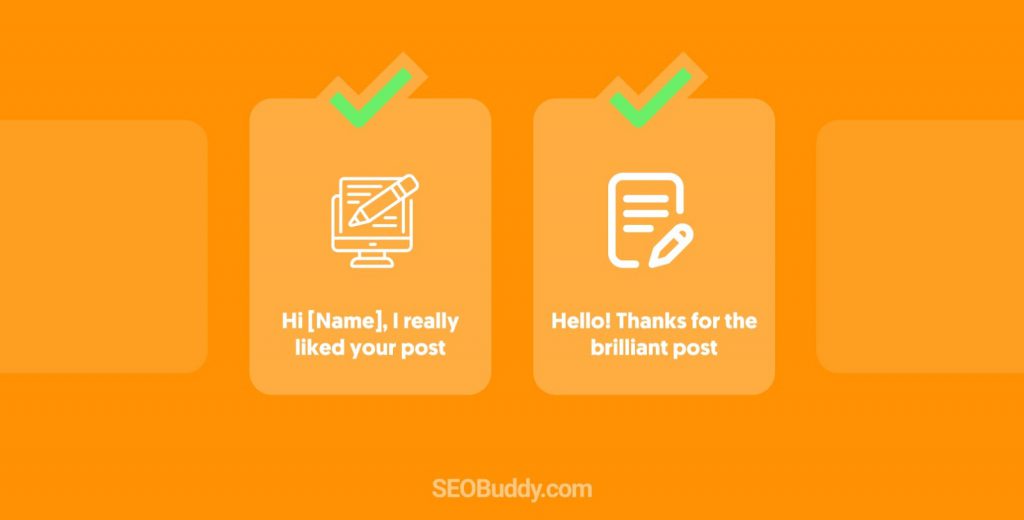 Get Personal
Getting personal through your blog commenting can help you better connect with your audience. First, begin using your full name and company name to start your comment.
A relevant and recent photo also adds a personal touch. Once you ensure your email is connected to your Gravatar account and have a nice photo, your blog commenting effectiveness will rise immediately.

Sincere Compliment
If you spend time on another blogger's page, there is a good chance you value them and their content. Show them this kindness through your blog, commenting, and you will come across as sincere. You can mention how much you loved the article, and it could make their day.
If you want to take it a step further, mention a specific example of how their writings helped you in your daily life. Explain the reasons why you admire their body of work and cite other examples. If you decide to refer to the single post itself, try and highlight a point that stuck out to you.
Here's an example:
Added Value
Your top priority should be to add value through your comments. The internet is a large place with a lot of information to sift through. If you can bring unique insight into someone's day, you begin to win the blog commenting game.
You can add value in many ways, whether it is writing something interesting, entertaining, or useful. As you digest the blog's content, reflect on what it means to you and what you would like to do with the information. If you can pose a question or statement that makes someone else evaluate their own opinion, you will add value to the discussion.
You can even summarize the points you are taking away from a post, like the example below.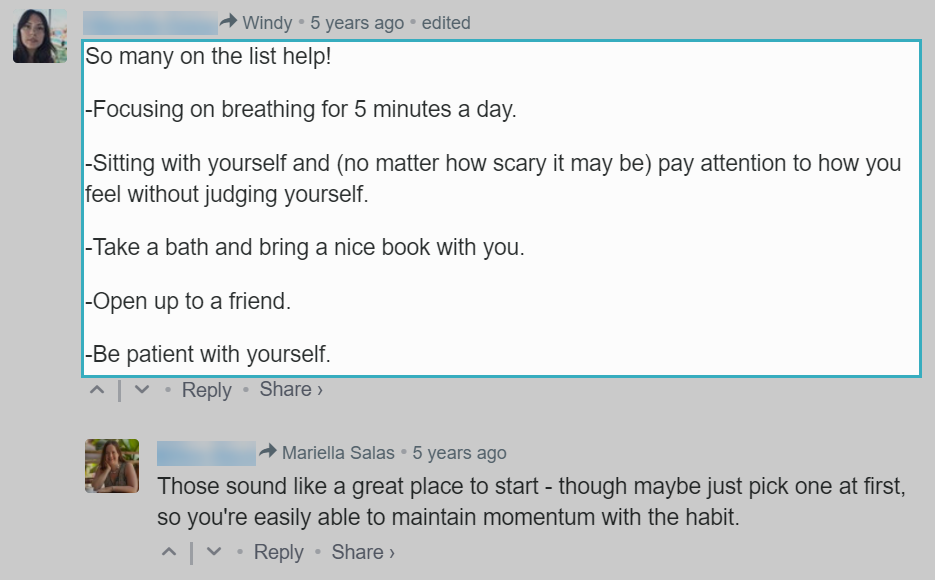 Personal examples and insights add authenticity to your blog commenting system. Was there a section in the article that relates to your life journey? When you deliver personal insights and stories, other bloggers will relate to you and your story. This connection builds trust and could drive more traffic each month to your website.
As you write about personal insights or anecdotes, the comment does not need to be long. You can share a quick note about how a specific article section connects with your successes or struggles. If you can think of a conversation you had with someone recently, that could also provide a compelling blog comment.
For Example: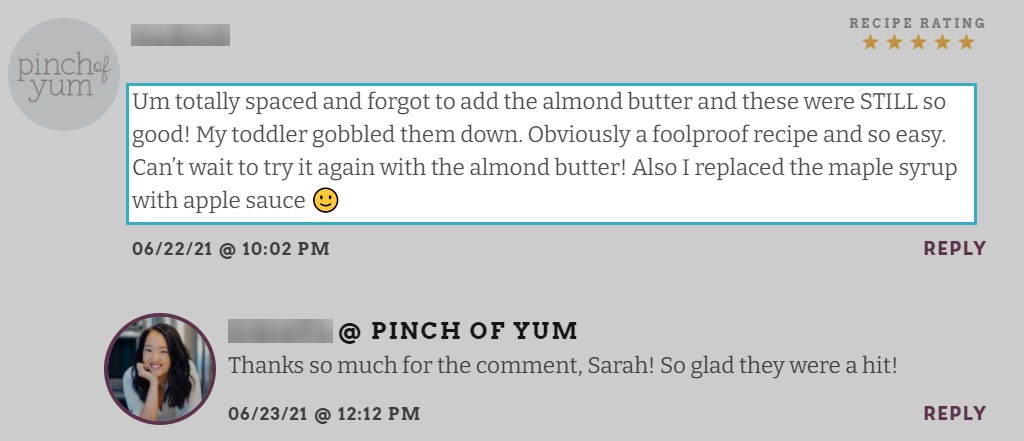 Ask Questions
Thoughtful questions are perfect for instances where you want the author to explain a point further or enlighten you on the part of the article you did not understand. Passionate inquiries are an effective way to grow relationships with other bloggers because it creates a one-on-one conversation.
The best questions come after you read the article fully and think about what it means to you. Excellent questions lead to further discussions, which increases visibility and attention around your comment. Then, the traffic will begin to flow to your website.
Example:

Contribute to the Discussion
No matter how valuable the initial blog post is, there will always be room for added value. Work hard to find that gap where you can contribute to the discussion. A valuable comment from you could incentivize others to leave quality comments too. If you contribute with a thoughtful question, you will not only get the answer you look for, but it will spur meaningful engagement.
For example: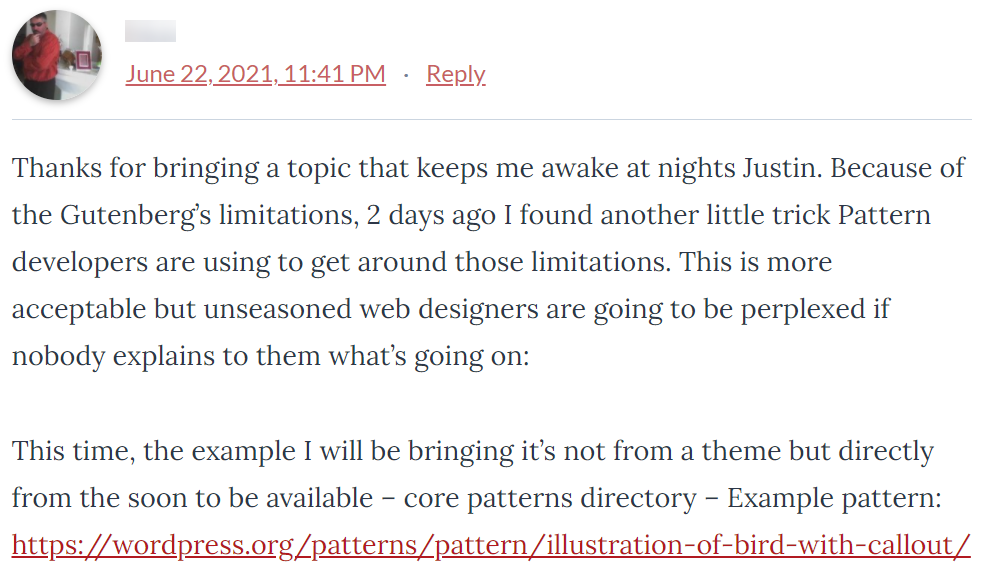 Say Something Worthwhile and Relevant
You cannot say something worthwhile without fully grasping the topic. Once you know the author's direction and purpose of the article, then you can think of something enlightening to say. Excellent blog commenting is more than just adding backlinks. Take meaningful time to reflect and input information into the comments that were not in the initial blog post.
For example, the user gives her recommendations on a recipe post, in the example below.

Be Conversational
When you approach blog commenting as a conversation, it will grow you closer with other online community users. You and your brand will get more attention when you try to engage with others. If your comments are insightful to the post, you will gain other people's respect too. You will make a more intentional relationship when you interact and respond with the author and readers.
For example:
The Parting Promise
Take blog commenting steps further by building a relationship with other bloggers and readers. Showing interest in a long-term networking relationship will pay dividends in the long run.
You could mention to the author that you will share the article on social media (and tag them) because you enjoyed the article so much. Show the blog owner you are invested in building a relationship by reading and commenting on additional posts.
Wait for the Right Moment to Add Your Links
If you want to add a link to your post in your comment, it should be relevant to the post and placed strategically.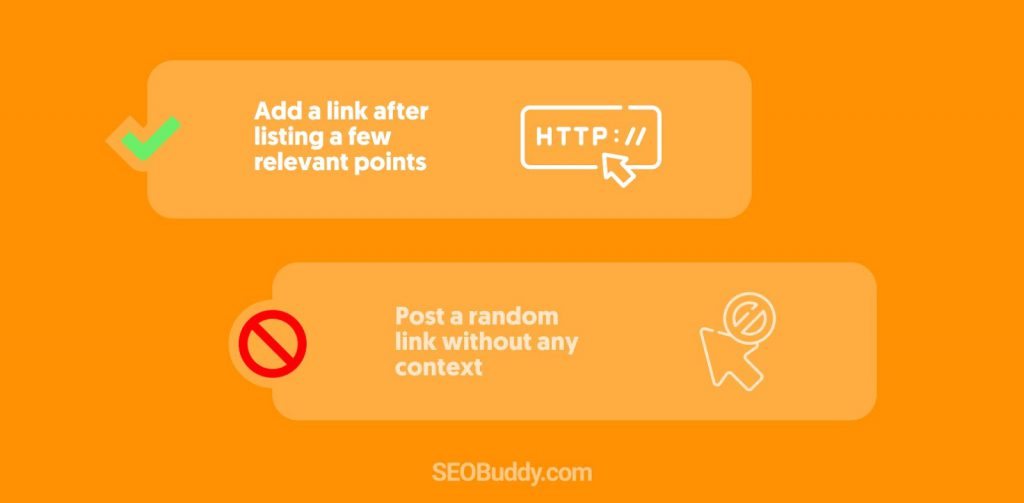 There will be plenty of opportunities to add links to your website, so you should do it respectfully. Your website may have helpful content, but you should always acknowledge or address the current article first.
If you leave a comment about social media marketing strategies, expand upon a point, or add an insightful thought to a specific part of the article. You could then refer the readers back to a post on your website that goes into more detail about the topic.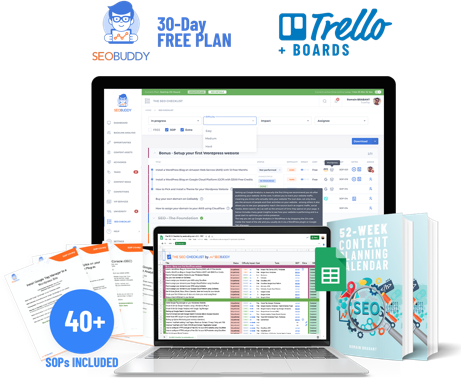 There's more…
Now it's time to discover the other 101 steps that will get more organic traffic flowing to your website. Get the SEO Checklist here.
Want to get a sneak peek of what it looks like?
Enter your email and get a free demo version of the SEO Checklist.
Conclusion
With a consistent strategy and a "value-first" mentality, you can overcome the stigma that blog commenting is dead. Approach every comment section with the mindset of providing insight and new information to the other readers. Focus on developing relationships with others before pushing your brand and website.
If you are intentional about following these blog commenting insights, you will grow your brand, increase your traffic to your website, and create meaningful connections in your industry.
Ready to get started applying everything you've learned here? Share your insights (and practice your blog commenting skills) by dropping a comment below!