What is White Hat Link Building and How to Do it in 2022?
Long gone are the days when link schemes like link farms and purchased links would help you rank high on Google's search engine results pages (SERPs). Modern SEO strategies, however, use white hat link building techniques to gain site/page authority.
Why?
Because Google search engine has continuously been improving its algorithm to weed off websites that use malpractices to manipulate the SERPs.
Penguin, Panda, and Payday algorithm updates included measures to identify and reduce the presence of websites that don't follow the guidelines.
With Google penalizing quick but spammy practices of building links, manual outreach is becoming more common among SEOs.
Also, as proper backlinks and site authority are among the top ranking factors for Google, "white hat link building" has become a buzzword in the digital marketing landscape.
But what is white hat link building?
Let's find out.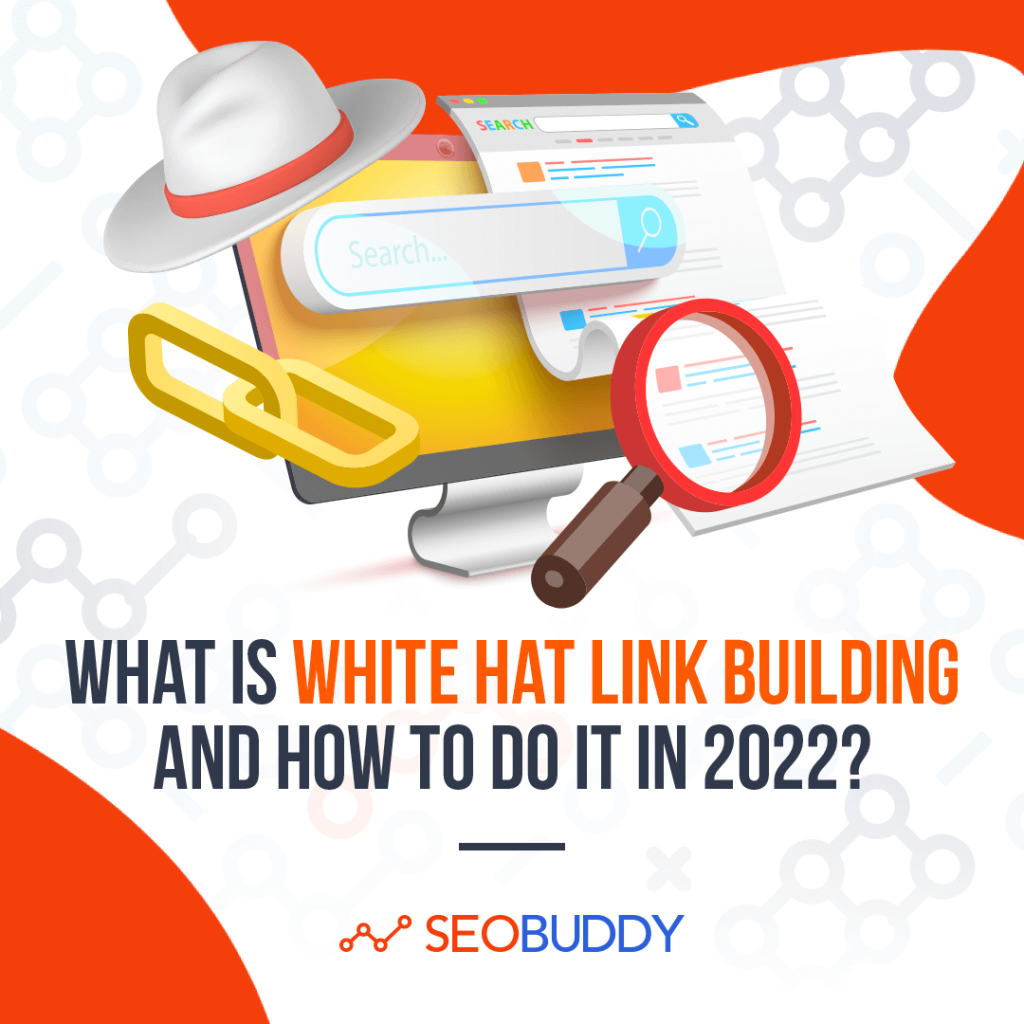 What is White Hat Link Building?
White hat link building is a search engine optimization technique for building links for a website via legitimate methods. Here, legitimate methods mean the practices that Google approves.
The term "white hat" isn't limited to link building. It's a part of the holistic approach of SEO, called white hat SEO, where marketers focus on optimizing their web pages for users with legitimate practices.
White hat link building practices include several techniques that have received a "thumbs up" from Google.
Alright, if white hat link building is the way to go, what are other link-building techniques that you shouldn't follow in 2022?
They're black and gray hat link building techniques.
What are these?
Let's find out.
(Want a handy checklist that can help you with white hat link building and other SEO strategies? Download our all-encompassing SEO Checklist.)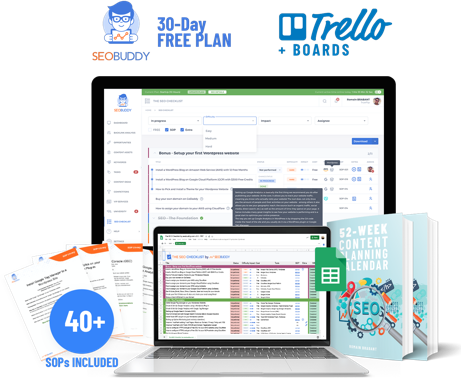 There's more…
Now it's time to discover the other 102 steps that will get more organic traffic flowing to your website. Get the SEO Checklist here.
Want to get a sneak peek of what it looks like?
Enter your email and get a free demo version of the SEO Checklist.
What is Black Hat Link Building?
Since the beginning of the post, we've been talking a lot about the malpractices of link building and why you shouldn't follow them. Those malpractices are nothing but black hat link building techniques.
Black hat link building techniques are simpler and easy-to-do things that don't require much time and effort. These are those techniques that can help you quickly get loads of backlinks.
Before recent algorithm updates, black hat techniques were the shortcuts that enabled SEO professionals to exploit search engine algorithms to secure the top spot on SERPs. Following are the black hat link building techniques that shouldn't be used at all now: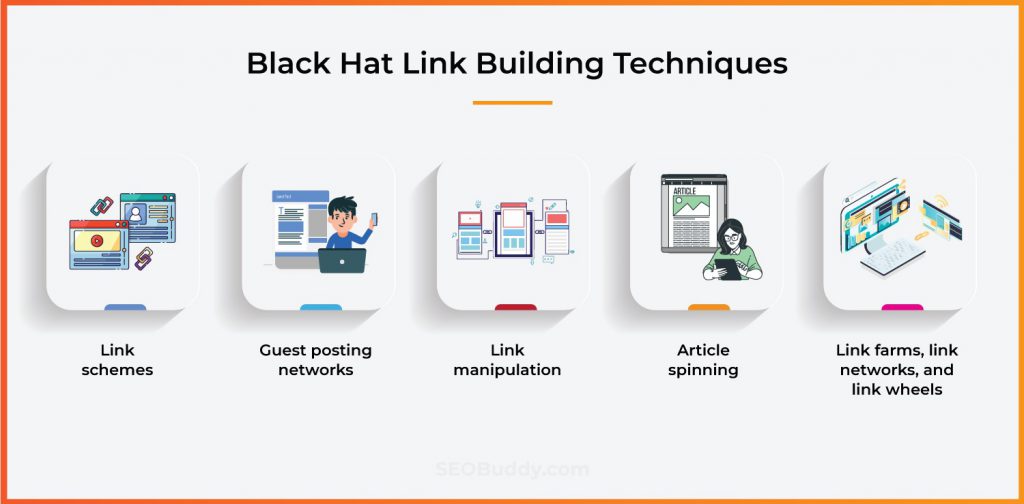 Link schemes
Guest posting networks
Link manipulation
Article spinning
Link farms, link networks, and link wheels
Now you know what's black and white hat link building. But there's a blurred line between black and white hat tactics, called gray hat tactics.
What is gray hat link building, and can you do it in 2022?
Here is the answer.
What is Gray Hat Link Building?
Gray hat link building is a mix of white hat strategies and black hat manipulative techniques that can put your overall website SEO at risk in the future when Google taps on such scheming behaviors with its algorithm update.
In other words, gray hat link building techniques might get you in trouble. Even if they aren't violating search engines' current guidelines, they could become potential targets for algorithm updates.
Some gray hat link building techniques include:
Buying expired domains that have a high number of links and getting backlinks from them
Purchasing backlinks without using the rel="sponsored" tag
Here's a quick guide to understanding the differences between all three link building techniques — white, gray, and black.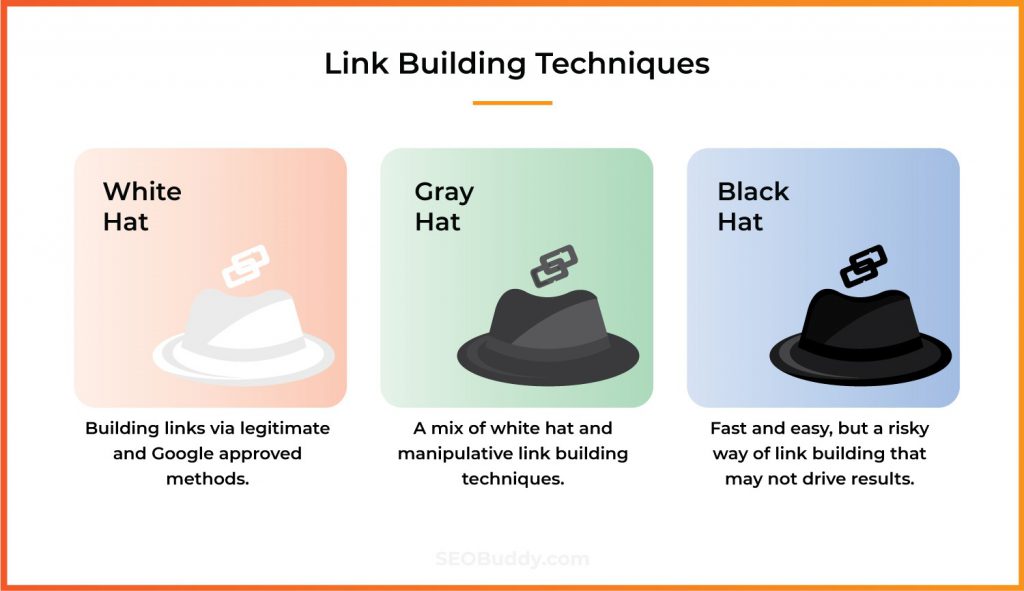 Why Do Search Engines Prefer White Hat Link Building Strategies?
It's not only Google's search algorithm that discourages black and gray hat link building strategies; other search engines also weed out websites that try to manipulate their SERPs.
The terms black, gray, and white hat are just for the sake of identification.
What the search engines try to convey with these is that while optimizing a website for better search engine rankings, SEOs should focus on providing value to the users, and not on finding and using the loopholes in the search algorithms.
In a nutshell, every strategy that works towards improving the user experience is considered a white hat link building strategy. On the contrary, every strategy that achieves the exact opposite is a black hat strategy.
For instance, Google wants to show the most relevant SERPs to its users. In this quest, they've upgraded their algorithm to a level where it can identify websites that aren't relevant but are using black or gray hat techniques to obtain a high rank in the SERP.
Hence, the best approach to link building and even SEO, in general, is to go white hat and stay in accordance with Google's guidelines.
Need help in building backlinks via white hat methods?
Use the following techniques.
Best White Hat Link Building Techniques in 2022
As Google's guidelines for white hat link building have evolved, what used to work in the past might not work in 2022 and beyond.
However, if you can't buy or trade links, then how could you possibly build links that increase your website authority?
Fret not, here are the best white hat link building techniques you can use in 2022.
1. Guest Posting
The best among all white hat link building techniques is guest posting. Many SEOs argue that although guest posting is effective, it's very time-consuming and requires a significant amount of effort.
Well, they are not wrong.
Guest posting does require effort in terms of searching for relevant domains, reaching out, and writing content for them.
But the outcomes from white hat strategies like guest posting are marvelous if you do it right.
Let's discuss how to do guest posting to build links.
Step #1: Find Target Sites
The first step to start guest posting is to find websites where you can publish your articles. While you search for guest posting domains in your niche on Google, you might find a lot of domains accepting guest posts, but beware of spammy and low-authority sites.
The domain you pick should have:
A high DR or DA than your native domain
Relevant content to your niche
Low spam score
If you're having trouble finding guest posting domains in your niche, here are some proven techniques to do it the white hat way:
Use Google Search Operators
The easiest way to search for guest posting domains via SERP analysis is to use search operators.
Not sure what Google search operators are?
Here is a short explanation.
Google search operators, aka advanced operators, are special characters and commands that filter out the regular text searches. These operators allow users to find the most relevant information from the Google SERP.
For example, if you want to look for a guest posting domain in the healthcare niche, try searching for the following term on Google – inurl:write for us "healthcare"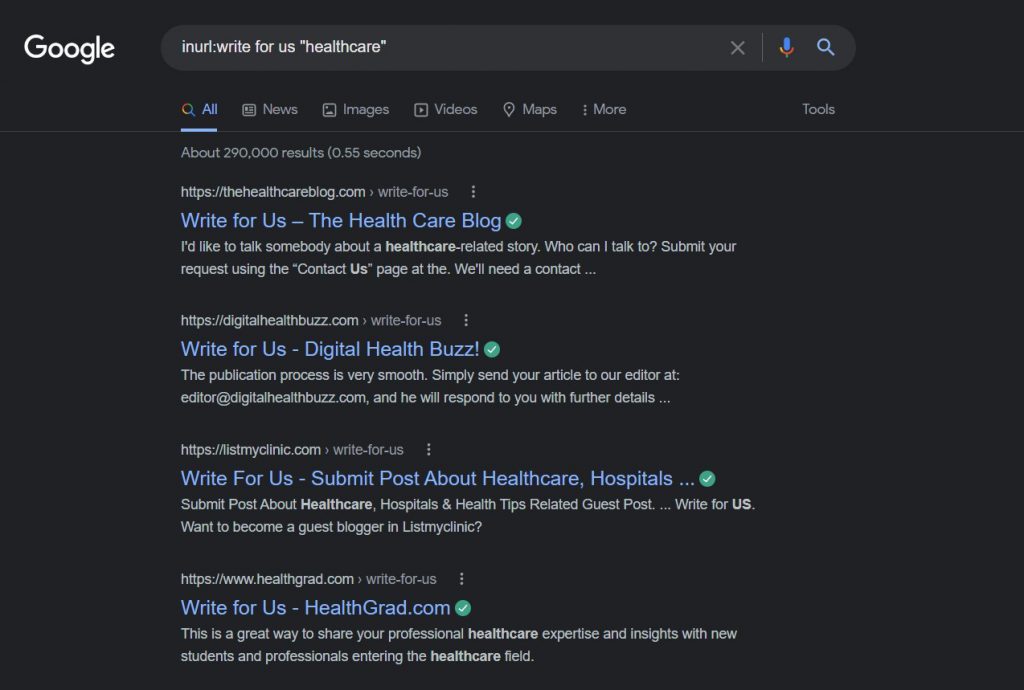 You can even use different operator variations (i.e. intitle) for the search to find more domains for guest posting.
(Finding new guest posting opportunities just got easier. Here's our Link Chest that contains over 1900 white hat backlinking opportunities.)
Use Search By Image Feature
People who write guest posts tend to use their image in the author's bio. You can use this tendency to find guest posting domains for your website.
Here's how.
First, find someone in your niche who publishes a lot of guest posts (ideally, your competitor).
Second, copy their headshot URL.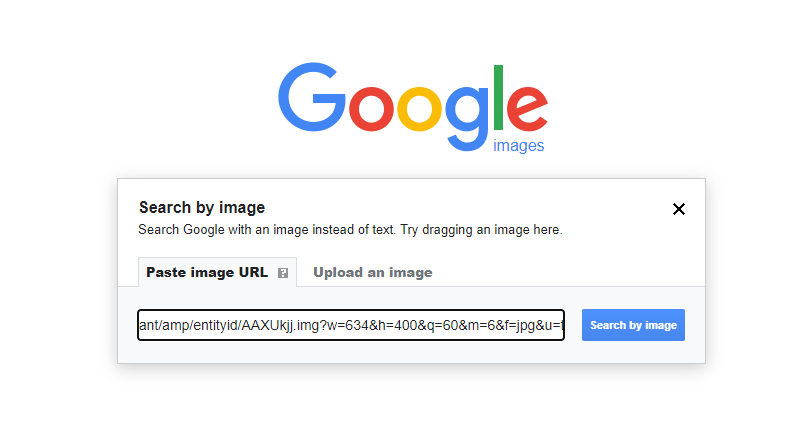 Then, post the image URL to Google Image Search, and you'll get results where the same image has been used. Generally, you'll find a lot of guest posting domains from where your competitor has created backlinks.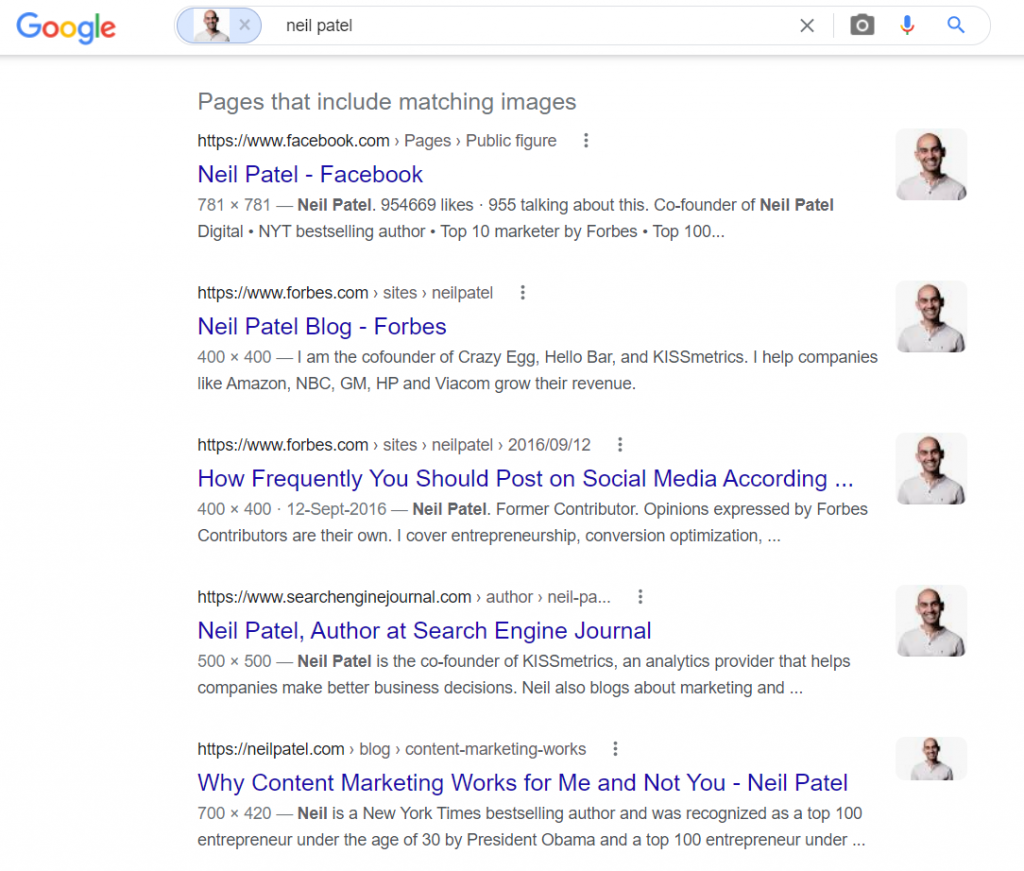 You can now reach out to these domains, seeking guest posting opportunities.
Wonder how to confirm that a domain accepts backlinking?
We'll discuss that shortly.
Use SEO Tools to Uncover Competitors' Backlinks
Again, if you have competitors in your niche with good website SEO, you can speed up your white hat backlinking work with competitor backlink analysis.
First, search for the keyword you want to rank for on Google. Then, analyze the SERP and identify your competitors.
Copy the competitors' URLs and paste them into SEO tools like Semrush, Ahrefs, or Moz to unveil the domains that are linking back to them. Many of these might be guest posts.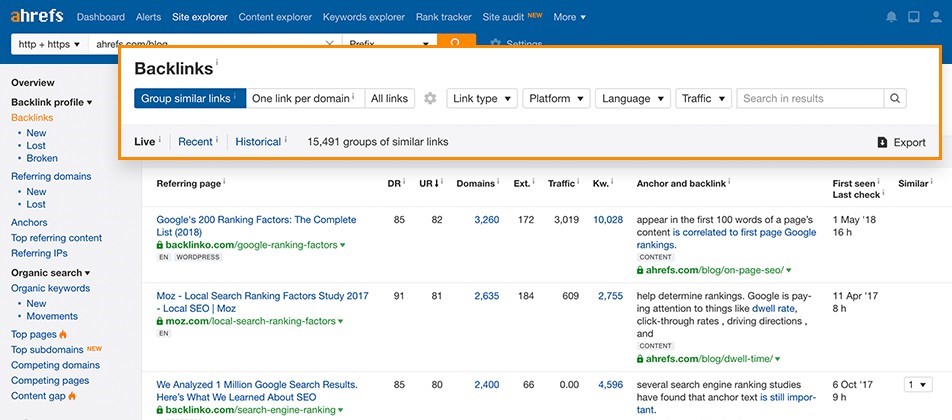 You'll have to manually pick the guest posting domain from this list. Once done, you can analyze the website and reach out to them.
Do you find all of these white hat link building techniques overwhelming?
If yes, you can use SEO Buddy's Link Chest to access over 1900 high-quality backlinking domains in your niche.
Step #2: Contact Them
Once you've found the domains where you can post your content to obtain backlinks, the next step in white hat link building is to contact them.
Well, there isn't a single approach to reaching out to these domains. While some domains have a dedicated form where you can apply for guest posting, others require you to email them.
You need to go through the websites to find this option. It's a good idea to look in the website menu or footer to spot it.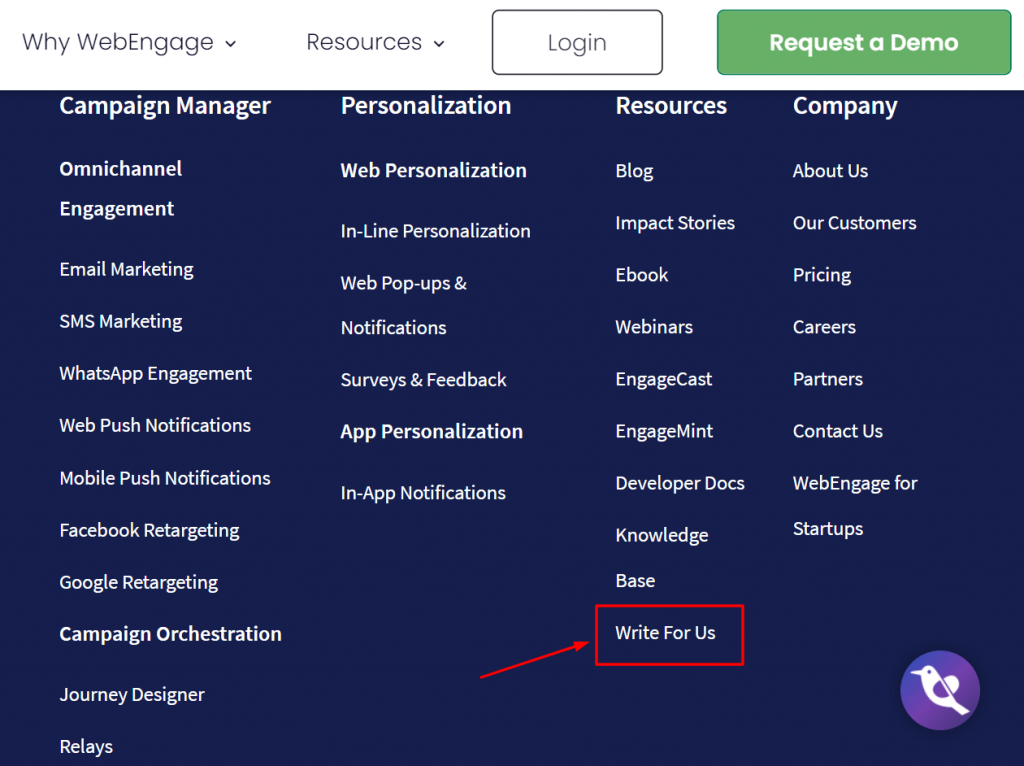 However, if you have trouble finding the form or writing guidelines. You can always try the following Google search operator to find the specific page – [site:domain.com "write for us" or "contributor guidelines" or "become a contributor"]
If you have to send an email to pitch for a guest post, you can use the following template:
Hi [Name],
[Your name] here from [Company name]. The reason I'm reaching out is to check if you are accepting guest posts on [Blog name].
We, at [Company name], love the content you regularly publish and would like to share our expertise in the industry with your audience. We've already been featured on [Domain 1], [Domain 2], and [Domain 3], just to name a few.
If you're currently accepting content from guest authors, I would love an opportunity to be one of them. Here are some topics that I can post on:
[Topic 1]
[Topic 2]
[Topic 3]
If you've got some other topics in mind that would be a good fit for your audience, I'd love to hear back from you.
Looking forward to your thoughts,
[YOUR SIGNATURE]
Step #3: Write the Guest Post
The final step in this white hat method is writing the post. You can do this when the target website has accepted your pitch.
Start by going through their guidelines. Then, ask your writers to create a blog on the selected topic, keeping the guidelines in mind.
Generally, guest posting domains allow one or two backlinks, so place them intelligently within your content. Make sure that you don't use an exact match keyword for the backlink.
Also, to improve the chances of your guest post getting approved, optimize it well for SEO. Pick a relevant keyword and use it well throughout the post. Don't forget to put your keyword in the title and subheadings too.
Guest posting often requires contributors to add images within the text. If you don't have the bandwidth to create custom images, you can use images available on the internet and give credit to the source.
Once the post is ready, send it to the webmaster and request them to message you when it gets published.
(Psst. Here's a quick way to find guest posting opportunities the white hat way. Download our Link Chest now!)
If you want people in your niche to link back to your domain, start creating unique and useful content.
Creating share-worthy content is among the best white hat link building techniques that can help you generate free backlinks.
The idea is to come up with something that isn't available on the internet and post it on your website. You should also optimize it for SEO by conducting keyword research and incorporating those keywords into your content.
Make sure that people in your network and niche like the content as they'll be more likely to share it with others.
There are several types of share-worthy content you can create, including: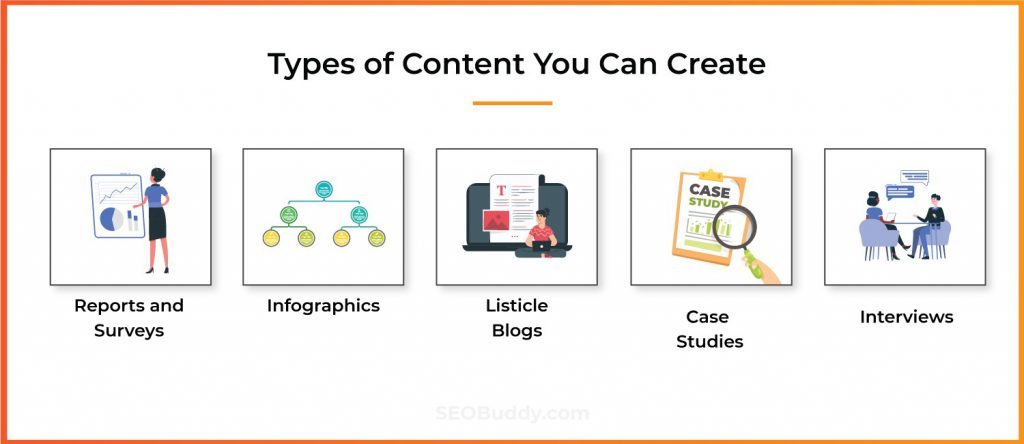 Reports and surveys
Infographics and other visuals
Listicle blogs and case studies
Interviews with someone famous in your niche
These content types are ideal for white hat link building as they're helpful resources that others would want to share with their audience. As a result, they may link to them directly.
(Want to develop SEO-friendly content for your website? Download our SEO Checklist now to get a step-by-step guide on how to go about it.)
3. Building Links via Directory Submissions
This white hat link building technique is less demanding in terms of efforts than the ones discussed earlier in this article.
Online directories have been a part of white hat SEO strategies for a long time. Submitting a business on directories is considered a white hat strategy because it helps users search for companies in their locality or niche.
Following is a real example of directory submission.

Following are the tips to consider while performing this white hat link building technique:
List your businesses on high-authority directories only.
Only submit your business to directories that are related to the niche you operate in.
Make sure you fill up all the features (fields) available on the listing page of the directory website.
Maintain consistency in terms of the information. For example, if you've stated in a directory that your business started in 2014, make sure you feed the same year whenever you make a directory submission.
(Start building more backlinks for your website. Download our Link Chest today!)
4. Reclaiming Lost and Broken Links
Marketers make efforts to build links, but sometimes these links may be lost due to several reasons like the author mistakenly removing the link while upgrading the post or moving the content to a different URL.
Irrespective of the reason, these broken links have a great potential to become healthy links again. And that's where the broken link building technique comes into the picture. It's yet another white hat link building method and helps improve the user experience.
But how can you do it?
Start by finding relevant blogs and websites that can link back to your resources/content. Next, check if they have broken outbound links by leveraging a tool like Check My Links. It's the "Invalid Links" section that you need to look out for.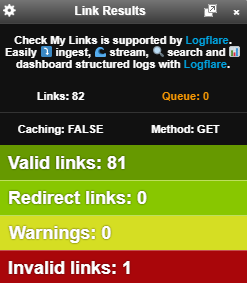 Once you've spotted a broken link, you need to figure out if you've got a resource that can replace the one that the broken link was directing to. If you don't have one, you should create it from scratch.
After finding or creating this resource, you can reach out to the editor of the website and make them aware of the broken link. You can also pitch your resource as a worthy replacement to it.
The key here is to ensure that the resource you provide offers equivalent or better value than the previous resource.
Here's what the email could look like:
Hi [Name],
I was seeking information on [topic] when I came across your post, "[post title + link]."
I'd firstly like to congratulate you on the job you've done at describing [complete the sentence by praising the blog].
However, I couldn't help but notice [number of links] links that didn't seem to be working:
[Broken link 1 with screenshot]
[Broken link 2 with screenshot]
I recently published a post on [topic], and I believe it might be a helpful resource for your audience as a replacement for the [broken link].
I hope this helped you out!
Thanks,
[Your name]
However, claiming your competitors' lost backlinks isn't the only white hat link building technique you should employ. You should also reclaim the backlinks you've lost over time by reaching out to the editors of each website.
FAQs
1. What is black hat link building?
Black hat link building is an off-page SEO strategy where a website uses malpractices to manipulate the SERPs. These practices are prohibited by search engines like Google.
Following are some black hat link building techniques you should never use:
Link schemes
Guest posting networks
Link manipulation
Article spinning
Link farms, link networks, and link wheels
2. What is white hat link building?
White hat link building is an SEO technique for building links via legitimate methods for a website. Here, legitimate methods mean practices that are in accordance with Google's guidelines.
Here are some important white hat link building techniques:
Guest posting
Share-worthy content creation
Building links via directory submission
Reclaiming lost and broken links
3. Which is the best link building type?
Guest posting is the best way to build links for your website.
Here's how you can go about it:
Find domains that accept guest posting by:

Using Google search operators
Using the "Search by Image" feature of Google
Using SEO tools for competitor backlink analysis

Contact the domains via email or website forms
Create a guest post as per the guidelines and send it to them for approval
4. Which link has more value?
Backlinks with a "do-follow" tag are the most valuable links as Google considers them for ranking websites in the SERPs. However, the do-follow link should be from a relevant website and have a related anchor text for best results.
5. Is all link building the same?
No. There's a significant difference between all the link building techniques. White hat link building techniques like guest posting, broken link building, and directory submissions are the right ways to go about it.
However, tactics like buying links or using link farms are frowned upon by search engines and are considered black hat link building techniques.
Wrapping Up
In a nutshell, white hat link building is the right way to do link building for your website. This includes tactics like writing guest posts, submitting your links to relevant directories, and getting natural backlinks by creating great content.
Finding broken links and replacing them with related links from your website is yet another reliable white hat link building strategy.
Indulging in black hat link building tactics like purchasing links, though, is frowned upon by search engines and could damage your website's reputation.But how do you go about finding potential websites for various white hat link building strategies like guest posting? Download our Link Chest, which consists of over 2,000 websites for white hat link building.