Should You Buy Backlinks for SEO: The Complete Guide
Organic backlink building is one of the most tedious search engine optimization practices. It takes time, effort, and lots of patience. So an option to buy backlinks can often be a relief for marketers.
But is it worth it?
Well, buying backlinks can be risky, to say the least.
Ideally, Google wants you to build your backlinks naturally. As such, to regulate bulk, low-quality link buying, Google uses PageRank to determine the quality of your backlinks.
Now, if your paid links pass PageRank, Google may do one of these two things—it'll either render the links useless in boosting your rankings or penalize your website.
That said, you may wonder why we're still talking about buying backlinks at all.
This post discusses all that and more.
Let's get into it.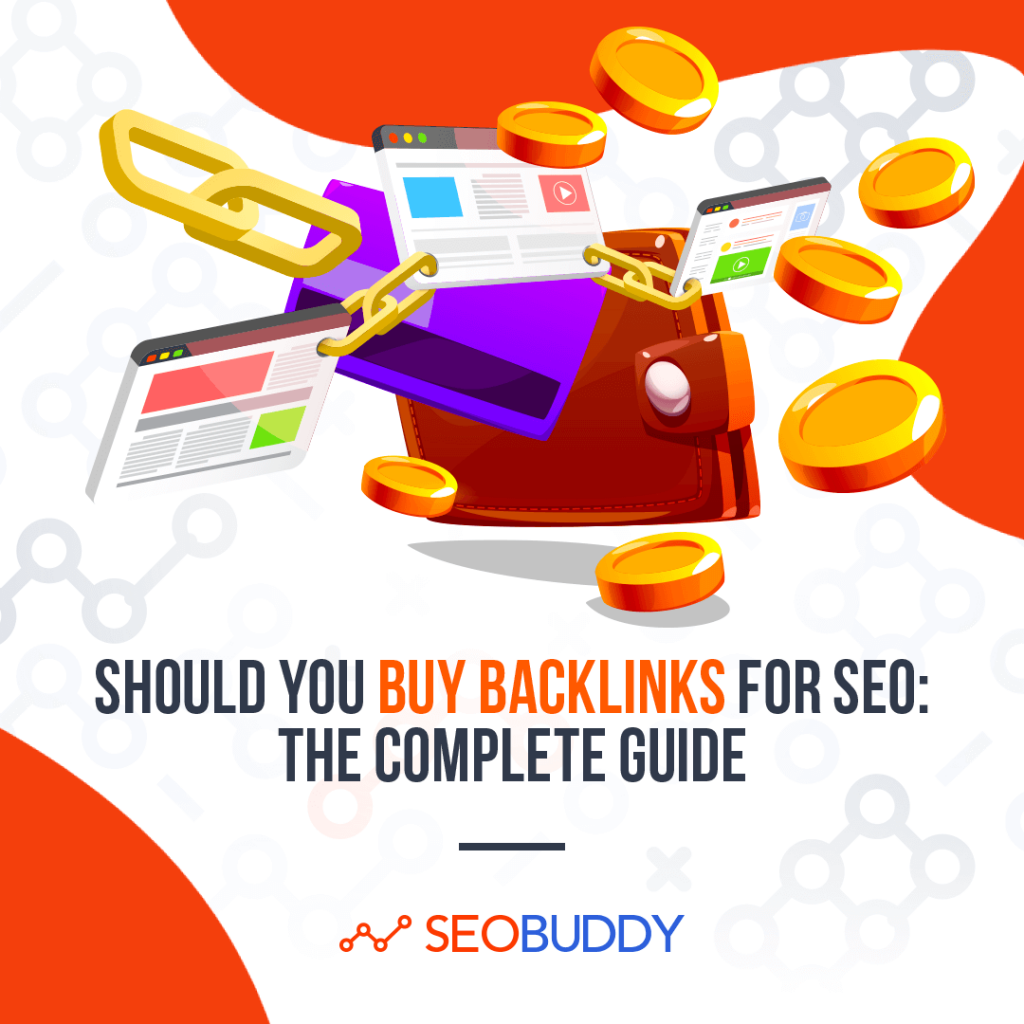 What Does it Mean to Buy Backlinks?
First, let's discuss backlink buying and what it means. Buying backlinks refers to paying another website to link back to your site.
Backlink buying is mainly meant to help websites raise their search engine rankings on Google. Having backlinks pointing back to your sites is considered one of the key ranking factors, so an increase in backlinks can boost your rankings.
You'll need to focus on quality when buying your backlinks as it matters the most in determining your search engine rankings.
Simply put, the more relevant and high-quality links you have pointing to your website, the higher you can rank in search engine results pages (SERPs).

When you're not focused on quality, you can end up with toxic backlinks that can harm your website.
As mentioned earlier, Google does not encourage backlink buying. However, a lot of website owners still buy backlinks.
Despite knowing Google's stance on backlink buying, why do businesses still buy them?
This next section discusses that.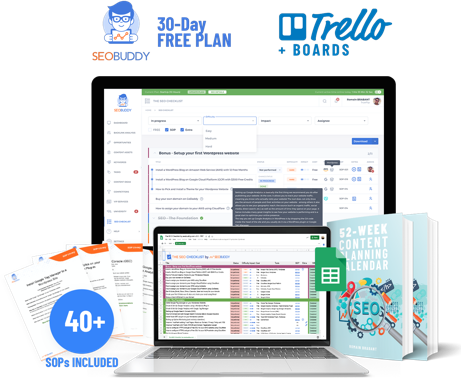 There's more…
Now it's time to discover the other 102 steps that will get more organic traffic flowing to your website. Get the SEO Checklist here.
Want to get a sneak peek of what it looks like?
Enter your email and get a free demo version of the SEO Checklist.
Why Do People Still Buy Backlinks?
By urging website owners to build links naturally, search engines hope to have more resourceful, and quality content ranking higher than all else.
However, building backlinks purely on merit can be difficult, even for websites putting in the effort. The result then is that most businesses find it easier to combine buying backlinks with trying to build links organically.
It makes sense since, with backlink buying, businesses get to:
1. Save on Time
If you've tried building links through outreach, you can agree that it can be just as time-consuming as creating content and letting it attract backlinks naturally.
It can take weeks, if not months, to research target sites, make sure they're relevant, and send outreach emails to have them link back to you. Not to mention, you'll have to wait for a response, if you do get any at all, and then negotiate with them.
The SEO checklist is already long as it is, and backlink building doesn't make it any easier.
However, if you opt to buy backlinks, all you'll need is a website owner willing to sell. If the price is right, you won't need to send a bunch of emails or take weeks just hoping to get a response.
This sounds convenient for any business and is why most prefer it.
2. Save on Cost
This may sound wrong since it makes no sense that earning free links would be cheaper than buying them. However, in the long run, this is often the case.
Building backlinks organically needs lots of resources. For instance, you'll need to create stellar content for your website. If you're not an experienced content writer, you may need to hire one—that costs money.
You may also need to hire graphic designers, an SEO consultant for your outreach, link building experts, and so forth. All these could potentially cost you more than it would to just buy backlinks.
3. Invest in Something That Works
When done the right way, buying links works for most websites. Despite its risks, SEO savvy marketers have found ways to remain on the safe side of search engine requirements.
For one, it's often difficult to distinguish bought links from natural links, even for search engines. As long as you avoid black-hat SEO practices, you're unlikely to get into trouble with Google for buying backlinks.
4. Get Competitive Edge
If you've considered buying backlinks, chances are your competitors are also doing it. A lot of them hire SEO agencies to do it for them.
So this could be your chance at staying ahead of the competition.
Apart from being convenient, most businesses find themselves buying links since many site owners ask for payments so they can link back to your site.
Therefore, building backlinks organically becomes even more difficult.
Given the inevitability of it, how can you then build backlinks safely, even if you've to buy them?
This next section discusses that.
How to Build Links Safely, Even When You Buy Backlinks
Before learning how you can buy backlinks safely, here are some fundamental do's and don'ts to consider.
The Do's and Don'ts of Buying Backlinks
Here is how to make the most of the links you buy.
Create high-quality content that's relevant.
Make sure you only buy links from authoritative websites.
Create awareness for your content through outreach.
Reach out to content creators with an audience similar to yours.
Ensure the site you choose has reputable links pointing to and from it.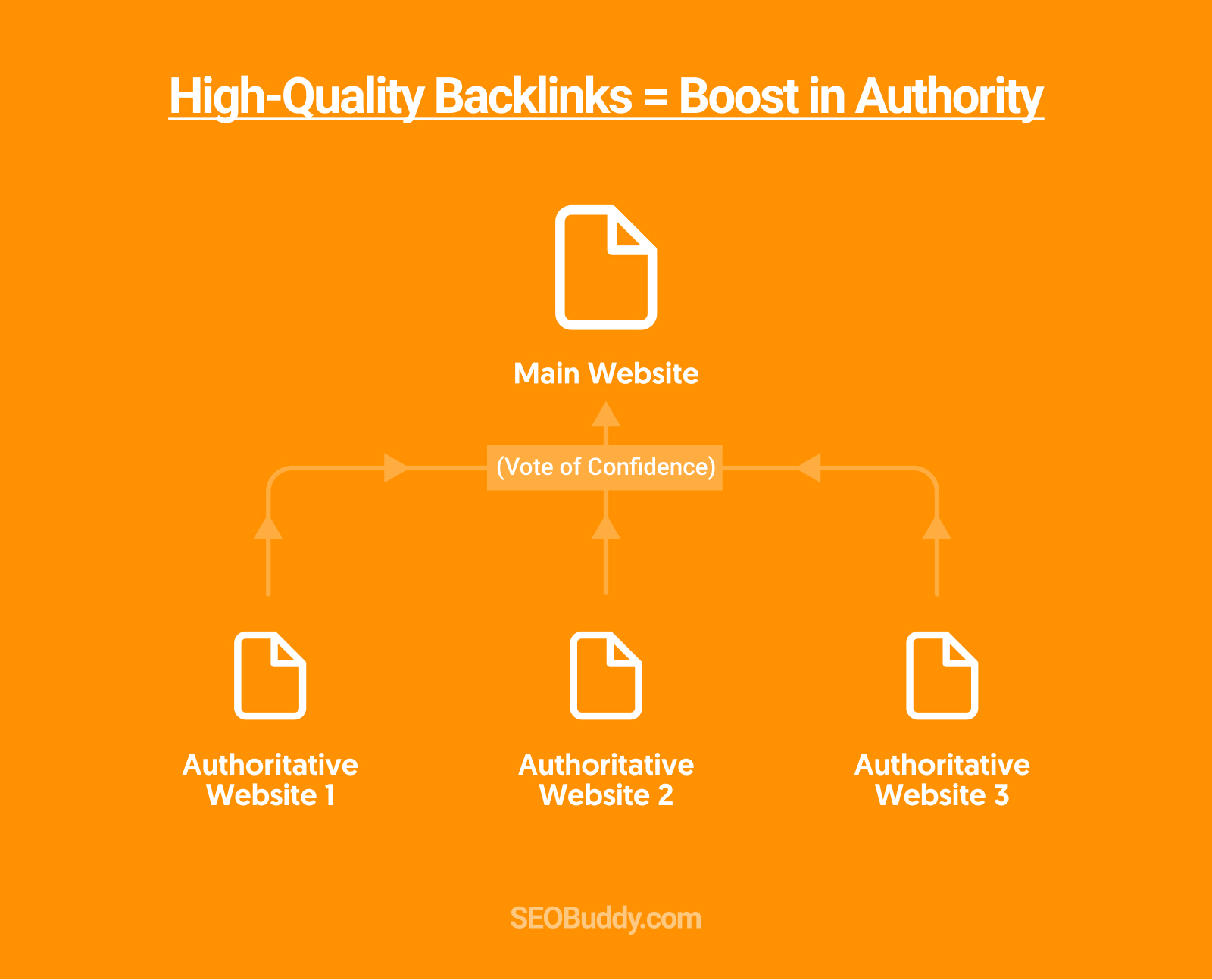 Here are the don'ts.
Avoid buying backlinks from sites like Fiverr or Upwork. They tend to be cheap and are often spammy links that could harm your website.
Avoid websites that publicly sell links. It's highly likely that Google has already discovered such sites or has come close, and you may be facing penalties if you get your site involved with their links.
Don't publicly post comments or content inquiring about sold backlinks.
Do not trust a website's authority blindly. Always perform due diligence before getting backlinks from them.
How to Buy Backlinks Right
As stated earlier, buying links is risky and against PageRank guidelines. However, there are ways you can do that and avoid the risk entirely.
The goal is to make bought links appear as natural as possible by actually earning them. For this you'll need to be more actively involved in finding and vetting sites. Create quality content and make sure you buy high-quality backlinks only.
Here are a few safe ways you can go about this:
1. Look for and Pitch to Websites Accepting Ads
Websites that accept ads use their space to earn money. This makes them one of the safest websites to buy backlinks from.
Since they already accept sponsored content, it's easy to pitch to them for the same. You can ask such sites to let you post content and have links that point back to your site.
To easily make a list of these websites, you can use a variety of advanced search techniques. Here are some parameters you can use to find backlink opportunities.;
City + "advertise on this site"
City + "advertise on our site"
City + "advertise"
City + "pay for a post"
City + "partnership opportunities"
Replace "city" with the name of a town if you want your search to be location specific. You can also make these parameters more specific by adding your niche at the beginning of your search keyword.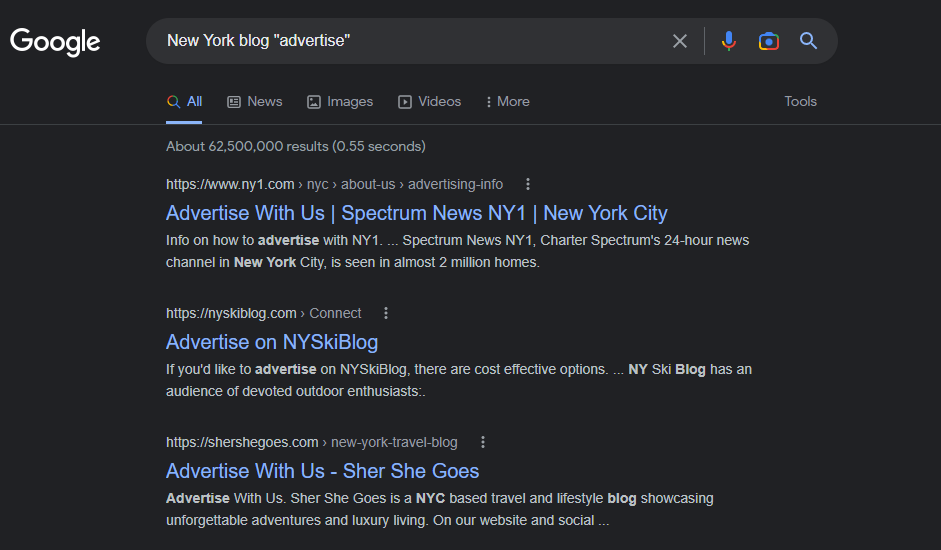 Image via Google

Image via Google
With that, you can come up with a list of sites to get backlinks from. For sponsored posts, be sure to specify how you want your post or the content URL to appear on their site. This includes:
Specifically asking the site not to tag your content as sponsored or advertised
The links should not be rel=sponsored or rel=nofollow as these would tell search engines to ignore the links. Instead, have them tag the links as dofollow links, for the backlinks to be effective.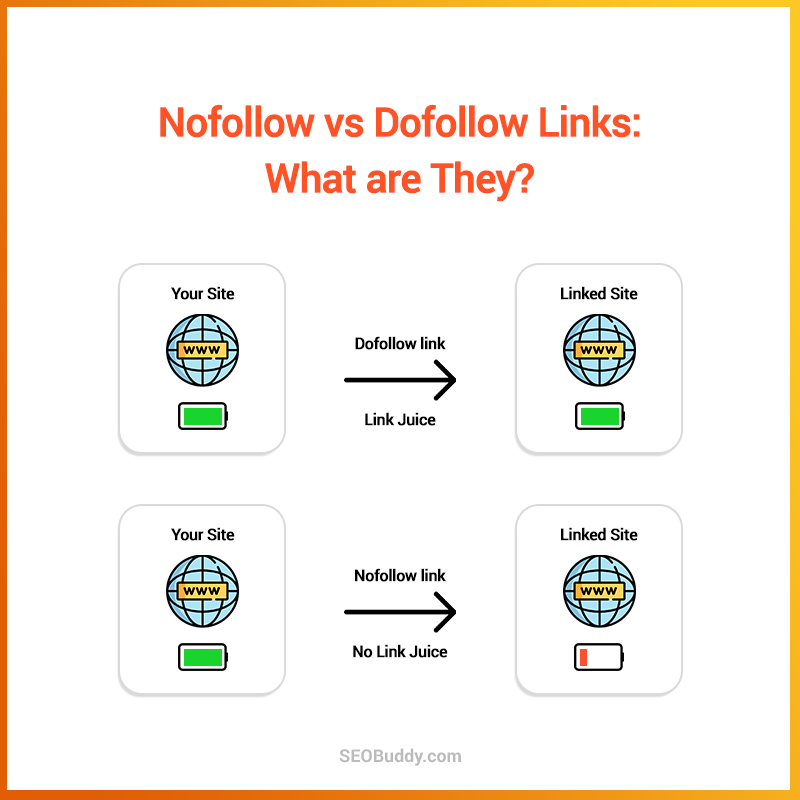 These two are must-include terms in your pitch when looking for sites that sell backlinks. Without the two stipulations, your backlinks will not make much difference to your site's rankings.
2. Blog Partnerships
With this method, you'll seek to have your backlinks on notable blogs online. For this, you'll need to make sure your content is relevant to the said blogs.
This is different from guest posting, as you'll have your backlinks on existing content or content already created by them.
For most websites, having a blog increases their organic traffic. And depending on their audience and traffic, you may get quality backlinks if you succeed.
Just like the previous method, here are some parameters you could use while coming up with a list of blogs to potentially partner with.
City + "blogs"
City + "bloggers"
Bloggers + "keyword"
City + inurl:blog
City + intitle:blog
Best blogs + "keyword"
Again, replace "city" with the name of a location for local keyword searches. Also, be sure to add a specific niche to the keyword search.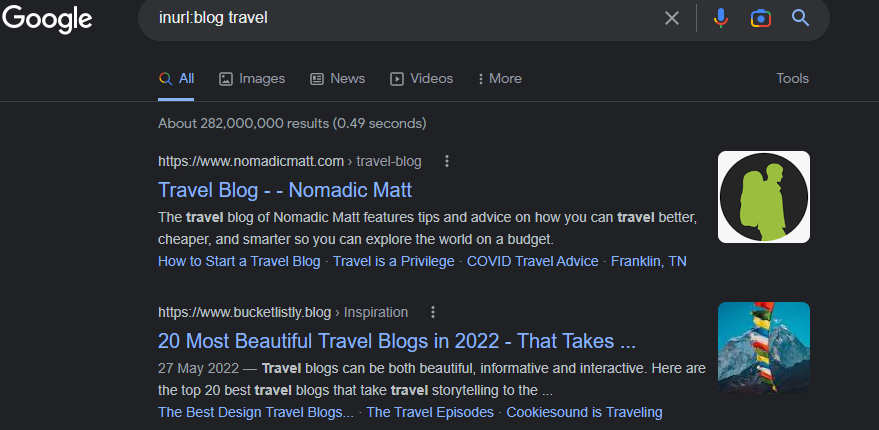 Image via Google
You'll find a list of blogs and blogger details. Filter through them and find the most relevant ones. You can then contact these bloggers with a pitch, and see if you get lucky to partner with any.
How Much Does Building Backlinks Cost?
A study by Ahrefs established that of the 450 websites surveyed, the ones that sell backlinks charged $361.44 on average. This depends on factors we'll discuss later in the article.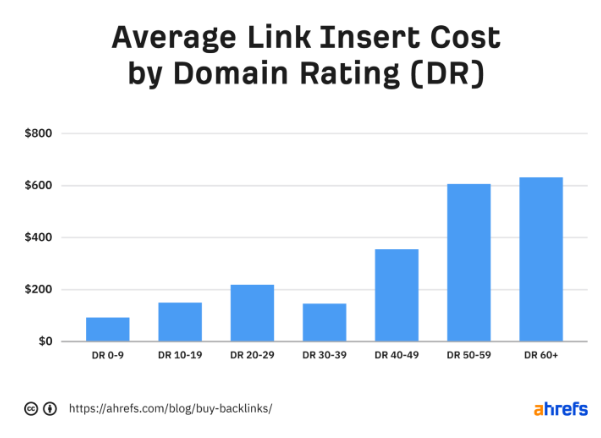 Image via Ahrefs
Here are three main ways to build backlinks and a breakdown of how much they cost.
1. In-House Link Buying
With in-house link building, you'll need a team, some tools, and an enormous amount of time, effort, and money. Unless you have a seasoned SEO pro who is skilled at link building, this method isn't suitable for new businesses.
It's also expensive. If you choose to start with a small team, say one content writer and a backlink outreach specialist, it'd still cost you a lot of money, on average over $50,000 annually on staff only.
Second, you'd need to pay for an SEO tool to manage your backlinks, conduct domain analysis, and competitor backlink analysis, and monitor websites before buying links.

For instance, the most basic Ahrefs plan costs $99 a month.
Image via Ahrefs
Besides having a team, you'll need to train them to use the tools, offer link-building training, etc.
Building backlinks in-house can be expensive, even if you never get to directly buy the links. However, there are a few upsides to in-house link building.
The main one is that you'll have complete control over your link-building outreach team. You'll also be able to align your goals seamlessly with your team and manage the link building with them.
Additionally, with powerful resources like our Link Chest, you'll be better placed to do link building.
2. Agency Link Buying
Lots of businesses hire expert link-building agencies to get backlinks for them. The amount you spend mostly depends on the number of backlinks you intend to build and the agency you work with.
High-quality links cost more and these agencies are also quite expensive.
While your business may benefit immensely from these links, the prices are going to be on the higher end. Another downside to using an agency is that they don't give you an analysis of your website.
Besides, they typically charge on a per-link basis and fixed prices for guest posts.
Agency link building has a few upsides, however, compared to in-house link building.
These include:
You'll acquire links faster than you would with an in-house team as you'll have access to proven procedures right away.

You get to give up the hassles of hiring, training, and managing to someone else.

You make a set monthly payment that is easier to budget for and gives you assurance about the result. For instance, with the above agency example, you can be assured of 8 links for $2,999 a month.

You can start and end your subscription right away.
3. Private Link Buying
This is when you send outreach emails to specific sites to try and get backlinks from them.
Most of these websites do not publicly advertise that they sell links, so you'd have to approach them privately, via email.
If you succeed to find sites that are selling links, which you will, then you'll have approached private link vendors. How much you pay for links in this case usually depends on the private vendor you approached.
According to an earlier mentioned study, this could be anything from $50 to $600 per link. This isn't the only cost you'll incur though, especially if you hire an SEO expert.
You'll also have to spend lots of time verifying the website and its domain rating to make sure its backlinks are safe, and worth the price.
If you have to create the content yourself, this will mean paying for a specialized content writer. Say you spend $100 per post and pay an outreach specialist $150 per link. Going by the average rate SEO consultants charge, the total price of private buying can add up to $400, on average, per link.
The upside to this method is that you do not have to commit to any long-term payments, and if it goes well, you can get backlinks quickly.
However, you'll spend lots of time and money on outreach and vetting.
Here are some factors that determine the above costs.
Factors Affecting the Cost of Backlinks
Several factors affect how agencies and private vendors set their backlink prices. You'll need to know them to know what to expect.
Here are a few main ones:
The Type of Website
Some websites have higher ratings than others and receive high organic traffic. The more popular a site is the harder it can be to reach out to them and acquire a backlink. This makes the prices go up, for highly-rated websites.
Content Quality
Most high-quality sites post quality content. This means that they get experts in the field to write their content or specialized writers and this costs them more. As such, having your link on their content would subsequently cost you more too.
Your Brand Strength
If you have a strong online presence already and an established brand, it will be easier to get responses for your email outreach. You will have an easy time building backlinks, and it may cost you less too.
Quality of Links
Older, more established sites with great link metrics and high traffic are more difficult and expensive to reach out to. Most regulate the number of outbound links from their sites, and many other brands also approach them.
Industry
In some industries such as finance and travel, top players already attract numerous sites hoping to build backlinks. This makes it more expensive to build backlinks in these industries and less expensive in others.
How Much Building Links Costs With SEO Buddy
Most of these link-buying costs can be too heavy on businesses that are just getting started.
If you're just launching a website, building quality links can be difficult. But you'll need some backlinks if you want to grow your organic traffic.
We offer a simple way to get you started—simpler than hiring an agency or an in-house team. SEO Buddy's Link Chest gives you access to 2,322 backlinks from reputable sites.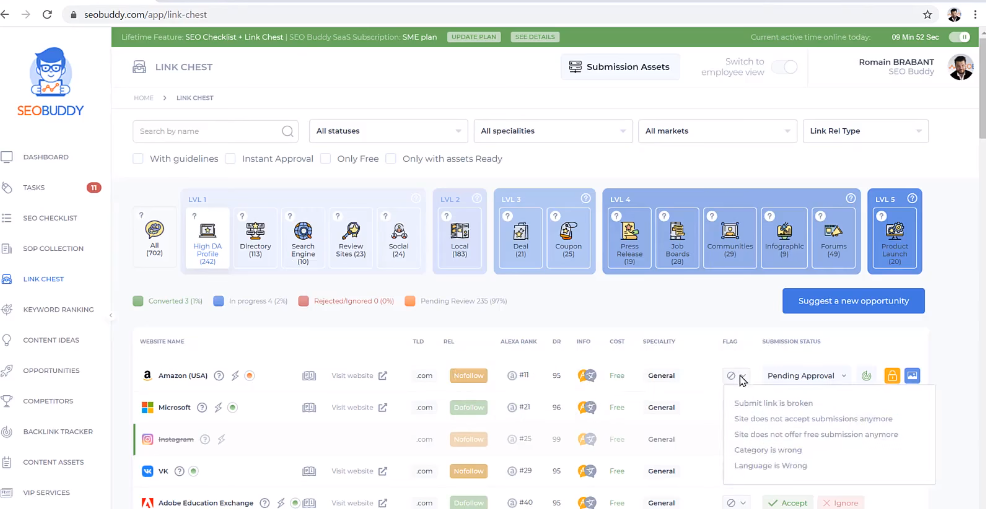 Image via SEOBuddy
This list saves you the time you'd have spent scouring the internet to find authoritative sites.
What's more?
You get to manage these websites from a single platform as you reach out to them for backlinks.
All this at a one-time, affordable price of $129.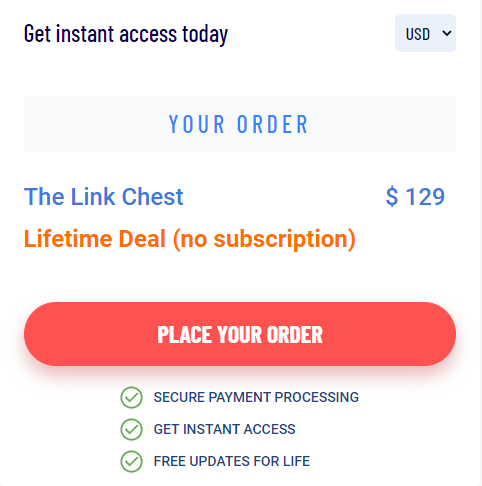 Using the Link Chest web app, you can monitor your list, track progress, accept or decline backlink opportunities, and so forth.
It's an easy way out for agencies trying to build backlinks for their clients, businesses building their links directly, and any other SEO specialist.
Frequently Asked Questions
1. Are backlinks worth it in 2023?
Building backlinks is still very much a ranking factor for Google and other search engines. The more quality backlinks you have on your site, the more likely your page will rank higher on the search engine result pages.
2. Is buying backlinks against Google?
Google frowns on backlink buying and recommends that websites build links organically. However, it does not specify if every exchange of money for links will cause harm to the website. Generally, any SEO practice meant to manipulate search engine algorithms puts your website at risk.
3. Is it worth buying Fivver backlinks?
While building backlinks is important, it's only effective if they're high-quality backlinks. Most Fivver backlinks are low quality and risky to buy as they may end up harming your website's reputation instead, no matter how many you buy.
4. Can backlinks hurt SEO?
It depends. High-quality links boost your SEO. Conversely, spammy, low-quality backlinks can impede your SEO efforts and hurt your website's reputation. These are backlinks coming from sites with low domain rankings.
5. Are paid links good for SEO?
Search engines forbid paying for links and can penalize your site for it, which negatively affects your SEO. However, website owners still buy backlinks, regardless. This is because when done right, link building, whether paid or organic, can be a great boost to your SEO rankings.
Should You Buy Backlinks?
Buying backlinks directly without due diligence can be risky, especially if you didn't earn them.
If you blindly engage in link buying without checking domain ratings, relevance, or authority, these links may be worthless, or worse, will ruin your website's rankings.
Considering how important backlinks are in building a website's reputation, you'll need to ensure you're building quality links before getting financially invested. And we have just the tools to get you started: The SOP Collection, the SEO Checklist, and our Link Chest.
Regardless of Google's guidelines, as long as you're not spending money on manipulating the search algorithms, you should be good to go.