My SEO Journey: Huu Thinh from passwordprotectwp.com – Quality content self-promotion is the key to our marketing and SEO strategies
My SEO Journey is a series where entrepreneurs and Indie makers share their honest SEO Journey filled with failure and success, and most importantly, proven results. Episode #93 features Huu Thinh from Password Protect WP.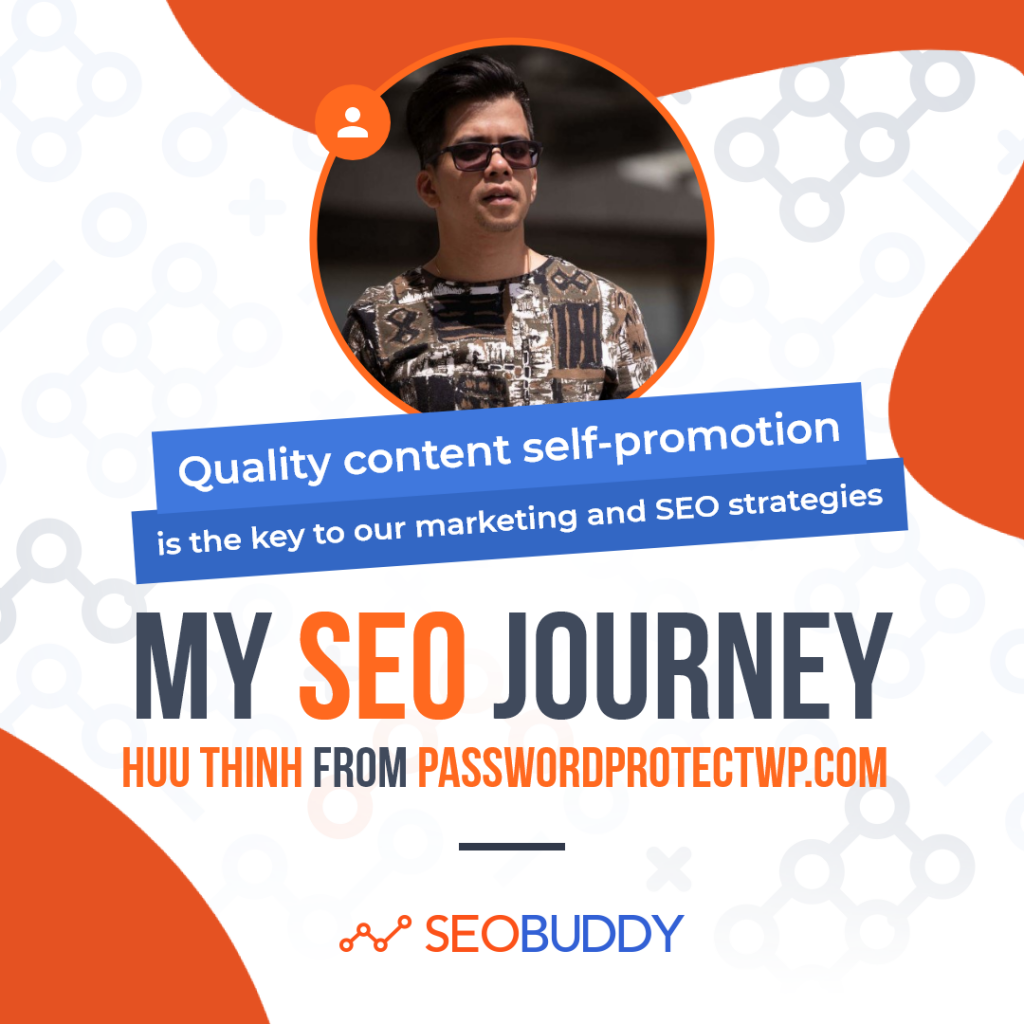 Hi, I'm Huu Thinh, the founder of Password Protect WP (PPWP Pro) and Prevent Direct Access (PDA Gold) – two of the top WordPress content protection plugins in the market.
What's your backstory and how did you come up with this idea?
I was born in the peaceful Imperial Hue city located in Central Vietnam. After almost 9 years living and working in Singapore, I decided to come back and started my own business in Danang.
Though I have known WordPress for a long while, I just seriously focused on this open-source software since 2015. At the time, while working as a site administrator for a marketing company in Singapore, I unintentionally recognized that the company's privacy was severely violated as those private documents were totally publicized on SERPs.
This incident instilled my enthusiasm to deal with such a sort of cybercrime, making me more understand the urgent need for the privacy protection of online marketers and other small companies. We came up with the idea of building a WordPress plugin that helps technology companies protect their digital products.
Eventually, we decided to develop a tiny WordPress plugin called Prevent Direct Access (PDA) after 2 months of non-stop work.
Since then, we find out there is a need for password protection while a majority of available password protection plugins have a tendency to concentrate on a particular function such as only partial content or entire WordPress site protection. There comes the idea of creating PPWP Pro as an all-in-one solution with all necessary password protection features.
At the early stages of the company, there were only 6 members in charge of different positions such as product development, content creation, website design and optimization, and customer services so as to develop and market our products to more users and also on SERPs.
To this day, the total number of our team members is up to over 20 and our products are increasingly becoming more beneficial for thousands of WordPress users globally.
What has worked to attract more organic traffic?
While it takes us almost 2 years to grow our first website's domain authority from 0 to 26, it takes just less than 6 months to achieve the same feat with our second product's website.


There are 3 key strategies that help us achieve the milestone.
#1 Educate Users and the Market
We develop our products from scratch. That's why customer education is crucial to our marketing strategies.
There are terms we've "invented" that are new and unfamiliar with the majority of users such as private magic links and quick access links.
If used properly, these terms could be "key points" to our product's marketing and branding. Thus, it's important to make sure they are well explained and understood by our users.
In order to do so, we need to produce massive and also quality content about our products that could educate interested users and potentially the market as a whole.
First, we create a Glossary and mind maps in different forms and formats where users can search and find out the desired terminologies or functions. This gives users an overview about our products and saves them a lot of time during the onboarding process as well.
Adding illustrated infographics in each tutorial and flow helps explain the main features and familiarize users with our products.
As a result, users can visualize the flow and the whole process with ease. In case of having language barriers, they also can base on screenshots to imitate.
Towards sophisticated processes, a tutorial video will be extremely beneficial for many of our users and customers. Images and soundtracks are always the fastest way to penetrate into people's mindset and imagine how to do each step.
Last but not least, blog articles and documentations are arguably the best way for users to understand our features thoroughly.
At the beginning, we started publishing a lot of blog posts including documentation and comparison related to our products.
At the same time, we'd try to write as many guest posts to relevant and authority websites as possible. Quality referral traffic is great to establish our product's quality and authority. That also attracts a lot of quality leads and potential customers to our website.
In addition, writing use cases showing users how to apply our products into real-life situations is also a great strategy. This supports new users to learn how to solve their problem at that moment.
Another way to educate users is writing case studies about our customers and what results they get when using our products. By analyzing practical situations with specific data, these case studies increase trust in our business and help them learn about our product's benefits too.
Slowly but steadily, there is more or more traffic to our product's main keywords. There are brand new searches with traffic on our product's name and features as well.
#2 Create Massive & Quality Content
At first, there was literally no search for our product's keywords. So we cannot just focus on market education. We had to get traffic, leads, and our very first users as well. That's why we concentrate on building quality content simultaneously.
The first thing coming in our mind is to create keyword maps and relevant yet popular topics closely related to our products. After that, we start producing content frequently on various topics.
Frequent content creation helps boost Google ranking, but quality content champions all. No one wants to spend their time reading superficial posts. Not even Google bots. Therefore, we focus on specific problems & topics (long tail keywords) and then provide users with quick and easy solutions.
A smart balance of trending and evergreen topics helps us draw immediate users' attention and at the same time ensure a well-rounded content marketing strategy.
There are times when we write 2,000 – 3,000+ word long articles that go deeply into customers' problems and technical stuff. We try to make complicated and difficult things simple for both tech savvy and beginner users.
Quality content self-promotion is the key to our marketing and SEO strategies. Writing content as a person instead of a brand generates interaction, social shares, and backlinks to our site. People tend to link to people, not link to what a business said. That grows our footprint on social media and boosts our bottom line.
Additionally. Constant reviews and onsite optimization helps us identify effective keywords to focus on.
#3 Spread Word of Mouth
How to spread word of mouth for digital products?
The answer is simple: developing quality products as well as providing first class quality support.
Always listening to users' feedback and requests is the motto of our customer service. Constant reviews and improvement are key to raising the standards of our products and service.
Our customer support team prioritizes efficiency and timely responses. Never let any customers wait too long. Quick problem solving makes them feel important and brings pleasant brand experiences. Total emphasis on user experience is the main reason why we've received a 4.8/5 star rating for all of our main products.
In addition, treating each and every customer the same way whether they pay or not, together with making our services accessible, spreads a lot of kind words for our products. That truly creates a unique competitive advantage over other businesses.
Live chat is a good example. Any users can reach out to us directly via online chat located right on our website and receive timely support. They don't need to go elsewhere to find our email and contact information. Time and convenience matter the most in a fiercely competitive market like technology.
Above all, quality products make our marketing efforts a lot easier in both short and long terms. We always strive to develop feature-rich and user-friendly applications. When a customer is satisfied with our products, chances are that they'll recommend them to their friends and family.
After all, we've received tons of kind reviews, articles, and videos talking about our products without paying a penny.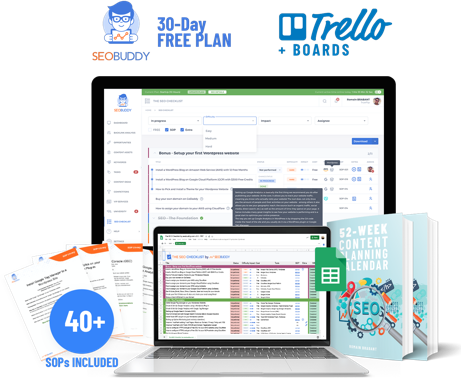 There's more…
Now it's time to discover the other 102 steps that will get more organic traffic flowing to your website. Get the SEO Checklist here.
Want to get a sneak peek of what it looks like?
Enter your email and get a free demo version of the SEO Checklist.
Challenges we face during our SEO journey
We've encountered plenty of challenges and difficulties during our journey. However, that doesn't mean we gave up on ourselves. These mistakes actually help us learn and grow even faster along the way. 
Be cautious & don't overuse SEO techniques
First, it's a challenge to balance between Market Education and attracting organic traffic for our product websites. We can't afford spending everything on educating our users and market while getting little traffic and sales.
So it's natural that we had to focus on building up our website's ranking and authority together. That said, it's tough to have instant success with SEO, Google and other search engines. We had to test and find out which SEO techniques works best for us.
High frequency of low-quality backlinks unintentionally makes search engines think you're spamming. So, be cautious with mass backlink building.
We focus on quality over quantity. That's why getting backlinks only from relevant and authority websites in our niche comes as a perfect tactic for SEO. We mainly use domain authority (DA) and traffic as key factors to find suitable websites for backlink building. It takes time to do so but is well worth the effort.
Test to find out the best marketing platforms
There are numerous marketing channels and social media nowadays. However, not all channels produce the same results for our software products and marketing efforts.
Some work great for health but not software products. Interestingly, there are channels that work best for a certain brand's audience but not the others.
I have learned that before allocating a budget in a marketing campaign, you need to make sure that the chosen platforms and methods suit your products' characteristics. Otherwise, it won't be effective.
We did several A/B test campaigns to identify whether Google, Facebook, YouTube, or Twitter best suited our products. In the end, we eliminate ineffective campaigns and focus on the right channels to our products.
Authority is one of our top priorities. That's why we'd always love to collaborate with relevant and high-ranking websites. Each successful collaboration boosts not only our traffic but also our authority score and SEO rankings.
That said, it's not easy to find appropriate authority websites. Plus, many of them are not open for collaboration and partnership. It was extremely difficult when we first started, but with patience and effective reachout strategies, we gradually built ourselves up.
Nowadays, as our brand is more recognized, we're getting a lot of collaboration requests from other businesses.
SEO tools we're using for our business
Similar to other ecommerce and product businesses, we make use of popular SEO tools such as:
Google Keyword Planner for keyword and idea research.
Google Analytics for performance tracking.
Google Search Console for site audit.
Yoast SEO for SEO-friendly writing.
Other tools for competitor research such as SEMRush and Ahref.
However, we don't rely too much on these tools. We consider SEO tools as assistants in data collection and aggregation. Based on the data collected from these tools, we conduct an analysis and gain insights to make sound decisions.
What's next in our SEO Journey?
We're aiming to expand our brand by developing related and complementary products. Our desire is to provide customers with an all-in-one solution so that they don't need to install different plugins for different functions.
"Learn from the mistakes of others. You can't live long enough to make them all yourself." – Eleanor Roosevelt
We've also learnt a lot from our competitors, both their success and failure stories. This helps us avoid repeating the same mistakes as our rivals and save time. These lessons allow us to develop the wisdom and sense to make good decisions.
In return, we'd love to share and give back to the community what we've learnt and achieved during our product development thus far.
That's why we've built a resourceful hub for the WordPress community, ProFaceoff. Its goal is to share new and valuable tutorials, how-to guides, tips, reviews, and well-research statistics related to technology and WordPress for free.
In the near future, we wish to build a stronger WordPress community. This shows our commitment to society and we are so grateful to be a part of building a sustainable technology world.
Where can we go to learn more?
You can go to our Password Protect WP – PPWP Pro or Prevent Direct Access – PDA Gold websites to learn more about our businesses. We also equip you with useful tutorials in case you're interested in building and securing your WordPress sites.