Leveraging 'People Also Search For' for Your SEO Benefit
Did you know that Google processes approximately 2 trillion global searches per year and approximately 5.6 billion searches per day? And, an average user conducts between 3 and 4 searches per day.
If you're one of them, chances are, you've already come across "People Also Search For" (PASF) while trying to find some information on Google.
What is this feature and how can it help your business?
In this guide, we'll take a look at everything about People Also Search For and how you can leverage it to open doors to new search engine optimization (SEO) opportunities for your business.
Let's dive in.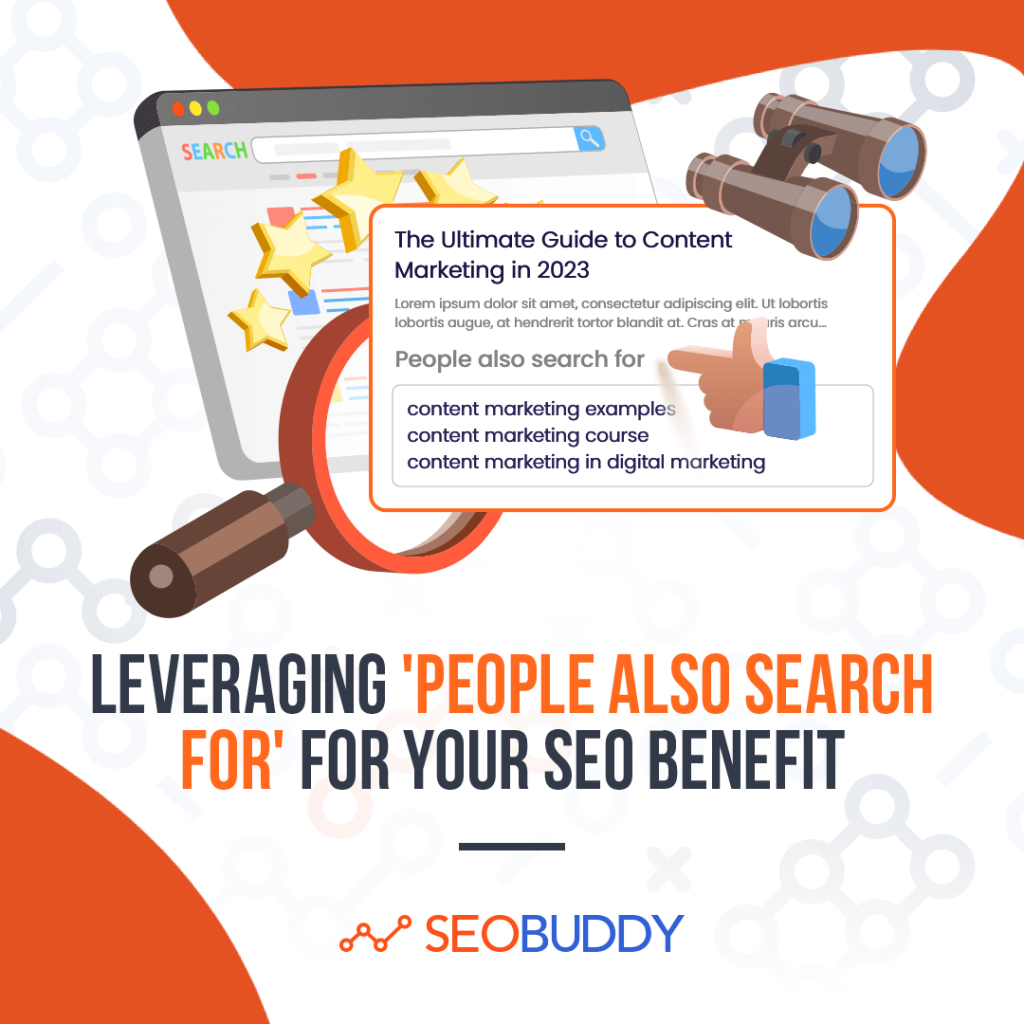 What is the "People Also Search For" (PASF) Feature of Google?
When you go to Google to search for a topic, you get millions of results related to the query within seconds.
If a result matches what you were looking for, the search ends there.
But what if the search results don't reflect what you need?
In such a case, you go back and try something different to see what results you get. Right?
This is where "People Also Search For" comes in.
The main aim of this feature is to suggest new results to you if your initial search intent wasn't satisfied the first time.
The algorithms of the search engine are designed to give you the best matches to what you are searching for.
You can simply click on the related search terms to open other search results that are related to the original topic you were searching for.
Let's look at an example for more clarity.
Say you search "what is search engine optimization" and click on one of the links displayed on the results page. You weren't satisfied with the article you read and so you pressed the back button to come back to Google's SERP to try a different search query.
When you do that, you will notice a PASF box right below the listing you clicked on to suggest related terms that you may be looking for.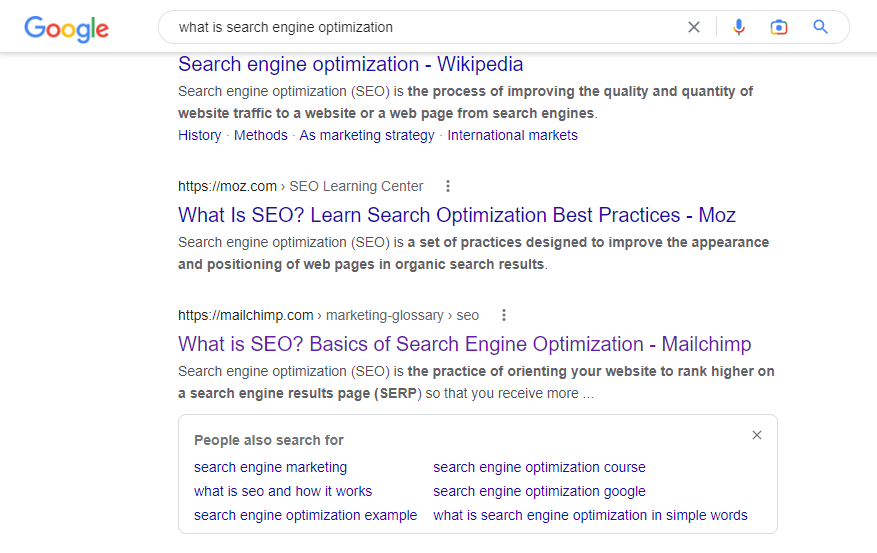 Image via Google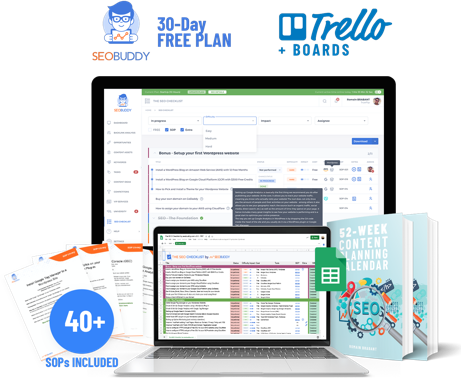 There's more…
Now it's time to discover the other 102 steps that will get more organic traffic flowing to your website. Get the SEO Checklist here.
Want to get a sneak peek of what it looks like?
Enter your email and get a free demo version of the SEO Checklist.
People Also Search For (PASF) vs People Also Ask (PAA)
In general, both PASF and PAA are designed to help people find information and discover new topics related to their search. So, it's easy to see why people can confuse among the two.
If you go back to our previous example and look at the SERP results, you'll notice a People Also Ask box at the top of the page.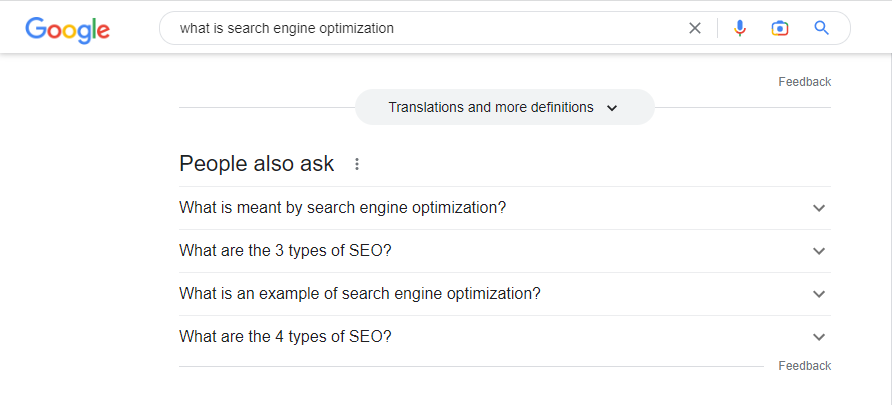 Image via Google
The People Also Ask box gives you a list of questions that other users have asked about the topic you are looking up. When you click on one of the drop-down arrows, it displays a brief answer, and additional questions may also appear. These are typically related to the search query or the question you've clicked on.
A "People Also Search For" box only gets triggered in the SERPs when you press the back button after clicking on a particular search result. This makes Google believe you did not find what you were looking for.
On the other hand, a "People Also Ask" box is almost always a part of the SERPs. To expand this section, all you have to do is keep clicking on different questions and Google will start displaying a few related questions with each click. This, however, doesn't happen with the People Also Search For box. It only shows a limited number of related search terms.
Both these features present a golden opportunity to discover blog and content ideas to go after. We will speak more about this in the next sections.
How Can "People Also Search For" Benefit Your Search Engine Optimization (SEO) Strategy?
The "People Also Search For" feature can be an invaluable asset for your SEO strategy. This is because the insights it offers are supplied directly by the search engine itself i.e. Google.
By studying these insights, you can incorporate the content ideas to gain a broader reach in the search results in multiple ways:
User Intent
The PASF box sheds light on the user intent. By displaying related searches, it helps you understand the different ways in which a query can be phrased.
This not only allows the user to find more specific information but also expands their understanding of a topic by offering suggestions they may not have considered before.
If you can find what your target audience is searching for and create resources to match their user intent, you can see the growth in your website's organic traffic through this feature.
Keyword Research
PASF boxes can be extremely beneficial to discover new keywords to target as a part of your SEO strategy. The related searches can point you in the right direction for short-tail and long-tail keywords that you can use to optimize your website.
For example, if you offer digital marketing courses online, you might see related Google search results that you can use in your content strategy to rank for as well.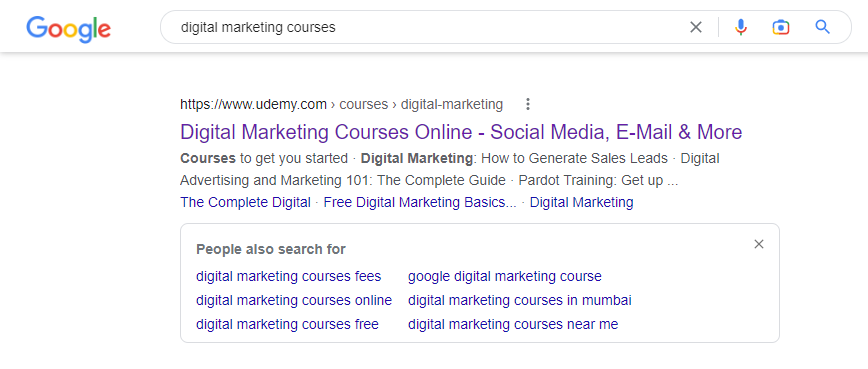 Image via Google
Competitive Research
By using the PASF box, you can analyze the related queries that appear and get an idea of the keywords and phrases your competitors are targeting.
You can use this information to create content that can help outrank your competitors in the organic search results.
Another advantage is that you can identify the gaps in your competitor's content and make a note of the keywords they are not currently targeting. You can then incorporate these keywords into your content to get better rankings and traffic than them.
Lastly, you can analyze the search volume for particular keywords that your competitors are targeting to get an idea of the potential traffic volume. It can help you decide which ones to focus on for a better return on investment (ROI).
Don't know who your competitors are? People Also Search For can help you with that too.

Image via Google
Customer Behavior
PASF keywords can improve your SEO by offering you insights into the types of information, questions, and products customers are searching for.
You can learn about the pain points of your target audience and create content around those issues to offer them a solution.
PASF keywords can also help you identify patterns and trends in customer behavior to help you create better landing pages that speak to your customer's needs.
For example, let's say you own a travel agency and you're interested in knowing what customers are searching for at different times of the year. You could start your search with a general term like "vacation ideas" and then keep an eye on the related searches.

Image via Google
You may find that in winter, people are searching for "winter vacation ideas". Dig deeper and you can find more specific keywords like "best winter vacations with snow" or "cheap snow destinations" and more.

Image via Google
Armed with this insight, you can create promotions and packages that align with what your customers want. You can advertise for seasonal terms and improve your SEO to bring more visibility to your business.
Using FAQs
The FAQ section is a powerful yet often overlooked tool that can draw more visitors to your website and give you an edge over your competitors.
Your business is likely to feature in search results for related queries if you have an FAQ section in your content to answer common questions related to the topic.
Having a comprehensive FAQ page also establishes you as a trusted website on the topic.
To rank for the People Also Ask section, you should also consider incorporating an FAQ schema plugin. This way, you'll rank for even FAQ-rich results to get more SERP real estate.
Once search engines understand that your page has a section structured in a Q&A format, it can improve your chances of being featured in People Also Ask rich snippets in the SERPs.
And how does this help, you ask?
Let's understand with an example. Take a look at the image below. See how the listings with FAQ rich results occupy more space on the SERP than the rest. This essentially increases the chances of searchers clicking on them, thus boosting CTR.
At the same time, if your page ranks in the People Also Ask results, you'll gain even more SERP real estate, boosting the traffic further.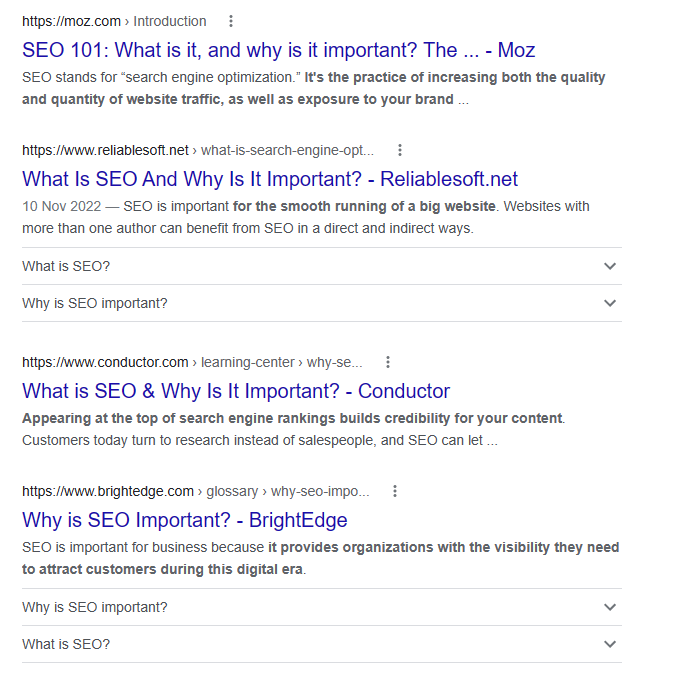 Image via Google
How Can You Rank for "People Also Search For"?
Here are some more tips and tricks that can help you make the most of Google's PASF feature by ranking for multiple related keywords.
Building Backlinks
Publishing an SEO-friendly article is half the battle won, but you still have lots more to do. Once the article is published, you must ensure that you build backlinks to help the search engines determine the relevance and authority of your website and the page.
When links from other websites point to your site, they act as votes of confidence for the content you've published.
Needless to say, getting the right quality and quantity of backlinks is thus essential for SEO success. The key though is to get your anchor text right as it could enable the search engine to figure out which keywords your page should be ranked for.
You can build backlinks through tactics like guest posting, broken link building, HARO (help a reporter out), and more.
Analyzing and Tracking Performance
SEO is an ongoing process that requires constant monitoring and optimization as users' search queries evolve with time and new keywords become more relevant. The competition in the SERPs may increase too.
As a result, businesses that fail to keep a finger on the pulse are at risk of falling behind in search rankings.
Fortunately, several tools can help you track and analyze your SEO performance. You can see how your website performs for the keywords that appear in the "People Also Search For" section. Some of the key metrics that you should track include impressions, conversion rate, click-through rate, bounce rate, and average time on the page.
Now that you have a better understanding of PASF keywords and their importance in SEO, let's look at some tools that can help you find them.
What Are the Best Tools to Find PASF Keywords?
Here are some of the top tools you can use to find PASF keywords:
Google Trends
While it's primarily used to find new and upcoming trends, Google Trends can come in handy for conducting keyword research for PASF keywords.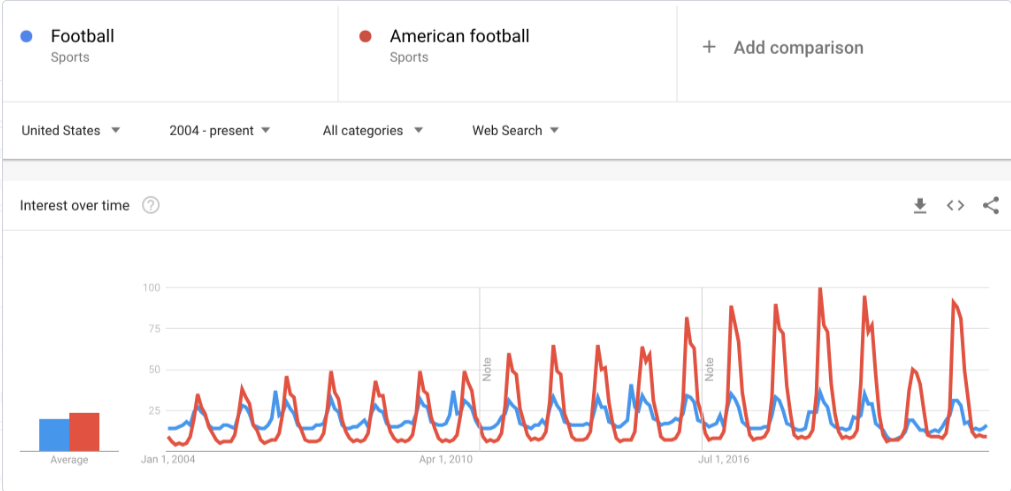 Image via Semrush
This free tool allows you to analyze historical and real-time search trends, as well as compare keywords and topics to gain insights into the audience's interests and behaviors.
The 'related queries' feature lets you generate new keyword ideas related to your original keywords relevant to the region you want to target. Furthermore, you can analyze and compare interests on a given topic by country to brainstorm content ideas.
Semrush
Semrush's Keyword Magic Tool allows you to enter a seed keyword to generate a list of related keywords. You can filter the results by different parameters including competition level, cost-per-click (CPC), and search volume.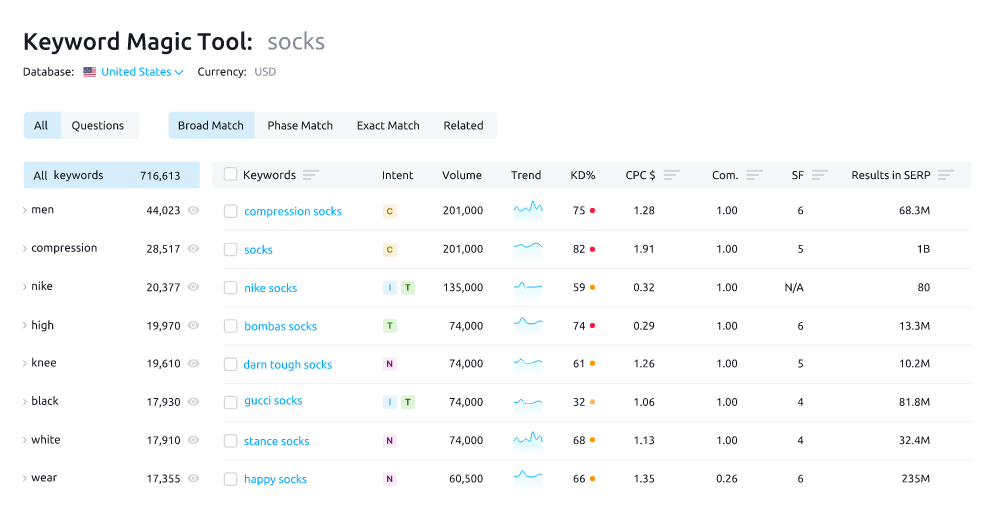 Image via Semrush
A good starting point can be 'broad match' keywords. Once you start making sense of how it works, you can move to the 'related' filter to see all the keywords that are similar to your seed keyword.
Ahrefs
Ahrefs's Keyword Explorer is one of the most efficient tools when it comes to keyword research. Apart from giving you PASF keywords, it offers valuable insights that can help you optimize the content on your website.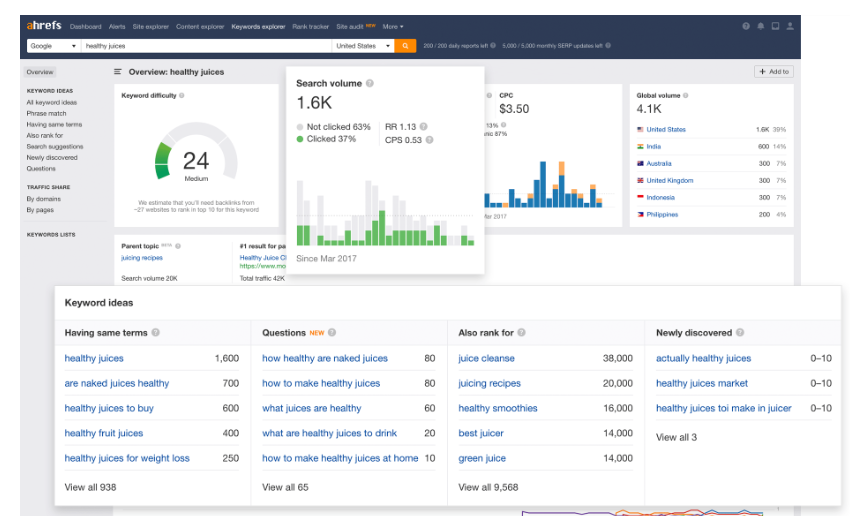 Image via Ahrefs
The tool gives you all the relevant metrics like volume, keyword difficulty score, etc. Plus, you can access advanced SEO metrics such as clicks per search, return rate, % of paid clicks, and more.
Moz
Moz is another keyword research tool that can give you the best results to obtain high search rankings for your website. Apart from helping you discover PASF keywords, it gives you SERP analysis for a keyword, including the title and meta descriptions of the pages that rank.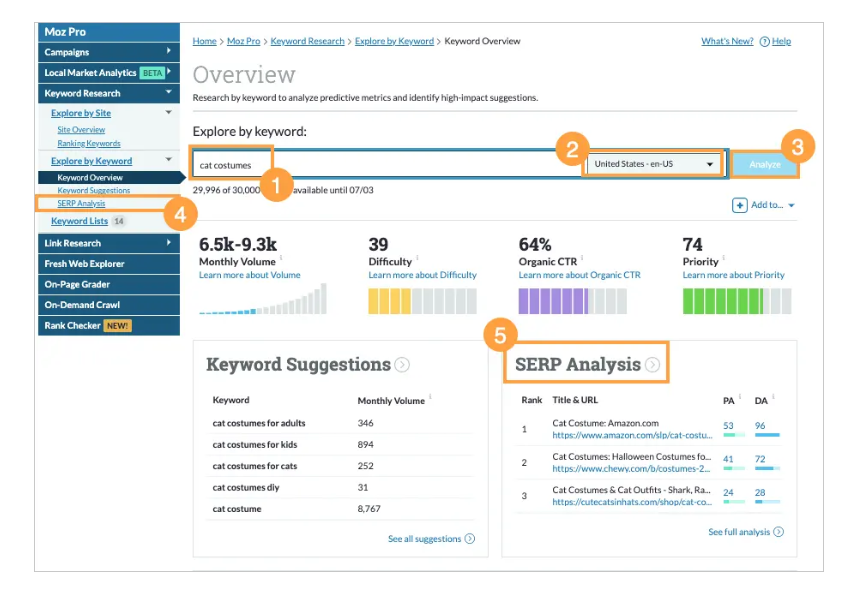 Image via Moz
The historical metrics can let you know the trend of specific keywords over time and help create content intelligently. Other features include batch analysis, which allows you to analyze multiple keywords all at once.
Lastly, the tool also allows you to group and organize your keywords into lists that you can use to track progress of specific campaigns or topics.
FAQs
1. What is "People Also Search For" on Google?
People Also Search For is a Google feature that appears on your search results page displaying a list of related queries that users have searched for. It appears after you click on a search result and return back to the SERP.
2. What are the 3 main categories people use for search?
It is commonly accepted that the 3 main types of search queries are navigational, transactional and informational.
A navigational query is intended to help a user find a specific webpage or website.
A transactional query is intended to help a user complete a specific task, like filling out a form or making a purchase.
An informational query is intended to help a user find information on a specific topic.
3. How can I rank in the 'People Also Search For' boxes?
To rank in PASF boxes, focus on creating relevant and high-quality content that can address the interests and needs of your target audience. Consider the user intent behind the queries you want to rank for and incorporate target keywords to write your content.
4. How can I use 'People Also Search For' to my business's advantage?
Here are a few ways in which People Also Search For can benefit your business:
Identifying new content opportunities
Identifying related keywords
Understanding user intent
Improving current content strategy
Attracting more visitors with targeted content
5. Are "People Also Ask" and 'People Also Search For' the same?
People Also Search For and People Also Ask are similar features that appear on SERPs, but they're different. PASF shows a list of related terms or phrases, whereas, People Also Ask shows a list of related questions with brief answers. Both these features are intended to help the users discover new topics related to their search.
The Bottom Line
To conclude, Google's People Also Search For feature offers an excellent opportunity for businesses to get more organic traffic to their websites, resulting in a higher click-through rate.
It can also provide detailed insights into the type of questions and related topics the users may be interested in. The insights can then be leveraged for developing targeted content that meets the user's needs.
It is likely PASF will continue to be important for SEO in the future. As these features evolve and become more sophisticated, it will be crucial for business owners to stay updated with the latest and use it to their advantage.
This is especially true as SEO becomes more competitive and businesses seek to stand out in the crowded online marketplace.
For more tips and tricks to up your SEO game, have a look at our SEO checklist.