Content Distribution Strategy: A Guide (Checklist Inside)
You may have created exceptional content, but without a solid content distribution strategy in place, it'll likely not reach a large audience.
And that's precisely what you wouldn't want.
After all, what purpose would your content serve if it doesn't reach your audience?
Hence, having a realistic content distribution strategy is critical in a world where there's cut-throat competition to rank higher in the SERPs and occupy social media feeds.
But what is a content distribution strategy, and how do you create one?
Let's find out.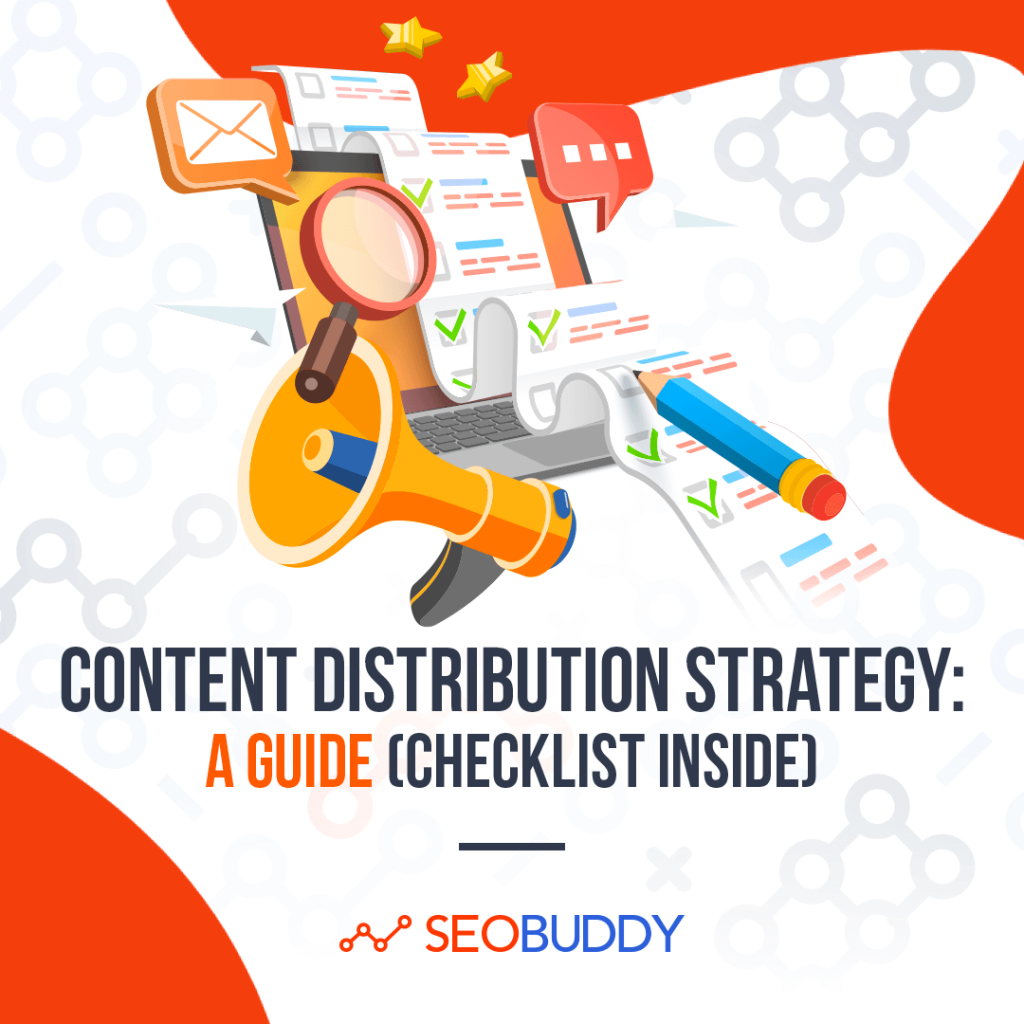 What is a Content Distribution Strategy?
A content distribution strategy is a plan of action to share, publish, and promote various forms of content to online audiences via different channels.
In layman's terms, content distribution is how you help your content reach its intended audience via several online mediums like your social media account, email, website, etc.
We will take you through the process of creating a content distribution strategy. But first, let's understand the different channels of content distribution.
Different Content Distribution Channels
Content distribution channels are the various online platforms and mediums through which you can funnel your content. Generally, marketers categorize content distribution channels into three groups for creating their strategy.
Self-owned content distribution channels: These are your company-owned distribution channels that include your blog, social media handles, an email database, mobile apps, etc.
Earned content distribution channels: These content distribution channels are owned by third parties, but they accept content publishing. These channels can be your blogger friends, forums, blogs that accept guest posts, etc. Although posting on these websites is free, you don't own the content after publication.
Paid content distribution channels: These distribution channels include online platforms that charge a fee or commissions for content publishing. Paid distribution channels include influencer marketing campaigns, paid guest posting, sponsored content, social media ads, etc.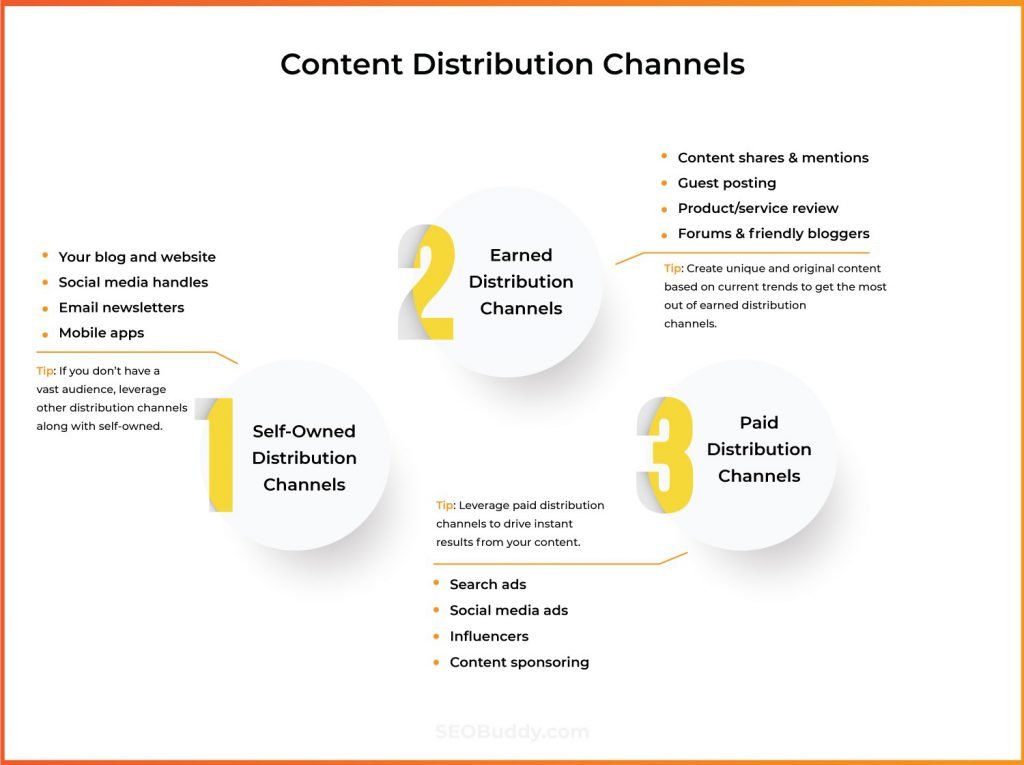 Given the variety of content distribution channels, it gets challenging to decide which medium you should prioritize.
Paid content distribution channels are great for instant results from your strategy, whereas organic (self-owned and earned) deliver higher ROI over the long run.
Among organic distribution channels, earned channels are hard to obtain, whereas self-owned channels might not deliver instant exposure to your content, especially if you don't have a vast audience already.
The best approach to content distribution is to find a balance between all three types of content distribution channels.
And if you don't have a directory of domains for earned content distribution channels, you can leverage our link chest. Here, you can find tons of domains including review sites, infographics submission, press releases, forums and communities, and guest blogging.
We'll talk more about how to optimally use the content distribution channels at a later stage when we discuss how to create a content distribution strategy.
But before jumping into that, let's glance through the types of content you can distribute.
(Psst. If you buy or have bought our SEO Checklist, you'll get a content distribution checklist for free!)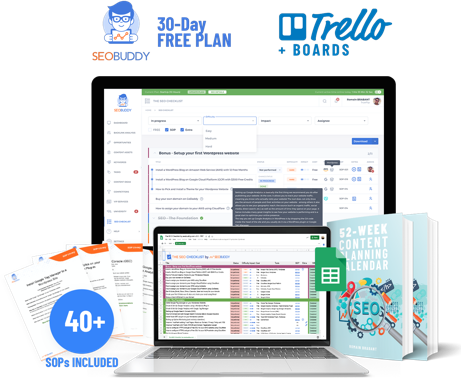 There's more…
Now it's time to discover the other 102 steps that will get more organic traffic flowing to your website. Get the SEO Checklist here.
Want to get a sneak peek of what it looks like?
Enter your email and get a free demo version of the SEO Checklist.
Different Content Types for Content Distribution
There are dozens of content types that you can allocate for your marketing communication strategy.
Here are a few popular types of content you should focus on: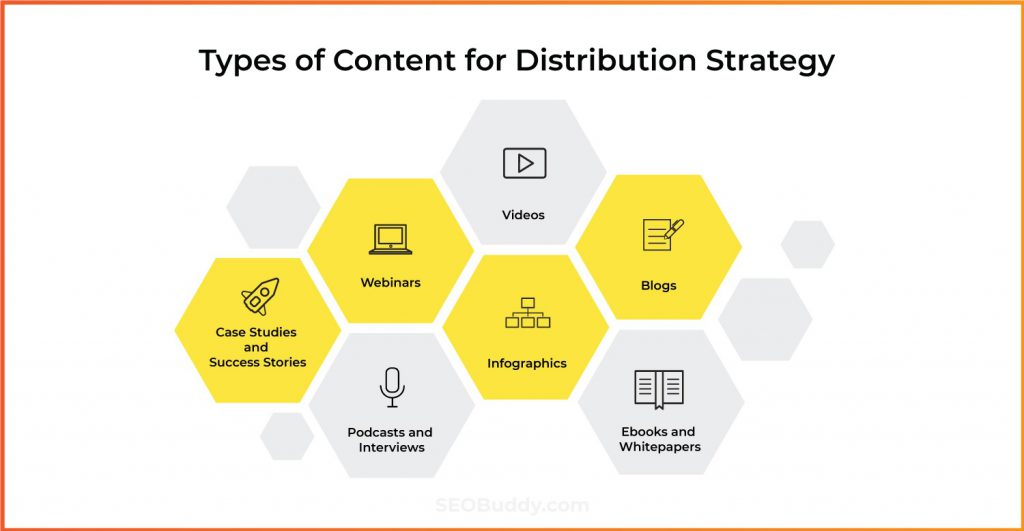 Case Studies and Success Stories
Case studies are a great form of content to communicate how effective your products and services are for your customers. You can distribute these types of content through your website and social handles.
One great approach is to create success stories in text and video format, post them on your website, and distribute them through social media accounts and emails. They can also help you generate backlinks.
For example, note how we've dedicated a section to success stories and case studies from experts.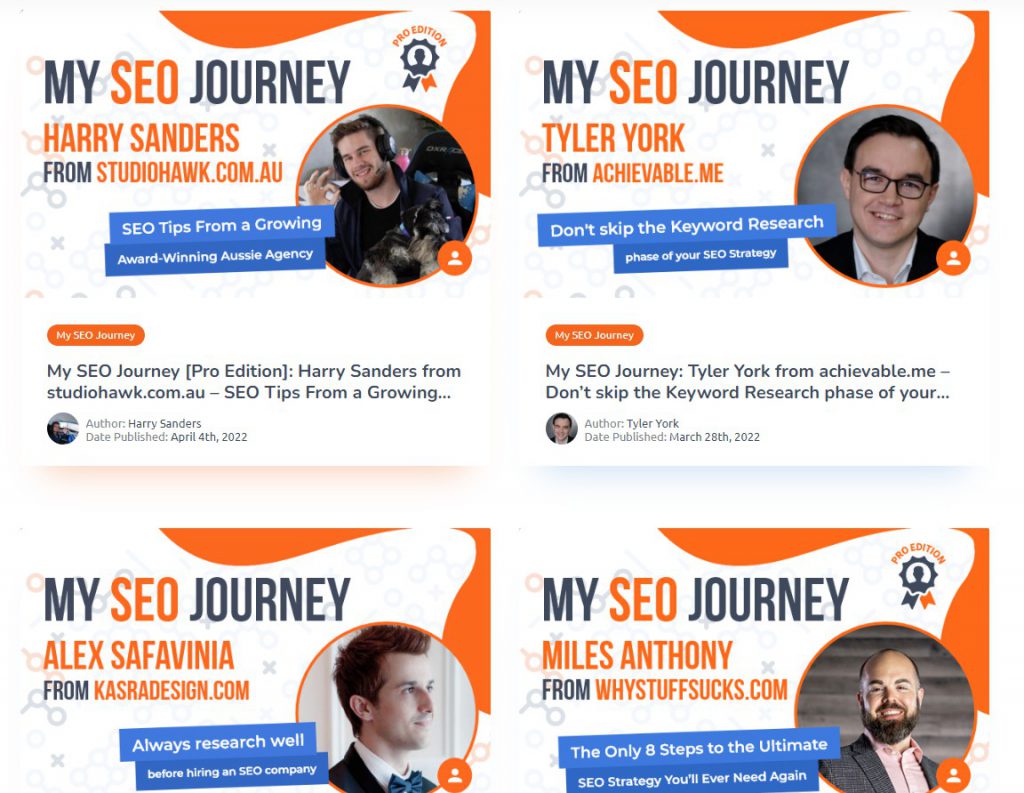 Webinars
Webinars are a modern way for brands to share valuable information. If you have something to add to your business community, you can conduct webinars.
They can be distributed via your website, YouTube, emails, and as a call-to-action on your blog posts. You could also promote your webinars through social media.
For instance, note how so many webinars are being hosted on LinkedIn.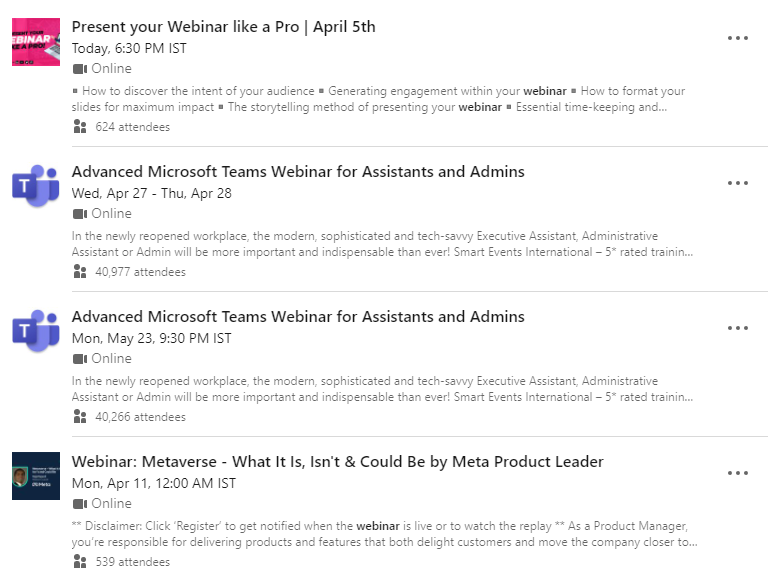 Podcasts and Interviews
Podcasts are great tools for connecting and engaging with your audience.
In fact, 78% of Americans are aware of podcasting, and 57% of Americans have listened to a podcast in the past. So this form of content can be great for your brand to promote itself online.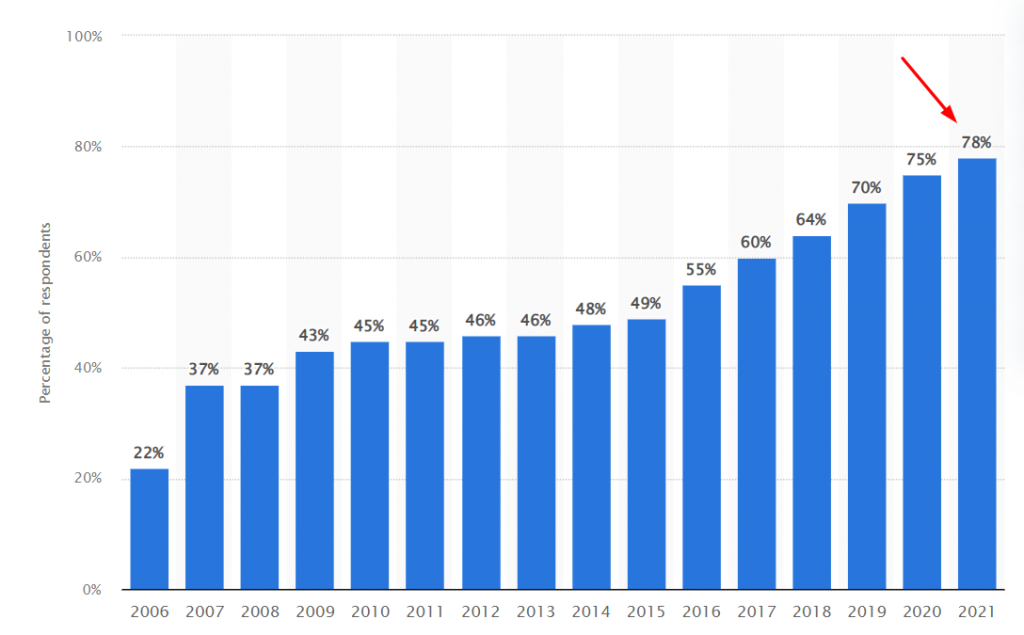 There are several platforms like Apple Podcasts, Google Podcasts, and Spotify where you can upload your podcasts and showcase them to your audience.
Videos
Video content is a foolproof way of increasing engagement for your brand message. Given the higher engagement, almost 86% of the brands use video as their marketing tool.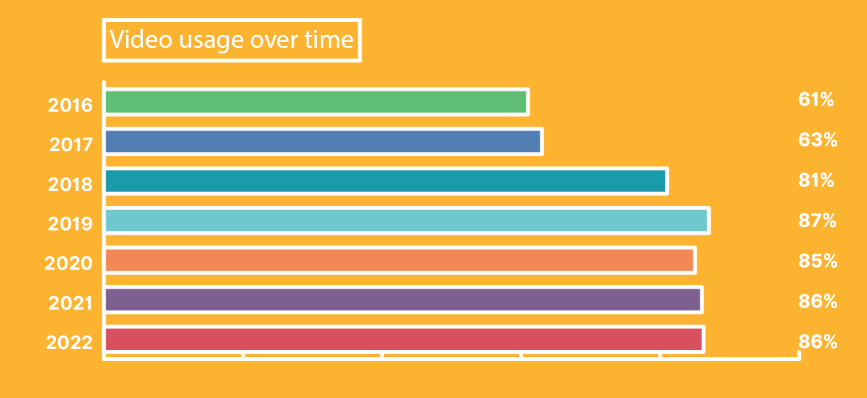 You can distribute videos (such as explainer videos) via both organic as well as paid distribution channels. The ROI is very likely to be favorable to you. However, make sure that your videos are eye-catching and grab viewers' attention within the first few seconds.
Many platforms like Instagram, TikTok, Snapchat, and even YouTube allow users to post short-form videos. You could leverage these videos to promote your brand and drive engagement.
Infographics
Infographics are the visual representation of text, data, and graphical elements. Most brands post infographics on their website and put an embed code at the end, using which others can share/use the infographics on their website.
Other than posting infographics on your website, you should also share them on Pinterest and other infographic-sharing websites. Many digital marketers use infographics for link building as they're easy to share and can be great assets for other websites. This, in turn, makes it a great strategy to get backlinks.
Blogs
Blogs are an effective and popular method of marketing communication. They're great for SEO and can help you rank in the SERPs for numerous keywords.
If your blog has ample visitors, you just publish your blog posts over there and increase the reach of your website.
However, if you don't have many visitors on your blog, you can still drive traffic to it by leveraging SEO, email marketing, and social media marketing.
Note how we've added a blog to our website as well.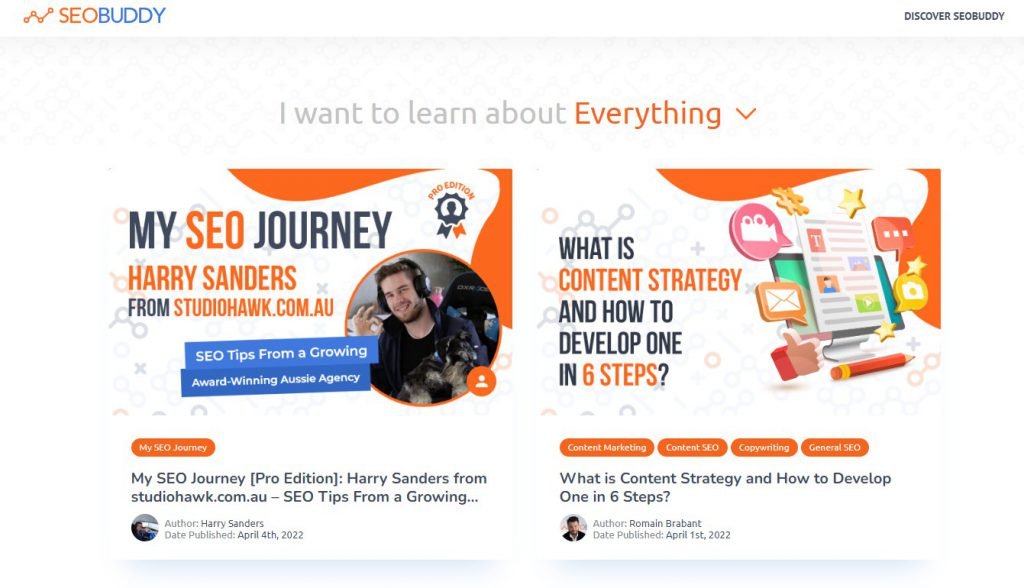 Ebooks
Many marketers turn their blogs and case studies into ebooks to gain the attention of the target customers. Ebooks are a great form of downloadable content that brands can offer in exchange for customers' contact information.
What we've discussed are the most common types of content that marketers distribute to increase brand awareness and funnel customers towards the bottom of the funnel.
Now, let's discuss the core of our discussion – how to build a content distribution strategy.
(Don't forget to download our SEO Checklist. You'll get a bonus content distribution checklist with it!.)
How to Build a Content Distribution Strategy?
Alright, so we've discussed the types of content and the different distribution channels. Now we've everything in place to create a content distribution strategy.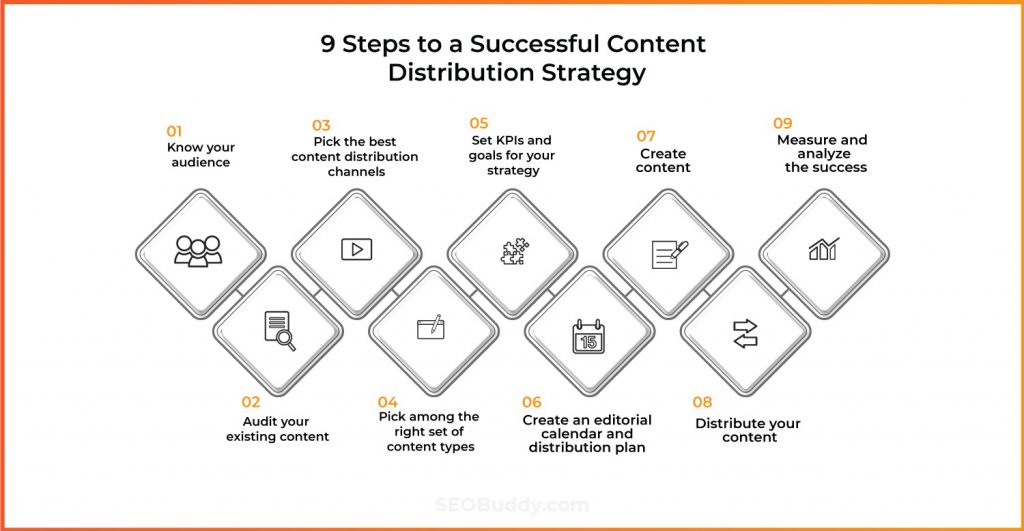 Here is how to build a content distribution strategy in 9 simple steps:
1. Identify Your Audience
Content marketing, or distribution, is all about getting your content in front of your target audience. In order to do that, you need to understand where your target audience is and what form of content they prefer to consume.
Hence, before you build your content marketing strategy, you should conduct audience research to know exactly what and where you should promote.
Here is how you can conduct audience research:
Extract Information from Analytics
You can start by collecting information about your existing customers, and analyzing your website visitors' demographic data, email subscribers, and social media followers. Basically, you need to use this data to create a buyer persona.
If you have a decent daily visitor count on your website and social media, go to your Google Analytics and social media analytics tools to extract information related to your audiences' age, gender, location, education, income, device preference, etc.

You can even conduct customer interviews to understand your target audience and their problems better. This would help you plan your content distribution strategy better.
Create Audience Personas
Once you have information related to your target audience, you can use this to create audience personas. These personas act as models of your ideal audience and represent their preferences related to content consumption.
These audience personas will be your inspiration for building content for your target audience.
2. Audit Your Existing Content for Gaps
You probably have some content such as blog posts, videos, and social posts published already on your website and social media accounts.
Although your new content strategy doesn't involve removing the existing content, you can audit this content to understand what works and where.
What's more?
If you audit your existing content and compare it with that of your competitors, you will probably find content gaps that you can fill with new content forms.
You can also transform your existing content into new content forms. For example, it's standard practice for content marketers to create infographics and videos based on a blog post.
3. Pick the Best Content Distribution Channels
Your content distribution channels are imperatively more critical for your content marketing strategy than your content itself.
Now when you know where you can find your target audience, you need to decide which content distribution channel shall be your priority.
For example, Instagram is among the best platforms for B2C brands, whereas for B2B brands, it's not a priority. B2B brands tend to distribute their content more on Twitter and LinkedIn.
Depending on your audience research, you may decide to post on forums and communities like Quora and Reddit too. And maybe, you could even opt for paid promotions to promote your content.
4. Choose the Right Content Types
After you've determined your content marketing channels, it's time to pick the suitable types of content for your distribution strategy. The content types you pick will be majorly influenced by the channel of your content marketing strategy.
Let's say you're planning to distribute your content via Instagram and LinkedIn. In that case, you'd want to create short-form videos like Reels and Stories for Instagram, whereas for LinkedIn, you'd create carousels, long-form videos, and blogs.
A very common and effective form of content is blog posts. Over 50% of businesses use blogs to promote their content when they have a content strategy. Videos remain the #1 form of content too.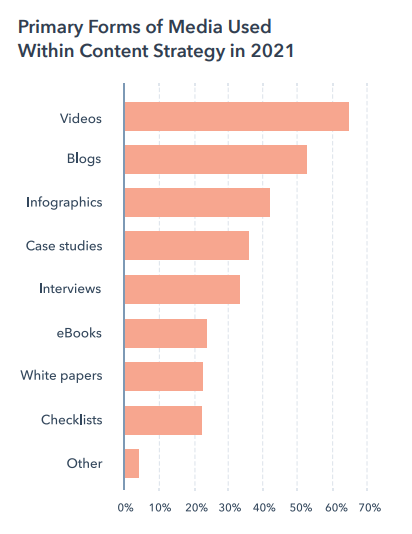 So, leveraging both blogs and videos is a no-brainer for you when you're developing your content creation and distribution strategy.
(Too much to remember? Fret not. We've got a handy SEO Checklist for you that comes with a BONUS content distribution checklist!)
5. Set KPIs and Goals for Your Content Distribution Strategy
Strategy is the path, goals are the destinations, and KPIs (key performance indicators) are the metrics that tell you how well you're doing working towards your goals.
Hence, you should identify these metrics and set up realistic goals for your content distribution strategy. The reason for this is that clear goals will help you align your efforts to reach them.
You need to start by setting SMART goals that will help you plan your strategy better and simplify the process of identifying related KPIs.
But what are SMART goals?
SMART stands for Specific, Measurable, Attainable, Relevant, and Time-bound.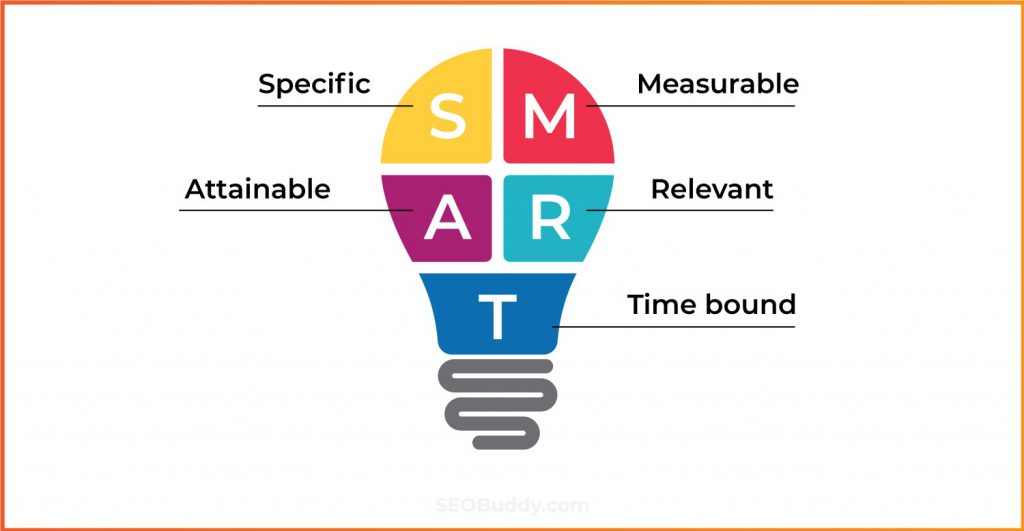 Now that you have the goals, you can decide on the key metrics that need to be tracked to check if you're on the path or have achieved your goals.
Some of the content marketing KPIs and their subsequent metrics are: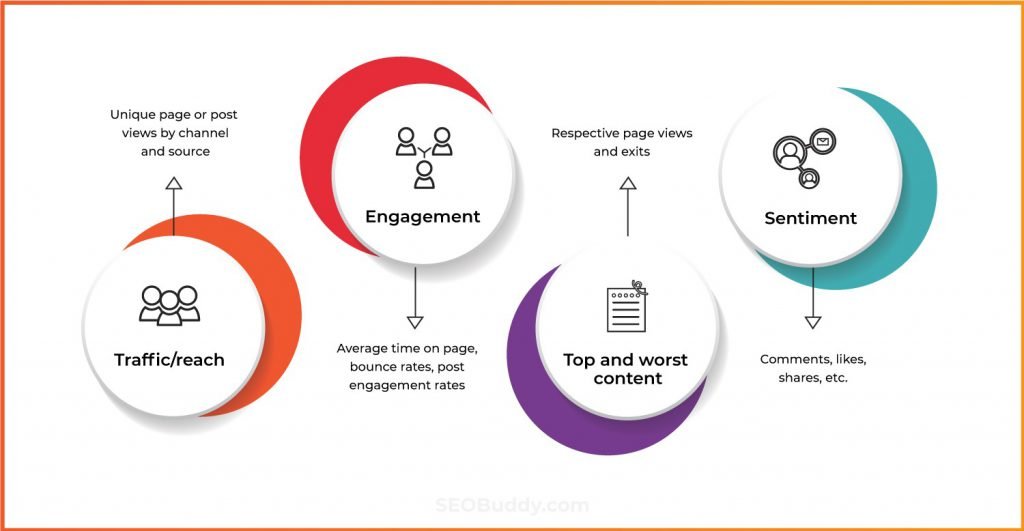 Traffic/reach – Unique page or post views by channel and source
Engagement – Average time on page, bounce rates, post engagement rates
Top and worst content – Respective page views and exits
Sentiment – Comments, likes, shares, etc.
These metrics can vary depending on your channel of distribution, so you have to be sure to choose the right metrics for your strategy.
To track these metrics, you can use Google Analytics, social media analytics tools, and other third-party analytics tools. More on that later, though.
6. Create an Editorial Calendar with Distribution Plan
Planning is an inseparable element of a successful content distribution strategy. An editorial calendar can come in handy for this planning process.
And how can you create one?
You can either use content distribution tools like Hootsuite or create a plan on Google Sheets and Calendar.
The editorial calendar will help your team stay aligned towards the goal and work together to achieve it. Additionally, it'll act as a roadmap that tells your writers and designers what they'll be working on in the coming weeks.
Here is an example of how you can create an editorial calendar using Google Sheets.

Moreover, your editorial calendar can contain the distribution plan. All you have to do for that is add a few more columns and subcolumns.
You can even add publishing destinations and repurposing plans to allow your editorial calendar to act as a hub for content creation and distribution.

7. Create Content
When you're done with all the steps mentioned above, it's time to create the content. You already have decided which types of content you'll create and distribute via which channels. So this process shouldn't be cumbersome for you.
However, for content creation itself, you'd need to conduct research. There are several tools you can use for content creation. Check out the following:
AnswerThePublic – Helps you add more information to your content by providing insights into what people are searching for.
People Also Ask – Although this isn't a tool, it's a Google SERP feature that guides you to what information people seek related to your topic. The questions featured here can give you insights into what needs to be included in your content.
Canva – Is a universally recognized graphic designing and video editing tool that is very effective in creating infographics, social posts, etc.
Vimeo – Is an online video storage library that you can use to store and fetch videos on your website.
(Want a handy checklist that you can refer to at each stage of creating your content distribution strategy? Download our SEO Checklist now to get a FREE content distribution checklist.)
8. Distribute Your Content
And now for the most important part of a content distribution strategy — distribution.
You need to follow your editorial calendar and distribution plan to help your content reach your target audience. For every content distribution channel, make sure that you optimize your content as per the best practices.
For instance, if you're posting on social media channels, you should ensure that the images are of the correct dimensions. At the same time, you should publish the content only when most of your audience is online.
What's more?
While considering the distribution of content, it's important to plan how you'd go about the distribution strategy.
For example, would you publish a post on social media first or send out an email blast to your subscribers? Or would you do both together?
This is something that you'd need to consider before distributing your content as it could impact your reach and engagement both.
9. Measure and Analyze the Results
Measuring the success of your content distribution strategy allows you to create better strategies in the future or even optimize the current one.
To measure the success of your current content distribution strategy, pull out your SMART goals and KPIs.
You need to analyze your content performance using the KPIs to see if you're lagging behind your goals or have successfully achieved them. Based on this, you can optimize your strategy based on what's working and what's not.
For instance, you might observe that videos are driving better engagement than other forms of content. In that case, you can double down on your video creation and distribution efforts.
Now you probably shouldn't have any doubt about how to create a solid content distribution strategy. But even if you do, it's always best to have a handy checklist with you to ensure that everything goes according to plan. We've created one for you that you can get for free with our SEO Checklist.
Top Content Distribution Tools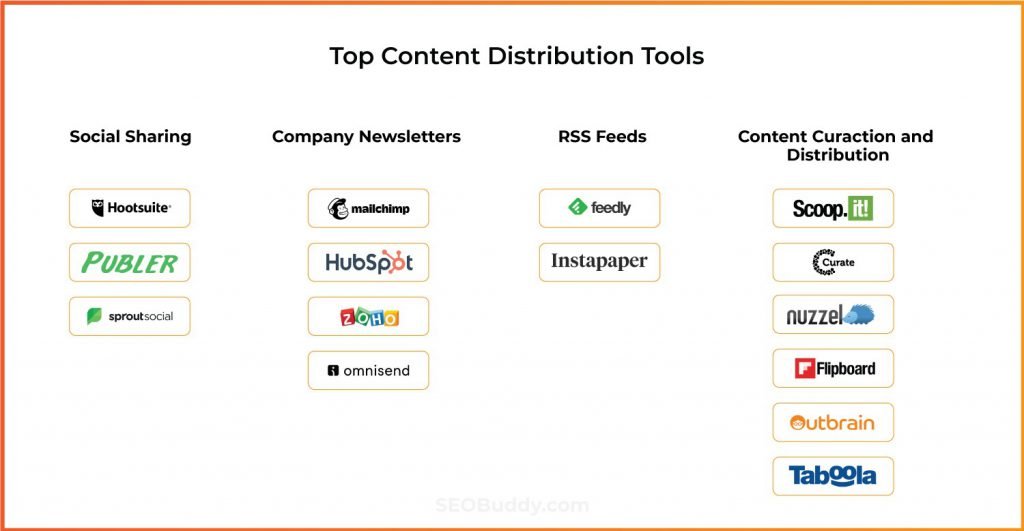 Content distribution efforts are burdensome, and content marketers require tools that can help them execute this strategy well.
We've categorized the content distribution tools into 4 categories so that you can pick the ones that matter.
Here we go.
1. Social Sharing
Social media is one of the most important content distribution channels and that's why it's essential to leverage tools that can help you leverage the well.
Social media management tools can speed things up for you by automating manual tasks related to social sharing. In fact, most of these tools have an option to add your blog's RSS feed to automate social shares every time you add a new blog post to your site.
What's more?
Some tools also let you schedule social media posts in advance so that they're published at the exact time that you want. These tools can also help you manage publishing from a single spot.
Following are the top content distribution tools for social sharing:
2. Company Newsletters
Email marketing is indispensable to the success of your business. But to send out emails in bulk, you need an email marketing solution. Following are the best tools for sending newsletters via email.
3. RSS Feeds
RSS Feeds are still alive when it comes to content distribution. You can add an RSS feed option on your blogs or integrate RSS feeds into your email marketing tool.
The former will allow users to add your RSS to their favorite RSS reading app, such as Feedly. And the latter will allow your newsletter subscribers to read and interact with your blog post or podcasts within the email.
Integrate RSS into your email newsletters to automate the distribution. You can use your existing email marketing tools like Mailchimp, HubSpot, etc.
Add RSS feed to make it easy for subscribers to add your RSS to their RSS reader tools like Feedly and Instapaper.
Add your RSS feed to public channels.
4. Content Curation and Distribution Networks
Modern content marketing approaches require marketers to include thought leaders in their distribution strategy. This allows them to infuse authenticity into their content and obtain more readers.
You can curate content from these thought leaders and share it with your audience. The idea here is to position your brand as a thought leader by sharing helpful content related to the industry. Additionally, the content can also help grow your reach and engagement.
Some of the tools you can use are:
(Don't forget to get your free content distribution checklist by downloading our SEO Checklist.)
FAQs
1. What is a content distribution strategy?
A content distribution strategy is a plan of action to share, publish, and promote various forms of content to online audiences via several channels.
2. What are the 3 types of content distribution strategies?
There are 3 types of content distribution channels through which you can funnel your content to a mass audience:
Self-owned content distribution channels
Earned content distribution channels
Paid content distribution channels
3. What is the difference between content strategy and content marketing?
Content marketing deals with creating, publishing, and distributing content, whereas content strategy is the foundation upon which successful content marketing is done.
4. What are the best ways to distribute content?
Following are the mediums through which you can distribute your content:
Email newsletters
Social sharing
RSS feeds, and distribution networks
Your blog and website
Search ads
Social media ads
Influencer marketing
Content sponsoring
Content shares & mentions
Guest posting
Product/service review
Forums & friendly bloggers
5. What is content distribution marketing?
Content distribution marketing is a process of creating, publishing, sharing, and promoting your content to a broader audience. The idea here is to ensure that your content reaches its audience.
Create Your Strategy Now
Content distribution is a critical step in the process of content marketing. Without it, you can't expect even the best content to perform well.
And that's why it's crucial to understand the various owned, earned, and paid media channels and leverage them to distribute your content. Wondering how you can go about it all? Here's a detailed SEO Checklist we've prepared, which comes with a free content distribution checklist. Download it now!