How to Write a Follow-Up Email After No Response [Examples Included]
You need to know how to write a follow-up email when you don't get a response from a prospect. There's no doubt about it.
But how exactly can you figure out if a prospect has missed your email?
Most people respond to an email immediately when they open it. So, if a day or two have passed since you sent an email and there has been no response, it's safe to assume none is coming.
But here are some tricky decisions you have to make.
When exactly should you send a follow-up email and what should you write? If they still don't respond, what next? We'll get to it.
We'll provide a step-by-step guide on how to write a compelling follow-up email that meets this standard and provide you with examples to guide your next follow-up email.
Let's dive in.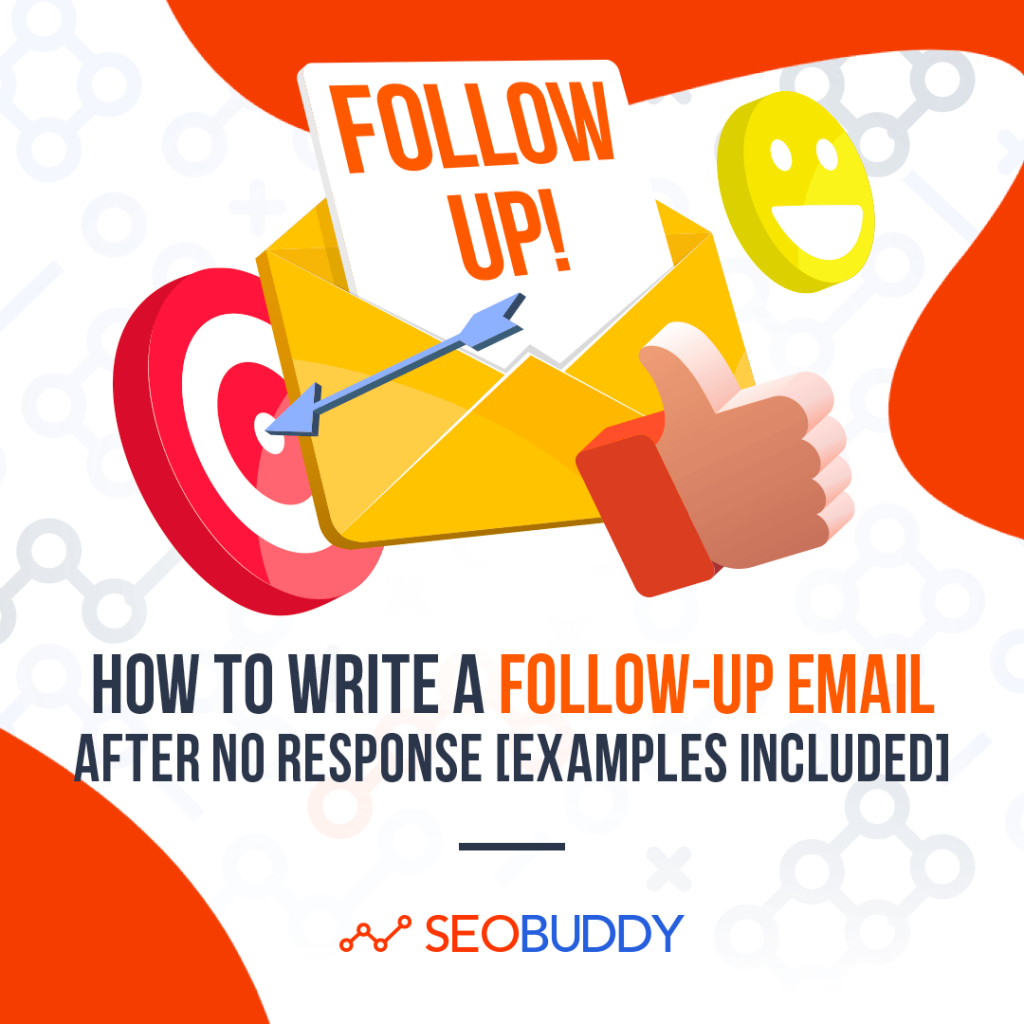 Why Send Follow Up Emails
The answer is simple—when you write a follow-up email, you increase your chances of getting a response.
When a recipient fails to respond to your email, it doesn't always mean that they have no interest in what you're offering.
For all you know, they may have missed your email altogether. Given the fact that over 300 billion emails are sent and received daily, worldwide, this is a fairly common occurrence.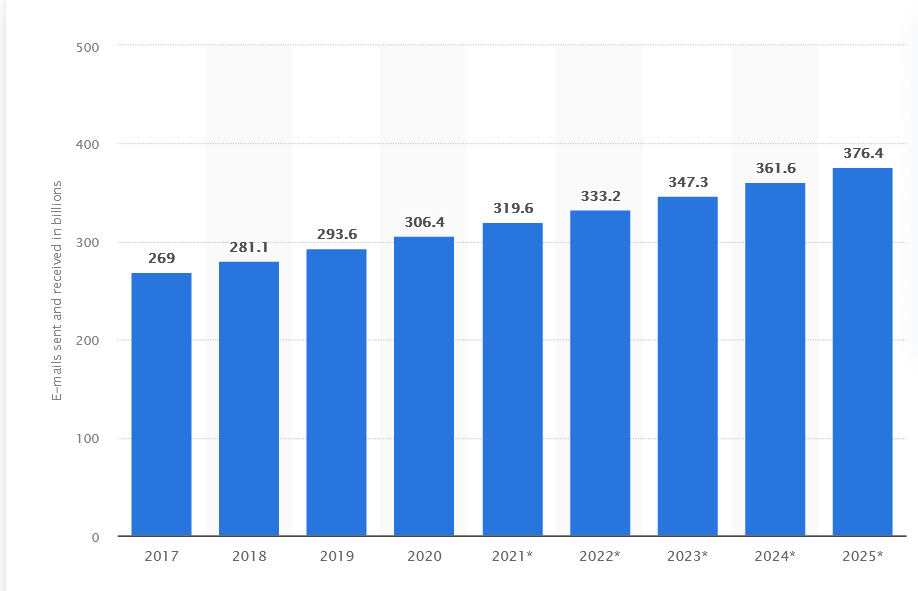 Image via Statista
This could be especially true if you're contacting them for the first time.
Most people are likely to prioritize reading and responding to emails from their co-workers, clients, investors, and business partners. Your email will be a secondary priority.
Besides, there could be countless other reasons behind the no-response, such as:
They read your email but got busy with their personal and business life and forgot about it
Your email contained spam trigger words and ended up in the spam folder
Your subject line didn't grab their attention, so they didn't open it
Your timing was off. Maybe the email got to them at night or during a weekend and didn't get opened. Data shows that emails sent after 9.00 p.m. have the lowest engagement rate of 1.3%.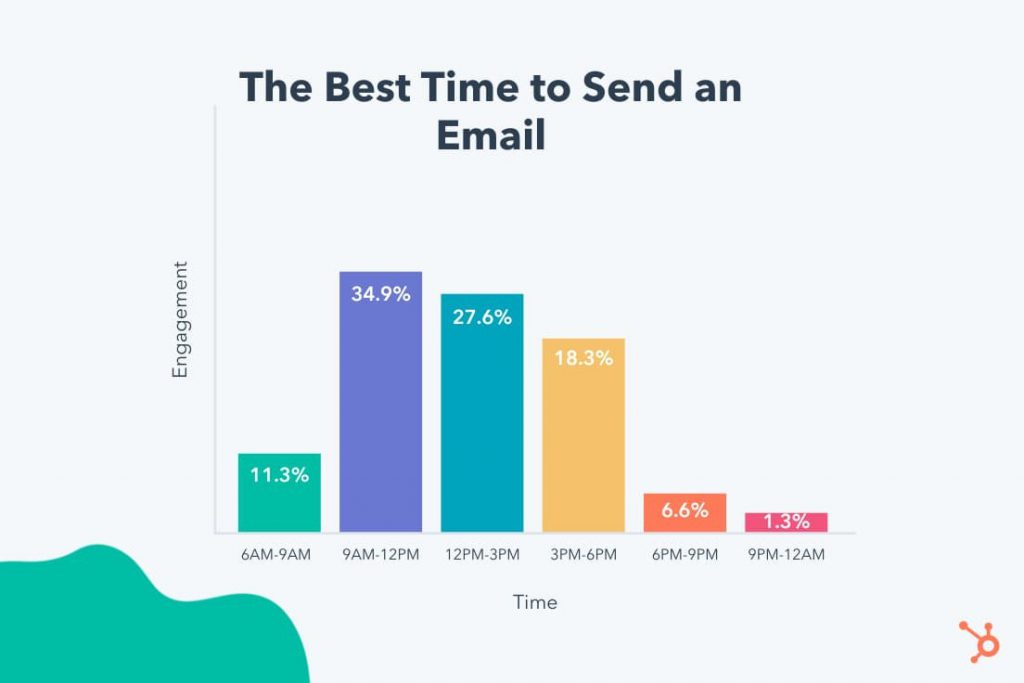 Image via HubSpot
You didn't send it to the right person involved in the decision-making process
You didn't explain your value well enough to grab their interest
Whatever the reason, when you write a follow-up email, you get a chance to redeem yourself. You also begin to build gradual trust among your prospects.
And if you follow our guide on how to write a follow-up email, each interaction with your prospects adds value for them, which ultimately leads to conversions.
You May Also Like:
How Long Should You Wait to Send a Follow-Up Email?
Not long.
According to a survey of online users in the United States, 38% of people send a follow-up email within 2 to 4 days, while 28% send it after one day.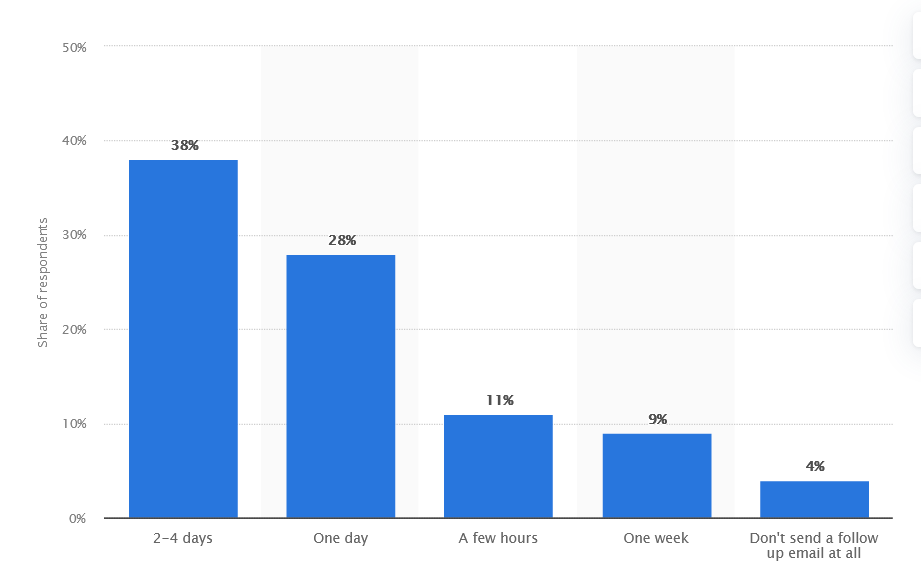 Image via Statista
So, what's the best time you should wait to write a follow-up email? Most experts recommend waiting 2-3 days before writing your first follow-up email after no response.
A week is too long and sending it on the same day shows desperation.
You can then gradually increase the waiting time by a few days for each subsequent follow-up email.
How Many Follow-Ups Should You Send?
Three follow-up emails are often enough to know if a prospect is interested in what you're offering or not. But this is not a one-size-fits-all number.
The ideal number of follow-ups you can send will depend on two factors:
1. The Relationship with Your Target Audience
For cold leads, you may need more follow-ups to warm them up and give them time to learn about your business.
For warm leads, fewer follow-ups are necessary because they're already familiar with your business.
2. Whether You Have More Value You Can Provide the Recipient
We recommend sending a follow-up email only if you have a reason.
Sending one value-filled follow-up email is better than sending three follow-up emails that don't add any value to the recipient.
If you can't provide additional value with every subsequent email, knock yourself out.
Pro tip: Test out different follow-up sequences and find the one that works best for your business. Find the sweet spot where you're not being pushy with too many follow-ups and not being too modest with a few.
If you feel you still need to send more follow-ups at the risk of being annoying and burning bridges, try reaching out through other marketing channels. You can try Twitter or LinkedIn.
You May Also Like:
How to Write Effective Follow-Up Emails
Here's how to write a polite follow-up email that drives results.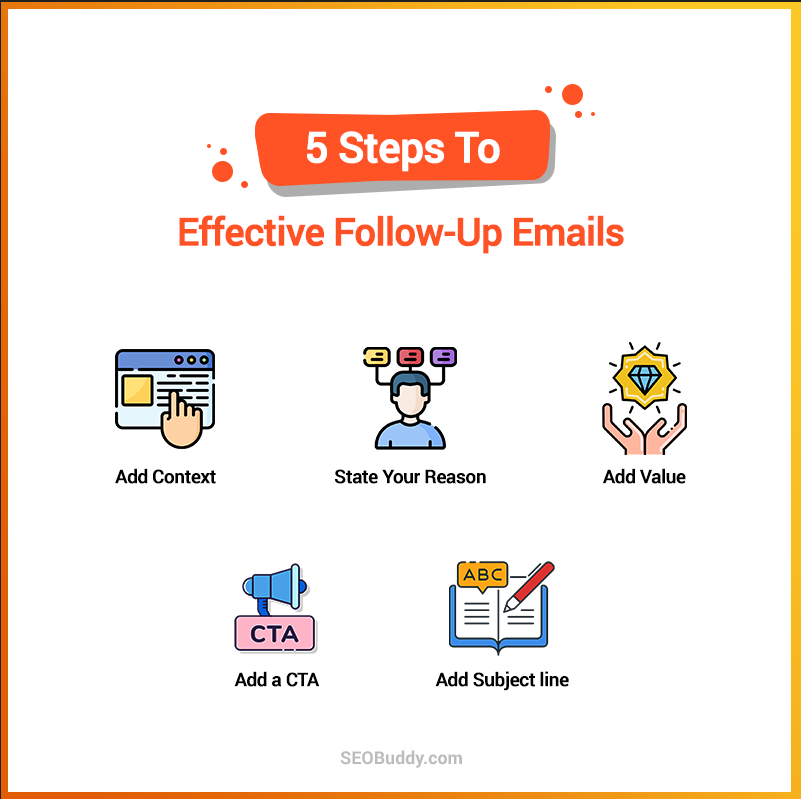 1. Give Your Follow-Up Email Context
Step one of how you can write a follow-up email is to reference the email that received no response.
People receive lots of emails every day. An opening line with an identifier of some sort will help them remember who you are and what your follow-up email is all about.
It gives your email some context too.
Even if the recipient will have no recollection of your previous email, they're likely to have a positive response to your email once they know they have heard from you before.
Aim to provide context without sounding like you're accusing the recipient of ignoring your email. Maybe they did. But guilt-tripping them into responding is not the way to lay the groundwork for a strong relationship.
You want to sound friendly and ready to provide more value. So make sure you personalize it well.
Here are some openers you can use to provide context:
Hey (first name), did you have a chance to look at the (resource, link, etc.) I sent a few days ago?
(First name), were you able to review my last email? I want to know your thoughts on it
Pro tip: Avoid over-apologizing for 'bothering' the recipient again. It'll only make your email lengthier than necessary and could make you sound desperate. It's best to keep it straightforward.
2. State the Reason You're Emailing
The recipient shouldn't have to go back to the previous email to learn the reason you're contacting them.
Give your reason in a direct and concise way. Being vague makes you sound untrustworthy and spammy.
Polish your copy to pique their interest and make them want to respond. Be as specific as possible and get to the point quickly. They won't have time to read through walls of text.
For instance, you can mention the prospect's problem and offer a solution or use a recent trigger event to show how you can help.
Here are some sample sentences:
I'm convinced (product name) will boost the efficiency of your business operations. I'd love to have a quick chat with you to find out how we can work this out.
(Product name) could help you do (specific element of prospect's role) more effectively. I was wondering if you would want to try it out for a month to find out, completely free.
With this kind of clarity and specificity, it'll be clear that your intention is not to waste the prospect's time but rather, be of benefit to them.
You're likely to prompt a response.
You May Also Like:
3. Add Value
Now that you've made your intention clear, add a dose of extra value. Make it worth their while to open your email.
You can give them a free template, sample product, extended free trial, attractive discount or offer, or any other valuable resource like a webinar or e-book.
You could also share proof of how your product or service has helped other customers by sharing case studies, feedback, and Google reviews.
It makes your follow-up email less generic, provides social proof, and sets the stage for an organic and natural interaction. It also positions you as an authority to the email recipient and demonstrates your worth.
You should also use this email to try to collect more information from the recipient.
For instance, ask for their opinion about the pricing and whether it works for them. Ask about the features. Is there a problem that they're trying to solve that they are unsure if your product or service would solve?
And if they do answer your questions, respond as quickly as possible to build their trust and steer your relationship in the right direction.
You'll also get insights into the needs, wants, and pain points of your prospect, initiating a positive business relationship.
Pro tip: Every follow-up email should add more value than the last. And ensure it is relevant to the recipient.
4. Add a Call-to-Action (CTA)
End your follow-up email with a CTA that compels the recipient to respond.
Don't make it ambiguous. Make a specific and actionable request that guides the recipient to the next step you want them to take.
What's more?
Avoid overburdening them.
Make it easy for them to respond quickly by either reviewing your suggestion or simply writing 'yes.'
For instance, if you're trying to set up a meeting, ending with "Does 3:00 p.m. on Saturday work for you?" is likely to elicit a response.
For a follow-up email after no response, try not to make a 'big ask.' The recipient needs to trust you first.
Make smaller requests like a discovery call, meeting, or whether you can send extra resources.
Make your CTA different from your last request. Chances are, they saw your last email but your CTA didn't get them to act.
So, for instance, if you asked for a meeting in your last email, your follow-up email can ask them to forward you to the person responsible for making the decision at hand.
You could say "Are you the right person to discuss this with? If not, could you point me to the right person?". The idea is to reduce the friction and get them to take the action you want.
5. Add a Catchy Follow-Up Email Subject Line
You're probably wondering why the subject line came last in our step-by-step guide to writing a follow-up email.
This is because the subject line is one of the most critical parts of a follow-up email.
It's what catches your recipient's attention first before they even open the email. And that's why it's absolutely critical to get your subject lines right.
It's for this reason we suggest writing the body of the email first. Then write a strong subject line that is an accurate description of the content of your email and also grabs the recipient's attention.
Here are some quick tips for writing an effective follow-up subject line:
Personalize it. Emails with personalized subject lines have a 29% higher open rate than subject lines without personalization. You can include the recipient's name, location, company name, or other specific details about them.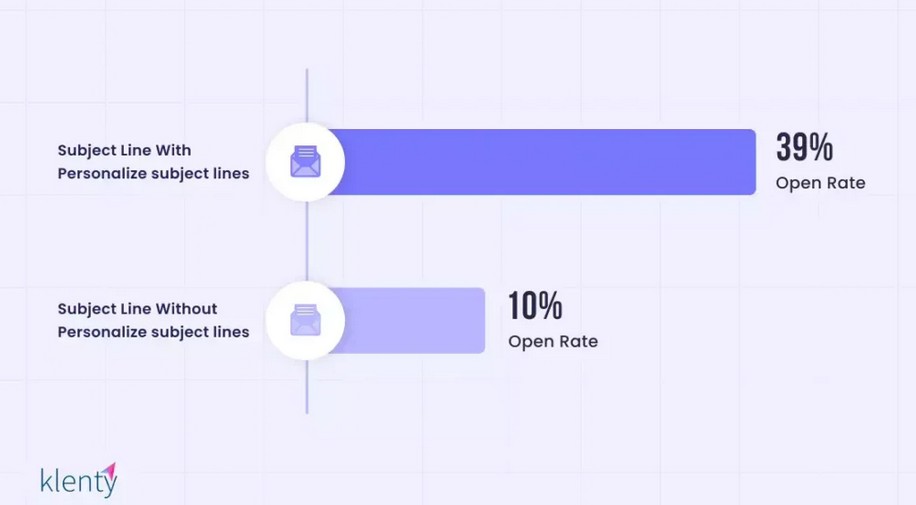 Be descriptive. You can catch their attention by describing something valuable that's in your email
Keep the subject line short. Studies show 4-5 words is the ideal length
Test your subject lines. Use A/B tests to find which variation of your subject lines gets the highest open rates
Again, don't reuse the original subject line and avoid using words that make the recipient feel 'called out.'
You could say something like:
Checking in about (email subject)
10-minute phone call on Thursday?
Business solution for (recipient name or company name)
Free Thursday at 9:00 a.m.?
Free resource for (recipient name or company name)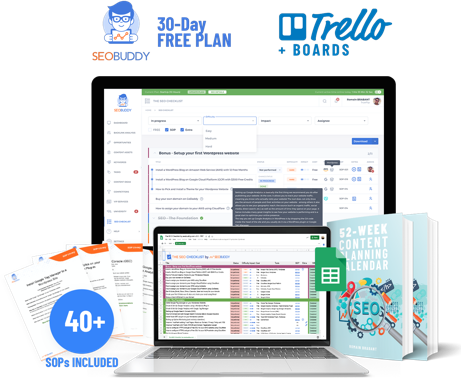 There's more…
Now it's time to discover the other 102 steps that will get more organic traffic flowing to your website. Get the SEO Checklist here.
Want to get a sneak peek of what it looks like?
Enter your email and get a free demo version of the SEO Checklist.
Examples of Effective Follow-Up Emails
Let's put this step-by-step guide on how to write a follow-up email into practical illustrations with these example templates.
Example 1
Email subject line: Wanna Boost Your Traffic Alex?
Hi Alex,
Have you had a chance to look at the SEO Checklist ebook we sent you?
I'm convinced that with the right SEO strategy powered by our SEO Checklist, you can boost your organic traffic and never have to worry about having a constant flow of qualified leads again.
Here is a link providing more details about the SEO Checklist.
But don't take our word for it.
We want you to have a first-hand experience of how the SEO Checklist will help you optimize your website and get it on the first page of Google.
We're providing you with a free 14-day trial (our usual trial period is 7 days). If you're interested, reply with 'yes' and we'll get you started.
Talk soon,
John Doe,
Product Manager,
SEO Buddy
Example 2
Email subject line: New Marketing Strategy for ABC Limited
Hi Jane,
Hope you're having a great week!
After sending my last email I got really excited about how we can help you develop a custom digital marketing strategy that works for you.
I'm convinced this free taster version of our SOP Collection will get you started on an effective SEO journey for your company. It's an instruction manual for reaching the coveted #1 spot on the SERPs.
Let's have a call so I can walk you through our process of developing an effective strategy tailored to your business. Does 10:00 a.m. Friday work for you?
Best regards,
John Doe,
Product Manager,
SEO Buddy
Example 3
Email subject line: Need help, Clark?
Hi Clark,
Clark, I just wanted to do a quick follow-up on your thoughts regarding the free trial offer I sent a few days ago.
Have you had a chance to try it out? The SEO Checklist will help you increase your organic traffic drastically. It contains practical and actionable SEO steps and tools that'll boost your ranking on Google.
In the meantime, is there a digital marketing challenge you're facing? Reply with "yes" for a free consultation with our experts.
Talk soon,
John Doe,
Product Manager,
SEO Buddy
FAQ
1. How long should you wait before following up?
After the initial email, wait for 2 to 3 days before you write a follow-up email. Gradually increase the wait time by a few days for each subsequent follow-up email.
2. How many follow-up emails should you send?
A good practice is to send 3 follow-up emails, as long as you have value to provide in each email. But it's best to test out different follow-up sequences and find one that works best for your business.
3. What should I say in a follow-up email?
A few things to consider as you write a polite follow-up email include:
Providing context
Being clear on the reason you're emailing
Providing immediate value. Share free resources, discounts, case studies, customer reviews, etc.
Adding a powerful call-to-action
4. How do you politely follow up on an unanswered email?
To write a polite follow-up email after an unanswered email, don't make the recipient feel guilty about not responding. Don't over-apologize either for contacting them again. Instead, aim to provide more value than the previous email.
5. What are the key rules of writing a follow-up email?
The rules you need to stick to for follow-up success include:
Always provide context
Give it a personal touch
Don't use the same subject line
Your call to action shouldn't give the recipient too much trouble. Make it possible to give a simple 'yes' or 'no' response
Provide more value with each follow-up email
Start Improving How You Write Follow-Up Emails
Failing to write a follow-up email after receiving no response is robbing yourself of an opportunity to warm up your cold leads, build trust with prospects, and boost your conversions.
But you have to do it the right way for your follow-ups to be effective.
Keep these in mind to write a successful follow-up email:
Always provide immense value in your follow-up email
Always provide more value than you did in the previous email
Make your subject lines stand out
And always end with an actionable CTA
Got any questions regarding writing follow-up emails or tips to an effective follow-up campaign? Leave a comment below.