How Much Does SEO Cost for a Small Business: Cost Calculator
Wondering how much does SEO cost for a small business and whether you should invest in it?
We'll be straight with you—there's no right answer as it depends on several factors.
Your search engine optimization (SEO) cost ultimately depends on:
Your SEO goals
Market competitiveness
Target audience
Locations targeted
But we'll give you a fairly good idea of the estimated cost of SEO for a small business. It'll help you avoid being overcharged by SEO agencies.
When looking at the SEO costs, keep in mind that SEO is a long-term investment.
A study indicated that an increase in a website's search engine rankings on search engine results pages leads to:
Increased website traffic
Increase in time spent on site
Higher user engagement
More conversions
By investing in search engine optimization, you're setting up your small business for success.
The benefits of paid advertising strategies like pay-per-click (PPC) cease when you stop paying for the ads. But SEO continues to deliver organic results in the long term.
With that in mind, let's understand how much SEO costs and the factors that affect this cost.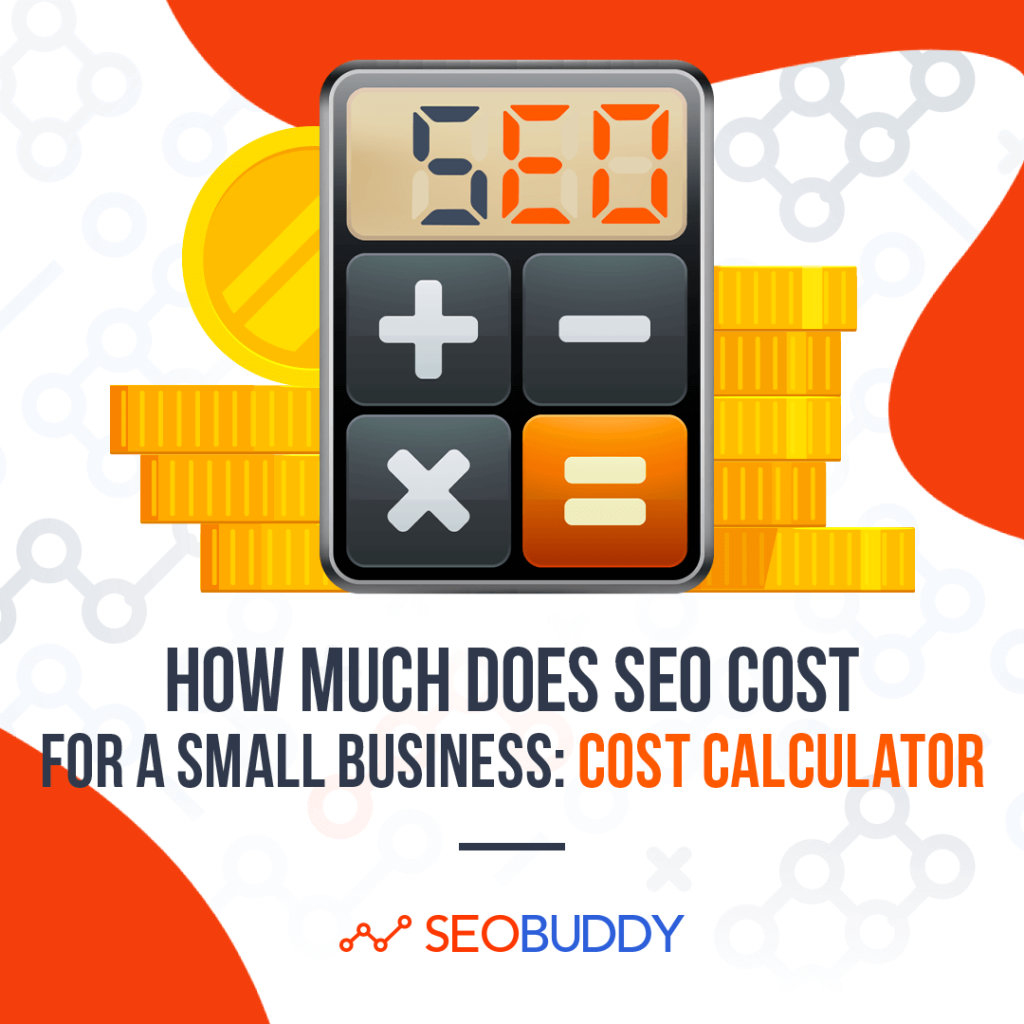 How Much Does SEO Cost for a Small Business When Outsourced
You can either do SEO by yourself or hire an agency or a consultant.
In this section, we'll talk about the different pricing models consultants and agencies use to charge for SEO services.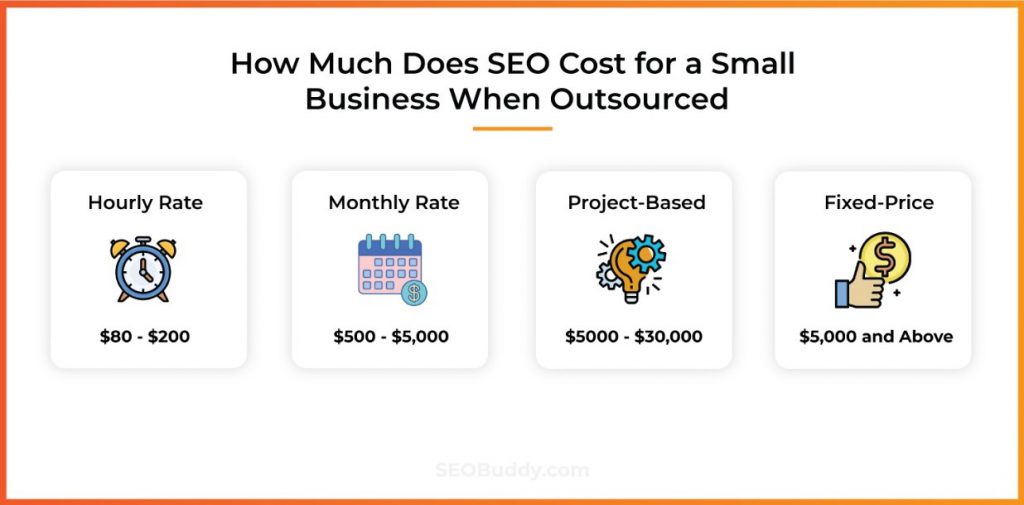 Hourly Rate
SEO consultants will mostly charge per hour. This can cost between $25 for basic SEO tasks like copywriting and $500 per hour for complex tasks.
As a small business, expect an SEO cost of between $80 and $200 per hour for quality services.
If you already have a robust SEO strategy in place and plan on only outsourcing specific SEO tasks like link building, an hourly rate can be an ideal option.
Monthly Rate
Most companies prefer to have an ongoing SEO strategy. In such a case, a monthly price model is a great fit.
With this arrangement, you get an ongoing arrangement with the SEO agency to provide a specific set of services.
Generally, the SEO cost can BE $500 to $5,000 per month depending on the types of services.
A monthly rate is an ideal pricing model for small businesses because you get to build a long-term relationship with the SEO agency.
They get to understand your small business and target market well and boost your SEO steadily over time.
Project-Based Pricing
A project-based pricing model is one where you agree on the cost of the entire project. Most digital marketing companies charge between $5,000 and $30,000 per project.
With project-based SEO, you'll need to provide a fixed timeline for the project with clear milestones, goals, and deliverables.
It involves a wide range of SEO services and not one task.
The exact cost for a small business will depend on factors like:
The complexity of the project
Time-frame of the project
Level of experience of the SEO professionals
Project-based pricing models are ideal when building a website from scratch or when you want to run a one-time SEO campaign.
Fixed-Price Rate
This is where you get into a contract with an SEO agency for one SEO service or a bundle of services. It's like buying services à la carte to test them out.
Unlike a monthly or hourly rate where you can use the SEO services until you decide not to, fixed-price rates have a specific start and end date.
A fixed-price rate is a great choice for small business owners that want to test out the SEO services of an SEO company before committing to a monthly retainer.
How much can you expect to pay?
SEO companies charge differently for their fixed-priced services. But like the project-based pricing model, most SEO packages cost $5,000 and above per contract.
It's important to ensure that the package you choose will meet the needs of your small business.
How Much Does SEO Cost for a Small Business When Done In-House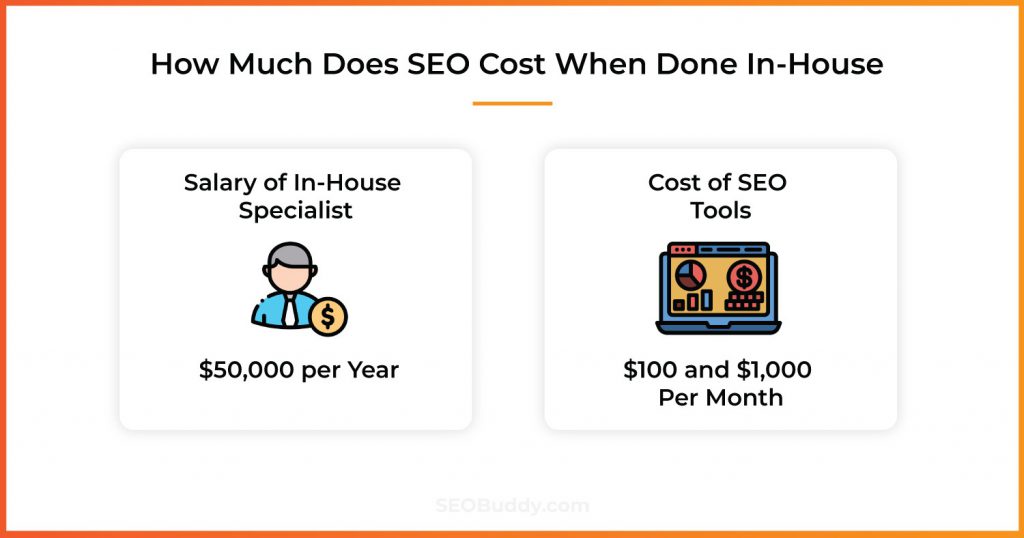 Having an in-house SEO specialist ensures that their attention is fully on your SEO strategy.
An in-house SEO specialist can spend ample time deeply examining your analytics. They'll experiment with different keywords, link-building strategies, and more to find the best SEO approach for your small business.
An experienced SEO specialist charges about $50,000 per year.
You will also need to invest in SEO tools. SEO tools can help you with keyword research, researching competitors' backlinks, site audits, and more.
Most SEO tools have free versions, but they come with limited capabilities. It's best to pay for a premium plan, which can range from $100 and $1,000 per month depending on the features provided.
Why You Shouldn't Rely on Cheap SEO Services for Your Small Business
There are SEO marketing agencies and consultants who charge cheap rates. But low SEO pricing can mean low quality services.
These agencies are likely to rely on shady SEO strategies like link-building schemes and keyword stuffing to meet Google's ranking criteria.
Such tactics can get your website penalized or banned from Google. They also cause a poor user experience. So, avoid them at all costs.
How to Set a Budget for SEO Depending on Your Business Needs?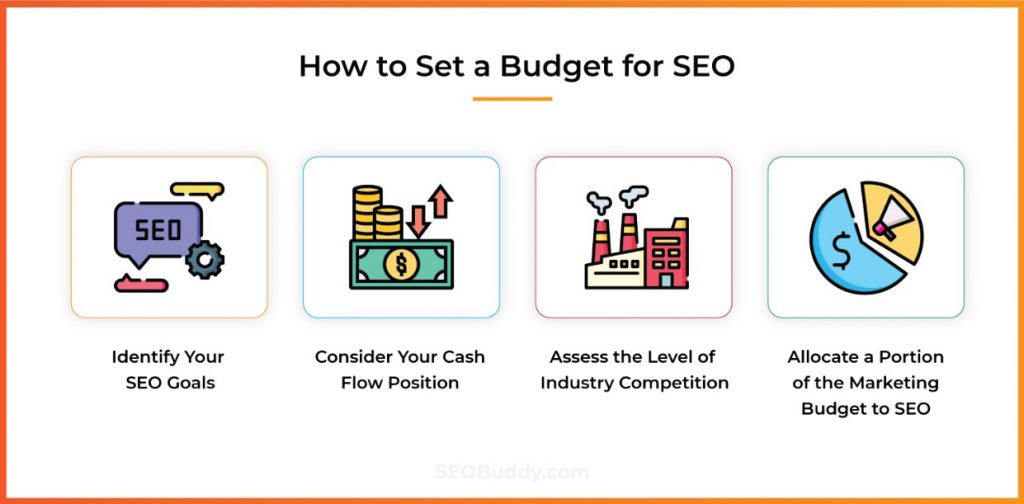 Here is a quick guide on how to determine the cost of your SEO.
1. Identify Your SEO Goals
Your SEO budget will depend on your goals.
Do an SEO audit first and determine areas that need to be improved. Set goals based on this assessment, the higher your targets the more money you'll need to invest.
Your goals should be realistic.
For example, let's say you want to increase sales. Think not only about how much sales you can increase but also whether you have the capabilities to handle that increase.
Also, set a time limit and specific target like "I want to increase sales by X% YoY".
2. Consider Your Cash Flow Position
When you invest in paid ads, profits from the extra conversions start flowing in a few weeks.
But it can take months to see results from your SEO investment. However, once the ball starts rolling, the results will be long-term.
This means you need to invest an amount that'll bring the highest ROI, without affecting your short-term cash flow.
Assess the Level of Competition in Your Industry
If your competitors are aggressively targeting industry keywords, you'll need to be generous with your SEO budget to gain a significant share of organic traffic.
Carry out a SERP analysis. Check your current search rankings in comparison to your competitors, and set an SEO budget that'll help you outrank them.
Research how much your competitors are spending on SEO and get a consultation with an SEO expert to help you settle on the best amount to allocate for your SEO.
3. Allocate a Portion of Your Marketing Budget to SEO
Don't neglect other digital marketing methods like email marketing, affiliate marketing, social media marketing, etc. to boost the sales of your business.
Assess the analytics data from all your digital marketing strategies and allocate your digital marketing budget based on the ROI of each method.
Investing in Google ads, for example, provides fast results, which is ideal for a new small business.
In the beginning, you can run your paid search campaign alongside your SEO campaign. Once your website starts ranking organically, reallocate your budget based on the effectiveness of each strategy.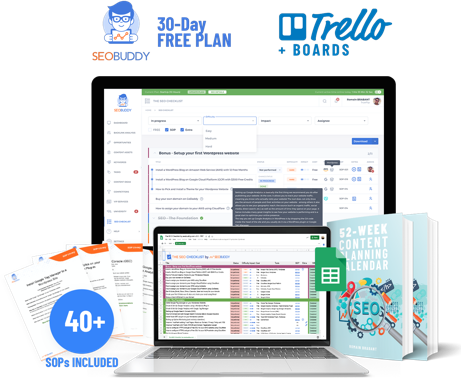 There's more…
Now it's time to discover the other 102 steps that will get more organic traffic flowing to your website. Get the SEO Checklist here.
Want to get a sneak peek of what it looks like?
Enter your email and get a free demo version of the SEO Checklist.
What Factors Affect the SEO Cost for a Small Business?
The following factors will determine how much you pay for SEO services.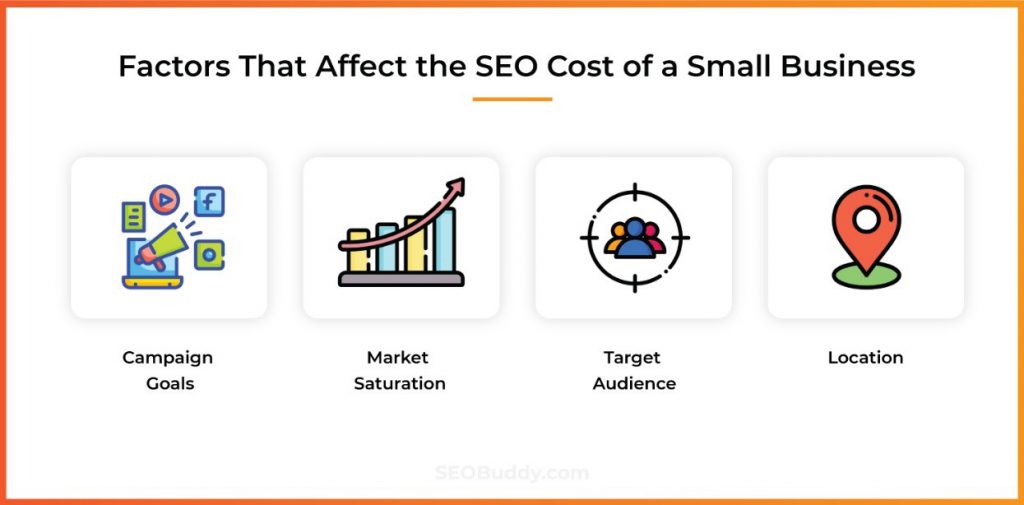 SEO Campaign Goals
Whether you hire an agency or an in-house specialist, your ultimate SEO cost will depend on your SEO goals.
These goals and how fast you want to achieve them will determine the techniques and tactics the SEO specialist will apply.
The more complex the goal is the higher the SEO cost.
A goal like increasing search engine traffic may require refining a few aspects of your website. It could be cheaper than the work involved in increasing ecommerce sales.
Market Saturation
The search traffic competition your industry has will affect the SEO cost for your small business.
Some industries are more likely to adopt an online presence than others. For instance, there are more online businesses in the fashion industry than in the construction industry.
In these competitive industries, you'll need to invest more in SEO services to outrank your competitors.
Target Audience
If you're targeting a broad audience or multiple audiences, you'll need a bigger SEO marketing budget to reach prospects.
Given the same resources, a business targeting a niche market will achieve more than a business targeting a mass market.
Location
If you're doing local SEO, the competitiveness of the specific target market will affect the cost of SEO.
For instance, a business that sells snow tires in Vermont will pay more for local SEO services than the same business in Texas.
Additionally, if you have an ecommerce store that's targeting multiple locations, the SEO agency will have to create a separate SEO strategy for each location. This will result in a higher SEO cost.
FAQs
1. How much does SEO cost monthly?
For a small business, the SEO cost for monthly services can range between $500 and $5,000.
2. How much does SEO typically cost?
Here is a range of how much SEO costs for a small business:
$500 – $5,000 per month
$25 – $500 per hour
$5,000 – $30,000 per project
$5,000 and above for a fixed-price rate
$50,000 per year when using an in-house specialist
$100 and $1,000 per month when using SEO tools
3. Is SEO good for small businesses?
Yes, SEO helps your small business rank high in SERPs. This attracts relevant organic traffic to your website, which can lead to more potential customers.
4. How much should you budget for SEO?
Expect the cost of SEO to be about $500 to $5,000 per month depending on:
The services you want
Your goals and their timeline
Your target audience
The locations you're targeting
Market competitiveness
5. Is SEO worth it for small businesses?
Investing in SEO benefits a small business as it:
Attracts more customers through organic search
Establishes your business as an industry leader
Boosts user experience on
Creates brand awareness
Invest in SEO for Your Small Business
There you have it. An answer to "how much does SEO cost for a small business?" and your dilemma about how much money you should set aside for SEO.
It'll cost you, but the long-term benefits will be worth it. If you want the benefits of SEO but your budget is tight, we've got you covered. Use our SEO Checklist to do SEO in-house and still not miss anything important. All the best!