How to Collect More Reviews: 15 Effective Strategies
How to collect more reviews is a challenge that every business owner faces at some point or another. After all, most customers don't make the effort to write a review, unless they want to complain about something.
But why do you need to collect reviews in the first place?
Well, reviews provide social proof to your potential customers and encourage them to choose your products. Reviews are also one of the important off-page SEO signals that tell search engines that your brand is loved and trusted by consumers.
If your brand has a lot of positive reviews, it will improve your chances of ranking for local search queries. When Google considers the most relevant businesses for any query, positive reviews weigh in and help it decide which business is more popular.
While it is easy to understand why reviews are important, collecting more reviews is not that easy.
But if you use the right strategies, you will be able to overcome this challenge and collect tons of reviews for your business.
Want to learn these strategies?
Here you go.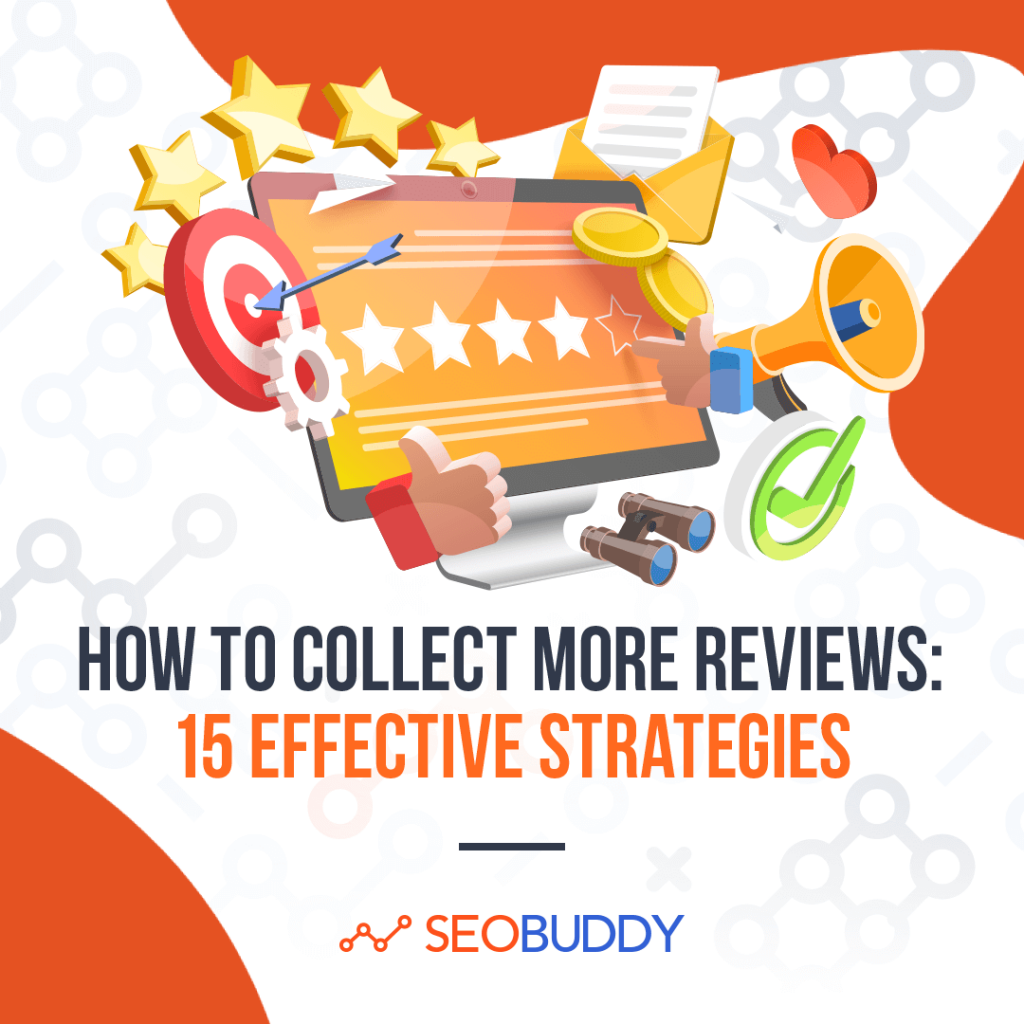 1. Add a Google Review Link on Your Website
This is a must-have for anyone who wants to collect more reviews for their business.
Instead of expecting customers to find your business on Google, why not make it simpler by giving them the review link?
Use the "share review form" option on your Google My Business dashboard and use it to generate a shareable link.
Then, simply add the link at strategic places across your website, with a clear call-to-action. You can also shorten your Google review link using tools like Bitly.
2. Use Review Forms on Your Product Pages
Reviews and ratings on product pages can play an important role in driving higher conversions, as these provide social proof that the product is good.
We all check product reviews on Amazon before we make a purchase, right?
You can replicate the same strategy for your website.
But how to collect reviews on your product pages?
The best way is to add a review form directly to your product pages. Why copy-paste reviews from somewhere else, when you can collect them right from the product page.
This is a great way to collect reviews for specific products, irrespective of whether someone bought them from your website or anywhere else.
Here's an example of how Amazon does it.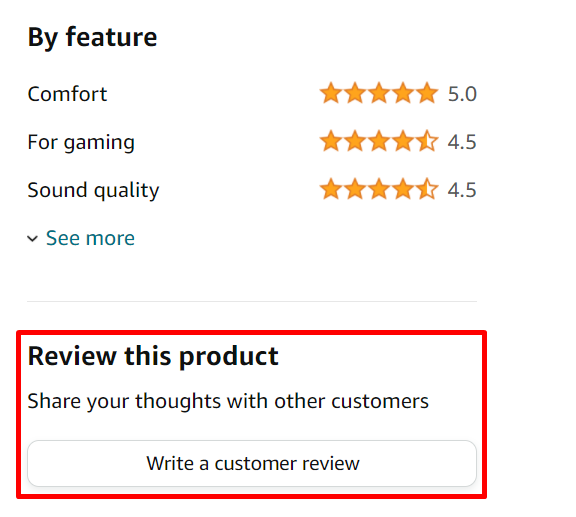 3. Create a Landing Page to Collect More Reviews
While the prior strategy on how to collect more reviews is ideal for retail websites, it is not suitable for other websites.
Wondering how to collect more reviews from your website?
Simply create a separate landing page for reviews about your business or services or anything else that you offer. Reviews are important for all types of businesses, not just those that sell products.
For example, check out this brand that has a joint landing page for FAQ and collecting customer feedback.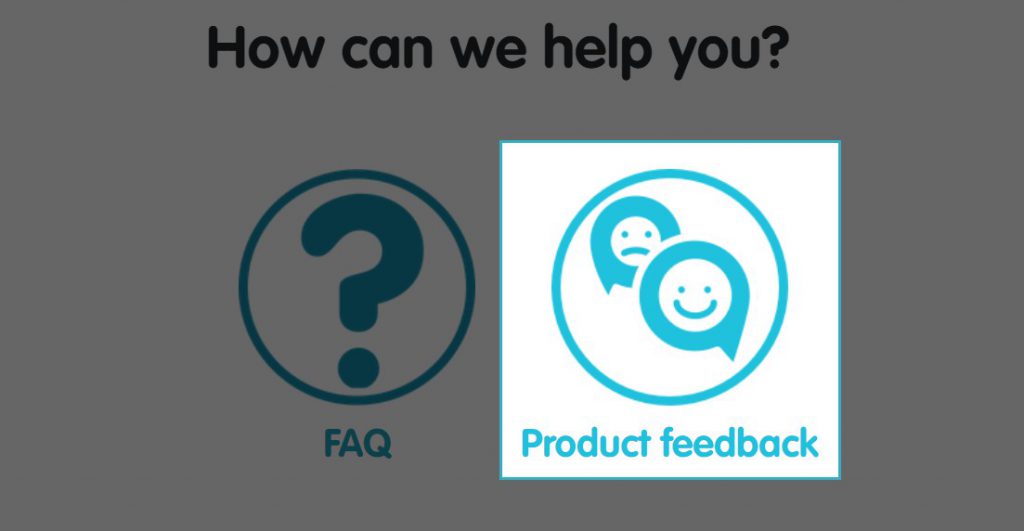 Want to know the best part?
You can share the link to this review page on social media platforms and other channels to collect more reviews and also showcase your awesome reviews.
4. Send Post-Purchase Emails
A customer is most engaged with your business when they make a purchase. Leverage that to collect online reviews about their purchase experience by sending post-purchase emails.
As soon as a customer makes a purchase, you can send an automated email thanking them and seeking feedback.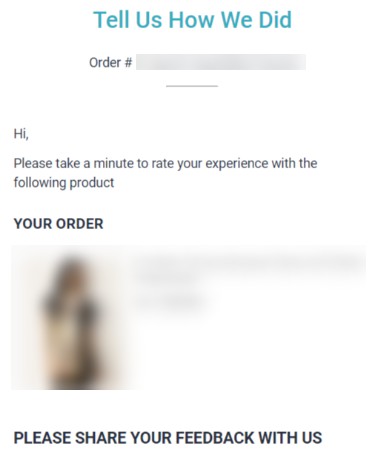 Personalize your email by adding their name and you'll get an even better response from your post-purchase email strategy.
5. Ask for Reviews on Invoices
Adding to the previous point of capturing customers' attention when they are most engaged, you can also ask for reviews in purchase receipts and invoices.
Simply add a QR code or give an easy way for customers to give a review. Always use a strong call-to-action to compel them to take this action.
This is a great strategy for both offline and online retail, as you can send an online receipt with a review link as well.
6. Reward Customers for Giving Reviews
Most customers make the effort to write a review only if they have had an exceptionally good or bad experience with your brand.
But the majority of customers fall somewhere in between, in terms of their brand experience.
So, how can you collect reviews from those customers?
You can incentivize them to write a review by offering a reward for their effort. It can be a discount or offer that they can unveil after they write a review. Or else, you can start a loyalty program and award points for writing reviews and other desired actions.
If you want to learn how to collect customer reviews for your business, the first thing you need to learn is to give your customers tons of options. Add your Google review link anywhere and everywhere they can find it.
Adding it to your website's footer section is especially effective, as that is visible from any page they might visit. You can add direct review links to Google as well as other places, with a short CTA like "Leave a Feedback" or "Drop a Review".
So, anyone who visits your website can simply click on the button and can find the place where they can leave reviews.
Here's an example:

8. Ask the Customers Directly In-Person
You should not miss any chance to collect reviews for your business. So, every interaction that you have with your customers, should end with a request to leave a review.
Train your in-store employees to ask for customer reviews in-person. Your customer service representatives should ask for feedback after every call.
9. Run a Targeted Reviews Email Campaign
Put the email list that you've built over the years to good use by running a targeted email campaign to collect more customer reviews.
Send an email to all your subscribers asking them to write a review. Use a strong call-to-action and provide a direct review link.
To improve the response rates, you can incentivize them by offering a discount or a freebie.
10. Train Your Chatbot to Ask for Reviews
If you are using a chatbot on your website or social media accounts, train it to collect reviews after every interaction. If you're not using a chatbot, you should consider using one.
Chatbots can provide a small review form with 1-2 questions to collect reviews directly or also give the Google review link. Either way, you can use them to collect more reviews for your business.
11. Encourage Customers to Give Reviews on Social Media
Many customers prefer social media platforms to review a brand, instead of the official channels. In fact, your customers might be most engaged with your business on social media than on any other channel.
Don't miss this opportunity to connect with them and give them an outlet to leave a review, where they are most active.
Wondering how to collect more reviews on social media?
Well, some platforms like Facebook have a dedicated reviews feature that you can utilize.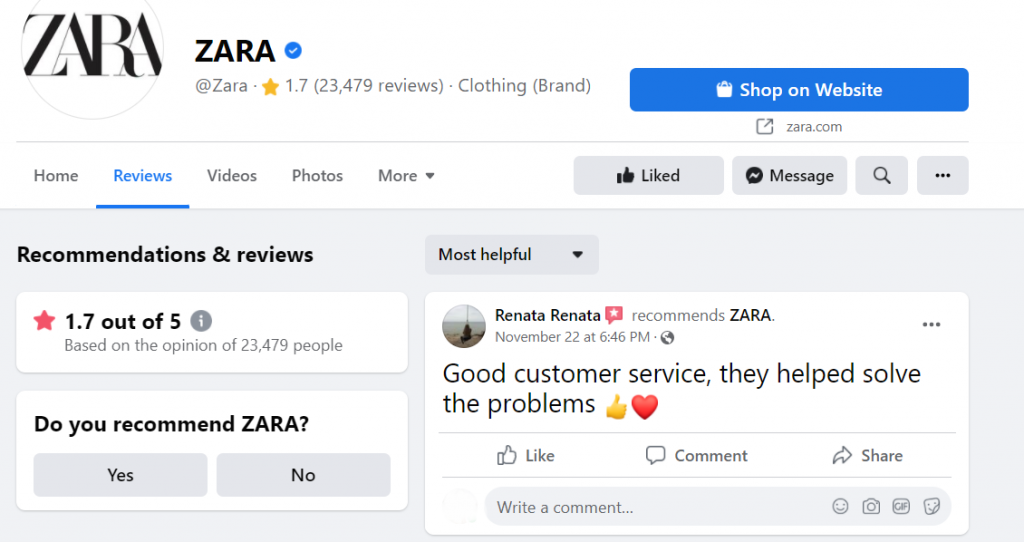 And for other platforms, you can simply share a post seeking reviews and ask people to share their reviews in the comments section.
12. Add Your Google Review Link in Email Signature
Not all tactics to collect reviews are equally effective, but that doesn't mean that you shouldn't use them regardless. Adding a review link in your email signature may not get you a lot of reviews, but it requires no effort or money.
This is more of a no-effort, long-term strategy that will bring in some reviews, without you having to do anything.
13. Send Text Messages to Ask for Reviews
This strategy works best for those customers who check text messages more often than emails but works along the same lines.
Send a text message with a review link, a CTA, and an incentive to encourage customers to review your business.
14. Add a Review Link or QR Code on Product Packaging
This is another low-effort tactic where you simply add a request to write a review right on the product packaging. And, if you use a QR code, then you make it really easy for willing customers to write a review for your business.
15. Promptly Reply to Both Positive and Negative Reviews
This is probably the most important part if you want to collect more online reviews for your business.
Promptly reply to all customer reviews to show them that you care about their feedback and will take action to improve their experience. It is especially important to reply to negative reviews and resolve customer complaints.
According to Harvard Business Review, the more you respond to reviews (especially negative reviews), the more positive reviews you will receive. And that helps in building your reputation and trust and improving your Google rankings.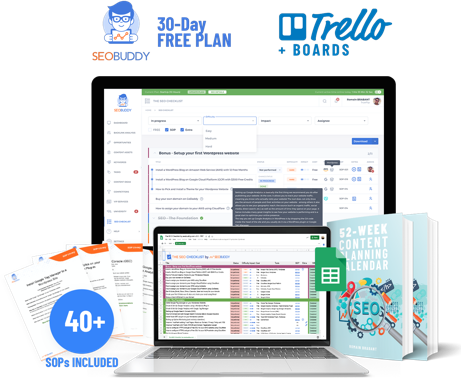 There's more…
Now it's time to discover the other 102 steps that will get more organic traffic flowing to your website. Get the SEO Checklist here.
Want to get a sneak peek of what it looks like?
Enter your email and get a free demo version of the SEO Checklist.
FAQ
1. How can I get reviews easily?
One of the easiest ways to collect online reviews is to send automated post-purchase emails or text messages. It requires minimal effort and is one of the more effective ways to collect online reviews.
2. How do I collect more Google reviews?
You can do that by sharing your Google review link on multiple places including your website and social media.
3. How can you collect more reviews for your business?
Here are our top ten picks for ways on how to collect more reviews:
1. Add a Google review link on your website
2. Use review forms on your product pages
3. Create a landing page to collect more reviews
4. Send post-purchase emails
5. Ask for reviews on invoices
6. Reward customers for giving reviews
7. Add direct review buttons in your footer
8. Ask the customers directly in-person
9. Run a targeted reviews email campaign
10. Train your chatbot to ask for reviews
4. How do you ask customers for reviews?
The best way to ask customers for reviews is to offer them an incentive for leaving a review, like a discount code or loyalty points.
5. How do I collect online reviews?
You can collect online reviews through emails, your website, social media platforms, Google, etc.
Conclusion
Customer reviews are crucial to building a good brand reputation and are also good for SEO. Use the tactics mentioned above to collect more reviews for your business.
Also, don't forget to promptly reply to customer reviews and let your customers know that their reviews matter and are taken seriously. Need help with your SEO initiatives? Download our ultimate SEO Checklist to help you out.