6 Reasons Why Your Business Needs SEO Services
If you're wondering why your business needs SEO services, figure this — Google has served over 1.8 trillion searches since the beginning of 2022 and this number is growing rapidly.
This means that a large number of people need search engines like Google to look for information online.
What's more?
The click-through rate (CTR) in the search engine results pages (SERPs) drops rapidly on the first page with the first rank getting a 43.66% CTR while the tenth rank gets a measly 1.42% CTR.

So, if you want to get better traffic from the trillions of searches that are conducted on search engines like Google, you need a strategy that can help you rank higher in the SERPs.
That's where SEO services come in. Professionals can help optimize your website so that you can make the most of SEO.
So, let's take a look at some of the reasons why your business needs SEO services and how it can help you grow your business online.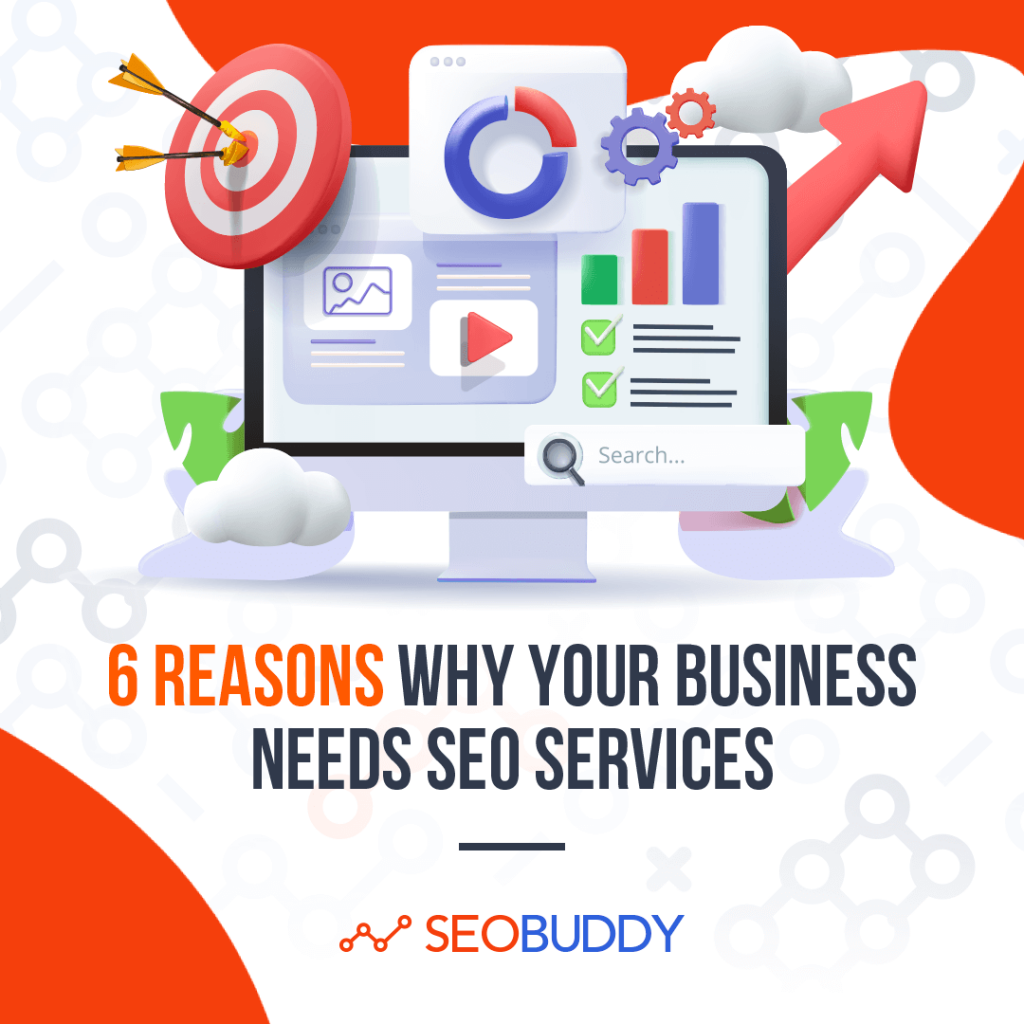 1. Improves Your Visibility and Attract Traffic
Organic search is one of the most common ways through which users access the internet. It is the primary source of trackable web traffic, accounting for 53% of total internet searches.
Therefore, your business needs an effective SEO strategy to attract more users and give your website visibility on Google.
While there are other search engines like Bing and Yahoo, Google is the focus for SEO for most businesses as it has the highest market share.

Optimizing your website involves both on-site and off-site SEO. Having an SOP collection will guide you through the tasks you need to follow to rank higher.
These include, among other things, keyword research. You can easily research keywords in your business's niche using online free keyword research tools.
By optimizing your content using keywords, you can increase your chances of ranking for that particular keyword in the SERPs, and this would help increase your visibility even further.
This added visibility directly translates into more traffic, lead generation, and conversions, hence the need for SEO services.
2. Builds Your Business's Authority and Credibility
More visibility on Google is usually a sign that the search engine finds your website resourceful and up to date. This helps add credibility to your business, and it is one of the reasons why you need SEO services.
When your website ranks higher in searches, more people will find your business and see the high-quality content that you've written on the website. This will help gain their trust and build your authority.
But how do you go about this?
You can use SEO to optimize your titles, keywords, and meta description to help users find you in their searches. Besides your keywords, another major factor that gives your website authority is your backlinks.

Having high-rating websites in your niche link back to you is great and helps you increase your rankings. An easy way to build a foundation of quality backlinks would be using SEO BUDDY's Link Chest.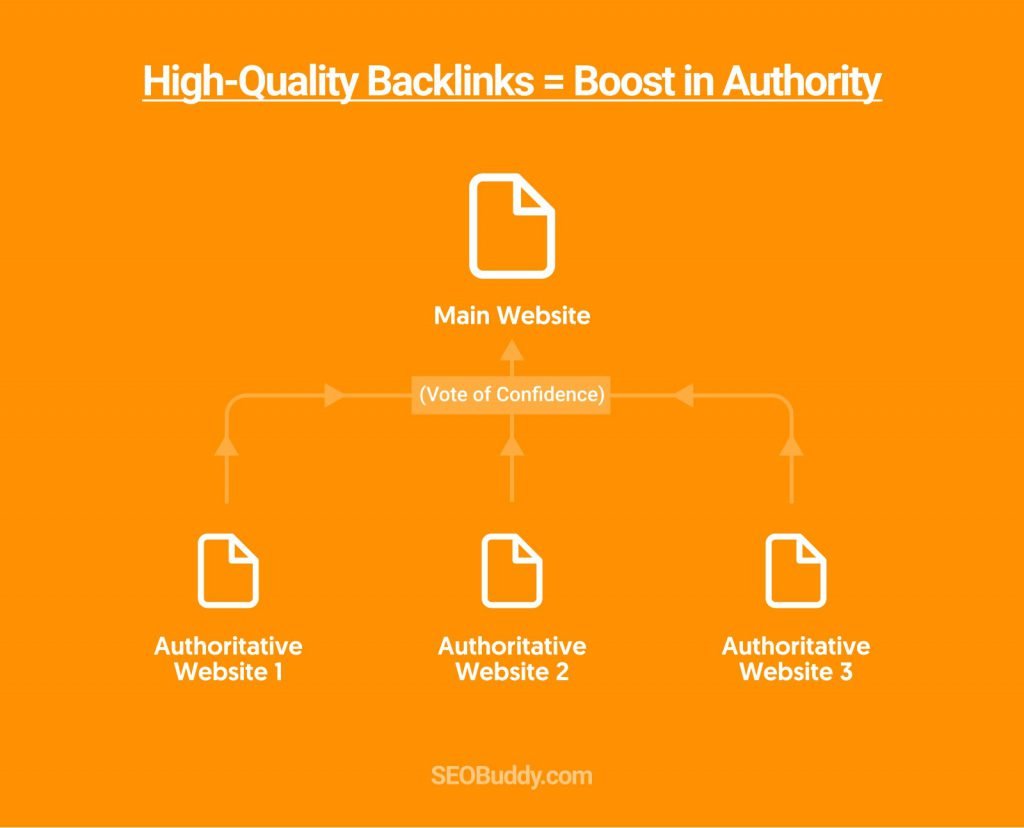 Here are a few other items that the Google algorithm uses through which you can establish your website authority over time.
Optimized content
Positive user feedback
Consistent content
You'd, however, have to work on your SEO longer to establish your website as an authority.
3. Complements Other Marketing Channels
Another reason why your business needs SEO services is that it's one of the most important marketing channels you need in your digital marketing strategy.
While SEO alone may not suffice as a marketing strategy, together with social media and other channels, it becomes a great force.
In fact, according to a recent survey, 75% of businesses say that their SEO tactics are helping them reach their marketing goals.

Therefore, as a marketer or business owner, your marketing strategy needs SEO. So, you need to find ways to integrate your SEO tactics with other marketing channels to make the most out of them.
4. Save On Marketing Cost
SEO is relatively cost-effective in the long run, compared to other marketing channels.
And while results take longer to show up, SEO is a powerful long-term investment that can bring you lots of traffic for a long time. Once you create good content and it starts ranking, you've got a good possibility of the content staying at the top of the SERPs for quite some time.
What's more?
SEO does a lot of things for you on autopilot. For instance, besides attracting traffic and directly increasing your company's conversion rates, SEO helps you build your brand as people visit your website.
And as SEO is an ongoing process, you'll need to add to the existing foundation and build upon that to further grow your awareness and sales.
5. Provide Improved User Experience
Every business aims at providing its customers with what they want, and that's what a good user experience is all about. Your business needs SEO to get it right. When you optimize your website for SEO, you effectively focus on user experience.
Search engines want their users to have a good search experience and they can only achieve this when they direct their users to websites that provide a good experience.
For instance, with on-page SEO, you'll need to improve the content that the visitors will see on your website. Additionally, the site navigation would be on point and this would ensure that the visitors can easily find the information that they're looking for.
Similarly, with technical SEO, you'll ensure that the website loads quickly, renders well on smartphones, and also provides a secure browsing experience to visitors.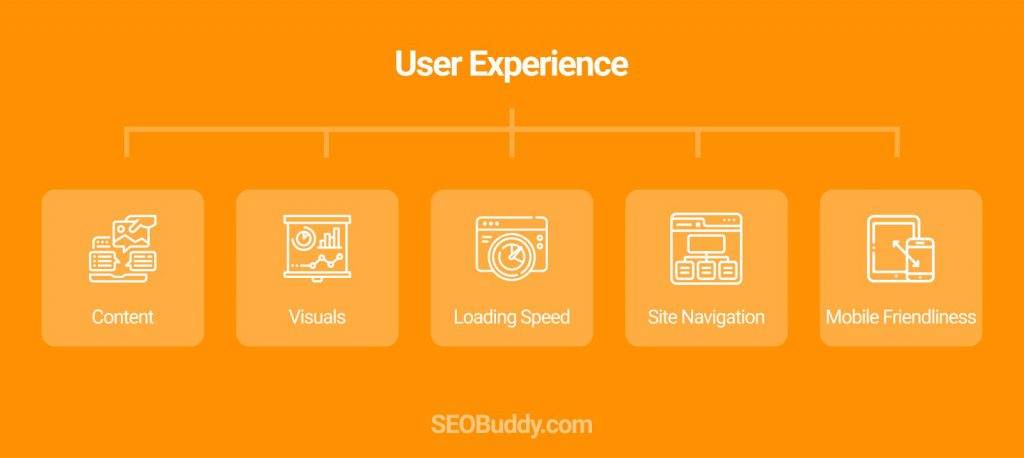 6. Helps Local Businesses
One of the other major reasons why your business needs SEO services is that SEO isn't meant for just large businesses or online businesses. In fact, pretty much every type of business can benefit from SEO.
SEO levels the playing field.
Don't believe us? Check this out.
When you search for "restaurants san francisco" the search brings up local restaurants listed above other popular websites like Eater or TimeOut. Additionally, the restaurants listed aren't big food chains like McDonald's.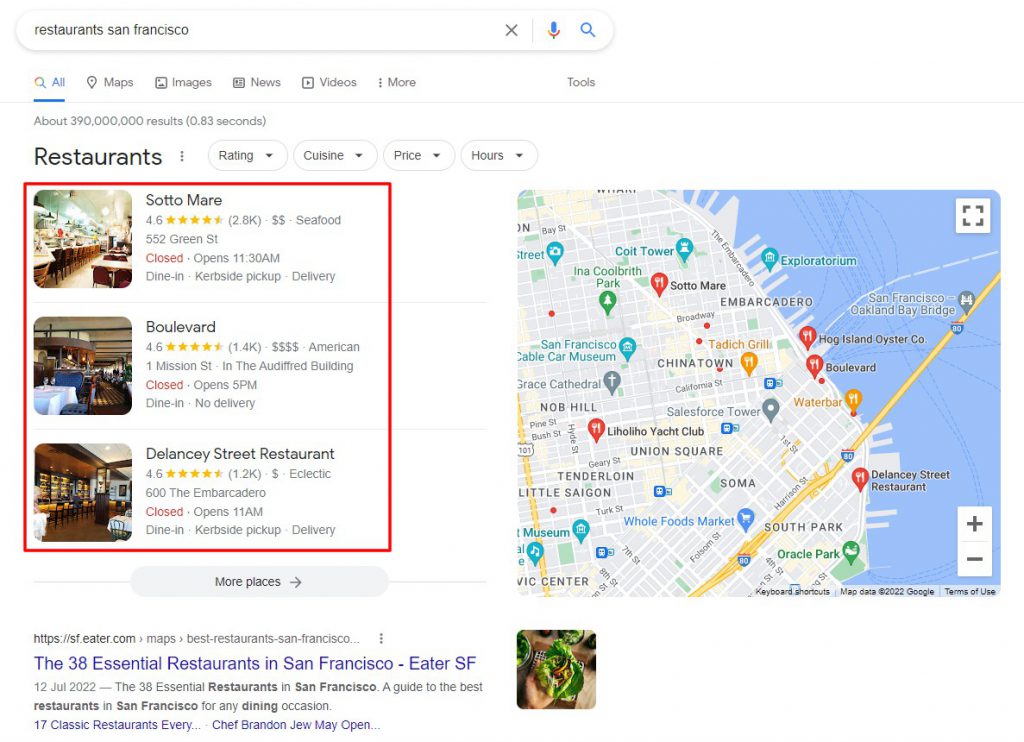 The reason behind this is local SEO. Even local brick-and-mortar businesses can make their presence felt online by leveraging it.
You can do so by claiming their Google My Business listing and ensuring your Name, Address, and Phone (NAP) information is consistent everywhere. As a result, many local searches will direct to your business, and ultimately get you more customers.
(Psst. Here's a complete checklist to help you with local SEO for your business.)
FAQs
1. What is SEO and why is it important for your business?
SEO stands for search engine optimization. It's the practice of improving the quality of your website and building its authority to improve your website's position in search engine results pages.
Here's why your business needs SEO services:
Improves your visibility and attracts traffic
Builds your authority and credibility
Complements other marketing channels
Saves on marketing cost
Provides an improved user experience
Helps local businesses too
2. What are the 4 stages of SEO?
When implementing SEO, here are the four stages you have to go through:
SEO strategy development
On-page SEO optimization
Off-page SEO optimization
Ongoing and technical SEO
3. What are the top three SEO strategies for businesses?
Here are the top SEO strategies businesses need:
On-page optimization: This includes doing optimization of your website by structuring it well, speeding it up, making it mobile-friendly, optimizing title tags, incorporating keywords in content, etc.
Link building: This includes building backlinks from quality websites to your website to improve your authority.
Consistent content: This involves publishing high-quality content regularly to engage your audience and increase the number of keywords for which you rank in search results.
4. When should your business use SEO?
You know your business needs SEO when your web traffic is low and you're trying to boost your search engine rankings on Google over the long term. This however takes time and continuous effort.
5. How many types of SEO are there?
There are mainly three types of SEO including:
On-page SEO: Involves optimizing web page content, internal links, and other website elements.
Off-page SEO: This includes actions taken outside of a site to improve its rankings, such as building backlinks, getting brand mentions, etc.
Technical SEO: Involves optimizing all the technical aspects of a website like page speed, website design, website structure, etc.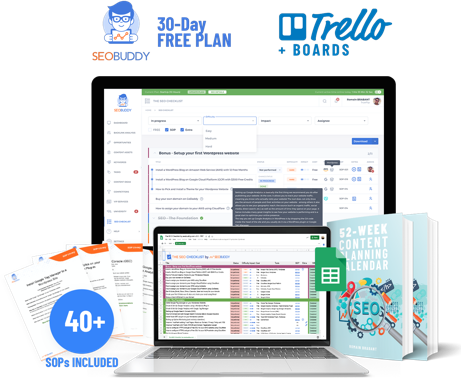 There's more…
Now it's time to discover the other 102 steps that will get more organic traffic flowing to your website. Get the SEO Checklist here.
Want to get a sneak peek of what it looks like?
Enter your email and get a free demo version of the SEO Checklist.
Ready to Amp Up Your SEO Strategy?
With search engine optimization, your users will have a smooth experience browsing your website. It also helps you attract more traffic, which leads to better lead generation and sales.
SEO also helps you set your brand apart as an expert in your field and build authority for your business. And this, more than anything, will give your business an advantage over your competitors. What's more, the cost associated with implementing SEO is much less than the benefits you stand to gain if you do it right.
And with an SEO Checklist, you'll have an easy-to-follow framework to rule the SERPs.