How to Outsource Link Building: 6 Simple Steps
There's no doubt that having quality backlinks is one of the key indicators of a site's authority.
For this reason, businesses need to learn how to outsource link building if they do not have the expertise to do it successfully in-house.
In fact, according to a 2022 survey, an SEO expert agrees that it's common for most businesses to outsource their link-building needs.
Link building can get technical and tedious. Besides needing expertise and knowledge, it takes time and effort that you may not have the liberty for.
It can also get costly, and you may end up spending more than your budget if you do not have a digital marketing expert on your team.
It's, therefore, less risky and more rewarding to outsource link building.
Before learning how you can outsource link building, let's first discuss what backlink creation is and why it's important‌.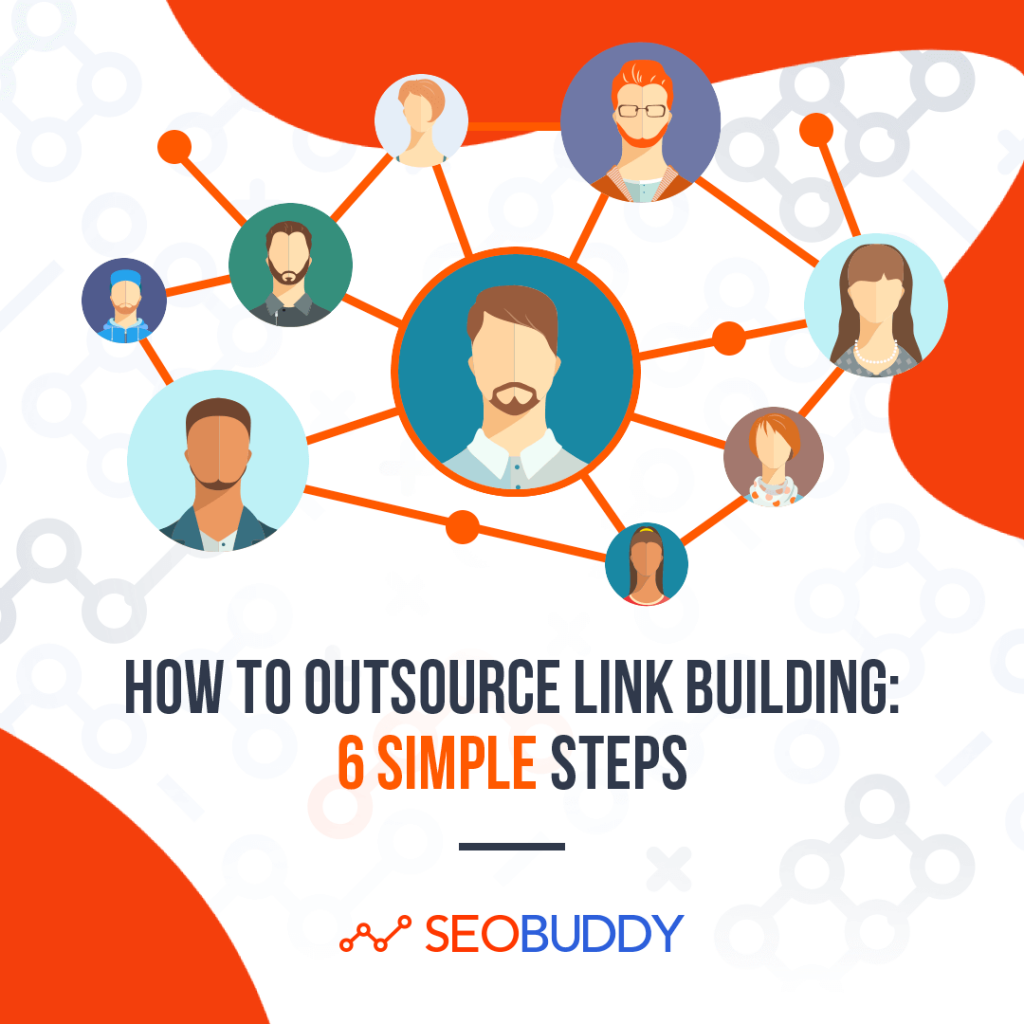 What is Link Building?
Link building is the process through which you get backlinks from an authoritative website in your niche. These links can come in handy for both SEO and driving referral traffic to your website.
It's one of the top ranking factors for Google's algorithm and that's why it's very important to get it right.
Outsourcing link building services to experts or agencies is one way, and sometimes the best way, to go about link building.
This is because experts understand that as much as you need a steady flow of backlinks, it's more important to have quality links. It's the quality of links that boosts your rankings and domain authority.
So, what exactly is a high-quality link? Let's find out.
What Makes for a High-Quality Backlink?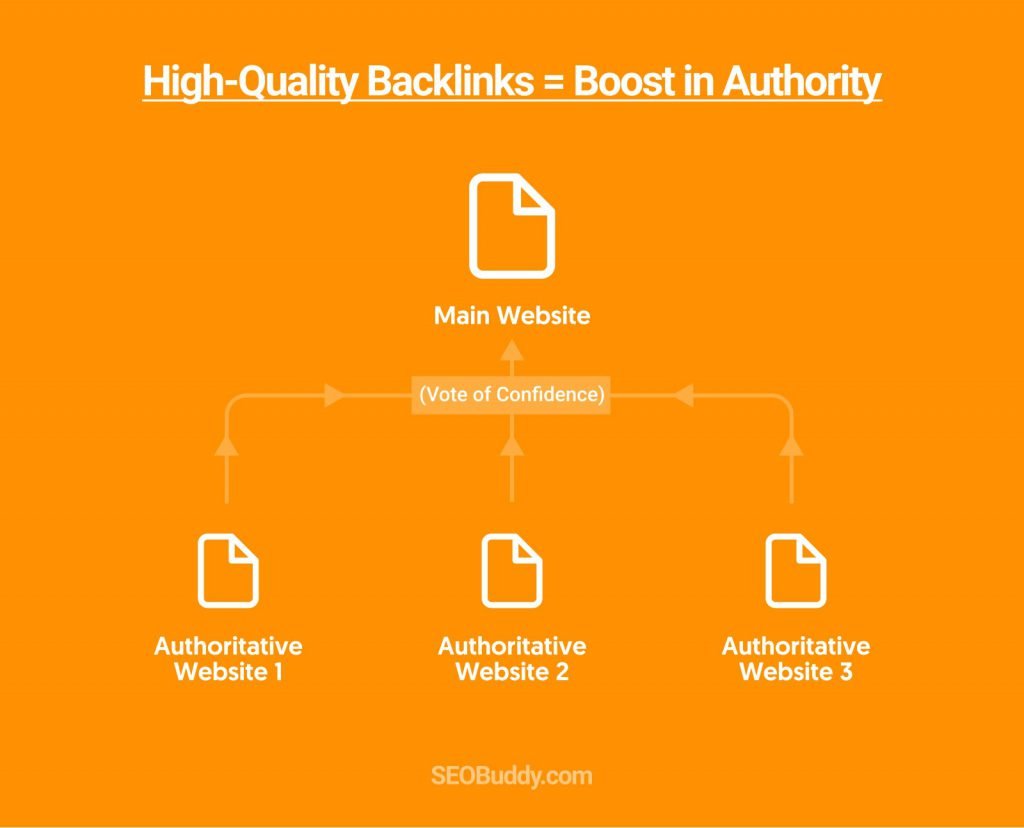 It's every business's dream to have as many backlinks leading back to their websites as possible to get that perfect SEO score. However, it's more important to ensure that these backlinks are of high quality.
And herein lies the challenge most link builders face.
While no one knows the exact metrics search engine crawlers use to determine the quality of a backlink, most SEO experts agree on these three major qualities.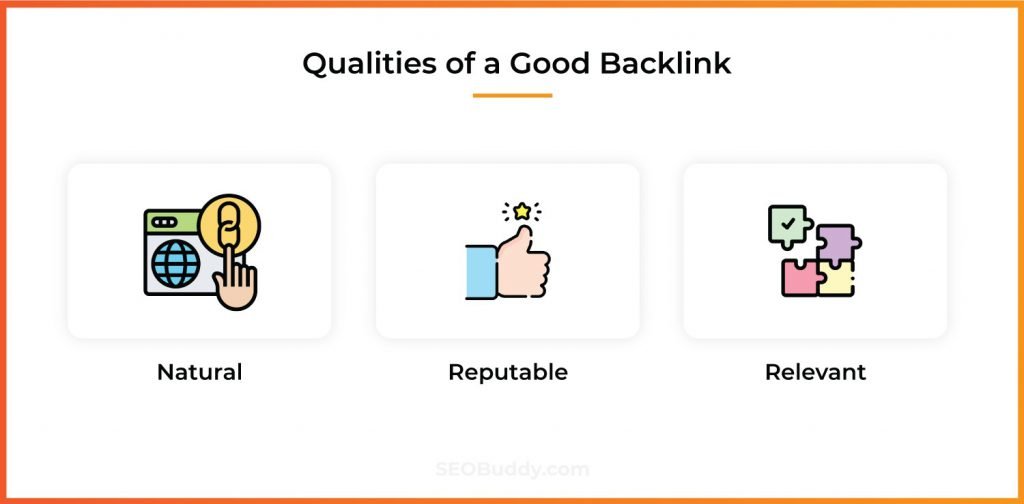 1. Natural
The most natural way to build a network of referring links is to let the process happen organically over time. However, this isn't always plausible and could take too long as you won't be actively looking for links.
Thankfully, there are faster ways to build backlinks naturally. And when you outsource this task, you can get it done faster.
So how do you do this?
The most important element of building natural backlinks is providing value so that you become an important resource to link back to. This way, the websites that link back to you will find your webpage important for their audience.
The link building agency you outsource to will work to create valuable resources on your website that other websites would want to link to and this will help you get more quality backlinks.
Similarly, the agency may conduct outreach and reach out to high authority websites in your niche for link building.
This is as opposed to paying for cheap backlinks or adopting other black hat SEO practices aimed at manipulating search engines.
If your website has loads of unnatural backlinks, search engine crawlers will consider them spam and this can negatively affect your website's ranking.
If you're a new website struggling with your first set of natural backlinks, SEOBUDDY's Link Chest provides easy access to backlink opportunities from reputable sites.
2. Reputable
Backlinks also need to come from reputable sources to be considered high-quality. These are websites with high domain authority scores and great rankings in the SERPs. These websites typically have high-quality content as well.
When you outsource link building, you'll have to leave the task of vetting websites to your agency. And with their expertise, they know which sites have high authority.
Getting a backlink from a reputable website adds to your site's reputation. Another aspect of a link's reputation is its "rel" factor. Rel is short for relation and it specifies the relationship between a site and the linked web page. Rel attributes include "nofollow", "sponsored", and "user-generated content" usually present in HTML.
Here's an example:

HTML links with a rel attribute are considered less reputable than the ones without, otherwise known as "dofollow" links.
Here's why.
A "dofollow" attribute means that the search engine will take the backlink into consideration for ranking the website. The only way that links with a "nofollow" attribute help your website is by the traffic they redirect. Otherwise, they do not add to your site's ranking.
Therefore, between your nofollow vs dofollow links, you're better off building more "dofollow" backlinks if you want to boost your site's reputation.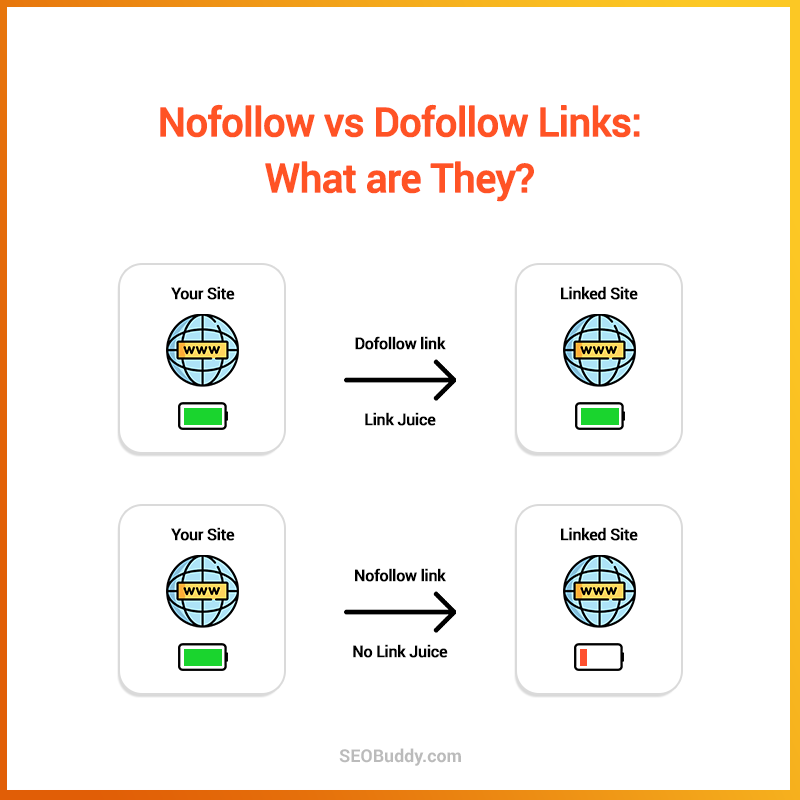 (Get our SEO Checklist now to start improving your on-page SEO.)
3. Relevant
Quality backlinks need to come from relevant content. This means that a backlink can't come from a random content piece. Instead, its impact would be better if it comes from content that's related to yours.
While Google emphasizes content relevance, domain relevance is also an important factor to consider. Let's understand how they're different.
Let's say you run a website in the digital marketing niche. A pet website writes an article about how to market a pet blog and links back to a webpage on your site.
While the linked webpage has relevant content, it lacks domain relevancy. Domain relevancy would mean that the backlink should come from a website that's related to digital marketing.

That said, natural link profiles may have backlinks from unrelated domains. It would be unnatural to have a network of links that are only coming from sites within a single niche.
Besides these three main factors, here are a few more that determine the quality of your links:
Anchor text: Your choice of anchor text determines how relevant your backlinks are for readers and search engines. The anchor text must be relevant to the resource that the backlink is pointing to. Irrelevant anchor texts lead to a poor experience and may not help much with your SEO.
Position on the page: Links placed within the content on a page are considered to be better than those placed elsewhere, for instance, in a bio or footer.
The next section explores why outsourcing link building may be a good option for your website.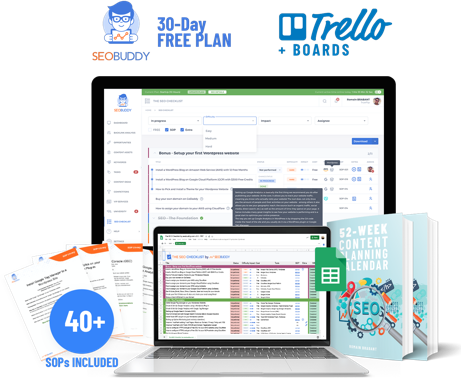 There's more…
Now it's time to discover the other 102 steps that will get more organic traffic flowing to your website. Get the SEO Checklist here.
Want to get a sneak peek of what it looks like?
Enter your email and get a free demo version of the SEO Checklist.
Why You Should Outsource Link Building
Here's why you should consider outsourcing link building to third-party agencies.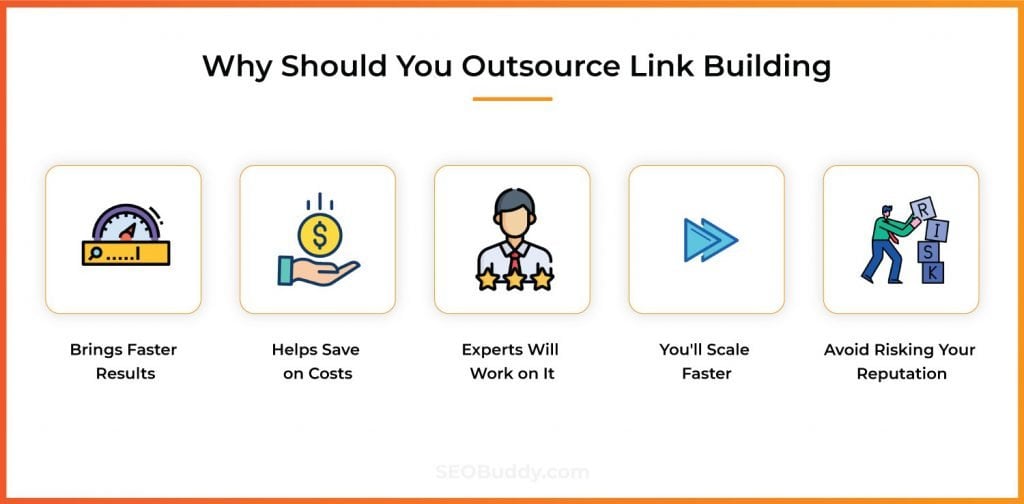 Get Faster Results
Link building requires quite some technical knowledge, and ‌unless you're an expert, it takes a lot of time and effort to build a concrete backlink profile. You'll also need to spend time reaching out to relevant websites to build relationships before pitching for backlinking.
This involves a lot of communication and sending numerous outreach emails to create connections. If you're a newbie at link building or have untrained staff, you may just end up with a bunch of unanswered emails.
But guess what?
If you outsource this function, you get to skip this part. Experts at link building agencies already have the connections you need, especially if they specialize in your niche.
All you need to do is vet your agency to ensure they're familiar with your niche, and you'll get faster results and save time.
Save On Cost
Having your link building done in-house can be costly as you'd have to hire dedicated resources for it. This could make it even costlier than outsourcing to a link building agency. Picture this, you'd have to employ an SEO specialist at an estimated rate of $27 per hour or $56,948 a year and that's just the employee cost.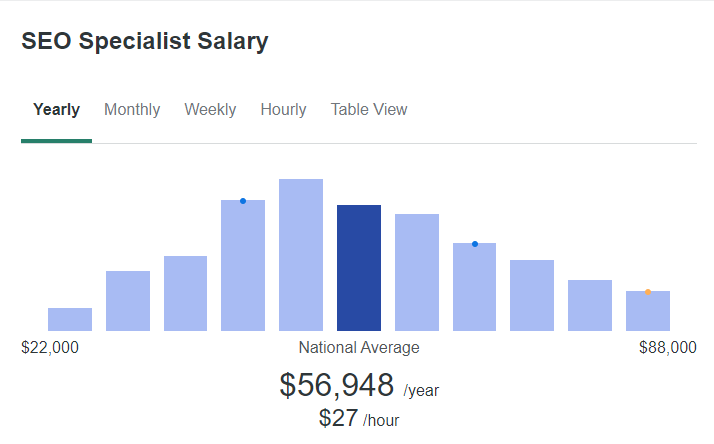 Chances are they may not have enough experience in link building, since link building specialists are hard to find. This means that you'd probably need to train them as well.
Besides training, your in-house team will also need tools which you'd have to pay for. You'll need SEO tools such as Ahrefs or Semrush for competitive analysis and to find backlink opportunities. This would be an added recurring expense.

Finally, you'll need an outreach management system to evaluate how successful your link building strategy is.
These are all expenses you'd need to incur for an in-house SEO team. They are also expenses you could minimize if you hired an agency as they already have the expertise and required tools.
You Get More Knowledge and Expertise
It's helpful to outsource your link building to an agency that has link building as its area of expertise. They are more experienced and have better link building knowledge.
This way, you can avoid any initial link building mistakes newbies often make. You can also skip the learner phase and get direct access to what works for your business.
You'll Scale Faster
Having a stable stream of good links coming in takes time. However, agencies have ways to make this happen in a shorter span owing to their existing connections and experience in link building.
Losing links is also a common part of the link-building process. For that, they have better strategies to mitigate losses when it happens,
This is better than what any in-house team could offer, making the option to outsource link building better.
No Risk to Your Reputation
Link building involves outreach and trying to build relationships with key industry players.
Therefore, if your outreach strategy isn't good enough, you risk ruining your reputation with potential quality backlink providers. For instance, if you send too many outreach emails without a response, they may appear as spam.
With an agency, when conducting outreach on your behalf, they will not disclose your brand name. Additionally, they'd already have a plan in place to engage with other websites. This puts them in a better position to do link building for you.
Now that you understand link building and why it's important to outsource it, let's discuss how to go about the process successfully.
How to Outsource Link Building in 6 Easy Steps
So, you now know that you need to outsource link building. But you can't do it right away. There are several things that you need to consider and numerous steps you need to follow to go about this process.
Here is a simple six-step process that will help you understand how you can outsource link building.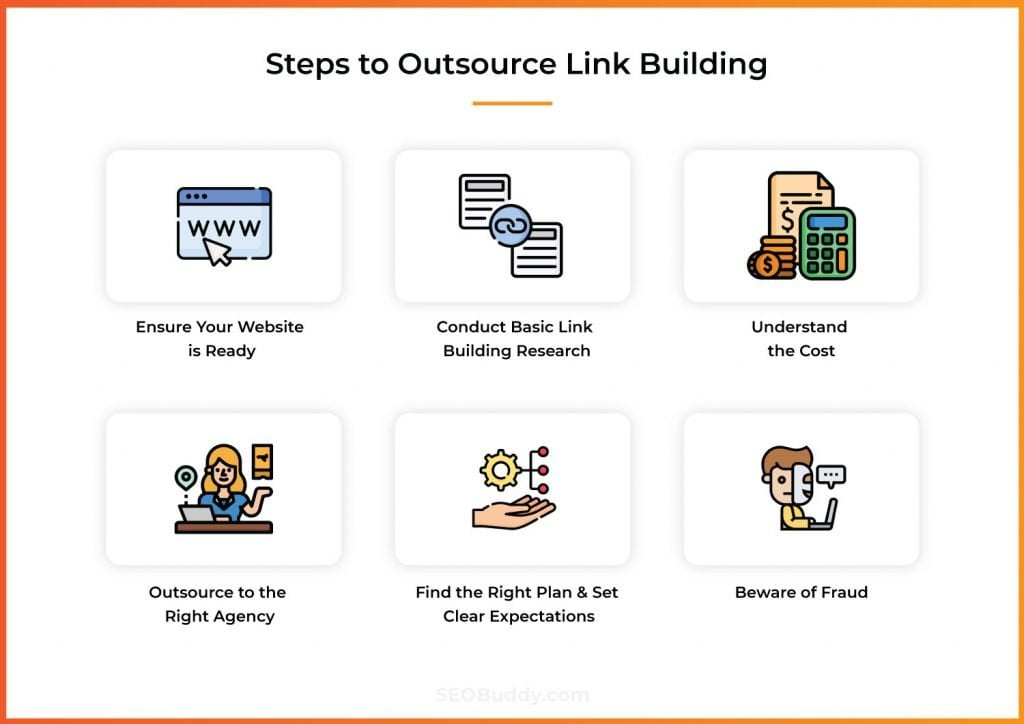 1. Make Sure Your Website is Ready
Link building is only a small part of your business's larger SEO strategy. Therefore, it's imperative to make sure your website is ready for link building in the first place by taking care of on-page SEO first.
For this, SEOBUDDY's SEO Checklist could come in handy, to help you track every other aspect of website optimization.
Once you've sorted everything else out, including content creation and web page optimization, you can start building a link profile.
You'll also need to identify the prime goals behind link building. Without those, you can't proceed.
Here are some key pointers that will help you know if you're ready to outsource your link-building functions.
Your Content Ranks Low
Content creation is one of the main ways SEO experts prefer to build links. In a recent survey, 50% of SEO experts picked content creation and outreach as the one link building method that brought them the best results.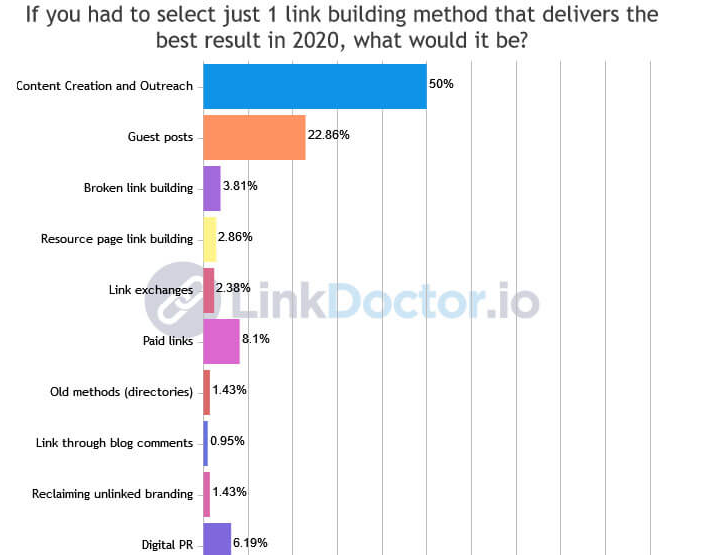 However, your content needs to be of high quality. This means it should be accurate, informative, consistent, and up-to-date. So, if your content isn't ranking anywhere in the first few pages of Google, you're not ready to outsource link building. You need to work on your content first.
For link building to be successful, you'd have to work on writing great content that ranks first. Link building will help your content move further upwards in the SERPs, only if it's of good quality.
Your Competitors Have More Backlinks
If the articles ranking higher for specific keywords have more backlinks, this is a sign that you need help to build your backlinks as that's the key to outranking them in this case.
Each web page's backlinks contribute to your overall website ranking. Therefore, it's crucial to build backlinks for each as well.
If your individual web pages are not ranking highly for their target keywords, it may be a sign that you need to outsource link building to give them a boost.
Competitor Sites Have More Authority
Link building is a crucial way to build your website and brand authority. Outsourcing it to experts helps speed up the process and level the playing field for you and your competitors.
2. Conduct Basic Link Building Research
You don't need to get into the details of what link building entails since you'll outsource the function, anyway. However, having a working knowledge of link building will help you set some expectations from the agency or freelancer.
You'll need to know if the services an agency or freelancer provides will get you the results your business needs. Here's how to go about your initial research.
Know Your Key Link Building Metrics
Before you outsource link building, you need to know how you'll track your website's performance. For this, you'll need to know your key metrics for link building.
One of the major metrics you should look out for is your domain authority. Finding this can be as simple as using a free online tool like Moz.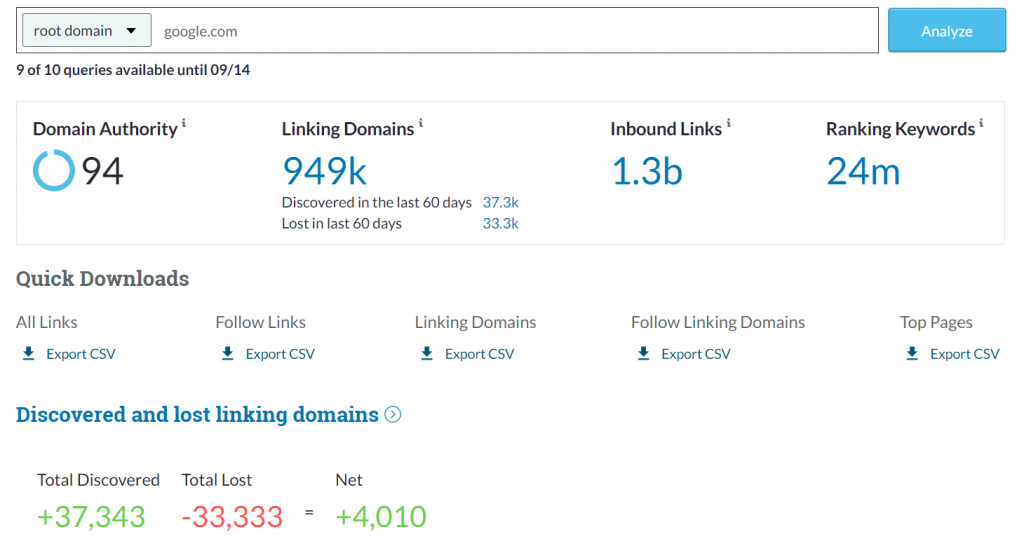 As you build your link profile, it should increase your domain authority. Using the same tool you can also check other metrics such as page strength, number of links, and ranking keywords.
These, and other factors, such as link quality, the position of links, and anchor texts are things you need to know beforehand.
Research Potential Agencies or Freelancers
At this point, you haven't settled on whether or not you'll hire a freelance expert or an agency. So you could just research them all.
Here's what to look for:
Client testimonials: Look for both positive and negative client reviews.
Case studies: This helps break down how their services are and what they achieved with past clients.
Pricing: You'll need services that fall within your budget. Also, check if their pricing plans are flexible.
Ask Questions About Their Methods
If you're not satisfied with your research of each link-building expert or agency, initiate direct communication with them. Be sure to ask questions about their process and results. If they're hesitant to respond, that should be your cue to drop them.
3. Understand the Cost
This includes knowing how much of your SEO budget you're willing to spend on building links and if the results are worth the investment.
Link building is complex, and as such, expensive to either outsource or have an in-house employee. Here's a rough estimate of what businesses spend monthly on SEO from the previously-mentioned Aira survey.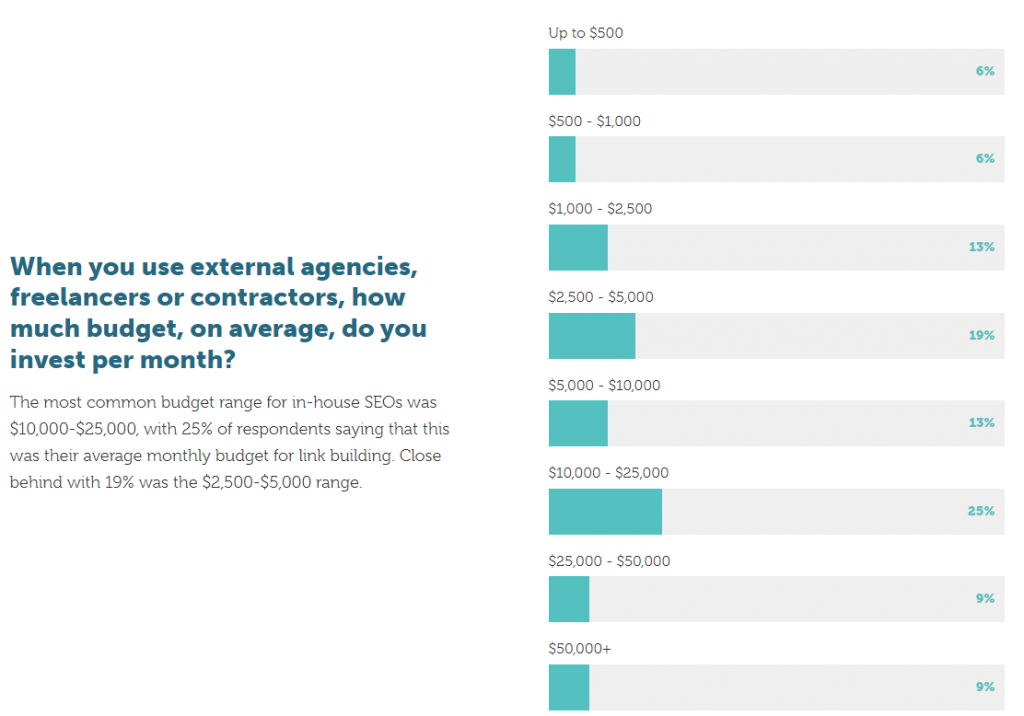 Link building alone takes up about 50% of the SEO budget for more than 80% of the respondents.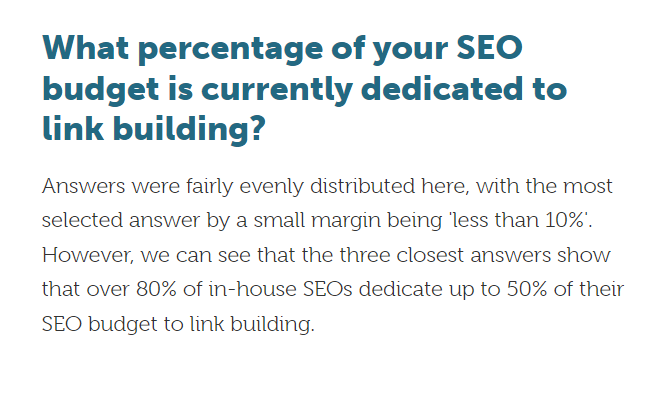 For this reason, you want to spend money on quality link building. Depending on what your budget is, you can opt for a link building plan that helps increase your domain authority.
You could start by building a few quality links if you're on a budget by outsourcing to a freelancer and increase that little by little over time. However, if your budget is higher, you can outsource link building to an agency and subscribe to a suitable plan.
This way they will be dedicated to building your link profile over time. If you decide to outsource link building, you'll need to know what determines its cost.
Link builders reach out to website owners which takes time and effort. They also use email outreach tools which can be costly.
The agency you outsource to will need to come up with a strategy that can help you generate high-quality links.
For some industries, such as finance, you'd need to pay placement fees to generate links.
(Want to know how you can optimize your website for SEO? Here's our SEO Checklist.)
4. Outsource to the Right Person
You can either outsource your link building function to a freelance specialist or an agency. How you choose this will depend on your strategy and, as discussed, budget.
A freelancer would be convenient if your budget is lower. You can also hire them on an on-and-off basis if you don't have a dedicated link building strategy or budget but still want a few quality links regularly.
The downside to hiring a freelance link builder is that you may have trouble with their methods and quality if you haven't vetted them well.
For long-term services and dedicated link building, you should consider outsourcing to an agency. They are more reliable and have a lot of expertise. Besides, you can find link building agencies that specialize in your niche. So, if you are a SaaS business, you can surely find reliable SaaS link building agencies that can specifically cater to your industry and target audience. They also offer a wider range of services including content creation, mass link building, and providing one-off links.
Although agencies may be more expensive to hire than freelancers, you'll gain access to more insight and quality. There's also more room to evaluate their methods and gauge their services. It's therefore the ideal choice if your budget allows it.
5. Find the Right Plan & Set Clear Expectations
Once you've settled on the right person to outsource, you can come up with a plan that suits your business's needs.
Link building agencies provide different plans ranging from managed plans to per-link plans. The former is all-inclusive and entails optimizing keywords, anchor texts, web pages, and content for ‌link building.
The latter only focuses on acquiring authoritative links and is suitable as a supplement to an ‌existing effective SEO strategy.
Once you and your agency or freelancer settle on a plan, you'll each set clear expectations as to: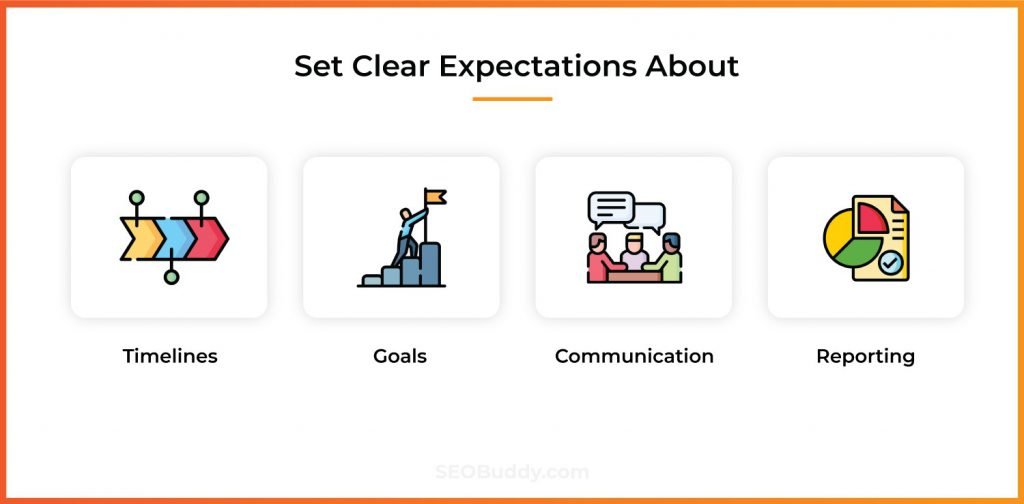 The goals you hope to accomplish from your collaboration
Your timelines
Your communication
How and when to report on progress
With that, each side will be on the same page as to what their contribution is before you sign any contracts.
6. Beware of Fraud and Black-Hat SEO Practices
Last but not least, when choosing to outsource link building, you need to make sure the agency or freelancer is legitimate. Besides the already-discussed ways to go about your research, you also need to be aware of a few red flags.
How do you test if an agency uses black-hat tactics or not?
Here are the common signs: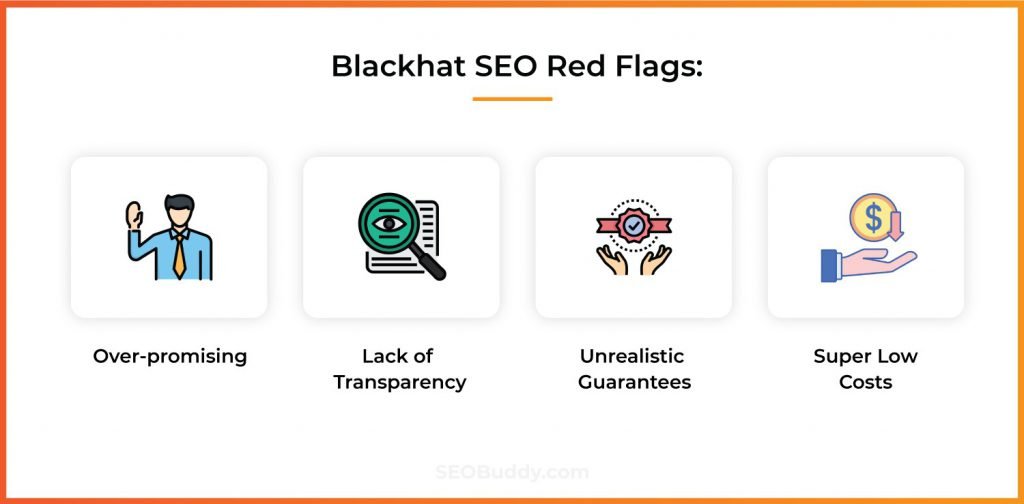 Over-promising: Link-building agencies that promise unrealistic turnarounds may not be reliable. Genuine link building takes time so if they promise to have a solid link profile in a matter of days or weeks, they're probably using shady tactics.
Lack of transparency: A good agency should share its process, timeline, and even what websites will link back to you. Withholding such information should be a red flag.
Unrealistic guarantees: Guarantees such as getting your page to rank at the top of the SERPs are unrealistic.
Super low costs: Given how complex link building can be, if an agency charges way too low it could be a red flag on their expertise or process.
When is Outsourcing a Viable Option?
Even with all its benefits, outsourcing link building may not always be the best option for every website.
So when is it a good option?
Here's how you can decide. You should opt for outsourcing only when.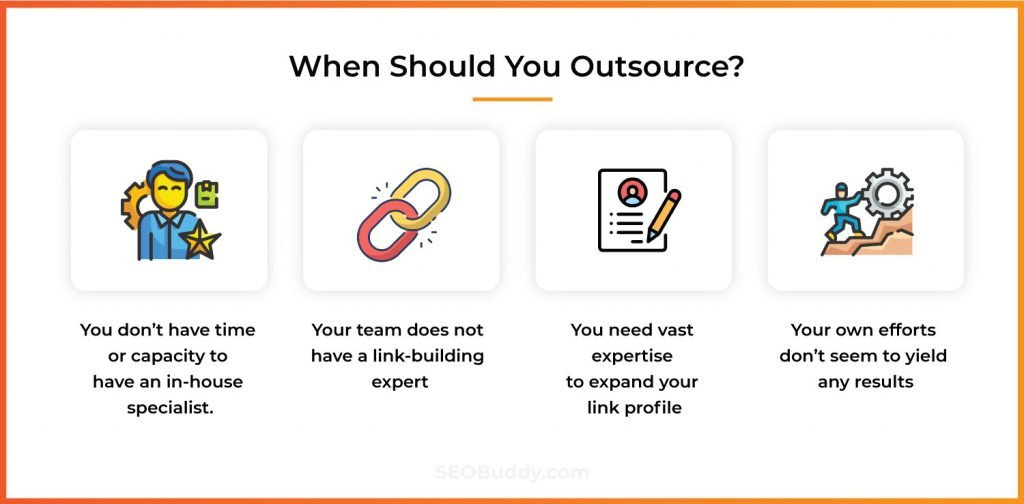 You don't have the time or capacity to have an in-house specialist.
Your team does not have a link-building expert
You need vast expertise to expand your link profile
Your own efforts don't seem to yield any results
FAQs
1. Should you outsource link building?
Outsourcing link building is one way to get results without putting in much effort. The benefits you can expect include:
Faster results
Saving on cost
Access to knowledge and expertise
Faster scaling
Less risk to reputation
2. How do you run a link-building strategy?
Here's how to run a successful link-building strategy:
Create link-worthy content
Know your key link-building metrics
Research and understand link-building costs
Conduct link-building outreach or outsource to the right person
3. What is the process of link building?
The process of link building refers to the steps you follow for gaining hyperlinks from other websites to point back to your own. This way, you drive referral traffic to your site and gain authority for SEO.
4. Does link building cost money?
Link building is one of the most complex SEO strategies and can get expensive depending on your business needs.
5. Is link building still effective?
Link building remains one of the most effective SEO tactics for driving traffic and website authority. Search engine crawlers still use quality backlinks to determine a website's credibility.
Ready to Outsource Your Link Building Needs?
Learning how to outsource link building will not only save you money but also free up your time to focus on content creation and other less complex SEO practices.
And it's never too early or late to start building a solid link profile. If you have a fresh website, it'll be easy to create an SEO strategy that includes building backlinks. However, even with an existing site, you can always find a link-building plan that fits right in.
Knowing how and when to outsource means you get to leave that to the experts and have them help you choose what works best for your business.For the rest, download our SEO Checklist now!