What is Digital PR and How is it Different From SEO?
In John Mueller's (Webmaster Trends Analyst at Google) own words, digital PR is "as critical as technical SEO", and in many cases, even more so.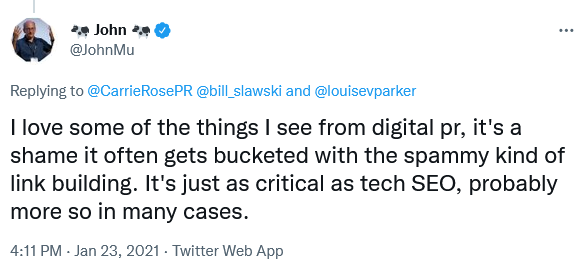 You're probably wondering what all the fuss over digital PR is about, and if digital PR can impact your business in any way.
The short answer — it can introduce your business to new markets and at the same time build trust among new customers.
Why is that important?
When a customer trusts your brand, they are more likely to buy from you if you launch something new and even make repeat purchases. Loyal customers often become brand advocates and even defend brands that they love on social media and other channels.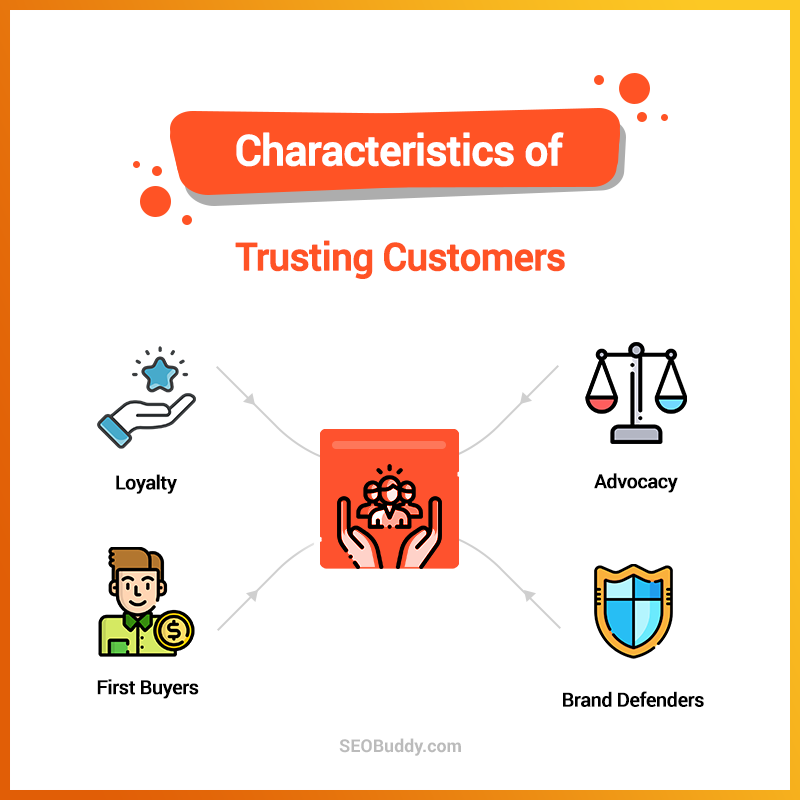 Clearly, digital PR is worth the effort and you should incorporate it into your marketing strategy. In this post, you will learn everything you need to know about digital PR and how it relates to SEO.
Let's get started.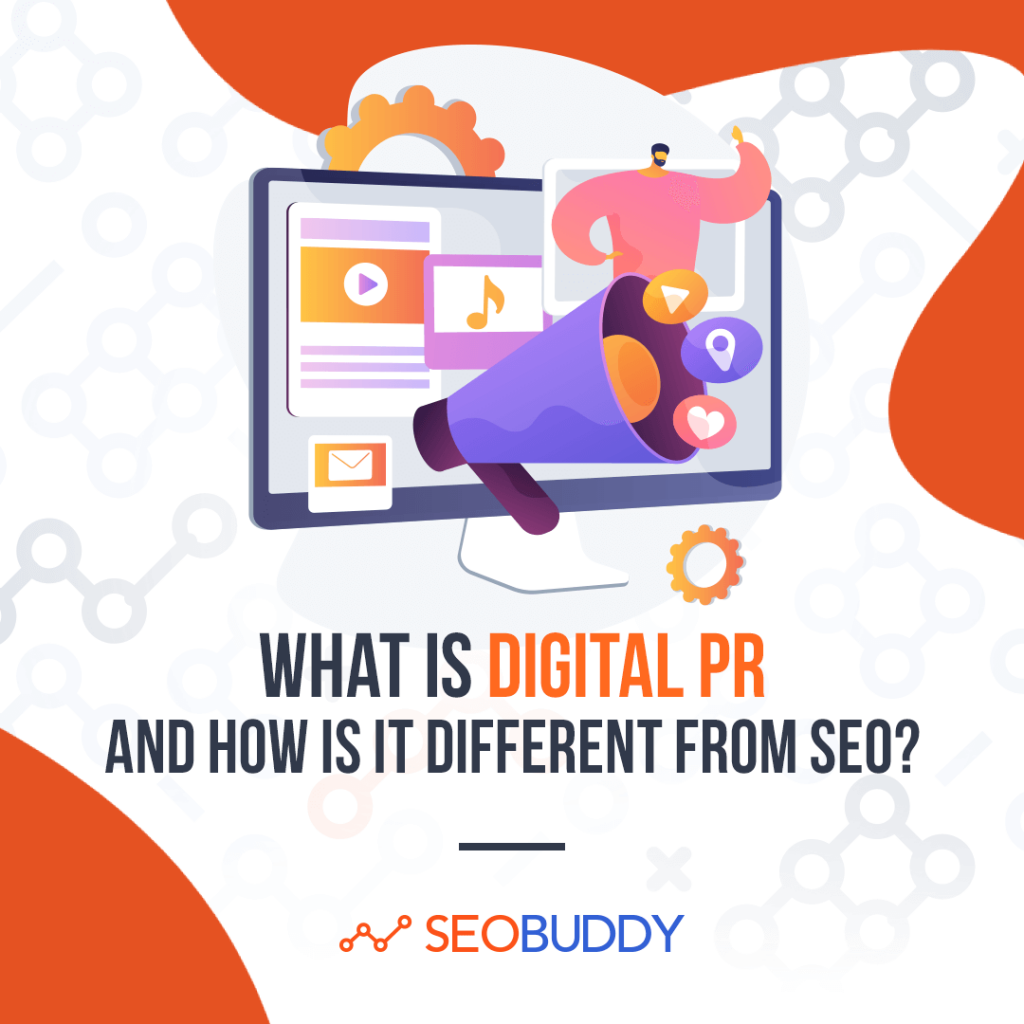 What is Digital PR?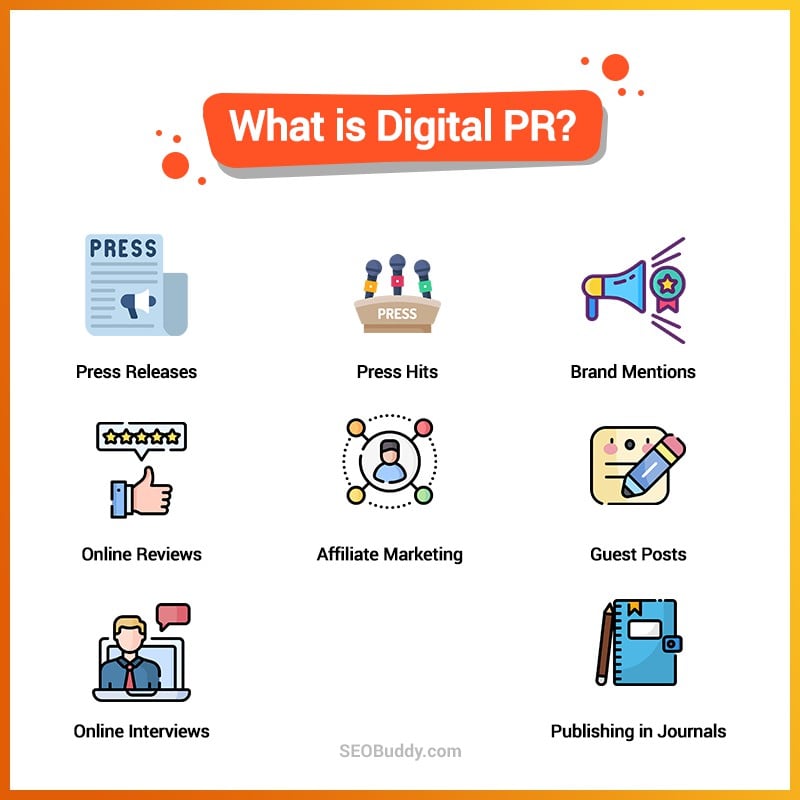 Digital public relations is a strategy of increasing your brand's online presence to create brand awareness and build a positive brand image.
It involves putting your business in front of your target market's eyes and attracting their attention across various channels.
This is made possible by using tactics like:
Publishing a press release
Working with journalists to get press hits
Getting brand mentions from bloggers, podcasters, and social media influencers
Encouraging customers to give more online reviews
Leveraging affiliate marketing
Submitting guest posts on relevant websites
Giving online interviews
Publishing studies in reputable industry journals
Through these channels, you get your target audience to know, like, and trust your brand and connect with it.
But to fully benefit from the power of this exposure, the content you create through these public relations channels needs to have a backlink to your site.
Digital PR vs Traditional PR: How are They different?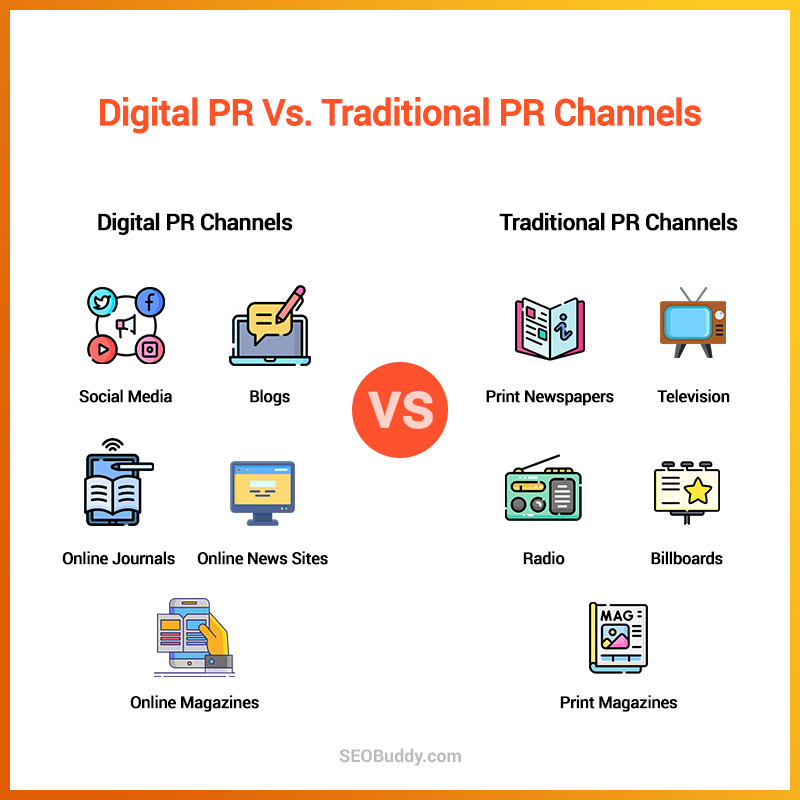 Traditional PR relies on offline strategies like getting featured in newspapers, magazines, TV, and radio to create brand awareness.
Digital PR, on the other hand, uses online channels like social media and news websites to build a brand's online presence and visibility.
However, the two PR methods have a similar goal.
Both traditional PR and digital PR campaigns aim to expose a business to new markets and audiences.
Is digital PR an Option for Local Businesses?
Yes.
As a local business, your digital PR strategy will involve getting featured in local online publications, local magazines, and local blogs. You would also try to get mentions for the local events you're involved in.
Only the scope of coverage will be limited to audiences of a specific area, but the rest will remain more or less the same.
What is the Difference Between Digital PR and SEO?
Digital PR and SEO are both digital marketing techniques, but they cover different aspects of marketing.
SEO is the process of improving the rankings of your website on search engine results pages.
It involves on page and off page practices that get search engines to rank your website, such as:
Incorporating keywords in your metatags, titles, content, URLs, and more
Creating content that meets user intent
Optimizing your images and page speed
Creating a strong internal linking structure
SEO is a marketing strategy that helps make your website visible to anyone who makes a Google search that's relevant to your business.
It's aim is to increase the quantity and quality of organic search traffic.
Digital PR, on the other hand, involves strategies of obtaining online publicity through coverage in online media outlets and other high authority websites.
The main purpose of digital PR strategies is creating a strong online presence for a business and spreading brand awareness.
Where Do Digital PR and SEO Overlap?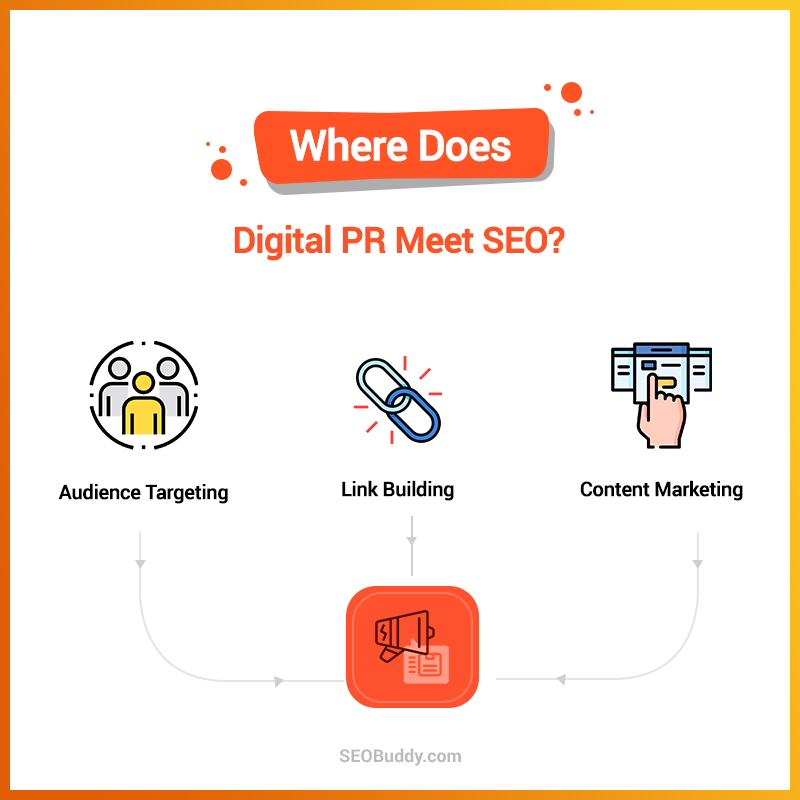 While both SEO and digital PR are important marketing strategies, you can get even better marketing results by pairing digital PR with a solid SEO strategy.
Why?
It's because both these tactics have significant overlaps and synergies that can be used to your advantage.
Let's discuss the three areas where SEO and digital PR overlap, making it easier for you to utilize these tactics in tandem.
Understanding the Target Audience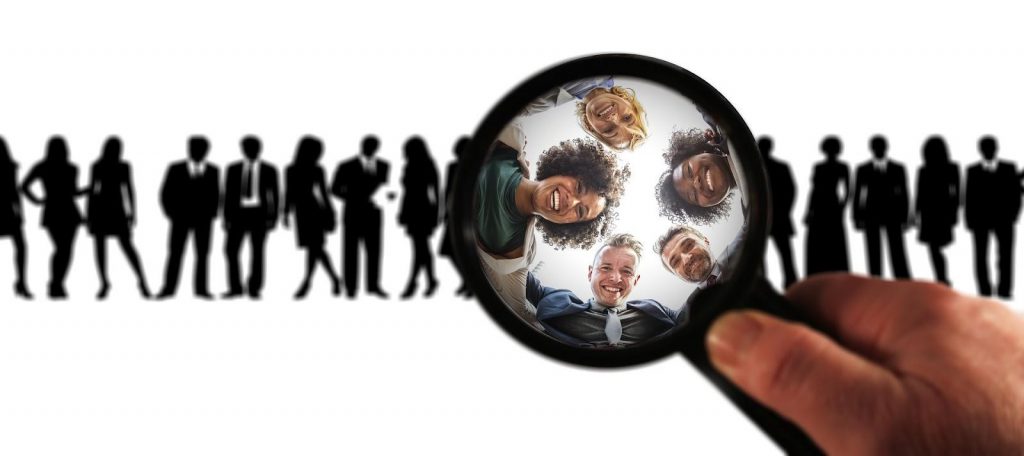 A major part of a successful SEO strategy is understanding the target market, and the same applies to digital PR as well.
For both SEO and digital PR, you need to create buyer personas and targeted content that resonates with them.
A buyer persona is a fictional character who represents your ideal or typical customer. It involves a detailed description of who they are, their age, interests, income level, goals, pain points, buying patterns, and more.
In search engine optimization, a buyer persona helps you create targeted and relevant content that will rank. It ensures that your target keywords represent the needs of potential visitors of your website and helps you speak in their language.
In digital PR, a buyer persona helps you attract the right people and create brand awareness.
By working together, your SEO and digital PR teams can deep dive into creating comprehensive and accurate buyer personas.
This will result in greater marketing success.
Building High-Quality Backlinks
Both SEO and digital PR rely heavily on backlinks, albeit for different reasons.
For SEO, backlinks from popular and high DA sites tell Google that the content in your website is valuable enough that high authority websites are willing to link to it in their content.
Essentially, backlinks from websites shows their vote of confidence in your content and, in turn, improves your authority.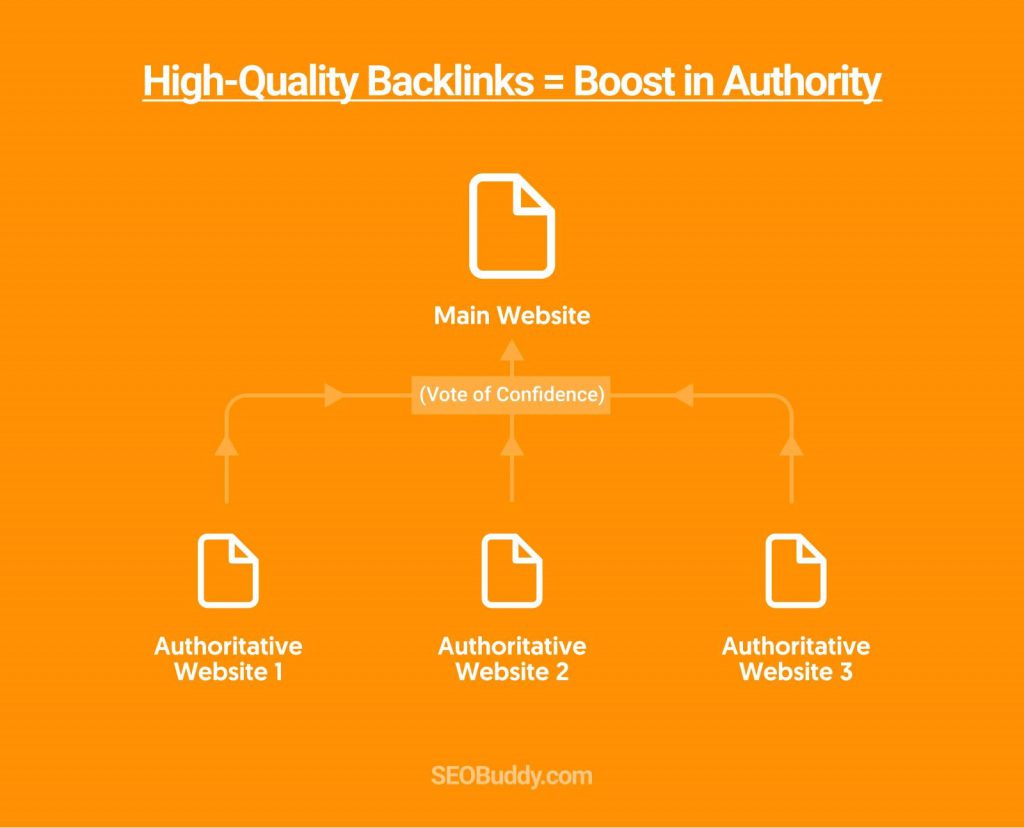 A digital PR campaign, on the other hand, focuses on link building through online coverage of the company. These backlinks result in increased awareness.
High-quality links that digital PR creates also provide SEO benefits and positively impact a website's ranking on search engines results pages (SERP).
Leveraging Content Marketing
Content marketing is vital for SEO as well as digital PR, and is a core part of both these marketing strategies.
Without it, it becomes hard to incorporate keywords in your website that a search engine can use to index your pages and make your pages rank.
Digital PR also involves the use of content to establish your authority in the industry.
Through high-quality guest contributions and sponsored content, digital PR experts can build trust with the target audience.
So, both digital PR and SEO can benefit from creating a robust content creation strategy. And you can use these synergies to run a successful and holistic content marketing campaign that can accomplish multiple goals.
Why is Digital PR Important?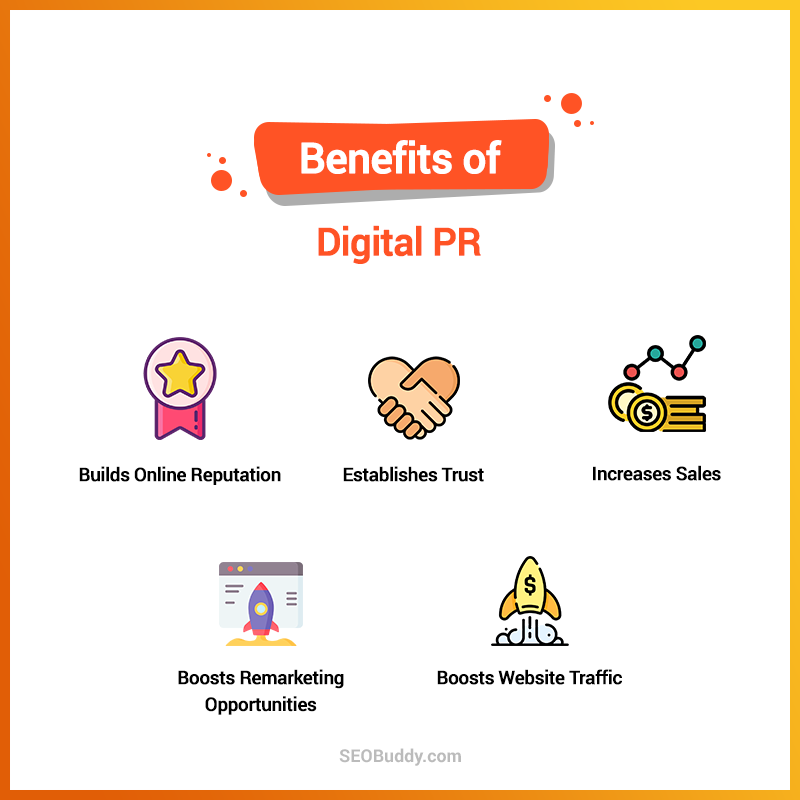 Here are some of the key benefits of digital PR that make it so important for your marketing strategy.
1. Builds Your Online Reputation
Digital PR introduces your company to your target audience.
These introductions happen via editorial articles, guest posts on blogs, and influencer brand mentions.
It opens up opportunities to strike up conversations with your target audience and showing them what makes you unique.
However, audience research is key here.
You need to know what the audience wants to talk about and speak their language.
2. Establishes Trust in Your Brand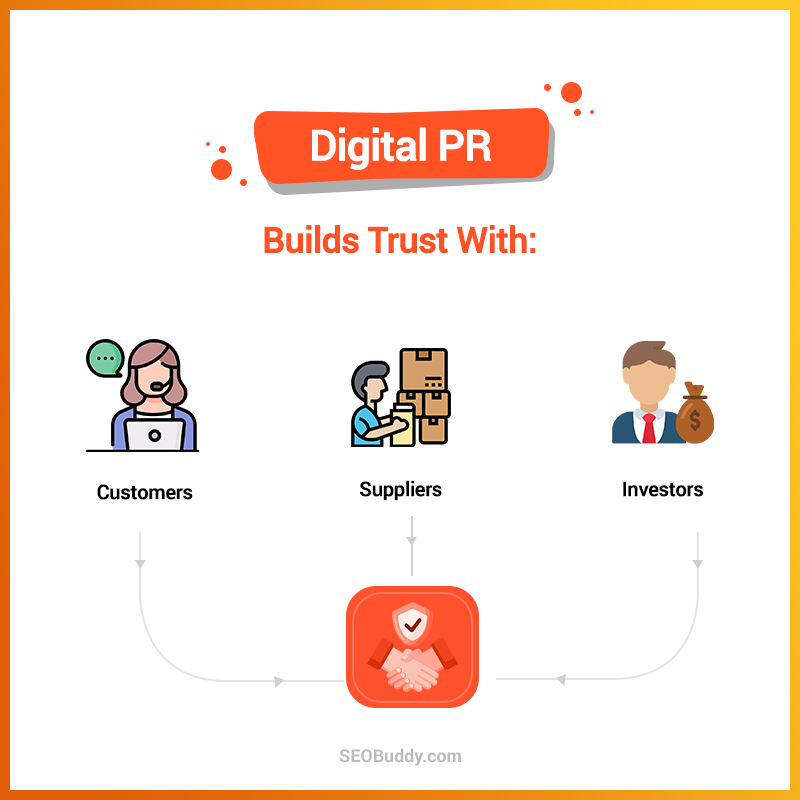 Effective digital PR helps build people's trust in your company.
Securing positive media coverage and high-quality content creation on authority websites builds your brand's credibility.
When they associate your company with credible sources of information and read positive reviews from trusted sources, it shows a strong sense of trustworthiness.
It's not just potential customers who'll trust you, but suppliers, investors, and any other entities interested in working with your business.
Don't shy away from displaying the logos of top-tier presses you've worked with on your website or adding an "in the press page" on your website.
Trust in your brand will eventually increase sales, which gets us to the next benefit.
3. Increases Sales
Although not everyone who comes across your link will click on it, the mention of your brand name in many trusted sources will build familiarity among the readers.
This familiarity could turn them into customers in the future.
Besides, as your target audience looks for information on the web and comes across your brand's name in their favorite magazines and blogs, they'll see your business as a brand they can connect and engage with. Not just another retailer.
This develops a strong brand recognition and brand recall. When these people intend to buy something that you and many other brands offer, your brand recall will encourage them to choose your brand over others.
4. Boosts Your Remarketing Campaigns
Any visitor who clicks the backlinks will spend some time on your site.
They may not be ready to convert right away. But by tracking their movement on your site and observing their interests, you can add them to your remarketing list
This will give them the nudge necessary to turn them into future customers.
Remarketing is a strategy where you serve ads to people who've visited your website and shown interest in your products and services but haven't taken the desired action.
Think of it as a second chance to encourage them to convert.
You can use social media advertising and display network ads in your remarketing campaigns.
5. Increases Website Traffic
Digital PR can drive referral and search traffic to your website through strategically-placed backlinks on authoritative websites.
If you create engaging content, these audiences are likely to share it on social media, increasing the traffic even more.
Additionally, relevant backlinks from authoritative websites also help your website rank better. This, in turn, increases your website's organic traffic.
How Do You Know Your Digital PR Campaign is Working?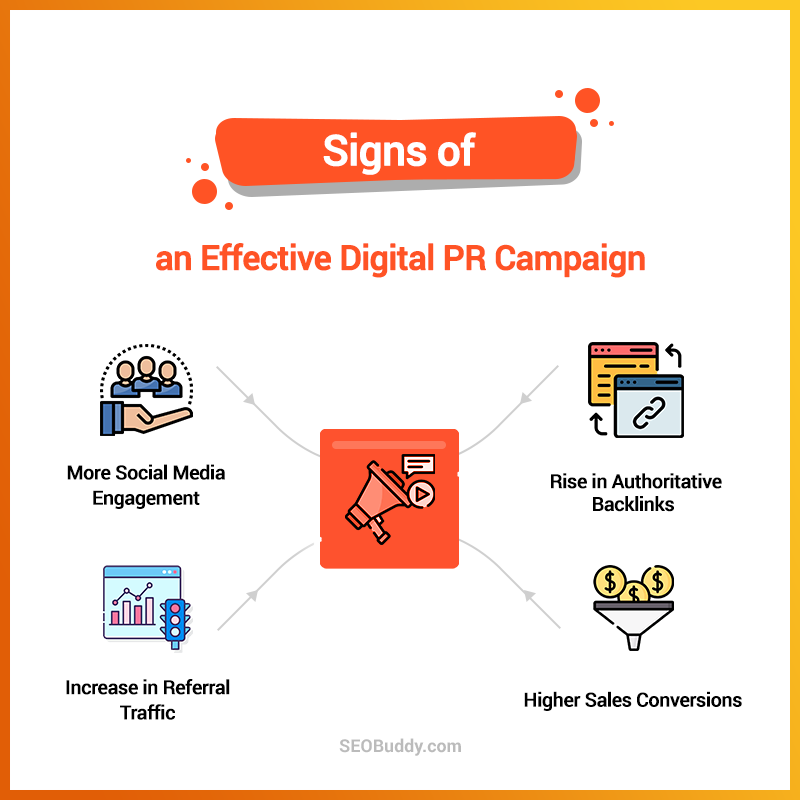 Here are four ways you can tell if your strategy is effective.
1. More Social Media Engagement
An increase in social media engagement is proof that your digital PR strategy is working.
Look for the following to assess your digital PR campaign's performance:
Increase in brand mentions on social media networks
The kind of conversations people are having about your brand. Are the social media mentions positive, negative, or neutral?
Rise in views, shares, likes, comments, etc.
2. Rise in Authoritative Backlinks
An increase in brand mentions and authoritative backlinks shows that your digital PR strategy is paying off.
Check the domain authority and sources of backlinks using a tool like Semrush. Look for both follow and no-follow links.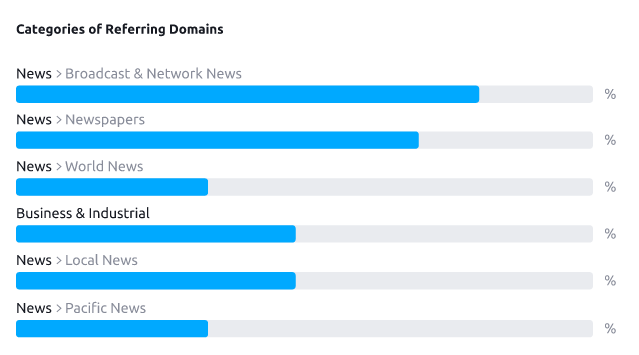 Some websites with high domain authority will mention your rband, but they won't link to your website.
It's worth monitoring these unlinked mentions, especially from highly regarded sources like government websites or universities.
This is because these mentions could still have a major impact on your reputation and get you brand exposure.
Use a tool like BuzzSumo to see where the articles you're mentioned have been posted and analyze them individually.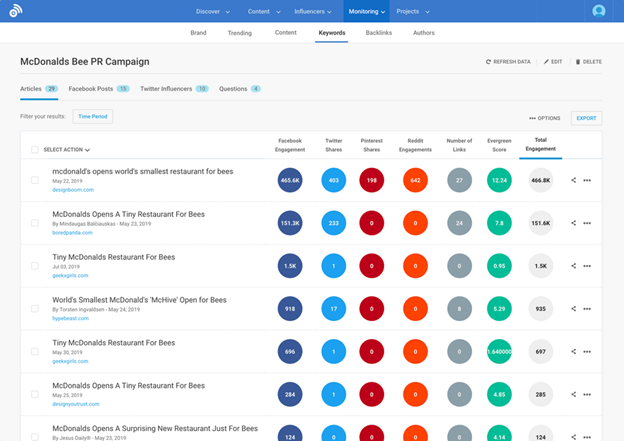 3. Increase in Referral Traffic
An increase in your website's referral traffic is another indication that your digital PR strategy is working.
If people are clicking on your backlinks it means that they like your content and want to read more. This is also a testament to the quality, usefulness, and relevance of your content.
You can use Semrush to compare your website's referral traffic before and after the campaign.

Use Semrush to:
Check the increase in referral traffic regularly
See the list of websites sending traffic to your site
Check the source of the traffic coming to your site
See the pages getting the most traffic
4. Higher Sales Conversions
An increase in leads and sales shows that your digital PR campaign is a success.
Check the number of leads and sales in the month or quarter before the digital PR campaign, and compare it to the numbers after the campaign.
The boost in sales may not be instant, but you should notice some significant change over time.
It's particularly important to measure your leads and sales if your digital PR campaign was targeting a particular demographic, such as an age group or gender.
An increase in leads and sales among this demographic indicates your digital PR strategy successfully connected you with your target audience.
The Case of Tesco
You have the facts about digital PR, now let's get to a practical example of a digital PR campaign by Tesco.
2021 was a tough year for business, and Tesco, a supermarket giant, did the unexpected.
Instead of encouraging their customers to buy from them, they asked them to buy from their local pubs instead.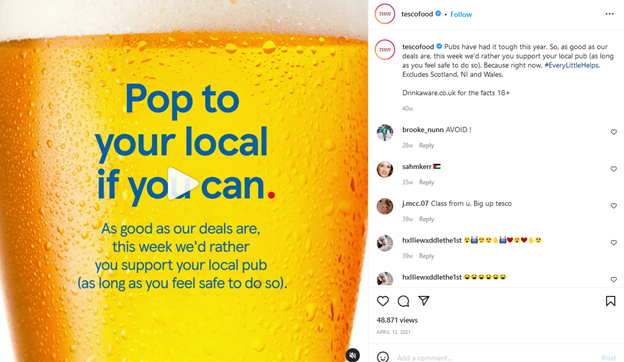 The effect?
You guessed it right.
The word about Tesla's noble act spread fast and top news outlets wasted no time creating content about it.
A Google search of "Give Tesco a Miss" shows several top news publishing houses covering the topic.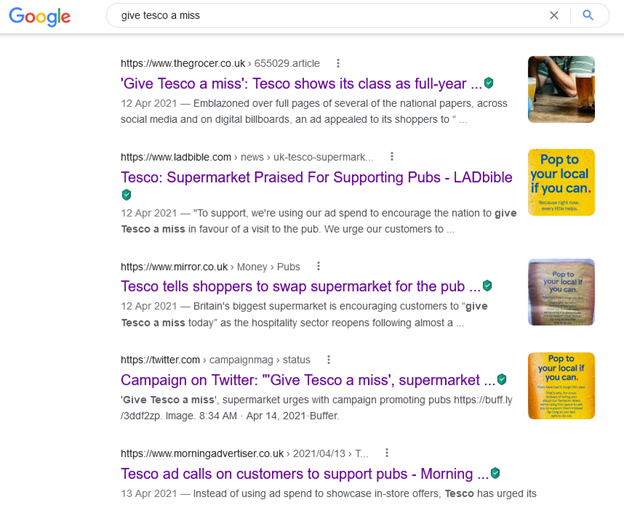 You can be sure that most of the audiences of these publishers developed a positive view of Tesco after reading the articles.
Here is one of the comments from the Mirror.

Sure, it's easier for a giant like Tesco or a digital PR agency to get news websites to cover their story and gain publicity.
But, luckily, there are plenty of platforms that can help you connect with journalists, such as Help a Reporter Out (HARO).
HARO helps journalists find story sources and, as a brand, you get plenty of opportunities to get valuable media coverage.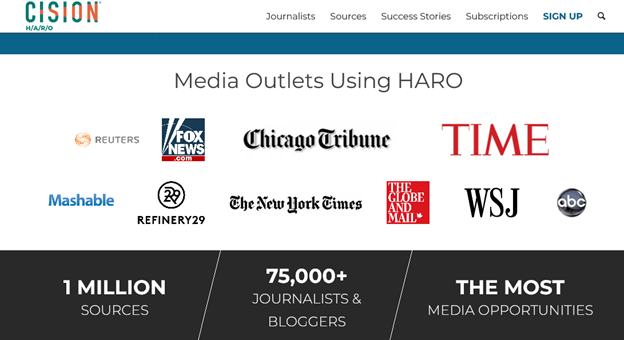 You can also reach out to journalists directly.
How to Succeed in Journalist Outreach
Here are three tips to successfully reach out to journalists for your Digital PR campaign.
1. Create Stories
Journalists are short of time. They're required to research, write, and edit several interesting articles in a day.
Give them a great story on a platter, and they're more than likely to take it.
Your story should be unique, useful, and valuable.
Include high-quality images and videos shorter than 60-seconds.
Creating an impressive video doesn't need to cost a fortune. You can create a montage with some background music.
A montage is basically editing a series of images to form a continuous sequence that relates to your story.
You can use royalty-free images from sites like Unsplash and royalty-free audios from sites like Incompetech.
2. Create Unique Resources
Create a resource that journalists will naturally link in their articles.
You'll have better chances of getting backlinks for unique resources—something that doesn't currently exist.
Cover a topic that's trending or getting lots of attention from the media.
You can use a site like BuzzFeed for inspiration and updates on current events.
3. Write Effective Emails
Journalists often receive tons of pitches in a day, so you need to make yours stand out in the crowd.
Here are a few tips for a successful outreach email:
Keep it simple: Keep your message short, simple, and to the point.
Avoid attachments: Write everything in the body of the email. If you have extra images and videos to share, add them to Dropbox and share the link.
Add an image: Embed an image at the top part of the message. It'll pique their interest.
Grab attention with your subject line: Write attention-grabbing subject lines that prompt the readers to open your email.
Add link: Include a link to your website.
There's no definite way to write an effective outreach email.
Try different subject lines, language, and delivery times. And check open rates with a tool like Campaign Monitor to find what works best.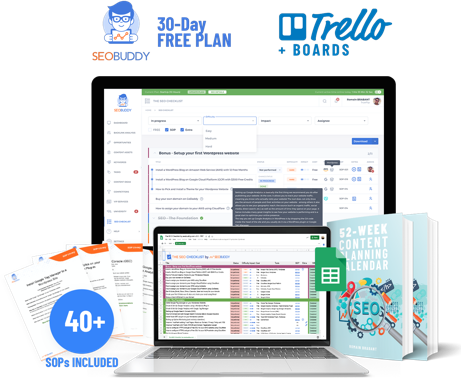 There's more…
Now it's time to discover the other 102 steps that will get more organic traffic flowing to your website. Get the SEO Checklist here.
Want to get a sneak peek of what it looks like?
Enter your email and get a free demo version of the SEO Checklist.
FAQs
1. How is digital PR different from traditional PR?
The goal of traditional PR and digital PR is similar—to increase brand awareness and build a positive brand image.
But traditional PR relies on print publications, TV, and radio to build this awareness while digital PR focuses on online channels like news websites and social media.
2. What are the types of Digital PR?
Digital PR strategies involve creating content that talks about your brand and shows your expertise in the industry. This includes:
Press releases
Guest posts
Sponsored posts
Influencer content
Online reviews
Affiliate marketing
Online interviews
Press hits
Journals
The content should contain a link back to your site. But it can also include unlinked mentions of your brand on popular websites.
3. What does PR mean in digital marketing?
It's a marketing strategy used by digital marketers to build a brand's online presence.
It also increases website traffic, generates new leads, establishes the brand's credibility, and creates a remarketing channel.
4. Is digital PR and digital marketing the same?
Digital PR is just one of the many digital marketing strategies .
Digital PR is about creating brand awareness using online strategies like influencer marketing, guest posting, and press hits in reputable news sources.
5. How does digital PR improve SEO?
Digital PR involves link building with reputable online news publications, websites, blogs, and podcasts.
And as we all know, backlinks are one of the important Google ranking factors and can not only help improve SERP rankings but also website authority.
Ready to Unleash the Full Potential of Digital PR?
You cannot overlook the benefits digital PR can bring to your brand. Building brand awareness is just a fraction of it.
Digital PR will increase your brand's credibility, increase leads and sales, and help you gain loyal customers.
Most importantly, it'll heavily boost your SEO efforts, and working with a reliable SEO agency that doubles as a digital PR agency will create a more streamlined process.
Get in touch with our team to help you combine digital PR and SEO to achieve all your marketing goals.