What is Content Pruning? Remove Low-Quality Content to Improve SEO
Are you struggling with traffic, rankings, and conversions? Then it's time to spring-clean your website's content with content pruning.
Low-quality content can hurt your search engine rankings, which, in turn, can impact your sales. Of course, it's a no-brainer that irrelevant and confusing content will also negatively impact your user experience.
The good news?
Content pruning can help you boost your search rankings and enhance UX.
When done right, it helps you:

But, what exactly is content pruning and how to go about it?
In this post, I'll share the tricks of the content pruning trade that can help you achieve your SEO goals.
Ready?
Let's get started.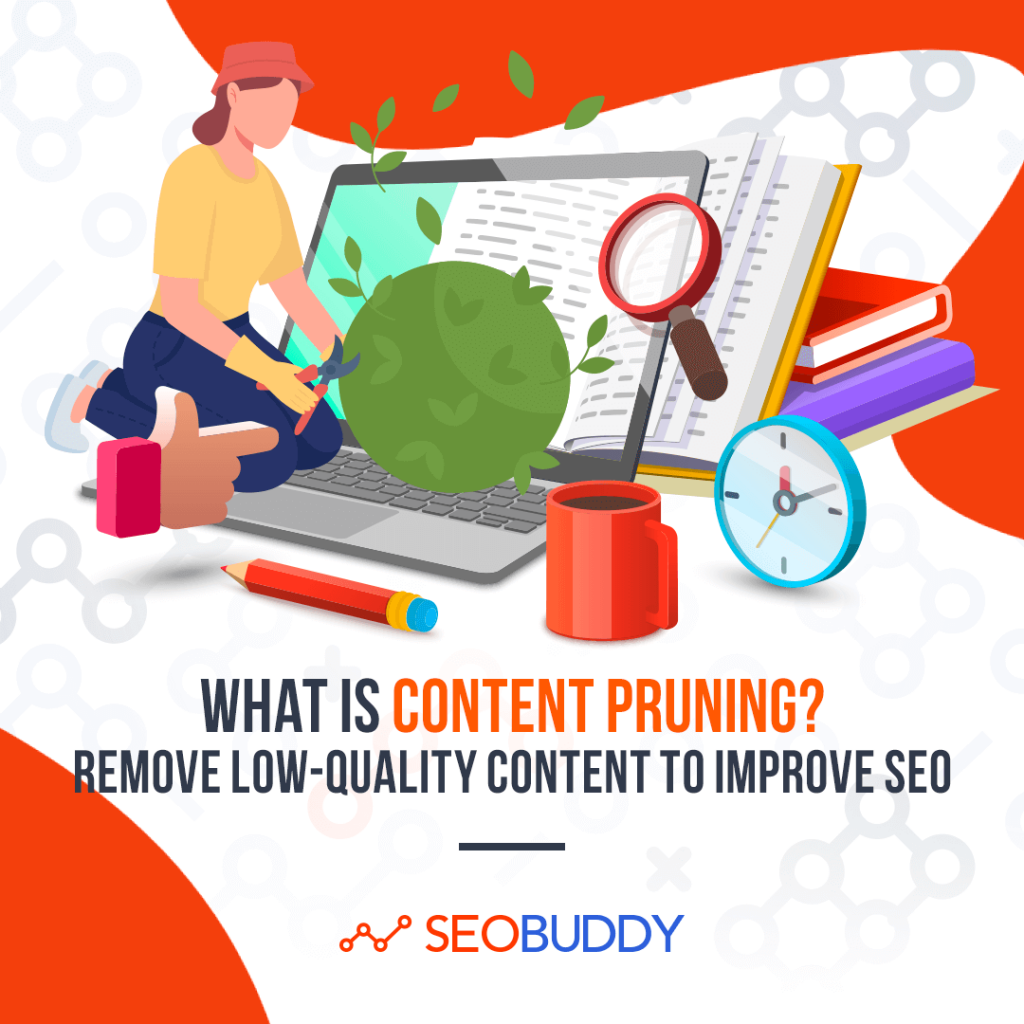 What is Content Pruning?
Content pruning is the process of removing low-performing content from your website and adding great content that does wonders for your SEO.
But, wait.
Content pruning is not just about deleting or updating old content.
It's about knowing:
What information or content need pruning
When and how often to update the content
How much of your content to update
How to do content pruning
Did I miss the "why?"
No worries.
I'll explain each of these points — including why you need to do content pruning — to help you on your SEO journey.
Why Do Content Pruning?
Here are some of the benefits content pruning will give you:
Gets Your Website Indexed
How does Google rank websites in the SERPs?
It uses "Googlebots", that crawl websites and find new pages on them. The pages they crawl are stored in a database or "indexed."
Every time a user keys in a query on Google, the search engine pulls out relevant pages from this index and then ranks them. If your site is not indexed, Google cannot rank it.
One of the best ways to ensure your site is indexed and ranked by Google is to add high-quality content and remove content that's no longer relevant or isn't performing well. And that's exactly what content pruning is all about.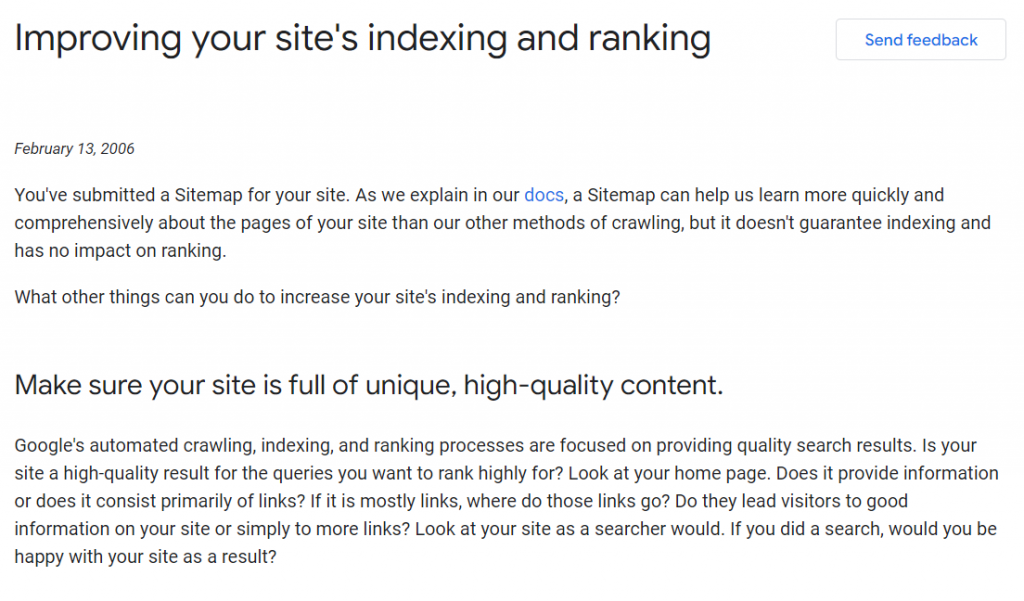 Elevates Your Search Ranking
You might already know that Google rewards freshness and relevance.
While it uses over 200 ranking factors, Google basically looks at whether your site's content:
Has the keywords used in the search query
Has related keywords
Is relevant to the search query
Most importantly, as you can see in this image from Google below, it looks at the freshness of content to rank.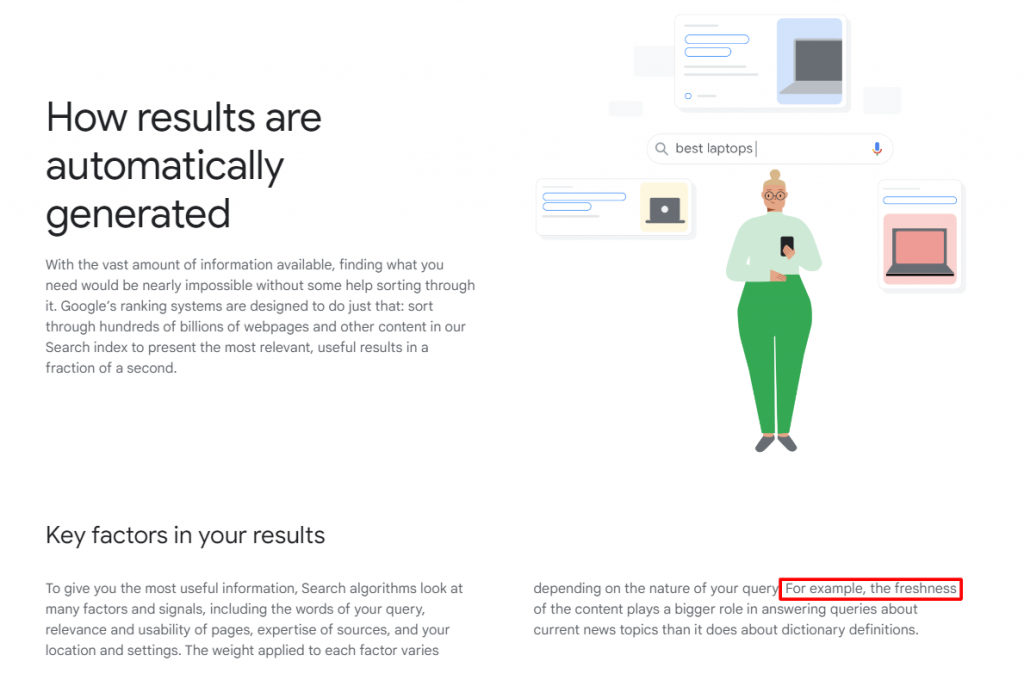 Content pruning helps keep your site's content fresh and relevant. And that's a great way to stay in Google's good books.
But, wait there's more.
Every now and then, Google releases "core updates," that are algorithm changes that aim to increase the relevancy of search results for its users.
The most recent one was released in May 2022.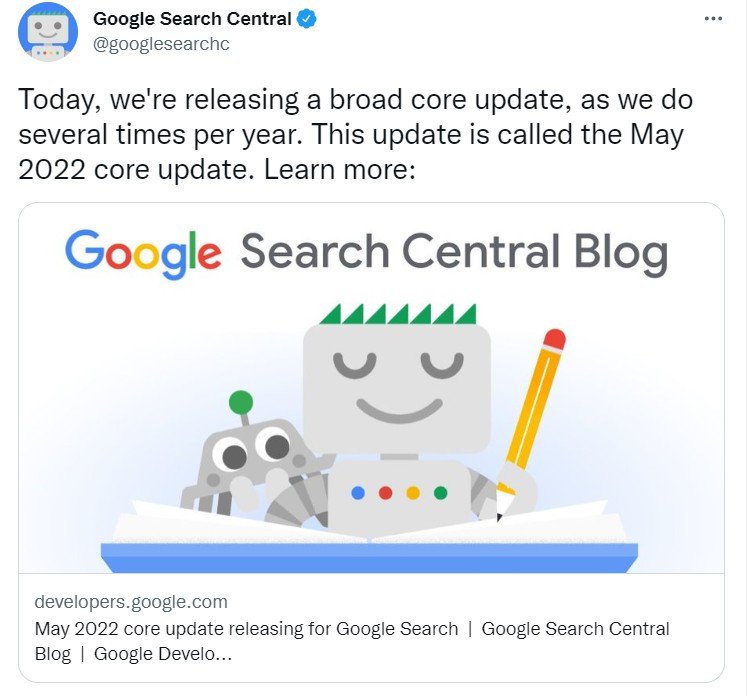 These changes affect the rankings of businesses across domains. For example, after the May 2020 algorithm update, the organic rankings of businesses in these industries took a hit.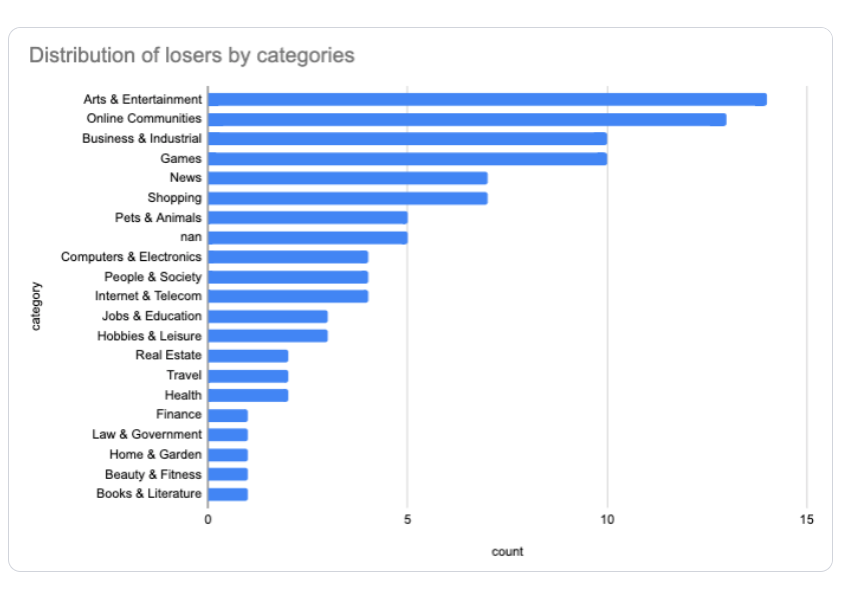 So, how to ensure your rankings don't drop down when these storms strike?
You guessed it. By performing the content pruning exercise regularly, you can ensure your website has compelling, authoritative content that ranks.
Boosts Website Authority
Your domain authority impacts your search engine rankings. Google wants to give its users the most reliable information. And this usually comes from websites which have a higher authority than the rest. It's only natural then that these websites would be bumped up to the top of the SERPs.
Google decides if your site is authoritative by using these factors: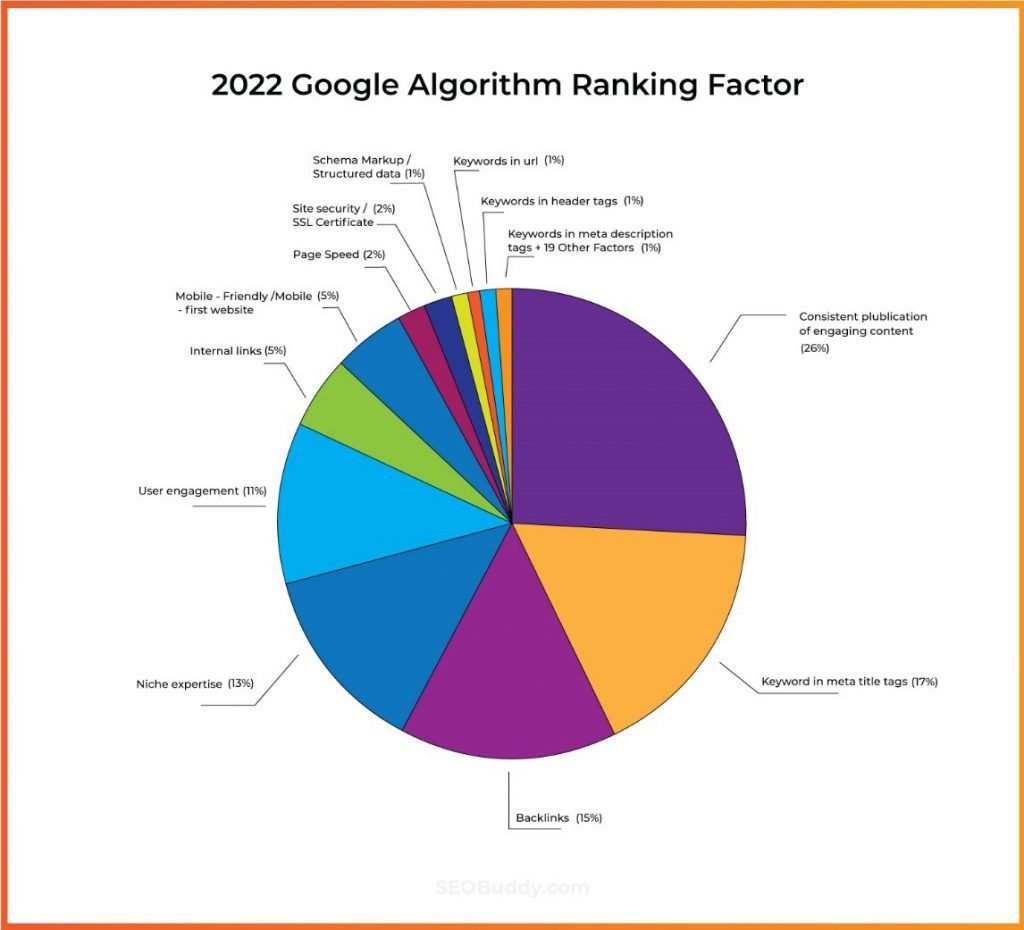 As you can see, Google gives the highest weightage to consistent publication of high-quality content.
And publishing high-quality content is one way to improve your website authority. But at the same time, removing poor content helps with it too. This is why content pruning is so important for boosting your authority.
What's more?
The more authoritative your site is, the more will your link-building opportunities be.
With regular content pruning, you can ensure you build high-quality links to establish your site as a trustworthy one.
Enriches User Experience
Awesome content will delight your readers and keep them coming back for more. In fact, consumers love reading good quality content.
And if your site has confusing, outdated content, readers are likely to leave. And most of them will never return after a single bad experience.
Given that modern consumers expect consistent, relevant information across all touch points, content pruning will help you:
Engage readers
Give them the information they need
Build trust and brand loyalty
In other words, content pruning helps you offer a better user experience.
Boosts Traffic and Revenue
Content pruning isn't something that's just nice to do. It gives you tangible benefits.
Here's a case study to prove the power of content pruning.
HubSpot had thousands of blog posts. However, a content audit revealed many were not getting the desired pageviews or traffic.
To boost SEO and traffic, HubSpot's SEO experts began the content pruning exercise and deleted 3000 old and irrelevant blog posts.
Once the content was updated, the company's site experienced a higher traffic as you can see from this image: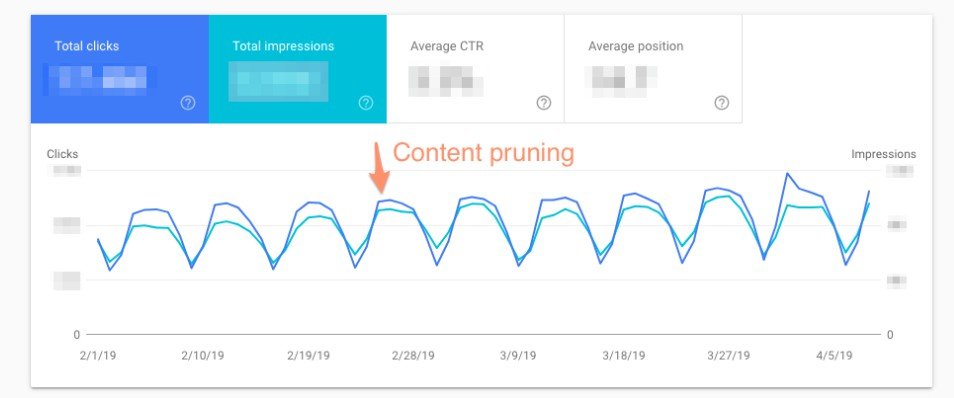 Now that you know why content pruning is so important, let's get down to the brass tacks.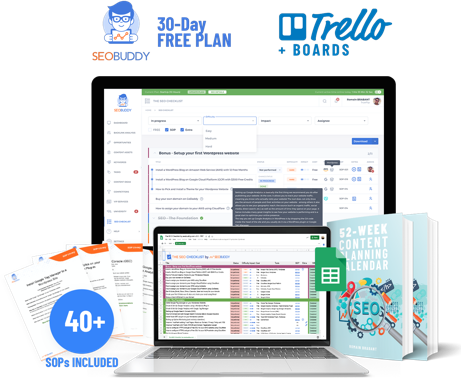 There's more…
Now it's time to discover the other 102 steps that will get more organic traffic flowing to your website. Get the SEO Checklist here.
Want to get a sneak peek of what it looks like?
Enter your email and get a free demo version of the SEO Checklist.
8 Steps of the Content Pruning Process
You might be tempted to just delete the oldest. content on your website, but this isn't the best approach to content pruning.
Here are the steps involved in the content pruning process:
1. Know What Your Audience Wants
The first rule when it comes to content pruning is to know what your audience wants and tailor your content accordingly.
You can start by identifying who they are. While you may have a good idea, it's always better to see your website analytics to further refine your audience profile. This will help you understand their likes, dislikes, and desires.
You can also use a survey or questionnaire to do this. You might want to ask them:
What they like and dislike about your website
Which social media platforms they visit
What are they looking for on your website and social media platforms
What type of content interests them
You can also leverage tools like Google Analytics that can help you get a better insight into your current website audience. You can accordingly figure out what sort of content clicks with them.
What's more?
You can see if people are scrolling or clicking, which pages they visit the most, and what their behavior on your site is like.
Another such tool is Hotjar. It gives you feedback on how people interact with specific pages of your website and allows you to see what's happening on your website in real-time.
This tool also lets you know where people click and scroll on your site, so you can see exactly what your visitors are spending time on or ignoring. And that's very helpful to identify useful information on each page.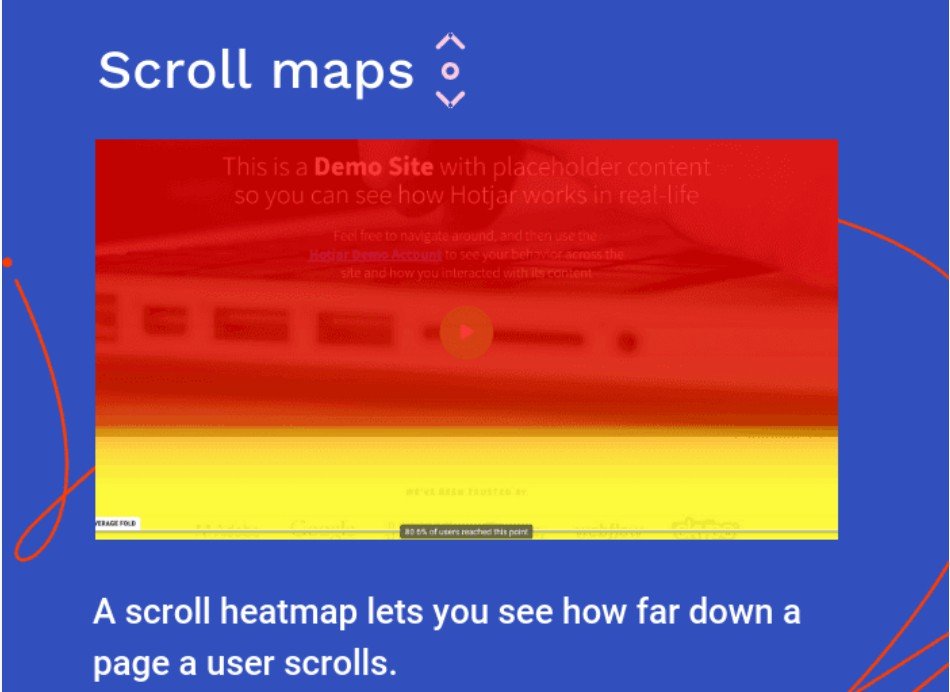 Above all, note that Google wants you to avoid writing for search engines and take a "people-first" approach.
Here are some questions you can ask to find out if your content is relevant to your audience:
Does your existing audience find your content useful ?
Will readers have a satisfying experience after reading your content?
Does your content demonstrate depth of knowledge and expertise?
2. Set Your Goals
What do you want to achieve at the end of your content pruning exercise?
Your goals will determine the metrics you need to use to measure the success of your efforts.
These goals for content pruning could be related to any of the following: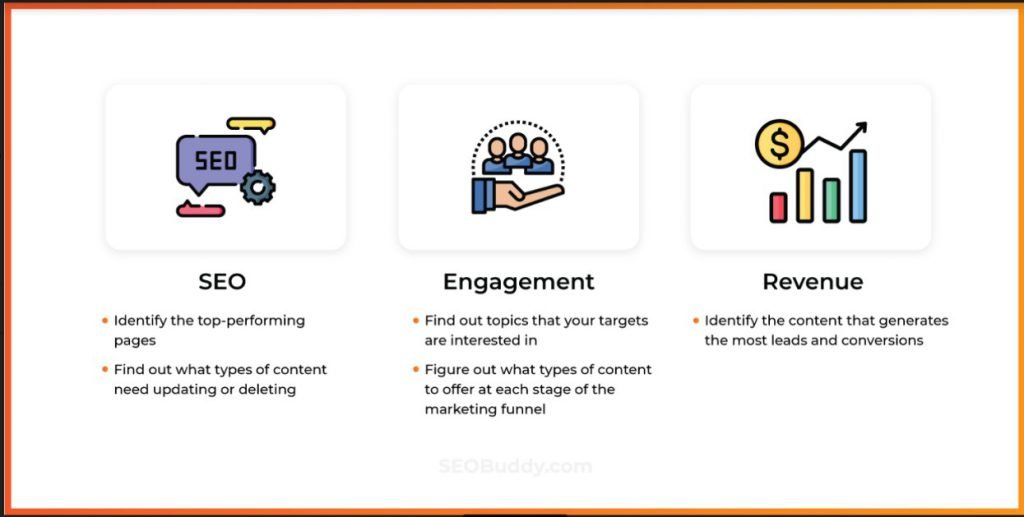 Now, identify the benchmarks you want to achieve for each web page or piece of content.
For instance, think about the monthly traffic, daily pageviews, or backlinks to aim for.
One way to do this is to track the SEO performance of your biggest competitors with competitor analysis.
There are many tools that help you with this and most of them offer these insights on your competitors:
Top performing content
Backlinks
Paid and organic keywords
Traffic
Social media performance
Another way to benchmark is to see what the industry standards are as a whole.
For instance, you can determine your target monthly visitors based on the data from this survey of B2B and B2C brands.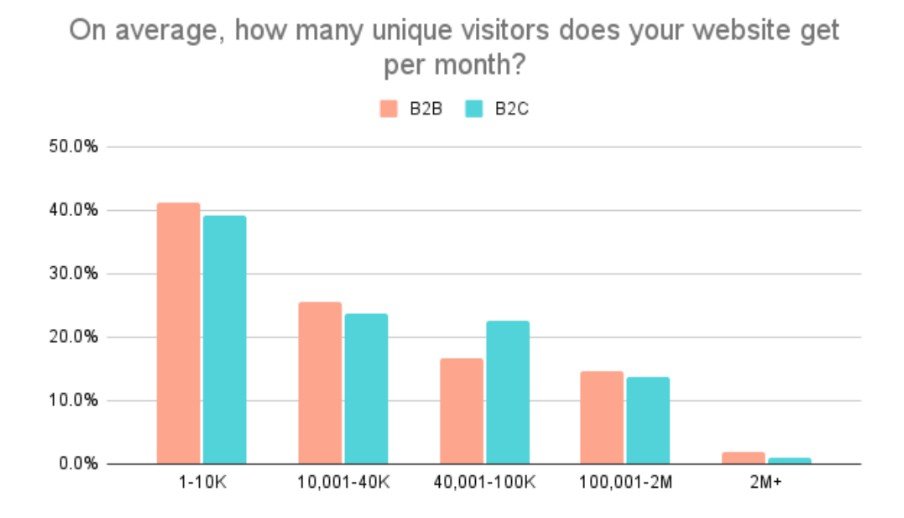 Or, use the latest insights from top ranking websites in different industries from Semrush based on traffic.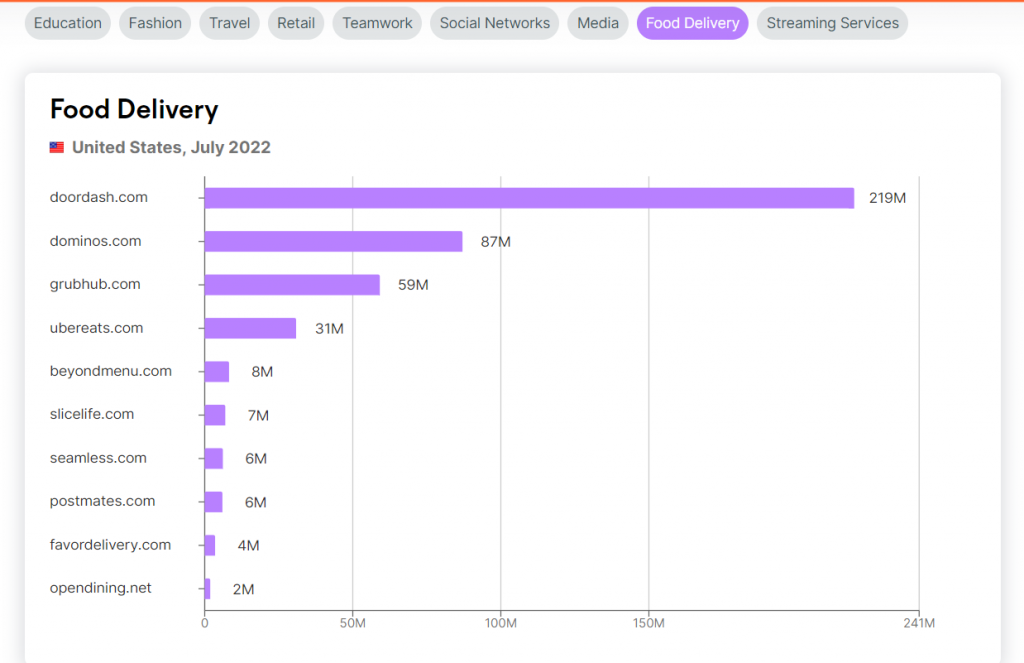 Instead of setting a definite number, you can also aim to improve your current numbers.
For instance, if you are getting 50 page views per day, you can aim to improve it by 25% each month.
If you get 5000 visitors per month, you can aim to increase it by 10% with content pruning.
3. List the Facets for Content Analysis
The next step in the content pruning process is to identify which content is relevant and what needs updating.
Some content will be evergreen and will continue to attract and inform readers. Others posts may no longer be relevant despite being fairly recent.
Google will look for fresh content for these types of queries:

Clearly, you need to update content if it relates to:
Trending topics
News or sporting events
Annual conferences/events
Elections
Product reviews
Latest pricing information
Queries related to the following will not make Google look for the latest content:
Historical facts
Recipes
Evergreen topics such as:

How to stay fit without going to the gym
Must visit ancient temples in Vietnam
Look at this example to see how Google ranks content based on how well it meets the needs of the searcher: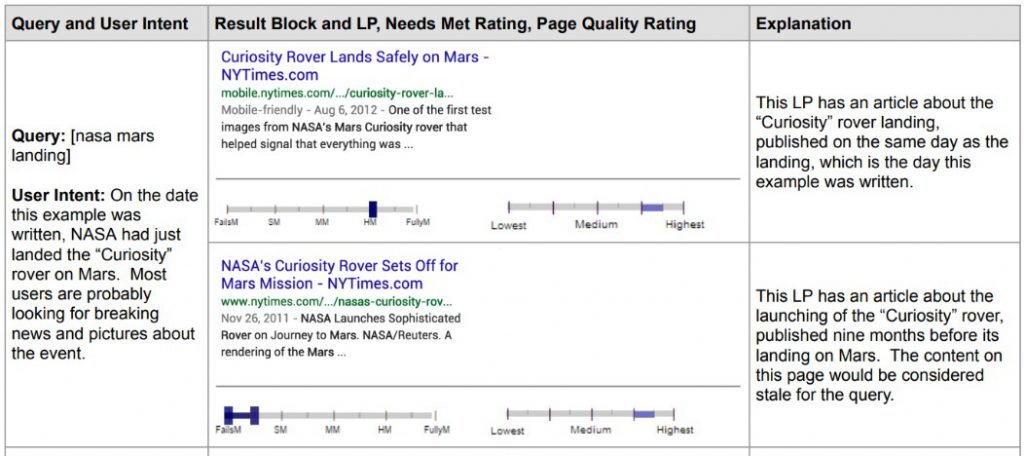 For the query "Nasa Mars landing," Google ranked the NY article on Curiosity Rover landing safely on Mars as "high needs met." This is because the article was published on the same date as the query was entered, making it fresh and relevant.
The article on the launching of the Rover "fails to meet" the needs of the user and is considered stale.
Freshness of content is an important attribute to consider when it comes to content pruning.
Depending on your goals, you'll need to analyze these facets before getting started with content pruning: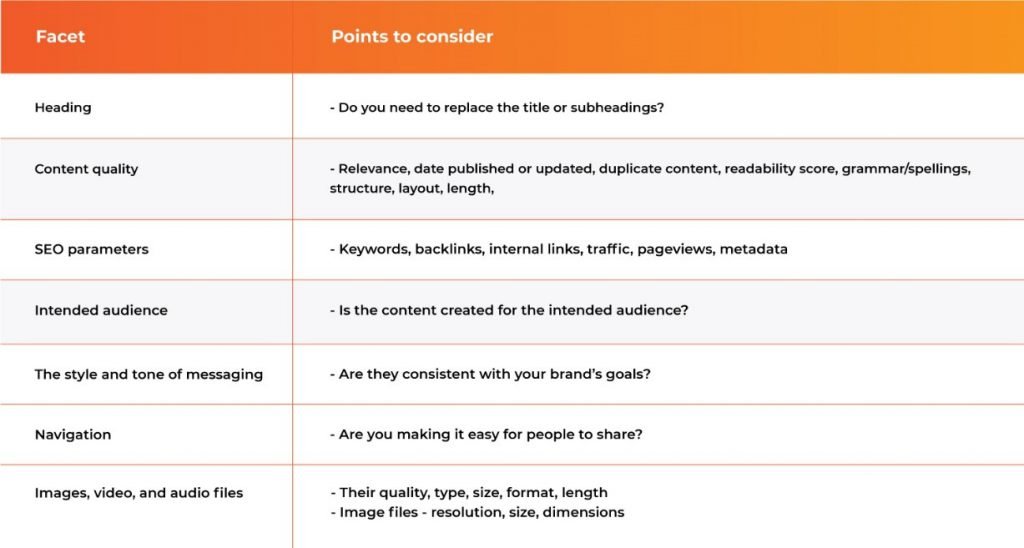 4. Gather Your Content
Before you move on to content pruning, decide what content needs to be analyzed. Your content that needs auditing can include:
Blog posts
Product descriptions
News
Video content
Landing pages
Forms
Interactive content such as games, tests, or quizzes
Content published on external sites
It's a great idea to compile the URLs of these pages to streamline the content audit process. You can create a spreadsheet and enter the URLs and other parameters to analyze if you have a small website with no more than 10 to 20 pages.
Use a template like this with columns on all aspects of your content audit (page title, images, CTA, links, etc).

If you have a large website, you may need to use specific content inventory tools such as DYNO Mapper or Screaming Frog.
These tools give you the details of all the pages on your website as well as subdomains, bad links, errors, and external and internal links that you can export into a spreadsheet.
Now, you're all set to analyze your content.
5. Perform a Content Audit
The objective of the content audit is to know what content to:
Keep (timely posts, high-performing, and evergreen content)
Remove (low-performing, old content)
Fix to improve quality
Content Audit Tools
You can use a combination of different tools to audit your content and simplify the content pruning process. Here are some of them:
Google tools: Google Analytics, PageSpeed Insights, and Search Console.
Content inventory tools: Google Sheets, Airtable, DYNO Mapper
SEO and on-page audit tools: Semrush, Screaming Frog, Ahrefs, etc.
Content quality tools: Grammarly, Yoast SEO, Hemingway Editor, etc.
Content audit tools automatically gather the content on your website and analyze it. They also display the metrics that help you quickly understand what action to take.
Google Analytics
If you're looking for a free content auditing tool, you can use Google Analytics.
It gives you useful reports on:
Landing pages: Shows the top performing landing pages
Average session: The amount of time they spend on your site
New and returning users: The number of new and returning visitors
Site Search: Shows what users are searching for on your website
Recency and frequency: Displays how often visitors return to your site
Behavior flow: Where are the visitors going after landing on your website?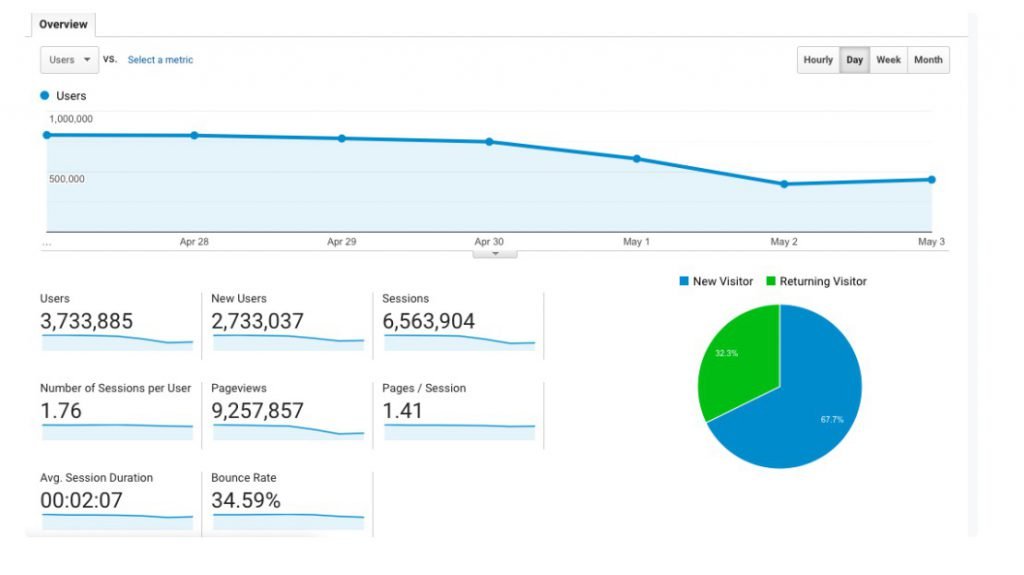 You can also create custom conditions and see the relevant data on the Insights dashboard on Google Analytics.
For instance, you can set a custom trigger for "conversions" or "revenue" to see which pages bring in the most conversions.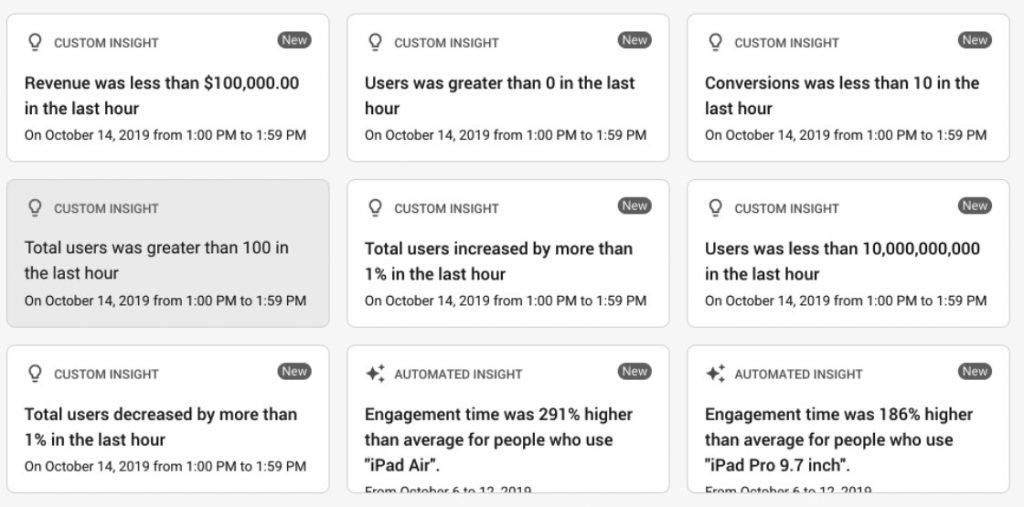 Semrush
While Google Analytics is a free tool, it doesn't offer the traditional content audit or content improvement suggestions.
If you want tools that help you with this, Semrush is a good choice. It offers a content audit tool that audits your content on the subfolder level. Based on your subscription level, Semrush will audit between 50 pages to 20,000 pages.
Select the subfolders to audit and ensure the URLs listed by the tool match the ones you want to audit. You can also upload specific URLs if you only want a few of them to be audited.
You'll need to connect your Google Analytics account with Semrush to get all the metrics you want.
Best part?
The tool groups your content based on whether you need to fix the content or delete them.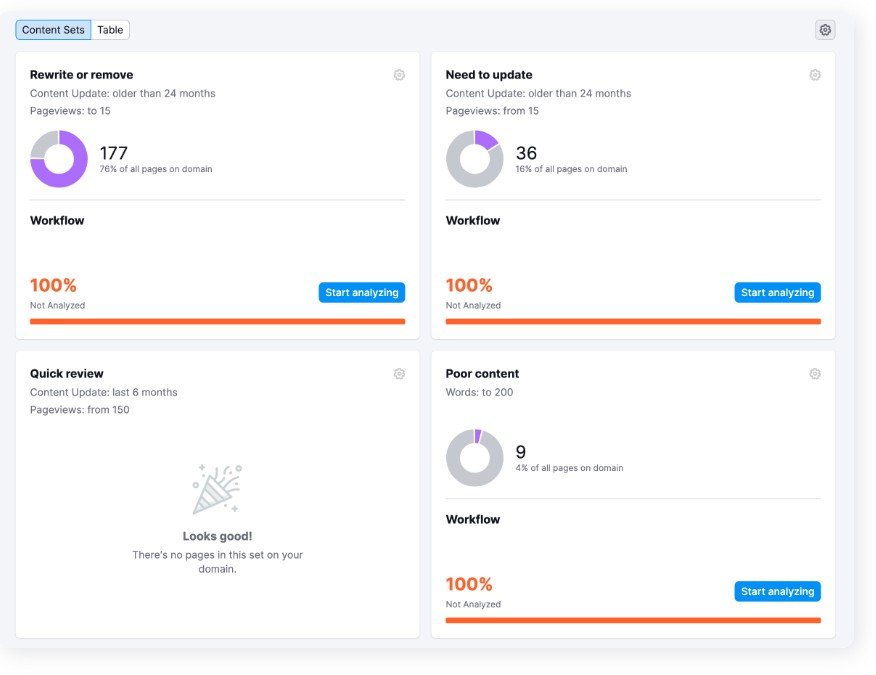 Rewrite or remove: These are pages you published a year ago but are viewed less than 15 times in the last month
Need to update: Pages with less than 15 views in the last one month
Poor content: Pages with content featuring less than 200 words
When you click on the "start analyzing" button, you will get detailed metrics for each content piece: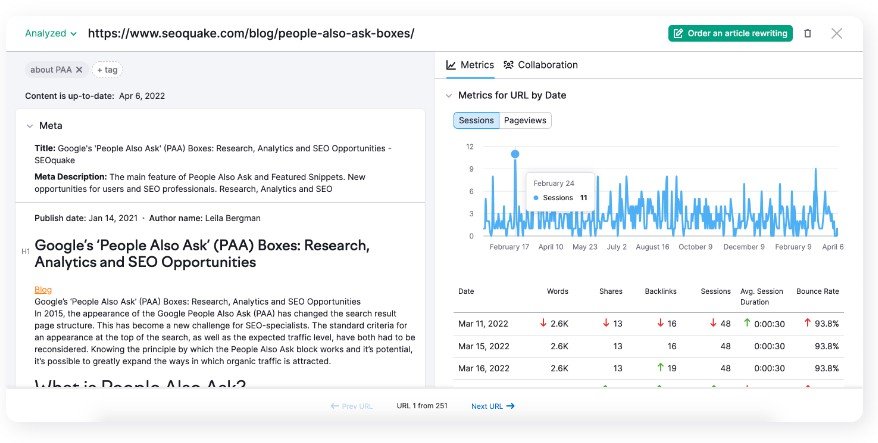 6. Evaluate the Results
Now that you have all the data you need, organize it by entering it in your spreadsheet like this.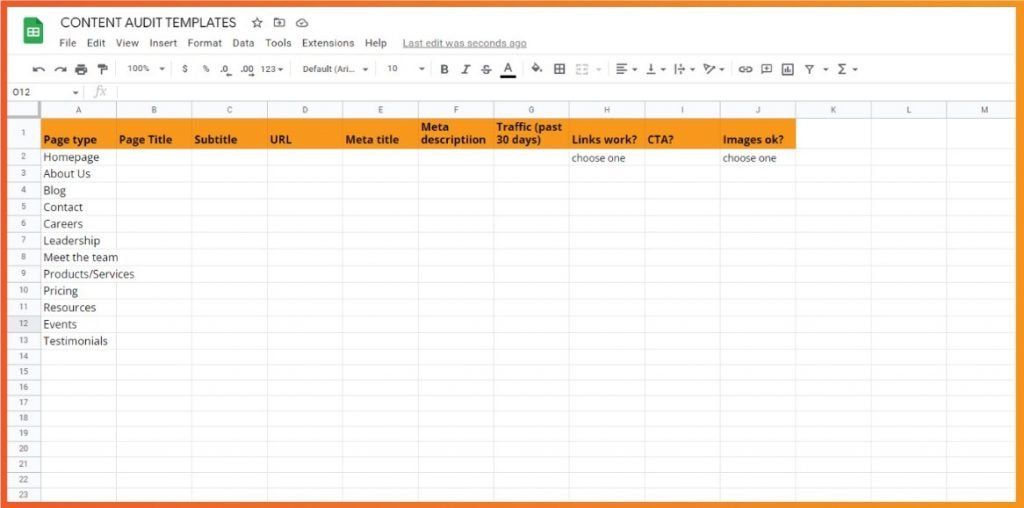 Now, evaluate the data critically for all URLs and content. Make a note of:
Outdated content: What is no longer relevant to your audience and SEO campaign? Can you update any of these or repurpose them to boost your SEO?
Missing content: Is there any content that your competitors are ranking for and your audience is interested in that you haven't covered?
Low-performing content: Which pages aren't getting the views or metrics you want?
Top-performing content: You don't need to do anything about this.
An easy way to assign priorities to tasks is to organize the results in a spreadsheet and highlight rows with different colors. For instance, red can denote immediate action, green can indicate no action, and orange for tasks that you can take up at a later date.
While prioritizing your content pruning tasks, look at how achievable they are with respect to your business goals and the kind of effort that's required.
For example, if you need to only add a few links, you can do the content pruning exercise quickly and achieve good results.
Creating an e-book, on the other hand, involves a lot of time and effort, and the results aren't guaranteed.
Remember that you don't have to do it all at once.
Create a reasonable timeframe for your content pruning exercise and fix the number of articles you are going to prune each month.
7. Prune Your Content
Now that you've created the content pruning task list, it's time to get started with the pruning process. Your content marketing strategy can involve:
Removing low-performing/irrelevant content: You may need to remove some existing content from Google's index that can harm your SEO even if it's useful for your visitors. You can remove:

Existing content that isn't getting organic or paid traffic
Outdated content
Content with few or no external links
Thin content
Content that's not gaining traction on social media platforms

Rewriting content: Spruce up low-performing content with the latest data, new product details, actionable tips, and the right keywords. There are many tools like Google Keyword Planner that you can use to find keywords for your content strategy. These tools provide valuable information, such as how many people are searching for a given keyword and the cost per click (CPC).
Expanding the content: The more, the merrier. In fact, most bloggers who write long blog posts with 3000 or more words, report great results as this study shows. So, how long should your posts be?
According to HubSpot research, the ideal word count for blog posts in 2022 is between 2,100 and 2,400 words.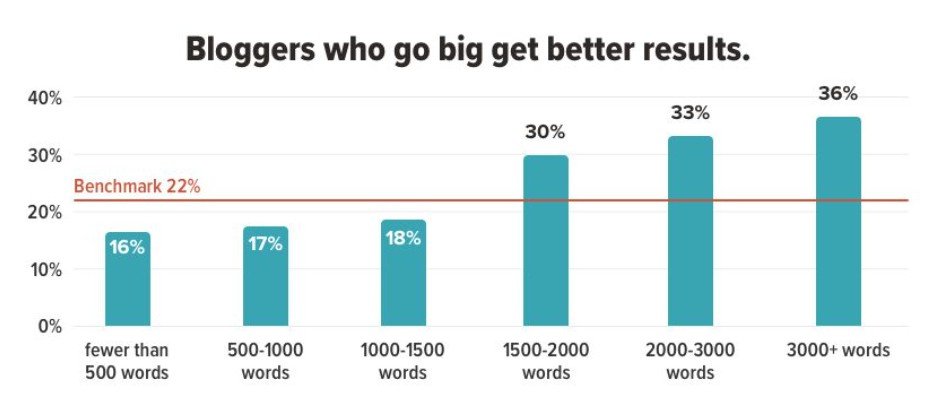 What's more?
Semrush's 2020 report finds that posts with 7,000+ words drive 4x more traffic than posts with 900 and 1,200 words.
So, start the content pruning process by increasing the word count to 3000 and increase it further, if necessary.
Restructuring your content: You may just need to restructure your content by adding H2, H3, and H4 tags. The above Semrush study also shows posts that have a complex structure attract more engagement and traffic.
Repurposing your content: This is a great way to give a quick boost to your SEO. Here are some ways to repurpose your content:

Convert descriptive posts to "how-to" posts or listicles. This is the format that generates the most traffic and views.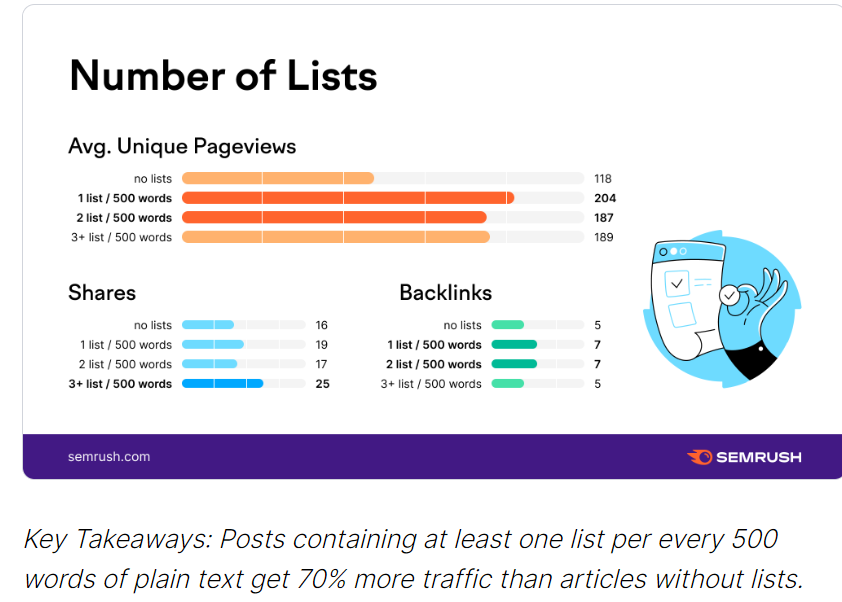 Transform your blog post to a YouTube video
Create videos and Reels for social media
Convert your blog post into a podcast
Turn your blog posts into infographics
Refresh and republish content on new platforms
Repost content from one platform to another
Adding images and videos: Add the right size of images, SEO-friendly image titles, and alt-text are some ways to optimize your images for search engines.
Adding a video helps boost traffic, user understanding, engagement, and lead generation according to a Wyzowl study: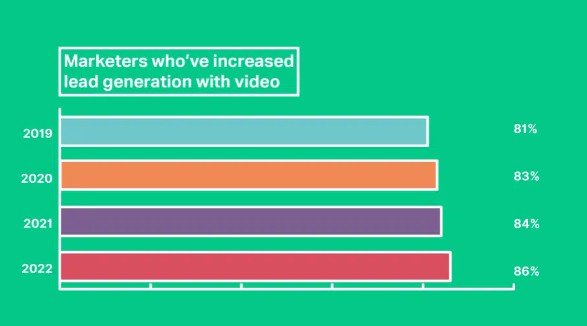 Fine tuning metadata: Rewrite meta descriptions, headings, and subheadings. Use keywords to boost your content's visibility and reach.
You can also explore our Link Chest to find easy link building opportunities.
After the content pruning exercise, it's important to submit the URLs of any updated or modified pages for re-indexing through Google Search Console. And, if you delete a post, make sure you redirect the URL to the updated content.
8. Assess Your Performance
You should now have great content on your website thanks to the content pruning exercise. Now starts your task of evaluating the effectiveness of your pruning tactics. You can do so by tracking:
Total monthly visitors
Bounce rate
Unique monthly visitors
Page views
Search engine rankings
Dwell time
Session duration
Also, keep an eye on industry trends, algorithm updates, and reduced search volume that can impact the success of content pruning.
How Often Should You Do Content Pruning?
Content pruning is an ongoing exercise. You can never say you're done with it.
Instead, you should make it an integral part of the SEO tasks you perform regularly.
Why so?
Because the only thing that's constant in the SEO world is change. Algorithms, customer preferences, and market dynamics keep changing. The only way to ensure you keep up with these changes is to regularly prune your content.
I recommend carrying out the content pruning exercise every three months if you have a large website with thousands of pages. For smaller websites, content pruning should be done once every six months.
FAQ
1. Why is content pruning important?
Content pruning is one of the most important parts of your SEO strategy. Removing low quality content and replacing it with what your target audience needs helps improve your rankings, boost lead generation, and conversions.
2. How do I trim content in SEO?
Content pruning involves these steps:
Determine your SEO goals
Use content audit tools to analyze your content
Decide what to keep, remove, or fix
Organize and prioritize your content pruning tasks
Refresh, delete, or update your content
Submit new pages for indexing
Measure the results and modify your strategy
3. What is the most important part of the content pruning process?
While every step of the content pruning process is important, the most important part is to understand your audience and what they are looking for. This will help you write compelling content that will resonate with them.
4. How often should you do content pruning and why?
Generally, you should do content pruning on a quarterly basis. But, if you have a large website with thousands of pages and you publish content frequently, you should prune the content every three months. Smaller websites will need to do the content pruning exercise once in six months.
5. What is the most common fix for duplicate content?
Content pruning is the most common fix for duplicate content. It is a process where you identify the duplicates, delete them, and then replace them with links to the original copy.
Get Content Pruning Right
Content pruning is a vital part of your digital marketing strategy and getting it right is key to acing SEO. It helps you take control of your site's visibility by pruning your low-quality content.
You need to do this exercise every three to six months (depending on the size of your website and frequency of publishing) to stay ahead of your competition.
But, to ensure sustained results with it, you need to perfect the other components of SEO, including competitive analysis, on-page SEO, and technical SEO.
There are not one or two, but over 100 action steps in the journey to SEO success. You can discover these, and much more, in our SEO checklist and the SOP collection.