My SEO Journey: Adrian Balcan from feedcheck.co – SEO efforts are more valuable than SEM activities
My SEO Journey is a new series where entrepreneurs and Indie makers will share their honest SEO Journey filled with failure and success, and most importantly proven results. Episode #29 features Adrian Balcan from Feedcheck.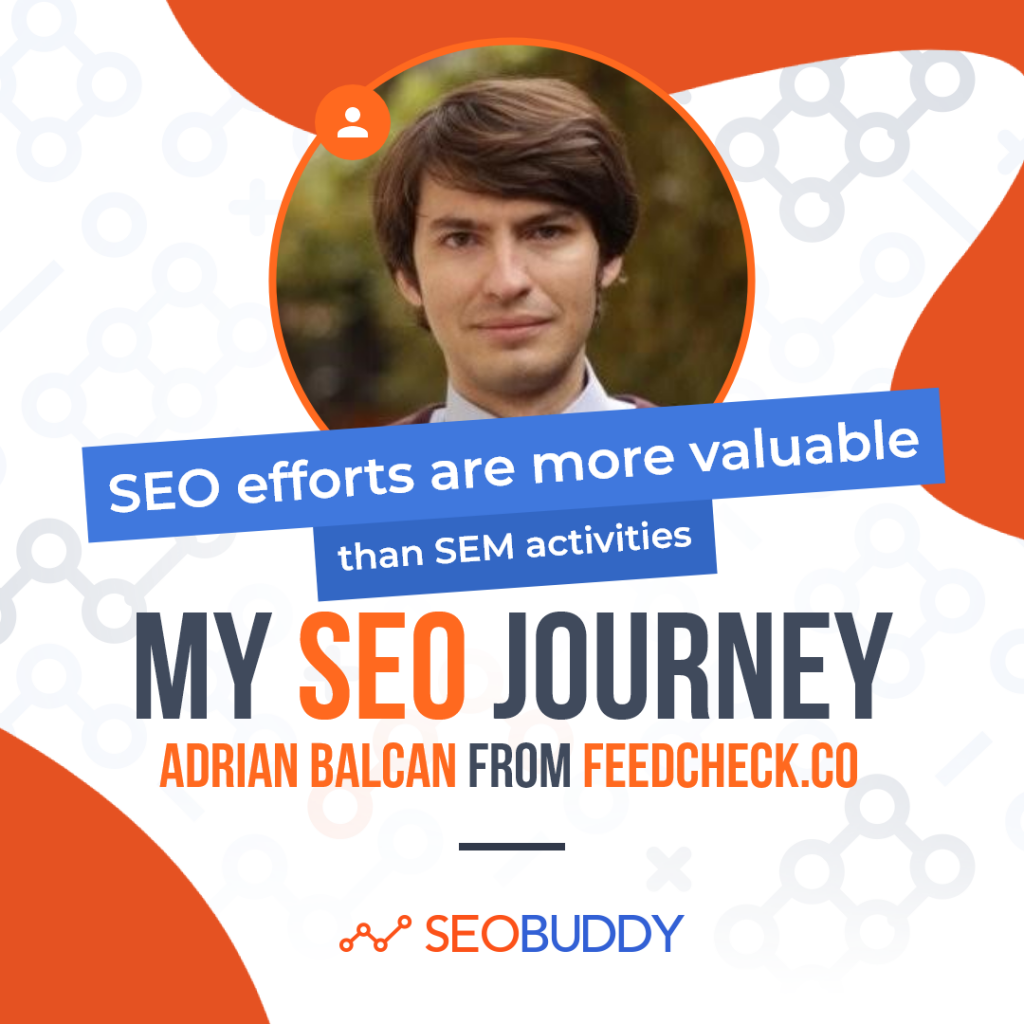 I am Adrian, the founder of FeedCheck. FeedCheck is a platform for product reviews analytics that helps consumer brands track and analyze their reviews.
7 years ago, I started a small company with a clear desire to build a digital product but at that moment we started with data acquisition services. After 2 years of struggling, we had a chance to start this product business.
During a collaboration with a smartwatch startup, they discovered reviews for their products on tens of websites. We got to work and a few months later we launched the first version of FeedCheck.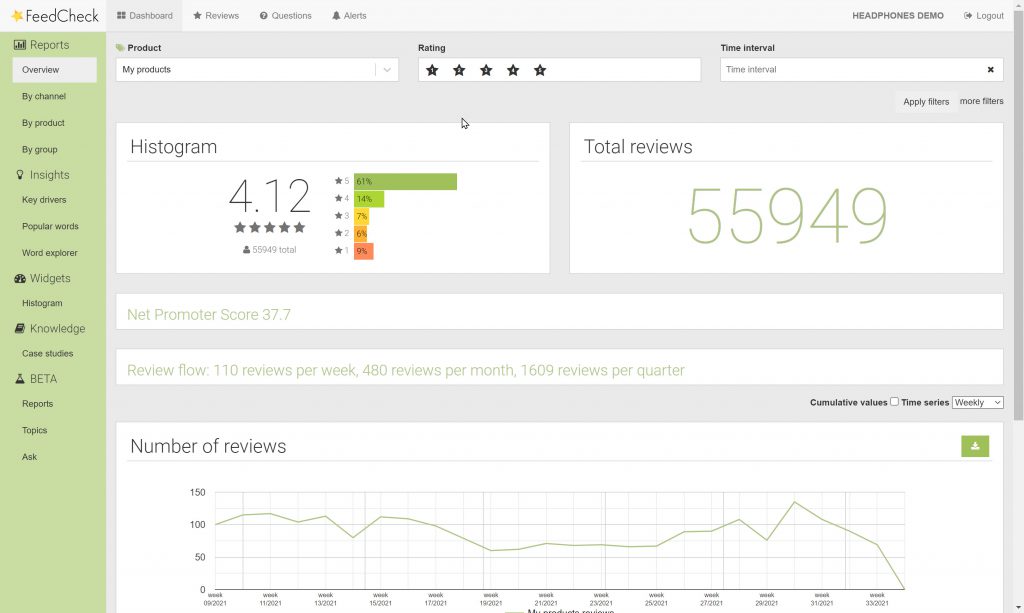 That's how it all started.
Now, FeedCheck helps global consumer brands (like P&G, Nestle, Fujitsu Computers) to monitor their customer reviews from online stores (like Amazon, Walmart, etc.).
Brands use FeedCheck to improve their products based on their customers' feedback.
What's your backstory and how did you come up with the idea?
Since I came across computers, I wanted to build software products.
I was curious to learn how software applications are made, how can I make one? How can I sell one? This happened when I was in high school. Over the years, I learned to program apps, read books about businesses and found answers to all the initial questions.
When I was in university I wanted to start a tech business.
After graduation, I started a company that delivered data acquisition services.
The first years were tough.
As a fresh grad, I started the company with a very low budget, and the initial services weren't so acquired.
I have attracted other people around and we started to build small products.
No one with significant success.
In the third year after starting the business, we started to collaborate with a smartwatch company and they had problems with monitoring reviews of their watches.
That was the AHA moment!
We started to work at an MVP and a few months later we launched.
The first months after the launch was tough. The resources were limited and our experience with organic growth was not so big. We started with some basic SEO initiatives to get some organic traffic.

We have learned in this process and we started to attract customers in the first year after launch.
Since launch, what has worked to attract more organic traffic?
After the MVP version of the product was launched, we tried to grow the organic traffic on our own.
We had no budget for SEM (Search Engine Marketing), so we started with SEO.
For the backlinks building process, we started to build a list with startup directories and B2B app directories like Capterra, G2Crowd, etc. After the list was done we built marketing content (description of different sizes) and published it on every website in our list.
We knew that was tools that do this automatically but we considered that we can do it better.
We had started a blog and we targeted long-tail keywords (sequences of 3 or more words) like "product review monitoring". We have observed in Google Analytics that we have better positions for long-tail keywords this was the reason for this action.
The results were impressive. For some of them, we reached positions on the first page of Google.
We built a list with famous products like Apple products, tablets, wearables and we created dedicated pages for each presenting customer perception extracted from their reviews. We collected the newest and most discussed products at that moment for different categories like smartwatches, mobile phones, headphones, etc.
For every product, we created a blog post with analytics of its reviews.
This method produced some organic traffic but the traffic wasn't from our customers (brands), it was from consumers interested to learn more about the product they wanted to buy.
Ultimately we have removed those articles from our blog.
These actions helped us to start with no advertising budget. We succeeded in creating a flow of organic traffic and even a stream of leads who came to us by website contact form.
Have you learned anything particularly helpful or advantageous?
We learned from our starting efforts that all SEO actions take time to have an effect.
Maybe was better if we started these initiatives before MVP was done.
We consider that was a good decision that we delayed advertising on search engines.
Later we started a CPC campaign with very low amounts. We learned quickly that CPC is a constant tweaking work. After we spent the budget we didn't keep anything. This was another AHA moment when we realized that SEO efforts were more valuable than SEM activities.
One mistake that we did here is that we don't track visitors and leads to make an attribution to the campaign.
Another mistake was that we didn't set the Audiences in Google Analytics from the beginning so we could start remarketing campaigns later.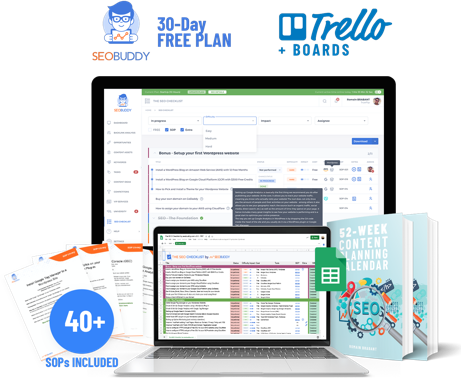 There's more…
Now it's time to discover the other 102 steps that will get more organic traffic flowing to your website. Get the SEO Checklist here.
Want to get a sneak peek of what it looks like?
Enter your email and get a free demo version of the SEO Checklist.
What platform/tools do you use for your business? (your SEO Tech Stack)
In terms of SEO tools, we didn't use too many. For website optimization, we used WooRank and Google Page Speed Insights. We use xml-sitemaps.com for sitemap generation.
Our blog uses WordPress, maybe not the best tool for this, but simply to use and popular.
We also Gravit designer to draw illustrations when we need.
The website was initially a theme bought from a marketplace like ThemeForest, then we created a new one using the Bootstrap CSS framework.
In the beginning, we started to build a list of startups directories. We sent our app to every directory in the list. We consider that helped us at the moment, but we don't have a clear metric to measure the effect now.
We have built a special embeddable widget, with reviews from popular products, with the hope that other publications will use it in their articles. This hasn't worked, it was a waste of time.
We try to obtain interviews in online publications like My SEO Journey and we share our story, on every occasion.
What have been the most influential books, podcasts, or other resources?
I read business articles every day.
I prefer sources like Google News, Hacker News. I love to read small business stories on Indie Hackers and Quora. On the SEO topic, I follow The Search Engine Land publication and Neil Patel's blog.
Regarding books, I think one of the most influential books was "The Four Steps to The Epiphany" by Steve Blank. This book was recommended to me by Daniel Dines from UIPath.
Another good book that I recommend is "The Hard Thing About Hard Things" a good business book which presents the unpleasant and hard moments in business.