My SEO Journey: Brian Winch from cleanlots.com – You'll be ranked higher if you're seen as an expert in your field
My SEO Journey is a series where entrepreneurs and Indie makers share their honest SEO Journey filled with failure and success, and most importantly proven results. Episode #67 features Brian Winch from CleanLots.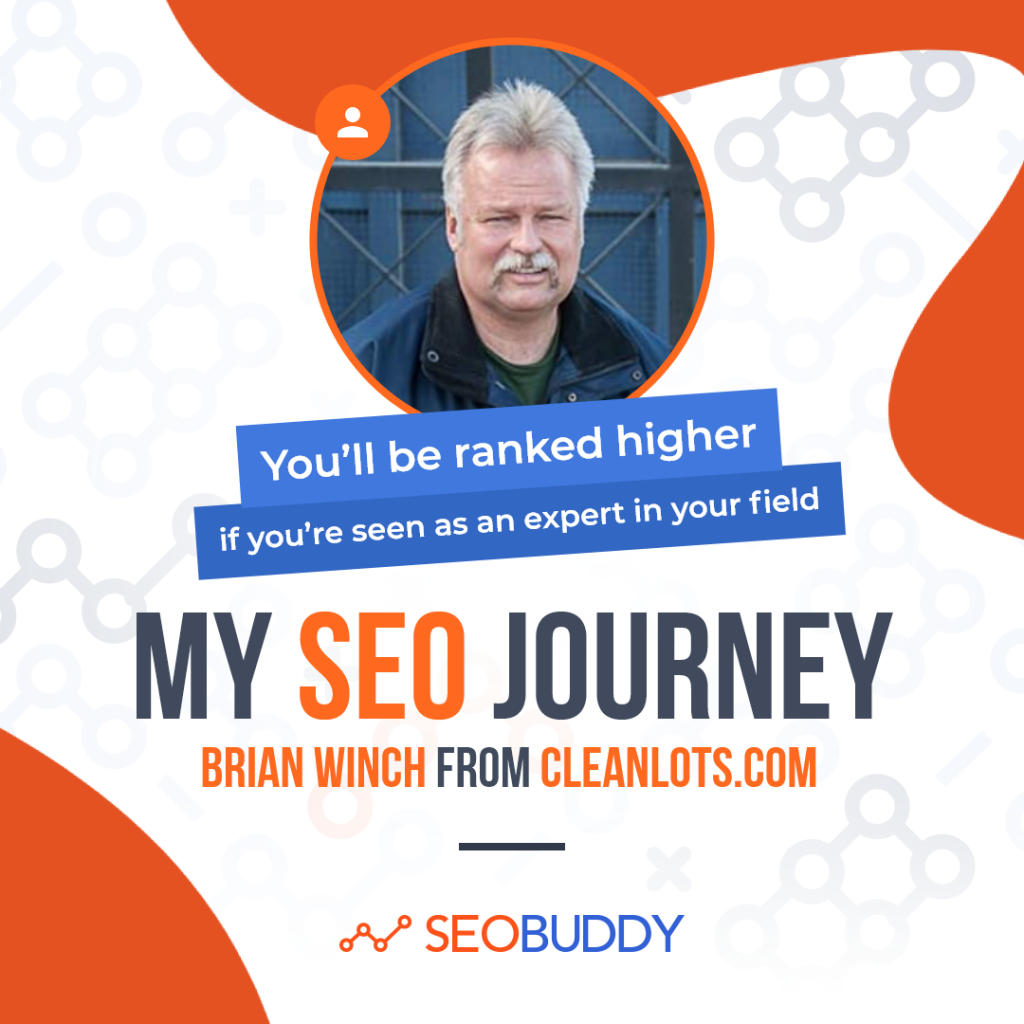 I'm Brian Winch, creator, and author of Cleanlots – America's Simplest Business.
I grew a simple side hustle that I started in 1981 into a 6 figure business that I still operate today. I started with little money, skills, and education, but plenty of passion, patience, and persistence.
I teach others how to start and operate a parking lot litter cleaning business that's almost as easy to do as going for a walk. The service is performed on-foot using a unique hand tool that makes the work quick and easy. I also offer free support as my way of giving back.
What's your backstory and how did you come up with the idea?
I was working a full-time job in the shipping/receiving department of a large sporting goods store in 1981. I realized that my opportunity for advancement beyond my position was limited due to the fact I had only a high school education.
I began looking at various business opportunities that were low-cost startups, didn't require special skills, and could be started part-time. My dad was always side-hustling as a means to supplement his income as a full-time janitor.
One of his hustles was cleaning up litter material outside a shopping plaza in the early morning hours before the businesses opened. He had taken me along with him a couple of times when I was a kid to help him out. I remembered how easy the work was to do. I also enjoyed working outdoors.
I decided to see if there was a market for this service full-time. My dad had just passed away a couple of months earlier so I was alone in my efforts to get this business off the ground.
I began cold calling prospects that I thought would be interested in this service. There was no internet at the time, so I used the best thing to find contact information for property management companies; the Yellow Pages telephone directory.
I began calling them and briefly introduced myself and pitched how my service could provide them with cleaner litter-free properties for less money. I offered to send them more information so I could hopefully obtain a request to provide an estimate for monthly service.
I was rewarded for my efforts after about 4 calls and began work at my first 3 properties. 
Since launch, what has worked to attract more organic traffic?

I've found having a Google My Business profile for my cleaning business to be very productive. I can share news about my business and post images and videos while making use of keywords so my prospects can find me.
Getting listed in as many online directories is also beneficial. The more places you are seen, the better.
I've had success obtaining media exposure in newspapers, magazines, blogging sites, and podcasts.
These avenues are always looking for interesting or entertaining stories to share with their audiences. It's important to remember when pitching them your story idea that you don't want to come across as "salesy". They're not interested in providing you with free advertising.
One example of this is being featured on our local TV news. We were noticing that people started discarding their used PPE (masks, wipes, gloves) in parking lots outside the businesses they had just visited.
I knew that this would be of interest to the local media so I contacted the news tip line of the largest television station in my market. I pitched the idea for a story that people were now discarding their used PPE in addition to typical litter material such as used drink cups, fast food wrappers, and cigarette butts.
Parking lot litter cleaning companies such as ours were now faced with a new type of litter. It was now more important than ever to provide a regular litter cleaning service outside commercial properties.
I was contacted within an hour to meet with a reporter early the next morning outside one of my job sites to do a video interview. The story aired the following day on the 6 pm news and the next day on the noon news. It appeared on their news website and was shared by more than 1.2K on Facebook. Here's the link: https://calgary.ctvnews.ca/it-s-scary-out-there-cleaning-company-says-latex-gloves-sanitary-wipes-being-left-in-parking-lots-1.4877448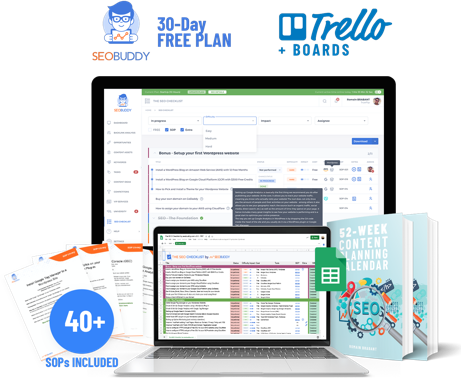 There's more…
Now it's time to discover the other 102 steps that will get more organic traffic flowing to your website. Get the SEO Checklist here.
Want to get a sneak peek of what it looks like?
Enter your email and get a free demo version of the SEO Checklist.
Have you learned anything particularly helpful in your SEO Journey?
You should think of your SEO Journey as a marathon rather than a sprint. You can do many different things that over time will have a positive impact on your SEO. Don't focus on only one activity.
Generating quality backlinks from authority websites pays off. You'll be ranked higher if you're seen as an expert in your field. There are several factors that make a good backlink. The most important being the strength of the referral.
The site must be seen as credible, authoritative, popular, and highly relevant to your subject and audience.
The backlink must be a real link, not a spammy one or a paid link. A link from a good site would have many quality backlinks themselves. It should receive a significant amount of traffic relevant to your site.
Ideally, the site will have a high domain authority score. The link should have a low toxicity score.
A news article on you with a link back to your site would be a good example of a high-quality backlink.
Some examples we have obtained are as follows:
https://vitaldollar.com/picking-up-trash/
https://www.starterstory.com/how-to-start-a-cleaning-service

The above links send good visitors to my cleanlots.com website. I have 1,279 non-toxic backlinks from 282 unique domains. The strategy with sites such as these is they are relevant to my audience. These are people that I want to reach.
What SEO tools do you use for your business?
There are many tools to play with but we use the following:
My website uses a WordPress plugin called Yoast.
I use Google Analytics to provide in-depth data about my site. It's essential for analyzing site traffic over a period of time.
I use Google Search Console to measure my site's search traffic and to find out which keywords my sites rank for and identify technical errors.
I use SEMRush to audit my website pages and to help me understand areas we can improve for better optimization. We can check my backlinks and see how to improve.
I have been successful with guest posting on many blogger sites. They often have opportunities for either free or a nominal cost.
Another great source to check is HARO (Help a reporter out). You can easily set up an account in minutes.
Choose your field of expertise and how many notifications you wish to receive from them each day. It's important that you reply to inquiries from reporters quickly and only provide them with what they're looking for. Make sure to show your authority in your signature with URLs for your website, LinkedIn profile, and other social proof.
What have been the most influential books, podcasts, or other resources?
I've found the book, Mastering Marketing by John H. Watson to be illuminating. I spent years trying to figure out what marketing was which resulted in what John calls "random acts of marketing". John's book lays out a roadmap that's easy to follow.
I enjoy listening to side hustle podcasts, Side Hustle School and Side Hustle Show, for ideas and inspiration.
What's the next step in your SEO Journey?
I'm always learning! I was late to this game as it doesn't come easy or natural for me. I've learned that I don't need to know everything, but if I can find a couple of areas that I can become adept at then I can have some success.
Where can we go to learn more?
You can check CleanLots website, follow us on LinkedIn.|

You can also read our story on Startup To Follow and Startup Nation.