My SEO Journey [Pro Edition]: Nikola Baldikov from inboundblogging.com – Blogging efforts plus link-building activities have been a winning combo for us
My SEO Journey [PRO Edition] is a series where professionals in the SEO Industry, Digital Marketing, or Web Design share their honest SEO Journey filled with failure, success, and most importantly, proven results. Episode #137 features Nikola Baldikov from Inbound Blogging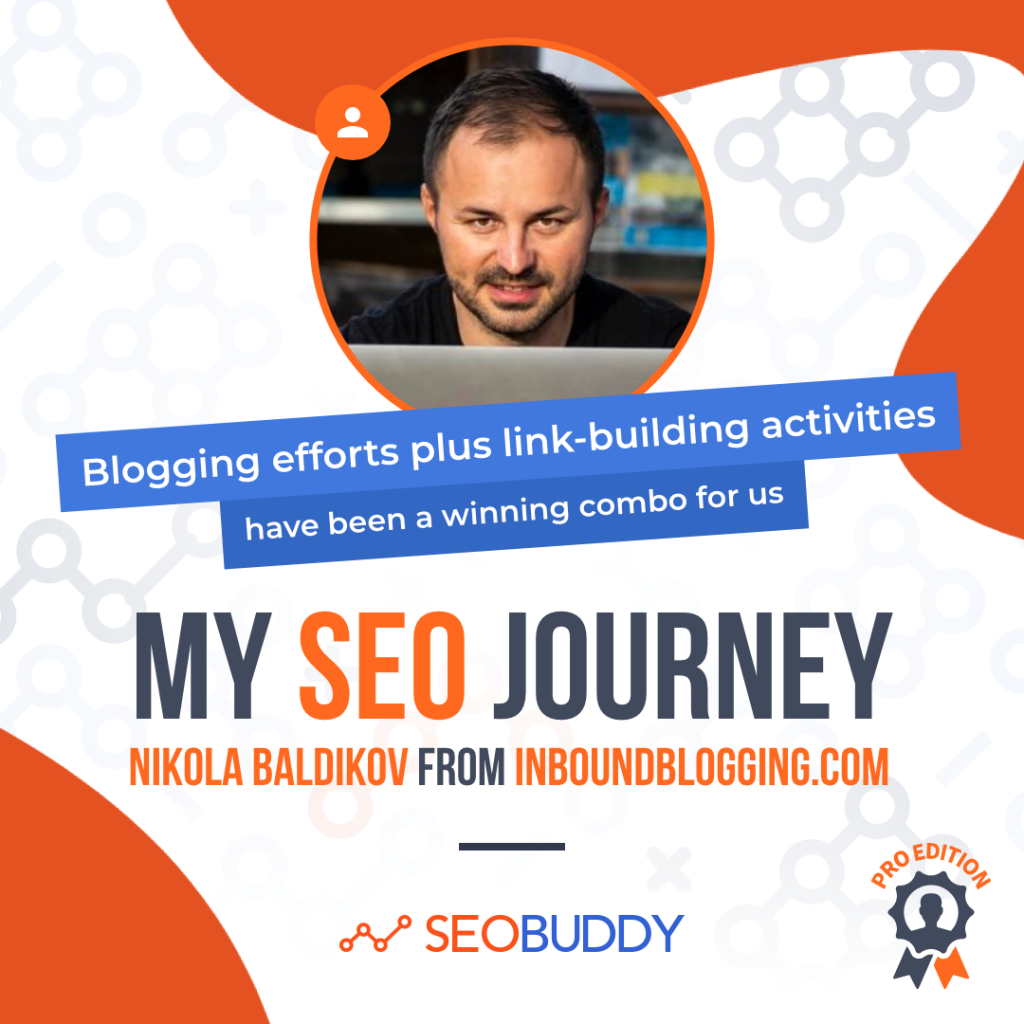 Hello! My name is Nikola Baldikov, and I am the founder and CEO of InBound Blogging. As an experienced SEO and digital marketing expert, I provide actionable advice on how to improve website visibility and earn income from blogging.
My company offers a set of SEO services, including SEO consultation, technical SEO, on-page and off-page SEO, link building, and journalist outreach through HARO and similar platforms.
Some of our major clients are Brosix, a pioneer in the instant messaging industry for businesses, and Dreamix, a leading software development agency.
What's your backstory, and how did you come up with the idea?
My SEO journey began in 2012 with a small, I would even say "amateur," project — an online store for t-shirts. My cousin and I were very green and didn't know anything about digital marketing, but we had a great passion for our initiative: selling personalized printed t-shirts.
Of course, I knew almost nothing about SEO but focused on Facebook, paid ads, and working with influential people, or as we call them today, "influencers." I've had to rely on my intuition for building and popularizing our brand. It turned out to be a good decision; our store was very successful. After my first experience with digital marketing, I feel proud of how we reached a large number of customers and developed a niche product that is still relevant today.
Having met many people, I was able to expand my horizons and change my course of action. The world of SEO revealed itself to me, attracted me, and since then, I have not stopped exploring it. At first, I thought I would be doing SEO as a side gig, but it wasn't long before I found a full-time job.
Working with reputable companies has provided me with invaluable experience for my next career step: starting my own company. I am thankful for having had the chance to face the power of words; it was fascinating. A great piece of content, filled with the right keywords, can make a huge difference. When you have the time, patience, and, most importantly, the right approach, blogging can be very rewarding.
Since launch, what has worked to attract more organic traffic?
Originally, I planned to create an affiliate website in the niche of web hosting, WordPress, SEO, blogging, and content writing. After AI became popular, I decided to pivot my business and start offering SEO services and creating other affiliate websites in less competitive niches. In six months, I reached my break-even point as an SEO expert.
I started with publishing articles on blogging, SEO, statistics, and content marketing topics. They are all SEO-friendly to reach more people organically. Furthermore, they provide readers with a lot of comprehensive information. Our goal is to help the audience find answers to the questions they ask.
By positioning ourselves as experts in this niche, we build trust. Blogging efforts plus link-building activities have been a winning combo for us.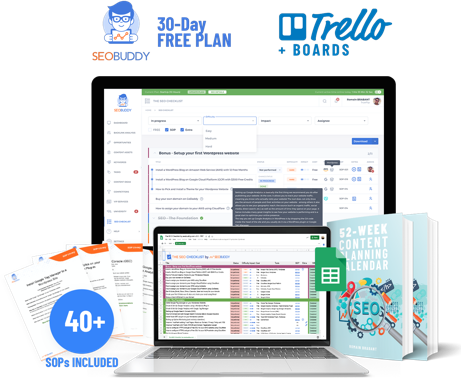 There's more…
Now it's time to discover the other 102 steps that will get more organic traffic flowing to your website. Get the SEO Checklist here.
Want to get a sneak peek of what it looks like?
Enter your email and get a free demo version of the SEO Checklist.
Have you learned anything particularly helpful in your SEO Journey?
Gone are the days when SEO was all about search engines. Yes, there are certain tech factors and rules to consider if you want to rank high, but that's not enough to succeed. I believe that we should keep things natural and that not everything should be done at all costs. That's what I teach my employees—not to aim to oversaturate content with keywords. Instead, we try to provide value to those who visit our site and read what we have to say.
In the early days of my business, I relied exclusively on freelancers. Soon I realized it was not a wise thing to do. Not that they lacked professional skills, but I needed in-house hires who were committed to achieving joint success.
The classic recipe for burnout, overwork, and dissatisfaction is to do everything yourself. Fresh eyes, different knowledge, skills, and perspectives (which come with every new team member) enrich every idea. So, as a manager, I needed to learn how to delegate.
Creating long-term partnerships with like-minded experts has been one of my best career decisions. A great example is ThriveMyWay and its founder, Georgi Todorov. With his team, we often exchange strategies to help each other. Recently, we attended their training on optimizing featured snippets. And, of course, soon after, we returned the favor by showing our procedure for using AI in content creation. Our professional relationship brings mutual benefit to everyone involved.
What SEO tools do you use for your business?
I rely the most on established tools in my professional practice, such as Google Trends, Google Analytics, Google Search Console, Ahrefs, and SemRush. I've recently found Neuronwriter as well, and I think it's impressive.
Without Google Trends, it's impossible to start any strategy. This tool helps tremendously in determining what potential customers want, or rather, what keywords they use to search in search engines. Knowing their preferences, the next steps are justified and reasonable.
Google Analytics is free and rich in information, such as website traffic, user behavior, conversions, and goals. It helps me understand how people find and interact with my website.
On the other hand, Google Search Console gives me a glimpse of the big picture—how a site is doing in general and in search results.
Ahrefs and Semrush are also essential tools for my work. Both come with vital features, such as keyword research, analyzing sites' backlink profiles and DR, spying on competitors, finding content opportunities, site audits, rank tracking, and monitoring overall SEO progress.
And a few words about my latest discovery—Neuronwriter. It won me over with its interface simplicity. It's extremely convenient and useful for optimizing written content. Neuronwriter gives suggestions for words and phrases that can possibly elevate a site's SEO performance above the competition.
Link building for both our clients and company goes in two directions: personalized outreach campaigns and building linkable assets.
Personalized outreach campaigns include finding relevant websites and blogs and pitching them content ideas for guest posts. Through these articles, we position ourselves as experts, give value to readers and thus make links to our site, but not only—we also do it for our partners. As a result, they owe us links that we can use again for our clients, but also for exchanges with other websites. Of course, we handpick sites with good traffic and DR to reach a larger audience, as well as improve link equity.
When it comes to linkable assets, those are pieces of content designed to attract natural links, such as blogs, infographics, and videos.
What have been the most influential books, podcasts, or other resources?
Among all the professional courses I've been through, Ahrefs' free blogging course has largely changed my SEO and business mindset. Most of the methods I use to this day are based on this course.
My favorite business podcast is the Niche Pursuits podcast. The topics covered in the episodes cover a very wide range: marketing, blogging, artificial intelligence, SEO, HARO link building, e-commerce, and even how to make money online. As they say, there is something for everyone. This podcast always manages to capture my attention and teach me something new and important.
I've recently started following the YouTube channel of WordsAtScale. There is a lot of news about AI and its use in SEO and copywriting, as well as prompt engineering. I find this source very useful for a better understanding of all the possibilities that AI offers today.
Another favorite of mine is the YouTube channel of Matt Diggity. He regularly publishes educational videos full of practical tips and a wealth of knowledge on various aspects of SEO.
He shares real-life examples of how certain techniques have brought fascinating results.
What's the next step in your SEO Journey?
At the moment, I'm a happy business owner doing what excites me the most. I have the opportunity to pass on knowledge and experience to other people like me—my employees or, rather, my teammates.
Regarding trends, I'm trying to ride the AI wave and make the most of it. For the time being, this greatly supports our work, especially with the automation of some tedious processes like writing meta titles, meta descriptions, FAQs, and outlines.
My goal for the next year or so is to expand the scope of my services and cover more niches. In other words, I want to assist more small businesses with unconventional but successful ideas to reach a wider audience. Customers need to realize there might be better solutions to their problems than they can imagine.
Because, let's be honest—almost everyone, when they search for something on Google, usually reviews the first and second pages. And the best fit for them may lie on one of the next pages. It's my mission to bring these websites closer to users.
Where can we go to learn more?
Visit my company website to learn more about what we do: https://inboundblogging.com/. Or you can contact me through my social profiles: https://www.linkedin.com/in/nikola-baldikov-7215a417/
My articles have been featured on notable websites, such as marketingprofs.com, business2community.com, g2.com, jeffbullas.com, and thriveglobal.com.
Check out some of my blog posts here:
https://www.business2community.com/strategy/10-knockout-growth-hacks-to-nurture-leads-into-a-successful-conversion-02303450
https://learn.g2.com/team-communication-errors
https://www.jeffbullas.com/remote-marketing-team/
https://readwrite.com/how-to-write-blogs-your-clients-will-actually-read/
https://hackernoon.com/7-soft-skills-you-need-for-2023-and-how-to-develop-them
https://www.marketingprofs.com/articles/2020/42403/remote-marketing-teams-benefits-challenges-and-five-tools-to-keep-them-synced https://community.thriveglobal.com/how-to-make-a-doctors-appointment-less-stressful/