Domain History Lookup for SEO Value: 7 Simple Methods
Are you planning on buying an expired domain for your business or blog to take advantage of its potential SEO value? If you get it right, you might save a lot of time launching your new brand. But, before you go ahead with the purchase, it's essential that you check your domain history to understand who owned it before you. 
And why does this matter anyway?
Well, for the simple reason that the past always matters in the online world. The expired domain has been used by someone else in the past. While they don't own it currently, there's a chance that it'll impact how search engines and other platforms see your domain.
And this could positively or negatively affect your SEO. For instance, a domain from your niche with a positive SEO value can help propel your business further with ease.
Through a domain history check, you can see exactly that and determine if you should purchase the domain or not.
In this post, we'll understand the importance of domain history for SEO value and then look into the various tactics to find it.
Let's dive in.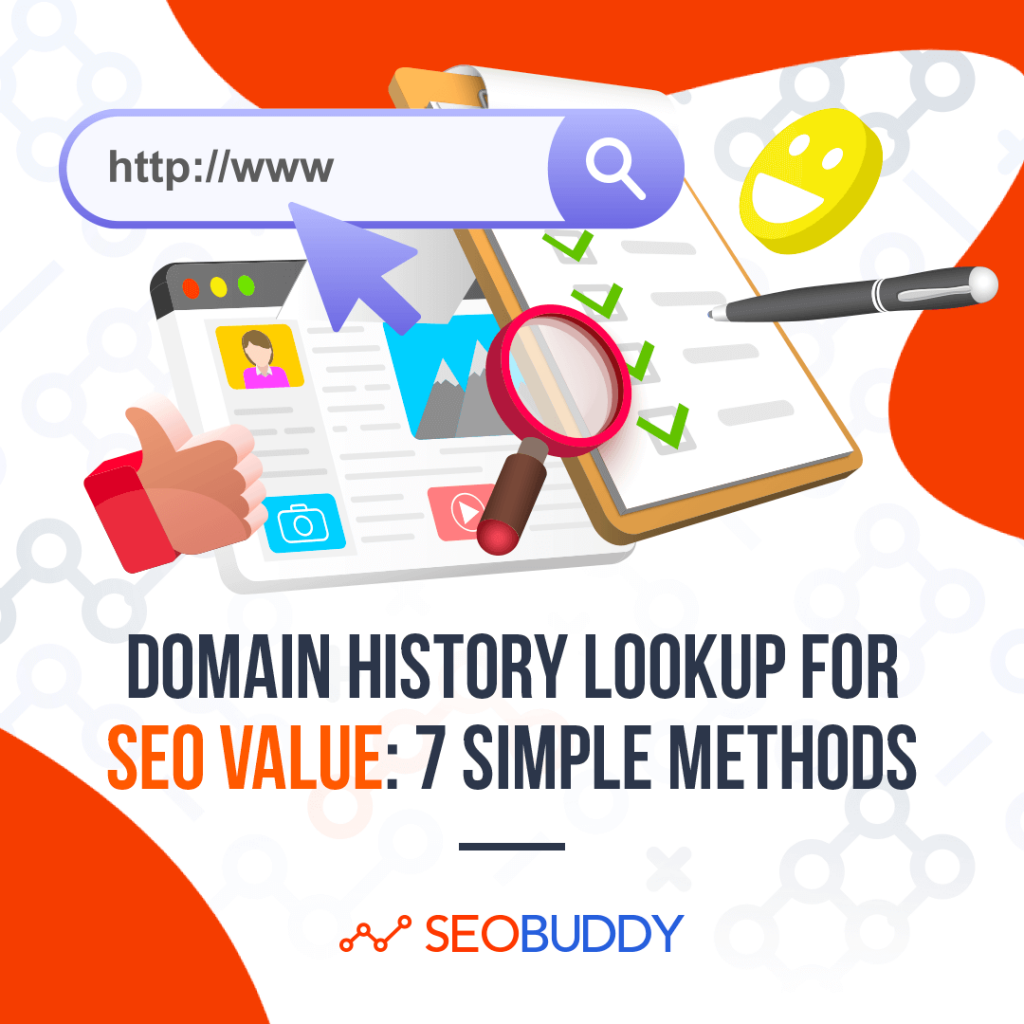 Why Check Domain Ownership History?
First things first — why even bother with checking your domain history? After all, you're going to be the new owner of the domain. Its past ownership shouldn't really matter, right?
Well, that's where the problem lies. The way past owners treated your domain could impact you going forward.
So, here are the reasons why you should definitely verify your domain history before buying it.
Protect Your Brand and Reputation
If you don't check your domain name's ownership history thoroughly, you might miss out on important information about how it might have been used in the past. And that could have lasting implications for the future of your business and brand.
For instance, if your domain had been used for spam and malicious activities in the past, there's a good chance that it will affect the way people will perceive it in the future.
What's more?
You might also face an uphill battle when it comes to SEO as the search engines might have a predefined notion about your domain based on its past activities.
On the contrary, if the expired domain has great SEO value, you'd find it easier to start ranking in the SERPs by buying it. For that, you have to check its existing backlink profile, niche, and current keyword rankings. This can give you insights into the potential SEO boost that it could provide you.
Ensure Legal Compliance
Malicious intent and spam aside, if your domain was used for illegal activities in the past but is expired now, you might even have to face unnecessary legal repercussions if you buy it. As a domain owner, you have to maintain legal compliance, and this can only be done if you have a clean domain.
A domain with a sketchy history of ownership may not be the best way forward and might be akin to walking on thin ice. While you'll still be innocent, you don't want to go down the web of explaining things if there's any legal action taken against the domain's actions.
Wrong Traffic
Website visitors don't necessarily come to your website through search engines. Sometimes, they may just key in your website and land on it.
Here lies the issue.
They may land on your website thinking it's still owned by the previous owner. If the previous owner hosted a website from a different niche on the domain, it's likely that this traffic will be of no use to you.
(Get our SEO checklist now to start putting your SEO in order.)
Prevent Fraud and Scamming
The last thing you want your domain and brand name to be attached to is spam and fraud. It can dilute your brand image in no time. What's worse is that there may have been generic email addresses linked to your domain in the past that may have sent spam emails. As a result, those emails might have been blocked by several email clients.
So, when your legitimate emails are set up, there's a likelihood that those email clients might not let your emails get delivered, leading to poor deliverability and email campaign performance.
Ways to Check Domain Ownership History
It's clear now that checking domain name ownership history is a must before purchasing one. It can save you from getting into a legal mess, diluting your brand, irrelevant traffic, and being perceived as fraud or spam.
So, how do you find out the past history of your domain? What are the ways through which you can identify its previous owners and what they did with it?
Let's uncover those secrets.
1. WHOIS History Lookup
WHOIS is an online directory that lets you see a domain's details for free. You can use it to see loads of information related to the domain. This includes:
Registrar name
Server address
Referral URL
Nameservers
Registration and expiry dates
Contact information of registrant
This way, you'll know exactly who owned the domain previously. The information on the portal is regularly updated too. This makes it easier to understand the latest updates related to domain ownership.
Using the tool is fairly straightforward too. You just need to head to the WHOIS website and key in the domain name in the box and click on the search option.

Image via WHOIS
This will bring up all the information that you need to know about the domain and its owners. For instance, here are the details about SEOBUDDY.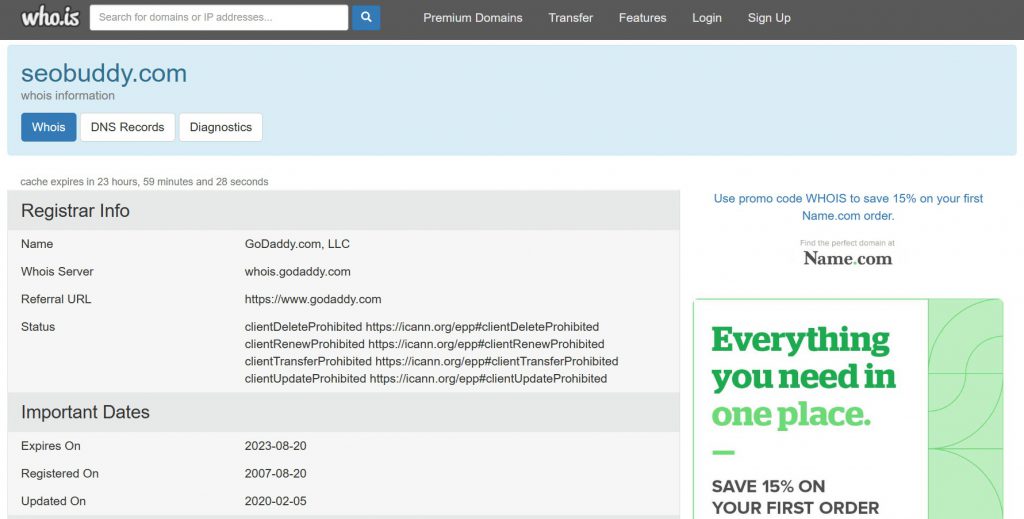 Image via WHOIS
That said, there are some clear drawbacks here. It's entirely possible for a website owner to hide their name and only show the registrar's details. This could make it difficult for you to ascertain who owned it or what it was used for.
Nonetheless, it's a great way to get some basic details about the website.
2. Internet Wayback Machine
While WHOIS can give you details about a domain's ownership, the Internet Wayback Machine from the internet archive shows you exactly what the website looked like previously. This gives you an even better idea of whether the website was used for spam or not.
What's more?
Using this tool, you can even figure out the niche of the previous website and understand if it might align with your brand or not.
The best part?
You can travel as long back in history to find out more about the domain.
All you have to do is enter the domain name into the search box to travel back in time. For instance, here's what Semrush looked like in 2010.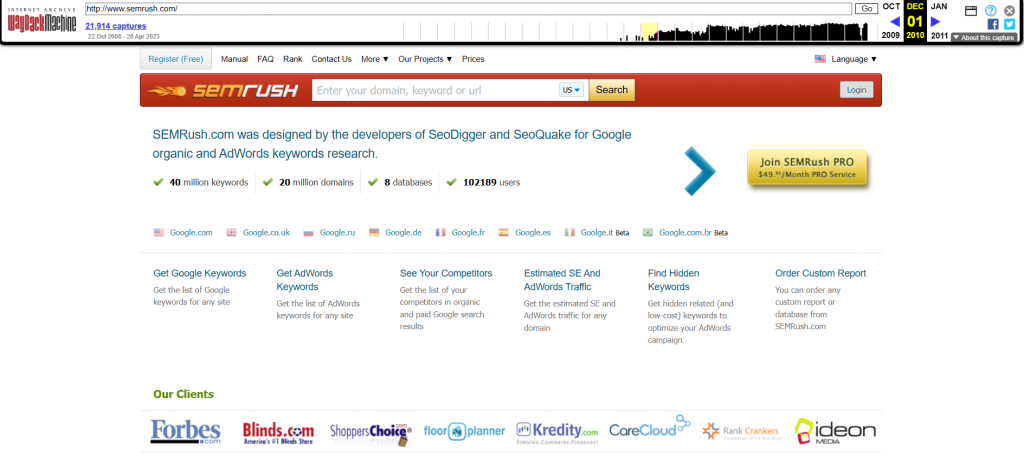 Image via Wayback Machine
3. Domain Tools
Unlike the previous methods that are completely free to use, Domain Tools is a paid service that gives you insight into your domain history. Like WHOIS, it has loads of historical records of domains that show you all the changes that it has gone through since it came into existence.
It also shows you ownership data that can come in handy to help you understand if you should purchase the domain names or not.
That said, you need a personal membership to access this data, and it comes at $99 per month.
The process of finding domain history is straightforward. You just enter the domain name, and it fetches the records for you. It's also possible to download them.

Image via Domain Tools
Additional Tips for Checking Domain Ownership History
Apart from the above-mentioned methods, you could also apply several other tactics to discover more about your domain's past. Here's what you can try manually.
4. Use Google
Google can help you gain access to loads of information related to your domain. All you have to do is search for it on the search engine, and you might get a list of pages that were indexed and are yet to be deindexed.
Similarly, you might be able to find certain third-party websites mentioning your domain name. This can give you insight into the website niche, spam reports, and a lot of other things.
What's more?
If the expired domain is still ranking on the first page of the SERPs for certain keywords, it means the domain might have great SEO value that you can tap into.
5. Search on Social Media
If your domain was owned by a business, it's likely that they may have created social media profiles for it. These inactive profiles may shed some light on the history of your domain.
What's more?
You might even come across reviews or complaints related to your domain on social media if it was involved in spamming or fraud. These key details can come in handy while choosing your domain name.
6. Use SEO Tools
To dig further, you could even try your hand at leveraging SEO tools like Semrush, Ahrefs, or Moz domain analysis. The domain analytics features on these tools might throw up some crucial information related to the previous website hosted on the domain.
From keywords to competitors and pages, you might get some critical details that can prove to be useful.
The domain overview feature will also shed light on the niche of the expired domain so you can determine its SEO potential. With it, you can see the:
Keywords it currently ranks for
Trajectory of its keyword and traffic growth
Keyword intent
Keyword ranking distribution
These factors can help you determine the SEO value of the expired domain. With these insights, you'll be better placed to make a purchase decision.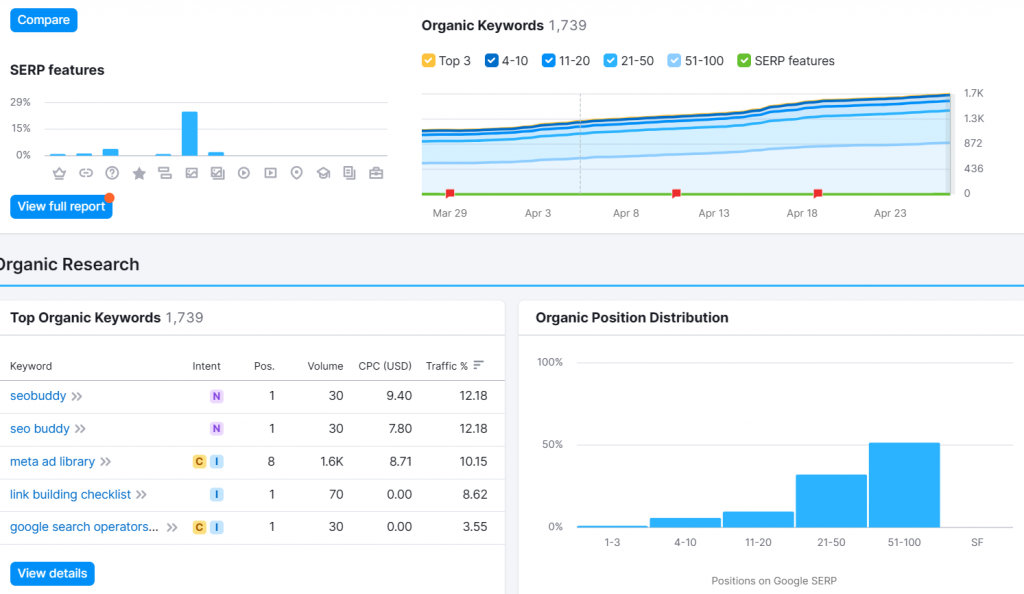 Image via Semrush
(Get your SEO right with our SEO Checklist. Get it now.)
7. Analyze Backlinks
Yet another way through which you could potentially discover the domain history is through backlink analysis.
You can use SEO tools to analyze the backlink profile of the domain to understand who's linking back to it. While the links might be broken if there's no website there, you might still get a good idea of the sort of websites that were linking to the domain.
And that can play a crucial role in determining the SEO value of the expired domain. You can head to a tool like Semrush and conduct a backlink analysis on it.
There, head to "Backlinks" and start analyzing each backlink the expired domain has. You can see their anchor texts, page authority score, external links, and internal links.
By analyzing all the existing backlinks for these parameters, you can determine if the expired domain's SEO value is worth it for your investment or not. Typically, a higher authority score and greater number of links is what you should look for.
For instance, here's SEOBUDDY's backlink profile, as seen on Semrush. Note how you can see all the parameters for each backlink. You can do the same for the expired domain you're considering.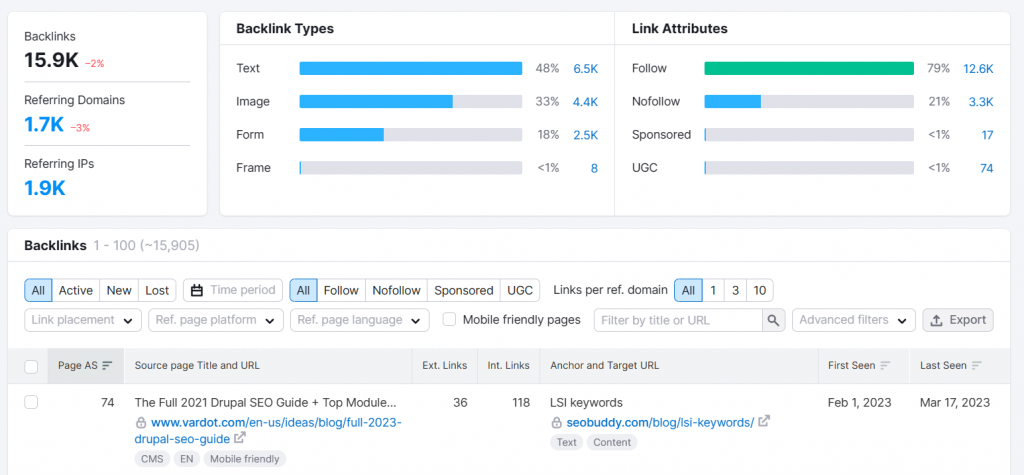 Image via Semrush
Frequently Asked Questions
Q1. What is domain history?
Domain history, in a nutshell, is the entire past record of a domain's ownership. This includes information about all its past and present owners along with their contact information. It also features the registrar's information. The domain history helps you get a look into what the domain was used for.
Q2. What is the owner of domain history?
Domain owner history is nothing but the history of ownership of a particular domain. In a nutshell, it's the WHOIS record of the domain name which shows you all its owners right from the beginning.
Q3. What is the tool to check domain history?
There are several tools that you can use to check domain history. These include:
WHOIS
Domain Tools
Wayback Machine
Q4. Can a domain name be traced?
Yes, it's completely possible to trace the owner of a domain name by going through the WHOIS database. However, many domain registrars give owners the option to purchase domains anonymously. For those who have opted for such domains, you might not be able to see their owners' names.
Q5. How can I check my domain history for free?
The two free methods of checking your domain history for free are WHOIS and Wayback Machine. While WHOIS will give you the details of its ownership, the Wayback Machine will show you what websites on your domain looked like in the past. Using both, you can get an overall look into your domain's history.
Conclusion
When you're planning to buy a domain, it's always a good idea to dig into its history to uncover what it was used for in the past. In case it was used for spam, it's best to stay away from it.
It's entirely possible that you might be the first owner of the domain as well, but it's best to cross-verify that using the WHOIS or Domain Tools method. You may also rely on Wayback Machine to understand if the domain hosted a website from another niche in the past.
Once you've verified the domain history, you can purchase the domain and get started with your SEO. To grow your business with it, download our SEO Checklist now.