Tips on Landing a Job in the SEO Industry
Since the advent of Google and other popular search engines, the SEO field has become large and full of fantastic opportunities. A thriving area to work in is essential, but that doesn't help you if you can't get a job in the SEO industry.
While SEO seems like a relatively easy field to get into (and it is, to an extent), that doesn't mean you can bluff your way into it. If you want to know how to find a job in SEO, you'll need to cultivate your related skills.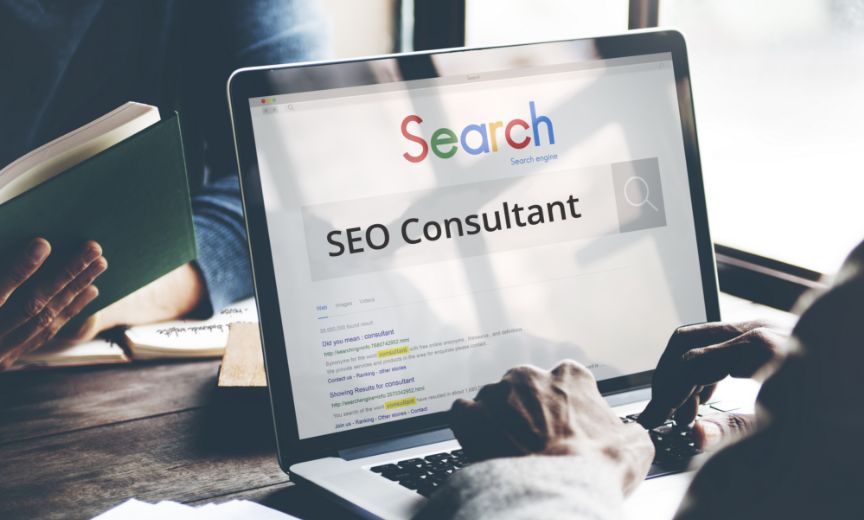 The most important of these skills are focus, organization, and SEO knowledge.
However, the most significant factor that will get you into the SEO field is your own experience. You may have to work your way up to well-paying jobs by taking the lower ones first. Alternatively, if you get a degree or certification in SEO, you may be able to fast-track your way through the industry.
In this article, I'll walk you through everything I know concerning tips on landing a job in the SEO industry.
Let's get started!
Do You Rank for Your Own Name? 🤔
If you're like me (and most other people), you've probably Googled yourself at least once in your life. Potential employers will make use of this trick, too! This is an excellent opportunity for you to demonstrate your SEO skills by ensuring your social profiles and website rank well for searches of your name.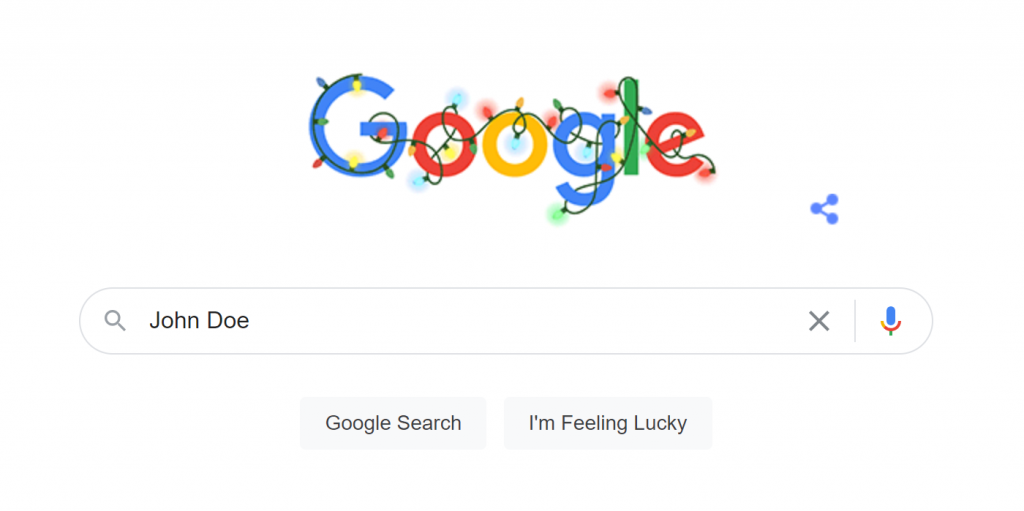 Creating Your Own Personal Website 🕸
With how much SEO customers rely on optimizing different websites, it makes sense that learning how to find a job in SEO starts with optimizing your site. Don't be afraid to experiment here – as a freelance individual, you'll likely go through many job interviews, so now is the time to tinker with the newest strategies and techniques. If you're lucky, you may even show mastery of a new trend just as it breaks into popularity.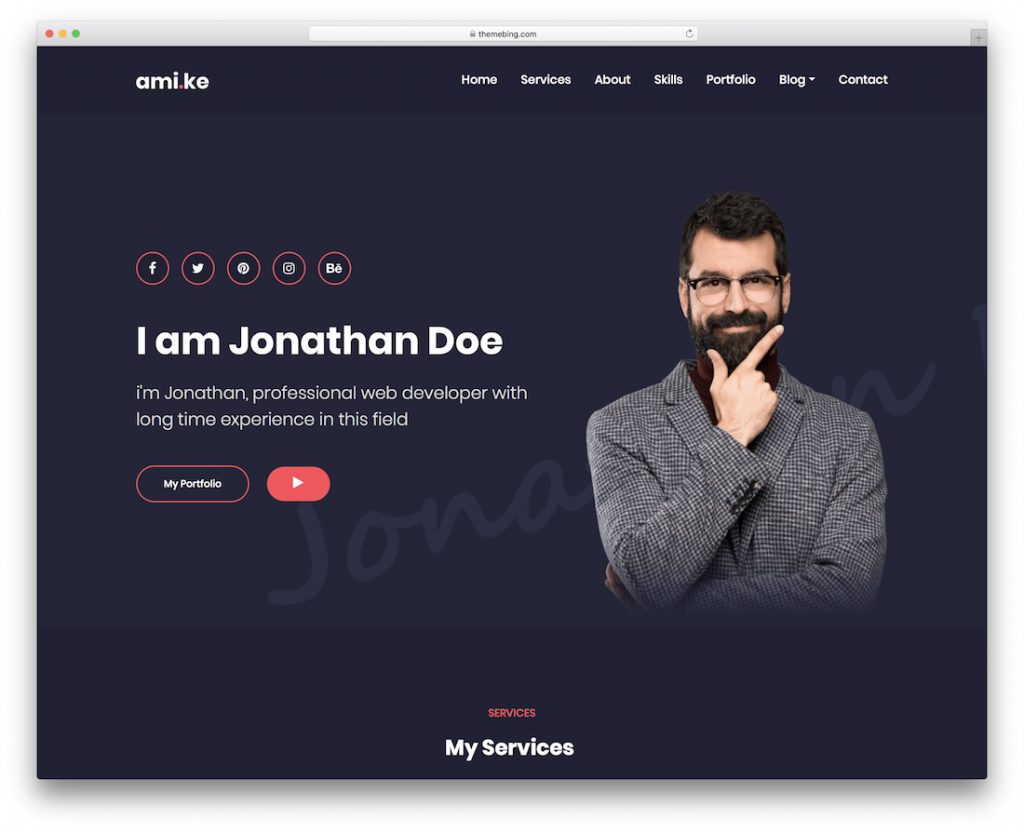 Most importantly, though, make sure your website shows off your SEO skills to the fullest. Ranking for your own name is important, of course, but so is showing your interviewer what else you can do. Among the other skills you command, make sure to do things like:
Show Google markup using schema implementation,
Use noindex pages to hide specific parts of your site from Google,
Showcase different types of content articles to show your flexibility,
Demonstrate mastery over regional hreflang tags.
Many clients in the SEO field use WordPress to build their sites. This makes WordPress an excellent place to start, and some clients will search for WordPress experience anyway, making this an important skill.
To learn more on how to rank for your own name, you can peruse this infographic on Search Engine Land.
Get Certified 👨‍🎓
There are very few industry-wide certifications for SEO (outside of a college degree or program, of course), but that doesn't mean you should ignore certificates altogether. For example, Google Adwords Certification and the Google Analytics Exam are great for proving your mastery of these topics. Better yet, most of these courses are free.
A great starting point is this free 40 Hours course on the Fundamentals of Digital Marketing by Google Digital Garage, that will give you your first certification.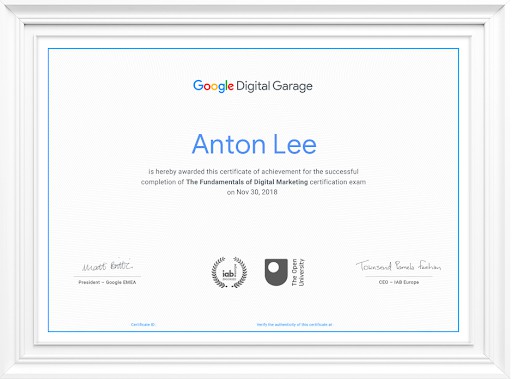 Once you get certified, don't forget to showcase the certification on your LinkedIn Profile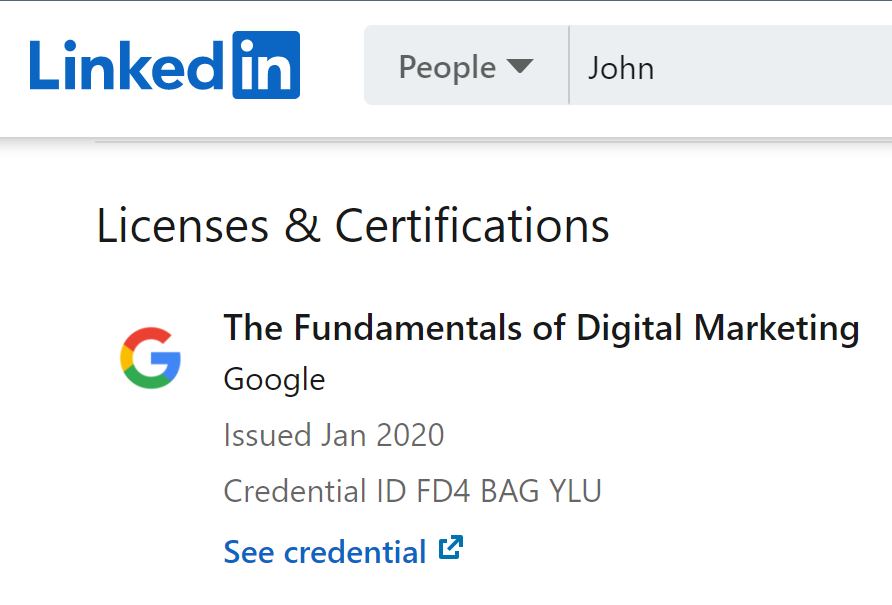 Learn From the Best SEO Experts 🏫
What's the best advice for how to find a job in SEO? Like with many career fields, the key is to learn everything you can, then continually update that knowledge each year. As the SEO field depends on Google and related search technology, it is always evolving alongside those search engines.
If you need help staying relevant, check out these popular sites and experts:
Neil Patel,
Matthew Woodward,
Brian Dean (Backlinko),
Search Engine Land,
Sam Ho (Ahrefs Youtube Channel).
If you're just looking for an "optimization checklist" of sorts to keep handy, consider looking at my 102-Step SEO Checklist. The checklist gives you a laser-focused view of what you should be doing to optimize a site for SEO, but it's not so overwhelming that you can't reference it every day.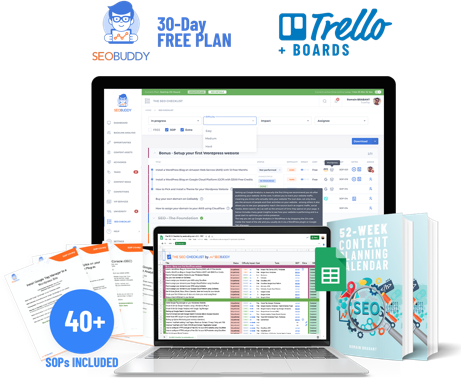 There's more…
Now it's time to discover the other 101 steps that will get more organic traffic flowing to your website. Get the SEO Checklist here.
Want to get a sneak peek of what it looks like?
Enter your email and get a free demo version of the SEO Checklist.
How to Gain SEO Experience & References 🧪
Lots of people start in the SEO field without any working references or experience. However, not as many know how easy it is to gain "hands-on experience" in SEO. There's no excuse to walk into a job interview without any related experience to show your potential employer.
If you need some ideas, take a look at the sections below.
Personal Projects
Just because you're not making money on it doesn't mean you shouldn't do it! Do you have a website to test different strategies and techniques? Do you have another page featuring your portfolio? Do you have a blog? If you have a sense of humor, you can even create a "joke" website to lighten the mood during your interviews.
If you're lucky, you may even discover a new niche for you to utilize during your experiments and trials. And, above all else, keep in mind that everything you do counts as experience, so none of that time spent is ever wasted!
Prove Yourself
Any confident individual with faith in their own skills should consider offering "free" services to their dream company. This includes you! Pick out the clients or agencies you want to work for most, and either submit an example of your work to them or offer to perform an SEO audit for free. Of course, this would be in exchange for consideration as a future job candidate!
While it might sound crazy to be this forward, contacting and networking is what self-started jobs like SEO are all about. Of course, if you don't feel confident enough to go this far, consider asking if your favorite agency has any internship openings available. Even if it's a free internship, this can set you up for full-time employment opportunities later.
Charity Work
Want to do some free work that you can feel good about at the same time? If so, consider optimizing a charity's website in your local community, such as a food bank, pet shelter, or similar organization. If you're lucky, you may be able to make connections with other SEO agencies that your client works with in the process, and you'll learn a lot, too.
Above all, though, giving back to your community is an excellent talking point to add to any future interviews!
Exchange Services
The trading of services for other services (or goods for other goods) has been around since long before currency was invented. Consider making an offer to other local businesses, such as a grocery store or a family business. Many small, local businesses could use help optimizing their websites but can't necessarily afford a dedicated consultant. If you do well, you may even be able to snag them (or others in their network) as a repeat client!
Internships
There's a reason why colleges across the nation encourage (or even require) you to get an internship during your degree program. Internships are available in excess nationwide, so this is one of the easiest ways to get into SEO. Not all of them are unpaid internships, either – some will offer you a small stipend or pay for your room and board if they're in-person.
Understand the SEO Tools of the Trade 🛠
Any SEO expert has a strong command over not just one but several optimization tools used in the industry. If you hope to be in-demand in the SEO field, you should aim to master (or at least familiarize yourself with) as many as possible. After all, if you can't use or understand the tools that your client wants, then there's little to no chance that they'll hire you in the first place.
If you're lost in all the SEO-related options out there, use these examples to get started:
No SEO expert is complete without their evaluation tools, regardless of whether they use one or several (Most people tend to build their own SEO Tech Stack).
No matter how talented or intelligent you are, it's virtually impossible to optimize a site or page without the help of one. If you can demonstrate familiarity or even expertise with one or more of these tools, that will help you significantly on your quest to land a job in the SEO world.
Should I Get My First SEO Job in Agency vs. in-House vs. Freelancing?
The answer to the above question isn't clear-cut or easy, and it can depend upon the person we're talking about, too. There's a right place for everyone to be, but many SEO experts tend to try everything at least once. For a great introduction to how the complicated relationships between agencies, in-house work, and freelance work, check out this article on MOZ.
General Job Seeker Tips Especially Important for SEO
Even before diving into all of the SEO world's intricacies and skills, there are many other small things you can do that can help make you stand out. We'll walk through a few of the most important tips below.
Rethink Your Email Address 📧
This is one of the first things you learn in any course or class on resume optimization: make a professional email address! If you still use your email address from when you were in high school – primarily if it features your favorite pets' names, favorite colors, favorite band, or anything else along those lines – you need to make something new.
A bland, professional email address, in this case, is what you want. Make a Gmail account (or, if you must, an account from another large provider) that's as close to your name as possible for easy accessibility. If possible, leave numbers out of your new address, but you may have to use them if your name is already reserved.
Of course, don't forget that you can create a custom email linked to your website's domain if you're on the savvy side. This is the more expensive alternative to a free Gmail address, but it really bumps up your professionalism, too.
Optimize Your Linkedin Presence
As the primary social media for networking and job-finding, Linkedin should be the presence you optimize the most. Fill out your profile as much as you can, make sure to link all of your websites and portfolios to it, and connect to as many people as possible.
Above all, make sure to keep your Linkedin updated as you (and your qualifications) grow and change.
The key to making your Linkedin stand out is to fill it with as much professional experience as possible. If your professional expertise is lacking, make sure to pad it with affiliations, community experience, volunteer work, and any academic connections and awards you've earned.
Never Stop Networking
There's a reason why Linkedin is the most popular social media website for jobs. If you want to land the very best jobs out there, you either need a top-tier resume, or you need to know the right people.
However, the SEO world is competitive, and there's almost always someone more qualified than you with their resume in your dream employer's stack.
In this case, it's all about who you know, not what you know. Work through family and friends, if you can, and network with as many people in the marketing and SEO world as possible.
Attend meetups, conferences, and other events whenever you can. After all, when you create an in-person impression on someone, they're much more likely to remember you later.
SEO Career FAQ
Do you have any lingering questions about how to find a job in SEO that we haven't answered so far? If so, we may be able to address them within these FAQs.
Is SEO a Good Career Choice?
SEO is a fast-paced and continually-developing career track, so it requires a passion for technology and digital marketing. If you can't keep up with and stay passionate about it, it may be wise to seek a career elsewhere.
That being said, working in the SEO industry has a lot of advantages. Some of them include:
Self-employment – start your own business, work as a freelancer, build your own agency, and even set your own hours
Opportunities to work in-house or remotely
You can work with an SEO agency to learn from experts
Meet people from all regions and backgrounds
The need for SEO work is only growing
Of course, as with any career, there are some disadvantages to consider, too, such as:
Constant change – you'll need to adapt and learn all the time, and this can be tiresome for those who want a stable, consistent job
Working with picky or impatient clients can be difficult
SEO can be unpredictable at the best of times, and you will occasionally fail due to factors outside your control
What's the Next Step to Advance Your SEO Career?
So, you finally have mastery over SEO skills. You have a few years of experience under your belt. You know what you're doing. What's your next step? Where do you go from here?
You can do many things, such as starting your own agency, but also consider acquiring the skills to become a digital marketing manager. Not only will this bump up the pay you receive, but you'll be able to help direct and train those who are still building their experience.
How Much Money Can You Make as an SEO Professional?
As with many careers that deal with a lot of freelance work, SEO professionals can make a wide range of salaries. What you can earn depends on your experience level, where you live, your success record, and other factors.
This study, courtesy of Ahrefs, shows that an SEO consultant's solo rate on an hourly basis can fall anywhere between $50 and $125.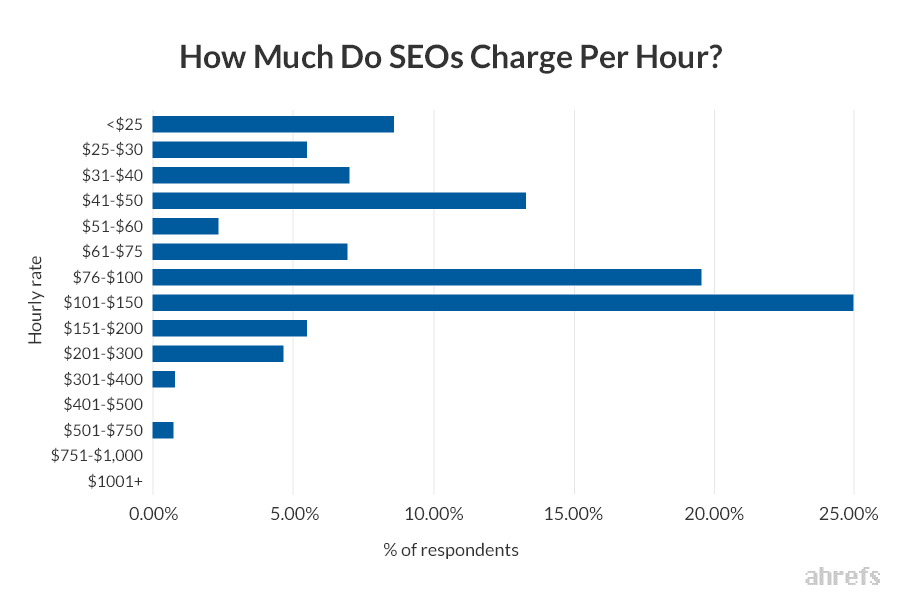 If you're a beginner, you should expect to start below that magic $50 per hour mark – you'll probably start around $25 per hour or less, according to Ahrefs. However, with patience and experience, you can earn much more.
Where to find SEO Jobs?
When starting out in an SEO career, you have two choices: either freelance or secure a job with an agency. If freelance gigs are on your to-do list, consider signing up for sites like Fiverr or Upwork to hone your skills.
If you want to get a job with an SEO agency, head to Google and search "SEO Agency" + "Your City" + "We're hiring" to find opportunities near you.
Of course, if you're willing to relocate or want to work remotely, there are countless other SEO job opportunities around the globe. Check out a specialized job board for SEO related careers to expand your options.
Questions You Might Get During an SEO Job Interview
You've done everything else to prepare for your SEO job interview. What else can you do to prepare? An excellent way to arm yourself is to know the answers to some of the most frequently-asked interview questions, such as:
What does your workflow look like?
What SEO practice are you best at?
How would you measure a successfully-optimized article?
What do your analytics look like?
If you want in-depth answers to these (and several more) questions, take a look at this blog post.
Conclusion
There you have it: now you've seen just about everything you need to know for how to find a job in SEO.
Across all of the SEO world's varied areas, there's one thing that brings everyone together: we're all growing and learning in an incredibly fast-paced environment. We're all at the mercy of Google's updates and constantly-changing algorithms.
As such, SEO mastery is all about staying ahead of the curve. As long as you keep your thumb on the pulse of the SEO industry, you'll increase your value and land your dream job in no time.