My SEO Journey [Pro Edition]: Miles Anthony Smith from whystuffsucks.com – The Only 8 Steps to the Ultimate SEO Strategy You'll Ever Need Again
My SEO Journey [PRO Edition] is a series where professionals of the SEO Industry, Digital Marketing, or Web Design, share their honest SEO Journey filled with failure and success, and most importantly proven results. Episode #75 features Miles Anthony Smith from Why Stuff Sucks®.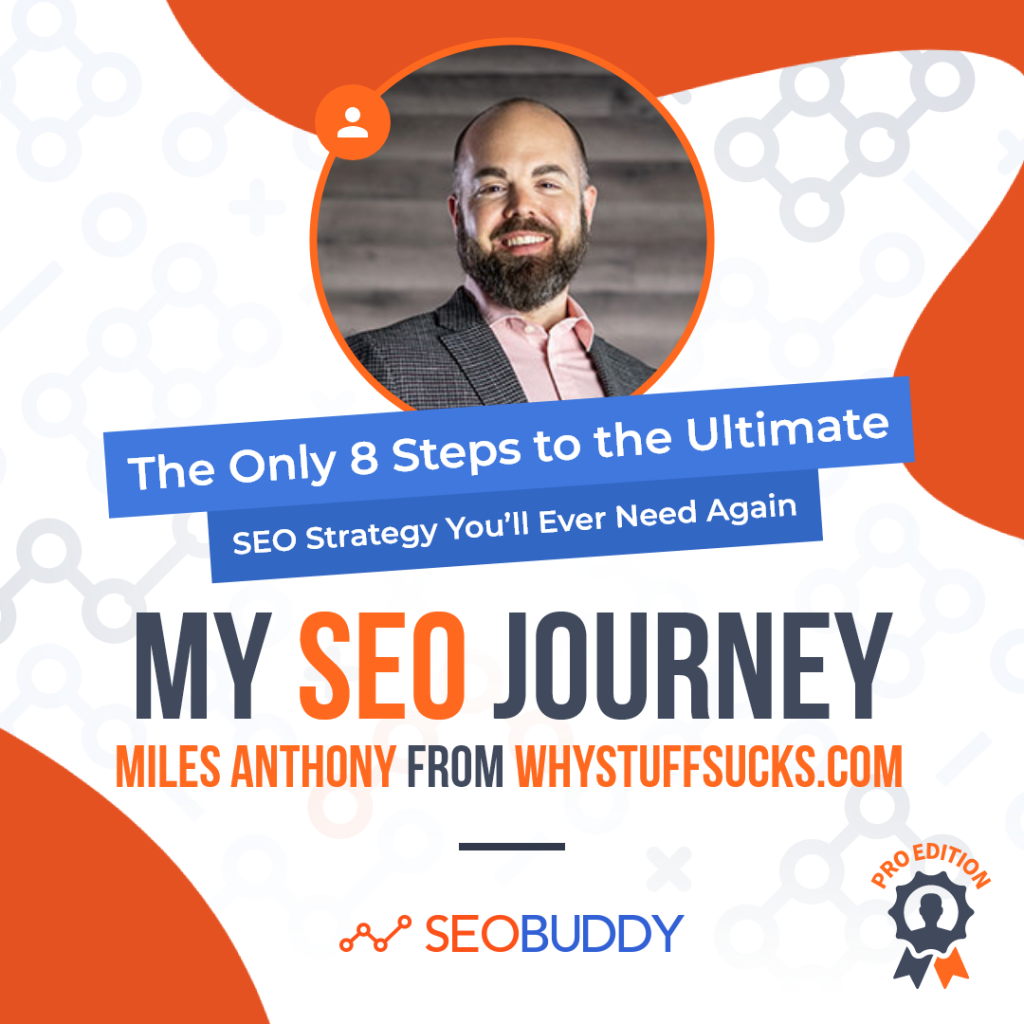 Hello, my name is Miles Anthony Smith, the founder of Why Stuff Sucks® – a digital transformation consultancy currently based in Green Bay, Wisconsin.
In early 2021, I left Imaginasium, a digital marketing agency, to become an independent SEO consultant. This was a huge decision and a risky move considering I had spent 4+ years working for that company and was largely financially dependent on them.
There were many reasons why I made the switch, but the number one reason was my need to be in control of my own destiny. I wanted to carve my own path and have more freedom and flexibility over my work and personal life.
That was perhaps the best decision I've ever made for my career.
Today, Why Stuff Sucks® is a highly respected SEO consulting firm with clients in the US and Europe.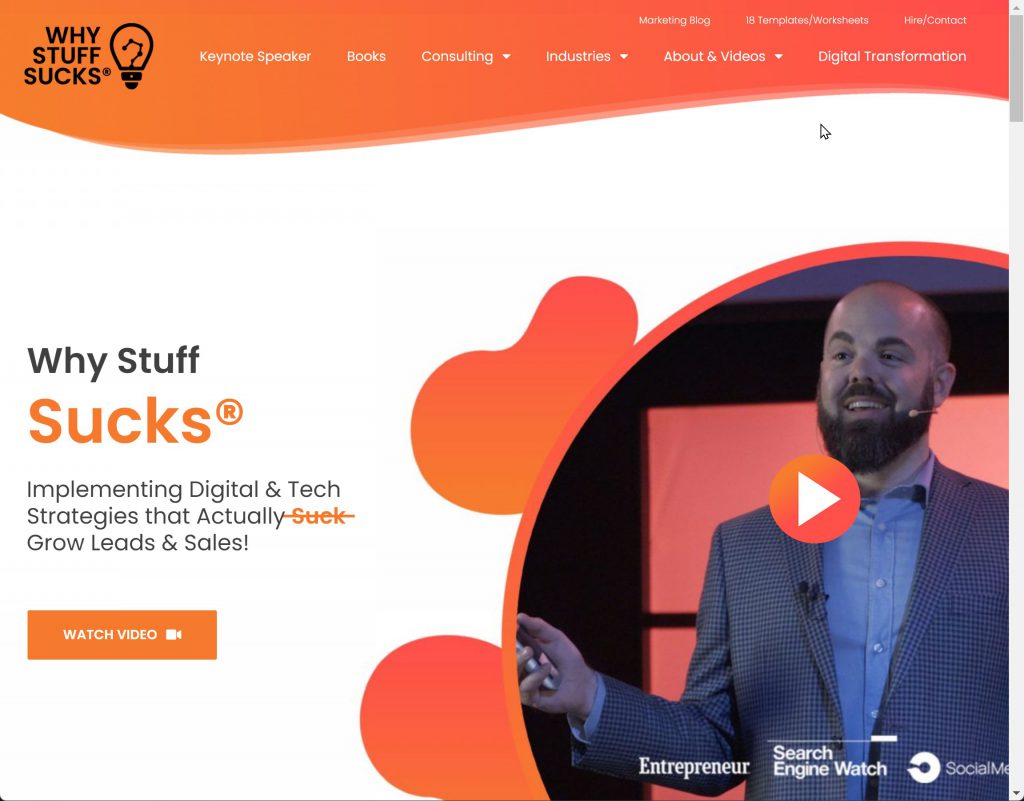 Our main aim is to help our clients thrive through the power of Search Engine Optimization. We do so by using bespoke digital strategies that have been proven to work before to ensure they grow leads and sales for all our clients.
We've worked with businesses ranging from medium to large enterprise companies, making our business a critical pillar for their success.
We're going to talk about the "8 Steps to the Ultimate SEO Strategy" in a minute, but first, I want to cover a few questions I get asked about my journey.
What's Your Backstory & How Did You Decide What to Focus on?
One of the biggest problems I faced when I launched my business was that people didn't know that I was now an independent consultant (no longer an employee) and what services I had to offer.
Initially, I thought I would focus on helping companies with digital lead generation (broad market) but soon came to realize that I needed to focus on SEO only (niche market).
I mean, for quite a while, I had used SEO as a superpower for businesses of all sizes to increase their traffic and growth exponentially. It's always been such an effective marketing tool that businesses of all sizes can use to get more exposure on search engines like Google and Bing. And it's also super-scalable too. And it is easily applied to most niches with some minor tweaks.
Then I got to work on spreading the word through my network, and boom, I started getting referrals. Within a few months, my business began to thrive. I started booking monthly retainer client engagements.
NOTE: During the process of preparing to leave Imaginasium and the months following, I received tons of invaluable advice from various coaches about my sales process, workflow, and business operations that were instrumental to turbocharging my launch. And the advice I received (and paid for) was from highly successful people which I applied in rapid fashion to my business. This was a crucial step in the process, and I highly recommend it.
Since Launch, What Has Worked To Attract More Organic Traffic?
Our SEO strategy includes a lot of innovative techniques. For example, we do a lot of on-page optimization and keyword research to make sure that our clients get the best results. And we use those strategies on our own site.
But initially we focused heavily on referral lead sources since we knew our SEO work would take months to yield significant results.

We continue to seek referrals as well as SEO traffic to fill our prospect funnel. Our SEO roadmap is a systematic approach to dissecting any client's search opportunities for growing brand awareness and leads/revenue.
Have You Learned Anything Particularly Helpful Or Advantageous In Your SEO Journey?
Here's the thing, SEO is a long-term game with no quick wins or instant gratification. It takes time for people to find your website and determine its value.
Over time, if you continue working to improve your SEO strategies, visitors will reward you with their business and referrals. But the only way to see those results is by staying the course and continuing to work on your SEO.
To experience sustained traffic to your website, you need consistent engagement with people who are already searching for the services that you offer. That requires time and effort to improve rankings and traffic to your website.
Here are some of the things that have helped me in my SEO journey.
Focus your SEO efforts on your most important keywords with medium volume and lower competition, but don't ignore the other less competitive keywords.
Content marketing is the key to successful SEO. Create quality content (focused on 1 main SEO keyword) that's unique and valuable to both customers and clients.
Regularly evaluate and monitor your website's performance.
Emails lead magnets are underused. If you provide content that's valuable to your audience (coming from Google), they'll be willing to subscribe in exchange for an ebook.
Email nurturing is a powerful tool for generating traffic when done correctly; once you have this, then you own the right to regularly communicate with them (at least until they unsubscribe).
Don't just stick with one link-building technique. Experiment with social media, guest blogging, infographics, and more to see what works best for your business.
Your website should be accessible on all devices. Be sure to optimize it for mobile and tablets, too, or you'll miss out on a lot of mobile traffic. And since Google optimizes for mobile first, you will lose out on desktop traffic too.
Now that we've covered those questions, let's dive into the 8 steps. Ready? Let's go!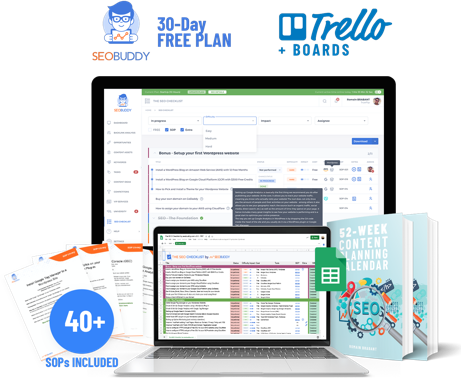 There's more…
Now it's time to discover the other 102 steps that will get more organic traffic flowing to your website. Get the SEO Checklist here.
Want to get a sneak peek of what it looks like?
Enter your email and get a free demo version of the SEO Checklist.
8 Steps to the Ultimate SEO Strategy
Content Audit
A content audit is the first step in our SEO strategy. This strategy phase focuses on understanding which existing pages on your site are in "striking distance" of significantly more SEO traffic.
We'll identify the keywords you need to target better to improve specific pages that are really close to more visits.
Then, we'll do a competitive analysis (direct + indirect competitors) so that we know what others are doing. Then we steal their ideas and use them to give your brand a boost.
Keyword Research Mapping
This process is perhaps the most important part of our SEO strategy.
The reason that it's so powerful is that it helps us focus on the keywords which give you the best chance for your business to achieve sustainable long-term growth.
Once we've completed this step, we filter out any potential keywords that are irrelevant or demand too much competition from search results.
In this phase, we work with clients to ensure we understand what their ideal customers are searching for (needs/wants).
Technical Audit
In this phase, we perform a technical audit on the website(s) that we're currently working with. We check for a number of issues that are mostly "behind the scenes".
When crawling your site, search engines are constantly looking for errors such as speed issues, broken and spammy internal and external links, duplicate metadata among other issues. These things affect the user experience (increasingly important to SEO) so we need to ensure that the site is as close to perfect as possible.
Our technical audit phase allows us to invest our time in a concentrated manner so we can identify and fix the technical bugs that are likely present on your website.
On-Page Optimization
This is a phase where we map target keywords (from step 2) to various pages (content, product, service, local pages, etc.) to deliver even better results. Choosing and deploying SEO-optimized items "on the page" is a key first step in overall optimization.
These strategies will include everything from meta titles, meta descriptions, headings, url slug, body copy, and link building. The reason internal linking is important to SEO is to ensure that all pages are easily accessible to search engines as well as users.
Creating Valuable Evergreen Content
Once all of the groundwork has been laid for your site to be optimized, we can now focus on creating valuable evergreen content.
The most effective way to think about this strategy is as a form of content marketing that's designed with one goal in mind: use content to build a massive audience and draw them back again and again.
We do this by producing content relevant to users and is being searched for by users in search engines, i.e., matches user search intent. We want our blog posts, videos, infographics, and eBooks to be used to establish trust with prospects and turn them into customers.
The quality of the strategy is just as important as the content itself. We take into account the copywriting, but also other super important things like how we'll build links back to the site and other visual engagement features critical to SEO (callout boxes, bold/italic, bulleted/numbered lists, videos, images, etc.).
Quality Link Building
Quality Link building is one of the most critical factors in organic search engine rankings. It's also an integral part of our SEO strategy because it helps us improve your site's authority over time, resulting in improved rankings.
We obtain links from high-quality, relevant pages on other sites. This ensures that there is an organic link back to your site that will lend credibility to it.
We do this in a variety of ways (email outreach, guest blogging, internal links, scholarship, infographic, among others).
Email Lead Nurturing & Automation Workflows
This phase is crucial for our SEO strategy as it helps us capture and nurture email subscribers. In this phase, we focus on the different ways that you can make your website more useful for those who visit and aren't ready to make a purchase decision just yet.
We analyze our client's visitors to understand each of the stages they go through before making a purchase decision. Once we've identified these steps, we can then map out the customer journeys for each of them.
The data that we gain through this process helps us customize our client's websites in a way that will help them to achieve maximum leads and conversions (not just pure SEO traffic).
Monitoring, Reporting, & Tweaking
Staying on top of all monitoring and reporting activities is crucial so you can adjust on the fly if needed.
This ensures that we're always up-to-date with the latest search engines rankings and keywords for our client's site and helps us stay nimble in our approach to double down on something that's working better than we thought or back off something else that's not yielding the results we expected.
My Final Thoughts on What it Takes for a Successful SEO Strategy
SEO isn't a quick fix. It's a long game, but the results are worth it when you follow through.
If you stick with it year-after-year, SEO will make a huge difference in the success of your business. You will attract, capture, and nurture more qualified leads from your site, which increases sales and, ultimately, your revenues and profits.
Isn't that what we all want?