My SEO Journey [Pro Edition]: Romano Groenewoud from seogeek.nl – Scaling international SEO without being a polyglot
My SEO Journey [PRO Edition] is a series where professionals in the SEO Industry, Digital Marketing, or Web Design share their honest SEO Journey filled with failure, success, and most importantly, proven results. Episode #102 features Romano Groenewoud from SEOgeek.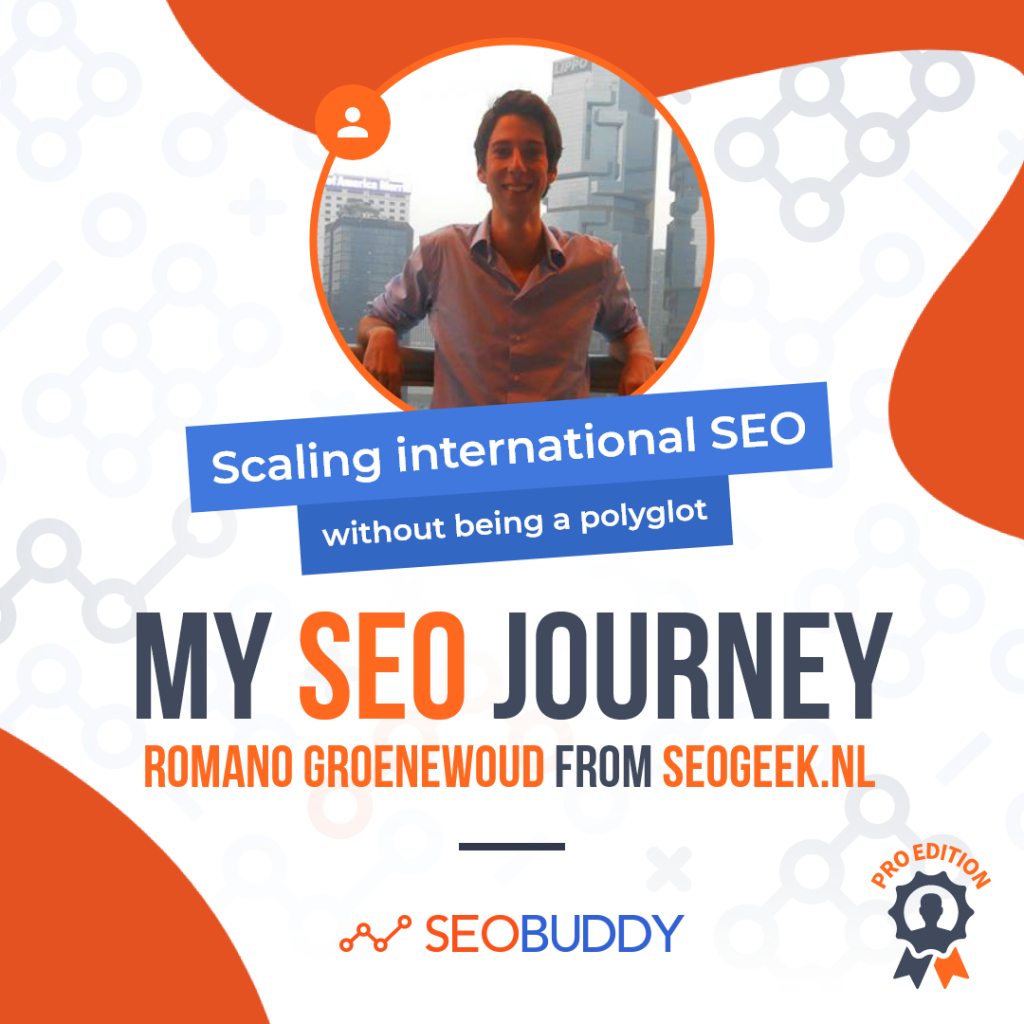 My name is Romano Groenewoud and I am a Dutch SEO specialist.

I mainly work on bespoke SEO campaigns for a limited number of clients. This encompasses everything that one would need to improve upon organic search presence: technical audit, keyword research, on-page optimization, link-building, competitor analysis and content. It also includes international SEO efforts (this is my biggest passion). I have worked for all types of clients, from sole proprietors, to SME, to corporations. And from B2C, to B2B, and occasionally government and non-profit. I prefer to work with SMEs though. Although budgets are generally lower, I appreciate the little to no red tape, and speed of implementation.

It is my personal mission to make high quality bespoke SEO affordable for SMEs.
Maybe I have to elaborate on this notion. The Netherlands is a relatively expensive country.

The prices of SEO services, because of the high standards of living, are quite expensive. And many Dutch sole proprietors and small to medium sized enterprises simply cannot afford custom quality SEO work. Therefore they do it themselves (leading to beginner mistakes) or they fall for low quality offerings (the ones we receive daily in our inboxes, unsolicited spam link-building services without thought or strategy behind it). This often leads to them having a disappointing first experience with and thus a bad taste in the mouth when it comes to SEO.

I want to do my part in order to prevent this. SEO is a beautiful field that can do wonders for any SME. And it would be a shame if hard working entrepreneurs are losing their faith in our profession, just because they came into contact with wrong parties.

How is this done? By operating lean. Automating menial tasks that do not pertain to core SEO work. Outsourcing complementary online marketing necessities, think of graphic design, content to freelancers. And for the most part working remote, I have been a digital nomad since 2012, working from countries varying from the Philippines to Peru. This allowed me to charge lower tariffs, as the cost of living abroad can be a lot lower. I don't have an office and therefore do not have high fixed costs. The only substantial recurring costs I have to say are the subscriptions to tools (especially Ahrefs is not getting any cheaper…). 
What's your backstory and how did you come up with the idea?
I have always been fascinated by international business. I have studied International Business Administration at Rotterdam Erasmus University. I always wanted to work in an international environment coming into contact with different cultures. However, I did not want to work in a traditional office setting.
One of the courses in university was about writing a strategic business plan for a company. Me and three German fellow students wrote a report for this promising start-up, called Ampelmann Operations, they provide an innovation for accessing offshore wind turbines by a wave compensating walkway. Anyway, in this report I added a section about search engine marketing (as I already dabbled with my own webshops and affiliate websites in student days). We presented the findings of this report at the headquarters in Delft. The CEO and CFO were impressed, and they hired me basically on the spot. This was the start of my freelance SEO specialist career. I needed to enroll in the local Chamber of Commerce, and make a website dedicated to SEO and so forth.

Later during the studies I was able to go on an exchange to Madrid. And I was able to keep working for Ampelmann and also other new clients I gained while I was in Spain. This was an "Aha moment" in the sense that I discovered the digital nomad lifestyle, that you can work also from abroad, as long as you have access to stable internet. At that time I was also reading the book "The 4-Hour Workweek" by Tim Ferriss, which solidified this notion even further.

After finishing my degree at University, I wanted to take a bigger leap: my first trip outside of Europe. I went to Bangkok in 2013 as I heard there are lots of digital nomad entrepreneurs, and fellow SEO's there. I was able to attend one of the gatherings of the Dynamite Circle BKK event (hosted by Tropical MBA) and met a lot of inspiring people. I liked the energy so much in Southeast Asia that I canceled my return ticket back to Europe, and ended up staying a total of 5 years in the region. During this time I grew the SEO consulting business while at the same time exploring the surrounding countries, like Indonesia (specifically Bali), Vietnam, Laos, Cambodia, Myanmar, Malaysia, Philippines and so forth (this was also necessary for visa purposes, a so called visa run, meaning that you have to leave every now and then, because the visa is going to expire).

The employers that I work for though for the most part are Dutch. Sometimes it can be challenging to schedule meetings due to the different time zones. But it always worked out. On phone calls (through VoIP), I sometimes received the remark "You sound far away". Yes, indeed. I was always honest and upfront regarding working abroad. No clients ever objected to this. It is not a dealbreaker in that regard. The majority of clients are just mainly interested, can you do a good job for me, and is it affordably priced?
Since launch, what has worked to attract more organic traffic?
Many Dutch SME's have international ambitions. The Netherlands is a small country (only roughly 17 million people). After some time, you will dominate your niche in the Dutch language (also Belgium roughly 6 million Dutch speakers). Then it is time to look eastward to the German market. Also the UK (despite Brexit) and France are always alluring. If you want to scale and grow big as a Dutch company, traditionally, it has been in our DNA, to trade internationally (because SEO Netherlands is just too small). The way to do this, in this day and age is through the web. The barriers (and costs) of entry are quite low: in principle you only need a domain name (preferably ccTLD like .de, .fr, et cetera), sound technical SEO foundation and localized content. This way I came into contact with the field of international SEO.
Truth be told, achieving SEO success in competitive industries abroad can be tough. Besides the language barrier, you usually also do not have a rolodex, a network of fellow SEO colleagues to cooperate with, media contacts and so forth.
For big competitive markets, it is advisable to start smaller by honing in on long-tail keywords, and themes that are a specialty of the business at hand. However this is a slow painstaking approach.
In my experience, a faster way to get a foot between the door is to introduce a tool or resource that did not exist before. For example, we introduced a tool in the competitive French market, and solely on this, we achieved a breakthrough.

Before expanding I would recommend to perform a content audit. Specifically looking at what has worked for us in our home country and is likely to also be well appreciated in foreign markets. This part of international SEO I would say is most predictable. What worked for us in say, Netherlands, Belgium, is probably also going to achieve results in Spain and France (with a little bit of localization). This can be done by simply observing the pages report of Google Search Console, what content drives the most clicks in our home market. Content that did not get off the ground back home is most certainly not going to work abroad, so don't even bother translating. Cutting the fat in this way helped to save time and reduce costs.
To achieve more rapid international success, I would furthermore recommend exploring countries beyond the beaten path. Most companies expand to the usual suspects namely Germany, France, UK, Spain, Italy. But also look to the North, Scandinavian countries there are opportunities and also eastward, think of Poland, Bulgaria, and so forth. It is not so competitive there yet. There are the numbers, there are about 37 million Polish consumers to be reached. Sweden has less inhabitants but is a country with a high purchasing power.

Sweden:

Poland:

Bulgaria:

Don't let language barriers intimidate you! I don't speak Polish or Swedish. You don't need to learn a language in order to achieve success in a certain market.

I do have to admit, Bulgarian is particularly challenging as it is written in the cyrillic script, not the Roman alphabet. But even when you do not understand a language at all, you can manage with browser extensions like DeepL to translate pages, keywords, email communications, et cetera.

Of course, regarding content you need a native to double check everything, to dot your i's and cross your t's. I recommend hiring a native translator and/or proofreader through Upwork.com. In addition, these professionals have helped with improving the CRO and UX of the websites with their feedback.

It is also really interesting to receive feedback from all over the world, different cultures, how they experience the website, what they think it is about, and what issues they run into. This really helped us to improve the usability of the websites and reach our target audience more effectively.

Regarding link-building, I noticed you need a lot less links in places like Finland. Sometimes it is possible to rank first for competitive keywords with no links at all, or maybe just a handful. In these 'alternative' countries, sometimes it can just be enough to have a localized website with proper on-page SEO, nothing special.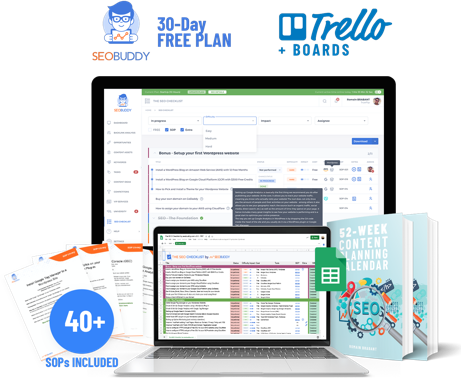 There's more…
Now it's time to discover the other 102 steps that will get more organic traffic flowing to your website. Get the SEO Checklist here.
Want to get a sneak peek of what it looks like?
Enter your email and get a free demo version of the SEO Checklist.
Have you learned anything particularly helpful in your SEO Journey?
SEO is a universal craft. There is no language barrier. You can succeed in any language or country you set your mind to. All the tools, services and professionals are accessible to help you reach success internationally.

However, there are some challenges of a more technical nature, you will need to be wary of. For example, hreflang tags remain a tricky subject. It was once quoted by John Mueller from Google to be one of the, if not most complex aspects of SEO. Always double check the content of hreflang tags manually. Some errors a tool cannot pick up.

For example, one time, a web designer implemented hreflang tags for the client, a Dutch webshop (NL) that also has a Belgium webshop (BE). The web designer unfortunately, mixed up the language and country attribute, it was placed like this:

<link rel="alternate" hreflang="be-nl" href="https://www.website.be/" />.

What does this say to Google? This is our webshop for Belarusian speaking people in Netherlands. Obviously this is not our target audience. The website is intended for the Dutch speaking part of Belgium, not Belarusian expats living in Netherlands. The consequence? The website did not rank at all for the most important keywords in Belgium. After I spotted this mistake and we fixed it with the web dev, within 2 – 3 weeks, the website rose to the top 3 positions for the most searched for keywords in Belgium! Without any other noteworthy SEO work, no links, no content improvements, just due to getting the proper technical fundamentals right.
Another huge mistake I witnessed was the one time a feature was introduced to detect from which country a visitor comes from and redirect to the appropriate localized website for this person. As we all know, Googlebot always comes from the USA. So Googlebot was always forwarded to the English .com and never saw the Dutch part of the website anymore. The Dutch site tanked for all important keywords. I was working on this project together with another SEO. Truth be told we were both scratching our heads, scrambling to find the culprit. It took quite some time to spot it. Forcefully redirecting visitors is a bad decision for UX in itself. But it can also lead to SEO catastrophes. After adjusting this functionality in a more user-friendly way, the situation returned back to normal within a few weeks, with the Dutch section of the website regaining all of its rankings and search traffic.

Case in point: always carefully inspect implementations of web devs in terms of SEO friendliness. Think about the ramifications before these proposed additions are implemented ideally. Unfortunately, sometimes, with bigger companies, these types of additions are not always properly communicated to the SEOs beforehand, it is already as the French put it a "Fait accompli", meaning to say, by the time you get the message the implementation is already rolled out. And then you have to scramble to fix implementations that can hurt SEO performance.
What SEO tools do you use for your business?
Google Search Console is a Swiss Army Knife that every SEO needs in my opinion. It is a no-brainer since it is free to use, and comes with little to no privacy/GDPR concerns. For some languages, like Finnish and Bulgarian for example, Ahrefs and SEMrush have limited data. Therefore we had to rely more on Google Search Console. When expanding internationally, install Google Search Console as soon as possible, make this a priority, because it only starts to collect data after being installed.

– Auditing
For auditing in addition I use mostly Screaming Frog, and Sitebulb as a second opinion. With these two I can find and correct 95%+ of technical issues. The rest of the issues I encounter when working on the website, browsing the website, you will notice things that tools cannot pick up unfortunately. The human mind is often overlooked as a "SEO tool". I find the most grievous errors by just looking around, observing. As the saying goes, a fool with a tool, is still a fool. So tools for me are not the end all be all for SEO. I like to dig in manually as well. Of course the website needs to be scanned with aforementioned tools to detect issues at scale. Ideally, a thorough audit combines both approaches.

– Keyword research and competitive analysis
I have subscriptions to all the major all-in-one SEO package tools like Ahrefs, SEMrush, Moz, Majestic. I use all of them for a specific purpose. No one tool has everything. Ahrefs I use for the link data. I love their link intersect report that helps me quickly find backlinks that are working for the competition, but we don't have covered yet. The Keyword explorer gives a clean and insightful overview of the first page of Google or even the top 100 in some cases (only for keywords with enough search volume). Incredibly useful for a first analysis, to check if a certain keyword is doable or not, and what other keywords are related and interesting to pursue.

SEMrush I use mainly for keyword research. I always combine Ahrefs and SEMrush keyword data, and then pull it through the Google Ads Keyword Planner Tool for more accurate (historic) search volumes.

For links I sometimes use Majestic and Moz. I am not the biggest fan of these tools. If I would have to cut tools (for budgetary reasons), these ones would be the first to go. But for link profile audits I want to have as much data available as possible. Moreover, I noticed in the Dutch SEO and link-building community at large, many still pay a lot of attention to the metrics these tools give, respectively, Majestic Trust Flow and Citation Flow, and Moz Domain Authority and Page Authority. I do not pay attention to these metrics at all. But colleagues I come in contact with do, so I need the intel, for negotiations.

What metrics do I look for then you might wonder? Mostly Ahrefs/SEMrush organic traffic. If a website is in good standing with Google, it should receive at least 1000 organic visitors per month (depending on the language and industry of course, there can be exceptions to this). Those are the websites I would like to be mentioned on. Not on a ghost town website with a DA 70 and TF 65. It does not matter if there is no Google traffic for me.

If I would have to choose 1 tool?

Excuse me for the gruesome metaphor, but if someone would put a gun on my head, and force me to choose only 1 tool, it would be Ahrefs. For me it is the most complete tool.

Tools for internationalization

For international efforts, I cannot do without DeepL Pro. Google Translate has gotten a bad reputation during the years. I do not find it that bad anymore, but DeepL is still miles ahead, no doubt. When I look at translations from Dutch to English or vice versa, sometimes I am awestruck: the translations are spot on. There are little to few mistakes. Sometimes the translations are perfect in one go. Even sayings and proverbs, which were often botched before, are translated in a locally acceptable equivalent. There is a free version of DeepL. This works fine, but I would highly recommend subscribing for the pro version. The pro version enables you to translate consistently in either the formal or informal voice. This is not so relevant for English, but in other languages such as French (tu, vous) makes a big difference. The pro version has no limits in terms of word count, and also enables translating whole documents.

This is not to say translators are being put out of a job. We still need to double check with proofreaders, to see if the content is "waterproof" translated, and there are always opportunities to further localize the content to the specific market. However, it has saved us a lot of time and moreover budget. Take also into account short text fragments, like for example a meta description. Sometimes you just want to quickly translate something without needing to resort to a translation agency. Especially for these short straightforward text elements, DeepL hits the bullseye all the time.

For WordPress websites I would recommend TranslatePress. This is a plugin that can help to translate a WordPress website with the DeepL API automatically in a SEO-proof manner. For other CMS it is more a manual endeavor.
For a quick check of hreflang hygiene, this free hreflang checking tool by Merkle, I like best. Not a tool, more of a resource, this exhaustive hreflang countries and languages codes list compiled by Czech SEO Martin Kura, is useful to double check the correct hreflang attributes. Common mistakes I have encountered are for example, using "en-uk", to target English speakers in the UK, but this should really be "en-gb" (Great Britain). Or website owners think they can target Latin America or Los Angeles with "LA", but this geographic attribute stands for Lao People's Democratic Republic.

In 2020 I was approached by a platform named WhitePress. They are originally from Poland, but now active in most of Europe. I was skeptical at first. I have been approached by many of these types of platforms that support link-building efforts.

I gave it a shot and I was pleasantly surprised by WhitePress. They have a great offering and also helpful support. The filters they built in, include the metrics I prefer to look at like Ahrefs organic traffic.

It is also possible to make use of their content team, they have writers for most European countries that can craft a quality article in the given language for a sharp rate.

It really helped to quickly boost performance in countries we just expanded too and bolster our traffic.

In summary the golden trio of modern day international SEO for me are: Upwork + DeepL + WhitePress. These three combined enabled us to achieve a foothold in no time in foreign markets.
What have been the most influential books, podcasts, or other resources?
I love podcasts, I am subscribed to many of them both in the Dutch, but mostly the English language. Some of my favorites include:

For news and staying up to date:
SEO 101, Webcology, Edge of the Web (news series), Search with Candour, SEO News You Can Use

Interviews and background:
Search Engine Journal Show, The SEO Rant, Search of The Record, Edge of the Web (interview series), The Recipe for SEO Success.

For our profession we are already reading a lot. Therefore, I really prefer to listen, for example while being in the waiting room at the dentist, or while doing household chores.

I also like to participate, for example I had the opportunity to be featured as a guest myself on a Dutch SEO podcast, it is aptly named "de SEO podcast". Participating in SEO podcasts can be in itself an 'alternative' link-building strategy. Even though podcasts are booming, it is still relatively easy to join a show as a guest, probably more so than getting a guest article published. For me it was never about links though, I just like to geek out on SEO and I am thankful to anyone that wants to listen to my ramblings about this field 😉
What's the next step in your SEO Journey?
At the moment I am helping my partner to launch a business in The Philippines. It is a laundry shop based in Moalboal, a popular destination for divers. Customers there can come from all over Asia, think of South Korea, China, Japan. Currently I am in the process of translating and optimizing the website in those languages. It would be really cool to also be able to gain traction in these languages.

At the same time I don't want to neglect my home base, and grow further and keep striving to belong to the best Holland SEO companies.
Where can we go to learn more?
My website has recently been translated in English: SEOgeek, and also German, French and Spanish (with aforementioned tools). As they say, The cobbler's children have no shoes, it took quite a while to internationalize my own website, because there is always more client work to do.

Social media I despise and therefore am not so active on, thus I would not recommend to follow me there.

I can be reached best by email: [email protected].