My SEO Journey [Pro Edition]: Vikas Singal from SamBlogs.com – Growing a Digital Marketing Agency To $85K MRR In 9 Years
My SEO Journey [PRO Edition] is a series where professionals of the SEO Industry, Digital Marketing, or Web Design, share their honest SEO Journey filled with failure and success, and most importantly proven results. Episode #85 features Vikas Singal from SamBlogs.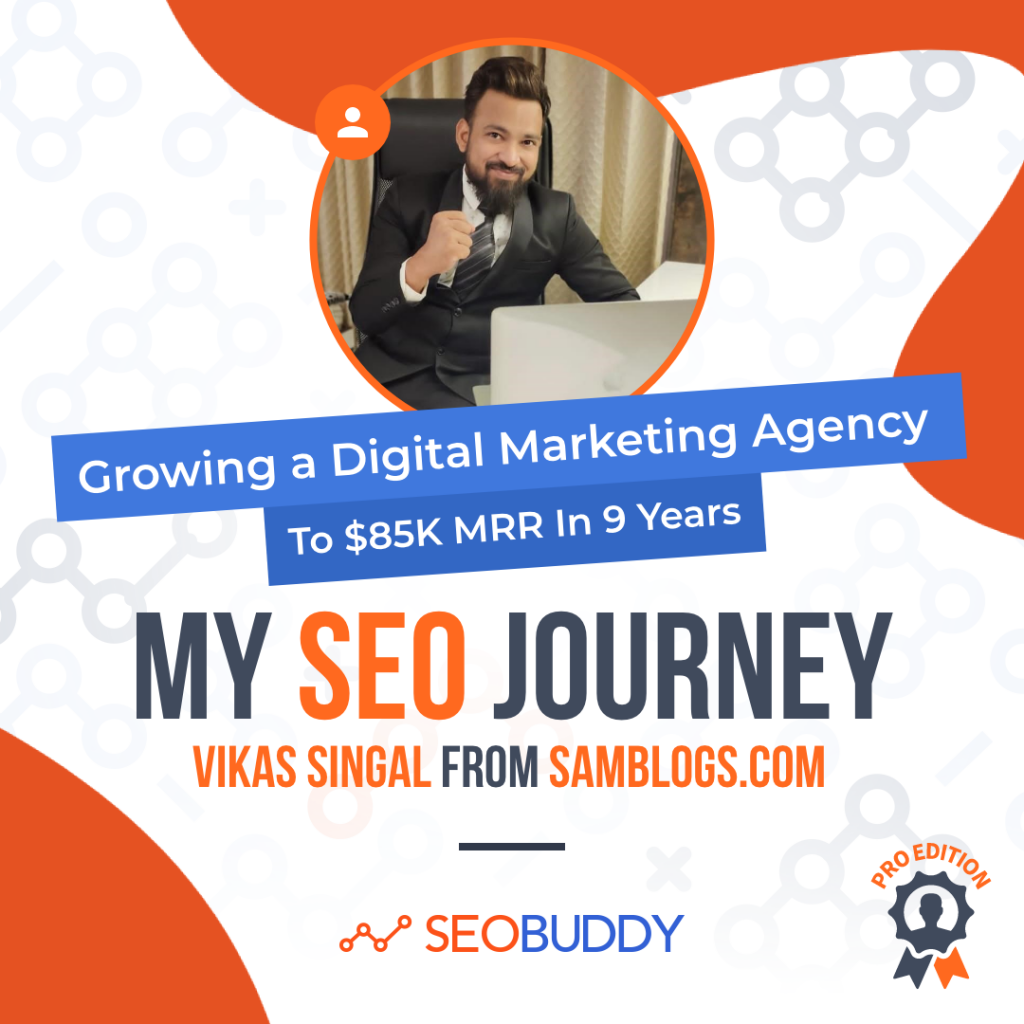 Hello SEO Buddies,
Thanks for having me on SEOBuddy.com.
To start with, I am Vikas Singal, Aka Sam, an Indian Entrepreneur and SEO Consultant.
I am the founder of SamBlogs.com, an award-winning SEO agency.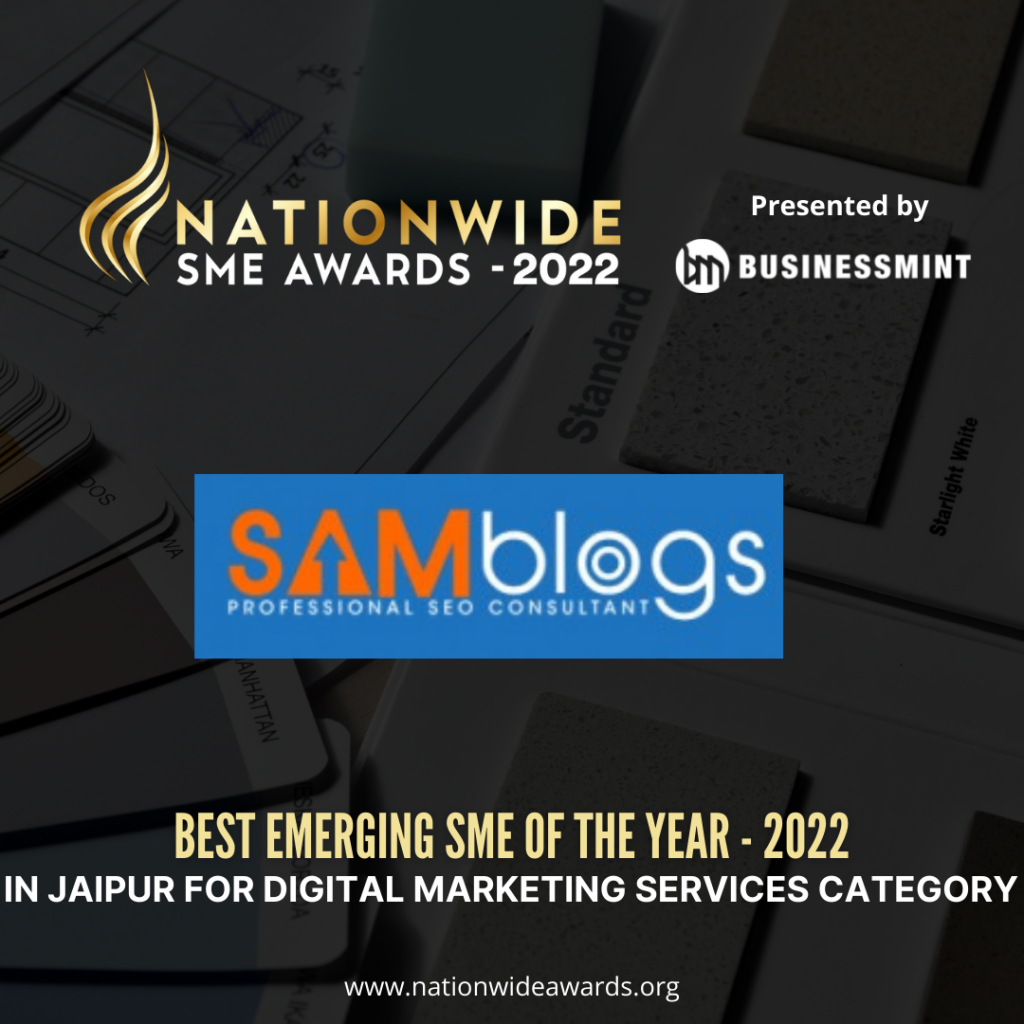 We provide SEO Services to clients all over the world.
Our mission is to provide a world-class SEO Package to every business and start-up and get them ranked on top.
What's your backstory, and how did you come up with the idea?
I was born and brought up in a small town that is Sri Ganganagar, in Rajasthan (India).
I did my schooling from there. After cracking my competitive exams, I managed to come out of my cocoon and moved to Jaipur city for my graduation.
In 2002 got admission to Malviya National Institute of Technology, Jaipur.
I was lucky enough to crack the interview and get the job of my family's dreams. I got a handsome salary, extra perks, driver, air travel and whats not?
But for me, something was missing. I wanted something else from life.
I wanted to do something with real growth opportunities.
And in 2008, I resigned, and along with my friends in Mumbai, we started a small start-up.
The idea did not work.
In 2010, It collapsed. I was broke; I had no savings and no income. I was nowhere.
On top of that, I was getting hitched.
So, it was high time to do something with flying colours.
I came back to Jaipur in 2010 and, With a fresh start, worked on acquiring a Completely New Skill – SEO.
We began as Freelancers and started taking SEO and digital marketing projects in 2010.
"A dream does not become a reality through magic; it takes sweat, determination, and hard work.
In 2013, SamBlogs.com was founded.
And it was the beginning of an ERA.
To dive into something of my own was my dream but starting an SEO Consultancy and getting into this field became more of my need.
And once we started getting a fair share, It became my passion.
Since launch, what has worked to attract more organic traffic?
In the last 9 years, I have tried and tested various strategies. Many of them were very successful, but many of them failed too.
The SEO Industry keeps changing, and new strategies and ways to rank a website keep coming, but some strategies would remain constant no matter how much the industry changes.
And these strategies have helped my clients and me a lot in ranking the websites and getting more organic traffic.
Get proper keyword research done. Targeting keywords relevant to your website can attract more traffic and is the most basic step that one should follow. Without the right keywords, your website is nothing.
Publishing lots of high-quality content. Content will always be the king. We can have 2 thousand, 5 thousand, and even 10 thousand words of content and even more, and it can still never be enough. Users love amazing and knowledgeable content.
And get the right and relevant backlinks that can make your website so strong that nothing in the world can stop you from ranking on top and getting that organic traffic. Relevant links help in getting the relevant audience to your website.
Basics are really important no matter how tough it gets in the outer world. And these are some basics that have helped us reach $80K+ MRR in 9 years.
Holding the existing and bringing back the old customers has been our USP.
One of my teammates came up with an idea to use "FollowUpThen" to keep following up with the old customers through recurring reminders.
It was quite a small change, but it started giving rewards soon, and we started getting orders from old clients who had left us.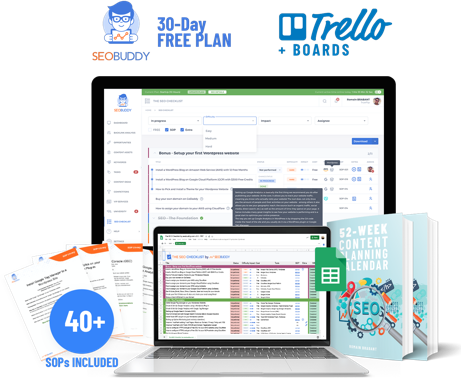 There's more…
Now it's time to discover the other 102 steps that will get more organic traffic flowing to your website. Get the SEO Checklist here.
Want to get a sneak peek of what it looks like?
Enter your email and get a free demo version of the SEO Checklist.
Have you learned anything particularly helpful in your SEO Journey?
Everyone makes mistakes so do we.
As soon as we started growing, all our accounts were attacked and hacked. Somehow we managed to come out of the situation.
Our top manager deceived us, and It took us a few weeks to come out of the situation.
We were even missing many clients because of the different time zone from USA Clients. ( I was already working for around 16+ hrs)
If I talk about the good decisions we made:
We started using keyword.com to track keywords ranking and began notifying them.
We started building a list using Aweber.
And If I talk about my habits and skills:
We have a great mindset and discipline.
If I have to be there at 2 AM, my team and I will be there by 1.55 AM.
We are available almost 24×7 for the clients, and that's the mindset which brings us here.
And most importantly "Never Give Up" attitude.
What SEO tools do you use for your business?
SEO Tools are really important if you wish to grow your website because if you do not keep track of the stats, you might not be able to grow.
Here are some of the tools that I use:
Ahrefs.com: It is the best tool to get a complete analysis of your website and even your competitors' websites. It provides you data starting from keywords to what backlinks a website is getting. It is all in one tool and very handy.
KWfinder: It is amazing to get proper keyword research for your website.
Zutrix.com: It is perfect for keeping track of the rankings of your targeted keywords daily.
Google Search Console: It helps get an in-depth analysis of what backlinks a website is getting and helps disavow the bad links.
Google Analytics: If you need an in-depth analysis of your traffic and users, it is the perfect tool.
In the beginning, we were doing only diversified backlinks.
Then we started learning about PBNs and how they work.
In 2013, we set up our first PBN. We took different c class tips from other hosts and made a full-proof PBN.
It was a great challenge for us.
Then we introduced Guest Posts and niche Edits as we grew in numbers.
What have been the most influential books, podcasts, or other resources?
The Most Influential Person is "The God Of Cricket- Sachin Tendulkar".
I can't get over him, to be honest.
The way he played fearless cricket. The way he stayed away from controversies. It inspires me.
He lived a simple life, and his bat did the talking.
That's how I want to live. Simple living with Big Dreams.
I have read many books, and "The Secret By Rhonda Byrne and" & Think and Grow Rich by Napoleon Hill are some of my favourite titles.
What's the next step in your SEO Journey?
My next step in my SEO Journey is to acquire new types of high-quality backlinks that not everyone else is doing.
I also plan to work on the website's YouTube Channel, where we can post everything SEO offers, starting from SEO 101 to different strategies different websites can follow.
Not to brag or something, but We did over 1 million USD in the last fiscal year through SamBlogs.com, and I wish to double the sales this year.
Where can we go to learn more?
You can check out my website and connect with me on the following handles:
Website: https://samblogs.com/
Email ID: [email protected]
Blog Post: https://samblogs.com/blog/
Facebook: https://www.facebook.com/TheVikasSingal
Twitter: https://twitter.com/TheVikasSingal
Linked In: https://www.linkedin.com/in/thevikassingal/
WhatsApp Number: +91 98280 80195
Skype ID: highranking999 (Click Here for the Direct Link)
Telegram: https://t.me/AkaSam07
Youtube Channel: https://bit.ly/TheSamBlogs