My SEO Journey [Pro Edition]: Boez Daniel from prepostseo.com – Sharing SEO Learning (On-Page SEO "Formula" and Mistakes)
My SEO Journey [PRO Edition] is a series where professionals in the SEO Industry, Digital Marketing, or Web Design share their honest SEO Journey filled with failure, success, and most importantly, proven results. Episode #103 features Boez Daniel from Pre Post SEO.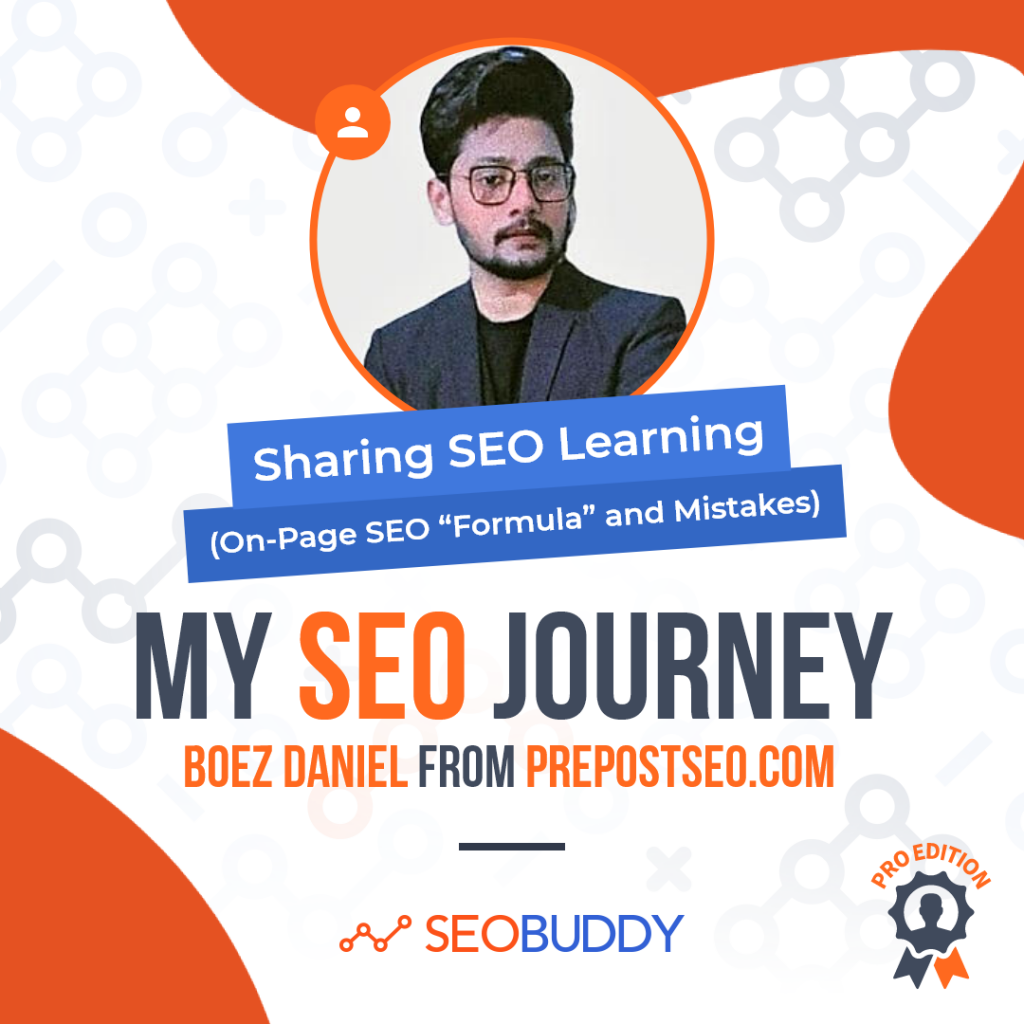 My name is Boez Daniel and I started working on Prepostseo as an SEO specialist in February of 2022. My major responsibilities are to analyze the overall performance and build strategies for Growth, and determine if our SEO efforts are paying off or not.
Prepostseo is an online platform that aims to provide various utility tools to its visitors. Some tools that you can find there, are calculators for advanced mathematics and content optimization tools such as paraphrasers and plagiarism checkers.
I have had the chance to learn a lot in my time with Prepostseo. My colleagues and teammates have provided me with lots of meaningful insights into the world of SEO.
Today, Prepostseo has over 95 tools available, and many of them show up as the top results in the SERPs. The monetization of this platform relies on ads and premium packages that offer more features than the free versions.
My SEO Learning
I started learning SEO by interning at various small companies that were willing to hire and train people without prior experience. These internships were able to help me find my footing and get some much-needed hands-on experience with SEO.
I was able to learn about multiple facets of on-page SEO, off-page SEO, and strategies for maximizing traffic. I supplemented this knowledge by taking online courses.
These courses helped me to learn about new techniques and technologies that SEO experts were adopting.
Through these experiences, I was able to find out about important tools for SEO such as
Ahrefs
MozPro
Google Search Console Tools
And many others.
Now I use these tools to audit Prepostseo and formulate new strategies for improving its traffic and SERP ranking.
What I Learned in My SEO Journey
I have realized that content marketing holds considerable sway with both human readers and search engines. That's why after you are done with any technical parts of SEO, you should look to content marketing to boost your traffic.
Here are a few tips that helped me in my efforts. It took me a considerable while before I understood how all of these things worked. But you can bypass all of that trouble and simply learn what worked for me.
Creating Readable content
Content readability is one of the most important aspects of content marketing. That's because your readers are not literary experts. Most of them are just ordinary people who have an average level of education and don't read much in their spare time.
Some of your readers could also be foreigners who are learning English as their second language.
By using advanced vocabulary, lengthy phrases, and unorthodox idioms, you make your content very difficult to read. You can address this problem during the editing phase by rewriting all the confusing parts. When rewriting the hard-to-read parts, you can substitute them with easier words and phrases.
If you find manually rewriting your text to be a little difficult, an article rewriter tool can be a good alternative. These are free online tools and they can be accessed even without an account.
Rewriting tools are very efficient at restating the given text. The best ones have options for improving delivery, tone, and readability as well.
With the help of similar tools, you can easily improve the readability of your content and make the user experience better.
Proper keyword adjustment is a task that takes some fine-tuning. If you use too many keywords, then it may result in keyword stuffing which leads to rank penalties.
If an insufficient number of keywords are used, then search engines may not be able to match the content with the right searches.
The easy way to deal with this is to use your primary keyword two or three times in your content (assuming that it is around 1,000 – 2,000 words long). Any other instances where you have to use them should feature LSI keywords instead.
This keeps your keyword stuffing to a minimum and with the help of LSI keywords, you can still signal the intent of your content to search engines.
If your content is around 1,000 words long, then primary keywords should not be used more than three times. This number can become smaller or larger depending on the number of words you write.
And of course, do not forget that you cannot use keywords without setting the context. This is known as clustering, and one of the simplest ways of doing it is to set the context in one paragraph, use the keyword in the second paragraph, and then use an LSI keyword in the third paragraph.
For proper clustering, all these paragraphs should follow each other without anything in between.
How you format your content is very important when it comes to content marketing. For starters, it has two main benefits that are:
Facilitating better bot crawling
Enhancing user experience
Now, what do these benefits mean? If you have dabbled in SEO, then you must know that all websites that you find through a search engine are "indexed" in a database. Indexing means that all the pages on a website are recorded in the "index/database" of the search engine.
Improper formatting makes it difficult for "crawlers" to effectively index your pages. This can result in lost opportunities because your pages might not show up high enough due to incomplete indexing.
By formatting everything neatly into headings, sub-headings, and lists/bullet points, you can make the crawling process easier and more efficient.
In a similar way, proper formatting makes it very easy for your readers to peruse and understand your content. If for some reason, they do not wish to read the entire content, they can still hop on to the section they like.
This makes the dwell time of that page rise while lowering the bounce rate. Dwell time and bounce rate are important metrics for gauging user satisfaction, so you should do all you can to improve them.
Usage of Content Optimization Tools
Content optimization tools are almost indispensable for SEO content writers. In my experience, the demand for content can be high, but never low. So, content writers are under a lot of pressure to write fast and create as many articles as possible.
Naturally, this comes at the cost of quality, which indirectly leads to a lower ranking in the SERPs.
To deal with the content demand without sacrificing quality, writers can get help from content optimization tools.
Some popular and useful tools in this category are plagiarism checkers, paraphrasers, article rewriters, text summarizers, and grammar checkers. With the help of such tools, content writers can ensure that their write-ups are consistently high-quality.
With paraphrasers and article rewriters, content writers can remove accidental plagiarism from their write-ups and improve readability as well. With the help of plagiarism checkers, they can find out if they accidentally duplicated content from other sources.
By using grammar checkers, they can proofread their work for mistakes even without an editor. And finally, text summarizing tools can help them shorten unnecessarily long passages for better readability.
Paraphrasers and article rewriters are also good for repurposing older content, as they allow you to reuse most of the older stuff without self-plagiarizing.
These are a few content strategy tips that have helped me in my SEO journey. It took me a lot of trial and error to understand all of these things and it also made me realize that SEO is not something that you are able to completely grasp. Everyone who dabbles in it is always learning about new aspects of it through online resources and other SEO experts.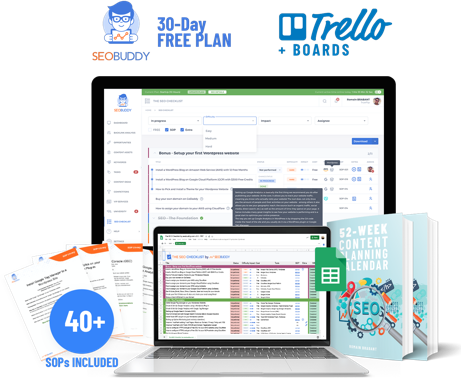 There's more…
Now it's time to discover the other 102 steps that will get more organic traffic flowing to your website. Get the SEO Checklist here.
Want to get a sneak peek of what it looks like?
Enter your email and get a free demo version of the SEO Checklist.
My SEO Mistakes
My journey wasn't smooth. I made plenty of mistakes along the way. However, thanks to mentor figures and good seniors at my workplaces I was able to address these mistakes. You don't have to make the same mistakes. Just read what I did and how it impacted me, so you can learn to avoid these things.
Keyword stuffing. This is an easy mistake to make because nobody actually knows how many keywords are considered "stuffing."
Incorrect clustering. While keywords need to be added to your content, where and how you use them is also very important. Incorrect clustering can lead to lower rankings.
Failure to monitor the website reliably. When you get penalized due to poor SEO execution, nobody tells you about it (unless it's the Google Search Console). So, auditing the website regularly and monitoring it is important. I made the mistake of not doing so regularly, and that's why many issues that needed to be resolved were discovered…belatedly.
Getting backlinks from low DA websites. This is a bad SEO tactic. The number of backlinks is important, but their quality is even more so. Low-quality backlinks only hurt the SEO of your site, and I made the mistake of acquiring them without checking the domain authority of their parent site.
Adjusting too many links in one piece of content. This is another mistake that I made due to inexperience. I added too many links to the content that was published on my site. Now I know that one link per 250 words is an ideal number. Going below that can result in link stuffing.
These were some mistakes that I made which negatively affected the ranking of the websites I was in charge of. Needless to say, as soon as I learned better, I rectified these errors and now Prepostseo shows up in the top five results for most of its targeted keywords.
My Current SEO Status
The current statistics of Prepostseo are in a good place. These are the records for the month of October.


My On-Page SEO "Template" or "Formula"
These are some things that I always do whenever I have to create a new page or update an old one. These are necessary so that the content becomes visible to a larger number of people.
I always make sure to add keywords to the content. The keyword is also added in the title and meta description. I try to add the first occurrence of the keyword above the fold (the point where you need to scroll down to see the rest of the page).
One of the most important things is adding all the information that is required in the metadata. That means tags, descriptions, and titles.
Link placement is very important. Whether it's external or internal links, I always make sure that they are placed in the area of maximum impact.
Image optimization is mandatory because it affects the page loading time. Badly optimized images can result in a high bounce rate, so I always take the time to optimize them.
Since mobile devices are responsible for over half of the internet traffic, page responsiveness is high on my priority list. I make sure that after any changes to the website, the responsiveness is good and the UI looks fine on small screens.
Internal linking is necessary for making crawlers index your site better and spend more time on it. Typically, I add internal links to other useful tools on Prepostseo.
External links are also necessary because they make the site look authoritative. I make it a point to add at least two links per article and space them out considerably.
My Off-Page SEO Tactics

Link building is very important for raising your domain authority. Links from high authority websites pass on some of their link juice as well.
However, not all backlinks are the same. No-follow links and UGC (user-generated content) links are not as good as do-follow links.
My link-building strategy primarily consists of:
Collaborating with blogging sites that have high authority and publishing guest posts on their site.
Link exchanging. Sometimes, other websites ask for link exchanges instead of guest posts. I also reach out to parties who may be willing to exchange links.
Organic linking. Sometimes users who have visited Prepostseo link to it on their websites if they had a good experience. This is also one reason why user experience is emphasized.